All you need to know about visiting Rome with kids. Complete travel guide to Rome for families with child-friendly attractions in Rome, best family accommodation and practical travel tips – by a Rome mama! 2023/24 Update
Rome is fantastic to visit with kids.
A large city with plenty of attractions and entertainment options, Rome has something to offer to every age, including its younger visitors and their parents.
If you are looking for the perfect blend of culture and fun things to do for kids, Rome is your ideal family vacation destination!
If you have small kids, you will enjoy Rome's many parks and green areas.
Older kids will be wowed by the Colosseum, the history of the city and the many famous Rome landmarks they will recognize from movies and school.
All ages will enjoy Rome's delicious food (gelato, pizza, carbonara…!), shopping opportunities and Rome's beautiful weather.
Visiting Rome with kids, however, also poses some challenges.
A large and busy city, Rome has a lot of traffic and an overcrowded public transport system.
It is also not very digitalized, meaning some info is not readily available online or is not updated or in Italian only.
This is why I wrote this complete guide to Rome with kids!
I am a Rome mama and Rome history graduate, and I know very well how the city works, what it offers to its visitors and its challenges. In this guide to visiting Rome with kids, I pour all my best tips for visiting Rome as a family to take the stress away from your travel planning.
Please note: this post contains affiliate links and, should you make a purchase through them, we might make a small commission.
As an Amazon Associate I earn from qualifying purchases.
NEW! How would you like to have a Rome mama in your pocket, a handy expert person to give you tips and advice not just when planning but while out and about in Rome? Sounds good? If so, I have a family travel guide to Rome with kids that I write to be just that! It is as close to having me with you as it gets 🙂 Find it here >>> Best of Rome with kids ebook <<<
Why visit Rome with kids
There are many reasons why I recommend you visit Rome with kids.
Rome is a city with things to do for kids and parents alike, meaning nobody has to compromise, and everyone can have a good time
Rome has fantastic historical attractions, perfect for a vacation that mixes education and fun
It's pizza and gelato central but also is a foodie paradise for more refined palates
It has beautiful, mild weather most of the year
It has a plethora of accommodation and tour options for families
It is central to rest of Italy and makes a perfect first stop on a family trip to Italy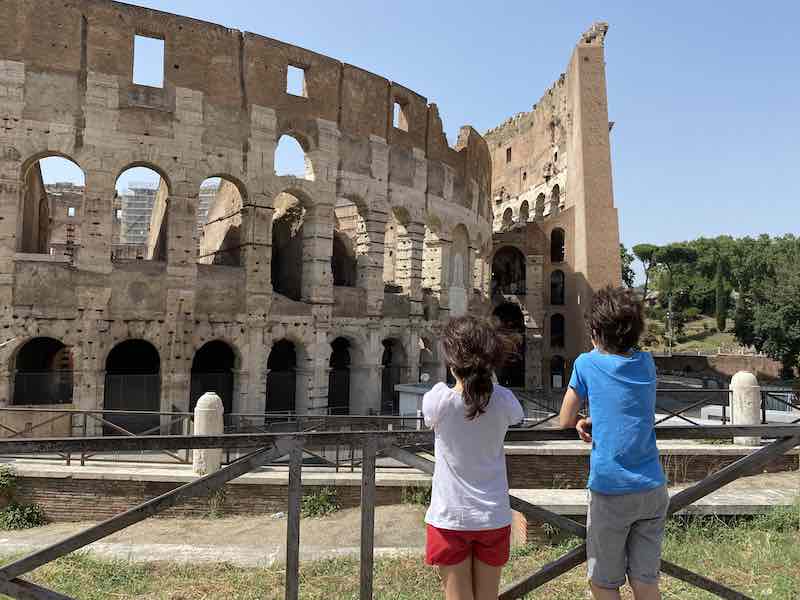 Challenges for families visiting Rome with children
The main challenges facing families visiting Rome with children have to do with traffic and mobility.
In particular, you may find that:
Rome is not stroller-friendly in the traditional sense of the word.
Cars are parked everywhere, including pavement, and there are cobbles and potholes that make the stroller ride bumpy.
However, there is so much walking to be done in Rome and so many streets that are actually ok with strollers, that I highly recommend you bring one!
A lightweight stroller with good wheels will be a lifesaver during long days out. Just be prepared to fold it occasionally.
See below our tips for visiting tome with a stroller and find here >>> our tips for visiting Rome with toddlers.
Rome is busy, so you need to book accommodation and attractions well in advance.
Below, you find our recommended hotels for families in Rome and also our favorite booking engine for flexible bookings
Rome is a large city with a lot of traffic and erratic public transport service – read below the best area to stay to avoid long commutes and our guide to bus and metro in Rome should you stay a little away from the center.
Ready to plan your trip to Rome with kids? Let's go!
Visiting Rome with kids – guides by age
Click on the following links to read:
Visiting Rome with kids in 2023/24: need to know
There are no special restrictions currently in place to enter Italy and travel to Rome.
Please find here >>> official info about travel rules and regulations that may affect your ability to enter Italy, should things change.
Rome has been exceptionally busy with tourism in 2023, in a way never quite seen before.
This plus some important concert and sports events in the city has made prices of accommodation soar and availability drop.
I recommend you book accommodation and main attractions as soon as possible to secure a spot.
The best time to visit Rome with kids
The best time to visit Rome with kids is the early autumn (September, early October), followed by late spring (May-June) and Christmas.
Find my month-by-month travel guides to Rome here.
Autumn and spring are the best times in Rome for sightseeing, and they are the best times to enjoy Rome parks and playgrounds and Rome's beautiful piazzas and gelato places.
Need to know: the Easter weekend in Rome is very busy. If you can, come to the city immediately before or after for lover crowds.
Christmas in Rome is a fun time for kids as the city has pretty Christmas trees, lights and some Christmas markets that can be fun to explore and make up for the inevitable high crowds of this period.
Older kids and teenagers may enjoy the excellent shopping opportunities that Rome offers at this time. Find here >>> our guide to Rome at Christmas
The worst times to visit Rome with kids are the months of July and August.
July has been unbearably hot these last two years (I am from Rome and we never had summers like these before!) and temperatures do no drop at night like the used to, which means the heat has a real impact on your ability to go sightseeing.
Rome in August is very hot, albeit lately less so than in July and it is also a time when locals leave the city, but tourists abound.
It is therefore the worst time to see Rome if you are hoping for a somewhat local experience.
So with kids, Rome in August is not ideal: if this is the only time you have to visit, find here my >>> guide to Rome in August to learn how to make the most of this month.
How many days to see Rome with kids?
I recommend you spend in Rome with kids a minimum of three days (excluding travel days) and ideally five or more.
While you can see most Rome's landmarks in a a couple of days, Rome is more than the sum of its parts and, especially with kids, staying a little longer is the way to see the city as the real place that it is, and not just a collection of tourist-friendly attractions.
I always find it telling that people who stay in Rome longer leave with a better impression than the city than those who only stay a day. You need longer to see through the intensity of it to what Rome is really like.
Because of the many things to see and how beautiful and busy Rome is, anything less than three days will leave you stretched, and it can prove overwhelming for the children.
Four or five days Rome with kids are much better.
However, you can make the most of Rome no matter how much time you have.
Find ideas on how to make the most of your time in Rome in the following family itineraries:
Where to stay in Rome with kids: best areas and hotels in Rome for families
The best area to stay in Rome with family is the historic city center: 'Centro strorico.'
This is a large area, but no matter where in the center you are, you will find yourself within walking distance to all the main Rome attractions.
This makes it an excellent place to stay with kids as you will be able to avoid busy buses and metro, which are not kid-friendly in Rome.
My favorite places to stay in Rome with kids are:
Piazza Navona / Pantheon area
This is a very central area in Rome, full of hotels and restaurants.
Great family hotels in this area are:
Hotel del Senato – right in front on the Pantheon, offering good family rooms and stellar views of the Pantheon itself, as good a location in Rome as it gets
Iconic Hotel Pantheon Hotel – luxury option in a fantastic position in the center of everything
Find here >>> my list of recommended hotels in the Pantheon area
Near Piazza Navona, a good family hotel is also Palazzo Navona, just beside the piazza
You can find here >>> my complete list of favorite hotels in Piazza Navona area
This area has the advantage of being central and beautiful; however, it has a downside for small children: the lack of green spaces.
I believe, however, that the convenience and the beauty of this neighborhood and its quintessential Roman feel compensate any drawbacks.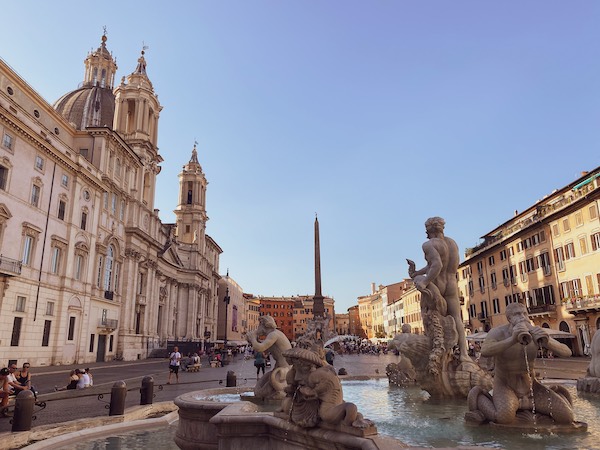 Colosseum area/ Monti neighborhood
Staying close to the Colosseum is perfect for families, especially if you have ancient Rome as an essential step in your itinerary.
As well as putting you in the ideal position to visit the Colosseum and the Roman Forum, this area is also close to the rest of Rome city center, has excellent restaurants and lovely green spaces for some downtime (Oppian hill and Villa Celimontana).
I recommend you find a hotel very close to the Colosseum for convenience and beauty.
Check out Palm Suites and Mercure Centro Colosseo (this one has a pool, perfect for summer!) or find here >>> my list of recommended hotels near the Colosseum.
Villa Borghese area
Villa Borghese is the largest park in Rome's city center, and it is my children's favorite place in Rome.
It is also the place where you find the Borghese gallery. Art-loving parents will love it too!

Depending on where ner Villa Borghese you pick your accommodation, you will find yourself closer or farther away from the center, but all areas work for families.
In particular, I recommend you look at Aldrovandi Residence City Suites (luxury), great hotel with a pool, just in front of Villa Borghese and the zoo.
Trastevere district
Trastevere is a large area on the 'other side of the river Tiber from Rome historical center.
It is a charming area, with small streets and many restaurants.
It is particularly recommended for families with older kids who may enjoy the slightly later nights.
If saying in Trastevere, make sure you stay close to the river or the commute into town can become too long. You can find here >>> my list of recommended hotels in Trastevere.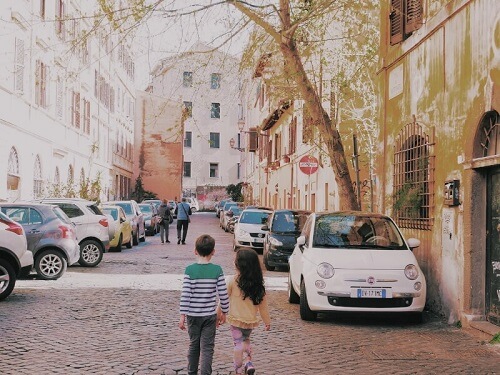 Vatican area
The Vatican area is very large and, depending on the exact location of your accommodation, might mean a long commute into the center.
I recommend you only pick a hotel here is you can stay close to the river: Le Meridien Visconti Hotel is a good choice.
Trieste area
This area is a little out of the center, but it is terrific for families with kids as it is green and residential. I am totally biased in favour of it as it is where I live so when I say it is child-friendly, you can trust me!
I highly recommend it if you are in Rome with kids for a slightly longer stay. A nice hotel here is Mercure Corso Trieste.
You can read here about this area >> Travel guide to the Trieste – Salario neighborhood of Rome
Rome attractions for kids: are Rome family tours worth it?
Family tours in Rome tend to be pricey, and they can be invaluable to discover the city with ease. However, you do not necessarily need a guide for everything.
The guides on this website give you all the tips you need to visit Rome's main attractions on your own; however, there are some instances and some attractions where a specialized family guide for kids can be handy.
These are:
You have a limited amount of time in Rome, for instance, one day, and you want to see a lot as this is your only time in the city. In that case, a guided family tour of the city center will be invaluable.
You want to visit the Vatican museums with kids: I highly recommend a guided tour for this one as the museum is a nightmare with small kids.
Read why and how to avoid mistakes here >> how to Visit the Vatican Museums with kids.
You want the tour to have something fun, such as a fun means of transport (golf cart); I do not recommend driving in Rome, but it is nice not to have small kids walking for hours.
Best Family tours and kid-friendly activities in Rome
Family tours in Rome we like are:
Express Colosseum Tour with gladiators' gate and arena access by LivTours – on the pricey side but worth every cent for the professional and kid friendly guides they offer. I love this tour especially for families with small kids, who need a guide able to cater to their needs and pace but not a tour for kids, and for families with teens.
Colosseum Family Tour by LivTour – specifically designed for younger kids and with a scavenger hunt approach, this is a great tour that helps them engage with the Colosseum in a more hands on way. I recommend this tour to families with children of primary school age and young tweens.
Colosseum Family Tour by Mariaclaudia Tours (Tell them Marta from Mama Loves Rome sends you!) – a fantastic tour for kids age 6 to 11 especially, with a super fun scavenger hunt approach
Private Vatican Museum Tour with Sistine Chapel, by LivTour, specifically designed for kids and a great way to visit a museum otherwise overwhelming (and potentially very boring) for younger kids. This is a fab tour that covers child-friendly areas of the museum many others skip
Private Vatican Museums tour for kids by Mariaclaudia Tours (Tell her I sent you!) perfect for kids age 6 to 11 especially, done with a fun and engaging scavenger hunt/ parents vs kids challenge approach
Private Vatican Museum Tour by Rome4Kids, another fun tour we took with our kids with a scavenger hunt approach around the Vatican Museums and ending with a visit to the Sistine Chapel. I like to book this via the GetYourGuide link as I find their cancellation options the best.
Rome highlights Golf Cart Tour by LivItaly – one of our favorite tours in Italy and wonderful especially as a first activity as you arrive in Rome (great to beat jet lag too)!
Pizza making class in Rome for kids by Global Dream Lab – perfect activity for a rainy day, find our review here!
Pasta making class by Lucca of Lucilla Cooking classes (tell her I sent you!), a super fun pasta making class in a private home with a lovely host. The lady running it is called Lucilla: her Airbnb experience says it is for kids age 10 and up but she can offer private classes for families with younger kids too.
Rome scavenger hunt by Mariaclaudia tours: a super fun way to explore Rome city center in an engaging way and with a competent and lovely guide!
Good to know: you can find here >>> our list of all our favorite kids activities and family tours in Rome
The best things to do in Rome with kids landmarks, parks, museums
I have here >>> a long list of things to do in Rome with kids here <<<
And here >>> list of kid-friendly activities sin Rome that are not sightseeing <<<
Below, there is an overview of some you are likely to want to include in your Rome itinerary:
Colosseum with kids
No need for introductions on this one; this is the one Rome attraction kids sure to want to see!

You can find here >>> my tips for visiting the Colosseum with kids
The Colosseum is beside the Roman Forum and the Palatine Hill: you can visit them on your won, or opt for a family tour that includes them.
My recommended family-friendly tour of the Colosseum archaeological park is >>> this one <<<

Villa Borghese (Borghese Gardens)
A fantastic park in the center of Rome with playgrounds, bike rentals, rowing boats, playgrounds and more. Find here >>> my guide to the Borghese Gardens.
Top tip! Villa Borghese hosts the famous Borghese Gallery and Rome zoo. They are close to each other and you can easily divide and conquer, taking turns to visit the gallery/stay with your kids, should they not be up for a museum visit.
Explora – children museum, a perfect activity for kids in Rome when it rains. Find all info here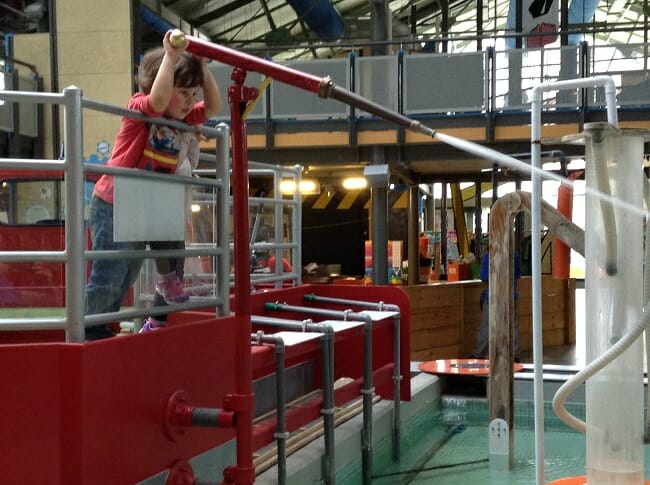 Museum of Leonardo Da Vinci's machines – an interactive exhibition of Leonardo's machines kids love. Read our review here or get your tickets here.
The cat sanctuary of Rome – a lovely stop for kids who love cats. You can learn why cats are protected in Rome and where to see them in our guide to the cats of Rome

Domus Aurea – Emperor Nero's ancient palace, now an incredible underground Roman dig!
Read here >>> our review of the Domus Aurea with kids

Circo Massimo Experience – a fun way to explore Circo Massimo, tome's ancient chariot stadium with the use of augmented reality glasses! Learn about it here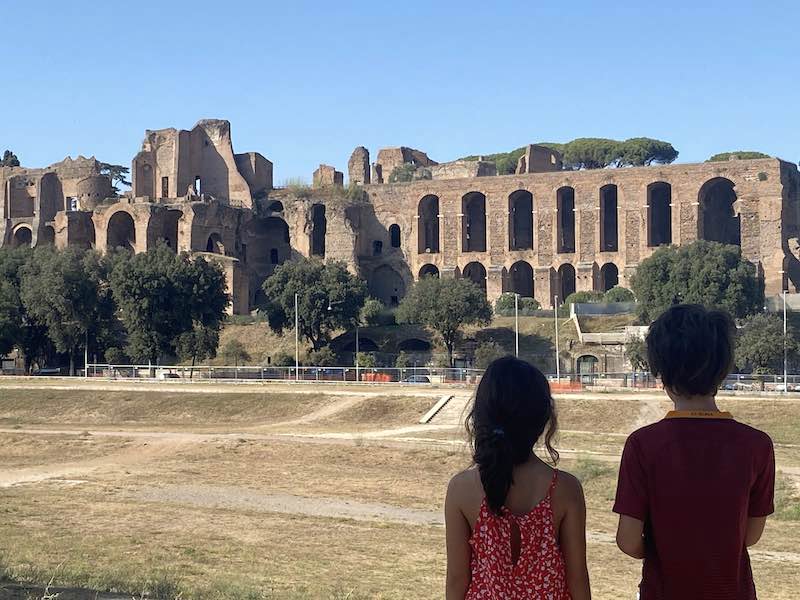 Pantheon – the best-preserved ancient Roman building in the world, kids love the high and mysterious hole in its ceiling.
Learn how to visit and fun facts about the Pantheon for kids here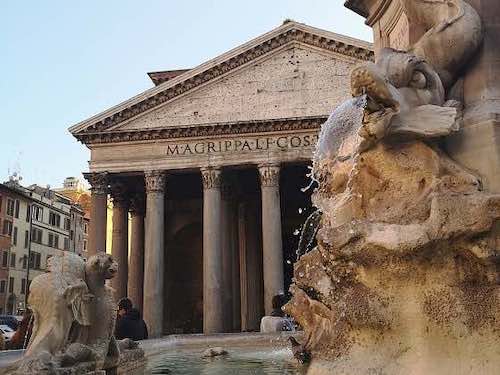 St Peter's dome climb – an exciting activity for daredevils who want to feel at the top of the world! From here, you catch one of the best views over Rome.
Access to the dome is ticketed. Simple access cannot be booked: tickets are avaibale at the dome entrance on the say only and only in person. Go early to beat the line!
If preferred, you can also get a tour: in that case, you can get tickets here (includes guided tour of the Basilica)
Need to know: there is more to see in Vatican City than the dome and the Vatican Museums but, with kids, you need to prioritize what to see. Find all the info you need in my guide to Vatican City for kids.
Piazza Navona – Piazza Navona is one of Rome's most famous and beautiful piazzas.
Kids love it because of its ample space and a fantastic toy shop with life-size teddies called "Al Sogno"! You can find here >>> my complete guide to Piazza Navona with kids.
Castel Sant'Angelo: Rome's castle is one of Rome's most child-friendly attractions (think cannons, turrets and even a secret passage to the Vatican!) Read how to visit and why we love it here.
Find here >>> my guide to visiting Castel Sant'Angelo with kids

Trevi Fountain – no one can come to Rome and not throw a coin into the Trevi Fountain! Bring small cash as kids will likely want to throw more than one! Learn why and how here
Spanish steps – one of the most iconic sites in the whole of Rome!
Small kids won't have much to do here, but the Borghese Gardens are nearby, and older kids will love the photo op.
Find here >>> my guide to the Spanish Steps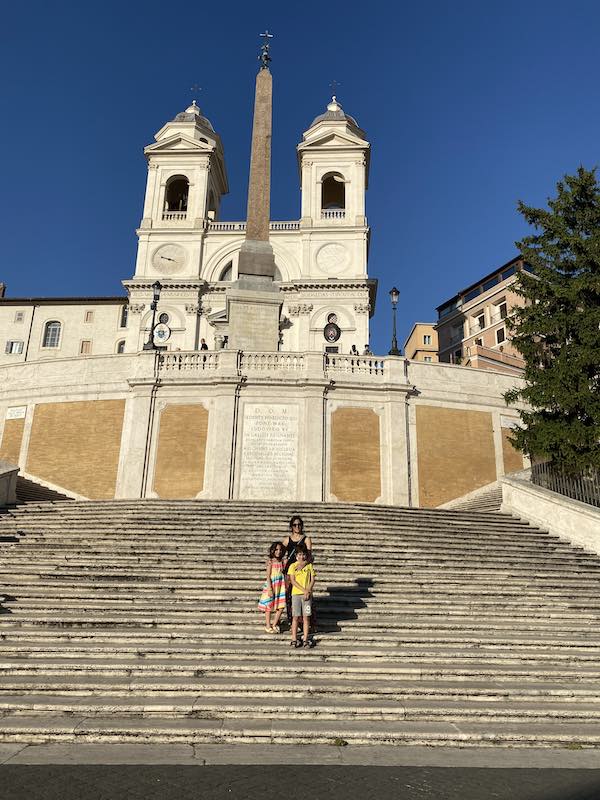 The mouth of truth: if you have seen a roman holiday, you will know this one!
You put your hand in the mouth of a monster, and if you have a pure heart, you are ok, while if you are a lier, it will chew it off!

Catacombs and Via Appia Antica – the catacombs are a network of long tunnels under the city of Rome, and they can be very exciting for kids to visit.
Visit by guided tour only: get tickets here
They are suitable for older kids (no strollers) who won't get disturbed by the mention of death: the catacombs are ancient cemeteries, so while some kids love them, others may find them intense.
Rainy day activities for kids in Rome
Some fun activities for a rainy day in Rome are:
Have fun in the cool Museum of Illusions
Have chocolate in Rome's chocolate factory
Visit the Museum of Leonardo's machines
Visit a child friendly museum in Rome
Visit one of Rome's children bookstores (some have titles and activities in English too)
Visit Rome's catacombs
Where to eat in Rome with kids
Rome is full of restaurants, and you will have no problems finding places to eat in Rome with children, even if you may not see kids' menus or family spaces at first glance.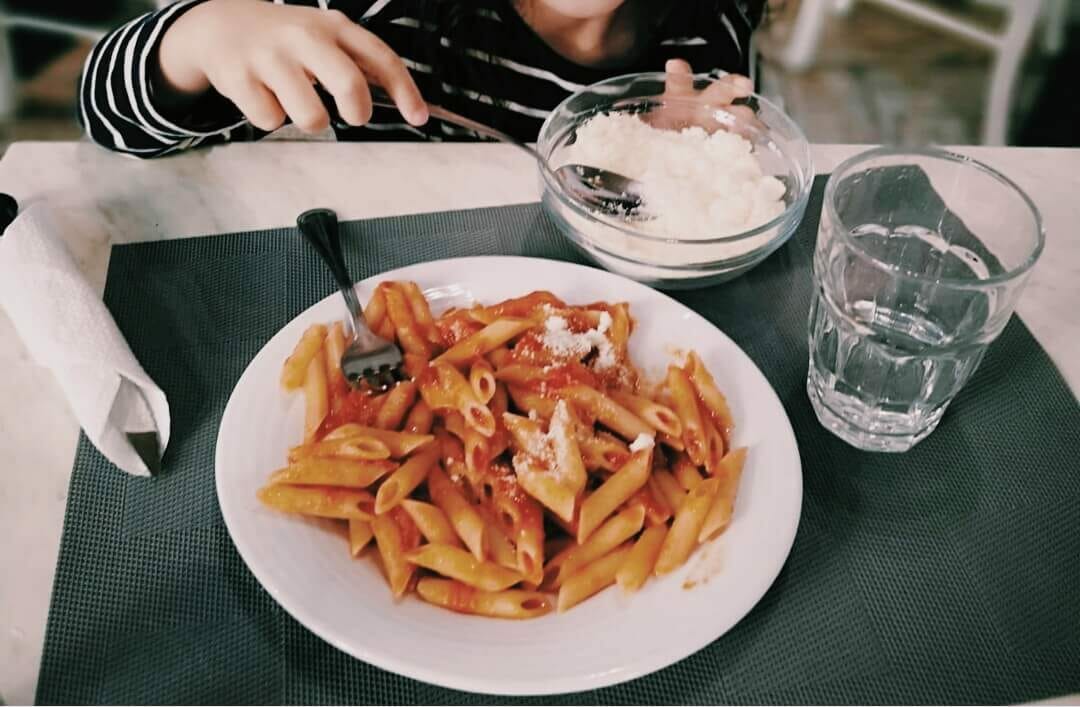 Rome restaurants usually do not have a kids' menu as such.
However, they are generally able and willing to make smaller portions, or whatever is on the menu for your kids (careful: usually the price stays full!), or they can make a simple pasta with tomato sauce or butter and parmesan on request.

Many of Rome's traditional foods are kid-friendly, so you may also be able to order for your kids Rome specialties such as saltimbocca alla Romana or Pasta alla gricia.

Rome restaurants sometimes have high chairs and sometimes do not, there is no rule about this, even if I have noticed more and more of them to be well equipped for their younger guests.
However, please be aware that space is at a premium in many cases, especially in the city center, so don't expect large play areas or equipment for kids. Even coloring crayons are somewhat a rarity!
Rome is child-friendly because it welcomes kids but not necessarily because it offers special things to them.
Family restaurants with children's play area and specialized menus are exceptions. Some we love are Lola and the Pizzeria at Explora.

You can find a list of good family-friendly restaurants in Rome's city center here.
Where to get the best gelato in Rome for kids
Rome has more gelato parlors that you can sample in a lifetime, but they are not all as good as one another! You only want to get gelato in those with 'gelato artigianale' (i.e. artisan gelato).
Some we love are >>> find our list of best gelato places in Rome city center here.
Where to eat the best pizza in Rome for kids
Good pizza is easy to find in Rome and you do not need special addresses to please your pizza-hungry kids. However, there is no doubt that some pizza places are better than others.
If you want a real foodie experience in Rome for kids and adults, check this guide to the best pizza in Rome.
Parks and playgrounds in Rome
Rome has many beautiful parks and several playgrounds.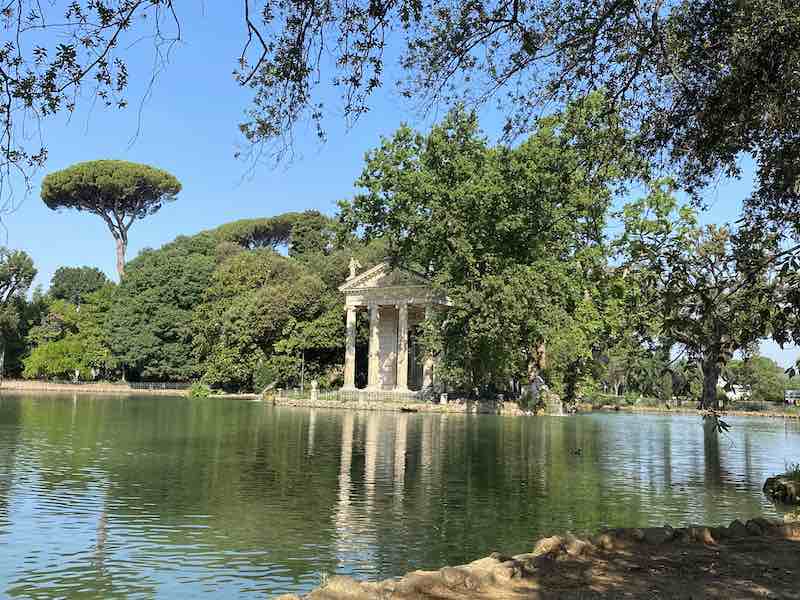 While the playgrounds are often not very modern or well kept, they are excellent for a kid-friendly stop
Find here >>> a list of Rome playgrounds close to Rome attractions.
Rome parks come in all shape and sizes. Some are small, local green areas and some a re beautiful villas you can spend a whole day in.
Find here >>> my guide to the best parks and gardens in Rome.
Using public transport in Rome with kids

Rome has a vast network of public transport consisting of buses, metro, trams and urban trains.
Public transport tickets are combined, which means you have one ticket for all these options: kids under 11 go free.

You can find my complete guide to using public transport in Rome with kids here.
Essential things you need to know about using buses and metro in Rome with kids:
Rome buses are not stroller-friendly.
You have a high step to get on board, and you always need to fold your stroller. Always opt for a carrier!
Buses can get very crowded: make sure you always board off-peak times to avoid feeling like a sardine in a can.
Not all metro stations in Rome are stroller-friendly or accessible. While the metro in Rome is helpful for longer distances, I recommend you only use it off-peak and with older kids to avoid stress.
Rome buses offer an erratic service. Do not rely on them if you need to get anywhere in a hurry.
Taking a taxi with kids in Rome: car seat rules
Taxis are an excellent way to move around Rome with kids. First, however, you need to be aware of car seat rules.
Car seats are not compulsory in taxis, and they are not provided.
Taxis will take children without a seat in town and longer distances, such as the ride between the airport and town. This stretch involves a high-speed road. I highly recommend you bring your own child seat.
Find here >>> my favorite kids' booster car seats for travel
To get a taxi in Rome, you can flag one on the street, ask your hotel to call one or use the app Free now, which also allows you to pick the type of car: handy if you have a large family.
The best airport to getting into Rome with kids

Rome has two airports: Fiumicino Leonardo Da Vinci (FCO and Ciampino (CIA).
Fiumicino is the bigger and better-equipped airport: many international flights come here, and the airport is well connected to the city by taxis, buses and train.
The train is the cheapest option for families as one child is free if traveling with an adult (two adults and two kids only need two tickets).
You can find here >>> my complete guide to getting from Fiumicino airport to Rome.
Ciampino is the smaller Rome airport and the one for budget airlines.
There is little here for kids, nothing actually, so this is not a great place to get stuck into for hours if your flight back is delayed.
It is, however, closer to Rome city center and connected with cheap transport that includes, bus, bus+train, and taxi.
With small kids, a taxi is by far the best option, followed by the bus.
You can find here >>> my complete guide to getting from Ciampino to Rome city center here.
Buying baby gear in Rome
You don't' need to load up on baby gear when visiting Rome with little ones as the city has many shops with all you may ever need.
Baby gear in Rome is available in supermarkets and pharmacies.
You can find here:
>>> all you need to know about visiting Rome with a baby, including baby shops for essentials
>>> all you need to know to visit Rome with a toddler
The two things I recommend you bring to Rome from home are a carrier and a stroller.
Baby carriers I like for Rome are:
Baby Bjorn Classic carrier, my favorite for very young babies
Baby Bjorn mesh, great for visiting Rome with a baby in summer
Ergo Baby 360, excellent for babies and toddlers, with several carrying positions
I do not recommend bringing a hiking baby carrier: the metal frame of these may cause problems when passing security at Rome's main attractions and it is too bulky to be comfortable on buses and metro.
If you are carrying one with your for other destinations in Italy, you may consider adding an unstructured baby sling to your luggage: it is not bulky and much better suited to the busy streets of Rome.
Using a baby stroller in Rome
Rome is not a stroller-friendly city. Cobbles can prove hard on lightweight strollers with small wheels, transport is not geared towards accommdating pushchairs, and not all attractions are accessible.
However, having a baby stroller in Rome is handy: you will find yourself walking a lot in Rome and a stroller will be invaluable for nap time on the go.
My recommendations is to bring a stroller to Rome, making sure you have a model you can fold easily and you can can lift when needed.
Strollers I like for Rome are:
What to pack for visiting Rome with kids
Aside from your basics, l I recommend you pack:
Baby carrier
Stroller
Insect repellent for summer
Baby sun screen
Water bottle
Very light clothing for summer
Warm clothing for winter, including a waterproof layer
Essential baby medicines (commercial names ar different in Italy, habng your won will redice stress if you find yorself in need for baby parcematoml on the go)
Find here >>> my complete Rome packing list <<<.
Additional practical tips for visiting Rome with kids
On this website, find also:
Grocery shopping in Rome – all you need to know
Where to buy baby items in Rome
Resources and best books about Rome for kids
Rome is more fun if your kids know some fun facts and stories about it.
On this website, you find some resources. Follow the links to find:
My very own 'Best of Rome with kids, a practical guide for family' included scavenger hunt sheets and info sheets for kids so they can learn about the city in a fun and engaging way (it's an ebook so it is also super handy to carry around on your phone!)
On this website, you have some printable scavenger hunts: animal statues, best of Rome, Trastevere hunt.
Facts about Vatican City for kids
List of ancient Rome's Gods and Goddesses and their symbols
Symbols of Rome kids can look for in the city
Great books about Rome for kids
I hope you enjoyed this guide to visiting Rome with kids and it helped you plan your family vacation in Rome. Safe travels!
If, at any stage, you want more personalized help, pop into my Facebook Group Travel Italy with Kids, and you will find me and many more like-minded parents ready to help (for free!)
Rome with Kids Family Guide: pin this!
This post was published in 2021 and has now been fully updated with current recommendations for best family tours in Rome and up-to-date resources