This is my carefully curated Rome itinerary for families, studied to mix Rome must-see sites and child-friendly attractions and organized so you can follow a slow pace that is suitable for all ages and the best of what Rome has to offer.
And so you are planning a 5 day trip to Rome, how exciting!
5 days are a wonderful length of time to visit the city: short enough to keep your visit entertaining for the kids but long enough to factor in downtime, may it be back in your hotel or in one of Rome's many parks.
The biggest risk you run into, with 5 days in Rome, is trying to do too much.
To help you avoid this trap and tiredness-induces meltdowns, I have written this 5 day Rome itinerary for families with small children in mind (check out also my tips for visiting Rome with a toddler): as you will see, it allows for many stops and plenty of time at each attraction.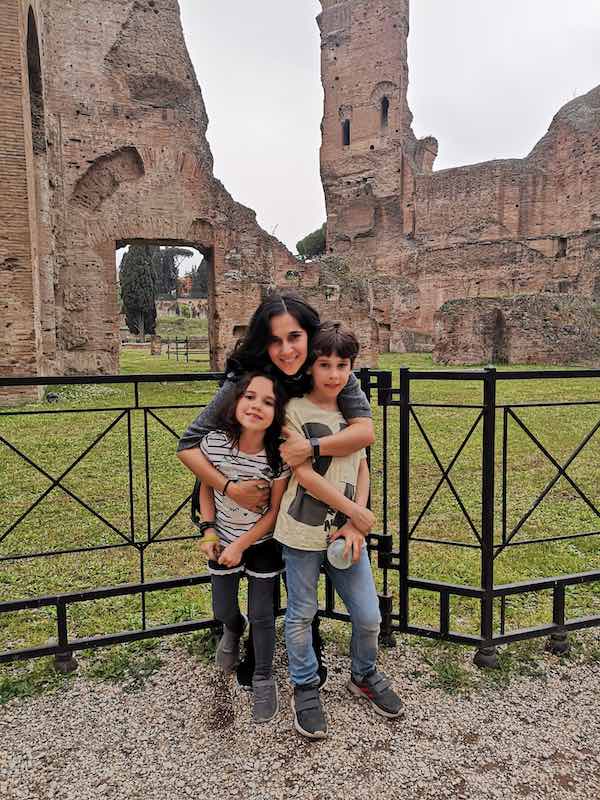 If you have older kids you can also use this itinerary and follow my recommendation on attractions.
Whenever possible, I have given alternatives of possible add-ons to each activity so you can tailor your experience to the specific needs of our family.
if you don't have quite as much time in Rome, you can also check out our three days in Rome with kids itinerary instead.
Please note: this post contains affiliate links and, should you make a purchase through them, we might make a small commission.
Before we start: practical tips for this family itinerary through Rome
Rome is vast and sprawling and over the course of 5 days, you will find yourself exploring several areas, sometimes close to each other and sometimes far.
With children in tow, Rome passes and discount cards are usually not worth their price (read here my full overview of discount passes) but it will be worth getting a carnet of bus tickets to have the freedom to jump on a bus when needed.
You can buy tickets at most newsagents and at vending machines at main bus terminus (Piazza Venezia has some) and you can choose among several types including single hop / 1 day / 2 days / weekly.
You can have a look at the options available here
If you find yourself far from your hotel and in need of a taxi, flag one on the street but be advised: they do not carry car seats.
They are not compulsory in taxis so you will not be refused a lift but I feel it is important for you to know in terms of how comfortable you are with the arrangement.
You can find an excellent selection of portable car seats for travel here
Rome family itinerary: Day 1
Morning: the Colosseum and Roman forum
The very first stop on my family-friendly itinerary of Rome is the Colosseum.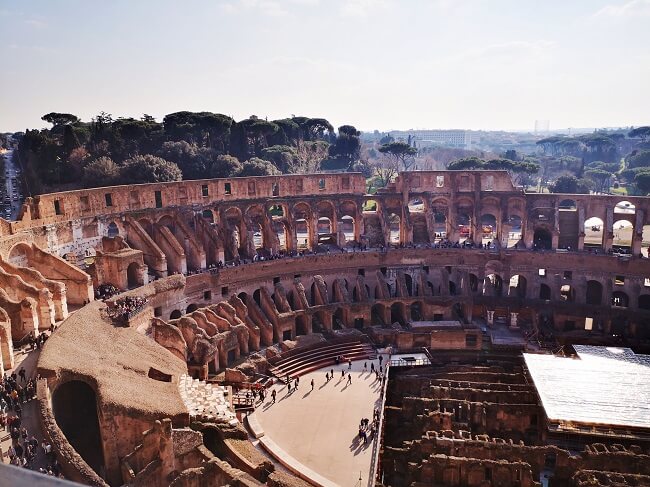 Kids usually love it, for many, it is 'the' reason to go to Rome and indeed, it is a special place.
The Colosseum grabs your attention from the very first moment you see it: its rows of arches tower above you and kids will recognize it straight away from books and cartoons.
I highly recommend booking a visit to see the inside of the Colosseum: the ones I love the most for kids are those including access to the underground area and the belevedere on the top tier.
The underground area is special for kids as it contains the lifts that were used to lift the animals up to the man stage: the idea that this building was one roamed by lions and elephants usually grasps the children's attention and the engineering of the lifts, recently constructed, is always mind-blowing!
The top tier of the Colosseum is less interesting but more scenic and offers incredible views on both the arena and the city.
The best tour combining skip the line access, underground and top tier is by coopculture (the official concession of the Colosseum): while not 'for kids' this is a family-friendly tour with good interactive supports such as 'there and then' book.
If you prefer a tour that is specific for kids, you can pick one that also includes the Roman Forum.
Wich such a tour, you can see both sites in only 3 hours, which will leave you plenty of time for other activities.
A good family tour of the Colosseum and the forum is this one.
Good to know: public restrooms are available beside the Colosseum and cost 1 euro (surprisingly well kept)
Have lunch at Cafe Cafe, just beside the Colosseum on Via dei Santi Quattro.
This is a colorful, informal family-friendly lunch place with a good selection of Mediterranean dishes and a handy buffet.
You can find more recommendations of kid-friendly restaurants in areas covered in this Rome family itinerary here.
Afternoon: Piazza Venezia, Campidoglio
A few minutes down the road from the Colosseum lies Piazza Venezia, an imposing square towered by 'Il Vittoriano' the white building Romans call 'the typewriter' and foreigners 'the wedding cake'.
Kids usually like this over-the-top building and it is worth taking the time to climb up to see the view from there.
Access to the first floor is free while the panoramic lifts to the very top set you back 10 euro. Advance purchase is usually not needed.
Beside the Vittoriano sits the Campidoglio/Capitolium, one of the ancient 7 hills of Rome.
It is worth visiting for several reasons: first, the square on top is a Reinassence marvel (by Michelangelo) and being car-free, is a place parents and kids can easily enjoy.
Second, it has stunning views over the forum and third, it has a column with the she-wolf and the twins on top. Perfect 'treasure hunt' material!
Last but not least, here there are public restrooms, always handy when traveling with small kids!
Evening at the Trevi fountain
At the end of this first day, the kids will be quite tired but should still have the strength to get to the Trevi fountain.
Make a gelato stop on the way and get a glimpse of the fountain in the late afternoon, after the crowds have thinned.
Take a stroll in the area, check out the local shops and head for dinner in nearby Piccolo Arancio.
Rome itinerary for families – day 2
Day 2 of this family itinerary around Rome leads you to my favorite part of the city and includes my favorite activity of all: an art class for children!
Morning at the Pantheon
Start your day at the Pantheon and let the kids roam free into this peculiar building.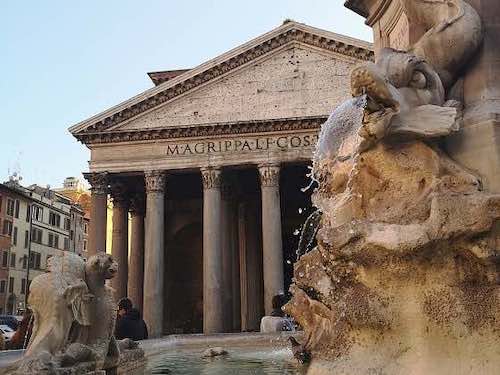 They will notice straight away the massive hole in the roof (the oculos) but only the most attentive ones usually notice the holes on the floor that make up the draining system of the building: indeed, the hole in the rood here lets the rain in, and it is by design!
Find my guide to Rome's Pantheon with kids here.
From here, stroll to Piazza della Minerva nearby and let them marvel at the small elephant statue in it and then stretch your legs to Piazza Argentina.
Here, you have the site of Caesar's murder (closed to visitors but you can see it from street level) and Rome's cat sanctuary, a bit of a treat for cat lovers.
Eat at nearby Forno Roscioli and then hop on the tram to Trastevere.
Afternoon: kids mosaic class
I recently had this wonderful art experience with my daughter and loved it so much I now add it to all Rome itineraries for families longer than just a couple of days: it is this special!
This is a mosaic class with a local mosaic artist and takes place in a stunning old part of Rome.
This is one of my favorite activities in Rome and one I now add to all my Rome itineraries for families since I find it truly enriching and fun.
You can read my full review here.
The class lasts a couple of hours and it is amazing if you have a child who is into making things. Older kids may instead enjoy a food tour of this area.
Evening: dinner in Trastevere
End your day with dinner in Trastevere, a lovely part of town with a lot of character and some of the best pizza in Rome
Rome itinerary for families: day 3
On this day we are crossing the river.
Morning – The Vatican and Castel St Angelo
The Vatican is not the easiest or most entertaining place for kids to visit but it is unmissable if you are in Rome and it does have some elements kids may like.
First and foremost, the fact that it is a different state and second that the basilica is the biggest in the world.
When tacking the Vatican, I recommend:
if visiting the museums, make sure you book a family tour with skip the line tickets such as this one
If interested in the basilica, make sure all parties are dressed appropriately (no short, no mini skirts or bare shoulders)
If climbing up the dome, make sure your kids are up for the challenge and don't get tired midway: it gets so narrow at some stage the om;y way is up and carrying is not an option!
if you think the Vatican will be too much or too boring for the kids, consider a visit to Castel Sant'Angelo instead
Have lunch in Borgo is the area around the Vatican and hosts a good selection of restaurants.
I like Borghiciana pastificio artigianale which is tiny (not for groups) but friendly and with gorgeous pasta.
Afternoon: Piazza Navona
Piazza Navona is one of the most beautiful squares in the whole of Rome and an easy one to enjoy with kids.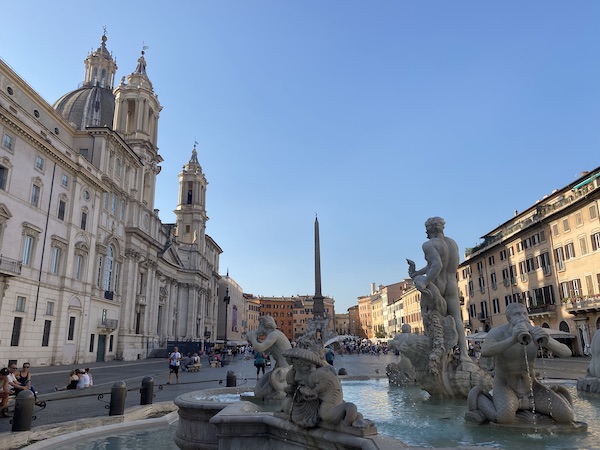 The piazza is the old stadium of Domitian and nowadays a great place for kids to run around and learn about the city (the stories about the fountain in the center and the nearby statue of Pasquino are fun for kids and adults).
Here you also have a wonderful toy shop called 'Il Sogno' with life-size teddies: it was wonderful when I was a child and it still is- a truly magical place!
Have a gelato stop in Gelateria del teatro, then cross Corso Vittorio to have an aperitivo in car-free Campo de' fiori and check out the cool shops on via del Governo Vecchio
Evening: dinner at Piazza Pasquino
Have an early dinner in Cul de sac, a small and informal place with gorgeous food.
Get here before the crowds for the best experience.
Fun fact! Cul de Sac is in Piazza Pasquino, which takes its name from a statue called 'Pasquino', famous for being one of the six 'talking statues of Rome' (click for info). He doesn't actually talk but his story is fun!
Rome itinerary for families: day 4
Morning: Spanish steps, Piazza del Popolo
Day 4 takes in one of the city's most iconic sites and what my kids consider the best place in Rome of all: Explora children's museum!
Start your day at the Spanish steps: if you can, get here before the crowds of day-trippers and let the kids run loose up and down the big stairs.
If you love shopping, this is a great area to get yourself a new wardrobe: Via Condotti is full of designer boutiques with gorgeous styles while nearby Via del Corso has high street brands, making this area a good stop for all needs.
You won't go hungry in this part of Rome: cafes and restaurants abound and you even have McDonald's on Piazza di Spagna should the kids want their fried chicken fix (no judgment, my two are the same)
However, if you want something special, I have a recommendation for you
Head towards Piazza del Popolo and get the tram n 2 here to reach Lola (it's only a few stops away): this is a lovely family-friendly restaurant with indoor and outdoor seating and a playground with climbing frames.
If you don't want to go that far, Alfredo in Piazza Augusto Imperatore is also a great address in a beautiful location: they claim to be the creators of Fettuccine Alfredo so if your kids love them, it's a must stop!
Afternoon: Explora
To let the kids loose and give them playtime there is no better place than Explora, Rome's children museum. The museum operates with shifts, each of 1h45 minutes, but has an outdoor area with zipline you can linger in for as long as you want.
This is a wonderful place for kids to play and a great stop to make them recharge before the sightseeing planned for day 3!
While there is nothing specifically 'Roman' in this museum, this is the most child-friendly place in the whole of Rome and could not miss from a Rome itinerary for families with small kids.
Should you kids be too old for this type of entertainment, this can be a good day to also stretch to the Foro Italico (sport complex with interesting architecture) and see the Olympic Stadium or even go cycling along Via Appia (in that case, I suggest you reverse the order and go cycling in the morning and a stroll in town in the afternoon).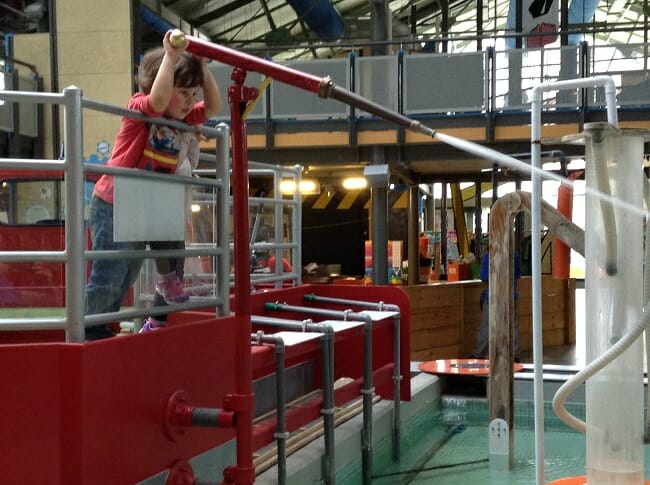 Evening: dinner in the Jewish ghetto
After an afternoon playing the kids may be ready to tolerate a more grown-up type of evening and if this is the case, I recommend you go for dinner in Rome's ghetto.
Here you have wonderful restaurants serving the famous specialties of the Jewish community of Rome (the fried artichokes are special).
The proximity to the river makes this spot a lovely one for an evening walk too, if you are in the mood for fresh air.
Rome family itinerary day 5
For your last day in Rome I cannot make my mind up: part of me wants to recommend a trip to the Borghese Gallery and the other half wants to send you outside of Rome to gorgeous Ostia Antica.
The choice will largely depend on your interest, so I will describe both options.
Morning – Galleria Borghese (Borghese Gallery)
Start your day with a family tour of Galleria Borghese.
This is one of the most famous art galleries in the world and relatively easy to enjoy with kids.
The Gallery is full of beautiful animal sculptures (you can engage the kids asking them to find them) and it is not so big to be overwhelming. The fact that the massive Borghese gardens surround it, make it even more appealing!
This is one of the best museums in Rome to visit with kids.
Have a picnic lunch in the park and then head to the zoo just beside.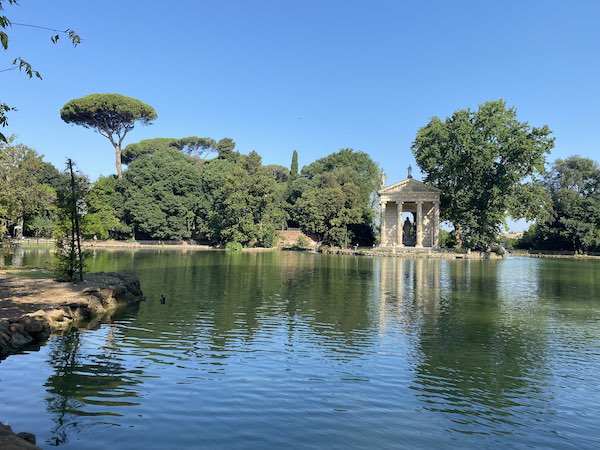 Afternoon – the zoo and shopping
The zoo is just beside the gallery and it is an easy hit for the kids.
It is not particularly large or impressive compared with others around the world but for kids it is great and a good place to escape the crowds and spend the afternoon outdoors.
If you prefer to skip it, the Borghese gardens have anyway lots to offer: bike rentals, playgrounds and a lovely pond are always popular with kids (and a good place to meet locals, should you kids feel like seeing other children)!
After the visit, you are close enough to the center for a last bit of shopping around via del Corso and via del Tritone.
Evening: Testaccio
For your last evening in Rome, I have foodie treat: dinner in Testaccio, one the best places for Rome's traditional food.
You are likely to have to catch a taxi here or hop on the tram but the trek is worth it: this is where you find the best carbonara and cacio and pepe in the whole of Rome, the perfect way to end your Rome family vacation!
I hope you found this Rome itinerary for families useful and it helped to answer the question: what can I do with 5 days in Rome with kids?