A handpicked selection of family hotels, vacation rentals and family suites in Rome to help you decide where to stay in Rome with kids during your Rome vacation.
Picking family accommodation in Rome is one of the hardest parts of planning a trip to Rome with kids.
Rome has an infidel list of accommodation options and finding your bearing among the many possibilities is quickly overwhelming.
Rome is so large and its public transport so notoriously messy, you wan to to make sure you pick the right room / apartment but also the best area.
I am here to help!
Rome is my hometown and I am passionate about helping people explore it at best.
In this guide, I have listed tried and tested family friendly accommodaition options in Rome that I believe are perfect for visitors.
I chose them on the basis of my own experience and that of many friends and trustworthy parents who shared their finds with us and have actually stayed in these places.
For each, I have included a short description and a link for photos, prices and info.
On this page, you also find an overview of the best areas in Rome for families, to help you find the perfect one for you.
Please note: this post contains affiliate links. Should you make a purchase though them, we might make a small commission, at no extra cost to you.
Where to stay in Rome with kids: best areas
The best area to stay in Rome with kids for proximity to attractions and things to do is the city center, the so called 'Centro storico'
Rome's city centre is a large enough area and it can be sub-divided into several smaller parts.
The best city center areas for families in Rome are:
Pantheon and Piazza Navona – this is a super central part of Rome, the one with cobbled streets, outdoors restaurants and piazzas and churches as the eye can see.
This is a perfect area for families as it is close to everything and it puts you within walking distance to almost all Rome main attractions.
The downside of this are for kids is that it is not very green, something very common in this part of Rome.
Colosseum, Fori Imperiali, Monti – staying near the Colosseum is exciting for kids and great for the whole family thanks to the good facilities, transport option and proximity to some of Rome's main attractions.
Not all the streets round the Colosseum are as nice as each other, but the area of Monti and pretty streets on the Caelian Hill are a delight and offer nice accommodation both in hotels and apartments.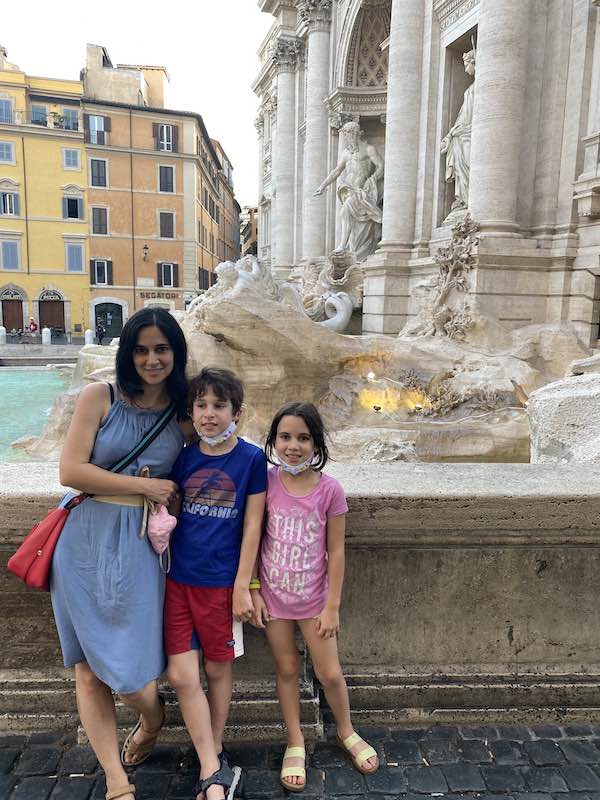 Trevi – the area of Fontana di Trevi is very busy; however, it is also very central so, if you want to be in the very thick of it, it is a great option!
We have some nice addresses in the Trevi area on this list that manage to offer quiet rooms despite the central location. The area puts you close to many attractions including the Trevi Fountain and the Spanish Steps.
It I ,most suited to families who do not mind a lot of movement around them: the footfall here is high!
Trieste / Parioli: this area is outside the historical center and most suited to families who are looking for local feel, excellent facilities and proximity to parks.
This is a residential, beautiful and green area and perfect if you want to be away from the tourist track yet remain close to the center. This area is best suited to families who do not mind using public transport.
Trastevere – Trastevere is a popular area with families who find here a mix of local charm and tourism facilities.
Depending on the exact location, Trastevere is very touristy of very charming. To families, it offers nice perks such as the pretty and local playground on Piazza San Cosimato.
Types of Rome accommodation for families
The most common types of accommodation in Rome for families are:
Hotels – called hotel or Albergo, hotels in Rome come in all shapes and sizes. In this list, I have focussed specifically on those that have facilities or attentions for families, such as family rooms, interconnecting rooms, or kids welcome packs etc.
Suites – suites are everywhere in roe and are a good solution if you want a little ore space but do not want to renounce to the facilities of a hotel. They come in at different price points and usually include basic breakfast facilities in room but no kitchens
Holiday / Vacation rentals – vacations rental are everywhere in the city. Usually managed by private hosts, the best of them are newly refurbished apartments with extra perks such as the option to book daily cleaning or grocery delivery, laundry etc (at an extra charge).
In this guide, I selected apartments with practical things for families such as washing machines and dishwasher, as well as of course a lovely location, host and space.
How to book family accommodation in Rome
My favorite booking engine for accommodation in Rome is booking.com
I use it myself extensively on all my travel and I find their filters, info and messaging system excellent. I also love how many hotels and apartments offer free cancellation options there and that you get rewards as a loyal user.
On booking.com, you have hotels, suites and apartments.
Other platforms you may want to use are Airbnb and VRBO for rentals.
Where to stay in Rome with kids neat the Pantheon and Piazza Navona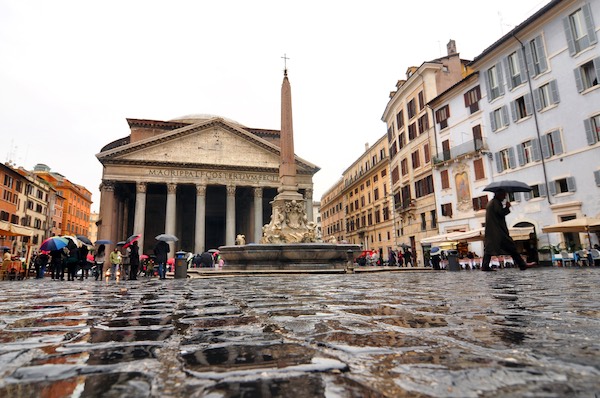 Palazzo Nari – great family apartment close to the Pantheon for up to 9 people
A fantastic holiday apartment in Rome's Piazza Navona area for large families or groups of family and friends is Palazzo Nari.
Close to the Pantheon and Piazza Navona, the apartment is in a fantastic location and is generous in size, it has lovely wooden floors, a fully equipped kitchen and nice touches for children such as kids' cutlery, high chairs and socket covers for crawlers.
Facilities include:
4 bedrooms
3 bathrooms
Fully equipped kitchen with oven and dishwasher
Wooden floors
2 washing machines and dryer (a rarity in Rome!)
Supermarket nearby
Daily housekeeping / dry cleaning and additional service can be arranged for an extra charge.
This is my absolute favorite Rome area for visitors and this apartment is on a nice street striking the perfect balance between old Rome charge and convenience. The taxi rank of Torre Argentina and several buses are nearby.
You can find info, photos and prices here
Casa Alice – 2 Bedroom Apartment near the Pantheon
Casa Alice is a lovely 2 bedroom family friendly apartment in a perfect location close to the Pantheon and Piazza Navona, both only a few minutes walk from the house.
The apartment is on the coveted third floor but please note there is no elevator.
Apartment facilities include:
2 bedrooms (queen beds)
Additional sofa bed
2 Bathrooms (of which one is en-suite)
Kitchenette with dishwasher and kids' high chair
Dining area
Wi-fi
Washing machine
Daily housekeeping is available at an extra cost
Tiles floors (no carpet) make this a good choice for families dealing with dust allergies.
The apartment is in a fantastic location: gelato shops, restaurants and all essentials shops including grocery shops and pharmacy are nearby.
Find info, photos and prices here.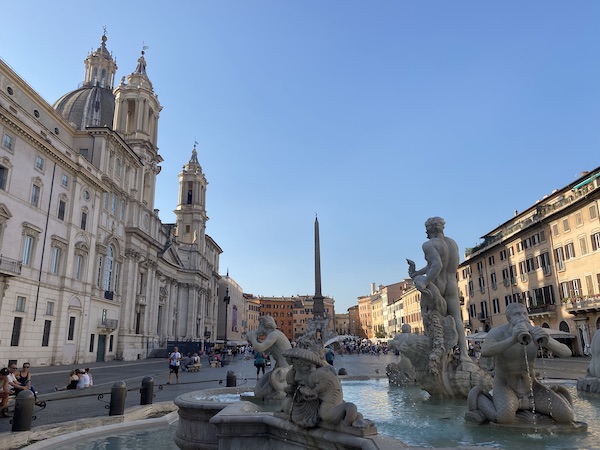 Pantheon Domus Apartment: large 2 bedroom apartment close to the Pantheon and Piazza Navona
The Pantheon Domus Apartment is a large and beautiful 2 bedroom aparment on Via di Torre Argentina, a lovely cobbled street in Rome city center leading you straight to the Pantheon.
The apartment is perfect if you want to be walking distance from Rome main attractions and it is has the Torre Argentina tax rank nearby as well as several trams and buses stopping nearby.
If your kids love cats, they'll love to know the apartment is only a couple of minutes from Rome's cat sanctuary (if you don't like cats, don't worry! You won't run into them unless you want to!)
Apartment facilities include:
Large apartments with 2 bedrooms and additional futon bed
Additional sofa bed in the living area
3 bathrooms (of which 2 ensuite)
Kitchen with dishwasher
washing machine
Flat screen TV
Tiled/ parquet floors
The apartment sleeps 9 and it is perfect for larger families and small family groups alike.
Please note that there are steps inside the house that may prove tricky for families with toddlers. I highly recommend you check the photos for suitability.
The apartment is on the second floor and the building has an elevator.
Find photos, prices and availability here.
Hotel Navona, 3 star hotel
Like the name suggests, Hotel Navona is located in the heart of Rome and close to grand Piazza Navona, the old stadium of Domitian and one of the most beautiful piazzas in Rome.
This is a good hotel with rooms designed specifically for large families that can accommodate up to 6 guests, which is not usual in Rome in such a location and in this price range.
This area is not particularity green but it is good for families in terms of proximity to main sights and it does have some of the best gelaterie in the city nearby.
Check prices and availability for family rooms at Navona Hotel here
Navona 49 Luxury Suites and apartment
If you are looking for beautiful accommodation in Rome with view right onto the city's most stunning piazza, then you will love Navona49.
Their suites come in several sizes (4 to 6 guests) and place you right in the very center of the city, close to attractions, restaurants, gelato shops and more.
Piazza Navona is literally outside your door and window.
Facilities in their bigger suite/ penthouse include:
Space to up for 6 people
Kitchenette
Bathroom
Wi-fi
Air conditioning
Mini bar
TV
The suites all have different specs. Find info, prices and photos here.
Le Quattro dame luxury suites close to Piazza Venezia, Pantheon and Piazza Navona
Le Quattro dame is a residence with luxury suites located in an excellent location between Piazza Venezia and Largo di Torre Argentina, close to the Pantheon, Jewish ghetto and Piazza Navona area.
The suits can host up to 4 people (2 adults and 2 kids) and we like it for families because of the handy location and the proximity to one of our kids favorite attractions in the whole of Rome: the city's cat sanctuary!
The suites are equipped with private kitchenettes with Nespresso coffee and cappuccino machine, electric kettle and, mini bar which is handy for families with young children especially.
Check out availability and price here
Where to stay in Rome with kids near the Colosseum
Peter's Dream – 3 bedroom apartment in Rome Colosseum area
Peters' Dream is a beautiful family friendly apartment close to the Colosseum, on the historical and well served Caelian Hill. The apartment has many elements that make it perfect for families with kids.
Facilities include:
3 bedrooms (Non smoking)
3 bathrooms
Kitchen
Sitting area
Washing machine
Wi-fi
The apartment is in a building with elevator and it is pet friendly. The house has a generous size and several beds (double, single and sofa bed) that make it ideal for larger families.
Find photos, price and availability here
Hotel Kolbe, 4 star hotel near the Forum and the Palatine
Hotel Kolbe is a lovely 4 star hotel in a great location, close to the wonderful ruins and view of the forum and the palatine. This is the first family hotel we 'tested' in Rome and it is still one of our favorites.
The location is excellent for sightseeing and they have good family rooms for up to 4 guests.
The hotel has an internal courtyard and it is close to the Aventino, which is one of the 7 hills of Rome with a gorgeous garden on top (no playground but amazing view and good to run around).
The Circo Massimo and its vast expanse is also nearby and good for small kids to let off steam.
Check availability and prices of family rooms at Hotel Kolbe Rome here
Hotel Capo d'Africa, 3 star hotel beside the Colosseum
The hotel has nice, clean rooms but what stands out here is the hotel terrace which is just delightful and where you can enjoy drinks and snacks.
Rooms in this hotel fall into several categories and include interconnecting family rooms, perfect if you are visiting Rome with kids and need a little more space.
Check prices, photos and info here
Hotel Mercure Centro Colosseo, 4 star hotel with pool near the Colosseum
The hotel Mercure Colosseum is a business hotel in terms of feels but comes with one thing that is a life saver if traveling with kids to Rome in summer: a pool!
The hotel is a minute walk from the Colosseum and has a pretty park with playground just beside, which is an added plus since not many places, in Rome city center, offer access to green area.
Check photos, availability and prices here
Hotel Lancelot, 3 star family friendly hotel beside the Colosseum
Hotel Lancelot is lovely family hotel minutes from the Colosseum: it has large family rooms with a double bed and two single beds.
Children under 3 stay free of charge in a baby cot and the hotel has a restaurant and bar/garden patio which is fantastic for when tired kids cannot face heading out again for dinner.
Check availability, photos and prices here
Palm Suites – elegant family suite near the Colosseum
If you are looking for high-end, stunning suites with all the comfort of a hotel, then elegant Palm Suite may be just the place for you.
Part of prestigious five star hotel Palazzo Manfredi, also known for its award winning rooftop restaurant with views over the Colosseum, Palm Suites come in different sizes, including a family suite that can host up to five guests.
The suite has exotic decor and feels a little like an oasis in the middle of Rome. Facilities include:
Double room
Room with 2 single beds
1 single sofa bed and a baby cot (available upon request)
Roman Forum views
Livingroom
Private bathroom
The suites are part of the offering of Palazzo Manfredi, one of Rome's most prestigious five star hotels which also has a restaurant and bistrot on site, cocktail terrace, concierge and the guest services you expect from an establishment of this caliber.
Find info, prices and photos here.
Where to stay in Rome with kids near the Trevi Fountain
Trevi Fountain 2Bedroom apartment for families
The Trevi Fountain apartment is a bit of find: tucked away in a tranquil street near Trevi, it is just detached enough from the main tourist street to offer silence and quiet while staying very close to all attractions.
The apartment is on the second floor (no elevator) and sleeps up to 4 adults and 1 child.
Facilities include:
2 bedrooms
2 bathroom
Kitchen with hobs, over and dishwasher
Washing machine. Dry cleaning /laundry can be arranged at an extra charge
Double glaze windows
Free wifi
Air conditioning / heating
No smoking
Daily housekeeping available at an extra cost
The apartment is in a very central location, walking distance from most attractions and close to buses and metro. A gelato shop and pizza shop are near and supermarket/grocery shopping is available nearby.
Grocery delivery for your first day can be arranged at an extra charge.
Find info, photos and prices here.
Trevi Apartment: 2 bedroom apartment with 24h reception
Trevi apartment is a beautiful 2 bedroom / 5 guests apartment is Via degli Avignonesi, a historic cobbled street near via Veneto and the Trevi Fountain.
The location puts you within walking distance to attractions such as the Spanish Steps and Trevi Fountain but it is also served by metro stop Barberini.
Shops, cafes and restaurants are all on your doorstep.
Families include:
2 bedrooms (one with queen bed, one with twin beds)
Additional sofa bed
Kitchen with dishwasher
Kids' high chair and music/ dvds
Washing machine (laundry and dry cleaning available at an additional charhge)
Daily housekeeping abatable at an additional charge
Air conditioning
Free wi-fi
The apartment has a 24h reception service and can arrange arrival transport (extra cost) and luggage storage.
Find info, prices and photos here.
Palazzo Scanderbeg, close to Trevi fountain.
Not a hotel as such but a residence offering gorgeous apartments with 24/7 guest services in the heart of Rome, a stone through from the Trevi fountain.
The residence is in a fantastic location and is well priced for the level of elegance and service you receive. Families are welcome and kids stay for free: the residence offer family rooms, small present for kids on arrival and residence 'treasure hunt'. A nice family friendly restaurant is also nearby
Check availability in family friendly accommodation at Palazzo Scanderbeg here
Where to stay in Rome with kids near Termini station / Monti area
The area around Termini station is more suited to business travelers than families.
However, a good family hotel recently opened in a location that is both convenient to the train station and pleasant: the DoubleTree Monti Hotel by Hilton
This modern hotel has interconnecting rooms perfect for families and teens, a lovely rooftop terrace serving cocktails and non alcoholic drinks and is in a perfect location for both sightseeing and reaching the train station.
You can find rooms and prices here.
Where to stay in Rome with kids near the Spanish Steps
The Spanish Steps are right in the center of Rome and one of the it's most iconic sites.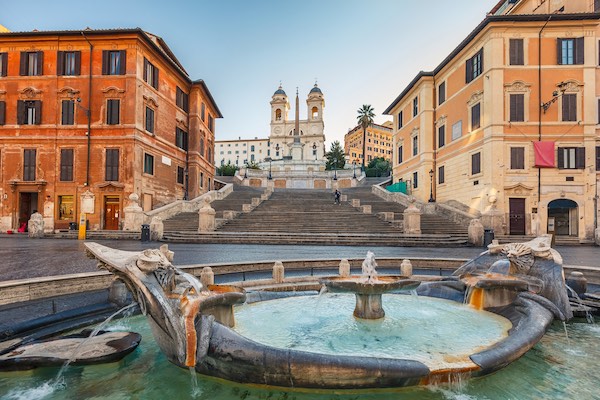 Staying in this area, you are immersed in one of the most upscale parts of the city and you find yourself surrounded with beautiful designer shops and art galleries, as well as close to some of Rome's most famous streets such as Via del Corso.
The area is not overly kid-firefly; however, there are gelato shops and the Disney store nearby and the Borghese Gardens are right above you, on the Pincio Hill.
This is, however, a great area for upscale accommodation.
Suite Gregoriana (2 bedroom apartment)
Suite Gregoriana is a spacious, beautiful family suite close to the Spanish Steps and the Borghese Gardens.The suite is a two bedroom apartment housing up to 6 guests and has 2 bedrooms and 2 bathroom, plus a kitchen and living room.
The suite has dishwasher, washing machines and all the essentials for a family stay and it is in one of teh most central and scenic parts of the city, perfect for sightseeing.
You can find price, availability and photos here.
Hotel Mozart – 3 star hotel close to the Spanish Steps and Piazza del Popolo
Hotel Mozart is a pleasant mid range hotel in a fantastic position close to the Spanish Steps and Piazza del Popolo.
The hotels offers accommodation in rooms and suites for up to 4 people, has a restaurant onsite and a rooftop terrace perfect for summer evenings.
The hotel also offers a 4-people self catering apartment in a nearby street.
You can find info and prices here
Portait Roma – 5 star hotel and suites
They welcome families in their family suite which comprises two bedrooms with separate bathrooms (one with its own sauna) and a separate living area.
The most impressive element of this hotel are its gorgeous terraces: they overlook stylish Via Condotti and Trinita' de' Monti and the view is so stunning you may never want to leave.
Their family accommodation merges a Junior Suite with a Deluxe Studio to offer a generous space, it has two bedrooms, two bathrooms and a fully equipped kitchenette.
Check price and availability in Hotel Portait Rome here
The Inn At the Spanish steps hotel and apartments
The Inn at the Spanish Steps is an upscale property offering hotel and apartment accommodation on prestigious Via Condotti and nearby streets.
Their rooms and apartment come in several sizes, including larger ones for families with kids.
Some have breathtaking views over the Spanish Steps that are worth stretching the budget for.
Check price, availablilty and photos here.
Where to stay in Rome with kids in Parioli / Trieste area
As mentioned above, the Parioli/Trieste area of Rome is a little outside the main tourist track.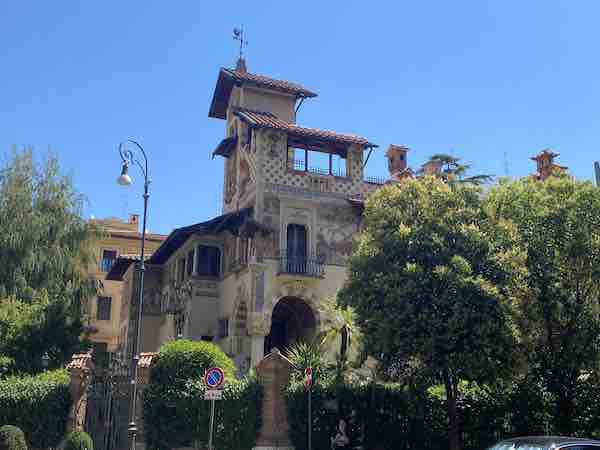 It is, however, brilliant for families and a fantastic place for kids thanks to the proximity of Villa Torlonia (park), the Borghese Gardens and the fact that many families live here, so running into other kids is easy!
The downside to this area is that you can walk to the park but need public transport or a short taxi ride to reach the main attractions.However, direct buses lead you into the city center in about 15 minutes.
A fantastic hotel for families here is Villa Pirandello.
Tucked away in a quiet street, it is very close to lovely Villa Torlonia (park with playground, cafe/restaurant) and Villa Paganini, a local families' favourite hangout and it is walking distance from the Coppede' District, worth seeing if you love architecture.
The hotels has lovely rooms for up to 4 guests, a nice patio and a relaxed atmosphere. This is an exceptional find for people who want to experience Rome like locals in one of the most pleasant and family friendly areas of the city.
Find info, photos and prices here.
Where to stay in Rome with kids: additional resources
Best Rome hotels near the Pantheon
Best Rome hotels near Piazza Navona
Best Rome hotels near the Colosseum
Best holiday rentals in Rome for families
Best Rome hotels in Trastevere
Where to stay in Rome with kids – pin this!