Rome's Caelian Hill: all you need to know about Il Celio, one of the historical seven hills of Rome. What to see on Celio, map of attractions, where to stay, what makes Celio special.
The Caelian Hill of Rome (In Italian: il Celio; in Latin: Caelius) is one of the historical seven hills of Rome.
Located between the Colosseum and the Baths of Caracalla, in Rome City center, it is a beautiful hill with many interesting attractions and churches.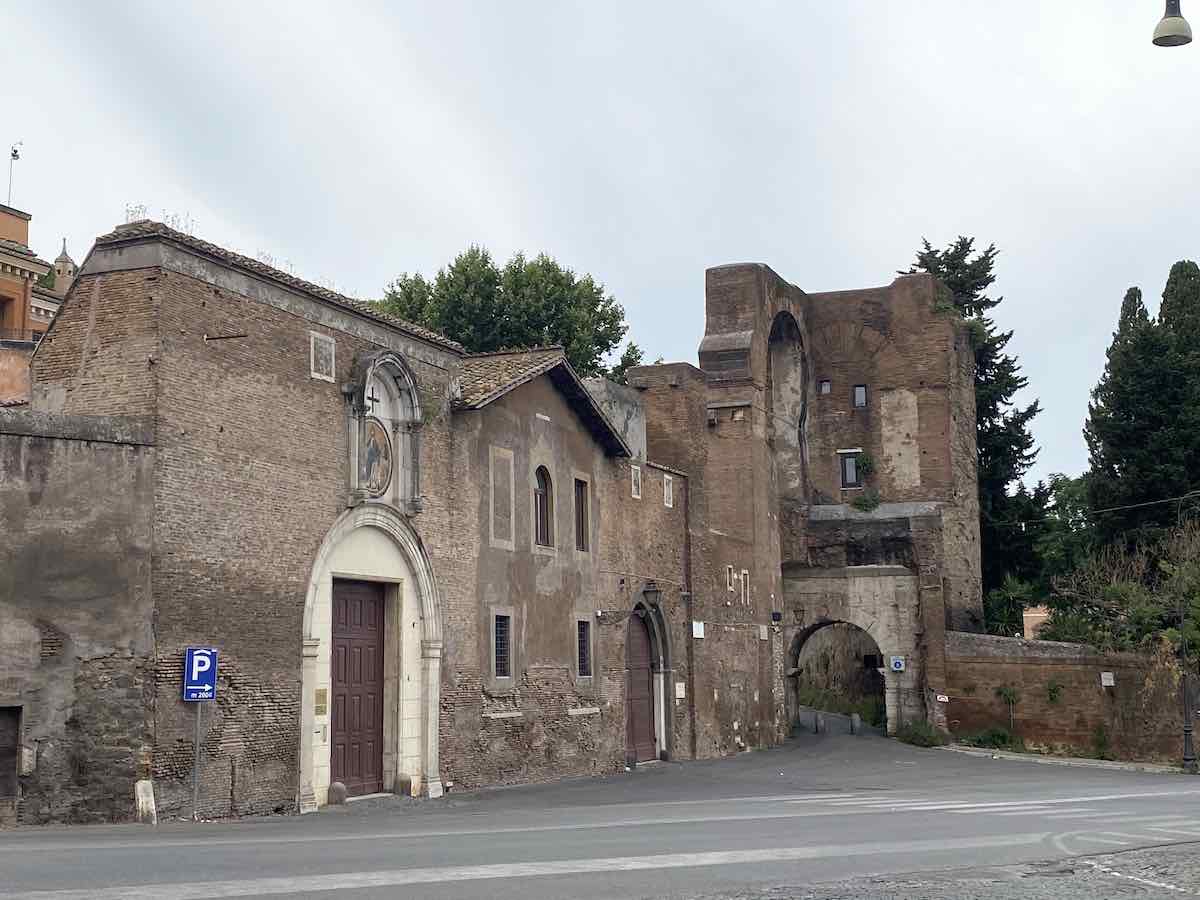 Despite this central location, the Caelian Hill is largely ignored by tourists.
Probably overshadowed but the proximity of the most visited monuments in Rome, the Caelian Hill receives very few visitors. Those who venture here, however, get wonderful rewards.
One the Caelian Hill, they find beautiful churches, stunning mosaics, ancient streets, parks and ancient Roman houses.
They also find some of the most views: the Caelian Hill is one of the best places to catch views of the Colosseum!
Please note: this post contains affiliate links and, should you make a purchase through them, we might make a small commission.
Where is Caelian Hill: map
Why is Caelian Hill significant
The Caelian Hill has been inhabited since ancient Roman times.
Located beside the Palatine, the hill where Romulus founded Rome, the Caelian Hill is the place Emperor Claudius has his temple and Emperor Nero his acqueduct.
It is also a significant place for early Christianity, which built here stunning churches such as Santo Stefano Rotondo and I Santi Quattro Coronati.
As well as an excellent place for sightseeing, the Caelian Hill is now also well known for Villa Celimontana, which hosts a popular jazz festival, and for the military hospital.
What to see on the Caelian Hill
The Caelian Hill is a relatively compact area. You can visit all the attractions below in an afternoon, on foot.
Chiesa di Santo Stefano Rotondo (church)
Santo Stefano Rotondo is a beautiful round church dating back to 470AD.
Perched on top of the Caelian Hill, it is now the seat of the National Church of Hungary and one of the most peculiar churches in Rome.
Its name, 'Rotondo' (lit. round) gives away the peculiarity of this church: its round shape!
While not unique in Rome, this is one of the very few round churches in Italy and the visual impact of this architectural choice is powerful.
As you walk in, columns encircle the main altar, located at the center of the church and the congregation seats all around it, creating a powerful sense of community.
As well as the round shape of the church, Santo Stefano Rotondo is worth seeing for its frescoes. All along its wall, frescoes depict scenes of martyrdom and they are exceptionally gory!
In contrast with this bloody interior decor, Santo Stefano Rotondo welcomes visitors via a pretty patio.
Overall, the feeling you get from visiting this church is that of peace and wonder, which is why I highly recommend you add this Rome hidden gem to your itinerary.
Address: Via Santo Stefano Rotondo, 7, 00184 Roma RM, Italy
Basilica dei Santi Quattro Coronati
The monastery and church of Santi Quattro Coronati date from the V century AD and it is one of the most fascinating Christian buildings in Rome.
Originally built on the ruins of an ancient Roman home, the complex went through several reconstructions, each of which added interesting architectural elements to it.
Nowadays, worth seeing are floors in Cosmatesque style, made large disks of marble and porphyry and stunning roman mosaics, the apse, the only one in Rome to embrace the three naves of the church and the beautiful frescoes by the Florentine painter Giovanni da San Giovanni (1592-1636).
The complex also has an important cloister, the Chapel of San Silvestro, important for frescoes depicting the Donation of Constantine, and the Gothic Hall, a unique example of Gothic art in Rome.
The complex also has a stunning exterior with a tall brick tower and facade that makes you feel like you stepped away from Rome and walked into a medieval hamlet!
The complex hosts the Augustinian Nuns. The best way to visit is by guided tour.
Address: Via dei SS. Quattro, 20, 00184 Rome, Italy
Basilica di San Clemente
The Basilica of San Clemente is at the bottom of the Caelian Hill and it is unique.
Rather than developing over one floor, the church has three: one at street level and two below.
This peculiar structure is due to the history of the building.
Following the common practice of housing new builds on top of older ones, the area was first occupied by a set of Roman houses, later by a temple to Mitra, a Roman God from Asia widely worshipped in the first three centuries of the Empire, and then a Christian church.
All three levels are open to visitors and worth visiting for their historical meaning and stunning decorations: this church is one of the best places to see mosaics in Rome.
Visiting San Clemente is by booking only: you can book directly with the church or get a guided tour here (recommended)
Address: Via Labicana, 95, 00184 Rome, Italy
Top Tip: San Clemente and Santi Quattro Coronati are very different from each other and worth seeing together with the help of a specialized guide. This will give you a unique insight into religion and architecture in the first five centuries of the Christian Era in Rome – find info about what a guided tour involves here.
The Roman Houses of Celio (Case Romane del Celio)
In Rome, there is a limited number of ancient Roman houses open to the public: some of the most beautiful are on Celio.
The houses are now underground and they are open to guided tours only.
The case are wonderful: the most ancient structures date from the II century AD and are from what used to be a wealthy Roman house.
This makes geographical sense if we think that this part of the Caelian Hill is just in front of the Palatine, where Rome's most prosperous families and then the Emperors had their residence.
In later times, this original Domus became a middle-class apartment block with shops and flats, then again a wealthy home.
Finally, it became the residence of Christian martyrs, Saint John and Saint Paul, who died here as martyrs and now have a church in their name in this exact location.
Case Romane del Celio are fascinating to visit and have beautiful frescoes. They are one of the most interesting underground attractions in Rome and amuse-see for history lovers.
Visit by guided tour only – Please note: in 2021, tours are temporarily suspended.
Basilica dei San Giovanni e Paolo
The Basilica of San Giovanni e Paolo al Celio is a beautiful church commemorating the martyrdom of St John and St Paul, who lived and died on this site (see above).
The church is popular with weddings and it is worth seeing inside however, what I feel is very special about it is its location.
To get here, you climb up Clivo di Scauro or walk along the beautiful and ancient Via di San Paolo della Croce, two of the most picturesque streets in Rome.
Arch of Dolabella and Silanus
On top of the Caelian Hill, at the start of Via di San Paolo della Croce, there is a beautiful ancient arch, still standing.
The arch is one of the gates in the Servian Walls: built in the I century AD, it was restored under Augustus as Porta Celimontana and then became part of Nero's acqueduct.
The arch is now a passageway towards the church of St John and St Paul and a scenic corner of Mount Celio.
Villa Celimontana
Villa Celimontana is a beautiful park on top of Celio.
As well as being an enjoyable green space, the park is famous for hosting a summer Jazz festival that attracts some of the biggest names in the Jazz scene in Rome and beyond.
Parco del Celio
Parco del Celio is a small green area at the top of the Caelian Hill and it is worth visiting for the stunning view over the Colosseum it offers.
From here, the Colosseum appears framed by umbrella pines, creating a quintessential Rome scene.
In summer, this area hosts events of Estate Romana, with music and food, worth for the quality of the shows and the unique background!
Piazza and church of Santa Maria in Dominica, Fontana della Navicella
On top of the Caelian Hill, in front of Villa Celimontana, stands the beautiful church of Santa Maria in Dominica, or Santa Maria in Navicella.
The church dates from the VII century AD and it is worth seeing especially for the wonderful apse mosaic, representing the Virgin about to hand baby Jesus to the faithful.
In front of the church you find a pretty fountains, Fontana della Navicella.
The fountain represents a small ship and its author is Andrea Sansovino, who made it in 1518-1519 by order of the Medici Family.
Caelian Hill itinerary – Celio itinerary
The Caelian Hill is compact and you don't need to follow an exact itinerary to see it. If you want guidance however, this is the Celio itinerary I recommend:
| | | |
| --- | --- | --- |
| Location | Time needed | Free |
| Walk up Clivo di Scauro | Less than 5 mins | Yes |
| Take a guided tour of the Roman Domus | Up to 2 hours depending on the tour | No |
| Visit Basilica Santi Giovanni e Paolo | 15mins+ | Yes |
| Walk to the Arch of Dolabella | 5 mins | Yes |
| See the Mosaics in Santa Maria in Navicella | 15mins+ | Yes |
| Rest in Villa Celimontana | at leisure | Yes |
| Visit Santo Stefano Rotondo | 20mins+ | Yes |
| See the stunning church of Santi Quattro Coronati | 15mins+ | Yes* |
| Walk downhill to San Clemente + visit | 5 mins + 30 mins for the tour | No |
*Free without a tour. Guided tours available, charges apply
Have a meal on Via Celimontana as a reward from all your walking!
Where to eat in Celio neighborhood
Celio hosts many restaurants and wine bars, popular with locals as well as tourists.
Recommended addresses are:
Le Naumachie, Via Celimontana 7, 00184 Rome , traditional Italian restaurant
Cafe' Cafe', Via dei SS Quattro 44, 00184 Rome pleasant bistrot with mediterranean specialities
Aroma Restaurant, Via Labicana, 125, 00184 Rome, elegant rooftop restaurant of Palazzo Manfredi Hotel with breathtaking views over the Colosseum
Crab, Via Capo d'Africa, 2, 00184 Rome, famous for fish and seafood especially
Enoteca Wineconcept, Via Capo d'Africa, 21, 00184 Rome, a great place for wine lovers offering wine tasting in Rome
Hostaria Isidoro, Via San Giovanni in Laterano 59/A, 00184 Rome, a good address for traditional Roman food near the Colosseum
Where to stay on the Caelian Hill
Staying on the Caelian Hill means staying right beside the Colosseum, in Rome city center.
You can find here>> a comprehensive list of the best hotels near the Colosseum or you can check out the following recommendations:
Palazzo Manfredi – 5 star hotel with stunning views over the Colosseum and rooftop restaurant.
Hotel Capo d'Africa – Top mid-range choice! – Well priced hotel with lovely rooms and terrace.
Mercure Centro Colosseo – modern 4-star hotel with a pool, a rarity in Rome City center, perfect for summer.
How to get to Celio, Rome
Celio is well connected to the rest of the city by tram, bus and metro.
Tram n3 leaves you at the foothills of the hill on the Colosseum side or the Aventine Hill side or on its top, at Parco del Celio.
Bus 85, 87, 117, 175, 186, 271, 571, 673, 810 – Colosseo stop -arrive nearby
The closest metro station is Metro B, Colosseo stop.
Good walking shoes are a must.
I hope you enjoyed this overview of the best things to see on the Caelian Hill and it inspired you to visit this stunning yet underrated Rome neighbourhood.
Safe travel planning!