A local's guide to Rome off the beaten path! Discover secret places in Rome and Rome hidden gems to escape the crowds and see the most authentic side of Rome. Updated in June 2022 with new openings.

Rome is such a popular destination you may think there is not area of the city left to discover.
However, this is not the case!
Rome has much more than meets the eye of the casual visitor.
Rome hidden gems can be fond everywhere: outside the city center but also inside it!
All it takes to see them is to look a little beyond the big ticket attractions and allow yourself to explore smaller streets, hidden courtyards and lessen known museums.
I have lived in Rome most of my life and even know, I learn something new about the city every day.
Exploring Rome off the beaten track is a fantastic way to escape the crowds, a great opportunity to learn about the city and the best way to see what Rome is all about: there is much more to it than the (stunning) Colosseum!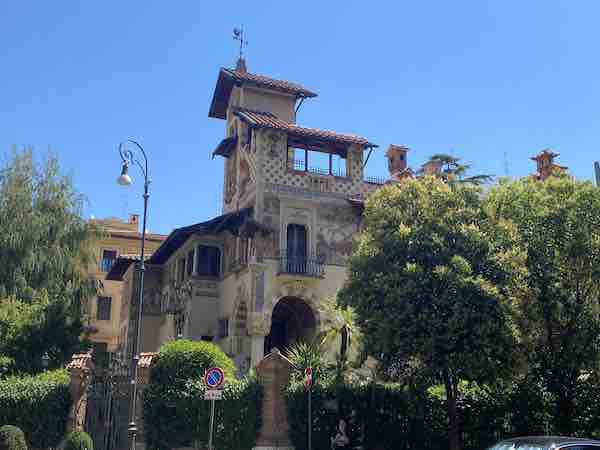 Rome off the beaten path is a place of alleyways, cat colonies, street art, hidden churches and unexpected architecture however, like all real secrets, you need some guidance to find the unusual things Rome has to offer and insider knowledge.
I was born and bred in Rome and I have a degree in Roman history so I believe I have what it takes to show you unusual places in Rome you may otherwise miss.
This is my local's guide to Rome hidden gems and unique places to visit in Rome.
Please note: this post contains affiliate links and, should you make a purchase through them, we might make a small commission.
Arco degli Acetari – Rome hidden gem close to Campo de' Fiori
Arco degli Acetari is a scenic, romantic courtyard hidden at the end of a nondescript alley close to Piazza Campo de' Fiori.
It is the type of place you won't randomly come across so you will have to keep your eyes peeled to find it however, once you do, you find yourself in the middle of the small charming yards you can ever ask for!
Around a central cobbled yard, you find several pretty houses, with orange walls and overflowing plants and you will wonder if the little arch that led you there also worked as a time machine!
Arco degli Acetari is like a small corner of the Middle Ages and the perfect place to see a side of Rome many miss.
The 'arco' is an inner courtyard overlooked by private homes: during the day, it is open to curious visitors as if it was a small piazza but a gate closes at night. You can visit it in conjunction with Campo de' Fiori, a minute down the road, and the next hidden gem of Rome, the passage in Piazza del Biscione, on the other side of Campo.
Passetto del Biscione
Passetto del Biscione is a Rome hidden gem so hidden, not even all locals know about it, despite it being in one of the most central locations you can think of: piazza del Biscione, beside Campo de' Fiori!
This Passetto is a small covered passage connecting Piazza del Biscione with Via di Grottapinta and dates back to Roman times, when it used to lead into the arena Theater of Pompey, now lost.
The passage remained in use during the Middle Ages and became a chapel, famous for having an image of the Virgin said to have miraculously moved its eyes!
Nowadays, the passage is a covered arch where you can admire a stunning painted ceiling: it only takes a few minutes to admire it and an easy spot to add to an itinerary in this part of the city.
You can read here >>> how to find Passetto del Biscione <<
The Pincio water clock
On the Pincian Hill, close to the Pincio panoramic terrace in the Borghese gardens, there is a very special outdoor clock: the Pincio Water Clock (Orologio ad Acqua del Pincio).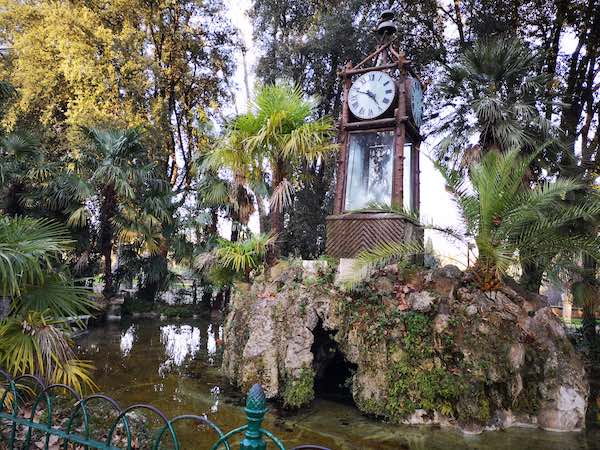 Built in the Nineteenth century by a Dominican Friar Father Embriaco, the clock is a fascinating example of a htdrochronometer, aka a clock operated by water.
The clock is an engineering marvel and sits on a bespoke, artificial little island for all to admire.
You can read here >>> all about the water clock of Pincio
Santa Maria Antiqua
Samta Maria Antiqua is a stunning, ancient church located inside the Roman Forum.
It is one of the so-called Super Sights, only included in the most expensive Forum tickets and it is a real hidden gem.
You find it on the side of the Roman Forum, beyond the house of the vestals, and it has stunning frescoes and light installations that help see how this ancient Christian church used to look.
This is a real Rome hidden gem and a place I recommend everyone to see.
You can read here >>> how to plan your visit to the Roman Forum and what tickets to get.
The Mausoleum of Augustus
The Mausoleum of Augustus is the tomb of Augustus, the first emperor of Rome and it is a place few people get to visit.
The Mausoleum only opened to the public in March 2021 and tickets are so few and so sought after, you may have to wait months to get a spot!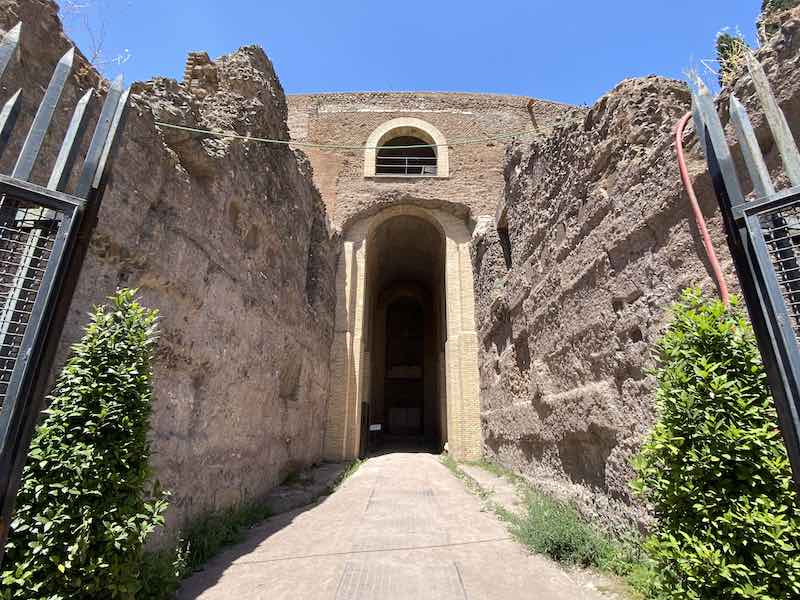 If you do, however, you will be rewarded by a wonderful visit.
Augustus Mausoleum dates to the I century AD and it is an archaeological site in Rome with a unique history.
First built as burial area for Augustus and his immediate family, over the century it got used as an arena for bull fights, a garden, a firework theater and an auditorium for music.
Nowadays, it is one of the most unique archaeological sites in Rome and a treat for history lovers.
You can find our guide to the Mausoleum of Augustus here.
The Baths of Diocletian
The Baths of Diocletian are another lesser known archaeological site in Rome.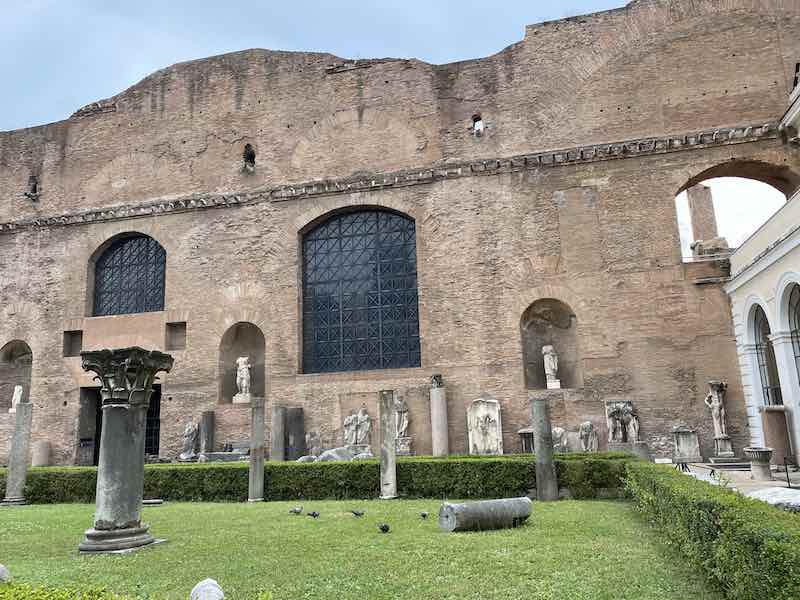 Dating from the III century AD, the baths are the biggest thermal complex of the ancient world and are breathtaking.
Part of the complex is the remains of the Roman baths themselves, part is a museum and part has been in use as a church since the Renaissance.
This complex history makes this site one of the most interesting historical places to see in Rome.
Despite its central location, the Baths of Diocletian are off the beaten path an usually get a fraction of the visitors of other Rome monuments.
You can find my guide to the Baths of Diocletian here.
Isola Tiberina – Rome's island
Isola Tiberina (Tiber Island) is in Rome City center however, it is often missed by visitors.
A river island located between the Jewish Quarter and Trastevere, Tiber Island dates back from Roman times, when it hosted and important temple to the God of medicine Aesculapius, and nowadays hosts beautiful church, a hospital and two excellent restaurants.
Tiber Island is free to visit and has some interesting legends about its birth that will fascinate the most curious traveler.
You can read here >>> all about Tiber Island, what to see and how to get there.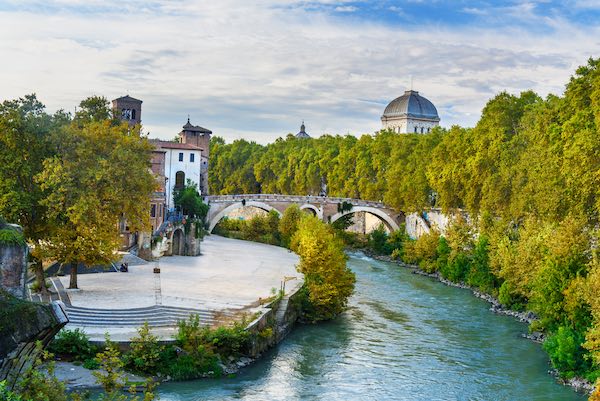 Palazzo Massimo alle Terme – one of Rome's most beautiful museum of ancient art
Palazzo Massimo is one of the seats of the Rome National Museum and it is one of its most impressive sites.
Located in front of the baths of Diocletian, which you can visit with a combined ticket, it has a stunning collection of ancient statues and sculptures and it hosts the unique frescos from Livia's House, originally in the palace of emperors on the Palatine.
If you are looking for a stunning ancient museum in Rome that is not the Capitoline Museums or the Vatican, this is sure to leave you breathless.
Angels Unawares
Angels Unawares is a beautiful and touching monument dedicated to the displaced.
Locates in Piazza San Pietro, just in front of St Peter's Basilica, the monument is by artist Timothy Schmalz and was originally places here temporarily for World Migrant and Refugee Day 2019.
However, during to the ongoing horrors of war, the Pope wanted it as a permanent installation and we can now still admire it in the square.
You read >> all there is to see on St Peter's Square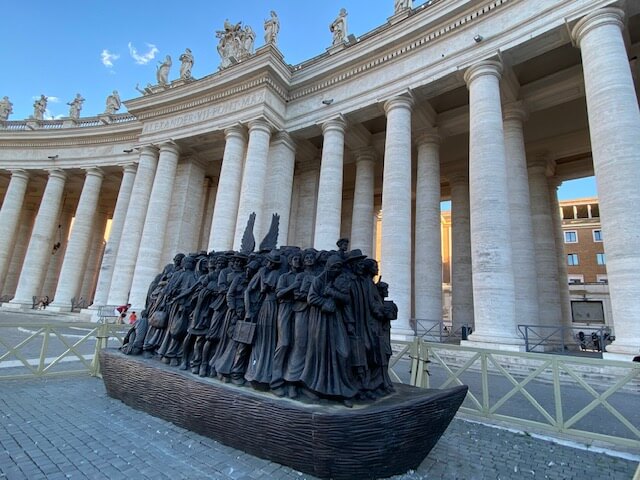 The church of Santa Prassede – Rome hidden gem with fabulous mosaics
I open this list with one of my favorite churches in the whole of the city, Santa Prassede. 
Nestled in a small street of Rione Monti, almost in front of the much more famous and much less beautiful Santa Maria Maggiore, Santa Prassede church hosts some incredible mosaics and is a place of peace and beauty.
This ancient church has beautiful mosaics at the back of the main altar, some gorgeous frescoes and a real gem: the chapel of St Zenone.
Accessible from the right ave of the church, this chapel has ancient and touching mosaics that will project you into a time far away in the past and it also hosts a relic, which will touch the heart of Christians in particular (but not only).
You can find here >>> our visitors' guide to the church of Santa Prassede in Rome
This is one of the most beautiful and unique churches in Rome and one many visitors miss!
Quartiere Coppede neighborhood – off the beaten path Rome hidden gem for architecture lovers
 Quartiere Coppedè (The Coppede district) has my heart as it happens to be 5 minutes walk from my childhood home however, I am sure you will agree is a Rome hidden gem!
This is a tiny area of Rome that is a true gem for architecture lovers as it is unique and will make you feel like you left Rome and stepped into a fairytale book!
Built in the first 2 decades of the 20th century by a team of architects led by Gino Coppede' the buildings is this area are an en extravaganza or art nouveau mixed with elements of classicism.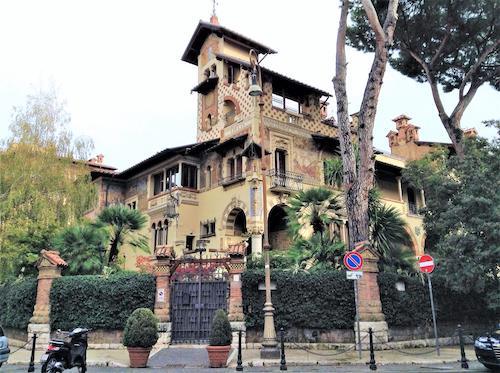 At it center, lies small Piazza Mincio: here, you find a central fountain with a motive of frogs and several pretty houses with elaborate facades with carvings, animal motives, turrets and balconies.
The neighbourhood is tiny and you see it in a matter of minutes.
However, if you love architecture you can get endlessly lost in its details. I highly recommend you visit this area with Villa Torlonia nearby (see below)
You can find here >>> visitors' guide to the Coppede' District
Villa Torlonia
Villa Torlonia is one of the many beautiful parks of Rome but it has more than green spaces to attract the visitors.
What you have here are a couple of interesting sites: Mussolini's bunker (open to visitors by appointment) and the Casina delle Civette, an architectural gem now hosting temporary exhibitions and a stunning Moresque Greenhouse (Serra Moresca) only recently resorted and open to the public.
The park and its attraction are unique in Rome and a visual extravaganza of different types of art, ranging from classicism, to art nouveau, romanticism and even Moorish motives.
You can read here >>> All about Villa Torlonia and how to visit here.
Rome Botanical gardens – Rome off the beaten path oasis to escape the crowds
A place in Rome no one seems to visit but that I believe is worth a tour are the city's botanical gardens in Trastevere.
The gardens are not grand or impressive if compared with, let's say, Kew in London but they are in a gorgeous area of Rome (the road to get in is special itself) and they are an excellent place for a walk away from the crowds.
They have some atmospheric corners with scenic fountains and stairs and some beautiful plants: they are also one of the best places to see cherry blossoms in Rome, should you be in Rome in spring!
I recently went there when bringing my daughter to a local mosaic class and I highly recommend you check out both experiences (even if you are an adult) as a day making art and strolling the gardens is a real treat.
I recommend you visit the gardens while exploring Trastevere (see below)
Find here >>> Our guide to Rome Botanical Gardens <<<
Centrale Montemartini Museum: one of the most unique things to see in Rome
I mention Centrale Montemartini on this site often, as this is a museum I absolutely love.
It is located in Ostiense, an area most tourists don't see and it is unique: the museum is an old power plant now turned museum of ancient art!
This peculiar combination makes it a truly unique place: massive industrial machines are the backdrop to priceless Roman statues and mosaics and the mix is intoxicating.
You can find here >>> our guide to Centrale Montemartini Museum <<<.

The historical complex of Santa Costanza and Santa Agnese – stunning off the beaten path religious complex
Two more churches make my list of hidden gems and they are those making up the complex of Santa Agnese and Basilica of Costanza, dating back to the IV century AD (Costanza, was the daughter of Constantine the Great).
The two churches are beside each other and very different in style.
Basilica di Costanza is round (incredible, with the altar in the center) and Santa Agnese fuori le mura (there is another Santa Agnese, in agone, in Piazza Navona) has a more traditional shape but a beautiful atmosphere and art worth spending time admiring.
The complex is wonderful. Santa Costanza is one of the best examples of an ancient Christian Basilica in Rome and it hosts some of the most significant mosaics in Rome too, worth seeing.
The fountain of Il Facchino
As you still around the area of the Pantheon, you are likely to come across a fountain carved with a peculiar figure: that of a man holding a barrel!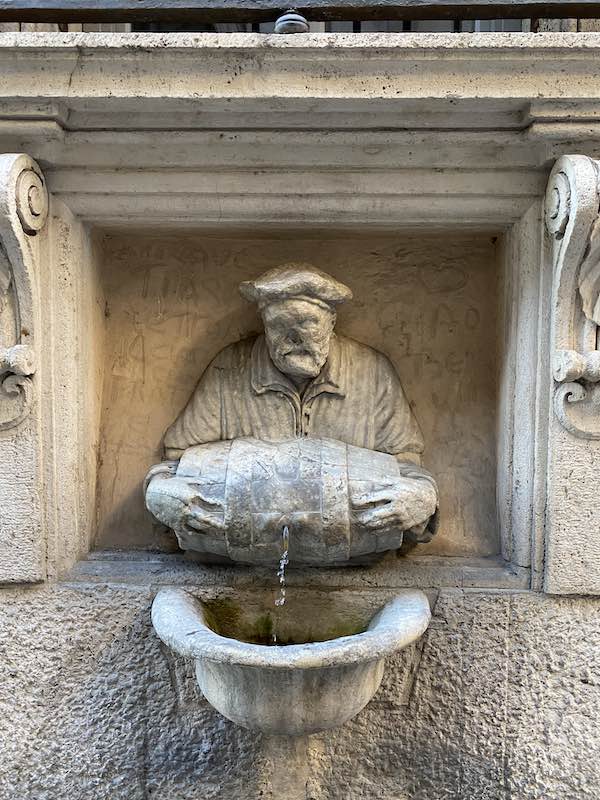 This most peculiar fountain is called 'Fontana del Facchino' and is not only funny to see but significant: this is one of the six 'taking statues of Rome', used in Papal time to express dissent to the government!
You can read here >> all about the talking statues of Rome <<<
Church Santo Stefano Rotondo
Santo Stefano Rotondo is a round church on the Coelian HiIl, one of the lesser visited of the seven hills of Rome, depsite its central location close to the Colosseum.
The church dates from the V century AD and it is worth seeing under many accounts: the pretty yard it overlooks, the almost unique round shape of its planimetry and incredibly gorey frescoes on its walls!
It is a fantastic church to visit when you are in the area and one place tourists tend to skip: a real Rome hidden gem!
The Roman Houses at the Caelian Hill
one of the most beautiful yet lesser known places in Rome are 'Case Romane del Celio', a set of ancient Roman houses hidden under the Caelian Hill, one of the seven historical hills of Rome.
The houses have only recently reopened to the public and are wonderful.
Inside, you wander though several rooms and passages decorated with stunning frescoes and you also find a small museum showcasing different types of decorations and building techniques from ancient times.
Find here >>> our tips for visiting Roman Houses of the Caelian Hill <<<
Rome's Pyramid: Rome's most unique buildings
If you are interested in unique things and unexpected sites, then you should go and see Rome's pyramid, possibly the most unusual Rome site of all!
Built in the I century AD, the Pyramid is the resting place of C. Cestius, who embraced the love for all things Egyptians so common at the time of the Roman conquest of Egypt and demanded a tomb in Egyptian fashion.
The pyramid is most peculiar and definitely worth a visit (even just outside, it is truly unique!).
Read here >>> all you need to know about Rome's Pyramid
Rome's protestant cemetery
Another unique place to see in Rome is the so-called protestant cemetery or 'the English cemetery', as locals call it.
This cemetery is a wonderful leafy corner of the city and one of the most beautiful.
Here, you have some stunning funeral sculpture such as the famous Angel of Grief, a wonderful view over the pyramid and the graves of Antonio Gramsci and Shelley, among other.
You can learn all about the Protestant cemetery of Rome here.
Campo Verano: Rome's monumental cemetery
Il Verano is Rome's monumental cemetery and it is a real hidden gems thanks to the wonderful sculptures and graves present here.
The cemetery is still in use and has a large monumental, beautiful part graced by stunning trees and shrubs as well as elaborate tombstones and chapels.
The cemetery is historical and has a touching, large plaque commemorating those who perished in Nazi camps.
On a more uplifting note, the cemetery is also home to a thriving cat sanctuaries, where you can meet cats looking for a home.
The Divinity Terrace
A very different type of hidden gem is a rooftop bar terrace I recently enjoyed near the Pantheon, the Divinity Terrace of the Iconic Pantheon Hotel.
The terrace has a restaurant, bar open to nonguest and has a special view: here you at eye level the Pantheon dome, the deer on top of St Eustachio AND the incredible spiral dome of Sant'Ivo alla Sapienza.
This is no ordinary view and one not to be missed: from here, you see details of the domes of these churches to incredible detail. A perfect hidden gem for architecture lovers.
This is a unique place in Rome for the view as well as one of the best sunset spots and romantic places in Rome.
This is one of my favorite rooftop bars in Rome for view and atmosphere.
The secret Aventine Keyhole
The secret eventide Keyhole is becoming less and less of a secret; however, it still belongs in this list of Rome hidden gems as the gardens it opens onto are only rarely open to the public.
The keyhole is part of a large door at the entrance of Priorato di Malta and it is famous because of the views you get from it.
If you peep, you will see it perfectly frames a view of St Pete's dome!
You can read how to find the Aventine's Keyhole here.
The garden of oranges
Another wonderful hidden spot in Rome is the Garden of Oranges on the Aventine Hill, a wonderful garden and terrace with stunning view over Rome.
You can find here >>> visitors' guide the Orange Garden of Rome
Rome's Rose Garden
Again on the Aventine Hill, you find one of Rome's most underrated attractions: Rome' Roseto Comunale, the city's Rose Garden.
Rome's Rose garden has a stunning collection of roses and it is in a fantastic location offering stunning views over Rome.
You can read here >>> our visitors' guide to Romes' Rose Garden.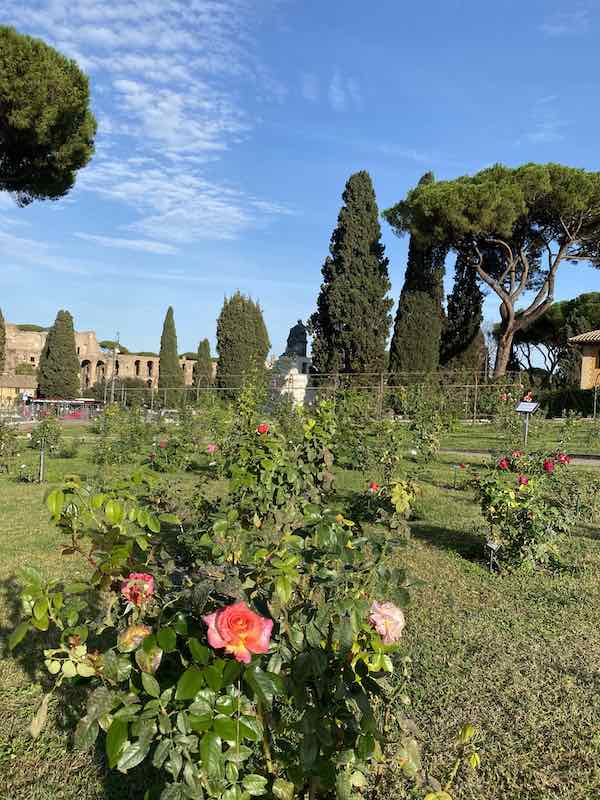 Piazza Margana
Piazza Morgana is a small square right in Rome city center with something special: walking here makes you feel like stepping into Middle Age Rome!
Built around the tower of the Morgana Family dating back to 1300, the square is a quiet corner of Rome and one no one really ever goes to, despite being right in between Piazza Venezia and the Rome's Ghetto!
This is one of the pretties square in Rom. Find here >>> our guide to the most beautiful piazzas in Rome
Galleria Sciarra – Sciarra Gallery
Galleria Sciarra is a wonderful iron and glass arcade in Rome city center connecting Via Minghetti with Piazza dell'Oratorio.
The arcade dates from 1885 – 1888 and it is painted with elaborate motifs typical of Art Nouveau, which make it stand out from almost anything else in this part of Rome.
It only takes a few minutes to see the arcade but the detailing is beautiful and worth seeing: you can read more about where to find it and the metaphorical meaning of its decor here.
Rome's chocolate factory
A unique place in Rome and not just for chocolate lovers is SAID Rome's chocolate factory (Antica Fabbrica del Cioccolato), in the neighborhood of San Lorenzo.
This wonderful, secret place in Rome is a chocolate cafe and restaurant and what makes is unique is the quality of its chocolate but also the display of all chocolate-making shapes and gear, dotting the space.
A wonderful, unique place in Rome most tourists don't know about! You can read all about Rome's chocolate Factory here.
Michelangelo's Christ in Santa Maria Sopra Minerva
Some of Rome's hidden gems are hidden in churches.
This is the case for work by lesser known artists but also famous ones such as Michelangelo.
A perfect examples of this is his Christ inside Santa Maria Sopra Minerva, lesser know than his Moses or its Pieta but a work of art nonetheless.
You can read here >>> where to see Michelangelo in Rome
Minerva's Chick
Minerva;s Chick is a monument of a small elephant in Piazza della Minerva, in Rome city center.
The square is just beside the Pantheons and it therefore a well trodden tourist area; however, many tend to pass this monument without realising how pretty it is and how significant.
The little pachyderms is actually one of the most famous sculpture in Rome and it is by Bernini!
You can read here >>> all about Piazza della Minerva and its gems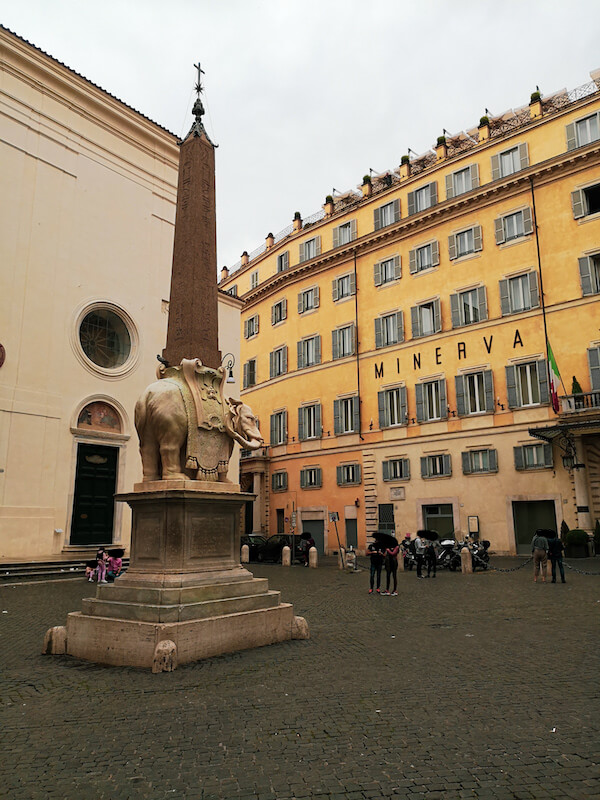 Fontana del Mascherone
Rome has many beautiful fountains some of them grand and some funny and unusual.
Withing this last category, you find those that resemble a face, spitting water from their mouth for passers by to drink!
There are several in Rome, the two funniest and most unique ones being the 'fontana del mascherone' in Via Giulia (Fun fact: the fountain is known to have spit wine in the past!) and the one near Santa Sabina, on the Aventino.
Marcello's theater
The first time you see Marcello's theatre you are likely to doubt your eye: what happened to the Colosseum and why is it here?
Indeed, Marcello's theatre has a lot in common with the Colosseum, enough to prompt a double-take when you pass by it however, it is a unique site in Rome worth knowing in its own right.
A theater itself dating back to the I century, it is not currently accessible inside but you can get right under it and see its impressive size and details.
if you look all the way up, you will also notice some apartments right at its top!
Find here >> all you need to know about Marcellus' Theater in Rome
Underground Roman Domus at Palazzo Valentini
Ancient Rome sits below modern Rome and some of ancient Rome homes are still underground.
Among the most impressive, there are the Roman Domus at Palazzo Valentini: a fantastic Roman house hidden under Palazzo Valentini.
Visitors walk around this Patrician's home and see it come back to life with a light show that recreated the environment as it used to be.
The Domus are beside Trajan's column and a visit to them includes and interesting short movie about the column and its creator.
Crypta Balbi
The Crypta Balbi is one of the best places to understand how Rome changed over the course of the years and how new buildings and new uses of ancient buildings shaped the city as we see it now.
The crypt develops several meters underground in the area of Piazza Venezia / Largo Argentina and can be visited with the aid of guide.
You can find here>>> my complete guide to the best underground attractions in Rome.
San Clemente church
The church of San Clemente, a church built over 3 levels, two of which underground, which tells us the story of how the same space got used in ancient Roman times, early Christian times and the Middle Ages.
This is a unique churchman Rome and a must see for anyone interesting in understanding how the city of Rome developed and how new forces mixed with more ancient cultural and religious customs.
Barberini Mithraeum
The Barberini Mithraeum is an underground temple to the God Mithras. It is located under Palazzo Barberini, itself a wonderful museum, and it is stunning as it has wonderful frescoes perfectly preserved.
You can read here >>> my guide to visiting the Barberini Mithraeum <<<
Off the beaten path Trastevere
I always laugh when I see Trastevere mentioned among Rome hidden gems as, honestly, it has been on this type of lists for so long, everyone now know about it and the result is an area overrun by locals and tourists alike!
However, there is reason to include it here if, instead of talking about Trastevere in general, we talk about specific streets.
While tourists tend to gather around the area of Piazza Trilussa and Piazza Santa Maria in Trastevere, some dleightful Trastevere street stay empty and ooze old-time charm.
My favorite area in Trastevere for an off the beaten path experience is the area of Piazza Santa Cecilia: here you find a stunning church with priceless frescoes, a hidden Roman crypt and, in the area, fantastic artisan shops and workshops perfect to buy souvenirs and get a taste for Rome's traditional arts.
Another lovely area is that of Santa Maria della Scala, where you have an ancient pharmacy and, just outside, lovely outdoor restaurants typical of this area.
You can find my full guide to Trastevere here.
While off the beaten path, don't be surprised if you recognize some of these streets: they appear in several movies set in Rome!
Castel Sant'Angelo: Rome hidden gem in plain sight
Can a hidden gem be in plain sight? It looks like it can if the hidden gem is the inside of Castel San'Angelo!
While everyone in Rome passes by this castle, the number of people who go in is surprisingly limited and they do miss out.
The castle doesn't just offer remarkable views over the city but also has a fascinating interior and a pleasant bastion walk with excellent info panels for a history fix.
This is fantastic place to visit especially on a summer evening (it costs less after 7 and the sunset from there is stunning) or if in Rome with kids
Ostiense street art and Gazometro
Ostiense is an exciting part of Rome immediately outside of the center.
Despite having some attractions (Centrale Montemartini and Rome's Pyramid are both here) it is an area mostly undiscovered by tourists by beloved by locals.
Here, you have some interesting street art and wonderful industrial architecture such as the distinctive Gazometro, as well as many restarants and clubs that make it a vibrant place to spend an evening.
Pigneto: one of the most up and coming areas of Rome
Pigneto is a pretty area of Rome outside the city center, which in recent year caught the attention of many for interesting street art and a growing number of restaurant and eating places.
Hip, alternative and multicultural, it is a pleasant place to explore in summer especially when you can enjoy its beautiful street art as well as the many restaurants and cafes in the area.
The atmosphere here is as from that of the Colosseum area as it can get. If you are looking for Rome off the beaten path, this is definitely it!
Charming Garbatella District and its interesting history
The Garbatella neighborhood of Rome is unique in charm and history and never fails to conquer the heart of the few that stretch to its welcoming alleys.
Built in 1918 to host the workers of the then-planned Porto di Ostia, Garbatella is a wonderful example of garden-city as imagined in the early XX century and retains the small alleys, pretty courtyard and village feel of those years.
There is also however more than exploding bougainvilleas here: over the years, Garbatella became a center of the anti-fascist resistance in Rome, a character you can still breathe in the peculiar atmosphere of this area.
Have I mentioned Garbatella is beautiful? It is too, and stunningly so.
This is one of the most beautiful secret places in Rome to add to your Rome bucket list.
Caracalla's Baths
I cannot use the term 'hidden' for Caracalla's Baths, one of the most colossal complexes in the whole of Rome, however, I can say that they are an off the beaten path attractions and a unique place.
Unique is easy to explain: they are a wonderfully preserved ancient Roman complex like no other in Rome and still in use todays as summer venue for opera concerts.
Off the beaten path is harder to understand: while not inside the main Colosseum and Roman Forum Park, the Baths are easy to reach and stunning.
The only explanation is that visitors do not know what they are missing, they are exceptionally beautiful!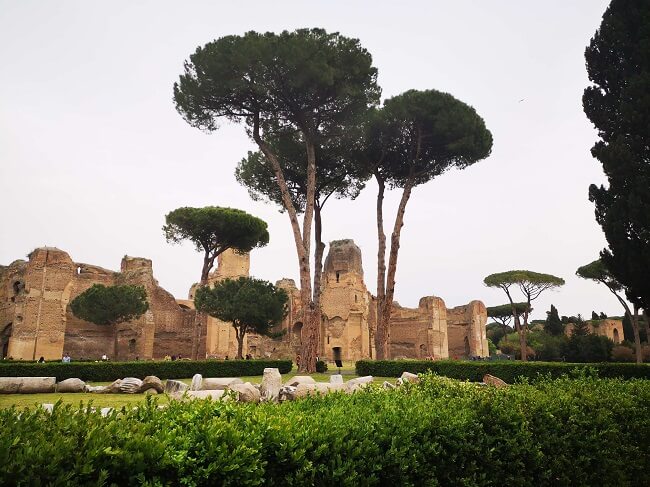 Palazzo Braschi
Rome is full of incredible museums and Palazzo Braschi is probably not the most impressive of them. However, it has a few things that make it worth a visit.
Located just beside Piazza Navona, it has a nice collection recounting the history of Rome as a city but even more than that.
It has gorgeous architecture (look up as you climb the staircase) and a stunning secret view of Rome Piazza Navona from the top floor.
This is one of the best viewpoints over Rome
Ostia Antica (Ancient Ostia)
Ostia antica is often described as a small Pompeii and while I can understand the reasoning for this, it is much more than Pompeii's little sister.
Located a short ride from Rome, Ostia Antica is a gorgeous archaeological site but also has a small 'borgo', a medieval village which is one of the most atmospheric corners not just of Rome but the whole of Italy.
This is one of the most unique places in Rome and immensely charming. You can find our guide to visiting Ostia Antica here.
Rome hidden gems and off the beaten path sights Map
I hope you enjoyed this overview of the best hidden gems of Rome and Rome off the beaten path places. Safe travels!