My handpicked selection of the nicest parks in Rome: villas, gardens and green spaces in Rome for a day out for you and the kids
Rome gets more attention for its crazy traffic than its green spaces. However, it is a surprisingly green and leafy city, with some lovely parks worth discovering.
Going to the park in Rome has always been one of my favourite things to do.
As a student, it used to be my way to relax during busy exam times and now that I have kids… well, you can well imagine I spend an inordinate amount of time in parks and playgrounds with them!
As much fun as sightseeing in Rome with kids can be, the park is still their favourite place to go!
Rome has many parks, gardens and villas, some grand, some small, some well kept, some sadly poorly maintained.
This is a nonexhaustive list of some of my favorite parks in Rome for days out with the kids, romantic strolls, views or reconnecting with nature.
Top Tip! If you are reading this article while planning a family trip to Rome, don't forget to also check out our family guide to Rome with kids, full of info and tips for families!
Parco, Villa or Giardino? The many names of Rome parks
If you look at a map of Rome and its green spaces, you may notice that they have different names: Villa (e.g. Villa Borghese), Parco (e.g. Parco Nemorense) or also Garden (e.g. Garden of Oranges).
The names have different origins.
'Villa' usually refers to green areas that used to be part of a family estate. 'Parco' is a more generic terms to indicate a green space, usually one that has come into existence more recently than a villa and has fewer patrician features.
However, from the point of view of the visitor, you can consider these names interchangeable. Parchi, Ville and Giardini are Rome's green spaces.
Most beautiful parks in Rome: my top picks!
Please note: this post contains affiliate links and, should you make a purchase through them, we might make a small commission.
Villa Ada – best park in Rome for a stroll in nature and sports lovers
One of my favourite parks in Rome is Villa Ada, a large green area in the North-East side of the city, along via Salaria, outside of Rome city center.
This park is huge (1.750.000 mq, you can read more about it here) and it is a treasure trove of wonders. Depending on the part of the park you want to explore, you find here a lovely forest, a pond, playgrounds, running tracks and more.
For me, the best thing about Villa Ada are the trees: there is a huge variety of them and the park is so big, you really feel you are far away from city, even if still very much in the thick of it!
Villa Ada is wonderful for kids, adults and nature lovers.
The villa has several entrances. The closest to the center is on Via Panama, a good place also to consider as a base to explore Rome.
Good hotels near Villa Ada are Hotel Villa Duse (4 stars), B&B Villino Margherita and Hilton Garden Inn Rome Claridge.
Villa Ada address (several entrances): via Salaria 267-273-275, Via di Ponte Salario, via di Monte Antenne, Via Panama.
Villa Borghese – elegant Rome park with zoo, museums, playgrouds and more
Villa Borghese is one of the most famous parks in Rome and one that tourists have discovered a long time ago. Indeed, it deserves its fame: the park is wonderful!
Located right in the city centre (one of its entrances is just beside Piazza del Popolo), Villa Borghese is vast and has something for everyone.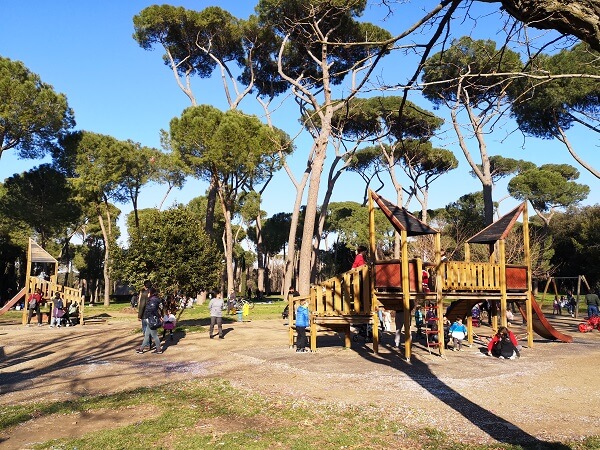 Inside its manicured perimeter, you have museums (the Galleria Borghese is only the most famous), Rome zoo, several playgrounds for kids, a pond with rowing boats and a lovely cafe', restaurants and even a cinema.
If you head to the part of the park called 'Il Pincio', you also have a terrace with a beautiful view over Rome – this park really is a destination in itself and you can easily spend if not a full day, a long afternoon just taking it in.
Good to know: Parts of Villa Borghese are close to the Spanish Steps: you can walk from Pincio to the top of the steps in a matter of minutes!
The park used to belong to the Borghese family and you can see its patrician origins in its well laid out streets (viali), beautiful fountains and buildings.
While I love Villa Borghese (and my kids adore its playground) I do find it lacks a little of natural charm: this is a place for leisurely strolls rather than for reconnecting with nature but if you are looking for a beautiful, easy escape from Rome traffic, you cannot go wrong here!
Address (several entrances): Piazza San Paolo del Brasile, Piazzale Flaminio, via di Porta Pinciana, via Raimondi, Via di Valle Giulia, via Aldrovandi. You can find additional info here (in Italian, but there is a translation button on the top left corner of the site)
Some beautiful hotels to consider in the area are: Aldrovandi Palace (5 star), Hotel Villa Linneo, Margutta 19 (small luxury hotels of the world), NH hotel Via Veneto.
Villa Torlonia – beautiful Rome park for kids and al fresco dining
A little outside of Rome city center, in a green leafy residential area of Rome, sits Villa Torlonia, a beautiful park with an interesting history.
The Villa takes its name from the Torlonia family who purchased it in the XIX century and even if now a public park, it still very much maintains its aristocratic traits.
The park has wonderful, grand buildings (now museums, exhibition spaces and theatres), the so called 'Casina Delle Civette', a wonderful example of Art Deco in Rome, atmospheric false ruins, commissioned at the height of the Romantic movement and something maybe unexpected: the bunker of Benito Mussolini, now open to the public!
This bunker may come as a surprise but has reason to be here: from 1925, Mussolini lived in this Villa and stayed here until 1943.
History aside, the park is now a lovely one for adults and kids alike.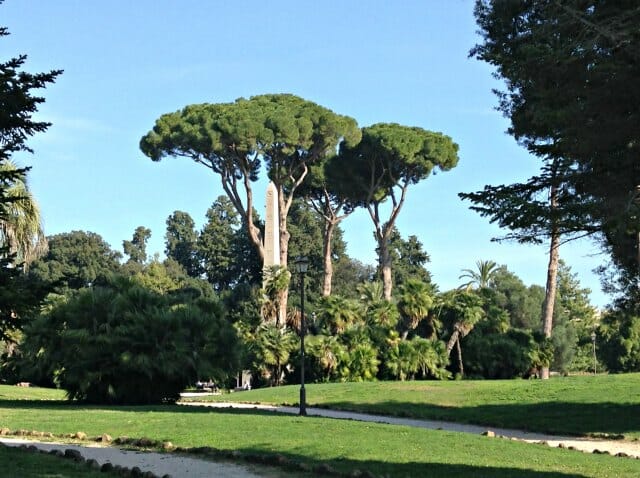 Children can play to their heart content in the villa's vast spaces and playground, while adults can indulge in coffee and food in the park's cafe' 'La Limonaia' which has nice outdoor seating areas and good food options.
The playground in Villa Torlonia is not great and a bit of a disappointment for such a large park however, it is still a lovely place full of local families and good for a day out.
The park also hosts Technotown, a science- based children museum. While nice, the museums operates mostly with workshops (some in English) and you usually cannot just walk in. To see what's on and plan your day, you can check their official website here (in Italian).
The area of Villa Torlonia is a lovely one to use as a base for exploring Rome. Some nice hotels to consider are Villa Pirandello and the Palm Gallery hotel, both small yet lovely properties.
Giardino degli aranci – wonderful Rome garden with stunning views over Rome
The garden of Oranges (officially: Parco Savello) is a very different type of park form the ones above and can hardly be called a park at all: rather, it is a walled garden with a stunning terrace overlooking the city.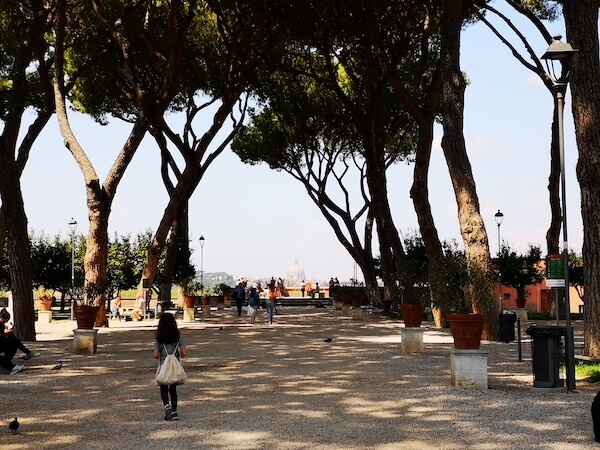 I absolutely adore this place. It sits on the slope of the Aventine Hill, a short walk up from the Circo Massimo and the Colosseum area and it is a little oasis of peace.
As you walk in, what you have in front of you is a small, flat garden with tall pine trees opening up onto a terrace overlooking the Tiber and Rome.
There is not much to do here: there is no playground, no cafe, no large areas to do sports but the view compensates for it all. It is one of the most romantic places in Rome and a wonderful stop before diving into the wonders of the churches of this area (Santa Sabina and Sant'Anselmo are out of this world stunning).
The Aventine hill is not the most obvious place to stay in Rome but it is lovely, green and residential and has some nice hotels. Hotel San Anselmo is lovely and not far from here you also have the unusual Fauno Urban Resort, a special place in busy Rome!
The Protestant cemetery of Rome
I close this list with a place that is neither a park, a villa or a garden as such but that is such a lovely green space, I simply could not leave out: the so called Protestant cemetery of Rome.
The Protestant cemetery, also called the English cemetery or the non-catholic cemetery of Romes is just what it sounds: a cemetery for Protestant and non-catholics.
The place is small and wonderful. It is an English -style cemetery with beautiful tombstones and burial sculptures, and it makes my list of green spaces to seek out in Rome because it is also a lovely place to read or rest.
As you enter, you find on your right the majority of the tombs (absolutely worth seeing,) and on your left, you quickly find a nice lawn, with pretty trees and benches, perfect for reading.
You also have quite a view here: the cemetery overlooks Rome's pyramid, one of the most peculiar monuments in the whole of the city!
This is an interesting area to base yourself into, if you don't mind using public transport to get into the city center. The area around the pyramid is called Testaccio, which is known for its restaurants and for being one of the best areas for traditional food in Rome.
If you want to stay in this area and indulge in all it has to offer, I recommend you get an apartment and mix dinners out with local grocery shopping: both wonderful, local experiences not to miss!
Othe parks in Rome worth visiting
The parks above are my personal favourites, those I find myself going back to over and over again.
However, there are many other green spaces in Rome worth seeking out. Some I recommend are:
Villa Celimontana: a gorgeous park close to the Colosseum and the Baths of Caracalla, lovely during the day and also in summer nights, when it hosts a famous jazz festival
Villa Doria Pamphili: the biggest park in Rome, wonderful for those days when you want to escape the city without having to stray too far (parts of this park truly feel like the countryside, it is so big!)
Eur pond (Il larghetto dell'Eur): a lovely, green area in a modern part of Rome many visitors do not see. This is a favourite with local families also thanks to the gelato by Giolitti (one of the most famous gelato places in Rome) in in the area and a small playground
I hope you enjoyed this overview of some of the best parks in Rome and it helps you find a nice place to escape the crowds and beat the Rome summer sun!
Safe travels to Rome.