Carefully curated selection of the best outdoor swimming pools in Rome and hotels offering pool access to non guests
I know, you haven't traveled all the way to Rome to go to the pool but when the thermometer hits 37 degrees Celsius, a day or even just a few hours poolside can be an excellent idea (read more way to beat summer in Rome here)!
Rome has several outdoor swimming pools and due to the specific architecture of the city, many of them are outside of the center. They make the most of areas that are green, spacious and often make you feel like you are in the country, more than close to such a busy urban center.
These out of the center outdoor swimming pools are beautiful and usually reasonably priced, as they cater for local families. However, they come with a drawback and that is the distance from your hotel and often erratic public transport connections.
Since you are unlikely to want to drive in Rome, I thought therefore to compile a bit of a different list, including some of my favorite outdoor pools in Rome but also more central options.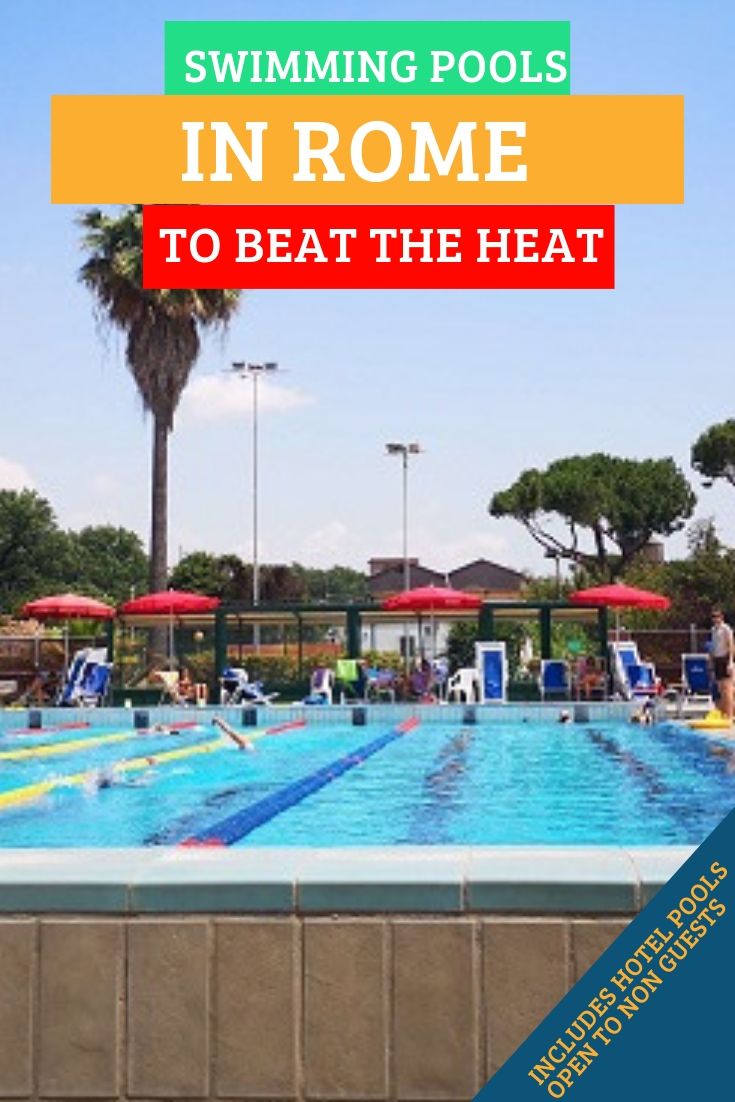 It has the addresses of the best hotels in Rome with pools open to non guests and has establishments that are if not all in Rome city center proper, all in locations that are likely to be accessible from wherever you are in Rome.
Because we are talking about hotels, you will see that the standard and cost of daily entrance to swimming pools is often pricey so at the end of this post you will also find some address of swimming pools in Rome that are attached to sports complex rather than hotels.
With kids, if you can at all, I would recommend you opt for the public swimming pools both for value for money and overall family friendly atmosphere but some of these hotels are really cool and especially with older kids, they can mix a trip to the pool with grown up pleasure such as a drink on a terrace!
Rome outdoor swimming pools, what you need to know
Before heading to any swimming pool in Rome, I recommend you:
Make contact with the hotels or pool to make sure they have availability. Often in high season shifts operate and you may have to respect certain arrival / departure times
Some hotel operate children hours: contact them to be sure of any age restrictions if any
Most of the luxury hotels in this list offer an option to rent or borrow towels.
To swimming pools not attached to hotels you are usually required to bring your own towels. However, swimming caps are usually available for purchase
Please note: this post contains affiliate links and, should you make a purchase through them, we might make a small commission.
Best hotel outdoor swimming pools in Rome open to non guests
This is my selection of the best hotels in Rome with a pool offering day passes.
ES Radisson 5* hotel: rooftop outdoor swimming pool in Rome city center
If you are looking for a luxury rooftop type of experience complete with bar and poolside cocktails, consider the Radisson ES.
Located just beside Termini station, in an easy to reach location from pretty much anywhere in the city, the Radisson ES has a beautiful rooftop pool with the (entry at €55) the Zest Bar and Restaurant is poolside for snacks and cocktails.
The pool is family friendly although there are no discounts for kids which, frankly, sucks. It is open to guests and non guests.
2019 price: EUR 65.00 (Mon – Fri) EUR 90.00 (Sat – Sun, holidays) No discounts for children or half day. Address: Via Filippo Turati 171, 00185 Rome You can book a room at the Radisson Blu ES here
Palazzo Naiadi 5* hotel with pool and spa Rome center
Another excellent luxury hotel with outdoor pool open to non guests in Rome city center is Palazzo Naiadi (previously Boscolo Exedra Roma) a stunning 5-star hotel on beautiful Piazza della Repubblica.
Palazzo Naiadi has a swimming pool and spa offering day access to non guests and is a a great pace for adding a touch of luxury to your day.
Swimming pool access is strictly by reservation only and fees included outdoor pool use, one towel, one sunbed and massage or facial (150 / 160 Europe depending on package).
Address: Piazza della Repubblica 47, 00185 Rome
ALEPH Rome Curio collection
A gorgeous rooftop terrace with small yet nice swimming pool offering cooling waters, poolside cocktais and a view is that of the Sky Blue Pool terrace of the Aleph, a Hilton property, in the center of Rome, close to the famous Spanish steps.
External guests can access the rooftop pool, restaurants and bar and the cost is €50/65 per person on weekdays/ weekends. Slippers and towels are included in the price.
Address: Via di San Basilio 15, 00187 Rome
Best Rome hotel with pools open to non guests out of the center
Aldrovandi Palace, 5* hotel with pool near Villa Borghese
Intimate luxury is at the core of the offering of the Aldrovandi Palace Hotel, another 5 star establishments offering pool access to non guests.
The Aldrovandi Palace is located in the wealthy neighborhood Parioli, just outside Rome historical center, it is just in front of Villa Borghese: its swimming pool is in the leafy hotel garden and is open to non guests from 9am to 7pm.
Reservation is compulsory and subject to availability: contact and info are here. Address: Via Ulisse Aldrovandi, 15, 00197 Rome
This is a good address to have as it is one of the best areas to stay in Rome with family too
Parco dei principi 5* Rome hotel with pool and garden
Again beside Villa Borghese but a little farther up the road from the previous address is Parco dei Principi, a luxury hotel with a wonderful pool with a nice garden and decorative gazebos.
This is a great place for a quiet afternoon with a light meal or cocktails and non guests can enjoy the pool getting a day pass.
Address: Via Gerolamo Frescobaldi, 5, 00198 Rome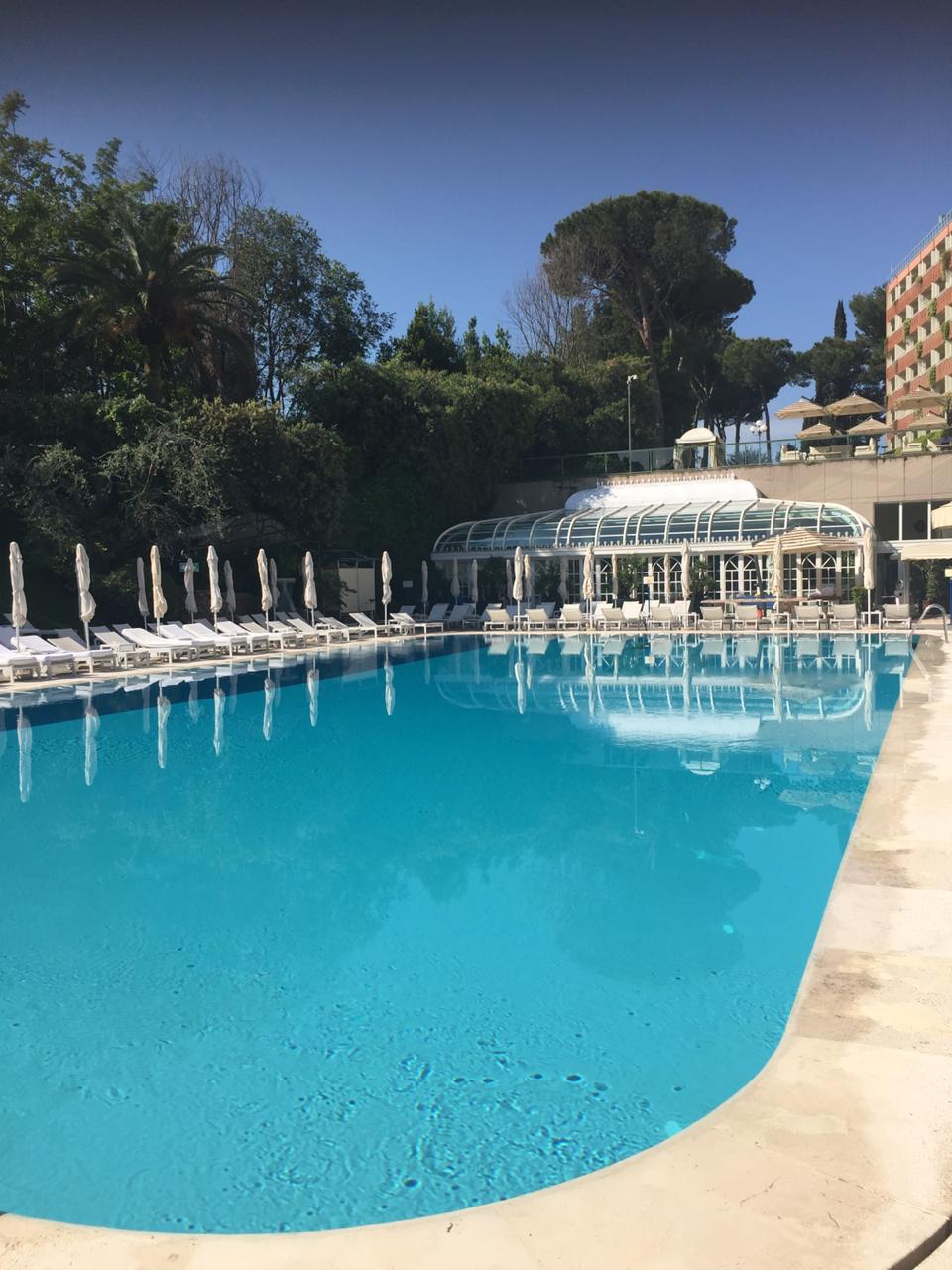 CAvalieri hilton, a waldorf astoria resort – Monte mario 5*hotel with pool and view
If you are in for luxury and views, then you cannot go wrong at the Cavalieri Hilton, one of the most famous and iconic hotels in the city.
The Hilton is perched on top of Monte Mario and has a fabulous outdoor pool with daily public access to non guests. This is a fantastic 5 star hotel and pool side you can order crushed ice cocktails, hamburgers, pizzas and even homemade gelato!
Address: Via Alberto Cadlolo, 101, 00136 Rome
Grand hotel Gianicolo 4* hotel with swimming pool offering day passes
On the other side of the Tevere, the Grand hotel Gianicolo is a reasonably priced option in a nice part of Rome.
This hotel has a large pool in lush gardens and it is a great place to take a break from the noise and crowds of the city center without having to leave the city.
Entry is €25-35 and there is a restaurant overlooking the pool serving light meals. Priority is given to hotel guests so make reservations in advance.
Address: Viale delle Mura Gianicolensi, 107, 00152, Rome 
Pubic outdoor swimming pools in Rome not attached to a hotel
Circolo belle Arti
Circolo belle arti is very different in feel from the hotel pools above as it caters for swimmers rather than loungers.
This club has a great athletic pool with lanes, loungers and umbrella and good space for both swimmers and sunbathers.
Address: Via Flaminia, 158, 00196 Rome (this is a great place for location as it is close to the center and also close to one of our favorite family restaurants in Rome, Lola!)
Tennis Club lanciani
If you have ways of getting here or don't mind a taxi ride, Club Lancini is a greta address.
It has many sporting facilities, a good pool and a nice small bar/cafe serving sandwiches, coffee and ice cream (the industrial type)
The pool is clean and big, with some lanes reserved for swimming and many for kids / play. Floaters are available as well as loungers and umbrella. Family passes are available.
Address: Via di Pietralata, 135, 00158 Rome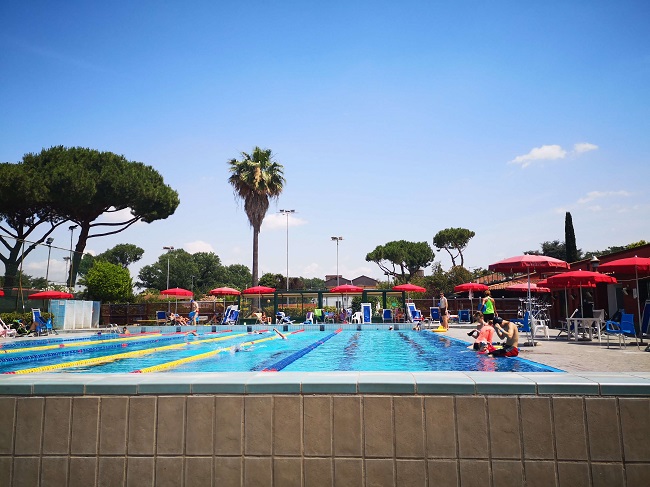 Circolo sportivo tor carbone
Far from the center but in an area that will make you believe you are in Tuscany, rather than in the outskirts of Rome, is Circolo Sportivo Tor Carbone.
This is a small, non pretentious yet lovely place with a nice pool and a wonderful shaded area under pine trees where you can lunge and have lunch (you can bring your own, or there is a cafe 2 minuets down the road).
This is a wonderful place and only issue may be the distance: the best way to get here is by car. Cost is about 12 Euro for the day.
Address: Via di Tor Carbone, 41, 00178 Rome
Piscina delle rose
If you want to properly swim and get excrcise, consider Piscina delle Rose, a club with an Olympic size swimming pool in the area called EUR (which is also very interesting in terms of acrichitecture).
This club is a lovely family-friendly environment, and is easily accessible with the Metro B line.
Address: Viale America, 20, 00144 Rome
I hope you enjoyed this selection of outdoor swimming pools in Rome and manage to escape the heat!
Safe travels