Family restaurants in Rome we love. Our handpicked selection of family friendly restaurants in Rome City Center you and your kids will love.
Eating out in Rome with kids is easy and satisfying.
The city is full of restaurants, the center in particular will have you spoilt for choice when it comes to places to eat, and you'll be happy to hear the presence of your children will not require compromises in terms of quality nor ambiance!
Rome restaurants are welcoming to children in a very Italian way: they may not offer kids' menus or coloring pens but the they welcome kids as much as adults, treating them as fully fledged clients!
Like anywhere, however, there is no doubt that some places are better than others regarding quality and child friendliness, especially in a busy city like Rome.
I am a Rome mama and I love eating out with my kids.
The places we normally choose are budget to mid range places, they have good food, pleasant service and they all have menus that include at least some dishes that are good for kids.
We don't necessarily always go for traditional roman food and you will notice Rome has great international options too.
However, since I believe when in Rome you will most likely want to taste proper Italian food, this is the type of cuisine I focused on!
This is my curated list of great family friendly restaurants in Rome city centre close to main points of interest, plus a few additional addresses you may like to try.
I hope you enjoy it!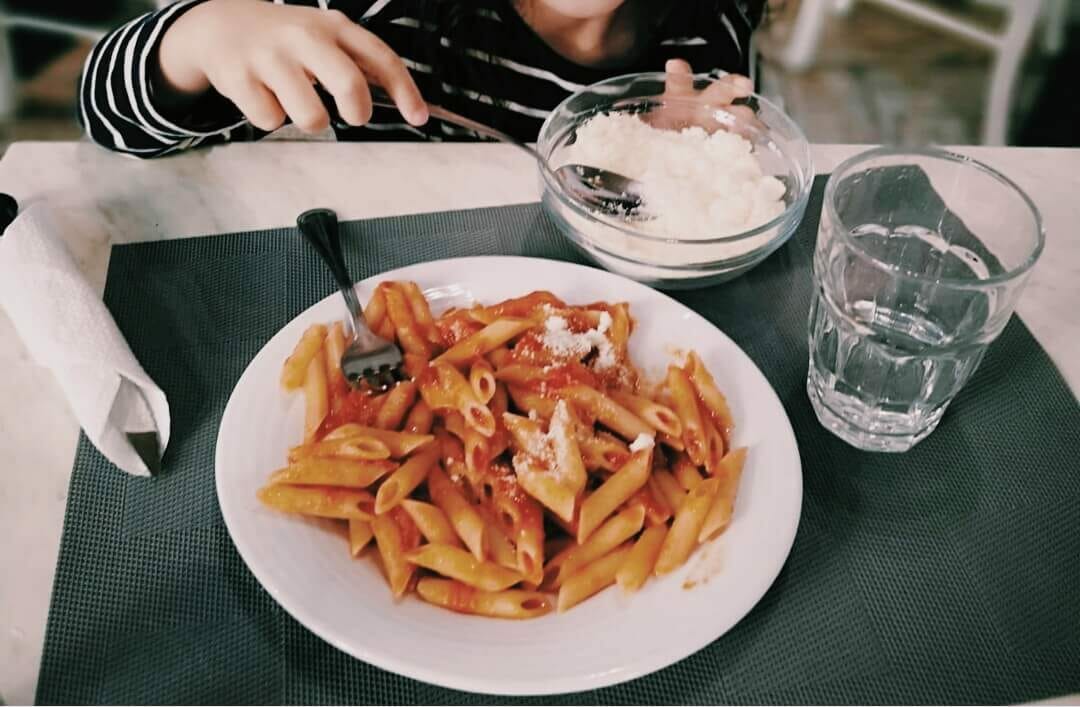 Eating out in Rome with kids: what you need to know
When deciding where to eat in Rome with kids, It is useful to keep in mind the following:
Rome restaurants tend not to offer kids menus. They are usually however happy to reduce the portion size of anything on the (ask for mezza porzione) or to make a simple pasta on request.
Unfortunately, in most cases half portions do not come with a reduced price tag.
Not all restaurants have high chairs. This is improving but still very much not the norm
In Rome city center many restaurants are open all day long, meaning you can find a meal even at non traditional meal times.
In residential neighbourhoods this is not usually the case and lunch usually happens between 12.30 – 2.30 pm and dinner service from 7-7.30 pm onwards
Not all restaurants take bookings. Those that do usually prefer bookings made on the phone or in person, if you happen to pass by one day and book for the evening or the next day.
Usually, phone bookings take priority over email bookings. Some restaurants are also on hte App The Fork however, these are the minority and the reservation is not always honored so if you have your heart set on one place, a ohone call I usually best. Many understand English and speak it sufficiently to take a reservation.
As well as restaurants, Rome has a huge array of eateries, bars (this is what we called cafes), take our options, pizza places etc. Finding food on the go is exceptionally easy.
Most places have become good at listing ingredients and allergens.
It can be useful to bring with you allergy cards in English or specific needs. I have included in this list a couple of coeliac-friendly places recommended to me by a friend who is a coeliac and, therefore, must avoid all gluten).
Please note: the  addresses and links in this post are for your convenience only. I do not have any relations with any of these places except for being a satisfied customer (always fully paying!).
Where to eat in Rome with kids: family friendly restaurants in Rome city center
Best family restaurants In Rome near Pantheon / Piazza Navona area
The area of the Pantheon and Piazza Navona teems with restaurant and eateries.
You have restaurants and bistros absolutely everywhere here, to the point that some of the streets of this neighborhood often resemble a continuous outdoor eatery more than normal streets with the occasional restaurant!
This means that you will never go hungry in this area but also that you may find the choice of where to go overwhelming.
The following addresses are the family friendly we personally go to and like. I hope they can be a good starting point to narrow down your search!
Cul de Sac (lunch / dinner / traditional Italian / wine bar)
Cul de sac is my go to place when in Rome so if you happen to be in town at the same time as me, seek me out here!
This is a small enoteca with amazing food and wine and it will not immediately strike you as family friendly as the space available is little (not a place for strollers).
However, they welcome kids and they even have highchairs, proving that appearances can be deceiving!
Their selection of foods ranges from lasagna to burger patty to vegetarian specialties and pates and they have nice, home made desserts too.
Parents can indulge in a great selection of wines.
The tables outside have standard chairs while those indoors come in the form of booths can can accommodate high chairs/ booster seats, which the restaurant provides (they don't have many, if referring a table, ask in advance)
There is often a line outside but ask for a table and they will take your name and accommodate you as soon as possible or book in advance by phone (preferred) or email.
Address: Piazza di Pasquino 73, Rome
Grappolo d'Oro (Traditional Italian, local ingredients)
Grappolo d'Oro is a great restaurant almost exactly in front of the Leonardo Museum, one of my favorite kids' attractions in Rome, and close to Campo de' Fiori, one of the city's most famous piazzas.
The restaurant made a name for itself for its choice of locally sourced ingredients and it is a great place to taste local cuisine in a relaxed yet pleasant environment.
Both indoor and outdoor seating available but make a reservation (by phone) as this place is very popular!
Address: P.za della Cancelleria, 80, 00186 Rome
Emma Pizzeria – one of the best in the city!
Emma Pizzeria is a very popular and delicious family friendly restaurant in the heart of Rome with a social claim to fame: that of making one of the best pizza in Rome!
Indeed, their pizza is delicious but it is not all the restaurant has to offer: as well as pizza and traditional Roman appetisers such as suppli, bruschetta etc, Emma also has cured meats and cheese platters, pasta, meatball and a lot more.
The prices is a little high but it matches the quality of the dished: this is a great place for demanding customers and foodies as well as a family friendly address. Table reservations essential (phone bookings have priority over email ones).
Address: Via del Monte della Farina 28/29, 00186 Rome
Website: https://www.emmapizzeria.com
Mimi and Coco (lunch / dinner / exceptional carbonara)
Mimi and Coco is my favourite address in Rome for carbonara and a lace I specifically recommend for this Roman specialty in particular.
The restaurant is small and the space is a little cramped so it works best for smaller families (large families can find it limiting).
However, their carbonara is outstanding and the atmosphere informal and welcoming so, if you find yourself here a little earlier or a little later than anyone else, you won't be disappointed!
The top order here are carbonara and tiramisu, which they make with gentilini biscuits : a new tale on tradition, but the result is top!
No reservation possible, but you'll likely pass here while exploring Rome anyway since they are so central
Address: Via del Governo Vecchio, 72 00186 Roma, Italia
Taverna Agape (Lunch / dinner / traditional Roman, Italian)
Taverna Agape is a lovely restaurant overlooking pretty Piazza San Simeone, in a scenic and traditional part of Rome city center.
The taverna has indoor and outdoor seating, it has a relaxed, family friendly vibe and offers a great menu with traditional Roman dishes made with fresh ingredients and nice fish and seafood options too.
A pleasant service completes the experience! Reservation by phone only, recommended.
Great family restaurants close to the Colosseum
The Colosseum is surrounded by several restaurants competing for the attention of visitors and, as you can imagine, you find a bit of everything in terms of quality and price!
I eat in the Colosseum area often and I've found that some places have managed to keep high quality offering and a pleasant atmosphere, despite the high affluence.
Places we have enjoyed with our kids include:
Le Naumachie (Lunch / Dinner, traditional Italian)
A stone throw from the Colosseum and the stunning Basilica di San Clemente, Le Naumachie is a great restaurant with traditional Rome and Tuscan dishes.
The atmosphere is informal and pleasant and, despite the touristy location, the restaurant is also popular with locals: this area has many offices and private homes so you get a nice mix of office workers and tourists at lunchtime and families and visitors in the evening.
This is a great place for families as the menu has some simple dishes likely to be enjoyed by kids (carbonara, mozzarella etc) but also more elaborate ones for the parents such as ox tail or clams gnocchi.
Unlike many restaurants in this area, they do accept online booking.
Address: Via Celimontana 7
Cafe' Cafe' (breakfast / teas / light lunch)
Cafe cafe is is a lovely little bistro in a small road just beside the Colosseum (you can see it from the door!).
This is a lovely, colorful and welcoming place serving a good selection of foods ranging from traditional lasagne to plates of middle eastern influence such as hummus and even curry.
They have a good all day breakfast option which I know sounds non-traditional but is actually very popular with locals and tourists alike!
This is a great family friendly restaurant with good food and relaxed atmosphere, perfect especially for a quick lunch and teas.
Ai Tre scalini (lunch / dinner. Italian, traditional)
Ai Tre Scalini is one of the best known addresses in the area and despite being popular with tourist, it still remains a good family friendly restaurants in Monti to taste traditional Italian cuisine.
Options for kids include meatballs, cannelloni and ravioli and they have a nice selection of dessert too.
La Polpetta (lunch / dinner. Italian, imaginative, fun)
La Polpetta is a fun, family friendly restaurant with a unique take on food: they make everything into balls!
'Polpetta' in Italian means meatball and this restaurants turns pretty much everything into little bites of delights: as well as traditional meatballs (with or without sauce, with or without chips, for kids) you can order vegetarian and fish selections, as well as more traditional plates such as pasta with meatballs, of course!
A super fun place for kids and with several restaurants around Rome. The one we usually go to is in Monti, close to Santa Maria Maggiore.
Don't let the photo misguide you: portions are generous, this is just part of the selection we ordered!
Address: Via dei Capocci 26 Rome
Website (phone booking or you can try get them on Facebook): https://www.polpetta.it
Casa Dante (Aperitivo, light dinner)
Casa Dante is one of our favorite addresses when we want a generous aperitivo rather than a full-on dinner service.
The restaurant has a spacious indoor space and many tables outside which are particularly appealing for families as they open onto a kids' playground (you don't see the playground form the table but it's immediately in front so it's easy to popo in and out while waiting).
Casa Dante's aperitivo is abundant enough to wilily as a full meal: think pinsa, platters, bruschetta, desserts, coffee and drinks. Kids welcome.
Address: Piazza Dante, 8, Rome
Reservations by phone only: 06 85384091 
Enoteca 313 (currently closed)
I am a huge fan of this place as it has a grown up feel but welcomes children with open arms.
313 is an enoteca, meaning a traditional wine bar with on site kitchen, and served lovely dishes from the roan tradition: lasagna, pasta but also meat, roast potatoes, vegetables etc.
Kids can choose from the menu or also as for simpler flavors such as pasta with basic tomato sauce or butter and parmesan or oil.
Perfect place to satisfy both adult cravings and children fussy eating habits!
Address: Via Cavour 313 Website here
Family restaurant in Rome near Trevi
The area around the Trevi Fountain is not known as a foodies area. However, there are some good addresses here!
Il Chianti
Il Chianti is a historic restaurant close to the Trevi Fountain with pleasant outdoor table and an excellent menu with Tuscan specialties as well as traditional Roman favourites..
Child friendly dishes includes tasty ragu (pork bolognese), ravioli, meatballs, beef and even pizza.
While Tuscan and not Roman, the place is worth trying as the quality is high and the location enviable. Since this is a populate place, it tends to fill up: we recommend to opt for one of the tables outside and go early.
Piccolo Arancio
This is a lovely restaurant serving traditional Rome food in a stellar location, close to the Trevi Fountain.
Despite the very touristy location the restaurant is reasonably priced and served good quality, fresh food. For kids they have several suitable options including pasta with tomato sauce, lasagna, and soups.
Pizza in Trevi (gluten free)
I first discovered Pizza in Trevi thanks to a friend of mine who is a coeliac and recommend it as one of the best gluten free restaurants in Rome and it is indeed a great find!
The atmosphere is informal and family friendly and their menu is extensive and offers pasta and pizza, also in gluten free options.
This is a great find in an area where quality, local places tend to be hard to find.
Address: Via di San Vincenzo 30/30A, Rome
Website (online reservation avaiable): https://pizzaintrevi.it/en/
Renascent top floor food hall
If you are looking for a quick and informal bite near Trevi, the top floor of the Renascent department store can be a great option.
As you can imagine, the restaurants here are more about convenience than charm but the quality is excellent, there is is good air conditioning, clean restrooms and you can choose between a pizzeria, a Brazilian/Fusion restaurant and a more traditional cafe type setting.
A great place to escape crowds especially for lunch.
Address: La Rinascente department store top floor, Via del Tritone.
Il Piccolo Buco (pizza)
Il Piccolo Buco is small place close to the Trevi Fountain serving some of the best pizza in the area.
The pizza here indeed is unique and delicious. The owner of this pizza prides himself to using a slow raising process that entails a 48-hour leavening that makes the pizza mouthwatering and he is fastidious about ingredients, chosen to be fresh and of the highest quality.
The result is pizza with a thick, luscious crust.
The place is small (the name means 'little hole'!) and due to its location and the fact that they don't accept reservations it often sees long queues.
However, if you find yourself here at a quiet time or on jet lag day, when your meal schedule doesn't match that of the locals, this is a great address!
Great Family friendly restaurants in Rome outside of the historical center
Tonnarello – Trastevere
Tonnarello is a well known, delicious and family friendly restaurant in Trastevere.
Very well known to foreigners and so popular it always has a line outside, at first glance it may give you the feeling of being tourist trap but it is not!
The food is excellent, the service pleasant and the they have special attentions for kids inlcuding coloring pages – a rarity in Rome!
Tonnarello is a the name of a type of pasta and this is a specialty here however, we found also the baccala and the meatballs excellent.
They have two branches, both good, and close to one another. They take a very limited number of reservations on line (book early!) but the queue outside moves fast so even without a reservation, you are usually ok, if not too much in a hurry.
Website: https://tonnarello.it
Lola Roma – Flaminio
One of my very favorite restaurants in Rome and one we have often visited for special occasions such as Easter family meals, Lola is a family friendly restaurants with ad adorable outside space and even a small climbing frame for kids!
A little outside of the city but close to Explora children museum, this is a great place to strike a balance between outstanding food and family fridnluness. Great also for eating in Rome with toddlers since it has more space than others.
One of the vert best family friendly restaurants in Rome for all ages.
Address: Via Flaminia 305, 00196 Rome
Web: https://www.lolaroma.it Reservation recommended, phone preferred.
Tribeca – Porta Pia
You are not likely to come to this restaurant unless you are in the area but if you are, or if you love fish and seafood, don't miss it!
This small neighborhood restaurants originally made its name for a great aperitivo offer but recently acquired an excellent fish chef that has turned it into a foodie destination!
The relaxed and colorful atmpsphere makes it a lovely place for kids especially at lunchtime, when it tends to be quieter.
Address: Via Messina, 29, 00198 Rome
Website: http://www.tribecacafe.net/index.html
Borghiciana Borgo Pio
If pasta is what you are after this is a great address hidden in plain sight in Borgo Pio, a stone throw from St Peter's square and the river.
This is a tiny place, not ideal if you have a stroller you cannot fold, but I find it great for families because of the informal atmosphere, local feel and delicious simple pasta dishes.
They specialize in pasta and you can choose from taste that goes from very mild and child friendly to full on burst of flavor (think truffle) making it an easy hit with parents and kids alike.
Address: Borgo Pio 186
Felice a Testaccio
THE place for cacio and pepe in Rome, Felice is one of the best family fridnly resturants in Rome and one of the best rrestaurants in Rome in general, a placdw well able to satisfy the most demanding foodie.
The atmpshere is wlecoming to families and we've always found the staff extra attentive to the needs of kids. Booking essential (avaiable online)
Address: Via Mastro Giorgio 29, 00153 Rome
Web: https://www.feliceatestaccio.com/menu/
Great gluten free restaurants in Rome that are great for families
If you need to avoid gluten, you'll be happy to hear there are several good addresses in Rome!
To compile this part of the list, I have turned to a local friend of mine who is a coeliac and who therefore has first hand experience of their quality but also of the precautions they apply to make their food safe for those who cannot be eat gluten.
His recommendations for the best family friendly restaurants in Rome for coeliacs are:
Buon appetito!
Please note: In this article, I have listed places that I like and enjoy with my family. I received no compensation or incentive for their inclusion and this selection reflects my opinion only.
Where to eat in Rome with kids – pin this
Save this post on Pinterest so you can easily find again this list of the best family friendly restaurants in Rome while in the city!
This post was originally written in 2019 and has now been fully updated.