Family restaurants in Rome we love. Our handpicked selection of family friendly restaurants in Rome City Center you and your kids will love.
Hunger is family vacation public enemy number one, especially if it strikes after a long morning of walking and sightseeing in an unfamiliar city.
A good way to handle it is to always carry snacks with you but an even better way, in my opinion, is to equip yourself with a list of great family friendly restaurants close to the attraction you are visiting.
This is exactly what this post is: my curated list of great family friendly restaurants in Rome city centre close to main points of interest.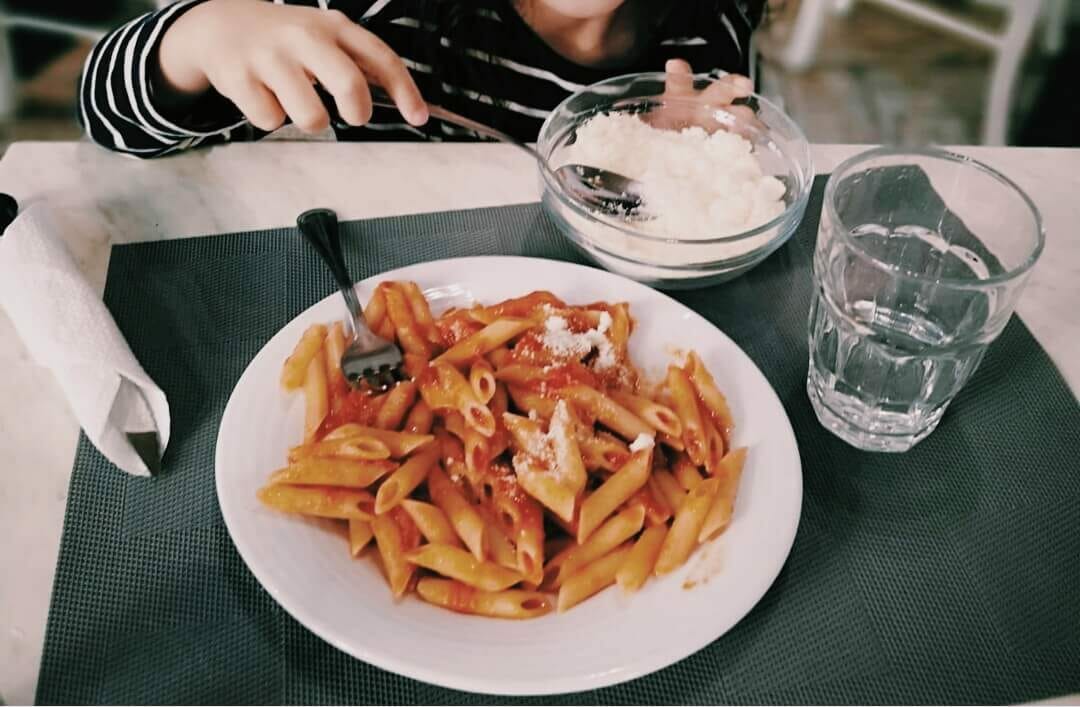 Need to know: in Rome it is rare to find restaurants with children menus but many places are happy to make a basic tomato sauce pasta for kids on request.
Pizza is almost ubiquitous (search for pizzeria, not ristorante if you want one) and the Italian version of fried chicken is 'milanese' – yes, I have fussy eaters too!
Please note: the addresses and links in this post are for your convenience only. I do not have any relations with any of these places except for being an occasional costumer (always fully paying!).
Great family restaurants close to the Colosseum
The Colosseum is surrounded by several restaurants competing for the attention of visitors but there are two in particular that I recommend to families with kids but also without.
Cafe' Cafe'
Cafe cafe is is a lovely little bistro in a small road just beside the Colosseum (you can see it from the door!).
This is a lovely, colorful and welcoming place serving a good selection of foods ranging from traditional cannelloni and lasagne to plates of middle eastern influence such as hummus and even curry.
This is a great family friendly restaurant with good food and relaxed atmosphere. Perfect especially for lunch and teas.
Address: Via dei SS Quattro 44.  Website here
Alternative if busy: right in front of Cafe Cafe, the restaurant/ pizzeria La Pace del Cervello has pleasant outdoor table and a traditional menu. Kid-friendly atmosphere (espicially outside)
Le Naumachie
A stone throw from the Colosseum and the stunning Basilica di San Clemente, Le Naumachie is a great restaurant with traditional Rome and Tuscan dishes.
The atmosphere is informal and pleasant and the place full of locals, despite the touristy location.
This is a great place for families as the menu has some simple dishes likely to be enjoyed by kids (carbonara, mozzarella etc) but also more elaborate ones for the parents such as ox tail or clams gnocchi.
Address: Via Celimontana 7
Enoteca 313
I am a huge fan of this place as it has a grown up feel but welcomes children with open arms.
313 is an enoteca, meaning a traditional wine bar with on site kitchen, and served lovely dishes from the roan tradition: lasagna, pasta but also meat, roast potatoes, vegetables etc.
Kids can choose from the menu or also as for simpler flavors such as pasta with basic tomato sauce or butter and parmesan or oil.
Perfect place to satisfy both adult cravings and children fussy eating habits!
Address: Via Cavour 313 Website here
Family restaurant in Rome near Trevi
Il Chianti
Il Chianti is a historic restaurant close to the Trevi Fountain with pleasant outdoor table and an excellent menu with Tuscan specialties.
While Tuscan and not Roman, the place is worth trying as the quality is high and the location enviable. Since this is a populate place, it tends to fill up: we recommend to opt for one of the tables outside and go early.
Address: Vicolo del Lavatore, 81/82A
Piccolo Arancio
This is a lovely restaurant serving traditional Rome food in a stellar location, close to the Trevi fountains (and incidentally, close to one of our recommended hotels in Rome, Palazzo Scanderbeg).
Despite the very touristy location the restaurant is reasonably priced and served good quality, fresh food. For kids they have several suitable options including pasta and soups.
Address: Vicolo Scanderbeg 12 Website here
Good to know: Close to Trevi, you find La Renascente Department Store. On the top floor, you find several restaurants with good facilities for kids. Offers include good quality pizza.
Good family restaurants near Piazza Navona: Cul de sac
Cul de sac is my go to place when in Rome so if you happen to be in town as the same time as me, seek me out! This is a small enoteca with amazing food and wine and it will not immediately strike you as family friendly as the space available is little (not a place for strollers).
However, they welcome kids and they even have highchairs, proving that appearances can be deceiving! Good selection of foods ranging from lasagna to vegetarian specialties and pates. There is often a line outside but ask for a table and they will take your name and accommodate you as soon as possible.
Address: Piazza di Pasquino 73
Family restaurant near the Vatican: Borghiciana Borgo Pio
If pasta is what you are after this is a great address hidden in plain sight in Borgo Pio, a stone throw from St Peter's square and the river.
This is a tiny place, not ideal if you have a stroller you cannot fold, but I find it great for families because of the informal atmosphere, local feel and delicious simple pasta dishes.
They specialize in pasta and you can choose from taste that goes from very mild and child friendly to full on burst of flavor (think truffle) making it an easy hit with parents and kids alike.
Address: Borgo Pio 186
Buon appetito!
Please note: In this article, I have listed places that I like and enjoy with my family. I received no compensation or incentive for their inclusion and this selection reflects my opinion only.