A local's guide to the best food in Rome. What to eat and where to eat in the Eternal City for an authentic experience
No trip to Rome would be complete without experiencing the Eternal city food scene.
Food is a huge part of Rome's culture and the city is proud of its local food and specialties: wine bars and restaurants all flaunt impressive menus but without a bit of guidance, it is easy to get overwhelmed.
In this article, I am listing dishes that are the most famous Roman classics and those I believe you should seek out for an authentically Roman culinary experience.
For each of them, I give a quick overview of their ingredients and recommended addresses, so you can use this article as a quick guide to the best restaurants in Rome for traditional fare.
If you want to try pizza, head to our guide to the best pizza in Rome instead!
Please note: addresses in this post are provided for convenience only and I have no relationship, commercial or otherwise, with establishments mentioned.
What to eat in Rome for an authentic Rome meal
 Spaghetti alla carbonara (Pasta). Main ingredients: eggs, cheese, pork
Cacio e pepe (pasta): pecorino cheese and pepper
Amatriciana (pasta): tomato sauce, pork, cheese
Gricia (pasta): pork, cheese
Pasta with romanesco broccoli: romanesco, cheese (often sausage too)
Saltimbocca alla romana (meat): veal, pork, sage
Gnocchi alla Romana: semolina, butter, milk
Abbacchio scottadito: (meat) lamb, olive oil, herbs
Trippa (tripe): beef, tomato, mint
Coda alla vaccinara (meat): beef
Carciofi alla Giudia (vegetables): artichokes
Carciofi alla romana (vegetables): artichokes
Puntarelle alla romana (vegetables): chicory with paste anchovies
Baccala' (fish)
Suppli' (rice) Rice, mozzarella, tomato sauce
Pizza (different toppings)
Maritozzo (Rome breakfast pastry) brioche type dough and whipped cream
Crostata ricotta e visciole (dessert) ricotta cheese and cherries
Grattachecca – typical Rome dessert for summer, made with shaved ice
What to eat in Rome: pasta specialties
Rome has some delicious pasta specialties, some famous worldwide
Spaghetti alla carbonara
Spaghetti alla carbonara is maybe the most famous of all Roman pasta dishes.
It is a wonderfully simple dish that packs a punch in terms of taste and is delicious especially in the winter, when you want a filling, warming dish.
The original recipe wants it made with spaghetti, but nowadays it is common to also see it served with rigatoni and mezze maniche (short, rugged, concave pasta).
Carbonara is served all over the world but the real thing is very different from its imitations and worth seeking out.
The best place to eat carbonara in Rome are:
Da Enzo al 29 Via dei Vascellari 29
Grappolo d'Oro, Piazza della Cancelleria
Flavio al velavevodetto, via di Monte Testaccio 97
Roscioli, via dei Giubbonari 21/22
Cacio e pepe
Another super simple and super satisfying pasta dish to try in Rome is spaghetti (or tonnarelli) cacio e pepe, a plate that shows how simple, uncomplicated, high quality ingredients are all you need for a wonderful meal.
The name of this dish summarizes its main elements: cacio (pecorino romano, a hard salty cheese) and black pepper.
The place to go to try cacio e pepe is the area of Testaccio and in particular Felice, in Via Mastro Giorgio 29.
Pasta alla gricia
A variation of both cacio e pepe and Amatriciana is the delicious pasta alla gricia, a simple yet satisfying pasta dish dressed with guanciale (pork), pecorino (cheese) and and black pepper, melted into a beautiful cream made with the pasta cooking water.
The best place in Rome to eat pasta alla Gricia are:
Da Enzo al 29, Via dei Vascellari 29
Osteria Bonelli, Via dell'Acquedotto Alessandrino 172/174
Flavio al Velavevodetto, Via di Monte Testaccio 97
Circo, Via dei Cerchi 79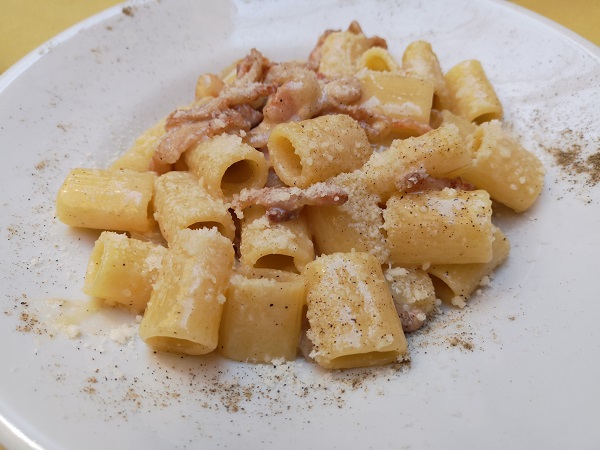 Pasta all'amatriciana
Amatriciana is a pasta dish from Amatrice, a small town near Rome. Amatriciana is popular both in Rome and surrounding region, Lazio ,and its main ingredients are guanciale again (pork), pecorino (cheese) and tomato sauce.
The best place to taste Amatriciana in Rome is traditionally Armando al Pantheon, a Rome institution.
Gnocchi alla Romana
Not to be confused with standard gnocchi, made of flour and potatoes, Gnocchi alla romana are a semolina based dish.
They are delicious, tasty, warming and almost impossible to find outside Rome.
The best place to taste them is Matricianella, Via del Leone 4.
What to eat in Rome: meat
Once you are ready to move onto the second course, Rome treats you to lovely meal dishes
Saltimbocca alla Romana
Saltinbocca means 'jumps into your mouth' and you will find that indeed these thin strips of meat, dressed with prosciutto and sage do not last in your dish very long!
Saltimbocca area traditionally made with veal and are super quick to cook so you want to order them in a place with a working kitchen and not, for instance, take them from a buffet.
They get awfully dry very quickly so for this one, knowing a good establishment is a must.
The best places to eat in Rome for saltimbocca alla romana are:
Il Grappolo d'Oro, Piazza della Cancelleria
Da Cesare al Casaletto, Via del Casaletto 45
Abbacchio scottadito (lamb)
Abbacchio scottadito is another meat dish, originally a dish served at Easter but now so popular you find it many restaurants most of the year.
Abbacchio is the roman name for lamb and abbacchio scottadito is the Roman version of grilled lamb cutlets, cooked in olive oil and herbs and served grill hot.
Great places for abbacchio in Rome are:
Cecchino dal 1887, Via di Monte Testaccio 30
Da Cesare al Casaletto, via di casaletto 45
Coda alla vaccinara (ox tail)
Roman cuisine is all but refined and the dish that embodies this most of all is probably coda alla vaccinara: ox tail!
Coda alla vaccinara is an earthy dish: the meat is cooked in a rich tomato based sauce and makes a wonderfully warming meat 'stew'.
When you get it, make sure you also get some bread so you can scoop up the sauce at the end. Don't even begin to think of skipping this last step, it is the best one!
The best place in Rome for oxtail are:
Da Enzo al 29, Via dei Vascellari 29
Cecchino, Via di Monte Testaccio, 30
Tram Tram, Via dei Reti 44
Armando al Pantheon, Salita dei Crescenzi, 31
Trippa
If you are not squeamish you want to taste trippa, Roman style tripe. This is an earthy, tasty dish prepared with a tomato based sauce, celery, carrot and other ingredients and of course tripe.
The best places to taste it in Rome are
Cul de Sac, Piazza Pasquino
Flavio all Velavevodetto, Via di Monte Testaccio, 97
Santo palato, Piazza Tarquinia 4
Cecchino, Via di Monte testaccio 30
Rome dishes: Vegetarian / Salads, Sides
Rome cuisine is not strong on vegetarian dishes but has some specialties that are worth trying and are unique to the city. They all deserve a place in your list of what to eat in Rome.
Carciofi alla Giudia
One of the most peculiar dishes of the Roman tradition comes from the Rome Jewish community, to whom goes the merit of some of the most delicious and satisfying fishes you will taste in the city: carciofi alla Giudia, AKA fried artichokes.
They are usually served as a starter/appetizer and they are delicious and soft
Like many other plates on this list, the roman artichokes are reasonably easy to prepare but rely on amazing ingredients and on the use of the right type of artichoke: the romanesco
Unlike other types or artichokes, the Romaneschi ones are bigger and softer: for this dish, they get cooked in oil twice and the resulting taste is special: much different from the one you may be used to and worth trying even if you don't like artichokes. They may surprise you in the best way possible!
The best places to eat in Rome carciofi alla giudia are:
Da Enzo al 29, via dei vascellari 29
Nonna betta, via del portico d'Ottavia 16
Giggetto al Portico d'Ottavia, via del portico d'ottavia 21a
Ba' Ghetto, Via del portico d'Ottavia 57
Carciofi alla Romana
if you are not keen on the frying step, you can still enjoy Roman artichokes in Carciofi alla romana (Roman style artichokes): in this case, they are cooked in olive oil with garlic and peppermint.
The best places in Rome to eat Roman style artichokes are:
Flavio al Velavevodetto, Via di Monte Testaccio, 97
Tram Tram, Via dei Reti, 44
Armando al Pantheon, Salita de' Crescenzi 31
Puntarelle alla Romana
A refreshing dish and one you that is typical of the spring months in Rome and in the area immediately to the south of the city is puntarelle alla romana (puntarelle are the new tops of chicory).
This is a light, tasty dish with a slightly bitter taste and dressed with a paste of anchovies.
What to eat in Rome on the go: Rome street food
Suppli'
The unrivaled hero of Rome street food is il suppli (stress goes on the last i), a fried ball of rice with a melting core of mozzarella cheese.
From the outside they share some resemblance with arancini but they are smaller, crisper and peculiar to the Rome food scene.
They are quite a treat and you find them in local pizzerias as a started or in 'pizzeria al taglio', where you get pizza to take away at lunchtime.
You really do not need a special for them: any good Rome pizzeria serves them, usually as a starter although those by Supplizio in Via dei Banchi Vecchi and La Gatta Mangione, in via Ozzanam, are famous.
Filetto di baccala'
If you like fried food, as well as suppli you should make a special effort to seek out filetti di baccala, deep fried fillets of baccala' (salted cod).
You find them in most traditional pizzeria but those by il filettaro di santa Barbara near Campo de' fiori are legendary
Best pastry and best desserts in Rome
Maritozzo
Maritozzo is not a dessert but a sweet type of pastry you usually have at the 'bar' at breakfast time. They are heavy and delicious and something to be tasted at least once while in Rome.
Biting into the cream is a delight – just watch your kids as they taste one as cream will get everywhere!
The best maritozzi in Rome are:
Il maritozzo Rosso, Vicolo del Cedro 26
Roscioli il caffe, Piazza Cairoli 16
Pasticceria Bompiani, Piazza Bompiani 8
Crostata ricotta e visciole
This recipe is said yo have its roots in the Jewsish tradition and mixed ricotta cheese and visciole, aka cherries.
Delicious and surprisingly addictive, the best place to taste it is of course the Rome ghetto, the heart of many Rome culinary delight,
The best address for it is Forno Boccione, Via del Portico D'Ottavia 1
Pizza,Pizza bianca, Focaccia
You cannot go to Rome without tasting pizza: it is up there with the one in Naples despite the different style and I would encourage everyone to try both and make up their own mind!
When going for pizza in Rome, keep in mind a few things:
Pizza tonda (round pizza) is the one you get in pizzerias and restaurants, usually for dinner
Pizza al taglio is pizza by the slice, usually a quick lunch great if you are in Rome on a budget
'Focaccia' in Rome is thin, crisp pizza dressed with olive oil and rosemary
Pizza bianca is a type of pizza sold in deli shops and bakeries, usually as an alternative to bread. Delicious especially with 'mortadella'
More resources about Rome food
Looking for even more Rome foo resources? I have some more tips:
For the best coffee in Rome, find out our top coffee experiences in Rome here
For the best gelato in Rome, check out our list of favorite gelaterie here
For family friendly restaurants both adults and kids will enjoy, check out our list here
Info on when to tip and how much to tip in Rome restaurants are here
I hope you enjoyed our guide to the best food in Rome. Safe travels!