How to make the perfect cacio e pepe: easy recipe with the one trick you need to know for the perfect cheese sauce and an authentic Italian taste.
Cacio e pepe is one of the most traditional and famous dishes in Rome and one of the tastiest.
It is also one of the simplest, in terms of ingredients.
As the name suggests, this pasta dish is basically made of 2 ingredients, cacio (cheese) and pepe (black pepper), but two ingredients that are so tasty and so perfectly balanced when cooked the right way, you will think you are tasting a much more complex creation!
This doesn't mean however that making cacio e pepe is as simple as grating some cheese on top of your pasta.
If you have tried to make it at home and found yourself in front of a clumpy mess rather than a smooth sauce, you may already know what I mean!
The road to the perfect cacio e pepe is littered with failed attempts and I have myself failed to get it right many times, until I finally understood the mistake I was making.
To make smooth cacio e pepe you need to know one trick, without which the laws of physics are against you. Literally!
If you are not sure what physics has to do with pasta and how you can harness the laws of chemistry to make a perfectly smooth sauce, read on!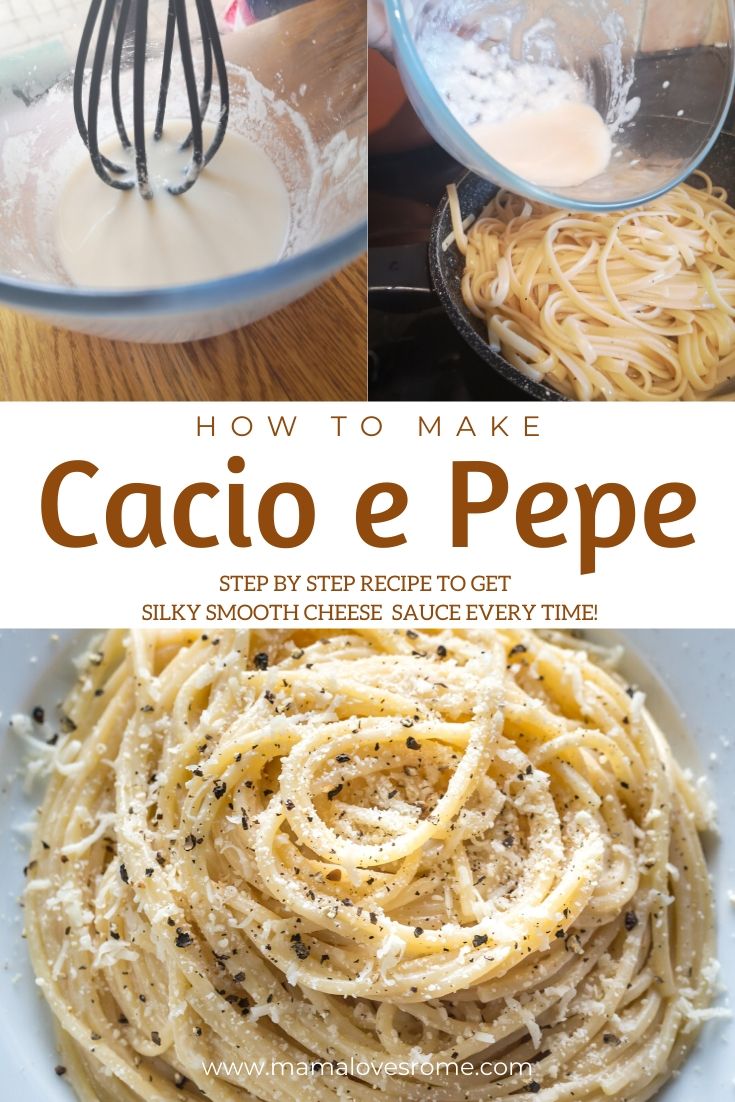 As an Amazon Associate I earn from qualifying purchases.
Ingredients for cacio e pepe
To make cacio e pepe, you need the following ingredients:
Pasta trafilata al bronzo (bronze cut pasta)
Water + salt for boiling
Black pepper grains
Pecorino Romano (cacio)
You will also need some basic kitchen utensils:
A pot for boiling your pasta water
A large pan
Kitchen thongs (or similar: you will need them to get the pasta out of the water)
A heat resistant bowl
A kitchen whip
A cheese grater
What is the best pasta for cacio e pepe?
When choosing the best pasta for this recipe, you should look at two things: the pasta shape and the method of production.
When it comes to shape, always go for long pasta! Spaghetti and tonnarelli are the most traditional shapes but linguine and other shapes are perfect too.
When it comes to the method of production, ideally you want pasta that says on the packet 'trafilata al bronzo', kit 'bronze but'. Trafilata al bronzo is a technical term that has got to do with the creation of the pasta in the factory and is different from other pasta only in the sense that it is more rugged and rough.
It is a more porous type of pasta than the normal one and makes it easier for the sauce to stick to it.
Good to know: if you cannot get bronze cut pasta, don't worry! Normal pasta is also ok for this recipe. Just make sure it is long (no penne or fusilli etc) to stay close to the tradition and get the best taste.
What cheese to use? What type of cheese is cacio?
The best cheese for cacio e pepe is cacio however, you are unlikely to find this in the shops with this name. More likely, you will find it under the name 'Pecorino Romano', which is the same food!
Pecorino Romano/cacio is a semi-hard sheep cheese, salty in taste and quite dry, original from the countryside around Rome and perfect for grating.
It is the star ingredient for this recipe however, should it prove impossible to find, you can make a variation of this dish using parmesan.
It will not be the same, the taste of the parmesan being quite different from that of pecorino. However, you can follow the same process and get a tasty dish so if parmesan is all you have, you can still use the instructions in this article.
The cooking process
The process to make cacio e pepe is made of a couple of steps. The preparation of the pasta and that of the sauce.
The pasta for this recipe is not cooked the traditional way but rather, it is a mix between the typical way of boiling water and risotto-style cooking.
You start cooking the pasta in boiling water but finish the process in a pan, where the pasta can soak up the pepper sauce.
The second step is making the sauce, which you make mine pecorino and the cooking water of the pasta: nothing else!
A few key things to keep in mind when cooking this dish:
You must keep the pasta water! When you drain your pasta, make sure you use thongs or similar instrument to take the pasta out of the water, rather than pouring it out out of the pot. The cooking water is the key to a successful cheese sauce: without it, it will simply not come together (see below).
You want to only start the sauce when the pasta is already cooking. The sauce won't stay smooth for long so this is very much a last-minute job. What you can and should do in advance is grating your pecorino, so you already start from a nice powdery cheese.
How do I keep cacio e pepe from clumping?
The big enemy of any cacio e pepe dish is the infamous clumping of the cheese. It is the death of the dish and one of those things that will simply ruin your dinner since once the cheese is in clumps, it stays that way!
However, there is a trick to avoid the disaster and this is where physics come into play.
If you use boiling water from the kettle to melt your cheese, clumps are inevitable. Hard cheeses have a certain molecular structure that doesn't react well to hot water and prevents them from melting into a sauce.
To avoid clumps, you need to use the cooking water of your pasta! The cooking water, thanks to the pasta starch, changes the way the cheese melts and creates a perfectly smooth cheese sauce!
The trick to the perfect cacio e pepe is using the pasta water. If you use plain boiling water, no matter how quickly or how long you mix, the sauce will simply not come together. With the right water, it is done in less than a minute!
How to make perfectly smooth cacio e pepe recipe: step by step process
Perfect Cacio e Pepe
Super tasty, delicious Italian recipe for cacio e pepe pasta.
Step by step guide to making the perfect spaghetti cacio e pepe and a perfectly smooth Italian cheese sauce every time.
A tasty, cheap and quick to make Italian dish perfect for a family dinner, solo meal or entertaining friends!
Ingredients
Spagetti 320 gr
Pecorino Romano, medium, 200 gr
Black peppercorn, a pinch
Salt + water for the pasta
Instructions
Take a large pan, fill with enough water to comfortably cook all your pasta, add salt and bring to the boil.

Once boiling, put in the pasta and let it cook for about 5 minutes.

In the meanwhile, crush your peppercorns and toss them into a large nonstick pan - choose a big one as you will use it for the last step of pasta preparation (a little like you would for a risotto)

Turn the heat on and let your peppercorn roast for about a minute. Take a ladle and use to pour some of the pasta cooking water onto the pepper: the water will sizzle, which is exactly what you want it to do!

Mix well, then wait until the pasta has cooked for a couple extra minutes an add it to the pan. Add more water, toss and let cook. Always keep an eye on the pasta, adding water if needed, and turn your attention to your cheese sauce.

Take a glass bowl with your grated cheese. Use a ladle to pour a little of the pasta water onto it, not too much, just a little for the cheese melt and a cream starting to form.
Mix well with a whisk and add the water you need for the cheese to become a smooth cream.
Once the pasta is ready, move it off the hobs and pour your cheese sauce onto it: mix well so the pasta gets evenly coated, add an extra sprinkle of cheese and you are done!
Nutrition Information:
Yield:

4
Serving Size:

1
Amount Per Serving:
Calories:

363
Total Fat:

14g
Saturated Fat:

9g
Trans Fat:

0g
Unsaturated Fat:

5g
Cholesterol:

52mg
Sodium:

868mg
Carbohydrates:

36g
Fiber:

2g
Sugar:

1g
Protein:

22g
The nutritional information are an estimate only
What goes well with cacio e pepe? Meal idea
How about making cacio e pepe part of a Rome-themed dinner? Things that go well with this pasta are:
I hope you enjoyed this recipe and it helped you master the art of the authentic cacio e pepe, Rome style. Happy cooking!