Our expert guide to visit Rome on a budget. Find out our best tips to save money on Rome accommodation, food and tickets to Rome attractions, from ancient Rome to the Vatican and more. Updated 2020.
Rome is not known for being a budget friendly destination.
With millions of visitors filling its world-famous cobbled streets every year, prices for hotels, tours and restaurants are often at a premium and you may think there is no other way to visit Rome than just accepting to go bankrupt in the process.
However, traveling to Rome does not have to be hard on the budget. With some planning and the right tips, it is very possible to enjoy Rome on a shoestring.
In this article, I share my favorite budget-friendly ways to explore Rome and my local tips about the many ways you can save money in Rome and still have an excellent stay.
Easy ways to visit Rome on a budget
This is my list of money saving tips from Rome: some will come in handy while planning and others will be important to keep in mind while exploring.
To have them with you at all times, you can save this page on your phone home screen or, if you are a Pinterest user, save this image for easy access.
Go in low season (and know when it is)
Traveling in low season is a great way to save money anywhere.
However, low season in Rome is short and it doesn't necessarily happen at the time of the year you may think.
The real low season in Rome comprises a handful of weeks: usually a few weeks in November (after All Saints 1st November and before the start of the Christmas festivities, 8th December) and then again in January – Mid March, from about the 7th of January to right before the start of the spring and Easter festivities.
At this time, the weather is not at its best but the number of visitors is significantly lower and this means prices are usually slashed.
The worst seasons for the budget-conscious traveler are the spring (especially Easter Holidays), Christmas, October and the summer (July in particular).
Plan to be in Rome on the first Sunday of the month
On the first Sunday of every month, many Rome museums and attractions are free and this includes some important sites such as the Colosseum, the Roman forum, Castel Sant'Angelo and even Galleria Borghese!
This is a wonderful opportunity to visit some of the most famous Rome sites while saving money and you will find both Romans and tourists making the most of the opportunity.
This is a fantastic way to go sightseeing in Rome on a budget.
Be aware that some attractions do require advance booking even on these free days: go directly to the website of your attraction of choice to grab your ticket.
Book with the attractions directly
Another great way to say money in Rome is to cut agency and tour operators commissions and book tickets from the attraction directly.
The Colosseum, for instance, has tickets that cost as little as 15 Euro per person (at the time of writing) and has discounted options for many categories of travelers including children (they go free!).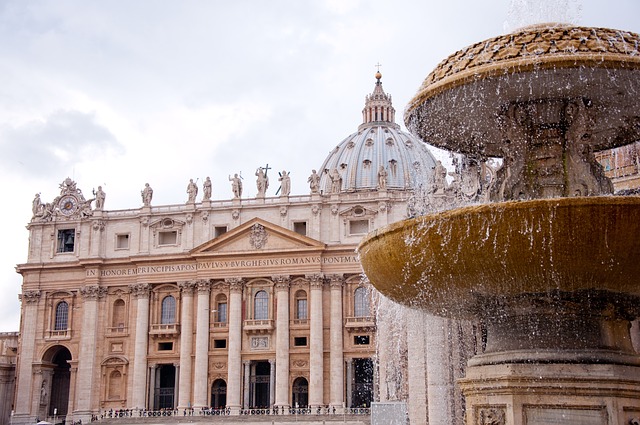 Depending on the type of tickets you choose, you can get a self guided tour with audio guide or a full guided tour in your language of choice: all tickets come with a timed entrance so you don't need to queue and just show up at the agreed time!
This is a significant money saving opportunity and the tours are of good quality.
I am a local and a Roman history graduate and found the guide seriously competent, so this is definitely not a cheap but awful tour, it is a cheap yet excellent one.
Other attractions such as Galleria Borghese and the Vatican museums also offer timed entrance tickets without having to pay for a skip the line option.
In this case however, you don't always get a guided tour so make sure when comparing providers you are comparing like for like.
Get to know free attractions
Rome has very many free attractions, some expected and some unexpected. To give you a quick overview, some of Rome free attraction include:
Swap museums with churches
Rome has stunning museums but the cost of tickets can add up fast.
A great way to get a full immersion in Rome art without paying a cent is going to churches instead!
Rome has hundreds of churches and while not all have works of art, many do.
To give you a coupled of examples: San Luigi dei Francesi houses Caravaggio's Cycle of St Matthew; Santa Maria della Vittoria houses the Ecstasis of St Therese by Bernini and San Pietro in Vicoli has a Moses by Michelangelo.
Find more ideas at the following links:
Our guide to the best places to see Caravaggio in Rome (free and ticketed)
Our guide to Michelangelo in Rome (free and ticketed attractions)
Our guide to Bernini's art in Rome
Stay with nuns
This may come as a surprising tips but don't dismiss it quite yet.
In Rome, there are several religious institutes that offer good quality accommodation at seriously low prices, often located in lovely and central parts of Rome,
You do not need to have religious affiliation to be their guest and while you do get some rules to follow (a curfew, mostly) these are usually very reasonable and a great compromise for the budget friendly, clean and pleasant accommodation you get.
Don't sit at cafe terraces
This one is a tip you have probably heard before but it is worth mentioning again as it is a good one.
While many photos of Roman holidays include people leisurely sitting in a piazza sipping coffee or aperitivo, that experience comes at a price.
In Rome the tax for occupying piazzas and pavements are really high and the shop owners pass these onto their patrons: this means that the same cup of coffee that costs 80 cents at the bar will cost you easily 7 euro if sipped at a table, even if you carry it there yourself!
This is true in most establishments and it is not a scam although it does feel like one if you are not expecting it.
If you pay attention, you will see that no Roman actually sits at a cafe so you are not scammed because you are a tourist: it  is just a charge locals are aware of and therefore avoid. 
Stay outside of the center
Another very easy way to save money on accommodation is to stay a little far away from the center.
While I usually advocate the Pantheon as the best area to stay in Rome for sightseeing, I also know that the area comes with a high price tag so it is not for everyone.
The best way to find cheap accommodation in Rome that is still decent is to find a place along the metro line or on the far side of the Vatican (Gianicolo area).
Here you have some big, well appointed hotels that offer a shuttle service into the center: definitely worth looking into them especially if staying in Rome more than a couple of nights
Drink water from the fountains
Rome has gorgeous, clean, fresh, delicious water so a great way to save money is to bring a refillable water bottle and drink up from Rome's small fountains.
They were built as part of a project to bring drinkable water to the city and they still operate.
Please note: not all fountains have drinkable water! The big monumental fountains are usually not for drinking! Go to the small nasoni instead: you can read all about drinking water in Rome here.
Order house wine
Another way to save money is to stay away from expensive bottles of wine and opt for house wine instead (vino della casa).
House wine comes in a caraffe and is usually a fraction of the cost of a bottle, while still giving you a choice between red and white.
Beware of the cost of fish
Rome has some nice fish restaurants however, ordering fish can be tricky on a budget due to it pricing.
Often the menu give you a price per 100 grams but this doesn't necessarily mean you pay for what you get: you pay for the price of the whole fish, even if you get only a fillet.
If going for a fish option, make sure you ask for the cost of the actual plate before committing.
Embrace buffet lunches
In the last few years Rome restaurants have started offering buffet lunch options which are great for both the palate and the wallet.
Buffet lunches come in at different price points but you can find them as cheap as 12 Europe per person for an 'eat as much as you can' option
Buffets are a great way to eat well and save money: you can also make them the main meal of the day and they have only aperitivo at night (see below)
Buffet restaurants are the best places to eat in Rome on a budget and they are also a good option for families or people with food allergies as they allow you to pick what you want/can eat without the stress of language barriers
Need to know! 2020 brought many changes to Rome and buffet lunches were one of the things that had to stop. Some restaurants moved onto a standard, well priced menu, while others are still able to offer a sort of buffet formula bringing small plates to your table.
Swap dinner with aperitivo
Aperitivo in Italian means 'pre dinner drinks with nibbles' but nibbles come in several shapes and sizes: some places (often cafes) only give you a drink with crisps and peanuts but other offer a full buffet often delicious (and often for less than 10 – 15 euro per person).
In 2020, buffets have now be replaced by table service but the aperitivo idea and selection has stayed the same in most restaurants.
Embrace pizza al taglio and suppli
Italians do not eat on the go and I have a personal dislike for articles talking about Rome 'street food' as Rome does not really do 'street food'!
You do not see Romans walking around town tucking into a bowl of pasta or even a sandwich (maybe pizza if you are a student): we usually sit for lunch or stay inside the food establishment until we have finished our meal.
However, what you do get in Rome and what many call 'street food' are places with cheap eats that are the equivalent of a take out joint.
These usually are called 'rosticcerie' or 'pizzeria al taglio' and they sell pizza, suppli and other Roman specialties that cost a few euro only and fill you up until dinner.
Walk everywhere
Taxis are very expensive in Rome but the good news is you don't often need them. Most of Rome main sights are pretty close to each other as you can see in our guide to planning your Rome sightseeing.
Unless you need to cover long distances late at night, when buses have stopped running, you can usually walk in Rome or get anywhere by bus.
A ticket for the bus only costs 1.50 euro and allows you to travel and all buses and trams for 75 minute.
It is always a good idea to have comfortable shoes in Rome: find my recommended shoes for the Eternal City here
Consider carefully the Roma pass and other discount cards
Discount passes and cards can be a good way to save money in many tourist attractions in the city of Rome.
However, take some time to make a plan and check how much you would actually use them before buying.
To help you decide if they are a good investment for your trip and which one to choose, you can check our guide here.
Get the bus from the airport
If planning a visit to Rome on a budget, start on the right foot and get from the airport to your hotel using the bus.
A single ride costs as little as 6.50 euro and it will bring you to Termini train station, from where you can walk or get the bus to your hotels
Always ask for a menu with prices
The fastest way to run out of money in Rome is to order without checking the price first.
While it is not the norm to make the most of the unsuspecting tourist, some places in Rome have made headlines for charging outrageous fees for cheap eats just because they are in a sought after location (the Spanish steps and the Vatican come to mind but not all establishments are like that, many in those areas are perfectly normal places )
The only way not to fall into their traps is to demand to see a menu with prices and/ or order at the till first: get to the till, place your order and check the cost – after that, go to the bar and place your order showing the receipt itself.
While this may seem an odd way to do things, this is the standard order of events if you are in a cafe and will guarantee you will never pay more than you expect.
I hope you found this guide to Rome on a budget handy. Safe Rome travels!