All you need to know for a trip to Rome in June. What to expect from the weather, what to pack and what to do in Rome in the early summer.
June is a wonderful month in Rome, hands down one of most beautiful months to visit the Eternal City, under all points of view.
Rome in June sees the start of summer and this means beautiful weather, lovely sightseeing opportunities and glorious dinners out.
Basically if you are looking for the full Rome sightseeing and dining experience, with a sprinkle of day trips on top, June in the month for you!
In this guide, I share all the best of Rome in June and what you can expect when visiting Rome at the start of summer.
Please note: this post contains affiliate links and, should you make a purchase through them, we might make a small commission at no extra cost to you.
The weather in Rome in June: how hot does it get?
2022 update: please be careful with the heat! Rome is experiencing an unusual and intense heatwave. Make sure you stay away from the sun in the hottest hours of the day and keep yourself hydrated at all times!
Read here >>> how to deal with the heat in Rome
June is the start of the summer in Rome.
According to science, summer starts on the 21st of June in Italy but the truth is you get into summery weather way earlier than that.
May in Rome is already sunny and pleasant and June keeps that trend going.
The weather at this time is warm, with an occasional peak of proper hot temperatures in the middle of the day, and you can expect to wear short sleeves most of the days and have dinner outside.
However, June is still a transition month and how hot it actually is, changes significantly from year to year and from the beginning of the month to the end and not always in a linear fashion.
The beginning of June usually sees very hot weather, the middle of the month often sees a slight dip again, and the end of the month gets very hot indeed.
The average temperature in Rome in June is 23C/73F with a range between 17C/63F to 29C/84F degrees.
Usually you have about 4 days of rain in Rome in June and this means you may well find your time in the city totally rain free.
Need to know: Rome in June is very busy! June is very high season in Rome and it is paramount to book accommodation and tickets to main attractions in advance (weeks or months. Basically: as soon as you now you are coming). In this guide, I linked to my favourite tour and ticket providers so you can check straight away availability and prices.
What to wear in Rome in June
June is a summer month in Rome: at this time, you may still need long trousers or skirts during the coldest hours of the day but you do not need a jacket and usually do not need anything warmer than a light cardigan.
Despite this, it is important to pack more than just shorts and sandals.
Both for temperature reasons and church dress codes requirements, you want to make sure you also have city attire with you.
If you are traveling to Rome in June, it is important to pack:
Good walking shoes, such as sneakers and walking sandals (find my favorite shoes for Rome here).
Long trousers (linen, cotton or jeans work well)
Skirts / shorts – below the knee skirts for visiting churches (no shorts allowed)
Short sleeve tops
Light sweater
Swimsuit for the hotel pool or day trips to the coast
Find our full packing list for Rome in the spring and summer packing list here
Dates of notice in Rome in June
The most important dates to be aware of if visiting Rome in June are the 2nd of June, the day of the Republic (Festa della Repubblica) and the 29th of June, San Pietro e Paolo, when the city celebrates its patron saints.
Both these days are festivities in Rome and you can expect celebrations happening in several parts of the city, especially around Piazza Venezia.
The 2nd of June in Rome
On Republic Day, Rome normally hosts morning celebrations along Via dei Fori Imperiali, the large road connecting Piazza Veenzia with the Colosseum.
The celebrations usually involve a parade, a visit of the President of the republic to the Vittoriano, to honour the unknown soldier and the fatherland, and a flight display, which his usually very impressive!
Traditionally, the Frecce Tricolore (the acrobatic team of the Italian aviation force) showcase their skills on that day and they are a wonderful sight, creating an air show with the colors of the Italian flag above Piazza Venezia!
The best way to see it is by going to Via del Corso however, it does get very busy during the display so expect crowds.
On the 2nd June, main attractions are open but opening hours may be affected, especially in the case of the Colosseum and Forum, which are where the celebrations take place.
At this time but you may find additional crowds and longer lines: several sights celebrate the Republic with free openings and this attracts very large numbers of visitors, easily making the attractions too full to be worth the trip.
Make sure you book early to visit must see sites in Rome on these days and opt for alternative options to avoid the worst of the congestion.
Aside from the city center however, the 2nd of June is not a day when everything shuts down and, for most people, life goes on as usual.
While an important celebration, it is nothing like the 4th of July in the US and there are no special tradition for families of friends around it.
Begin usually a summer day however, it is likely to see many people going away for the day and traffic to enter/leave Rome at peak time may be busy; the same can be expected for trains.
The 29th June in Rome
The 29th of June in Rome is a lovely day to be in the city and often has fireworks brightening the sky in the evening. An event worth seeing!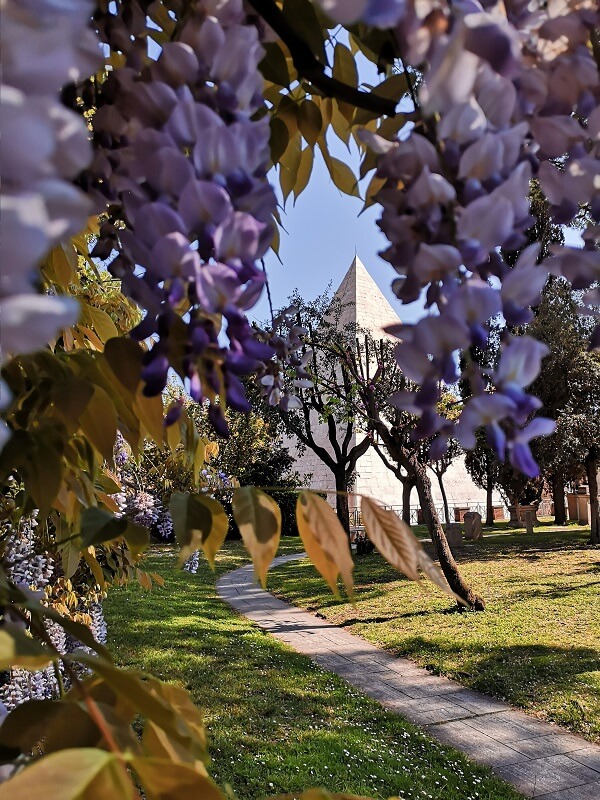 The best things to do in Rome in June 2022
The best things to see in Rome in June are a mix of sightseeing, shopping and food experiences.
Visit the Colosseum during the day
The Colosseum is fantastic to visit in June.
At this time, the days are likely to be mild and the view over the Forum, under Rome's bright sky, stunning.
However, this is an exceptionally busy time for visiting the Colosseum and advance booking (i.e.months in advance or at least weeks) is paramount.
The best tickets for visiting the Colosseum are here (this is the Colosseum official concession). Should it be sold out, check out alternatives here
June is also a good time to visit the Roman Forum and even better the Palatine hill.
At this time, the Palatine explodes in an extravaganza of sun and flowers and the view over Rome from its terrace is truly stunning.
Take your time and take the stroll up, then let your jaw drop as a view over Rome opens up in front of you while the June sun warms your skin.
A trip to the Colosseum and forum at this time is a treat for all ages and one of my favourite things to do in Rome with kids.
You can find my tips for visiting the Colosseum with children here.
Visit the Colosseum at night
On specific dates in June, the Colosseum opens its doors after dark.
This is a fantastic opportunity to visit as not just the Colosseum but the whole area is simply stunning all lit up!
You can find info and ticket here
See the light show Viaggio Nei Fori – Journey Through the Forum
In June, the Forum of Augustus and the Forum of Caesar host special evening events that are perfect for history lovers but also entertaining for kids: light shows!
The light shows are accompanies by the voice of a narrator which recalls events linked to the location you are in and the life of, respectively, Caesar and Augustus, and are a fantastic place to see how the ruins would have originally looked like at the time of their construction.
The events are suitable for all ages but especially enjoyable if you can follow the historical narration, so I would recommend probably 6 and up.
You can find tickets and info here
Visit the Vatican Museums and Vatican City
June can be a wonderful time for a visit to the Vatican City and the Sistine chapel but do be aware that crowds will be intense.
Make sure you get tickets in advance and read up all our tips for visiting the Vatican and St Peter basilica to avoid the worst of the congestion.
Top tip! a great way to avoid the crowds at the Vatican is to invest in an early morning or evening tour. You can find official museum website for details.
Visit the Vatican Gardens
June at the Vatican is also a fantastic time for visiting the gardens.
Try secure a ticket as they are fantastic especially towards the start of the month!
You can see what they are like and what the tour includes in >> our guide to the Vatican Gardens <<
The Vatican hosts a special mass on the 29th of June: tickets are mandatory (but free, find them here) or you can usually follow the mass from Piazza San Pietro, outside the basilica, on maxi screens erected for the occasion.
Visit Caracalla's baths
The Baths of Caracalla are one of the most beautiful archaeological sites in Rome and they are magical in June, just before the heat makes a trip to this large site difficult.
The baths are still in use although not for bathing! Rather, they are now used as a theatre and from June to August, host a wonderful series of evening musical events.
This is a site not to be missed and, for me, up there with the Palatine hill in terms of beauty and visual impact, both during the day or when they lit up to turn into a stage.
Visit the Domus Aurea (Emperor Nero's Palatial home)
The Domus Aurea is Emperor Neros' palace and one of the most interesting archaeological sites in Rome.
The imperial palace dates from the I century AD and historians describe it as the biggest and most lavish building ever seen.
The Domus is stunning, however, do not imagine a castle or a lavish palazzo!
Immediately after Nero's death, his palace was destroyed and it is now an archaeological dig, entirely underground!
As you enter it now, you find yourself in a series of tunnels and spaces, once filled with natural light, and still preserving hte magnitude of the vision of their creator and some of the original decorations.
This is a fantastic attraction to visit on a cold afternoon. You can find my full review of my visit and tips for planning your own here >>>> a practical guide to visiting Nero's Domus Aurea.
Explore Rome main piazzas
June is a glorious time to visit Rome's famous piazzas.
I always say that the most beautiful thing of all to do in Rome is to allow yourself to get lot in the city center and this is exceptionally true in the good season, when the sun caresses your skin.
However, should getting lost not be your thing, there are some piazzas I recommend you seek out specifically.
You can find here >>> my list of the most beautiful piazzas in Rome
Explore underground Rome
Very many attractions in Rome are underground.
These attractions vary from small areas you can visit in a matter of minutes (the Barberini Mithreaum) to larger areas you can take full tours of.
All of them are especially suited to history and ancient art lovers.
Find here >>> our list of the best underground sites in Rome
Go to the park
Rome has beautiful parks and there is no time like the spring and early summer to enjoy them.
For grand and beautiful choose Villa Borghese (here you have the famous Borghese Gallery but also the small Rome zoo, a pond and playgrounds for kids) and get off the beaten path and explore Rome's botanical gardens in Trastevere, stunning at this time.
In June, the lovely city's rose garden, on the Aventine Hill, is usually open and is a lovely place for a stroll: it also has gorgeous views over the palaces of emperors.
Go to the opera or a concert
Rome has a good opera and ballet program, taking place in several Rome locations, including Circo Massimo, a wonderful outdoor location in the city center (This is new for 2020)
Music lovers should check out the program at Auditorium Parco della Musica, a wonderful music venue in the eternal city: while a little off the beaten track from many, the Auditorium is a wonderful place to visit with interesting architecture and a destination in itself.
As well as the events, it also hosts a nice cafe and shop: a lovely place in an interesting and local part of Rome many tourists never see.
Go on a food tour
A Rome food tour can be a lovely way to get to know a different side of Rome while tasting food from tried and tested establishments.
These are food tours worth considering: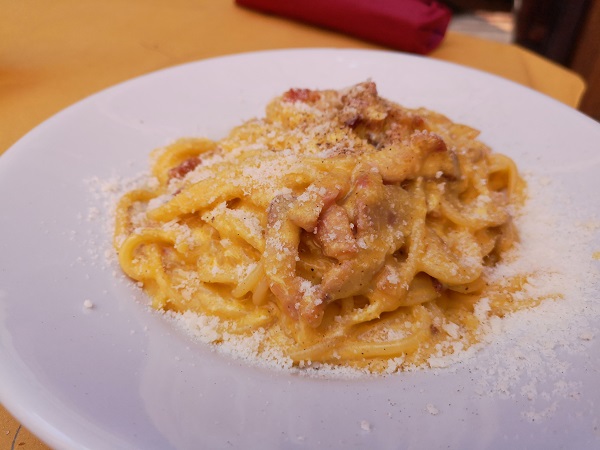 When you are in Rome in June, the glorious Roman food I recommend is:
Abbacchio scottadito (lamb cutlets),
Straccetti with rocket salad and pachino tomatoes
Seasonal vegetables such as asparagus
Suppli, fried balls of rice with a melting mozzarella heart
All the gorgeous seasonal fruit, especially yummy watermelon
Gelato, of course!
This is also a wonderful time of the year for al fresco aperitivo!
If you prefer not to take a tour but still want to taste great local food, I recommend you pick a pace in Testaccio or in the Rome Ghetto (around Portico d'Ottavia): these are amazing area for food and the Jewsish Roman cuisine is out of this world amazing, I highly recommend a taste!
Go to an exhibition
Rome has many exhibitions going on at any given time and June is a great time for museum going.
You can find here an up to date calendar of Rome events in June
Enjoy Rome's rooftop terraces
June is the ideal time to enjoy Rome's stunning rooftop terraces.
Whether you are into cocktails, a meal or an ice tea under patio, Rome delivers: some of my favorites are the one at the top of the Rinascente (shopping mall) , the Divinity terrace of the Pantheon iconic hotel, both in the city center and the cafe close to the small romantic pond of Villa Borghese.
You can find here >>> a list of my favorite rooftop bars in Rome
Cycle along via Appia
June is a wonderful time for outdoor pursuits in Rome and one of the most scenic is taking a bike ride on Via Appia and Parco degli Acquedotti.
This is a large archaeological area on the outskirts of Rome with amazing Roman aqueducts in open fields!
They are stunning and a different way to experience ancient Rome.
This is a wonderful good weather activity in Rome however, be careful as the sun and heat can get intense: make sure you have sun screen, sun hat and plenty of water on you.
Go on a day trip
June is a wonderful time to go on day trip around Lazio, the region of Rome.
Some of my favorite this time of the year are to the lakes (Bracciano, Martignano – this is where I got married, trust me: it is gorgeous) or to the thermal springs of Saturnia, in Southern Tuscany.
If you see that the heat is starting to get to you, I also recommend you consider going to the beach: Sperlonga and Gaeta, to the South of Rome, are my top picks for an easy day out on the coast.
Go to the events of estate Romana
'Estate Romana' lit. Roman summer is the name given to a series of events happening in Rome during the summer, spanning from concerts to movie screenings, festivals and talks.
The exact dates haven't been set for 2022 yet but they always offer a plethora of opportunities to see the city during the day and especially at night, a wonderfully pleasant time to discover Rome in the good season.
You can keep an eye on the official site of the event for real-time updates.
Embrace Rome bustling summer nightlife
Rome in summer comes to life in the evening.
In this season, you have great festivals with live music, books and food stalls and many concerts fill Rome's parks but you can also just enjoy the mild evenings taking a stroll in a real such as Trastevere or campo de' Fiori.
June is still a working month in Rome and the streets teem with locals relaxing after a long day in work. You can find our favorite things to do in Rome at night here.
Go to an outdoor cinema
In the summer, many cinemas turn outdoor arenas and offer delightful opportunities for al fresco evenings in the heart of the city.
Screening times and shows are usually available on local listings sites such as wantedinrome – I will update this article with the relevant link as soon as the program is published for 2020
Listen to Jazz in Villa Celimontana
If you love jazz, you will be delighted to hear that Rome in summer is a good place for jazz lovers. A very pleasant place to be in summer is Villa Celimontana, a beautiful outdoor space that hosts a summer Rome jazz festival.
Things to do in June in Rome with kids
You can find here >>> my list of over 70 things to do in Rome with children.
In June, my very favorite are:
Take a golf cart tour with LivTour
A very enjoyable, super child friendly way to see Rome's highlights in June is by joining a golf cart tours.
Unlike standard car tours or bus tours, golf cart tours are able to bring you to smaller roads and piazzas, closed to bigger forms of transport, and they allow you to enjoy the beautiful Rome weather while zooming around on a fun and safe vehicle.
The tours are guided and a fantastic way to see lots of Rome without the kids getting tired.
You can find my favorite golf cart tour for families in Rome here >>> LivTour Golf Cart Tour for Families << <
Visit the Colosseum with kids
The Colosseum is at the top of the must see list of many children coming to Rome and it is a fantastic place to visit with them.
There are several ways to go about it, depending on budget and age of kids.
High budget: if budget stretched to this, I highly recommend you get a guided tour with LivTours. they are excellent with kids and their tour includes the underground part of the Colosseum, which is a highlight, and are also a good length for kids. You can find info and ticket here.
If budget doesn't stretch to this, there are very many other options: you can find here >>> my overview of Colosseum tickets for families
Go to Explora
Explora is Rome's children's museum and it is a wonderful place to explore with kids. In June, you can visit its main exhibition space but also enjoy the zipline in the museum yard.
The museum cafe is open and offers child friendly meals and drinks: much needed in June when the sun hits part of the yard making it properly hot!
Go to the park
Rome in June is wonderful for time outdoors and the city many parks really deliver in terms of green areas to run around.
Among my kids favorite are Villa Borghese, Villa Torlonia and Villa Doria Pamphili but do not discount local and lesser known parks should you have one near your accommodation.
Often in Rome, the smaller, local parks are those where you meed local kids more easily.
Find here >> my list of great parks and gardens in Rome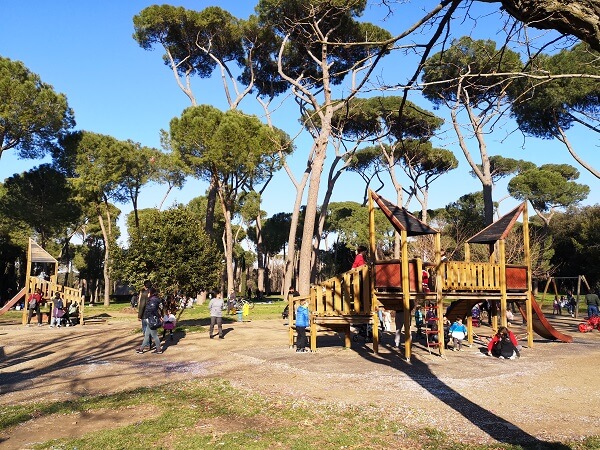 Go to Rome's botanical gardens
Rome has very pretty, very child friendly botanical gardens, perfect for an afternoon outdoors with the kids.
Located in Trastevere, they are scenic, safe and a great place to visit before a delicious dinner in Trastevere!
You can find here >>> our guide to Rome's botanical gardens with kids
Take an art class for kids
My daughter loves art classes and one she adored is the mosaic making class organised by Arte al Sole.
It is wonderful for craft kids and it is held just beside the city's botanical gardens which are lovely at this time (young kids go free).
If you go in June, I highly recommend you stop at the gardens first: they are lovely, shaded and car free and a wonderful place to let out steam before a creating endeavour: they are the large gate you see at the end of the road, less than two minutes from the workshop door!
Take a pizza making class
For a hands on experience in typical Rome surrounding, we recommend you look into a pizza class.
With the kids, we took this pizza class for families and it was a lot of fun – the children make the dough from scratch (with help!) and they get the thrill of decorating their pizza, putting it into the wood fire oven themselves (again, with help!). Then everyone tucks into their creation! It makes for a lovely morning.
You can find many more of our recommendations on great family tours in Rome here
Do a self guided scavenger hunt in Rome city center
A fantastic way to visit Rome city center with kids is to engage them in a scavenger hunt: a fantastic one we recently took is organized by the Mostra di Leonardo Museum.
This hunt is perfect for primary school age kids and older and takes 3h: you can find info and our review on our Italy with kids Facebook group (join here!)
I hope you enjoyed this post and it helped you plan your June trip to Rome. Safe travels!