All you need to know for a trip to Rome in May. What to expect from the weather, what to pack and what to do in Rome in the spring
May is a wonderful month in Rome and my personal favorite. So much so, that I chose it as the time for my wedding day! How about that for a vote of confidence in spending May in Rome?
There are very many things that make this month in the Eternal city special: the usually mild and sunny weather, the blossoms on the trees, the first appearance of Romes' summer food…
In this guide, I share all the best of Rome in May and what you can expect when visiting Rome in spring.
Please note: this post contains affiliate links and, should you make a purchase through them, we might make a small commission.
Travel rules and requirements to visit Rome in May 2022
Travel rules and restrictions are in place and they may affect your ability to visit Rome or some of its attractions.
Rules may include wearing of FFP2 masks indoors / in crowded places; the need to show a vaccination certificate to avail of hospitality service and transport etc.
Since the rules change quickly, I recommend you keep an eye on this list of official sources about Rome travel to stay on top of changes.
Weather in Rome in May
May is spring in Rome: the weather at this time is mild with the occasional peak of proper hot temperatures in the middle of the day, you can expect to be wearing short sleeves at least for part of the day and Rome is likely to treat you to its gorgeous blue sky.
However, some caution is necessary.
A few years ago (2019), May in Rome was unseasonably cold and while we all put it down to a random event, it does need to be mentioned so make sure you double-check your favorite weather app just before your trip should the climate throw curve balls at us again.
The average temperature in Rome in May is 21C/69F with a range from 13C/55F to 24C/75F degrees.
Usually you have about 7 days of rain in Rome in May and this tends to be heavy downpours rather than a drizzle.
Rain tends to come in forms of showers so, usually, you can simply find refuge somewhere and quickly resume sightseeing.
What to wear in Rome in May
May is usually warm and overall dry in Rome. You may still need a slight scarf in the evening or early morning but, in a normal month of May, you are usually able to be without a jacket and a light cardigan will suffice as outer layer.
You can find here >>> my complete packing list for Rome in May
The temperature changes significantly over the course of the weeks and late May is usually rather hot although usually not so much to disrupt sightseeing.
If you are traveling to Rome in May, it is important to pack:
Good walking shoes, such as sneakers. Italians tend not to wear sandals at this time but many tourists do, so consider a good walking pair especially is used to very cold weather back home
Long trousers
Skirts / shorts (again, Italians don' usually consider May shorts weather but many tourists do, especially if out in the middle of the day)
Short sleeve tops
Light sweater
Mid season jacket if used to warm climates, especially at the start of the month and for early mornings/late evening
Find our full packing list for Rome in the spring here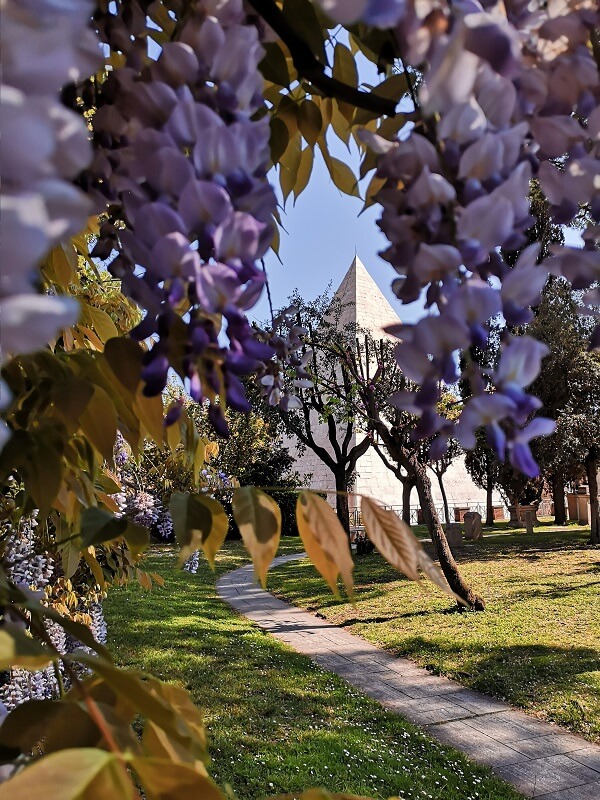 Dates of notice in Rome in May
The most important date to be aware of is visiting Rome in May is May 1st (Primo Maggio), Labor Day, 'festa del lavoro'.
May 1st is National Holiday in Italy and a reason or big celebrations: Rome in particular marks it with a special event: a huge free concert in Piazza San Giovanni, very popular with locals of all ages.
May 1st does affect the opening hours of some tourist attractions. In particular, the Colosseum and Vatican museums are closed on 1st May 2021.
Make sure you book early for an alternative date should they be on your list of must see sites in Rome.
The best things to do in Rome in May 2022
The best things to see in Rome in May are a mix of sightseeing, shopping and food experiences.
Take a free walking tour of the city
A lovely way to get your bearings in Rome city center is by talking a free walking tour of the city.
I love this one by Civitatis, which offers competent guides a a great introduction to Rome's main sites.
Visit the Colosseum in May
The Colosseum is fantastic to visit in May.
At this time, the days are likely to be mild and the view over the Forum, under Rome's bright sky, stunning.
However, this is an exceptionally busy time for visiting the Colosseum and tickets will sell out fast: I recommend you secure your tickets as soon as your dates are confirmed.
Tickets for the Colosseum come in all shapes and prices and range from very reasonable (less than 30 Euro) to very expensive (well over 100 Euro per person).
I have detailed here >>> the best Colosseum ticket options for different budgets / needs.
May is also a good time to visit the Roman Forum and even better the Palatine hill.
At this time, the blossoms start returning to the Palatine, making is truly stunning.
Take your time and take the stroll up, then let your jaw drop as a view over Rome opens up in front of you while the May sun warms your skin.
Tickets for both are included in your Colosseum booking.
You can find here >>> my guide to the Roman Forum and my guide to the Palatine Hill.
Visit the Vatican Museums and Vatican City
May can be a wonderful time for a visit to the Vatican City and the Sistine chapel but do be aware that crowds will be intense.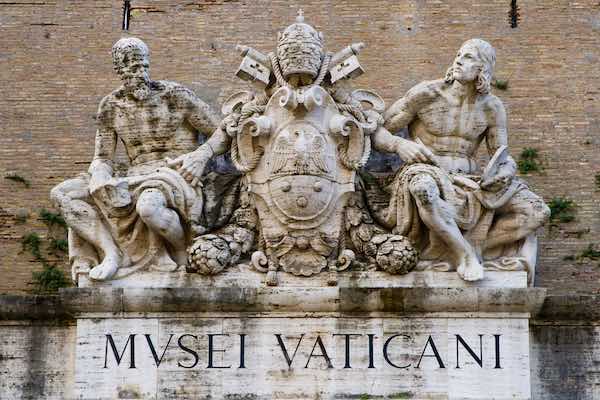 Make sure you get tickets in advance and read up all our tips for visiting the Vatican and St Peter basilica to avoid the worst of the congestion.
Top tip! From April to October, the Vatican museums have special evening opening hours on selected Fridays that see a fraction of the visitors you get in the morning/ afternoon. Check the official museum website for details.
May at the Vatican is also a fantastic time for visiting the gardens.
Try secure a ticket as they are fantastic in spring: you can find photos and info about booking a tour of the Vatican Gardens here.
Visit Caracalla's Baths
The Baths of Caracalla are one of the most beautiful archaeological sites in Rome and they are magical in May, when blossoms and wisteria frame this imposing ruins.
This is a site not to be missed and, for me, up there with the Palatine hill in terms of beauty and visual impact.
Visit the Domus Area, Emperor's Nero stunning residence
Another fantastic place to visit in Rome in may is Nero's Domus Aurea.
The Domus Aurea (lit. Golden House) was the elegant and extravagant residence of Emperor Nero, who created for himself what archaeologists defined 'The Versailles of Ancient Rome'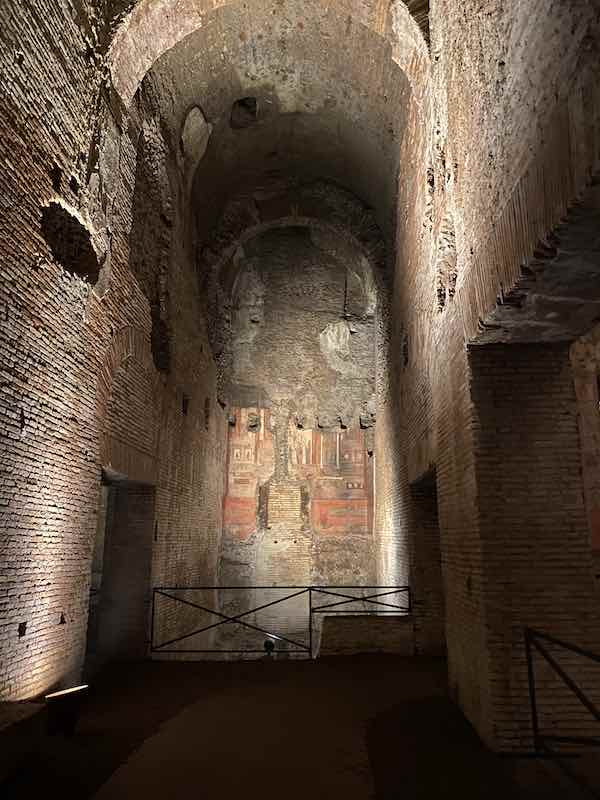 The Domus is nowadays nothing like it used to be and it is mostly underground!
While this means that you do not see it in its full splendor, the visit is breathtaking: it is still possible to appreciate the size of the palace, many decorations are still visible and virtual reality displays help understand what it used to be like.
On exiting, you will also be able to enjoy views of the Colosseum framed by blossoms as the Domus is now surrounded by a nice park.
You can find here >>> my visitors' guide to the Domus Aurea.
Go on a tour of Bernini work in Rome
Some of the most beautiful spots in Rome came to be thanks to the work of Gian Lorenzo Bernini, one of the most talented and prolific artists who ever worked in Rome.
Bernini's work is all over the city center, part in museums and part in free-to-access urban space and a great way to get to know it is by taking a walk that touches off the most significant ones.
You can to this with a tour of by following our tips for a DIY Bernini itinerary in Rome
Enjoy Rome's piazzas (known and lesser-known!)
The spring is a glorious time to visit Rome's famous piazzas.
Head to Piazza Navona, Piazza del Pantheon, Piazza del Popolo, Campo de' fiori, the Trevi fountain and the Spanish steps but also allow yourself to explore some hidden gems such as lovely Piazza Mincio and the Coppede' District – unique and one of the most beautiful piazzas in Rome.
Chill out in the park
Rome has beautiful parks and there is no time like the spring to enjoy them.
For grand and beautiful choose Villa Borghese (here you have the famous Borghese Gallery but also the small Rome zoo, a pond and playgrounds for kids) and get off the beaten path and explore Rome's botanical gardens in Trastevere, stunning at this time.
Find a list of our favorite parks in Rome here.
Climb to the top of the Aventine hill
The Aventine Hill is one of the historical 7 hills of Rome and one of the most scenic: in spring, here you can enjoy the lovely Rose garden of Rome and wonderful views from the Garden of Oranges, a pretty hilltop garden with stunning views over the city.
Remember to also peek into the church of Santa Sabina here, one of the most beautiful in Rome. Discover how ion our guide to visiting the Aventine Hill.
Have a walk around Rome's Ghetto
The Jewish Ghetto of Rome is one of the most beautiful and most historically significant parts of Rome. May is a lovely time to visit as it will allow you to wander its pretty street and sit at one of the many outdoor eateries of this area.
Find here >>> my visitors' guide to Rome's ghetto
Experience the peculiar Protestant cemetery of Rome and Rome Pyramid
Rome has a stunning non-catholic cemetery with fantastic sculptures and lovely views of Rome pyramid. It is a lovely, quiet corner of the city that is worth a visit in any season but in Mat, with the wisteria framing the sights is it not to be missed!
Go to the opera or a concert
Rome has a good opera and ballet program. Music lovers should also check out the program at Auditorium Parco della Musica, a wonderful music venue in the eternal city
Go on a food tour
A food tour in spring can be a lovely way to mix sightseeing and food discoveries.
These are food tours worth considering:
In Rome in May, seasonal food you are likely to taste is:
When you are in Rome in May, you must eat all that glorious Roman food!
In this season I recommend:
Abbacchio scottadito (lamb cutlets),
Straccetti with rocket salad and pachino tomatoes
Seasonal vegetables such as asparagus and puntarelle (chicory)
Suppli, fried balls of rice with a melting mozzarella heart
All the gorgeous seasonal fruit and berries
Crostata con le visciole (cherry and cottage cheese pie)
This is also a wonderful time of the year for al fresco aperitivo!
Go to an exhibition
Rome has many exhibitions going on at any given time and May is a great time for museum going.
Temporary exhibitions are well advertised in Rome and they can be an excellent alternative to traditional museums.
Exhibition currently scheduled in Rome in May are:
Guido Reni – Balliamo at The Borghese Gallery
'SuperBarocco': art in Genova from Rubens to Magnasco
See the shower of petals in the Pantheon (currently on hold)
The Pantheon is one of the most beautiful attractions in the whole of Rome but it gets extra special on the day of Pentecost, May 23rd 2022.
On this day, morning mass turns into something special as a shower of petals pours down into the church from the oculus, the hole in the roof!
Participation in the Pantheon mass is free however, it does get very crowded so you will need to go early and secure a seat. Latecomers won't be allowed in.
Enjoy Rome's rooftop terraces
May sees many of Rome's rooftop terraces coming back to life. Some of my favorites are the one at the top of the Rinascente (shopping mall) and the Divinity terrace of the Pantheon iconic hotel, both in the city center.
You can find here >>> a list of my favourite rooftop terraces in Rome
Cycle along via Appia
May is a wonderful time for outdoor pursuits in Rome and one of the most scenic is taking a bike ride on Via Appia and Parco degli Acquedotti.
This is a large archaeological area on the outskirts of Rome with amazing Roman aqueducts in open fields! They are stunning and a different way to experience ancient Rome.
A day in this area is easily combined with a tour of Rome's catacombs, a truly unique site!
Participate to open house Rome
On 21-22 may 2022 Rome hosts 'Open House Rome' an event that sees many sites of architectural interest exceptionally opening to the public.
This is one of the best things to do in the city for architecture lovers as you get to see spaces and courtyards usually closed to the public but, usually, of great beauty and architectural interest.
Go on a day trip
May is a wonderful time to go on day trip around Lazio, the region of Rome.
Some of my favorites this time of the year are to the lakes (Bracciano, Martignano – this is where I got married, trust me: it is gorgeous), the wonderful archaeological site of Ostia Antica or going a little farther afield to the thermal springs of Saturnia, in Southern Tuscany.
If you prefer heading to the beach, this is also a lovely time to head to Sperlonga or Gaeta, lovely beach towns you can reach from Rome by train.
May in Rome with kids
These are my favorite things to do in Rome with children in May.
For main attractions, have a look at our family guides:
Tips for visiting the Colosseum with kids
Tips for Visiting the Vatican with kids
Explore the city on a golf cart tour
You won't feel like a local discovering Rome on a gold cart but fun for you and the kids is guaranteed!
A golf cart is a great way to enjoy Rome's beautiful spring weather and to get to many locations without having to walk excessively.
Since many places are closed to bus traffic, this is much more fun, more convenient option than a bus tour.
See here >>> Prices and info
Go to Explora
Explora is Rome's children's museum and it is a wonderful place to explore with kids. In May, you can visit its main exhibition space but also enjoy the zipline in the museum yard.
Go to the park
Rome in May is wonderful for time outdoors and the city many parks really deliver in terms of green areas to run around.
Among my kids favorite are Villa Borghese, Villa Torlonia and Villa Doria Pamphili.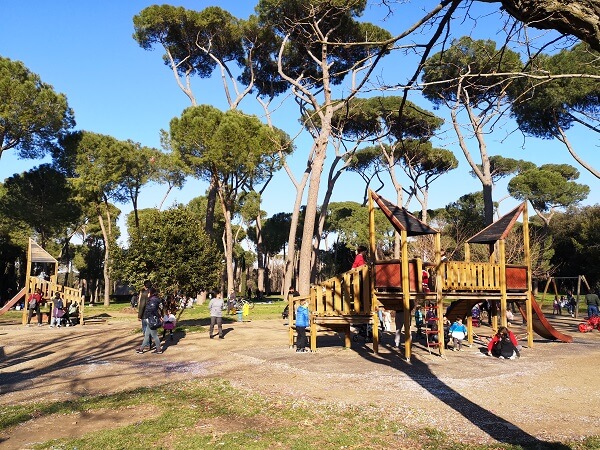 Take an art class
We love art classes for this and one we love is the mosaic making class organised by Arte al Sole.
It is wonderful for craft kids and it is held just beside the city's botanical gardens which are lovely at this time (young kids go free)
Take a pizza making class
For a hands on experience in typical Rome surrounding, we recommend a pizza class. With kids, we did just that with a local pizza class for families followed, of course, by tucking into our own creation.
You can find many more of our recommendations on great family tours in Rome here
I hope you enjoyed this post and it helped you plan your spring trip to Rome. Safe travels!
Travel Guide Rome in May – Pin this!