All you need to know for a trip to Rome in September. What to expect from the weather, what to pack and what to do in Rome at the end of summer / beginning of fall. Updated April 2022.
September is a wonderful month in Rome and even more than that: it is one of the most beautiful months to visit Rome, if not the most beautiful (OK, May is a huge contender too!)
Rome in September welcomes the end of the summer and this means beautiful weather, lovely sightseeing opportunities and glorious dinners out, with only that touch of chillier temperatures that make the city pleasant rather than oppressively hot like in August.
If you are looking for the full Rome sightseeing and dining experience, with a sprinkle of day trips on top, September is one of the best times for visiting Rome you can hope for!
In this guide, I share all the best of Rome in September and what you can expect when visiting Rome at the end of summer.
Please note: this post contains affiliate links and, should you make a purchase through them, we might make a small commission at no extra cost to you.
What to book in advance in Rome in September
To avoid large crowds, most attractions in Rome operate on the basis of pre-booked time shifts.
This is excellent in terms of visitors' experience as it put an end to long lines and overcrowded museums however, it means you must book everything in advance or you may not find a suitable slot.
September is also high season in Rome so it is paramount to book accommodation in advance too (weeks or months, basically: as soon as you know you are coming).
Accommodation I recommend in Rome:
Otivm Hotel – boutique style 4 star hotel in the city center
Kolbe hotel– 4 star hotel with family rooms in the city center
Villa Agrippina Gran Melia – 5 star, fabulous hotel with large park close to the Vatican and the city center
You can find my complete guide to the best hotels in Rome here.
The Colosseum and the Vatican are the two attractions that book out the fastest – you can find our guide to tickets and tours to the Colosseum here and our guide for visiting the Vatican here
The weather in Rome in September
September is a month of transition in Rome.
It is the month when summer turns into autumn and this means the weather tends to follow a very slow yet steady trajectory towards cooler temperatures as the month progresses.
Overall, however, September is more a summer month than anything else.
The average temperature in Rome in September is 22C/71F with a range between 16C/61F to 27C/81F degrees.
Usually, you have about 6 days of rain in Rome in September although usually at this time rain comes in the form of showers more than a solid grey cover of clouds.
Usually in September in Rome you can expect mostly dry, sunny days.
What to wear in Rome in September
September is mostly a summer month in Rome however, as the month progresses the autumn starts to make an appearance to it is safe to consider it a month of transition.
During the day, especially at the start of the month, you are likely to be happiest in short sleeves and sandals but the evening can sometimes bring in chillier temperatures.
While jackets are usually not needed in September in Rome, it is wise to carry a light cardigan with you for the coldest times of the day.
If you are traveling to Rome in September, it is important to pack:
Good walking shoes, such as sneakers and walking sandals. You can find my recommended shoes for Rome here
Long trousers (linen, cotton or jeans work well)
Skirts / shorts (below the knee for visiting churches)
Short-sleeve tops
Light sweater
Swimsuit for the hotel pool or day trips to the coast (beginning of the month)
Find our full packing list for Rome in the fall and summer packing list here
The best things to do in Rome in September
The best things to see in Rome in September are a mix of sightseeing, shopping and food experiences.
Visit the Colosseum
The Colosseum is fantastic to visit in September and since September 2021 is even more special than usual as it is possible to visit the lower tier of the Colosseum, previously closed to the public.
The visit to the underground part of the Colosseum brings you to the area of the amphitheater where the gladiators and the animals used to be and it is an incredible opportunity to see from up close the architectural wonder that is this large theater.
You can find my review of the experience and tips for visiting here.
This is an exceptionally busy time for visiting the Colosseum and advance booking (i.e.months in advance or at least weeks) is paramount.
The best tickets for visiting the Colosseum are here (this is the Colosseum official concession). Should it be sold out, check out alternatives here.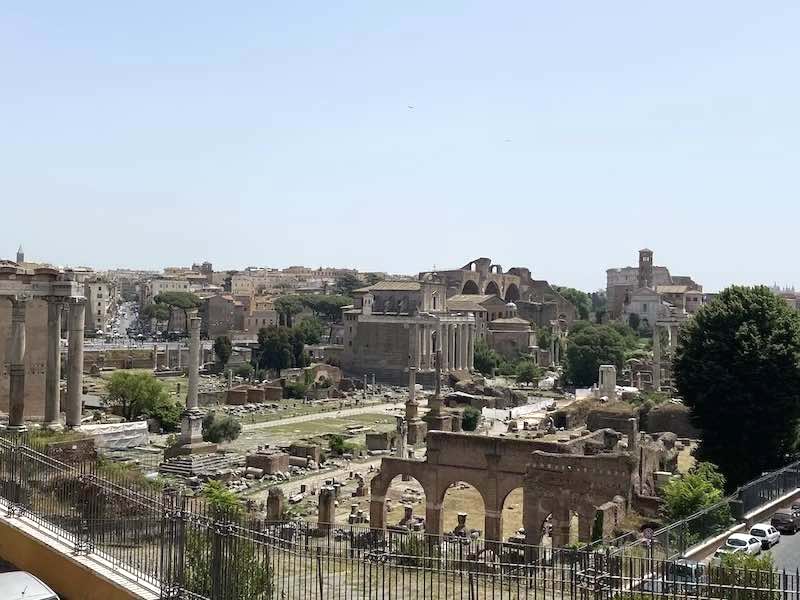 September is also a good time to visit the Roman Forum and even better the Palatine hill.
At this time, the Palatine explodes in an extravaganza of sun and flowers and the view over Rome from its terrace is truly stunning.
Take your time and take the stroll up, then let your jaw drop as a view over Rome opens up in front of you while the September sun warms your skin.
Visit the Vatican Museums and Vatican city
September can be a wonderful time for a visit to the Vatican City and the Sistine chapel but do be aware that crowds will be intense.
Make sure you get tickets in advance and read up all our tips for visiting the Vatican and St Peter basilica to avoid the worst of the congestion.
September at the Vatican is also a fantastic time for visiting the gardens.
Try secure a ticket as they are fantastic especially towards the start of the month!
Visit the Vatican Gardens
September is a perfect month to visit the gardens, I highly recommend this visit.
The Gardens sit at the back of St Peter's Basilica, on the slopes of the Vatican Hill and they include several areas with landscape gardens in Italian, English and French styles, among others.
Access to the Vatican Gardens is strictly regulated and by guided tour only.
Tickets are available on the official Vatican website and include a visit to the Sistine Chapel.
Visit Caracalla's Baths
The Baths of Caracalla are one of the most beautiful archaeological sites in Rome and they are magical in September when the summer heat subsides just about enough to make the sun shining on its large rooms pleasant.
This is a Rome Monument not to be missed and, for me, up there with the Palatine hill in terms of beauty and visual impact
Visit Nero's Domus Aurea
The Domus Aurea is the once lavishly decorated imperial palace of Nero, a place ancient sources describe as the most elaborate and decorated home Rome had ever seen.
The palace is now in ruins and went to a destruction to severe, it is actually entirely underground!
Visits are by guided tour only and they are informative, interesting and fun. I highly recommend a visit to the Domus Aurea to anyone with an interest in ancient history.
You can find my review of our visit to the Domus Aurea here.
Make the most of Rome's mild evening with an evening 'Journey through the Forum'
In September, the Forum of Augustus come to life in the evening with a light show called 'Journey thought the Forum'.
The show used light technology to recreate the Forum as it used to be at the time of its splendour and it is wonderful and informative. You can find official info and tickets here.
Visit the Borghese Gallery
The Borghese Gallery is one of the most beautiful museums in the world, hosting invaluable masterpieces of masters such as Bernini, Canova, Raffaello and Caravaggio.
Some of the best sculptures in Rome are hosted here and the place is mesmerising.
The gallery also hosts regular temporary exhibition which you can enjoy with the same access ticket as the main display. You can find info and tickets here.
Top tip! The last admission of the day sees tickets are a reduced price: excellent for visitors on a budget!
Visit the Mausoleum of Augustus
The Mausoleum of Augustus is the tomb of Rome's first emperor and a treat for history lovers.
The Mausoleum only opened to the public and getting tickets is not easy as the demand is high.
If you het them, however, you will be able to see one of the most peculiar monuments in Rome, with a story that starts in Augustan times but spans all the way to the Fastist Era!
You can find my review of my visit to the Mausoleum of Augustus here.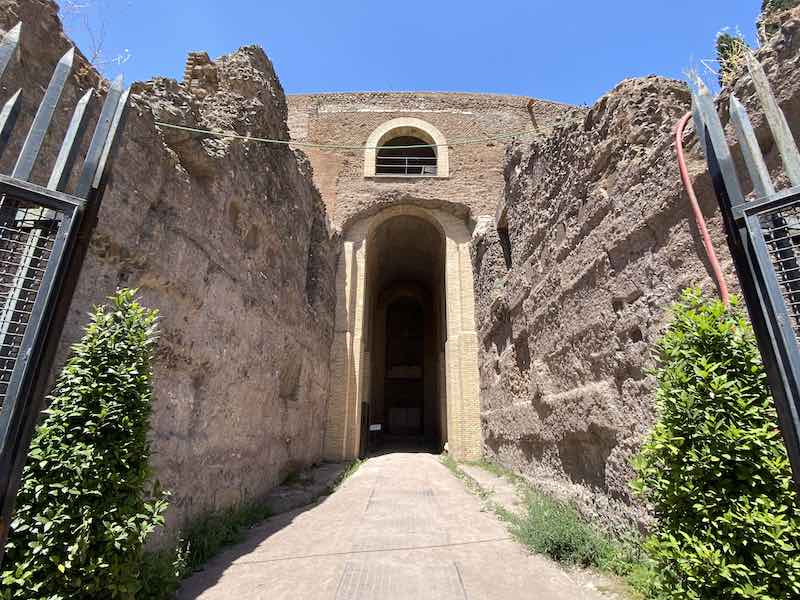 Explore Rome main piazzas and hidden gems
September is a glorious time to visit Rome's famous piazzas.
Some not to be missed are:
Piazza Navona, home to the works of Bernini, Borromini and the backdrop to many movies set in Rome.
Piazza del Pantheon, home to the Pantheon itself and one of the most romantic spots in Rome.
Piazza del Popolo, Campo de' fiori, the Trevi fountain and the Spanish steps but also allow yourself to explore some hidden gems and parks: the protestant cemetery of Rome, at this time, is special and I think you will love the lovely and leafy Coppede' District and the unique Garbatella Neighborhood.
Go to the park
Rome has beautiful parks and there is no time like the end of summer / early autumn to enjoy them.
For grand and beautiful choose Villa Borghese (here you have the famous Borghese Gallery but also the small Rome zoo, a pond and playgrounds for kids) and get off the beaten path and explore Rome's botanical gardens in Trastevere, stunning at this time.
In September, the lovely city's rose garden, on the Aventine Hill, is usually open and is a lovely place for a stroll: it also has gorgeous views over the palaces of emperors.
You can find a sale action of beautiful parks and villas in Rome here.
Go to the opera or a concert
Rome has a good opera and ballet program, taking places in several locations, some outdoors.
Music lovers should also check out the program at Auditorium Parco della Musica, a wonderful music venue with a varied selection of performers.
Summer 2021 added to the list of music venues in Rome three stunning locations: Circo Massimo, Teatro di Marcello and Parco del Celio, in front of the Colosseum – music doesn't get more scenic than this!
Go on a food tour
A Rome food tour can be a lovely way to mix sightseeing and food discoveries.
These are food tours worth considering:
In this season, Rome food I recommend you taste:
Saltimbocca alla Romana (veal, parma ham, sage)
Seasonal vegetables such as zucchini (Rome has a fab local variety. super tasty!)
Suppli, fried balls of rice with a melting mozzarella heart, an excellent Rome appetizer before pizza
All the gorgeous seasonal fruit, especially figs, gorgeous in this season
Gelato, of course!
This is also a wonderful time of the year for al fresco aperitivo!
Go to an exhibition
Rome has many exhibitions going on at any given time and September is a great time for museum going.
If you can, opt for a day in the middle of the week to avoid crowds: exhibitions are popular with locals as well as tourists and get very busy over the weekend.
From the 8th of September, Rome will host a Bansky exhibition at Chiostro del Bramante.
You can find here an up to date calendar of Rome events in September
Enjoy Rome's rooftop terraces
September is the ideal time to enjoy Rome's stunning rooftop terraces for a last touch of summer.
Whether you are into cocktails, a meal or an iced tea under patio, Rome delivers: some of my favorites are the one at the top of the Rinascente (shopping mall) and the Divinity terrace of the Pantheon iconic hotel, both in the city center and the cafe close to the small romantic pond of Villa Borghese.
You can find the list with my favorite rooftop terraces in Rome here.
Cycle along Via Appia
September is a wonderful time for outdoor pursuits in Rome and one of the most scenic is taking a bike ride on Via Appia and Parco degli Acquedotti.
This is a large archaeological area on the outskirts of Rome with amazing Roman aqueducts in open fields!
They are stunning and a different way to experience ancient Rome.
This is a wonderful good weather activity in Rome however, be careful as the sun and heat can get intense.
Make sure you have sun screen, sun hat and plenty of water on you especially if going at the beginning of the month.
Go on a day trip
September is a wonderful time to go on day trip around Lazio, the region of Rome.
Some of my favorite this time of the year are to the lakes (Bracciano, Martignano – this is where I got married, trust me: it is gorgeous) or to the thermal springs of Saturnia, in Southern Tuscany.
Watch a football match
If you want to see one of the Rome football teams in action, September is a great time to go to the stadium.
The start of the season usually minimizes the chances of heated matches and the mild temperatures make a long afternoon in the outdoor seats pleasant. Book seats close to the 'curva' (but not in it) for the most fun.
Please check current regulations about attending sporting events for your specific dates to make sure audience is admitted to the stadium.
September in Rome with kids
September is when schools open again in Rome, usually towards the middle of the month.
This means that local children are around, something that is a refreshing change from the summer, when most would have been hiding away either at home or on a beach!
This is lovely for visiting families as it means you can expect to see other kids around both at the park and if joining local activities such as the Art and Seek tours recommended below.
These are my favorite things to do in Rome with children in September.
Take a family friendly gold cart tour of the city
A fun, informative and relaxing way to visit Rome with kids is by taking a golf cart tour to show you the highlights of the city.
With the aid of a driver / guide, you will be able to see many of Rome's most beautiful sites without having to walk long hours and you will be able to select areas you may want to then explore again on foot.
You can find info, prices and tickets here
Go to the Colosseum
The tour of the Colosseum that includes the underground tunnels is wonderful for kids of school age.
You can opt between a semi private, family guided tour or a self-guided one that used an app as an audioguide.
Both include a visit to the underground area, access to the arena floor and the second tier + access to the Roman Forum on the same day or the day after.
You can find my tips for visiting the Colosseum with kids here.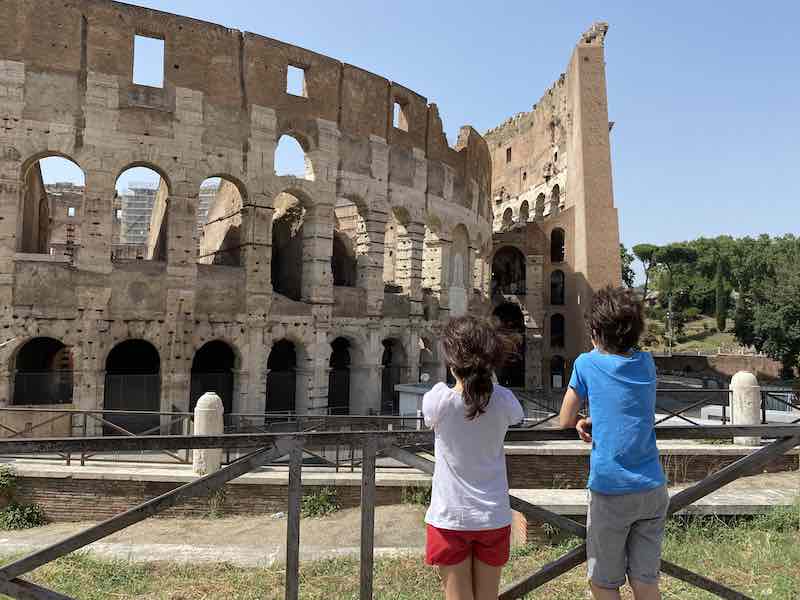 Visit Castle Sant'Angelo with kids
Castel Sant'Angelo is Rome's only castle and a great place to visit with kids.
Turrets, bastions, cannons and hidden passages make it interesting for kids of all ages and the views over the city are a treat for adults too.
You can read all about visiting Castel Sant'Angelo with kids here.
Visit the Catacombs
The Catacombs are underground, early Christian cemeteries that develop under the city of Rome as a huge network of tunnels.
They are a very interesting historical site and a unique sight kids usually enjoy.
Since the tunnels are deep underground, you truly feel like an adventurer down there and since the tour is only 45 minute long, the perfect length to keep their attention.
I recommend this visit to kids of primary school age or older (no toddlers).
Please be advised that since the catacombs are cemeteries, the visit can be triggering for adults or kids – these are not, as many believe, Christian hideaways but places of burial that may evoke strong emotions.
You can find tickets and info here.
Visit Nero's Domus Aurea
The underground palace of Emperor Nero (see above) is a fun place to visit with kids.
The guided tour, while not 'for kids', is family friendly and kids are likely to enjoy walking in the tall underfund tunnels and the video at the start, showing how the now destroyed palace used to look like.
The lovely park just outside is perfect for relaxing after the visit.
You can fin my review of our visit here.
Watch 'Viaggio nei Fori'
Viaggio nei Fori (see above) is a light show that brings back to life the ancient forum of Augustus.
The show takes places outdoors, in the evening and it is suitable for kids of primary school age and up.
Have the 'Circus Maximus Experience'
The Circus Maximus is the ancient chariot race stadium of Rome and a great place to visit with kids.
Thanks to the so called 'Circus Maximus Experience' tickets, you can get augmented reality visors that will allow you to see the circus as it is now but also as it used to be at the time of its splendour!
The experience is fun, informative and has that element of gamification that many kids crave.
You can read the review of our visit and Circus Maximus Experience here.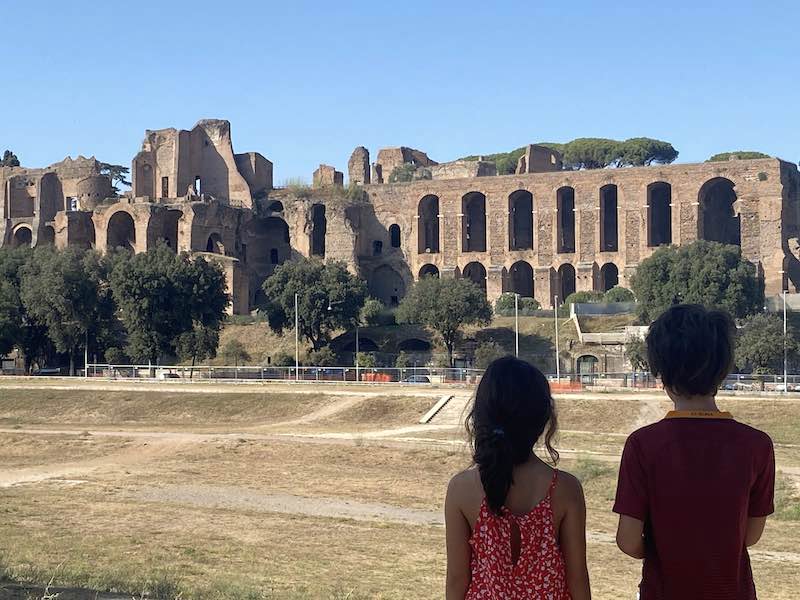 Go to 'Welcome to Rome' with kids
Welcome to Rome is a kid-friendly exhibition that uses light technology to create 3D images of key Rome landmarks and a short film summarizing the history of the city.
This is one of the best exhibitions for kids we have found in Rome and perfect for a little break too.
The film is projected in a small cinema room with comfy chairs, perfect for relaxing after all the walking sightseeing!
You can find info tickets here
Go to Explora
Explora is Rome's children's museum and it is a wonderful place to explore with kids. In September, you can visit its main exhibition space but also enjoy the zipline in the museum yard.
Go to the park
Rome in September is wonderful for time outdoors and the city many parks really deliver in terms of green areas to run around.
Among my kids favorite are Villa Borghese, Villa Torlonia and Villa Doria Pamphili.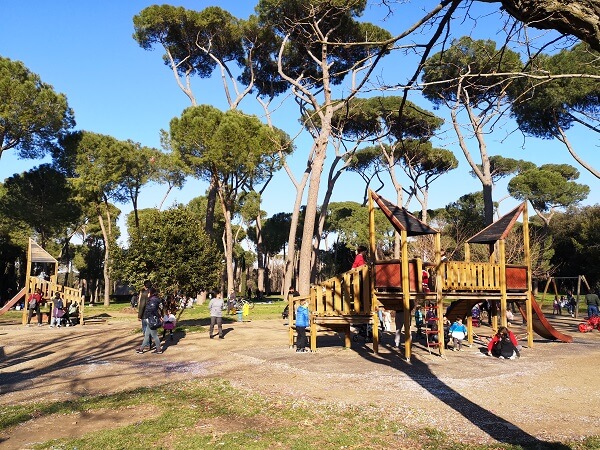 Take an art class
We love art classes for this and one we love is the mosaic making class organised by Arte al Sole.
It is wonderful for craft kids and it is held just beside the city's botanical gardens which are lovely at this time (young kids go free)
Join the locals on a sketching tour for kids
A fun activity that allows children to explore Rome while making friends are the tours by Art&Seek.
Aimed at locals, expats and visitors alike, these tours are affordable and take place at the weekend, when kids get the chance to visit a museum with a group of peers.
They are the perfect activity for kids who love to draw and one of our favorite activities for kids in Rome (many are outdoors!)
Take a pizza class
For a hands on experience in typical Rome surrounding, we recommend a pizza class.
With kids, we did just that with a local pizza class for families followed, of course, by tucking into our own creation.
You can find many more of our recommendations on great family tours in Rome here
I hope you enjoyed this post and it helped you plan your September trip to Rome. Safe travels!