Learn how to get tickets to the Vatican and avoid long lines: four tried and tested ways to buy Vatican tickets for all budgets, with or without a tour.
Vatican City is one of the most visited attractions in Rome, its spiritual significance and magnificent art beckoning over 5M visitors per year.
Visiting the Vatican is easy and you can easily plan a day in Vatican City as part of a short stay in Rome.
however, as the name suggests, Vatican City is not one attraction but a city or, more precisely, a state, with several attractions, each with different access rules.
Of the several attractions in Vatican city, some are ticketed and some are not.
Today, we look at: the top attractions in Vatican City and the best ways to get tickets for the Vatican.
See also: is the Vatican a country? Fun and interesting facts about Vatican City
Please note: this post contains affiliate links, marked with a * Should you make a purchase through them, we might make a small commission.
Top Vatican City attractions
The Vatican is not one attraction but a city, albeit small, with a cluster of landmarks, with different access rules.
The landmarks are close to one another but they are not all in the same place – to see them all, plan a the best part of a day.
There is no border control to enter the Vatican. You however need ID to enter the museums.
The main attractions in Vatican City are:
St Peter's square (Piazza San Pietro)
Piazza San Pietro / St Peter's square is free: you do not need tickets to enter, ou just walk in like any other square.
The square is famous for being one of the most beautiful squares in Rome and for the stunning colonnade designed by master architect Gian Lorenzo Bernini.
You can read here >> all about St Peter's Square in Rome
St Peter's Basilica main floor (the church, where you also find Michelangelo's Pieta' and Bernini's altar piece)
At Peter's Basilica is the main church in the Vatican and the biggest and most significant papal basilica, home to outstanding art and archtesture as well place of rest of Popes,
Access to St Peter's Basilica's main floor is free, no ticket needed.
Need to know: To enter the basilica you need to pass airport style security. This cannot be skipped, not even with a guided tour that promises you can 'skip the line'. There is no such thing skipping security!
Read here >> all you need to know about visiting St Peter's Basilica (including dress code)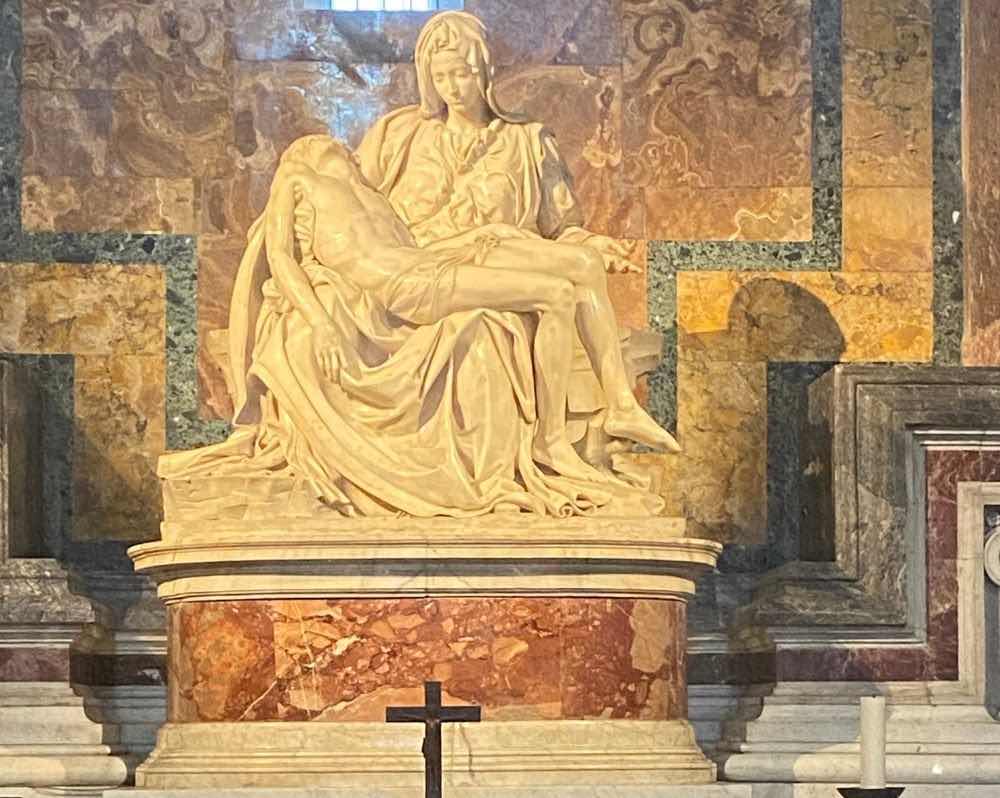 See also: how to see Michelangelo's Pieta' in Rome
St Peter's Dome
Climbing to the top of St Peter's dome is not form the faint of heart, with those stairs and those height; however, it is one of the most popular things to do in teh Vatican and can be great fun.
The views from the top are among the best views of Rome!
The climb to the dome is ticketed and tickets available on the day and in person only. No skip the line option. Usually it is at its least busy early in the morning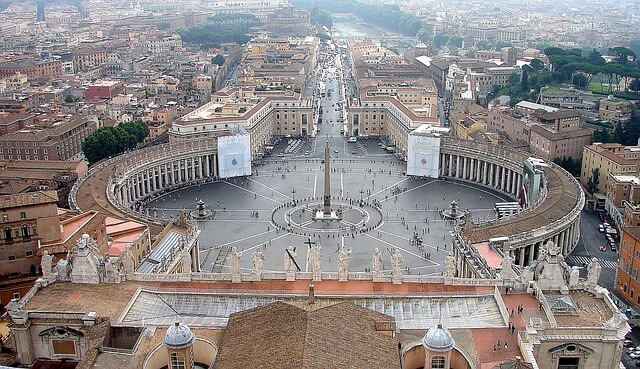 Vatican Museums and Sistine Chapel
The Vatican Museums and Sistine Chapel are the main attraction at the Vatican for many and what most visitors have in mind when they say they want to visit the Vatican.
The Vatican Museums are a stunning and huge art museums and includes the Sistine Chapel which is part of them.
Need to know! The Vatican Museums and Sistine Chapel are together! The chapel is inside the museums so you cross the museums to get them. You cannot get a ticket for the chapel only (but you can get express tours that focus on it, see below).
Vatican necropolis (Scavi)
The Vatican necropolis is a limited access underground area where St peter's is believed to be buries.
Only accessible in small numbers, this is an archaeological area you can visit by getting a permit and the guide from the 'excavation' office directly.
The necropolis is not not part of the standard tours. Request access here >>> http://www.scavi.va/content/scavi/en/prenotazione.html
Good to know: the necropolis is different from the so called grottoes, where the Popes are buries. The grotto is part of the Basic and accessible from it. The Necropolis is an ancient site below the basilica and accessible from a different entrance.
Vatican gardens
The Vatican Gardens are beautiful, landscaped gardens developing on the slopes of the Vatican Hill, at the back of the Basilica.
Open by reservation and guided tour only, they are open to visitors age 6 and up.
You can read here >> our experience visiting the Vatican Gardens
only at the time of writing, they are at the back of the basilica and ticketed separatley. Book direct >> https://tickets.museivaticani.va/home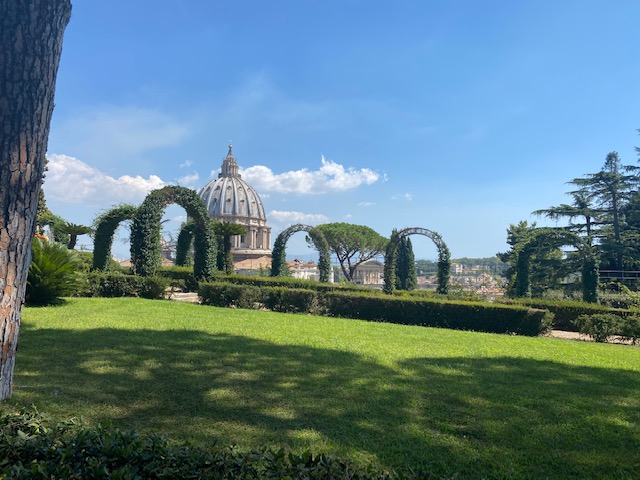 How to get skip the line tickets to the Vatican Museums and Sistine Chapel
As you can see from the list above, the main part of the Vatican you need tickets for is the Vatican Museums and Sistine Chapel area.
There are several ways to get tickets.
before we dive into the, there are two important things to know:
>>> All Vatican Museum tickets are timed. You select date and time and go straight to the door, so basically all tickets are skip the line as you don't have to line up to buy them.
Don't pay more to skip the line, you don't need to! Skip the line is another way of saying you can get tickets in advance so you don't need to stand in line at the ticket window: it is not a priority line that give advantage vs other ticket holders.
>>> All visitors need to pass airport style security. This line cannot be skipped.
>>> You must abide by the Vatican Dress code to enter the museum. You can find all info here >>> Vatican dress code and tips for getting ready for your visit.
Need to know: Vatican dress code rules are strict. The fact that some visitors report to have been allowed entrance with more revealing clothing or shorts doesn't make this a rule: anything that doesn't match the Vatican rules make you run the risk of being turned away. The rules apply to the Museums as well as the Basilica as they are the access route to the Sistine Chapel, which is a holy to the Catholic religion. The decision of the person at the door about the suitability of your attire is final and no reimbursement it foreseen if you are turned away. Best to stay as close to the letter of the rule as possible
How to get Vatican Admission tickets, entrance only, from the official site
The cheapest way to get skip the line entrance tickets to the Vatican Museums and Sistine Chapel is by buying tickets from the Museums website directly.
Tickets come out 60 days before and are the cheapest option.
Kids under 6 are free, children 6-18 pay a reduced fee and there are concessions for specific categories listed on the website.
If you fall into one of the categories entitled to a discount, make sure you have proof with you as they will ask for it.
Buying Vatican Museum tickets from the museum website direct if is the cheapest option as you deal directly with the museums: no agency, no affiliates, no intermediaries.
Tickets sell out rather fast, so it is best book early.
Book direct >>> Vatican Museum and Sistine Chapel Ticket office
How to get Vatican admission tickets when the official site is sold out
Another way to get skip the line admissions tickets for the Vatican Museum is by buying on ticketing platforms such as Tiqets.
Tiqets is more expensive than buying direct; however, they tend to sell out less quickly and they are a reliable ticket provider. A very good option if you want to get Vatican entry tickets without a tour guide.
Click here for >>> Vatican Tickets From Tiqets*
Another way to get Vatican tickets form the official site
Another way to get tickets from the official Vatican site direct is by opting for one of their entry ticket + meal option.
These options have a price that is in between that of simple entry and tour and can be a good option if entry tickets are sold you but you are not interested in a tour.
Book direct from the museum (choose your date and see what available options come up here ) >> https://tickets.museivaticani.va/home
How to buy Vatican museum and sistine chapel ticket with a tour
Other Vatican ticket options are attached to tours.
There is an almost infinite list if tour provides offering Vatican Museum tours.
Out of the many, there are two I trust and recommend, LivTours and MariaclaudiaTours. In particular:
Early morning tour by LivTour – this is a small group morning tour allowing you to enter the Museums and the Sistine Chapel before the general public so you get lower crowds.
This tour is for all ages and kids are allowed on it. However, it is not for kids as such Not for kids as such: I recommend it to all visitors with older kids or groups of adults.
Book via aff. link >>> LivTour semi private Vatican morning tour*
Private Vatican Museums and Sistine Chapel express tour by LivTours
The peculiarity of this tour is that it focuses on the Sistine Chapel rather than other parts of the museums and it is therefore perfect for visitors who want to get in and out quickly yet still enjoy the Chapel.
Good to know: while this tour is not for families as such, it is family friendly. Being private, your guide can adapt it to the pace of a family with a young child and this is why I recommend it to families visiting the Vatican with a baby or toddler as well as visitors with no children.
Book via aff. link >> Private Vatican Museum and Sistine chapel express tour*
Kids' tour by Mariaclaudia tours – this is an excellent tour for families with kids age 6 to 11 and that can be adapted to teens. Game based, it is perfect for kids who do better with a scavenger hunt/play approach.
The tour is not suitable for kids under 6. Book via Facebook @mariaclaudiaTours or by email: mariaclaudiatours @ gmail.com
Tell her you found her on MamaLovesRome!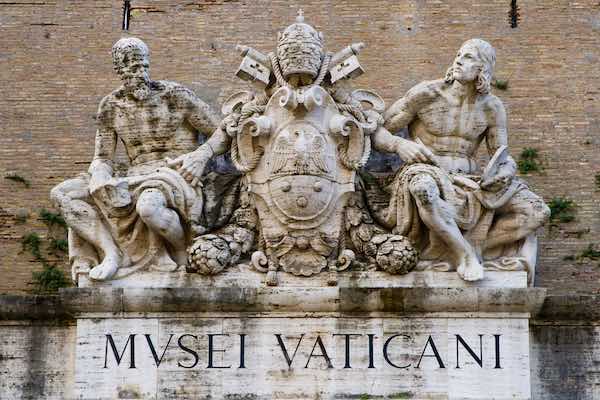 Kids' Tour by LivTour – this is another perfect Vatican tour for families with kids, different to Mariaclaudia's for the areas covered, which include the Egyptian wing of the Museum (usually a hit with kids!).
Most suitable for families with kids of primary school age and up but if you tell LivTours the age of your kids, they can adapt it to different ages.
Book via aff. link >>> Family Tour Vatican Museums and Sistine Chapel by LivTours*
Last but not least, you can get a guided tour offered by the Vatican Museums themselves.
Guided Tours by the Vatican Museums are a good option of you are looking for a group tour and do not need any customisation.
There are several options including also early morning and after hour tour.
To see what is availabe on your date, go onto the museum ticket page >> https://tickets.museivaticani.va/home select desired date and number of participants >> see options.
Need to know: these Vatican museum tours tend not to be accessible nor stroller friendly as they do not follow the accessible path.
I hope you found this quick guide about how to get tickets to the Vatican useful and got some good tips!
Remember: Additional info and lots of tips to visit the Vatican with kids are in my Rome with kids ebook available on Amazon CLICK HERE (also with tons more info and ideas to enjoy Rome with kids)
As well as on this MamaLovesRome website:
What to see nearby
How to get tickets for the Vatican: pin this!