The best things to do in Rome with tweens: 15 fun ideas, attractions and activities in Rome your tweens will love.
Rome is a wonderful city to visit with kids of any age.
However, there is no doubt that some ages find more to do in Rome than others and one of these ages are the tween years.
My children are now tweens and I can tell you: Rome with tweens is a real treat!
The city has a lot to offer to them and while no two tweens are alike, there is such a variety of activities, attractions and classes for them, I am pretty sure you will find at least a few things your tweens will love, whatever their personality and personal taste may be.
In other articles, I shared a long selection of things to do in Rome with kids of all ages.
In this post, I focus on the best things to do in Rome with tweens (age 9 -12).
Please note: this post contains affiliate links (marked with a *). Should you make a purchase through them, we might make a small commission, at no extra cost to you.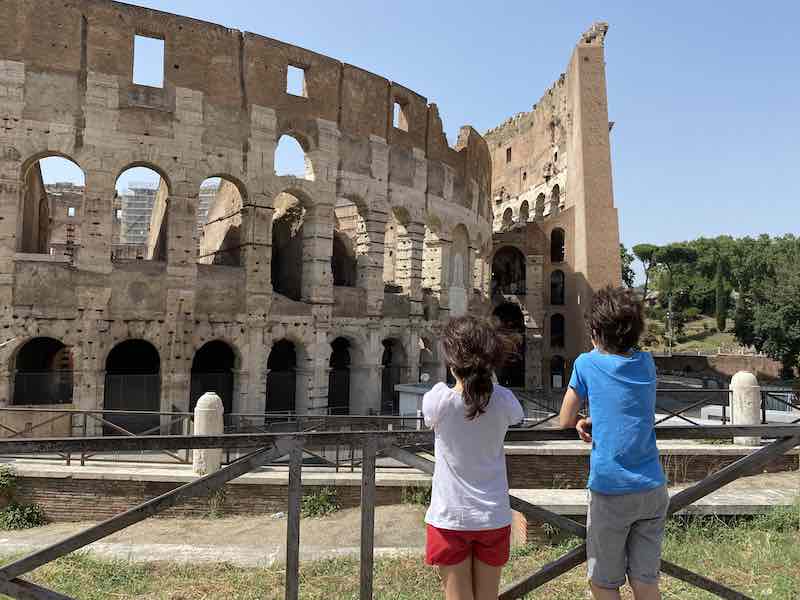 Top things to do in Rome with tweens
Visit the restricted access areas of the Colosseum
The Colosseum is one of the best attractions for tweens in Rome.
The size of the Amphitheater, the stories it tells and the sheer magnificence of the views from inside it are all it takes to get a tween excited and engaged.
However, there is one way to visit that I believe is particularly good for this age, and can add an extra layer of excitement and that is booking a tour of a restricted access areas: the area and the underground tunnels!
The arena and the underground of the Colosseum are where you can learn about the inner workings of the Colosseums.
The underground tunnels are where gladiators, animals and theater props were kept, the backstage to all the public events and shows happening in the Colosseum.
The arena is the actual stage, so visiting this area puts you right there where the performers would have been: stand here and imagine the stadium around you filled with people. Even now, it is not hard to feel the eyes of all of the Romans and the emperor on you!
These two areas are only accessible by buying dedicated tickets or tours and I believe they are worth the extra price.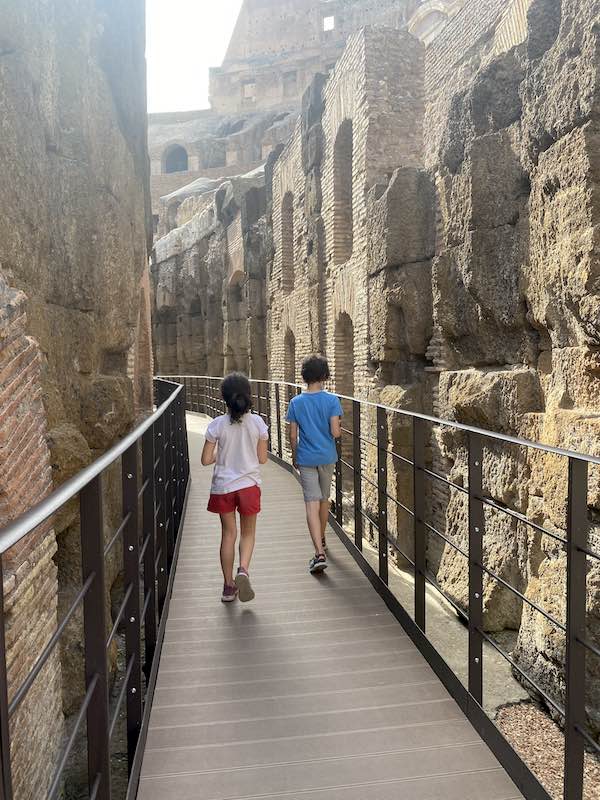 The best one are:
>>> Full Experience Ticket with access to the arena and the underground of the Colosseum by Coopculture – this is the Colosseum concession, so you buy directly from the attractions. The tickets are the best value around but they do not offer flexibility if you need to change date/ time
>>> Full Experience Ticket with access to the arena and underground o fate Colosseum with live guide, by Coopculture – similar to the above, teh main difference between this ticket and the one above is that this one comes with a live guide
>>> Luna sul Colosseum (Colosseum by night) – again by Coopculture, the Colosseum by night tickets are seasonal and a wonderful way to experience the Colosseum after dark.
You can read here >>> our Colosseum by night experience with kids ages 10 and 11.
>>> LivTour Express Underground Colosseum Tour* – this is a pricier but wonderful, comprehensive tour offered by one of my favorite tour providers in Rome, LivTours.
The tour is great for tweens as it covers the most exciting parts of hte Colosseum and also offers a guided your of the Forum and Palatine, full of incredible stories tweens will be able to appreciate.
Visit Castel Sant'Angelo
One of the most exciting attractions in Rome for tweens is Castel Sant'Angelo, the only castle in Rome.
Castel Sant'Angelo is a very special building.
This peculiar history means that today the castle is a weird, wonderful and fascinating place with plenty of stories to tell.

In it, you can still see the original burial chambers of the Emperors; you can walk the bastions of the medieval fortress, and see the cannonballs still piling up beside the sentinels' posts.
You can peek into the treasure room and you can even see the start ion the secret passage that connected the castle to the Vatican and that the Pope used to escape quickly!

The castle is perched on the side of the river Tiber and is unique, exciting and scenic: one of the best things to see n Rome with tweens!
You can read here >> our guide to Castel SAnt'Angelo, Rome including best tickets and tours.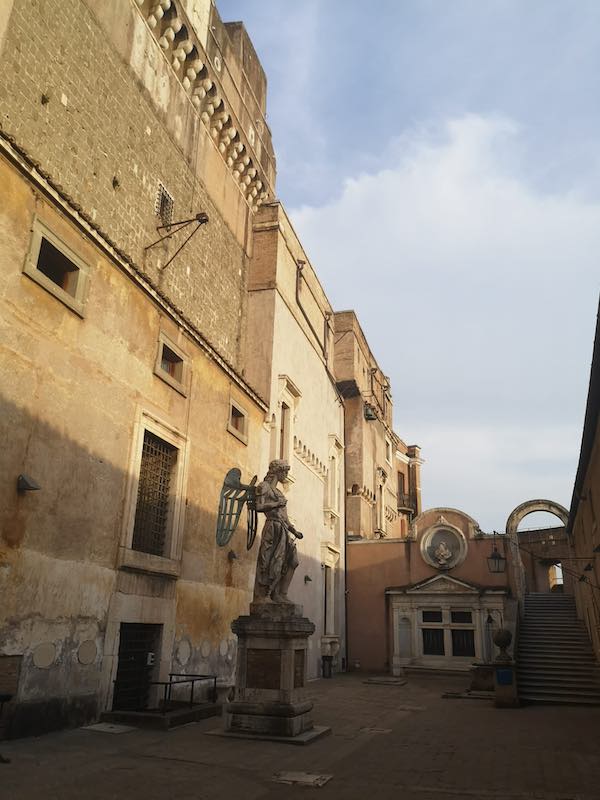 Visit the fun and new Museum of Illusions
The Museum of Illusions is a newly opened Rome attraction that is perfect for tweens who need a break from sightseeing.
The museum is in Via Merulana, in the city center, and has a collection of fun images, installations and interactive rooms that bend seem to bend the rules of physics playing with your perception of color and space.
The museum operates on a timed slot system and take a little over 1h to visit.
It is a fantastic place for tweens and teens and it is very easy to visit on the same day as Santa Maria Maggiore Basilica or the Monti area.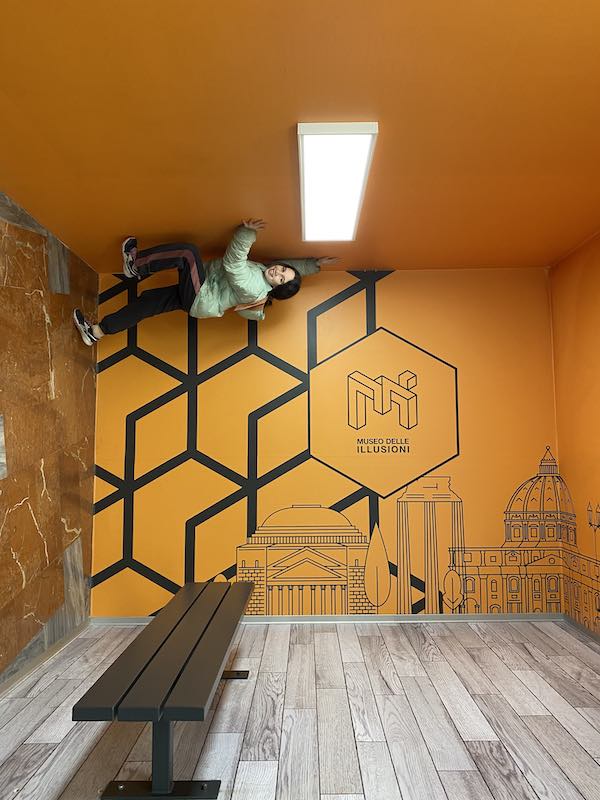 Climb to the top of St Peter's Dome
If you have tweens who are not afraid of heights, you may love climbing to the top of St Peter's dome!
The dome is the best viewpoint over the city of Rome and a fascinating place to see for its incredible architecture and details.
Access is by lift and by stairs, for a total of over 500 steps!
The stairs start broad, but they get narrower as you get close to the top, the last part being a narrow spiral staircase with a rope as bannister.

While not dangerous, the narrow spaces and the incredible views you have once you are at the top make the whole experience feel like a real adventure: make sure you give your tweens a camera for photos because what you see from the top terrace is breathtaking.
They are sure to want to capture it!
Tickets for the dome climb are available on the day only, from the ticket window beside the Basilica. Go early to beat the line.
Take a pasta making class
A wonderful thing to do in Rome with tweens is a pasta making class in a local home.
Making pasta is a fun and hands on activity for kids and the experience of going into the home of a local I believe adds a lot to your Rome experience.
Away from the grandeur of the ancient city, you tap into a completely different (and much more pleasant) vibe and can feel the city as it really is, with the added advantage of a delicious meal with a lovely roman host!
The class we took and loved is by From Zero to Pasta and is perfect for tweens for length, vibe and sauces prepared.
You can contact Lucilla on Instagram @FromZerotoPasta (tell her Marta from Mama Loves Rome sent you!) or find her on airbnb Experiences.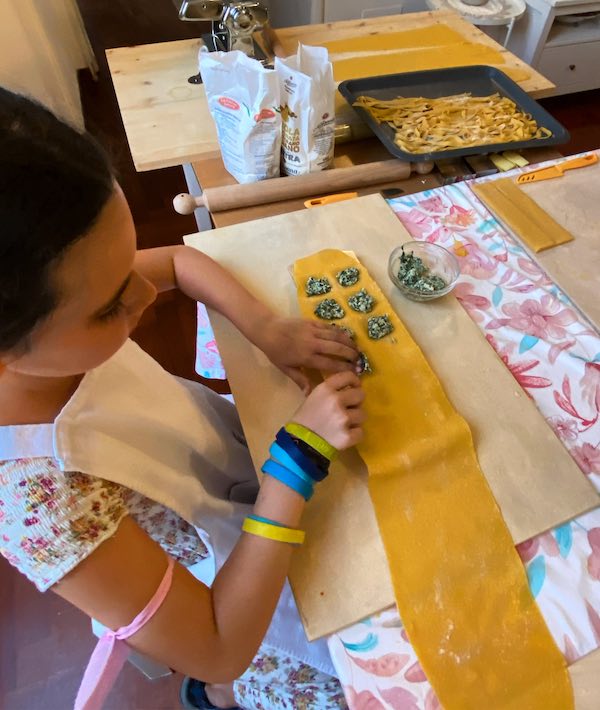 Go to gladiator school
One of the funniest and best family activities we have ever taken in Rome is a gladiator class.
The class is an active, slightly silly yet incredibly fun experience that is perfect for kids age 6 and up but that truly come into its own when done with tweens.
Offered by Gruppo Storico Romano, a local organization devoted to the historic re-enactment, the class teaches you how the Roman army used to operate, gets you the change to see and try on ancient Roman armours, teaches you fighting techniques and even has you fighting in the arena!
The class is a lough out loud, family boinging experience and a great way to have fun with your tweens in Rome if you are looking for something to do that is engaging and very different from any other tour you may have in your plans!
You can read here >>> our experience taking a Gladiator's Class with tweens.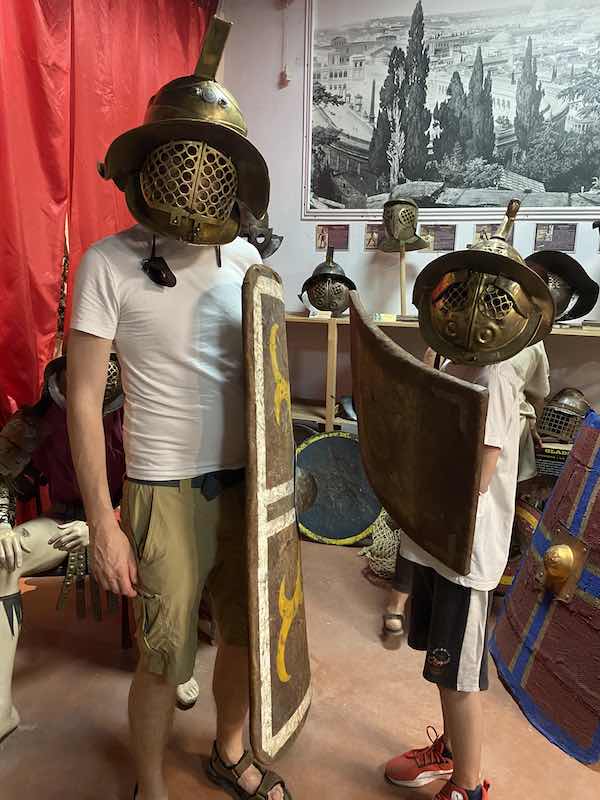 Visit the Domus Aurea
The Domus Aurea is the residence of Emperor Nero, once the most lavish and extravagant palace ever built in Rome and now fully underground!
The Domus is incredible to see and my Horrible History loving Tween absolutely adored it, as he was able to make plenty of connections between the place and what he had learned about Emperor Nero from the show.
The house is only accessible by tour and the experience is perfect for tweens: at the start, a video projected on the wall helps understand how the palace used to look like and during teh visit light is sed extensively to bring back to life corridors once full of light and now meters underground.
the Domus Aurea is not spooky but it does feel little adventurous and it is full of incredible stories tweets can appreciate. For us, it is a favorite!
You can book tickets directly form the official concession here
Go on a treasure hunt
One of my tweens favourite ways to experience Rome is via treasure hunt.
Over the course of the years, we have tried several and there are two that good out for us as excellent:
Treasure Hunt by Mostra di Leonardo – this is a super enjoyable, self guided treasure hunt organised by the Leonardo Museum in Piazza della Cancelleria.
The hunt takes place in Rome city center (Piazza Navona area) and it leaves you maximum flexibility in terms of what you want to explore: at the start, the museum equips you with an iPad with an interactive map that showcases clues as you walk.
As you make your way around Rome city center, the map picks up on your location and shows you things to see and challenged you to riddles.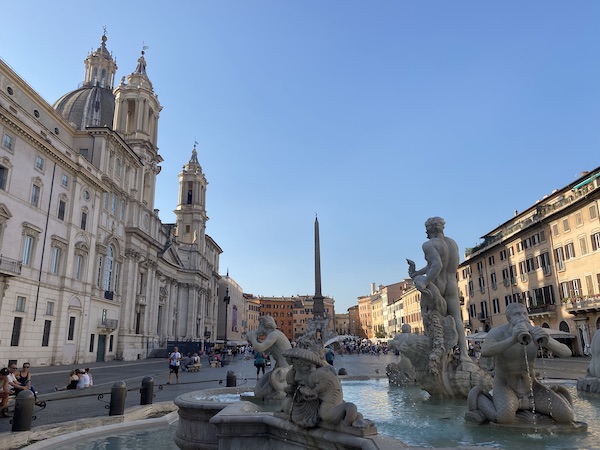 Once you are tired of exploring, you can go back to the museum and finish the hunt inside. This is a fantastic activity for tweens and a great bonding experience too, we had lots of fun doing it and we highly recommend it!
Find tickets and info here >>> Museo Leonardo Treasure Hunt in Rome*
Scavenger Hunt with Mariaclaudia – another really fun scavenger hunt we did in Rome was with Mariaclaudia of Mariaclaudia Tours.
This scavenger hunt is a guided tour of Rome for kids and it is perfect for young tweens, up to 9 and 10 years old especially.
The tour is with a live guide who shows you highlights in Rome city center but keeping kids engaged with clues to find and a point system that sees kids and parents compete for a prize at the end.
The tour is great fun and a fantastic way to learn about Rome. You can find our full review here
Go shopping
If you have tweens who love shopping, you'll be happy to hear that Rome has wonderful shopping streets!
Among the best, in the city center there are Via del Corso and Via Cola di Rienzo, offering a mix of high street brands, independent shops and top brands that will suit most pockets and styles
Visit Rome Catacombs
The tween years are among the best ones to experience Rome's catacombs.
Rome's catacombs are a network of underground tunnels excavated in the first centuries AD as Christian cemeteries.
They are a wonderful, powerful attraction to visit and they mix an element of adventure and education that that most tweens will enjoy.
Open to visits by guided your only, the catacombs can be visited also by younger children; however, I believe that tweens are most likely to make the most out of the experience while younger kids may find the whole setup a little upsetting.
You can read here >>> our tips for visiting Rome's catacombs with kids
Visit the Capitoline Museum with tweens
Rome is full of wonderful museums but one of the most suitable for tweens is the Capitoline Museums.
The Capitoline Museum are a large museum in Rome city centre with invaluable sculpture and paintings from ancient and modern times.
They are suitable for a visit at any age; however, I find that it is especially suited to tweens who may recognize here the representation of many Gods and heroes form Roman and Greek Mythology (you can even take a Percy Jackson your here!)
Find here >>> all the info about visiting the Capitoline Museums with kids
Go to the Borghese Gardens
while my tweens have partially outgrown playgrounds, there is no doubt that they still love parks and their favorite in Rome is the Borghese gardens.

A large park in Rome city center, the Borghese Gardens have plenty of space for them to just chill out but also something special: the option to rent family bikes or even pedal go-karts, perfect for tweens.
You can find here >>> all you need to know about the Borghese Gardens.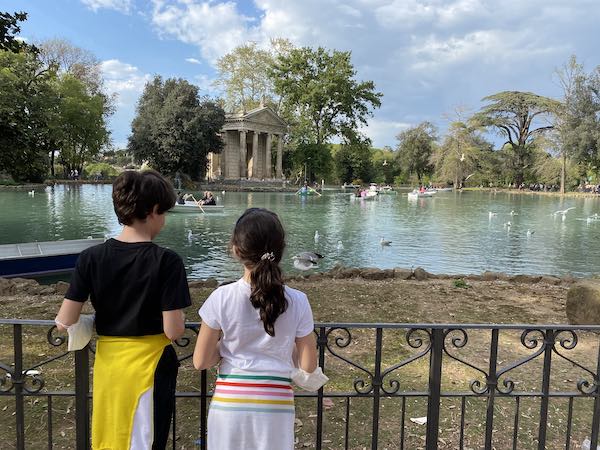 Visit the Roman Houses of Celio
Another special place to visit in Rome with tweens are the Ancient Roman Houses of Celio.
Celio is the Italian name of the Caelian Hill, one of the seven hills of Rome, and the Roman Houses in this area are a wonderful examples of ancient Roman dwelling and a unique archaeological site.
Now underground, the ancient houses develop on different floors and they are exciting for tweens as they develop as a series of rooms, cellars and tunnels and passageways, which make the visit varied and exciting.
Very much a lesser known site in Rome, you can visit them in your own time without advance booking.
You can find here >>> all you need to know about the Roman Houses of the Caelian Hill.
I hope you enjoyed this overview of the best things to do in Rome with tweens and what my children love helped you make a plan for your own stay. Safe travels!
Visit Ikono Roma immersive experience
Ikono Roma is a fun and interactive experience for tweens in Rome perfect to add some fun to a day spent sightseeing.
Ikono is a fun exhibition space organised in several interactive rooms with installations you can play with and cook backdrops for photos and selfies.

Among the most successful with my tweens were the swimming pool of balls and the Japanese area, perfect for selfie loving tweens!
Ikono Roma is on Via del Seminario, close to the Pantheon: at present, tickets are available at the door only.
Consider an early morning or evening tour of the Vatican Museums
The Vatican Museums are among the most significant and beautiful museums in the world and tweens start being of the right age to appreciated their wonders.
Very much a traditional museum, the Vatican Museums can be boring for kids used to more interactive experiences but contains masterpieces such as the Sistine Chapel, the Laocoon, the Egyptian Museums and Raphael's Rooms that are so impressive, they are worth seeing.
My favorite ways to visiting the Vatican with tweens is with a tour. My favorite ones are:
Early morning express tour of the Sistine Chapel* – this is a short tour, perfect for tweens, showing you the Sistine Chapel and Rahpael's Rooms. While not a tour for kids as such, the short timeframe and the stories surrounding the Sistine Chapel and its creations make it a good option also for children.
Vatican Museums tour for families by LivTours* – a great tour specifically for kids, suitable especially for younger tweens who may enjoy a scavenger hunt approach to the visit, this tour includes the Sistine Chapel but also many other museum highlights including the wonderful Egyptian wing.
Vatican Museums Tour with Mariaclaudia – another great tour for kids with a scavenger hunt approach, this tour is run by Mariaclaudia of Mariaclaudia Tours, a wonderful independent guide specialising in tours for kids. She is best contacted by Facebook, tell her Marta from Mama Loves Rome sent you!
Take a Golf cart tour to see Rome's highlights
If your tweens are anything like mine, they will have those days when they do not feel like standard sightseeing. So for those days, a golf cart tour is a great thing to plan in Rome with tweens!
A golf cart is a silly yet very clever to get around Rome: thanks to its small size, golf carts can get to piazzas that are not reachable by vehicles such as hop on off bus tours and are, therefore, a great way to see Rome's highlight in comfort and without having to walk.

There are many golf cart tours in Rome. The two I feel like recommending the most are:
>>> Golf Cart Tour by LivTours* – my personal favorite for quality of the guides and outstanding customer support.
>>> Got cart tour by Rolling Rome*
Where to stay in Rome with tweens: resources
Depending on budget and style of travel, the following resources will help you pick your tween-friendly accommodation in Rome:
>>> Best Family friendly hotels in Rome city center
>>> Recommended family friendly rentals
>>> Rome hotels with interconnecting rooms
Things to do in Rome with tweens: pin this!