The Monti neighborhood of Rome: what to see and what you need to know about Rome's most scenic district.
The Monti District, or Rione Monti as it called in Italian, is one of the most scenic neighborhoods in Rome.
Located in the city center, roughly between the Colosseum and Termini station, is an ancient area with a long and interesting history and now charms its visitors and inhabitants with cobbled streets, small alleys, important churches, cool restaurants and independent shops.
A visit to this area is a must when in Rome.
Whether you opt for aperitivo here, a visit to one of its stunning churches or a leisurely walk to take in the atmosphere, what you will find here is quintessential Rome: grand, dusty, busy, lazy, messy, stunning and always unique.
I always head to Monti when I feel like a walk and I can never decide if I love more its dusty cobbled streets or its important monuments. I simply adore both!
Out of the many, these are in my opinion, the best things to see in Monti.
Please note: this post contains affiliate links and, should you make a purchase through them, we might make a small commission.
Pin this article to save it for later!
What is special about Monti District
The Monti district is a large area spreading over several of the 7 hills of Rome, namely Celio, Esquilino and Viminale (hence the name 'Monti', which means 'hills' or 'mountains').
The area dates back to Roman times and went through several transformations that impacted on its character and population, making it unique in the city.
Over the course of the centuries, this area hosted la Suburra, the poorest and dodgiest part of ancient Rome, set the stage for the Nero's Domus Aurea, hosted Patrician houses, fell into disgrace and got forever altered by the construction of the big road built in Rome between the XIX and XX century that now cross and somewhat scar the neighborhood.
Nowadays, Monti is a dynamic and sough-after district, with a mix of traditional and hip atmosphere that is quintessentially roman.
If you are looking for an area that mixes opportunity for sightseeing, cafes, restaurants boutique shops and hip factor, this is the place for you!
Top tip! At the end of your walk around Monti, I highly recommend you get aperitivo in Hummus. It is an adorable terrace with lovely views over Monti and a relaxed, hipster atmosphere that is simply iconic of this area! It is in Via della Madonna ai Monti and one of my favourite terrace bars in Rome.
Monti district need to know
When people talk about Rione Monti, they often refer to the small charming streets around via Urbana/Via Panisperna/Via degli Zingari/ Piazza della Madonna ai Monti.
These streets are where you find the hipster feel many associate with Monti but the area stretches well beyond them.
This area also includes the Quirinale area, very different in feel from the rest of the neighborhood and close to Trevi in style, and also the Domus Aurea and Trajan's Forum, with can also be visited as standalone attractions.
In this guide, I will start from the most popular area of Monti and then describe these other attractions so you can plan your visit at best.
How long to visit Monti
I recommend spending one afternoon in Monti to have the chance to see its churches and main attractions as well as soaking in the atmosphere.
If you are short on time and want to get a taste of this area's hipster side, I recommend you focus on the area of Piazza della Madonna dei Monti / Piazza degli Zingari / Via Urbana: come in the afternoon to make the most of the vintage shops and aperitivo places of this area!
The Best things to see in Monti
Piazza della Madonna ai Monti
I open this list with charming piazza della Madonna ai Monti, one of the most charming in the city
The piazza is in the lower part of Monti, close to where via dei Serpenti meets via degli Zingari and Via Cavour, and is a popular spot for coffee and even more aperitivo.
A couple of cafes have terraces on this small square and people of all ages lounge on their patios or on the fountain in front, often so packed you hardly notice it!
Despite its popularity as a resting spot, the fountain has artistic value: it dates back to 1588 and was designed by Giacomo della Porta, famous for its work on Campidoglio and many other Rome fountains including that of Piazza Mattei and the Fontana del Moro in Piazza Navona, just to name a few!
Two churches overlook the square, Chiesa della Madonna ai Monti and St Sergio and Bacco, adding to the charm and interest of the place.
Via Urbana
Via Urbana and surrounding streets are the hipster area of Monti.
Here even more than in other corners of this area, old Rome meets new and trendy: this old cobbled street now has a plethora of artisan, art and vintage shops, restaurants and a lovely boutique hotel I always recommend, the Fifteen Keys boutique hotel, towards the top of the streets.
Via Urbana is also home to one of the most interesting churches in Rome, Santa Pudenziana, which has wonderful mosaics worth a visit.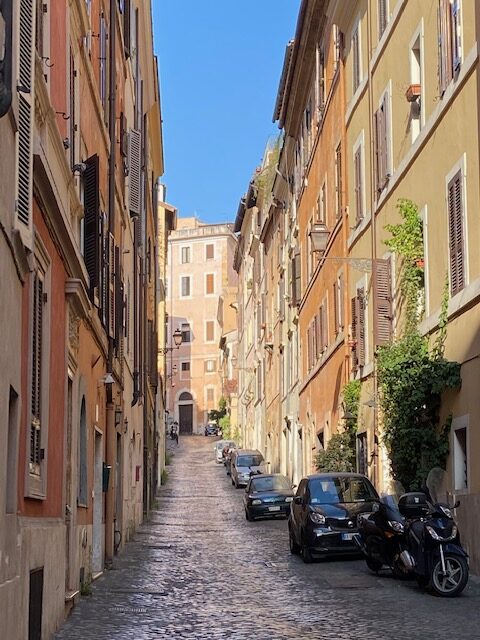 Santa Maria Maggiore
On the opposite side of Via Cavour, at the end of Via Urbana, stands beautiful Santa Maria Maggiore one of the main patriarchal basilicas in Rome and one of the most important churches in the whole of Rome.
The church dates back to the IV century AD and has many treasures including V century mosaics, a distinctive tower bell, beautiful frescoes and chapels.
The church is huge and while maybe less atmospheric than others nearby it deserves a visit for its grandiosity, importance of its artworks and religious significance.
Santa Prassede
A stone throw from Santa Maria Maggiore lies lovely Santa Prassede, an ancient church now hidden in a small cobbles street just around the corner from its famous neighbor.
Santa Prassede is understated and wonderful: here you have beautiful ancient frescoes, stunningly decorated absides and something special: the chapel of St Zeno, home to Byzantine-style mosaics unique in the city.
Santa Prassede was the sister of Santa Pudenziana and a wonderful way to tap into the spirit and history of the Monti neighborhood is to visit both, with a stop at the significantly different yet equally intreresting Santa Maria Maggiore, almost symbolically standing in between the two.
You can read all that makes Santa Prassede special here.
San Pietro in Vincoli (St Peter in Chains)
Another beautiful and artistically significant church not to be missed in Monti is San Pietro in Vincoli.
The church stands in a square now turned public car park and it is hard to find if you don't know where to look since it is hidden from main artries and opens up almost unexpectedly as you venture behind the top of the Oppian Hill.
If you do get there however, you will be rewarded by wonderful sights!
The church itself is beautiful inside and hosts invaluable artworks including Michelangelo's Moses (part of the tomb of Pope Sixtus V and famous for his horns!) and it preserves the chains of St Peter, the relic that gives the name to the church. You can find my guide to San Pietro in Vincoli church here.
Salita dei Borgia / Via Leonina /Via degli Zingari
Salita di Borgia is a steep road (with steps) connecting the higher part of Monti and San Pietro in Vincoli to the lower part with via Leonina and Via degli Zingari, where this sort of Monti itinerary started.
This is a nice shortcut to regain lower ground and a charming area if you are looking for that dusty /hipster feel Mont does so well.
Other things to see in Monti
As I mentioned above, the area visitors associate the most with Monti is the one above however, there re many other attractions in the area that are worth visiting. These are some of the most significant.
Domus Aurea
The Doums Aurea is the vast architectural complex and villa Emperor Nero built as its residence and playground at the Oppian Hill (Colle Oppio), in what is now the Monti district.
The Domus was built in 64AD and was part of a large complex also including landscaped gardens, an artificial lake, thermal baths and the colossal statue of the Emperor that became the namesake of the Flavian amphitheater (the Colosseum), built in the same location by Nero's successors.
The villa had a short life and got destroyed soon after by Emperor Vespasian, as part of the damnatio memoriae of emperor Nero and its legacy. Nowadays, only part of the domus aurea stands and is partially open to the public
You can find my full guide to visiting the Domus Aurea here.
Via degli Annibaldi
Via degli Annibaldi is large, trafficked road that deserves a mention not for the road as such but for the stunning views of the colosseum It offers!
Looking towards it from Piazza della Madonna ai Monti, you can see the tall walls framing the road leading your eye to the colosseum and climbing to the top of the road, you also get a glimpse of the forum (It will look better once the metro digs are completed but it is very impressive nonetheless!)
San Clemente
San Clemente is one of the most unique churches in Rome and a monument of great historical significance.
The church develops over 3 different levels, each of them bearing the vestiges of previous times and previous use of this space this is a wonderful place to truly experience the history of Rome and its urban evolution over the centuries.
Trajan's Forum
On the lowest part of the Monti neighborhood lies one of the most beautiful parts of the Roman Fora, the forum of Trajan, now open to the public.
The forum has an outdoor part and a very interesting indoor museum with good explanations about the history of Trajan and his role in the expansion or Rome as well as beautiful artifacts (and great views over Rome!). This is a wonderful museum and a unique place as the level of preservations of the complex means you literally find yourself walking inside an ancient Rome district, complete with streets and all!
Good to know! You can virtually visit Trajan's Markets with their official online tour, one of the great virtual tours of Rome you can take from the comfort of your own home!
Quirinale
Quirinale is the name of one of Rome's 7 hills and of the beautiful and significant palace on its top, now the residence of the president of the Italian republic.
Il Quirinale is beautiful from outside (the balcony over the main door is by Bernini) and can also be visited inside (info and tickets here).
Worth knowing is that the Scuderie del Quirinale, part of the Quirinale complex, are now a wonderful art space regularly hosting some of the best and high profile exhibitions in Rome!
2020 update: please note that visits to the palazzo are currently suspended. The Scuderie are open and the museum operates staggered and timed entrance slots to guarantee the respect of current regulations. Advance booking mandatory, official site here.
Sant'Andrea al Quirinale and San Carlino alle Quattro Fontane
The history of Rome architecture has been dominated by two magnificent figures Bernini and Borromini and this area of Monti offers a wonderful opportunity to see two of their creations right one after the other.
The church of San Carlo (by Borromini) and that of Sant'Andrea (by Bernini), on the same street near the Quirinale Palace.
Santo Stefano Rotondo
I am closing this list of the best things to see in Monti with a particular church, that of Santo Stefano Rotondo.
'Rotondo' in Italian means round and indeed, one of the peculiarities of this paleo Christian church is to be made in the shape of 3 concentrical circles!
This is not the only round church in Rome but it is unusual (it also has scary frescoes of Christian martyrdom) and, as such, can be worth seeing.
Best hotels in Monti neighborhood Rome
Monti is one of the best areas to stay in Rome for location, charm and services. Hotels I recommend you check out are:
Fifteen Keys Boutique Hotel, lovely and in a perfect location on Via Urbana
Nerva Boutique hotel, also perfectly located, close to the Forum and Colosseum
NH Collection Fori Imperiali, just beside Piazza Venezia and with the incredible Trajan's Column on its doorstep
Villa Spalletti Trivelli, a wonderful luxury hotel close to Quirinale (and Trevi)
Monti Neighborhood with kids
The Monti neighborhood is more suited to a romantic stay or solo trip to Rome than a family vacation because of its urban feel and some elements of its geography (cobbled street can prove hard with strollers). However, this doesn't mean there is not family friendly side to it!
Colle Oppio (The Oppian Hill) has a nice playground, a coffee kiosk and nice areas to walk and run, the area has many good shops and good bus/metro connections and you also have a good choice of restaurants that are good for kids too: 313 Via Cavour, Cafe cafe and Panella are just the first that come to mind.
If you are staying in this area with young, I recommend you choose an area close to green Colle Oppio for easy access to play opportunity and the Colosseum.
Don't forget to check our articles about visiting Rome with children if planning a family visit to the Eternal City!
I hope you enjoyed my guide to the Monti neighborhood. Happy travel planning!