Practical, sanity-saving tips for visiting the Colosseum, Rome. When to go, how to book, what to wear: all you need to know for a perfect visit.
The Colosseum is one of the most visited attractions in the world and, by far, the most popular monument in Rome.
As such, planning a visit to it is not difficult, offers of tickets and tours are literally all over the web.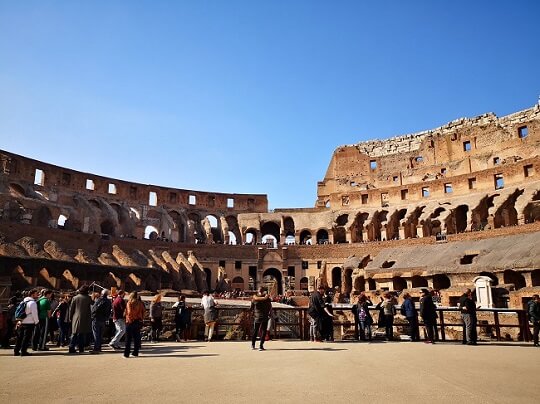 However, some tips for visiting the Colosseum can come in handy: being as busy as it is, knowing what to expect and being prepared will go a long way to make your trip to this gem of the ancient world as easy and relaxing as possible.
I love the Colosseum and go visit often: it really is one of those attractions you never tire of! There are my best tips for visitors.
Please note: this post contains affiliate links and, should you make a purchase through them, we might make a small commission at no extra cost to you.
Visiting the Colosseum: address and transport
Colosseum Address: Piazza del Colosseo
Nearest metro stop: Colosseo, just in front
Buses: 117, 51, 75, 85, 87, 3 (tram). All the buses serving Piazza Venezia are also convenient as just a 7-minute walk from the Colosseum
Opening hours: 10.30 -19.15 with last entry at 18.15
Visiting the Colosseum in 2021: need to know
Access to the Colosseum in 2021 is subject to showing a 'green pass': this is the name Italy gives to the document stating your vaccination status / you being in possession of a valid negative test.
All people age 12 and up need to show this document upon entering the building: this is a national rule applying to all cultural venues.
Wearing of facd masks is currently compulsory: temperature checks may be carried out upon entering. This is again in line with current national and local regulations.
These are the new rules for visiting the Colosseum
Opening hours are currently only 10.30 to 19.15 with last entry at 18.15
Tickets can be bought exclusively online: they all come with a reserved time slot that you can choose at the time of booking.
This limits the amount of time waiting in line and helps preventing gatherings.
There are several types of tickets you can choose from. The table below is a quick overview, but you can also find my full guide to the best tickets for the Colosseum here.
| | | | |
| --- | --- | --- | --- |
| Ticket Info and Purchase link | Description | Best For | Drawbacks |
| 24h – Colosseum, Roman Forum, Palatine Hill | Standard Ticket by Parco Colosseo/Coopculture (Colosseum ticket office) | Value | Poor cancellation policy |
| Full Experience – Colosseum, Roman Forum, Palatine Hill | Ticket by Parco Colosseo/Coopculture (Colosseum ticket office) including access to underground Colosseum area | Value, access to underground area | Poor cancellation policy |
| Colosseum, Roman Forum, Palatine Hill Priority Entry Ticket | Sold by GetYourGuide, this includes priority tickets to the main Colosseum area and access to the Roman Forum/ Palatine Hill | Standard access with good cancellation option | Access is to selected areas only (the arena is, however, included) |
| Colosseum and Ancient Rome family tour for kids | Guided tour by Kids Raphael Tours and events, included Colosseum main arena area | Specialized experience tailored to kids' needs | Price point, doesn't include underground area |
| Rome Colosseum Gladiator Tour for Kids and Families | Guided tour by GreyLine, includes main arena area of the Colosseum | Specialized experience tailored to kids' needs | Doesn't include underground area |
Tips for visiting the Colosseum, tip 1: Book early
Like with all popular attractions, advance booking is a good idea and in the case of the colosseum 'early' means weeks or months in advance.
Colosseum tickets sell out unbelievably early and it is very common, even with long notice, to only find few slots available, often at very inconvenient times or for only part of your group.
I highly recommend you book your tickets as soon as you know for sure you are going to be in Rome, especially if going to Rome from April to the end of October, the busiest months for tourism.
Please note: some tickets may only become available 4 weeks before your expected date of travel so if you don't find an available spot months in advance, don't despair! Make a note to go back exactly 4 weeks before your trip and try again.
Colosseum tip 2: decide what you want to see
The Colosseum is organized in several parts and which one/ ones to see depends on your interest, party and time available.
Not all tickets allow access to all areas: choosing in advance what is and is not interesting for you will allow you to make an informed choice.
The things to see in the Colosseum are:
The arena floor: this is the main area, the stage of the theater.
Here you can stand where the gladiators used to stand, see the Emperor's seats and get a glance of the underground area, excavated just below the arena.
Visit this area only if you are short on time but still want a glance at what the Colosseum was all about.
Good to know: this is the area of the Colosseum with the biggest choice of tickets and tours. For this area, my favorite ticket provider if GetYourGuide (click here to see cost/description), which has a good price point and a decent cancellation policy.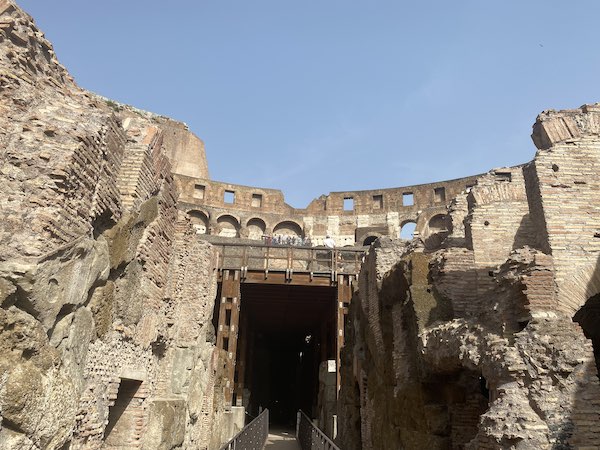 The underground part of the Colosseum is where props and animals were kept, as well as the area where gladiators used to wait for their turn.
This is the most interesting area if you want to learn about the inner workings of the Colosseum.
The tour in this area is the one that taught us the most: you can read all the fun and interesting facts we learned here.
The best ticket I have found for this area is the Full Experience Ticket sold by Parco Colosseo.
This comes in two types:
'Accompanied' which means a member of staff will help you identify points of interest and operate a free app with into
'Educational', which is a guide tour with a real life guide – this is the one I recommend!
Good to know: in some cases, you can bring your own private guide to the Colosseum with you, which you book separately from the entry ticket. This can be useful especially if you have kids and you want a more in-depth and personalised experience. Click here to learn more about this option.
The top tier is the most scenic of all the areas of the Amphitheater (please note that in 2021 this area is closed to the public, I will update this should the option of visiting become available again).
This is a wonderful area if you want to also catch views above the Roman Forum and you don't have mobility issues: this is the only part of the Colosseum without a lift or a ramp.
The view from upper tier is breathtaking, one of the best views int Rome.
I highly recommend you book a tour of this belvedere area if you can. You can see my photos and read my impressions of this tour here.
Colosseum tip 3: get the right type of ticket
There is a crazy high number of ticket options for visiting the Colosseum and they get confusing fast.
Guided /self /guided / for some areas only / with full access / with the Roman Forum / with private guide / with a group tour….
I wrote about the best tickets for the Colosseum here but here is a summary of my top tips:
The best, budget-friendly tour of the Colosseum is the one offered by the Colosseum official concession itself, Coopculture.
Select the Full Experience ticket for the most complete experience in both the Colosseum and the Forum: book here.
This is a group tour for those who want to visit the Colosseum and who are happy to discover the Roman Forum at their own pace (or skip it altogether).
The most flexible ticket for visiting the Colosseum arena floor, the Roman Forum and the Palatine is this one by GetYourGuide
If visiting the Colosseum with kids (<<< click for our tips!), you may want to invest in a tour that is specifically for families such as this Colosseum Tour for kids or this Gladiator themed Colosseum tour for children
Colosseum Tips 4: Choose the best time of day
You can visit the Colosseum all year round and pretty much any time of the day. However, some times are better than others.
The best time of day to visit the Colosseum all year round is the morning.
This is the time when the air is cleaner, the light brighter and the crowds at their minimum.
The best time to visit the Colosseum in summer is the early morning or the evening, when specialized night tours allow you to see the monument all lit up: a wonderful experience!
In summer, you may also want to keep an eye out on evening tours: the Colosseum and the whole are are rather magical all lit up in the evening!
The best time for visiting the Colosseum in the coldest months (January, February) is lunchtime.
Colosseum tip 5: wear sensible shoes
The Colosseum is very well kept and very well equipped for tourism however, it is an archaeological site and has several areas with less than smooth walking surfaces and many steps.
The best shoes for visiting the Colosseum are good quality, well broken-in walking shoes: sneakers, runners or walking sandals with rubber sole are all ideal.
Flip flops and sandals with a slippery sole are to be avoided for safety reasons.
You can find my tips for picking the best shoes for Rome and my favorite styles here.
Colosseum tip 6: leave large bags at home
The Colosseum has several safety rules and one of them is that large backpacks or bags are not allowed in.
While 'large' is a pretty generic word, open to interpretation, what this usually means is that normal size purses and handbags are ok but travel backpacks or travel luggage is not.
If you are in Rome for a day and you have your luggage with you, consider storing it for the day: the Colosseum hasn't got a bag deposit but Luggage Hero offers several options.
Colosseum tip 7: prepare for the weather
For the most part of your visit to the Colosseum, you will find yourself outdoors so, dressing for the weather is paramount.
In summer, make sure you have light clothing, sunscreen and a sun hat – the heat can get brutal here!
In winter, make sure you wrap up with a coat and scarf, especially if visiting the underground part of the amphitheater and if going to the Forum afterward.
They get unbelievably cold!
Find my tips for packing for Rome here
Colosseum tip 8: bring coins for the restroom
Just outside the Colosseum, on the side towards Via dei Santi Quattro, there are surprisingly well-kept restroom facilities. Bring a coin (1 or 2 Euro) to use them.
Colosseum tip 9: arrive early
Skip the line tickets and reserved entrance tickets allow you to get in without long queues however, all visitors to the Colosseum must pass a security screening.
This usually does not tale more than a couple of minutes but do arrive early to make time for it.
They recommend arriving 20 minutes before your time slot and while I did find this too generous a time (it goes much faster than this), this is a reasonable buffer time to allow for all checks.
Colosseum Tip 10: stay nearby
Many hotels are in close proximity to the Colosseum, ranging from five-star luxury marvels to budget-friendly options.
They are an excellent option especially if you are short on time and you have the Colosseum on your Rome bucket list: some have gorgeous terraces with views that will allow you to enjoy the amphitheater not just during your visit but also while having breakfast or at aperitivo hour!
You can find our guide to the best hotels near the Colosseum here.
I hope you found those tips for visiting the Colosseum useful. Safe travels!