All you need to know for a trip to Rome in February. What to expect from the weather, what to pack and what to do in Rome in the winter. Updated for 2023
February in Rome is a month of transition.
Very much a winter month and therefore still mostly cold and with the occasional rainy day, February is also the time when spring slowly comes back to Rome and the result is surprisingly pleasant.
Blossoms start appearing on trees, the perfume of mimosa flowers fill the air and while you will still need to wrap up at least on some days and in the coldest hours of the day, you may also find yourself shedding your top layers and basking into the warming sun.
This is a great time for sightseeing and, if you have kids, to enjoy the fun atmosphere of the Rome carnival!
We spend every February in Rome and this is our guide to make the most of this special time in the city.
Please note: this post contains affiliate links and, should you make a purchase through them, we might make a small commission at no extra cost to you.
Rome in February 2023: need to know
Before planning a trip to Rome, make sure you are up to date with the current regulations and documents needed to enter the country.
Official sources are:
Weather in Rome in February
The weather in February in Rome is usually cold, sunny with the occasional shower of rain.
February in Rome is the end of the winter.
At the start of the month, you are likely to still get short hours of daylight and rainy days however, as you get closer to the end of the month, the weather improves and the start of spring is in the air.
The average temperature in Rome in February is 9C/47F with a range from 14C/57F to 3C/37F degrees.
Usually you have about 6 days of rain in Rome in February and this tends to be heavy downpours rather than a drizzle.
A travel umbrella will be your best friend at this time although rain tends to come in forms of showers so, usually, you can simply find refuge somewhere and quickly resume sightseeing
What to wear in Rome in February
Winter attire is a must in Rome in February although you want to add some lighter layer should you get lucky with the weather (we were in short sleeves last year!).
Heating makes indoor spaces cozy but never hot or even warm enough to take off sweaters so make sure you dress accordingly
If you are traveling to Rome in February, it is important to pack:
Good walking shoes, waterproof (ankle boots, full knee high book, not lined)
Socks and tights
Long trousers
Long sleeve tops
Short sleeve ones
Warm sweaters (woolen)
Winter coat (ideally waterproof), scarf
You can find my full packing list for Rome in winter here
Dates of notice in Rome in February
February is, overall, low season in Rome and you usually do not get large crowds. However, there are a couple of events worth noticing.
14th of February (in 2023, Valentine's Day falls on a Tuesday): St. Valentine's day is not a traditional festivity in Rome but a commercial one. It will not affect your sightseeing however, it may well interfere with a quiet night out: make sure you book in advance if you have a special place you want to go to and check restaurants don't charge the earth for 'Valentine specials'.
Carnival (days vary): The exact days of carnival vary but if you are in Rome in February, you are likely to get at least a little taste for it.
Carnival is not as traditional here as in other parts of Italy (nothing like Venice or Viareggio) and it is mostly a children festivity in Rome: little ones dress up and fill the streets with confetti.
carnival usually does not interfere with sightseeing and opening hours of museums and attractions.
In 2023, Martedi' Grasso (Mardi Gras) falls on the 21st of February.
The best things to do in Rome in February
The best things to see in Rome in February are a mix of sightseeing, shopping and food experiences.
Visit the Colosseum
The Colosseum is fantastic to visit in February (this is when I visited last!).
At this time, you will be almost alone in the arena and while the rain might indeed make your visit wet, the lack of crowds will compensate the discomfort.
Colosseum tickets come in all shapes and sizes. Prices start at 16 Euro for a basic entrance ticket and can reach several hundreds of Euro if you opt for a private tour.
To help you navigate all the options and avoid paying over the odds, you can find here >>> my guide to the best tickets for the Colosseum.
Visit the Roman Forum and Palatine Hill
February, especially towards the end of the month, is also a good time to visit the Roman Forum and Palatine hill.
At this time, the blossoms start returning to the Palatine, making it truly stunning.
Find here >>> my guide to the Roman Forum
Find here >>> my guide to the Palatine Hill
Visit Vatican City and the Vatican Museums
Thinner crowds make February a great time to visit the otherwise packed Vatican Museums.
Make sure you get tickets in advance and take your time to visit Piazza San Pietro (St Peter square) and the free areas of the Vatican blissfully devoid of crowds.
Find here >>> My guide to visiting the Vatican in 2022 with my tips about tickets and tours
Visit the Borghese Gallery
The Borghese Gallery is one of the most beautiful art museums in Rome and a must-see for art lovers.
Located inside the beautiful Borghese Gardens, a large patrician park in Rome City center, the Borghese Gallery has masterpieces by masters such as Bernini, Canova and Raffaello, just to name a few, and is a feast for the eyes.
The gallery is indoors and perfect for a rainy afternoon in Rome.
I highly recommend you plan a visit here and then cross the gardens to treat yourself to a hot drink with a view in Casina Valadier, a panoramic restaurant and cafe' overlooking the Pincio Terrace offering some of the best views over Rome.
Advance purchase of Gallery Tickets is mandatory: you can book your ticket here.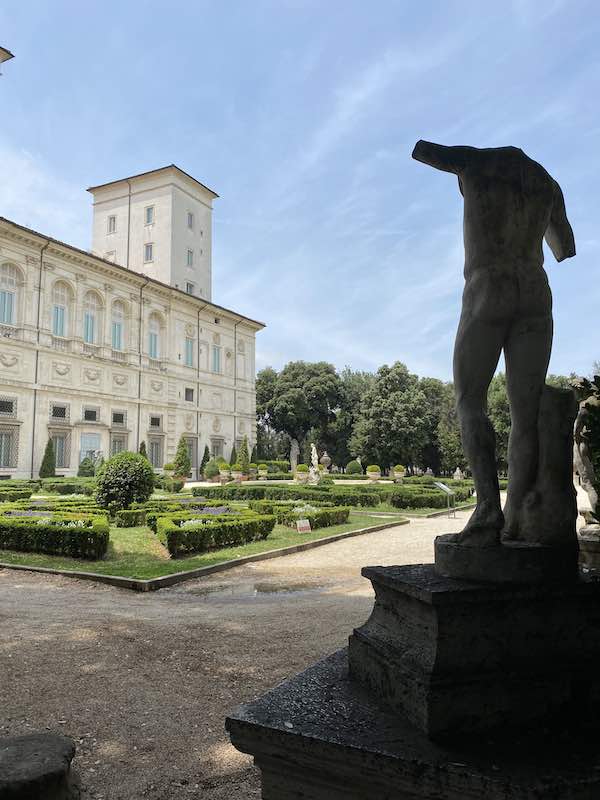 Visit Nero's Domus Aurea
The Domus Aurea is Emperor Neros' palace and one of the most interesting archaeological sites in Rome.
The imperial palace dates from the I century AD and historians describe it as the biggest and most lavish building ever seen.
The Domus is stunning, however, do not imagine a castle or a lavish palazzo!
Immediately after Nero's death, his palace was destroyed and it is now an archaeological dig, entirely underground!
As you enter it now, you find yourself in a series of tunnels and spaces, once filled with natural light, and still preserving hte magnitude of the vision of their creator and some of the original decorations.
This is a fantastic attraction to visit on a cold afternoon. You can find my full review of my visit and tips for planning your own here >>>> a practical guide to visiting Nero's Domus Aurea.
In February 2022, the visit includes access to a wonderful Raphael exhibition, currently housed inside the Domus.
Visit Palazzo Barberini and the Barberini Mithraeum
Art lovers should not miss visiting the wonderful Palazzo Barberini, an elegant palazzo now housing the National Gallery of Ancient Art.
Designed by masters such as Maderno, Bernini and Borromini, Barberini Palace is one of the most stunning examples of baroque residential architecture in Rome and one of the city's best museums (some of the best Caravaggioin Rome are here!)
If visiting Rome in February 2022, you will be able to enjoy the current exhibition: Caravaggio and Artemisia, houses in the museum for a limited time only.
You can read here >>> all about Palazzo Barberini and it treasures
If you are interested in Rome underground attractions and want to see something a little special, then you should plan a visit to the Barberini Mithraeum, below the palace by the same name.
The Mithraeum is an ancient underground chamber devoted to the worshipping of the God Mithras, a solar God of Iranian origin, and one of the most popular Gods of the Roman Empire.
The Mithraeum is only open on selected dates and by guided tour in Italian. As such, I recommend it for people with a specific interest in ancient history and religions or to those who want to see a truly unusual Rome attraction!
You can read here >>> our introduction and guide to the Barberini Mithraeum.
Explore Rome piazzas
All Rome attractions and main piazzas can be visited at this time.
Head to Piazza Navona, Piazza del Pantheon, Campo de' fiori, the Trevi fountain and the Spanish steps but also allow yourself to explore some hidden gems.
In January, when summer holidays for locals are over, Rome's local life is in full swing so as soon as you leave the most popular areas you will see the city's living and breathing heart.
Go shopping
If you like shopping, February in Rome can be a bit of a treat! At this time you usually get the tail end of Rome's sales and you also can find the first items of new season collections.
Check our guide to Rome's best shopping streets for the best addresses to score great deals
Warm up with a cup of tea or a delicious hot chocolate
Rome can still be cold in February. If you want to warm up, how about a cup of tea or a luscious hot chocolate?
You can find here >>> my selection of the best tea house in Rome.
If you are a chocolate lover, then the place for you is SAID, Rome's chocolate factory.
Go to the opera or a concert
Rome has a good opera and ballet program. Music lovers should also check out the program at Auditorium Parco della Musica, a wonderful music venue in the eternal city
Sample Roman food on a Rome food tour
Rome's tasty and earthy food goes exceptionally well with cold weather. This is a wonderful time of year to take a food tour and taste it all and also treat your curious taste buds to something special: carnival treats!
These are food tours worth considering:
If in Rome in February, make sure you taste both traditional Rome food in season and carnival sweets that are unique to this time of the year.
In this season I recommend:
Carbonara, Gricia, Amatriciana pasta: warming and tasting and perfect for the slightly cooler weather of this season
Trippa, warming dish for the adventurous
Suppli, fried balls of rice with a melting mozzarella heart
Coda alla vaccinara, oxtail
Frappe and castagnole, carnival sweets (fried or oven baked batter with sugar)
Go to an exhibition
Rome has many exhibitions going on at any given time and February is a great time for museum-going.
Two exhibitions I highly recommend are:
The Torlonia Marbles Collection (until Feb 2022 only) – a stunning collection of statues from different eras, owned by the Torlonia family and temporarily on show at the Capitoline Museum. A must-see for art lovers.
Klimt, Secession and Italy (until 27 March 2022) – a showcase of works by Klimt and other artists of his time, exploring the connection between Klimt and Italy.
Go church-hopping
Visiting Rome churches is one of the best things to do in Rome any time of the year but it becomes exceptionally pleasurable (and handy!) in winter.
Churches are free to enter, often stunning and a great refuge from the rain.
Some I love and recommend seeking out are Santa Prassede, San Luigi dei Francesi, Santa Maria della Vittoria and Santa Sabina but really: when you see a church in Rome, peek in as chances are it is worth a stop!
Churches are one of the best free things to see in Rome!
Visit Rome's catacombs
The catacombs of Rome are underground Christian cemeteries dating from the early centuries of the Christian Era.
The cemeteries are structured like a large network of tunnels that develop under the modern city and they are interesting to visit and unique.
There are several catacombs in Rome open to visitors and those I recommend visiting are this of San Callisto, among the biggest and most impressive in Rome.
February in Rome with kids
These are my favorite things to do in Rome with children in February.
Visit Rome major sites
I believe it is never too early for bringing kids sightseeing!
Guides to help you plan your visits are:
Tips for visiting the Colosseum with kids
How to visit the Vatican with kids
Best family-friendly museums in Rome
Dress up for carnival
Carnival is for kids in Rome what Halloween is in other parts of the world: a time to dress up and catch your friends out with practical jokes (Italians say: 'A carnevale, ogni scherzo vale' – at carnival, all jokes are fair).
The best way to embrace this tradition is to bring with you a costume and allow your children to wander around the city in their favorite outfits.
Most of Rome's carnival food is usually loved by children: as for 'frappe' in particular, sweet fried crispy batter you get in Rome's pastry shops.
Go to Explora
Explora is Rome's children's museum and it is a wonderful place to explore with kids. In February, this is an exceptionally handy place to know for a rainy day or any time the weather doesn't seem suitable for extended hours in the park
Take an art class
Indoor activities can be a lifesaver in Rome in winter and one we adored was an art class we took with the wonderful people of Arte al Sole. The one we chose was a mosaic making class which was perfect for crafty kids.
Learn to make your own pizza
On a cold February day there is nothing better than staying in a cozy kitchen preparing a warming meal. With kids, we did just that with a local pizza class for families followed, of course, by tucking into our own creation.
Visit 'Welcome to Rome'
Welcome to Rome is a small, indoor permanent exhibition teaching the history of Rome through 3D- light reconstructions of Rome's main attractions and a short movie.
This is a fantastic place to visit with kids as it is compact, entertaining and educational – the short movie is also a fantastic occasion to sit and rest for a while! Most suitable for kids age 6 and up.
Visit the museum of Leonardo's machines
If you need to quickly escape the rain or just want some indoor fun on a February afternoon in Rome, head to the Leonardo Museum in palazzo della Cancelleria (address: Piazza della Cancelleria, near Campo de' Fiori)
This is a small but interesting permanent exhibition with lots of Leonardo's machines kids can touch and try (not all of them but most), and it has a table where they can try their hand at building Leonardo's self-supporting bridge.
Really fun and not as easy as it seems! It is a good puzzle to keep them entertained and stimulated!
Fun to know: the museum also has a secret underground lake! Not to be missed.
I hope you enjoyed this post and it helped you plan your winter trip to Rome. Safe travels!