All you need to know for a trip to Rome in October. What to expect from the weather, what to pack and what to do in Rome in the fall. Visitor's guide to October in Rome by a local.
October is a great month to be in Rome.
As the summer heat slowly fades, the city sky gets clearer, fall colors appear in Rome's many parks and delicious autumnal products start filling the Roman tables. 
Romans are fond of October in Rome and we even have a special name for October's stunning Roman days: 'Ottobrate Romane'.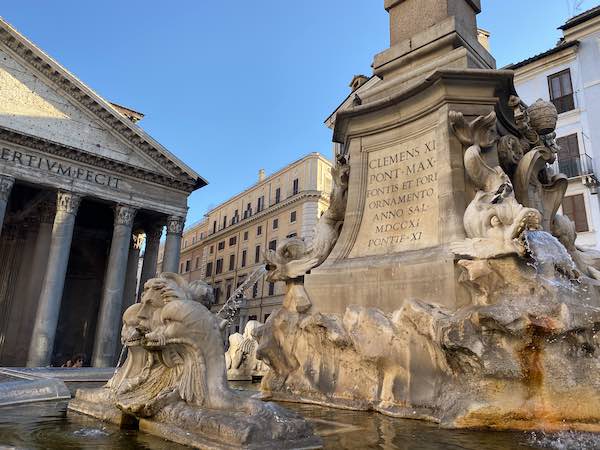 Ottobrate Romane is a term that indicates the crisp and mild October days in Rome, days traditionally so pleasant the aristocracy historically chose them for excursions and day trips at harvest time.
If you are going to Rome in October, climate change permitting, you can expect to be in for a treat! Here is our guide to making the most of your time.
Good to know! I am from Rome and have written this guide based on my direct experience of the city over the course of more than 40 years. Weather averages you find in this article come from the official weather service. All suggestions, personal tips and considerations are from my own experience and knowledge of Rome.
Please note: this post contains affiliate links and, should you make a purchase through them, we might make a small commission.
The weather in Rome in October
October is the start of autumn in Rome and you can expect good hours of sunshine, mild temperatures and a reasonable amount of dry days, with the occasional shower.
The average temperature in Rome in October is 18C/64F with a range from 23C/73F to 12C/54F degrees.
Last year, we had more extreme temperatures that ranged between 27C/80F and 7C/45F: however, these were deemed exceptional.
Usually, you have about 7 days of rain in Rome in October, although recent weather patterns make this much harder to predict.
October in Rome brings light, fresh air and temperatures that are perfect for sightseeing.
On dry days, you will find the temperature to be pleasant and possibly eve warm during the day, without it ever being hot.
On rainy days and as the sun starts to set, on the other hand, you will want to wear an extra layer such as a mid-season jacket.
At a glance, the weather in Rome in October brings (usually)
Sunny and bright days with fresh, light air, perfect for sightseeing
Some rainy days, up to half the month, requiring umbrella, waterproof shoes and a light jacket
Pleasant temperatures during the hours of sunshine. Lunch hours still pleasant enough for outdoor eating
Chillier evening requiring an extra layer.
Temperatures mild enough for kids to play in the park
October is not warm enough for outdoor pools, beach trips nor hot enough to require the use of air conditioning.
Is Rome rainy in October?
October in Rome is a rainy month, with 7 to 12 days of rain per month on average.
The rain tends to be more frequent in the second half of the month.
Usually, these are short showers rather than long days of constant rain.
Good to know: occasionally, Rome experiences downpours of rain. Should you be caught in one, find shelter in a cafe, a. church or a museum. Often, they only last a little while before clearing entirely.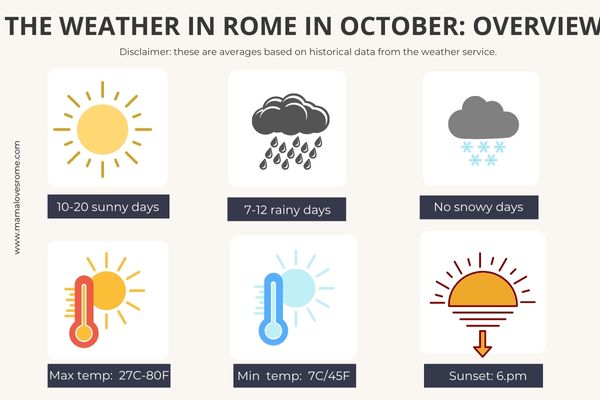 How warm is Rome in October?
In October, Rome is pleasant weather wise, with warm but not hot temperatures and a nice chill in the air when the sun goes down.
October weather, however, changes significantly day to night and from the beginning to the end of the month.
Early in October, in the middle of the day, Rome can be warm and, in the central hours of the day, you can often be in a t-shirt.
Early in the morning, in the evening and on rainy days, the temperatures drop significantly and you will want an outer layer such as a jacket.
Unless you are used to very cold weather, October in Rome in not shorts and sandals weather and locals like me would have already transitioned into fall-winter attire.
What can I do in Rome in October, weather wise?
In October in Rome, you can:
Visit all attractions, both indoors and outdoors.
Eat out for lunch and, possibly for dinner. The weather in October is usually a little chilly for outdoor dining, especially towards the end of the month.
However, Rome has embraced outdoor dining in the last two years and we have had lovely outdoor meals on dry nights.
You want a sweater, a light jacket and a light scarf, if not sitting under heaters, but it can be a pleasant time for a dinner under the Roman sky!
Bring the kids to parks and playgrounds
In October in Rome you cannot go to the pool, visit water parks or go swimming as the weather is too cold for water based activities.
What to wear in Rome in October
The key to dressing in Rome in the fall is layers. During this month, you are likely to have warm weather in the central hours of the day (warm enough in fact for al fresco lunches) but chilly mornings and evenings.
You can find my full packing list for October in Rome here, however, if you are traveling to Rome in October, it is essential to pack:
Good walking shoes, closed-toe (sneakers are perfect) – You can find my recommended shoes for Rome in this article
Socks (October is unlikely to see sandals weather)
Long trousers (Jeans, but also cotton is often ok at this time)
Short-sleeve tops
Cardigan
Light jacket (leather or faux leather, but make sure it can stand rain)
Rain mac or poncho
Small umbrella
Sunglasses
In October in Rome you are unlikely to need a sun hat or very hot weather clothing.
However, I highly recommend to bring good quality sunscreen if you have sensitive skin.
In terms of style, in Rome in October locals like me are already wearing fall/winter clothes and this includes long pants (jeans, cords, chinos), muted tone or warm tone sweaters (white, black, beige, brown and dark red are all common), sneakers or even ankle boots.
The weather is usually too warm for tall boots.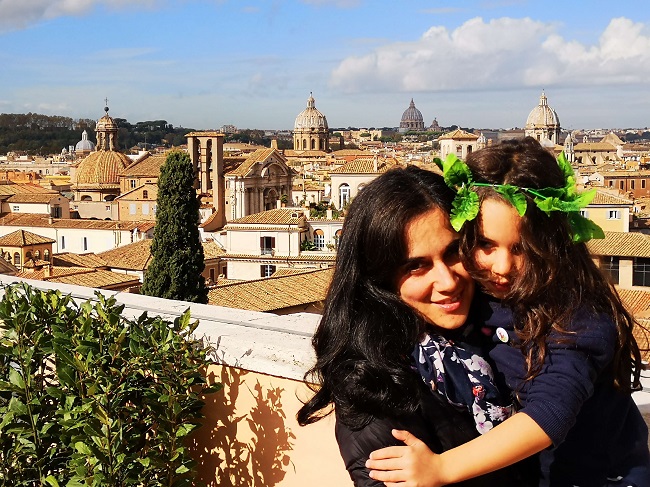 Is October high season in Rome?
The beautiful weather may have given away a truth not many realize when planning an autumn trip: October in Rome is high tourism season.
This means that the city is packed with visitors and you must book hotels and attractions in advance or you will either queue for hours (literally) or skip places altogether.
Below I list the main attractions you will need advance tickets for and have added links to my favorite trusty providers for your convenience.
The best things to do in Rome in October 2022 – Our top 10!
October in Rome is a great time for sightseeing and an excellent one for both indoor and outdoor attractions.
The only thing to be aware of is the crowds: as mentioned, October is high season in Rome so advance booking to popular Rome monuments is a must.
1. Visit Colosseum in October
The Colosseum – fantastic in October thanks to the mild weather + exceptional opening hours happening this season, including night visits. Advance booking is a must, find info about Colosseum tickets here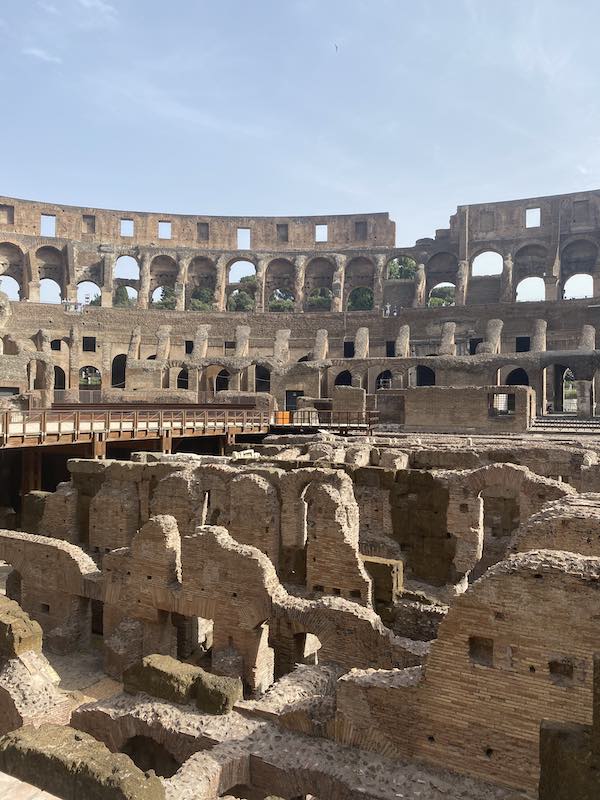 2. Stroll in the Roman Forum and Palatine Hill in October
The Roman Forum and Palatine Hill – spectacular in this season thanks to the colors of the changing season. Booking included in most Colosseum entrance tickets.
Find Here >>> our guide to the Roman Forum and Palatine Hill
3. Participiate in the Viaggio nei Fori Light Show
Journey through the Forum light show – a spectacular light show in the Forum of Augustus and Forum of Caesar, only running a few weeks every year. Info here.
4. Explore Vatican City in October
Vatican City – Vatican City is busy at this time but fantastic. Ensure you visit the Square, Basilica, the Vatican Museums but also the Vatican Gardens, spectacular in October.
Find here >>> our complete guide to visiting Vatican City
5. Visit Rome's stunning piazzas in October
Rome's Glorious Piazzas – October is a fantastic time for stroll in Rome's most beautiful piazzas.
Do not miss famous Piazza Navona, Piazza di Spagna (Spanish Steps), Piazza di Trevi (Trevi Fountain) and Piazza del Pantheon but make sure to include some lesser known ones in your itinerary too.
You can find here >>> our guide to Rome's best piazzas
6. Visit the Borghese gallery and Gardens
Borghese Gallery and Gardens – One of the best places to visit in Rome in October are the Borghese Gallery and the fantastic gardens around it, a vision of natural beauty in the fall!
Find here >>> our guide to the Borghese Gallery
Find here >>> our guide to the Borghese Gardens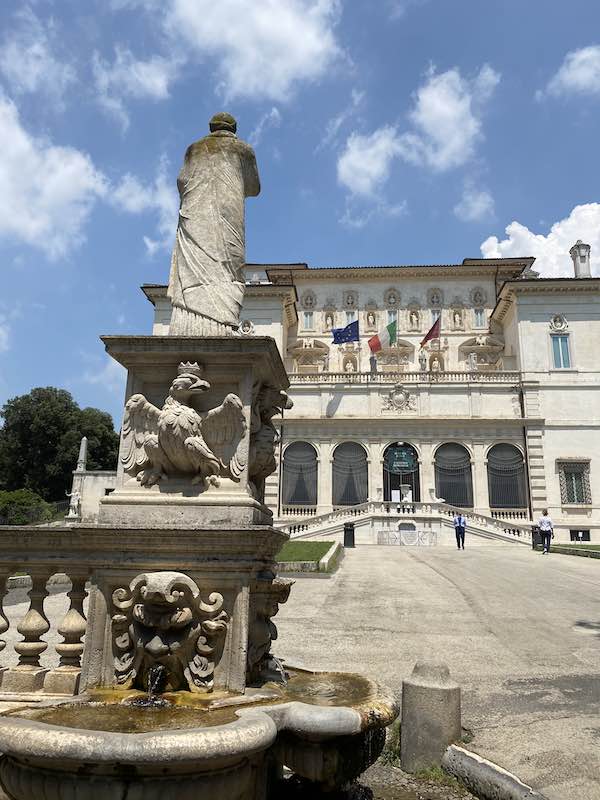 7. Visit Rome's underground attractions
The Trevi Fountain, the Spanish Steps and the colosseum tend to steal the show but did you know that Rome's has many attractions hidden underground?
They are fantastic, unique and there are several of them all over the city including Nero's incredible palace, temples to the God Mythra and ancient residential houses.
You can find here >>> our guide to Rome's underground attractions.
8. Visit the Diocletian exhibition at Rome's Capitoline Museum
The Capitoline Museums are among the best museums in Rome and the world and, this October, they host something special: a unique exhibition about emperor Diocletian, included in the cost of your ticket.
9. Catch a sunset
Did you know that October in Rome is famous for its stunning sunsets?
During this month, the sunset in Rome colors the sky with incredible red and orange strokes, it is an unforgettable sight!
Find here >>> our guide to the best sunsets in Rome.
10. Have a drink on a rooftop terrace
Rooftop terraces in Rome are still open in October and they are wonderful to rest and relax after a day of sightseeing.
Find here >>> my guide to my favorite rooftops in Rome
More fantastic things to do in Rome in October
Visit Nero's Domus Aurea (Emperor Nero's Palace)
Great in October because: indoor, perfect for a rainy day, yet in a beautiful park, for fall colors
The Domus Aurea is the once lavish palace of Emperor Nero and is now one of Rome's most intriguing ancient sites.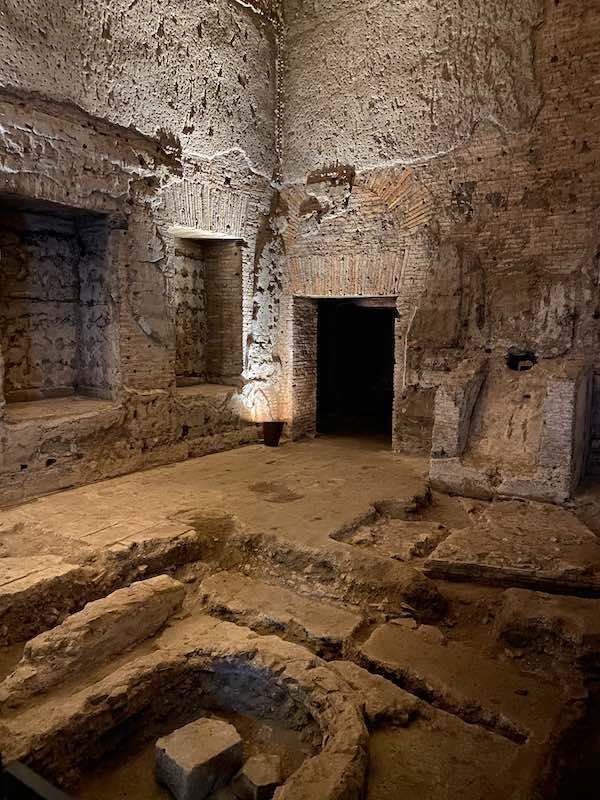 Build it in the I century AD as an over-the-top mansion, the Domus is now an archaeological underground dig but it is stunning and fascinating to visit. 
With the aid of a live guide and modern technology, you will discover this stunning Roman archaeological site and appreciate the magnitude and magnificence of what once was the most extravagant and elaborate palace Rome had ever seen.
Advance booking recommended. You can read my guide to the Domus Aurea and tips for visiting here.
Explore Emperor Trajan's Markets
Perfect if in Rome in October because has both outdoor and indoor areas, great in changeable weather
Trajan's Forum is one of my favorite archaeological sites in Rome and one I highly recommend you visit, especially if visiting Rome in the fall.
Located just in front of the main Forum area, the markets develop outdoors and indoors and host a wonderful museum with excellent explanations on the steady expansion of the Roman Empire over the centuries.
This is one of the best laid out attractions in ancient Rome and it is perfect to visit in October under two accounts: the indoor part will save you from the rain and its slightly lesser know status will save you from the crowds!
This museum also offers an excellent and free virtual tour: if you want to see what it is all about and check if it might interest you, you can access it here
Good to know: the Trajan's markets are only one of the many attractions in Rome now offering virtual tours. I find them an excellent trip planning tool. You can have a look at the best virtual tours in Rome here.
You can buy standard tickets here or opt for a private tour (free cancellation) here. Advance booking usually not needed.
Visit Rome's Catacombs
Great in October because: indoors
Among the best underground attractions in Rome there are Rome Catacombs, early Christian cemeteries developing along kilometres of underground tunnels under the city.
They are fascinating and, in October, they are also fabulous place to escape the rain, if case you get caught in an autumnal shower!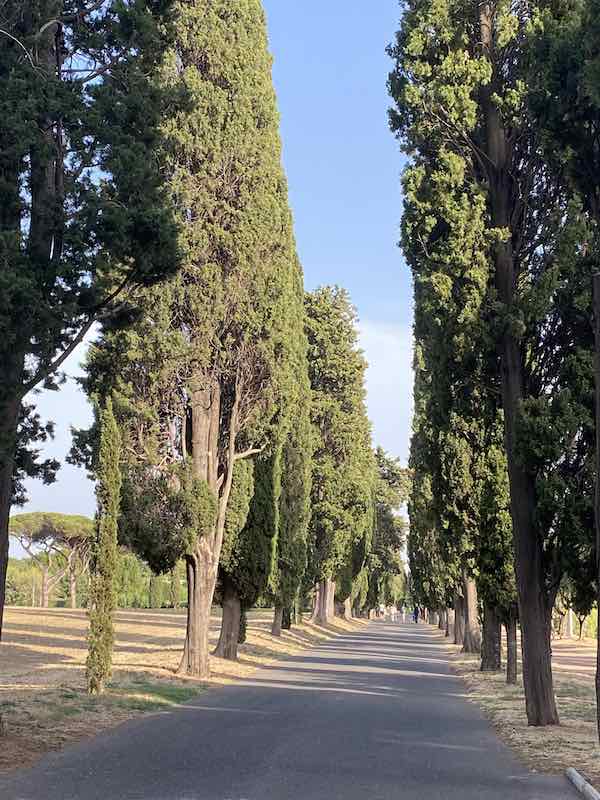 With the aid of a guide, you are brought along the accessible part of the cemeteries and get to see tombs from early Christian times, underground chapels and you will hear stories about the first Popes and martyrs.
There are several catacombs you can visit.
I recommend you start from those of San Callisto, among the biggest and best preserved.
Advance booking recommended.
Good to know! I do not recommend visiting the catacombs with kids. Read why here.
See out Caravaggios in Rome churches
Great if in Rome in October because: a stunning and unique way to get shelter from sudden rain
Caravaggio spend a large part of his life in Rome and left many beautiful masterpieces in city's museums and churches.
If you love his work, a fantastic way to see Caravaggio in Rome in October is by taking a stroll and visit the many churches that house his painting.
You can find here >>> my guide to Caravaggio in Rome
Explore Rome hidden gems
Great thing to do in Rome in October because: city life is in full swing and you can see the real Rome tourists often miss
Also allow yourself to explore some hidden gems.
I highly recommend you head to Quartiere Coppede' in particular: this is a lovely area with peculiar Art Deco unique in Rome and some nice parks, perfect for an afternoon stroll!
I am also fond of Garbatella, a lovely local area with unique history and architecture.
In October, when summer holidays for locals are over, Rome's local life is in full swing so as soon as you leave the most popular areas you will see the city's living and breathing heart.
Visit the Baths of Caracalla
Great thing to do in Rome in October because: great weather for this outdoor site
The ancient thermal baths of Caracalla are among Rome's most impressive archaeological sites.
The massive structure is now entirely outdoors and October is a fantastic time to visit as it feel a little like a park, expect for the stunning mosaics and arches still standing!
This is one of the most visually appealing sights in Rome. Advance booking usually not needed.
You can find my tips for visiting Caracalla's baths here
Go to Ostia Antica
Great in October because of the stunning fall colors
October is an excellent time of the year to get away from Rome city center and a place that is wonderful at this time is Ostia Antica, a gorgeous archaeological site on the outskirts of Rome.
Ostia Antica has two areas worth visiting: the archaeological park, often referred to as a 'little Pompeii' thanks to its extraordinary Roman ruins and the borgo, developing around the medieval castle.
This is a wonderful place for an October afternoon: make sure you stay for dinner too, the local 'trattoria' is wonderful.
Take an evening stroll
One of the best things to do in October in Rome fore weather and clear nights
If you are in the city in October treat yourself to an evening stroll to see the main sites all lit up.
A simple stroll in Rome City Center is is one of the best things to do in Rome at night.
Have a walk in Trastevere
Great in October for: foliage colors
This area gets wonderful golden leaves that make its charming streets even more evocative in the falls.
Find my recommended Trastevere itinerary here.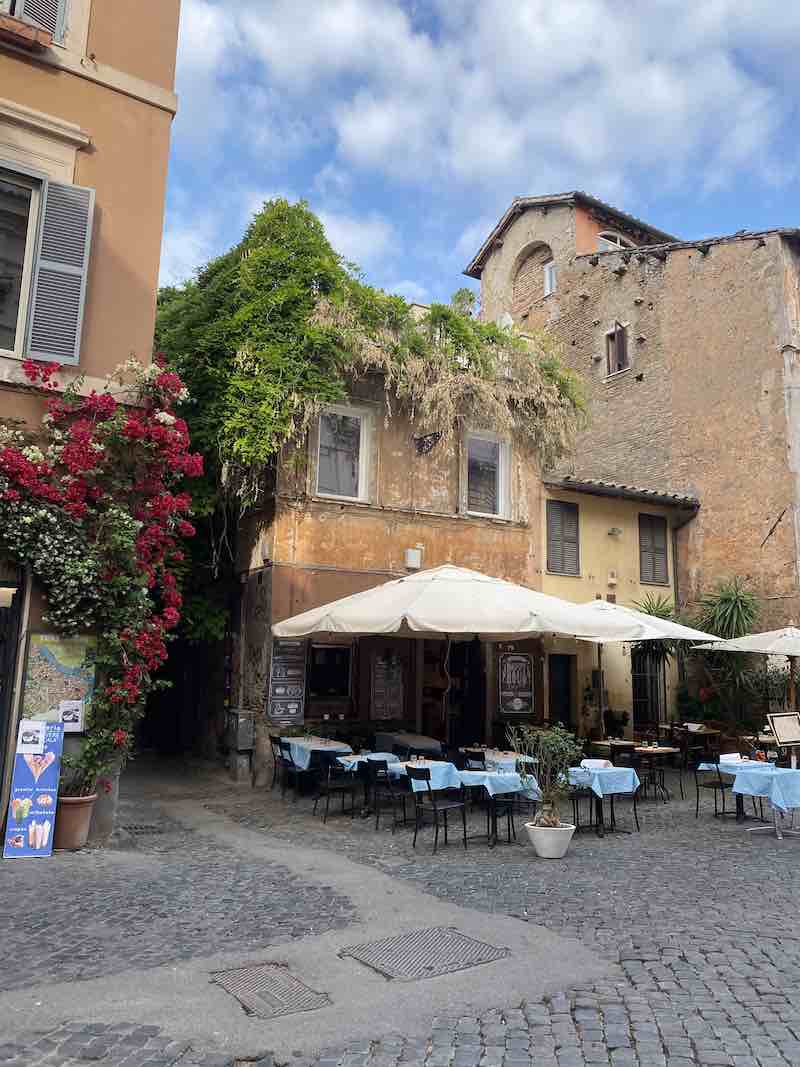 Get in the Halloween spirit the Rome way
Halloween is not traditional in Rome however, in the last few years celebrations have blossomed and there are several ways to mark the occasision.
You can have a fun night out in an Irish pub, usually fun on this Irish-born festivity, join an organized event, visit one of Rome's most mysterious attractions or even join a ghost tour.
You can read all about Halloween in Rome here.
Go on a food tour
Rome's tasty and earthy food goes exceptionally well with the change of season. This is a wonderful time of year to take a food tour and taste it all!
These are food tours worth considering:
Some delicious Rome food to try in October in Rome are:
Carbonara: warming and tasting and perfect for the slightly cooler weather of this season
Cacio e pepe: a traditional pasta dish made with pecorino Romano (cheese) and pepper
Trippa, warming dish for the adventurous
Suppli, fried balls of rice with a melting mozzarella heart
Mushrooms: while not typically roman, this is the time of the year to order scrumptious mushrooms risotto or tagliatelle ai funghi. Delicious!
Tiramisu: always a good dessert, its creamy richness is easier to digest if you take long brisk walks, which you will at this time in Rome.
Go to an exhibition
Rome has many exhibitions going on at any given time and October, especially in the second part of the month when the weather turns colder, is a great time for museum going.
You can find here an up to date calendar of Rome events in October.
October in Rome with kids
These are my favorite things to do in Rome in autumn as a family.
Visit Rome's child-friendly historical sites
Not all historical sites in Rome are interesting for kids but some are!
Those I recommend the most are:
The Colosseum and the Roman Forum – with official tickets, kids go free! Find my guide to the Colosseum with kids here
The Domus Aurea – see above. This is a cool spot for kids of school age who will enjoy the underground experience and may have already learned about Emperor Nero
The Catacombs – this is not for everyone (the catacombs are cemeteries and this can be disturbing for some) but our children loved them.
The adventure of being underground and the interesting stories were a hit: I recommend this for kids age 7 and up – find tickets here
Castel San't Angelo – Castel Sant'Angelo is Rome's castle. It is a wonderful place to visit with kids and, in October, one of the best places to catch a sunset over Rome! Win-win for parents and kids.
Treat them to the best pizza ever
I'll make an educated guess here and presuming your kids like pizza… if they do, treat yourself and them to great pizza at one of these addresses
Dress up for Halloween
Halloween is not a traditional Italian holiday (Italian children traditionally dress up at carnival, in February).
However, in the last few years, pumpkins and Halloween inspired decorations have appeared in the shops and children do throw fancy dress parties for their friends and walk around in costumes (scary or not, the theme is loose)
If you are visiting Rome with kids on Halloween, do pack their costumes and join the fun!
You can read more about Halloween in Rome here.
Go to Explora, Rome's children museum
Explora is Rome's children's museum and it is a wonderful place to explore with kids.
In October this is an exceptionally handy place to know for a rainy day or any time the weather doesn't seem suitable for extended hours in the park
Go to the park
October is still vastly park-weather in Rome. You can find a list of some of our favorite parks and playgrounds here
Take a cooking class
Rainy days are the perfect time to take a cooking class.
One we adored with our kids was the Pizza Making class we took with Rome4Kids: it kept us warm, provided plenty of fun (and a new skill!) and of course made for an excellent family-friendly meal! You can read all about our pizza making experience here.
Learn about Rome in 'Welcome to Rome'
Welcome to Rome is a beautiful permanent exhibition teaching kids (and adults) the history of Rome's via 3D light reconstructions of the city's main monuments and a beautiful short film.
This is a small museum, fun for kids and not overwhelming, and a great place to get some rest indoors while staying entertained and learn.
Located in Corso Vittorio, you can usually walk in without advance booking: very handy!
Visit the museum of Leonardo's Machines
Another fun thing to do with kids in Rome in October is visiting the museum of Leonardo's machines.
A small museum, conveniently located close to 'Welcome to Rome' and Campo de' Fiori, the museum has wonderful feats of engineering that the kids can touch and play with and also an activity for them: they can try their hand at building Leonardo's self-sustaining bridge.
Lots of fun and not as easy as it seems! Good, stimulating fun on a rainy day.
Find all about the Leonardo machines exhibitions here.
Try the 'Circus Maximus Experience'
The Circus Maximus was the chariot race circus of Ancient Rome and now children and adults can see it come back to life through Augmented reality Goggles!
The goggles allow you to see the circus as it used to be and they are a fun way to learn and involve the kids in a visit to a site that may be, otherwise, of little interest for children.
You can read our review of the Circus Maximus experience here.
Visit the Baths of Diocletian's
The Baths of Diocletian are colossal thermal baths in Rome City center dating from imperial times.
They are wonderful to visit with kids as they have a mix of indoor and outdoors spaces, they are huge in height (they will make an impression!) but do not require too much walking – perfect child-sized attraction!
You can read my guide to Diocletian's Baths here.
Additional resources for October in Rome
Some Rome guides you may find helpful:
I hope you enjoyed this overview of Rome in October. Safe travels! 
This post was originally written in 2019 and has now been fully updated.