How can you see Rome in two days? Is there a good 48 hours in Rome itinerary I can follow? This is our best itinerary to see Rome highlights in just 2 days. Updated November 2021.
Two days may seem a really short time to see a city as rich in attractions as Rome.
However, with a well-planned itinerary, you can see a surprising amount of Rome sights in 48 hours, and leave the city with a sense of having actually seen Rome, rather than just having flown by.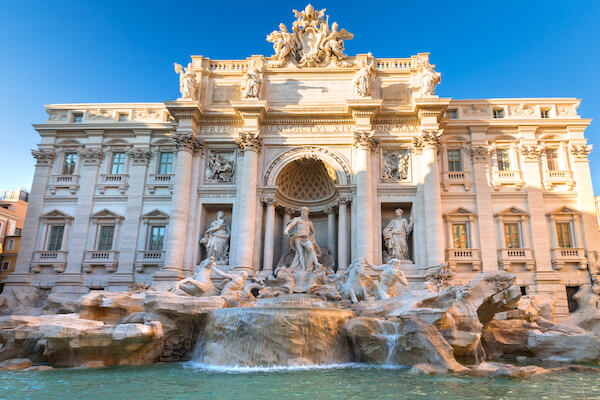 There are two main things to keep in mind when visiting Rome with limited time available.
The first is that you will walk A LOT, so good shoes are essential!
The second is that you will have to compromise on something: it may be a museum, a leisurely lunch, saving money, or a relaxed pace!
That said, I think two days in Rome are always worth it, especially if you plan your time well, which is what I am hoping to help you do with this Rome travel guide.
This is how we recommend you organize your time over 2 days in Rome, compromising as little as possible as seeing as many Rome must-see sites as possible (within reason!).
2021/2022 Need to know! Due to the current situations, special regulations are in place about access to attractions and indoor restaurants. Check official sources immediately before you two days in Rome for the most up to date requirements that may affect your trip.
Rome in 2 days: are you on Pinterest? Pin this!
Please note: this post contains affiliate links and, should you make a purchase through them, we might make a small commission at no extra cost to you.
How to see Rome in two days itinerary at a glance
The table below will show you quickly how your two days in Rome will look like.
Whenever relevant, I have added links to my recommended ticket/ tour provided.
I have also included how long you are most likely to spend in each area and my favorite food places. You can find many more ideas on what and where to eat in Rome in my guide to Rome for foodies.
I recommend you also check out our guide to planning Rome sightseeing to get an idea of distances between the attractions mentioned.
| | | |
| --- | --- | --- |
| Time | Attraction | Ticketed |
| 9.00 | Parco Colosseo: Colosseum, Roman Forum, Palatine Hill | Yes |
| 12.00 | Coffee break at Cafe Cafe or Terrazza Italia | n/a |
| 12.30-1pm | Piazza del Campidoglio and View over the Roman Forum | n/a |
| 1pm-2.30pm | Lunch in Antica Birreria Peroni | n/a |
| 2.30- 7pm | Via del Corso/Via Condotti shopping area, Spanish Steps, Pantheon | n/a |
| 7pm | Aperitivo at Divinity Terrace Pantehon | No, but booking is recommended |
| 8pm | Dinner at La Ciambella | No, but booking is recommended |
| after dinner | Trevi Fountain | n/a |
| Day 2 | Attraction | |
| 9.00 | Vatican City | Yes |
| 1.00 pm | Lunch at Pastificio Borghiciana | n/a |
| 2.30pm – 7pm | Piazza Navona, Cobbled Streets + gelato in Gelateria del Teatro | n/a |
| 7pm | Aperitivo in Campo de' Fiori | n/a |
| 9pm | Dinner at Tonnarello in Trastevere | No, but booking is recommended |
Where to stay if you have 2 days in Rome
if you only have two days to see Rome, being in the city center is essential.
The best area to stay in Rome is the Pantheon/Piazza Navona area, closely followed the Monti District.
The best honest for two days in Rome are:
The Fifteen Keys hotel – 4 star boutique hotel in the Monti District
Otivm Hotel – 4 star boutique hotel near Piazza Venezia with a stunning rooftop terrace
Hotel Kolbe – 4 star hotel close to the Colosseum and the Roman Forum
You can find here >>> more recommendations for hotels near the Pantheon.
Itinerary: Day One of two days in Rome – morning
All my Rome itineraries start from the Colosseum and this one is no exception.
The Colosseum makes an ideal starting point for a walk into the city center and is best visited early in the morning when queues are smaller and the air fresh.
Also, what can be better than starting a visit to the Eternal City than getting to know ancient Rome?
A visit to the Roman ruins is literally a walk through Rome history from Republican times to the splendor of the Roman Empire
The Colosseum and the Roman Forum are beside each other and you can visit both inside (in which case, factor in about 3 hours) or even just stroll along them.
If you decide to visit, make sure you arrive early or even better get a skip the line ticket or your.
There are many tickets you can choose from (guided, self guided, arena only, arena + underground, family tickets, etc): I have detailed all the options in this guide to the best tickets to the Colosseum.
Overall, you should schedule about 3 hours to see Parco Colosseo.
You can easily spend a lot longer here but with three days in Rome, I believe 3 hours will be a good compromise between a decent visit and time for other areas.
Top Tip! When visiting ancient Rome, make sure you also climb up to the top of the Palatine hill, just above the Forum.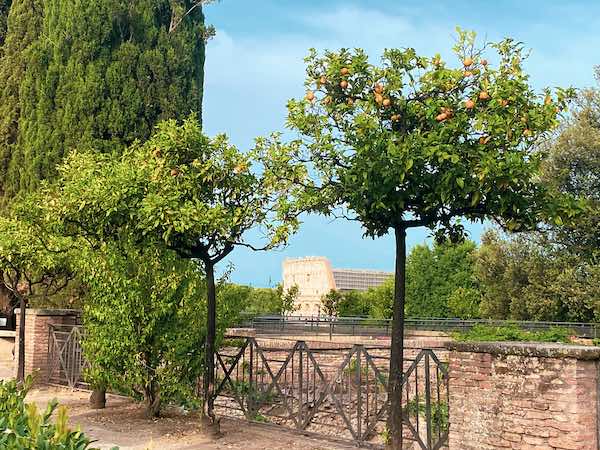 The climb is easy and the view at the top marvellous, you can even catch a view of St Peter's Dome!
You can find here >>> my complete guide to the Palatine Hill and some photos that will show why I consider it unmissable.
The closest metro station to the Colosseum, Roman Forum and Campidoglio / Piazza Venezia is: Colosseo.
Coffee break at Vittoriano
No matter how you decide to visit this area of Rome, chances are after all that walking you will feel like a coffee break.
I recommend you take the short walk to Piazza Venezia and climb up to the second storey of Vittoriano, the tall white building towering over the piazza.
Il Vittoriano is the Altar to the Fatherland and it is an interesting attraction to see up close.
Access is free up to the second floor, where you find Terrazza Italia: this is a panoramic terrace bar with stunning views over Ancient Rome.
It is breathtaking and serves coffee at a pretty decent price point, considering the location. I highly recommend it.
Campidoglio Hill and lunch
The last attraction to see before lunch is stunning Campidoglio Hill, one of the most scenic locations in the whole of Rome.
Campidoglio is one of the seven hills of Rome and it is worth a visit on several accounts.
As you climb up, you first notice the beautiful Renascence square, Piazza del Campidoglio.
Designed by Michelangelo, it is one of the most beautiful squares in Rome and it hosts a the equestrian statue of Marcus Aurelius, one of the most important statues in Rome (it is a replica, the original is in the Capitoline Museums, on the same square).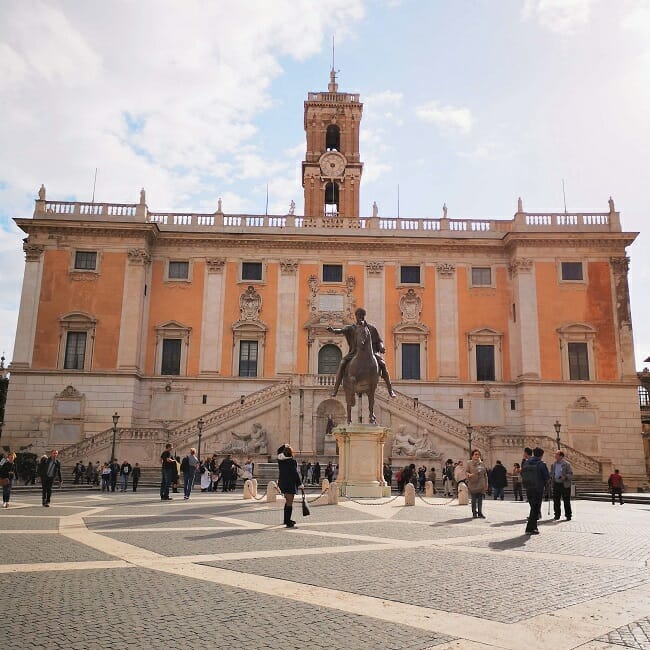 Behind the piazza, you find a panoramic terrace with breathtaking views over the Forum, one of the best photo spots in Rome!
Lunch
As you climb down Campidoglio, you find yourself in the heart of Rome City center.
Lunch places abound here: some to try are casual Antica Birreria Peroni and the restaurants at the top of La Rinascente shopping mall, which include a panoramic terrace, a cafe, a pizzeria and a Japanese-Brazilian fashion rests.
Day one afternoon: Pantheon + Rome's famous cobbled streets
Don't order coffee at the end of your meal but rather, head to the Pantheon, nearby.
Here, you can take in the beauty of this icon building and surrounding area while munching on a granita di caffe' from Caffe Tazza d'oro, one of the best coffee places in the whole of Rome!
A visit to the Pantheon won't take more than 20 minutes but this area is gorgeous and worth a full afternoon.
Wonder in and out of its cobbled streets, explore churches and go shopping along Via del Corso at your own pace and allow yourself to get lost in the heart of Rome.
Aperitivo and dinner
Before you leave this area, I recommend you have aperitivo at the fantastic Divinity Terrace at the iconic Pantheon Hotel, one of the best rooftop terraces in Rome!
After your drink, relocated to nearby La Ciambella for dinner.
After dinner: Spanish steps and Trevi fountain
The evening is a wonderful time to visit two of Rome's most iconic sites: the Spanish Steps (Piazza di Spagna) and the Trevi fountain, the most famous and one of the most beautiful fountains in Rome.
At this time of day, these attractions see a fraction of the crowds that make them so unpleasant during the day and truly sparkly in the city's evening light.
I always recommend to come here after dark: it is one of my favorite things to do in Rome at night!
2 days in Rome itinerary – Day 2 morning: the Vatican
I believe the morning of your second day in Rome should be devoted to St Peter's Square and basilica.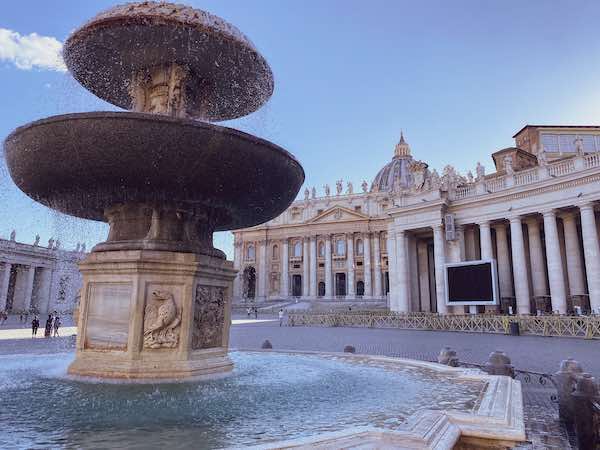 This is a gorgeous part of the city and I recommend planning a full morning to see it.
Piazza San Pietro and the church are both stunning and truly, something you should make sure to include in your 2 days in Rome itinerary.
The square is a vision of light and architectural perfection and the church so big and elaborate, you will never forget its baroque splendor!
You can visit the square and St Peter's basilica only, in which case the time you need will largely depend on the security line to enter, or you can visit the Vatican Museums too or even climb the dome if you are not afraid of heights.
You can find my tips for visiting St Peter's Basilica and highlights here.
If visiting the museum, plan at least a full morning and get reserved entry or skip the line tickets: I highly recommend booking a tour as the crowds are unbearable and you are unlikely to understand or see much without an experienced tour guide.
Check this tour for an idea of price, availability and area covered
Please be advised that the Vatican enforces a dress code for visitors to both basilica and museums: you can find here >>> the dress code for the Vatican
Good to know: if you don't feel like tackling the Vatican Museums, you can still enjoy a day at the Vatican. This is my guide to things to do in Vatican City that are not the Vatican Museums.
A fun fact: Vatican City is an independent state and walking into it means you are crossing an international border. There is no border control but few things give it away; the Swiss guards, protecting the Vatican in their colorful uniforms, and the Vatican post boxes. They are yellow, while those in Rome are red!
Lunch in Borgo
After visiting the Vatican, have lunch in the lovely area surrounding it: Borgo.
Make your way towards Castel St Angelo (the Mausoleum of Emperor Hadrian, turned fortress and now a museum) along the side streets and pick one of the many restaurants available.
While on the main road hey are mostly tourist traps, here you have some lovely, small ones such as the Borghiciana Pastificio Artigianale which is tine but makes lovely pasta dishes.
Day 2 afternoon – Piazza Navona and Campo de' Fiori
Cross the river back towards Rome city centre and spend the afternoon exploring two of the most famous piazzas in the city: Piazza Navona and nearby Campo de Fiori.
Piazza Navona is the center of monumental Rome and is an incredible place to see for art lovers especially thanks to the masterpieces by Bernini and Borromini.
The stars of the show here are the Fountain of the four rivers and the church of Santa Agnese in Agone, just in front, but there is more to Piazza Navona than meets the eye.
This square was the old stadium of Emperor Domitian and stayed at the center of Rome's daily life as a market and social space for centuries (it even used to get flooded and turned into a lake to entertain Rome citizens until the XIX century!)
You only need a few minutes to visit Piazza Navona; however, this area is full of wonderful small cobbled streets so I highly recommend you allow yourself to get lost and spend some time here.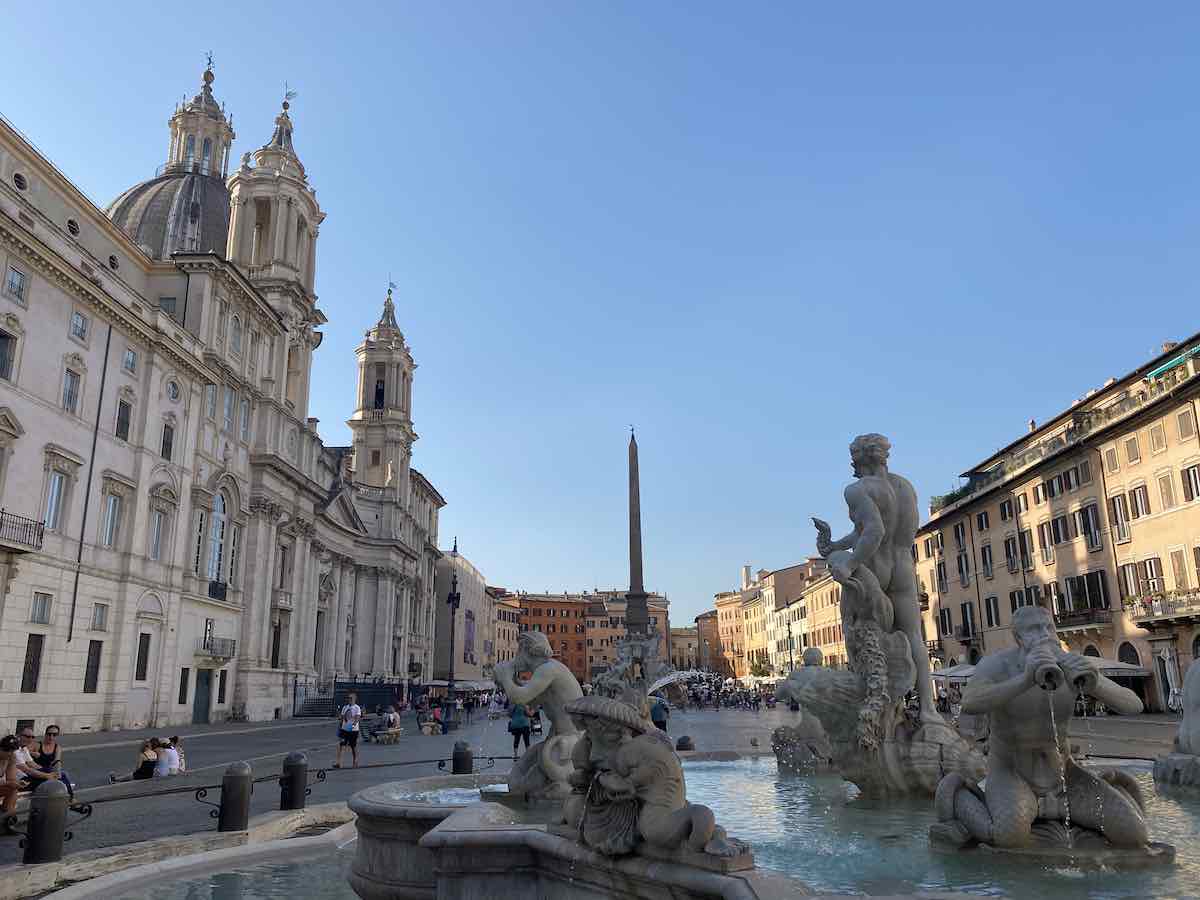 You also find here many pretty shops, especially if you cross Corso Vittorio and head to Via del Governo Vecchio.
Aperitivo in Campo de' Fiori
Campo de' fiori has a less monumental and more buzzy feel than Piazza Navona and has a plethora of cafes and wine bars where roman and tourists alike sit people watching as the day draws to an end.
Come here for a pre-dinner drink and then get ready for the last stop of your two days in Rome: Trastevere.
Dinner – Trastevere
From Campo de Fiori, drag your tired limbs across the river and enter the work of Trastevere, one of the most charming neighborhoods in Rome.
Trastevere was for the longest time considered a 'hidden gem' but to be honest: there is nothing hidden about it any longer, the place is packed!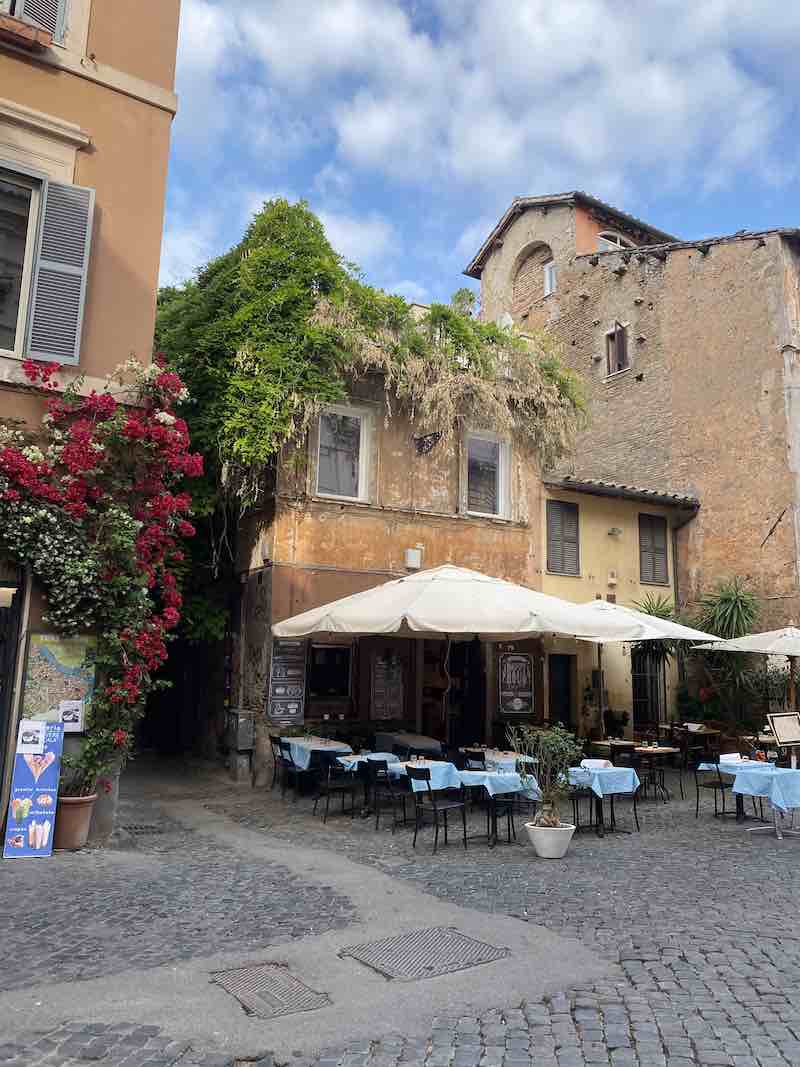 Tourists discovered Trastevere years ago and you hear as much English spoken here as Italian.
However, it is still a lovely part of town for an evening stroll and a great place for pizza and pasta, especially if you move slightly away from the stunning yet busy Piazza di Santa Maria in Trastevere.
You can find here >>> my recommended Trastevere itinerary
Trastevere is know as a foodie area: head to Dar Poeta for Pizza or Tonnarello for pasta for a perfect last night in Rome
Two days in Rome: travel tips
Make sure you book in advance both the Colosseum and the Vatican, if visiting.
Wear comfortable shoes – you can find my recommended shoes for Rome here.
Wear comfortable yet modest clothing if you want to visit churches – most do not enforce a dress code but many do. Avoid very short shorts and revealing tops if church hopping is on the agenda.
Allow yourself to get lost! While I have given here a detailed itinerary, I highly recommend you also stray from it.
This itinerary is suitable for all travellers who don't mind walking. If you are visiting with kids, however, I recommend you read our recommended 2 days Rome itinerary for families instead.
As you will see, most areas mentioned here are close to each other and you won't stay lost for long!
I hope you enjoyed this Rome 2 days itinerary and it helped answer the question: how can I see Rome in two days?