Rome for foodies: a comprehensive guide to the best food in Rome for foodie visitors who want to taste the very best of Rome traditional food and specialties.
Rome is one of the culinary capitals of the world.
The birthplace of world-renowned dishes such as carbonara and veal saltimbocca alla romana, Rome offers to its foodie visitors a huge variety of foods to taste and enjoy.
You will find traditional Roman food, of course, in authentic trattorias with Roman specialties, but you will also find many modern interpretations or Rome cuisine classics and, more and more, international restaurants offering dishes for the most varied parts of the world.
If you love food, Rome will be a slice of heaven.
I am from Rome, I was born and bred in the city and I love to see the expression of delight when my friends from abroad tuck into a real Roman dish.
There truly is nothing like them.
As good a carbonara as you may find aborad, you will never find it as good as in Rome and the same goes for cacio and pepe and many other recipes, very often misunderstood outside of the city (even in Italy).

In this guide, I am going to share my best tips to enjoy the best food in Rome.
We will cover what traditional roman food is, where to eat the best traditional food in Rome, why we all adore Roman Jewish cuisine and also the best food tours to sample the best food in the eternal city.
This is my local guide to Rome for foodies!
Please note: this post contains affiliate links and, should you make a purchase through them, we might make a small commission.
What to eat in Rome: traditional Rome foods you need to know
Before we dive into where to eat in Rome, let's look at what to it in Rome with an overview of Rome's traditional foods.
Rome Appetizers
Carciofi alla Giudia – deep fried artichokes, served whole, a traditional Roman appetizer from the Jewish tradition
Carciofi alla Romana – pan-fried artichokes served with a hint of mint
Bruschetta – grilled bread served with garlic, olive oil and fresh tomatoes/pates
Fiori di zucca fritti – battered zucchini flowers
Suppli al telefono – fried rice balls
Baccala – battered fried cod
Find here >>> my complete guide to starters and appetizers in Rome
Rome traditional 'primi' (pasta main courses)
Carbonara – the most famous of all pasta dishes from Rome, carbonara is made with eggs, guanciale and pecorino Romano (and rigorously no cream!)
Gricia – also known as ;white carbonara' pasta alla gricia is made with pecorino romano and guanciale
Cacio e pepe – as the name suggests, a simple yet delicious pasta dish made with black pepper and pecorino romano
Amatriciana – originally from the town of Amatrice near Rome, this is a famous pasta dish with tomato sauce and guanciale
Gnocchi di semolino – the Rome interpretation of gnocchi is made with semolina and cooked in the oven. A delight!
Find here >>> my guide to traditional Rome pasta dishes
Secondi piatti (meat dishes from Rome)
Saltimbocca alla romana – veal saltimbocca cooked with sage and han
Pollo coi peperoni – chicken with bell peppers
Trippa – tripe, a lot tastier and nicer than it may seem!
Abbaccio scottadito – grilled lab chops Roman style
Coda alla vaccinara: ox tail
Straccetti – thin strips of beef served with arugula, parmesan and cherry tomatoes
Side dishes
Spinaci all'agro – sauted spinach with fresh lemon dressing
Puntarelle alla romana – chicory with anchovy sauce
Rome Desserts / end of meal courses
Pecorino con le fave – pecorino cheese with broad beans
Torta ricotta e visciole – cake with sweet ricotta filling and sour cherries
Rome Breakfast specialties
Breakfast tends to be a quick meal in Rome, often gobbled up at the bar on the way to work.
Some traditional breakfast foods from Rome, however, exist and they are delicious:
Maritozzo – sweet bread roll filled with whipped cream
Cornetto – an Italian as well as a roman staple breakfast food, similar in shape to French croissant but less buttery and sweeter
Find here >>> my complete guide to breakfast in Rome
Rome street food
In Rome, we do not really eat while walking so I somewhat resist the concept of 'Rome street food' as I believe it may give a wrong impression about what to expect.
In Rome, you do not find people leisurely eating while walking and you do not really find food trucks serving what is commonly described as street food from Rome.
What you do find is shops selling take-out specialties people bring back to their office or eat quickly perched on near stools in or outside the said establishment.
Delicious examples of Rome street foods in this sense are:
Pizza bianca – very different from the round pizza you get at dinner time, you buy pizza bianca at forno (bakery) shops and you eat it alone or stuffed with mortadella.
Pizza con la mortazza as we would call it in Rome is a super simple and absolutely delicious bite!

Pizza al Taglio – this is not the round pizza you have for dinner in sit-down pizzerias but pizza sold by the slice.
It comes in very many forms: plain pizza with just oil and rosemary, with tomato sauce, Margherita, con le patate (Pizza with mozzarella, potatoes and rosemary), vegetables, cheese and ham and more.
Suppli – usually sold in the same pizza places that serve pizza al taglio, they are a delicious snack and, in their original form with chicken liver, typically roman.
In recent years the addition of chicken liver to the sauce has fallen out of popularity but if you find the real thing, it truly is delicious!
Pinsa Romana – Pinsa Romana is a type of food that came to the scene a few years ago and took Rome by storm.
Easier to make than traditional roman pizza, pinsa romana is a small pizza base served with different toppings, made with a variety of grain and usually not cooked in a wood fire oven, an element that explains why so many restaurants and even cafes are able to offer it regularly.
Pinsa Romana is oval in shape and you often find it describes as 'traditional roman pinsa'.
It is a new food and it has nothing traditional.
However, it si delicious and you do find it in Rome, so I include it in this list!
Gelato
Gelato is the quintessential Rome street food and also the one food you indeed eat while walking around!
Gelato is not just the Italian word for ice cream and the difference between the two is obvious as soon as you give the first lick to your Rome gelato.
Gelato is made at a much higher temperature than ice cream, it is smoother and less fatty.
In its best versions, it is made with fresh and seasonal ingredients and the creams are made with pasteurized eggs and milk. In recent years, gelato makers have expanded their offering with lactose-free gelato options and egg-free flavors, making gelato a delicious option also for people who suffer from food intolerances.
Grattachecca – lesser know abroad than gelato, this is a real Rome specialty!
Made with shaved ice and syrup, grattachetta is a super refreshing summer food in Rome that is unique to the city.
Only a few places make it nowadays but it is simply a must-have if you are a real room foodie! You can learn all about grattachetta and where to get it here
Best Food Tours in Rome
One of the best ways to sample Rome food is by taking a food tour of the city.
While you do not need a tour to taste nice food, especially if you have this guide, Rome food tours are excellent to taste a large variety of foods if you only have a limited amount of meals in the city.
They are also a fantastic opportunity to chat with local restauranteurs and food experts who will be able to give you some background about their foods that you would simply miss out on as a regular guest.
Last but not least, Rome food tours may bring you to areas you may otherwise not see in Rome and offer the chance to meet like-minded travelers who love food and want to break bread together.
An evening food tour is one of my favorite things to do in Rome at night.
Rome street food tour with a local guide by Get Your Guide: a 2h tour that mixes a walking tour of the city with the sampling of delicious Roman foods.
The tour includes specialties such as supplì, pizza, gelato and Rome-Jewish specialties and, in some establishments, a tasting of wine and beer.
Some dietary requirement are catered to but please check the small print for exceptions.
4h Traditional Food tour of Rome with wine tasting by Enjoy Rome: a longer food tour of Rome that will bring you to some of the most famous foodie corners of Rome such as Campo de' Fiori and Trastevere.
3h Trastevere Food Tour by Civitatis: a fantastic food tour of Trastevere, a neighborhood traditionally considered the best foodie district in Rome
Trastevere and Ghetto private food tour: the areas of Trastevere and Ghetto, the Jewish Quarter of Rome, are among the best places in Rome for foodies.
This tour leads you to discover the best of them, while also showing some of the prettiest and most scenic locations in Rome.
Rome food tour by night: a 4-hour tour and a wonderful way to spend an evening in Rome for foodies who want to taste the best Rome has to offer.
Espresso, gelato and Tiramisu tour of Rome by Gourmetaly: a fantastic tour in Rome City center that will have you taste amazing coffee, granita (the best!), gelato and tiramisu with a local guide, who will also show you some of the best attractions in Rome
Food and market tour of Rome with tasting: a wonderful food tour with plenty to eat and a fun way to discover the real foodie side of Rome
The best cooking classes in Rome
Another fantastic way to taste and lear about Rome food is by joining a cooking class.
Fantastic cooking classes in Rome for foodies are:
Pasta and Tiramisu workshop with dinner: while Tiramisu is not from Rome, it is one of the most popular desserts you can find in the city.
This class teaches you how to make it at home and will also teach you to make pasta from scratch, before having you sit down and enjoy the results of your cooking endeavors!
Pasta, ravioli and tiramisu cooking class: a fantastic cooking class with lots of food, kid-friendly (not for kids as such but children are welcome).
Pasta making class: fun and interesting pasta making class in Rome City center
Pizza-making class for kids: a super fun pizza-making class in a real Rome pizzeria, just for kids (parents also cook but the class is aimed at children – read our review here: we loved it!)
The best areas in Rome for foodies
You can find delicious food all around Rome however, there are three main areas all foodies in Rome should have on their radar.
Trastevere
A wonderful, charming area on the other side of the river Tiber from the historical center (trans-Tevere means 'on the other side of the Tiber), Trastevere is a place full of restaurants and cafes, regularly mentioned as a foodie paradise.
There is a lot to see and do in Trastevere and this includes food but also churches and piazzas.
Find here >>> my recommended Trastevere itinerary
Testaccio
Testaccio is another fantastic neighborhood in Rome for foodies, with restaurants, drinking establishments and markets.
Testaccio is where you find some of the best pasta in Rome (see below) and where you will also find interesting buildings such as Rome's Pyramid.
Jewish Quarter (Ghetto)
The Jewish Quarter of Rome is in the city center and it is one of the best places in Rome for foodies.
The Jewish cuisine of Rome has delicious specialties and is what gave to the city some of its most praised specialties such as carciofi alla giudia and it is also a very beautiful and historically significant area with gems such as Marcello's theater, Octavia's Portico and the Rome Synagogue.
Other areas in Rome for foodies
Other fantastic areas for food lovers in Rome are a little off the beaten path but worth seeing for an authentic experience.
Some worth seeking out are Monteverde, Garbatella, Trionfale and Trieste, all also fun to visit if you like discovering lesser known places in Rome.
The best food markets in Rome
Rome has some wonderful food markets. The most traditional and authentic are those called 'mercati rionali' an expression that translates into 'neighborhood markets'.
These are the markets where fresh produce gets sold directly from producers and while many of them have started to disappear, some others have known huge success recently.
Some worth seeking out are:
Mercato di Testaccio – Via Aldo Manuzio, 66b, 00153 Rome, fantastic food market in one of the areas of Rome with the best traditional restaurants
Mercato Trionfale – Via la Goletta, 1 – fantastic food market in the Vatican Area
Mercato Campagna amica – open on Saturdays – Via di S. Teodoro, 74, 00186 Rome, near Circo Massimo
Mercato Esquilino – Via Filippo Turati, 160 – one of the most varied in Rome in terms of produce available
Mercato Rionale Nomentano – Piazza Alessandria – small yet historical food market you can visit with the nearby Coppede' District
Good to know! One of the most famous markets in Rome is in Campo de' Fiori, a scenic square in Rome City center. This market used to be fantastic but, over time, it has gotten more and more touristy: while it is anyway worth seeing, for location, I do not consider it anymore one of the best markets in Rome. Local ones are often better.
Where to eat in Rome
A comprehensive guide of good restaurants in Rome would be impossible to compile, so I am limiting this list to what I consider the best of the best!
The best carbonara in Rome
Mimi e Coco – Via del Governo Vecchio 72, 00187 Rome (city center). No reservation possible, delicious carbonara at small tables on an atmpsheric Rome city center street
Roscioli Salumeria con Cucina – via dei Giubbonari, 21 (City Center) – www.salumeriaroscioli.com An addressed loved by locals and visitors right between Campo de' Fiori and Ghetto
Hosteria Grappolo D'Oro – piazza della Cancelleria, 80 (City Center) – www.hosteriagrappolodoro.it A fantastic restaurant near Campo de' Fiori specialising in KM0 foods.
You can make carbonara at home following this traditional carbonara recipe.
The best cacio e pepe in Rome
Da Felice a Testaccio – Felice, Via Mastro Giorgio, 29 – regularly mentioned as the very best cacio e pepe in Rome and indeed an absolute must-try for a real cacio e pepe experience
Flavio Al Velavevodetto – Flavio al Velavevodetto, Via di Monte Testaccio, 97 – also in Testaccio and a Rome institution
Tonnarello – Piazza della Scala 19, Trastevere – limited reservations available online but the queue moves fast.
Cooking cacio e pepe is a bit of an art! Find the real cacio e pepe recipe here.
The best pasta alla Gricia in Rome
Cesare al Casaletto – Via del Casaletto, 45 – makes a delicious gricia and offers a choice of pasta shapes and styles
Armando al Pantheon – Salita dei Crescenzi – a traditional city center address for a Rome staple.
Learn what goes into a perfect pasta alla Gricia in our Gricia recipe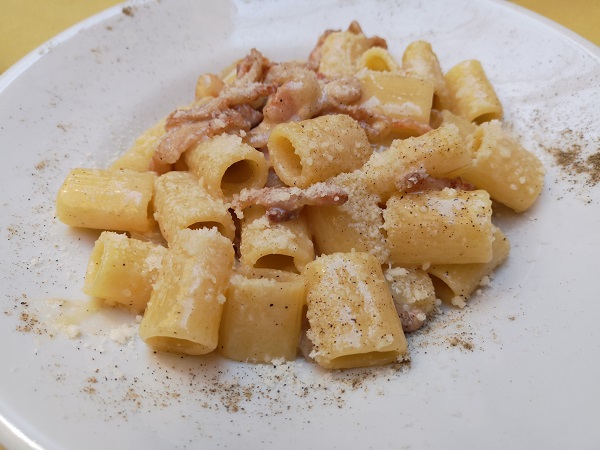 The best pizza in Rome
Too many addresses to choose from!
Whether you are looking for thin Roman pizza, thick crust Neapolitan pizza, gluten-free pizza or gourmet pizza, you will find it in our guide to the best pizza in Rome.
The best gelato in Rome
My two very favorite gelato addresses in Rome are:
I Gracchi – several locations, find them here
Come il Latte – Via Silvio Spaventa, 24/26, 00187 Rome, close to Via Veneto
You can find many more delicious gelato place in my guide ot he best gelato in Rome with center.
The best Tiramisu in Rome
Pompi – several locations, find them here
Mr 100 Tiramisu – Via dei Sediari, 11/12, 00186 Rome, near the Pantheon
The best coffee in Rome
The best places for coffee in Rome are:
Sant'Eustachio il Caffe' – Piazza di S. Eustachio, 82, 00186 Rome
Tazza d'Oro (specifically for Coffee granita) – Via degli Orfani, 84, 00186 Roma
If coffee is your thing, I highly recommend you take this espresso, gelato and tiramisu' tour: I did, and it brought me to great coffee places and thought me background facts about coffee I hugely enjoyed!
The best vegan food in Rome
The most traditional food of Rome is not vegan friendly.
Most Rome specialties come from the products the shepards of Lazio would produce easily and this means you find a lot of eggs, cheese and pork in almost all dishes.
However, things have changed and now you have some great vegetarian and vegan restaurants in Rome. Some to try are:
Ops – Via Bergamo, 56, 00198 Roma
Ma Va' – Via Euclide Turba, 6/8, 00195 Rome
Margutta Vegetarian food&art – Via Margutta, 118, 00187 Rome
The best restaurants in Rome for traditional Roman dishes
Fantastic restaurants in Rome for an all-around great Roman meal are:
Roscioli Salumeria e Cucina – Via dei Giubbonari, 21, 00186 Rome – also perfect for wine tasting and cooking classes
Lola Roma – Via Flaminia, 305, 00196 Rome – lovely restaurant with a fantastic outdoor space and delicious food, also perfect for groups and families
Felice a Testaccio – Via Mastro Giorgio, 29, 00153 Rome – great traditional address in one of the best foodie neighbourhoods in Rome
Cul de Sac – Piazza di Pasquino 73, 00186 Rome – traditional wine bar with hearty, delicious food beside Piazza Navona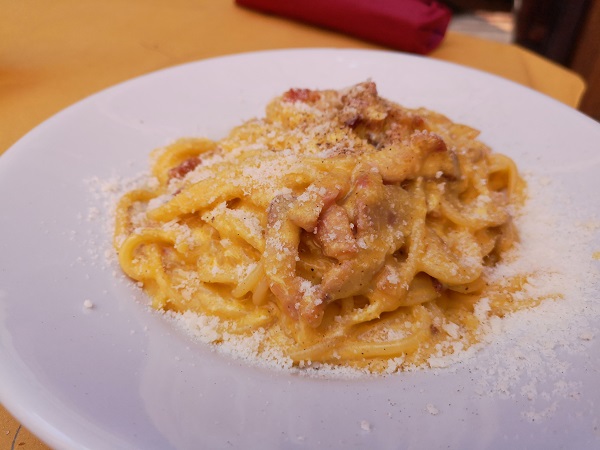 The best restaurants in Rome for families with kids
Lola – my favorite family restaurant in Rome is Lola.
Located on Via Flaminia, close to the excellent Explora Children Museum, it has both indoor and outdoor seating, a small playground and a fantastic menu with delicious for adults and kids.
Tonnarello – lovely for a pasta meal in Trastevere, they offer high standard pasta, kids menus and coloring gear for little ones
Vivi Bistrot – a great address for lunch in Piazza Navona or in Via Doria pamphili
Find more >>> family friendly restaurants in Rome City center <<< here
Recommended Rome Restaurants shortlist (my favorite places!):
La Ciambella – Via della Ciambella (Pantheon are) pretty, upscale yet relaxed restaurants with delicious dishes and wine
Mimi e Coco – Via del Governo Vecchio 72, 00186 Rome (Piazza Navona area) my favorite address for carbonara specifically. Order it with a glass of Gewurtztraminer wine and followed by tiramisu for a perfect dinner
Cul de Sac – Piazza Paquino 73, 00186 Rome (Piazza Navona area) wine bar with kitchen, perfect for a relaxed dinner. Lasagna, meatballs and cheese platter from Lazio are the best picks
Grappolo d'Oro – Piazza della Cancelleria 80, 00186 Rome – excellent for their 'Percorso Romano' tasting menu
Tonnarello – Via della Scala 19-21 00153 Rome, for tonnarello pasta dishes especially
Il Datterino Giallo – Piazza Ledro 1, 00198 Rome (Coppede' District) excellent local restaurant with both pizza and restaurant dishes
Pepe Verde – Viale Gorizia 38-44, 00198 Rome (Coppede District) excellent cooked dishes mixing tradition with a modern twist; nice salads and dessert. Pizza also available but average (the rest of the food is outstanding)
Berbere' – Via Mantova 5, 00198 Rome, specialty pizza with yeast-free dough (evening)
Roscioli Salumeria e Cucina – Via dei Giubbonari, 21, 00186 Rome – also perfect for wine tasting and cooking classes
Lola Roma – Via Flaminia, 305, 00196 Rome – lovely restaurant with a fantastic outdoor space and delicious food, also perfect for groups and families
Felice a Testaccio – Via Mastro Giorgio, 29, 00153 Rome – great traditional address in one of the best foodie neighbourhoods in Rome
Da Enzo al 29 – Via dei Vascellari, 29, 00153 Rome – traditional dishes in welcoming surorundings
Roma Sparita – Piazza di Santa Cecila 24, 00153 Rome, lovely traditional restaurant in one of the prettiest piazzas in Trastevere
Emma Pizzeria – Via del Monte della Farina, 28, 00186 Rome, simply: one of the best pizza places in Rome
Naumachie – Via Celimontana 7, 00184 Rome, nice, traditional, relaxed restaurant near the Colosseum
What to drink in Rome
In Rome, you can find all the most famous Italian drinks, ranging from nonalcoholic aperitivo drinks to wine and spirits.
These drinks are not originally from Rome but are popular orders.
Drinks to try in Rome are:
Caffe' – Italian espresso, served in small cup, one shot
Cappuccino – the original milky coffee, one shot of espresso, foamed milk, big cup
The' Freddo – ice tea, flavored with milk or peach, very popular in summer
Crodino – non alcoholic aperitivo drink with a distinctive orange color
Campari soda / Aperol soda – almos non alcoholic version of Campari and Aperol, respectively
Aperol Spritz / Campari Spritz: Aperol or Campari with prosecco
Negroni: strong cocktail with Campari, Gin and Martini
Beer: some of the best Italian beer to try in Rome are Menabrea, Moretti (play and flavored), Ichnusa and Birra del Borgo Lisa.
Non alcoholic Moretti Zero Beer is also delicious and is a good alcohol free option for beer lovers in Rome.
Wine – you find in Rome a huge variety of wine options in restaurants and enoteche, the Italian name for 'wine bar'
The best aperitivo in Rome
Aperitivo has become a huge tradition in Rome in recent year. Originally more popular in Milan than in the eternal city, recently Romans have fully embraces this tradition and you find fantastic aperitivo places in several area of Rome.
Some I love are:
Hummus – Via della Madonna ai Monti 108, 00186 Rome – also one of my favorite rooftop terraces in Rome!
Casadante – Piazza Dante, 8, 00185 Rome – great for aperitivo or dinner
Caprera Roma – Piazza Caprera 00198 Rome – lovely aperitivo place under a traditional portico in Rome's Piazza Caprera
Mediterraneo at Maxxi – Via Guido Reni, 4 A, 00196 Rome – lovely outdoor restaurant in the grounds of the Museum of the Arts of the XXI century
Cugino Restaurant at Hoxton hotel Rome – Largo Benedetto Marcello, 220, 00198 Rome – lovely indoors and outdoors with a relaxing mid-century decor
Rome for foodies – Pin this Rome food guide and bring it with you while exploring Rome!