All you need to know to visit Trastevere Rome: why to visit the Trastevere neighborhood, what to see, how to get there, where to eat in Trastevere and hotels in the area you will love.
Trastevere is one of the most scenic neighborhoods of Rome.
Named after its geographical location, on the 'other side' of the River Tiber from Rome old center (lit. Trastevere means trans-Tevere, where Tevere is the Italian name of the Tiber), Trastevere has pretty cobbled streets, charming piazzas, beautiful churches and a plethora of restaurants and wine bars.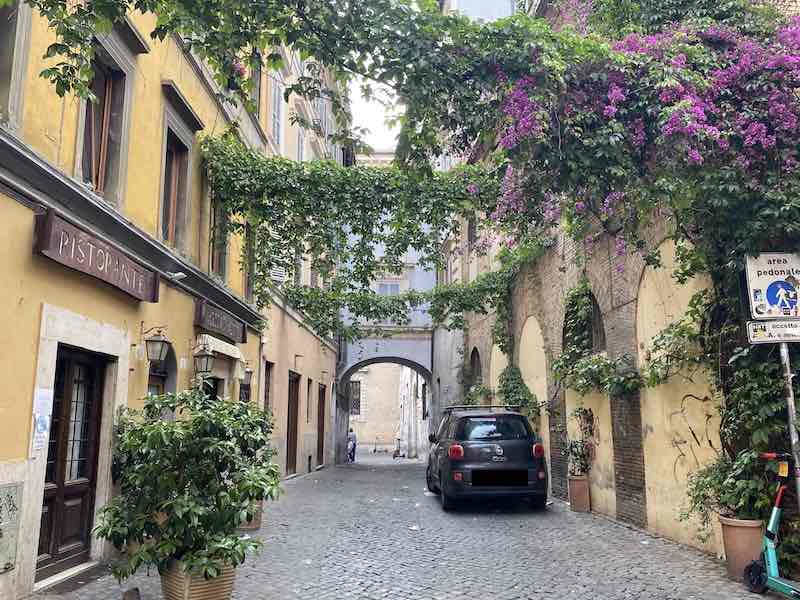 Often mentioned as one of the most authentic neighborhoods in Rome and a place where to experience the 'real' Rome, Trastevere is a beautiful and exciting place.
While nowadays most of Trastevere is far from being a hidden gem, some parts of it are still fantastic, charming and with a soul that is typically Roman.
I recommend you spend an afternoon and an evening in Trastevere as part of your Rome itinerary.
This will allow you to see some of Trastevere's must-see sites, experience its peculiar atmosphere and enjoy its many restaurants.
Trastevere is an area famous for traditional Roman food and as one of the places with the best pizza in Rome.
This is what to see in Trastevere and my recommended Trastevere itinerary.
Please note: this post contains affiliate links and, should you make a purchase through them, we might make a small commission.
Why visit Trastevere
Trastevere is a beautiful neighborhood in Rome worth visiting for its cobbled streets, medieval churches and delicious restaurants.
Unlike Rome city center proper, Trastevere is not grand and monumental but rather romantic and charming.
You won't find the Colosseum here, but you will find traditional Roman artisan shops, small alleys, arches, overflowing bougainvillea and some of the most romantic corners of Rome.
This is an area worth seeing if you want to experience Rome's cobbled streets, if you love an artsy feel and if you want to taste some of the best food in Rome.
If you are interested in a movie reference, this is a part of Rome that heavily features Woodie Allen's movie 'To Rome, with love' (read all about movies set in Rome here)
Where is Trastevere? Trastevere Map
Trastevere is a rather large area comprised between the River Tiber and the Janiculum Hill.
It is on the other side of the river from the Colosseum and Piazza Navona and on the same side as the Vatican and Castel Sant'Angelo, albeit to the south of these two landmarks.
The most famous Trastevere landmarks are Piazza Trilussa, Piazza Santa Maria in Trastevere, Piazza San Calisto and, on the other side of Viale Trastevere, Piazza in Piscinula and Piazza di Santa Cecilia.
These two are my favorite spots in the area: in the Trastevere itinerary I recommend below, I have included all these stops and more.
What to see in Trastevere
Trastevere is a beautiful area with some important landmarks and many beautiful streets.
The best what to visit the area is to have some locations in mind but to let your feet and curiosity wander: this is one of those places where the whole is more than the sum of its parts.
What to see in Trastevere is as enjoyable as the roads that lead you there!

The main Trastevere landmarks I recommend seeing are:
Piazza Santa Maria in Trastevere
Piazza Santa Maria in Trastevere is dominated by the church by the same name Santa Maria in Trastevere and a beautiful fountain just in front.
This is a popular hangout during mild summer evenings and one of the most beautiful and popular piazzas in Rome.
The church is medieval, and it is famous for stunning mosaics with few equals in Rome.
As you enter, your eye is drawn to the mosaics on the apse at the back of the main altar: the central part is Byzantine in style and shines in golden tones thanks to the many golden mosaic tiles that draw the incredible image of the Christ, Mary and several Popes.
Under the central mosaic, a series of smaller mosaics represent scenes from the life of the Virgin.
Art lovers will particularly cherish these smaller mosaics as they represent a rarely seen moment of passage between a more ancient iconography and one that will become dominant in the centuries to come.
Santa Maria in Trastevere is one of the most beautiful churches in Rome and one of the best places in Rome to see mosaics.
Trastevere's cobbled streets (vicoli)
Trastevere has many scenic small streets with cobbles, traditional houses and beautiful greenery.
Many of them are called 'vicoli': this is a generic Italian word to indicate small streets and it appears in the name of many of the roads in this area.
Some worth seeking out are Vicolo del Piede, Vicolo del Cinque, Via Titta Scarpetta, Via dell'Arco di San Calisto but the list is long.
To enjoy them, I recommend coming to this area with a bit of time on your hands and let the place guide you.
You cannot go wrong and, no matter where you end up, big Viale Trastevere is usually close enough for you to find your bearings again soon. You won't stay lost for long!
Basilica di Santa Cecilia church
The basilica of Santa Cecilia is a beautiful church in a quiet area of Trastevere.
Often ignored by tourists, who tend to gather around Piazza Trilussa instead, Santa Cecilia is a real Rome hidden gem.
In front of it, you have a pretty garden that works as a sort of green entrance into the church.
Inside, you find a beautiful altar and frescoes and, open to prebooked visits only, a stunning crypt dating from Roman times and incredible frescos by Cavallini representing the Last Judgement.
The church is one of the most beautiful in Rome and one of the most surprising: if you are an art lover, the visit to the crypt and the frescoes is a must but even just a wander around the church is worth it.
You can find contact info and address here
Artisan shops
Trastevere is one of the rare areas in Rome where you still find artisan shops and workshops.
Near Santa Cecilia, there is a great artisan leather workshop, excellent if you want to buy bags, and you can visit a stunning stained glass laboratory, which is unique.
Close to the botanical gardens, there is a fantastic mosaic shop and workshop worth seeing ad perfect for souvenirs.
These are all lovely addresses if you want to bring home a special Rome souvenir.
San Francesco a Ripa church
Farther down the road, you find in this area another beautiful church, that of San Francesco a Ripa.
This is particularly worth seeing if you love art as it has the Extasis of the Blessed Ludovica by Bernini, an annunciation by Salviati and the ashes of De Chirico.
Porta Portese market
At the far end of Trastevere if coming from Rome city center, you also find Port Portese, Rome's historic market.
The market happens every Sunday, it is large and, in the past, it was a place of great charm and bargains.
Now it is hit and miss but if you love markets and have a good eye, you can still stumble upon good finds.
Rome's botanical gardens (Orto Botanico di Roma)
Trastevere is home to Rome's botanical gardens, a wonderful green oasis belonging to Rome's university and open to the public.
The gardens are at the footsteps of the Janiculum Hill and have elegant greenhouses, a beautiful palm tree area and a Japanese Garden that, in spring, is one of the best places in Rome to admire cherry blossoms!
The gardens are ticketed but advance reservation is, usually not required. Kids under 6 go free.
Via Garibaldi, leading from Trastevere to Janiculum Hill
Via Garibaldi is a pretty street climbing from the lower part of Trastevere all the way up to the Janiculum.
It is a scenic, residential road and one of those places where you walk wondering what life must be like in such charming houses!
It is a lovely place for a walk and has some sites worth seeing: the church of San Pietro in Montorio and the Fontana dell'Acqua Paola at its top, one of the most beautiful fountains in Rome.
Need to know: this is a rather long street. A fantastic way to visit is to walk down from the Janiculum hill after catching the sunset there, on the way to dinner in Trastevere. The view from the top terrace is one of the most beautiful views of Rome!
Villa Farnesina and Palazzo Corsini
Villa Farnesina is a wonderful palazzo in Trastevere famous for frescoes by Raffaello.
The palazzo is a beautiful example of Renaissance architecture, worth seeing if in the area. On the same street, Via della Lungara, you also find beautiful Palazzo Corsini, home to the museum of ancient art.
Piazza San Cosimato
Piazza San Cosimato is a large square in Trastevere with a lovely children's playground, a famous gelato shop and a morning market.
This is not the most scenic square in the area but one that embodies more than many the dynamism of this part of the city.
The children's playground host a corner for the exchange of books and has a lovely community feel – this is one of the best areas to stop in Trastevere with kids if you need a little break from walking.
Nearby you will also find an eye-catching (pun intended) mural of eyes, looking at you from the walls of Ospedale Regina Margherita!
San Cosimato's Cloisters
The cloisters of the church of San Cosimato are now part of the local hospital and, as such, often missed by visitors but they are open to the public and stunning!
The two cloisters date from 1200 and 1400 and they are a perfect example of what Rome does best: use the most incredible ancient architectural spaces and make them part of daily life!
Piazza, chcurch and Ancient Pharmacy of Santa Maria della Scala
One of the prettiest piazzas in Trastevere is Piazza Santa Maria della Scala.
This is a small square with lovely eateries with outdoor tables and some interesting sights: the church overlooking the piazza and its pharmacy.
The old pharmacy of Santa Maria della Scala is just what the name suggests: an ancient pharmacy annexed to the church by the same name, that still maintains the architecture and décor of old time. Worth a stop.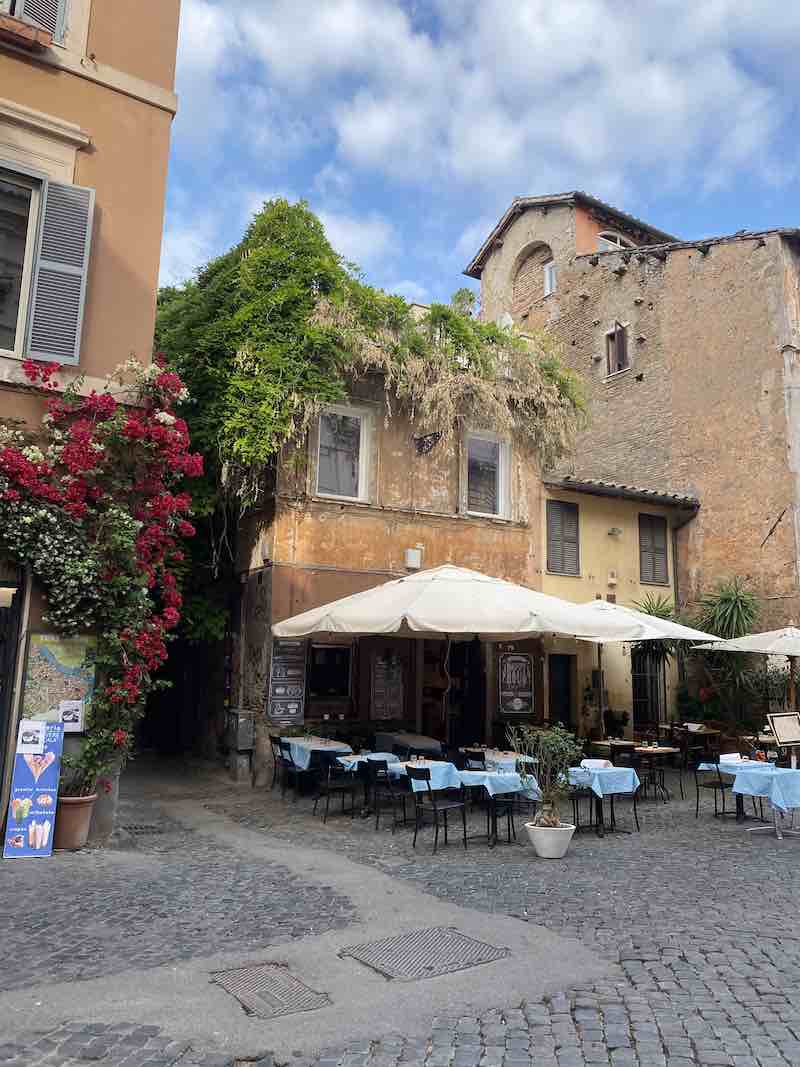 Recommended Trastevere Itinerary
Start at Ponte Sisto e Piazza Trilussa
I always start my walks in Trastevere from Ponte Sisto and Piazza Trilussa.
Ponte Sisto is the pedestrian bridge that connects the area of Campo de' Fiori with Trastevere and it is an excellent introduction to the area.
Always filled with the music of local street performers, it is a beautiful bridge closed to traffic with beautiful views over the river and St Peter's Dome in the distance.
At sunset, this is an excellent Rome spot for a proposal!
Piazza Trilussa is a small square with a statue of Trilussa, a roman poet.
The piazza is pretty and a popular hangout for tourists especially: the charm is undeniable but the crowds are now excessive so while I feel you should pass by here, I think you should also keep going and find a spot in lesser beaten areas (see below for some suggestions).
Explore Trastevere's Vicoli
After Piazza Trilussa I like to walk along Trastevere's Vicoli.
Take a right from Piazza Trilussa and you can see Villa Farnesina and the Botanical gardens first, then you can cross via Garibaldi and head towards Piazza Santa Maria della Scala.
If you get here early enough you can peek into the ancient pharmacy just beside the church.
These Vicoli are among the most scenic streets in Rome. Despite their narrow width, they are open to car traffic so make sure you keep an eye out for traffic!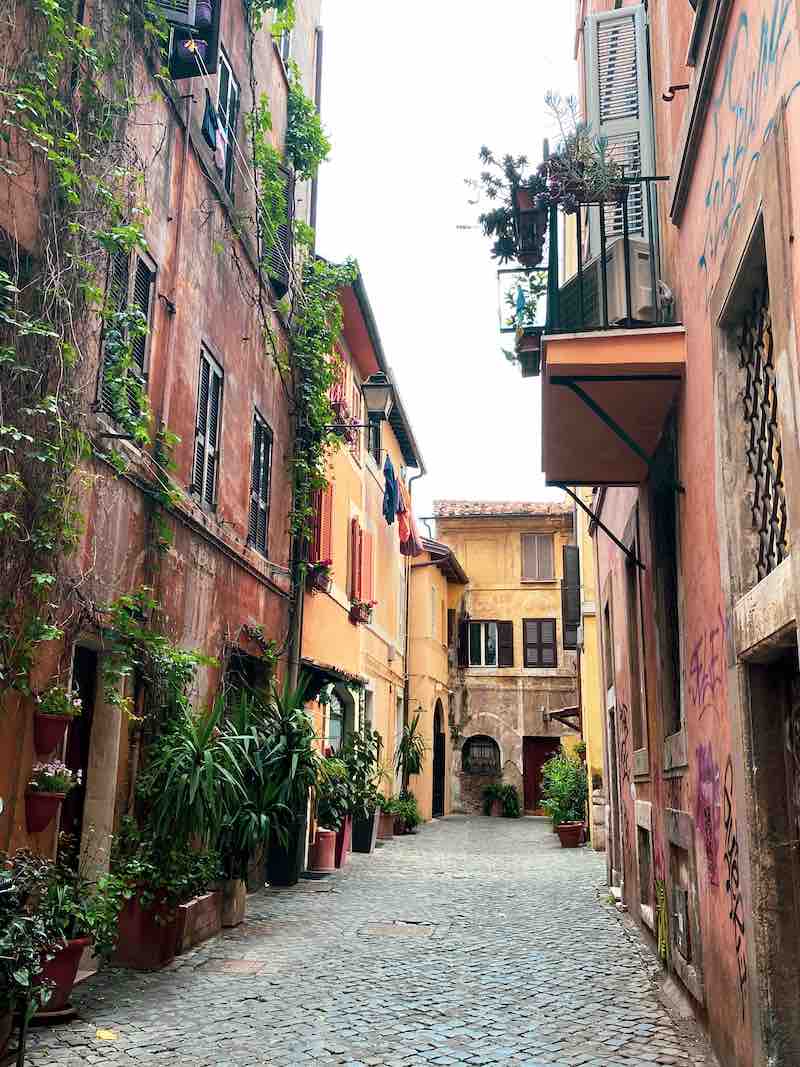 Admire Piazza Sant'Egizio and Piazza Santa Maria in Trastevere
My next stop is the delightful Piazza Sant Egidio.
The piazza is scenic but what I love about it the most is the touching statue of a homeless person, represented lying on a bench.
This sculpture represents the excellent work done by the Sant Egidio community which is operates here.
Take a minute to see it, then keep walking to Piazza Santa Maria in Trastevere, immediately in front of you.
Take the time to see its stunning mosaics before resuming your walk.
Walk down Via Arco di San Calisto and cross Viale Trastevere
From Santa Maria in Trastevere, you can take a detour to Piazza San Cosimato or you can walk along stunning Via Arco di San Calisto towards Viale Trastevere.
This is a lovely area filled with pretty streets: take your time and stop for a drink in one of the many outdoor patios!
On the other side of Viale Trastevere, you will find streets that are immensely quieter than those near Piazza Trilussa.
I have never understood why people do not cross Viale Trastevere but those who do will be able to tell you that these are among the most scenic and beautiful streets in Trastevere of all!
Admire Pizza di Santa Cecilia and the nearby workshops
After crossing Viale Trastevere, take Via dei Genovesi and walk along the small streets near Hospital San Gallicano and Santa Cecilia: they are are empty, atmospheric and beautiful and they will soon lead you to Santa Cecilia, which is worth seeing outside and inside!
Beside the church, you will find a few pretty artisan shops: take your time to see the leather workshop and the beautiful glass and pottery laboratory and shop – they are wonderful!
If you want to see Rome's cobbled streets and get a sense of what artisan Rome would have been like, this is a lovely area!
Relax in Piazza in Piscinula
As you make your way back towards Piazza Trilussa and the river, make sure you pass by Piazza in Piscinula.
This is a large piazza with lovely outdoor restaurants and green climbers everywhere: it is one of the prettiest in the area and a beautiful piazza for a meal!
Before you finish your walk, make sure you stop along Lungotevere Raffaello Sanzio for grattachecca – one of the few grattachecca kiosks still standing in Rome is here!
Where to eat in Trastevere
Trastevere is full of places to eat serving traditional Roman cuisine but also, more and more often, aperitivo spots and wine bars.
One of the best ways to experience the area is by taking a Trastevere food tour but some good addresses you may like are as follows:
Dar Poeta – traditional Rome pizzeria
Ai Marmi – traditional, family-friendly pizzeria with a studenty feel
Seu Pizza Illuminati – serving one of the best gourmet pizza in Rome
Trattoria da Enzo al 29 – one of the best places for traditional roman food
Bar San Calisto – an institution, perfect for a cheap and cheerful drink
Latteria Trastevere – in lovley vicolo della scala, perfect for a snack, meal or aperitivo
Le Levain – allegedly making the best French-style croissants in Rome
Fonte d'oro – one of the few places in Rome making original grattachecca, Rome's most refreshing snack
Good to know! Dar Poeta, Ai Marmi and Seu Pizza Illuminati are some of the best pizza places in Rome!
Trastevere food tours
Trastevere is well known to foodies and several food tours come to the area to help you discover the most traditional and most delicious Rome food.
Some you may want to consider are:
Trastevere with kids
Trastevere is a lovely area to visit with kids. Some places we love are:
Trastevere Botanical Garden – green and car-free, they are an excellent place for running around and often also have kid activities (in Italian)
Mosaic class – a fantastic creative activity for kids of primary school age and up. You can read our review here. It is one of our favorite things to do in Rome with kids!
Piazza San Cosimato playground – urban playground full of local children, perfect for a taste of local life
Gelato – lovely gelato places in this area including famous Fata Morgana
Where to stay in Trastevere
Trastevere is a large area so how convenient it is as a base to discover Rome depends on where you find accommodation. You can find my recommended hotels and rentals in Trastevere here.
Trastevere nightlife
You often hear mentions of Trastevere as a recommended place for nightlife.
Indeed Trastevere is a popular place to go out: especially in summer, this area is full of outdoor restaurants, stalls selling jewelry, and street performers.
It is a busy yet pleasant area and great at pretty much any age: students, families and tourist all come here in the evening.
Overall, the type of entertainment tends to stay family-friendly with restaurants and street performers more than discos and raucous nightlife (not frequent in Rome anyway)
Where is Trastevere – How to get to Trastevere
From the city center, you can walk to Trastevere crossing Ponte Sisto or you can catch tram number 8 from Piazza Venezia.
If you are arriving in Rome by train, this area is served by the Trastevere Train station.
I hope you enjoyed this overview of Trastevere and gave you ideas on what to expect and how to make the most of your visit. Safe travels!