Find the best place to propose in Rome on this list of romantic spots in Rome for all types of lovers wishing to propose in the Eternal City
Rome is a wonderfully romantic city and a special place for an unforgettable proposal.
There are plenty of romantic spots in Rome however, they are not all as good as each other for going down on one knee.
While Rome can guarantee the place will be scenic, a lot of popular spots for proposing in Rome are too crowded or too impractical for the moment to go fully as planned.
The Trevi Fountain is the perfect example of this.
It is wonderful and unforgettable but, on a normal day, it is so busy you will be lucky not to be elbowed away from your future other half by an overly keen visitors trying to get a selfie (no worries, if you are keen on the Trevi Fountain as a proposal spot, I have tips below)!
Today, I want to share with you spots that are perfect for proposing in Rome in terms of romance, charm, ambience, beauty and crowds.
Top Tip! You will never forget your proposal but cool would it be to have a photo of this magical moment? In Rome, you can! If you book a photographic session with Localgrapher, you will have your personal photographer with you for 30 mins or more and you can make sure you capture your magic moment on camera!
Where to propose in Rome: 9 places you'll love
The Top of Castel Sant'Angelo
If you like the idea of proposing with Rome at your feet, then you will love the terrace at the top of Castel Sant'Angelo.
Castel Sant'Angelo is an ancient castle nestled between the River Tiber and the Vatican.
Tt its top, you have a wonderful café and restaurant with stunning views over both – at sunset, it is one of the most romantic places in the world!
Access to the castle is ticketed but you can visit in your own time, so you can easily pretend this is just a sightseeing expedition and then pop the question.
If you are looking for scenic and unique, this is one of the most beautiful places for a proposal in Rome!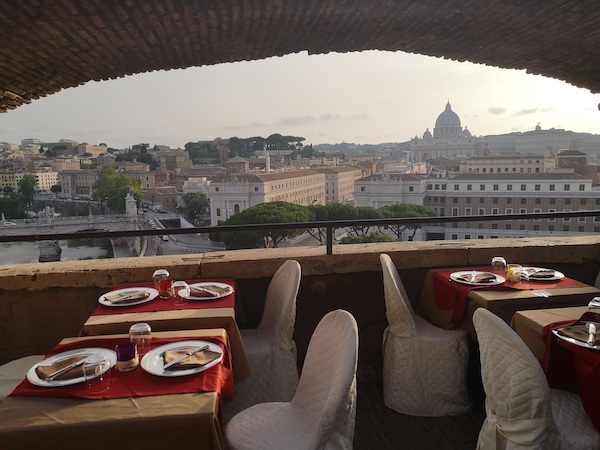 The Garden of oranges with a view over St Peter's Dome
Another wonderfully romantic spot in Rome perfect for a proposal is the garden of oranges at the top of the Aventine hill.
The Garden of Oranges is a small, public garden with pretty orange trees and a stunning terrace overlooking Rome.
Here, umbrella tress frame a stunning view of St peter's dome that sits right in the center of the horizon.
Come at sunset as the city turns orange for the best effect. You won't be alone here however, there is a fraction of the crowds you have in other parts of Rome so you won't get trampled!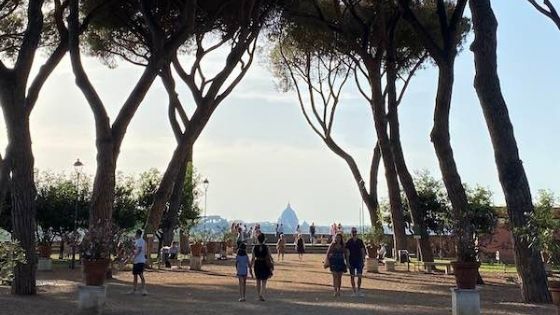 The terrace of Palazzo Manfredi overlooking the Colosseum
If you have always dreamed of a proposal in an elegant restaurant with champagne ready to celebrate your moment, then look no further than Aroma Restaurant.
Perched at the top of Palazzo Manfredi right in front of the Colosseum, this is an elegant restaurant with wonderful food and views over the Colosseum you will never forget: come at night to see it all lit up!
This is the best place to propose in Rome if you are looking for an upscale setting.
The Pincio Terrace
Anther wonderful spot for a proposal in Rome is the Pincio terrace, the scenic belvedere in Villa Borghese that opens up onto the incredible Piazza del Popolo.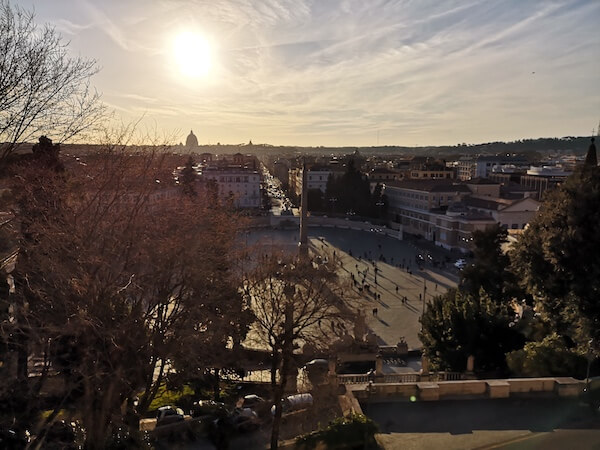 This is a large, scenic space, popular but not so busy that you cannot get a piece of the action and it is also in a wonderful position to then go for dinner and celebrate the moment.
Just beside it you have the overly romantic Casina Valadier restaurants or you can easily make your way down to piazza del popolo for drinks and dinner at the elegant Hotel de Russie or walk to the Spanish steps.
Ponte Sisto
Ponte Sisto is an ancient pedestrian bridge connecting Rome city center with Trastevere and it is one of the most romantic spots in Rome you can ask for.
The bridge can get busy especially on Friday and Saturday night but it offers stunning views of the river and St Peter's dome in the distance and it often has buskers playing music, so you may get a cool soundtrack!
A cobbled street in Trastevere
Rome is full of beautifully romantic cobbled streets and one of the best places to find them is Trastevere.
The type of romance you find here is not grand and scenic but intimate and pretty – thing cobblestones, bougainvillea, cats roaming in the afternoon sun: if grand is not your thing, this is the best place to propose in Rome!
Streets like Via Garibaldi, and the area of, Vicolo dei Panieri and Via Corsini are full of the pretty corners you may have seen in Woody Allen's 'To Rome, with love'.
Piazza del Campidoglio
Another wonderful spot in Rome for a romantic proposal is Piazza del Campidoglio where you actually find ourself with not one but two possible proposal location.
One is the stunning terrace overlooking the forum (one of the best views over Rome you can get), at the back of the main piazza, one of the most scenic places in Rome especially at night and the other one is the piazza itself.
In the evening, you will be almost alone here and the location is pretty symbolic too.
Under the statue of Emperor Marcus Aurelius, in the center of a piazza designed by Michelangelo and in front of the wedding registry office of the municipality of Rome: simply perfect!
Top Tip: near here there is also a lovely hotel I love for a Romantic stay, Otivm Hotel. It. as a lovely rooftop terrace and it is one of the most romantic hotels in Rome!
Gianicolo Terrace
Gianicolo is a tall hill above Trastevere famous for stunning and expansive views over the city: if you have seen 'The Great Beauty', that is where the first scene was shot!
The best way to get here is combining a visit with time in Trastevere: come here first, then walk down via Garibaldi for the perfect mix of a wow moment and intimate romance.
Most popular places for a proposal in Rome
Trevi Fountain
The Trevi Fountain is one of the most popular places to propose in Rome and it is wonderful and romantic if you can get it for yourself!
The best time to propose at the Trevi Fountain is the evening.
If you come well after dark and after dinner, you have a limited number of people here and the fountain is all light up and beautiful.
Avoid at all costs coming during the afternoon: the square is little and the crowds intense and you will hardly even see the fountain at all.
Keep it as a last spot for the day not to ruin the moment and the effect of this incredible Rome fountain.
The Spanish Steps
The Spanish Steps are another very popular proposal spot in Rome and they are perfect for romance: their degrading, scenic steps are simply perfect for a romantic moment but like the Trevi fountain, they get busy!
To avoid people stomping on you as you propose, come late in the evening – the city will be lit up under you and the effect will be simply magical.
Go up from Piazza di Spagna or take the romantic walk from the Pincio Terrace (see above) for a slow build-up to your romantic moment.
This is the best place to propose in Rome for a quintessential Roman Holiday feel!
Piazza Navona
Piazza Navona is one of the most beautiful and famous squares in Rome and one of the best for proposing.
Again a very popular spot with visitors of all walks of life, you want to come here before or after the crowds so either early in the morning or later at night.
The busiest and most scenic spot is beside the fountain of the 4 rivers or you can splash out on a table at the Terrazza Borromini Terrace and have the square at your feet instead.
I hope you enjoyed this selections of romantic spots and it helped you find the best place to propose in Rome!