Expert selection of the best things to do in Rome with kids: Rome family-friendly attractions, Rome museums for kids, parks, food and family tours in Rome for kids of all ages.
When I first set out to writing this list of the best things to do in Rome with kids, I started off with 20.
However, over the years, I have done some many activities in Rome with my children, I have tried discovered so many child friendly attractions and enjoyed so many activities, the list kept growing!
Indeed, Rome offers a staggering amount of things to do with kids.
Families who visit Rome for the first time can easily involve the kids in sightseeing and visits to Rome's main sites, suprisingly child friendly.
People with a little more time in the city can choose between many family tours, child-friendly attractions and outdoor activities.
People who live in Rome with kids can do even more, also taking their time to explore children bookstores, local parks and of course going sightseeing, which you'll never finish doing in Rome, no matter how long you stay!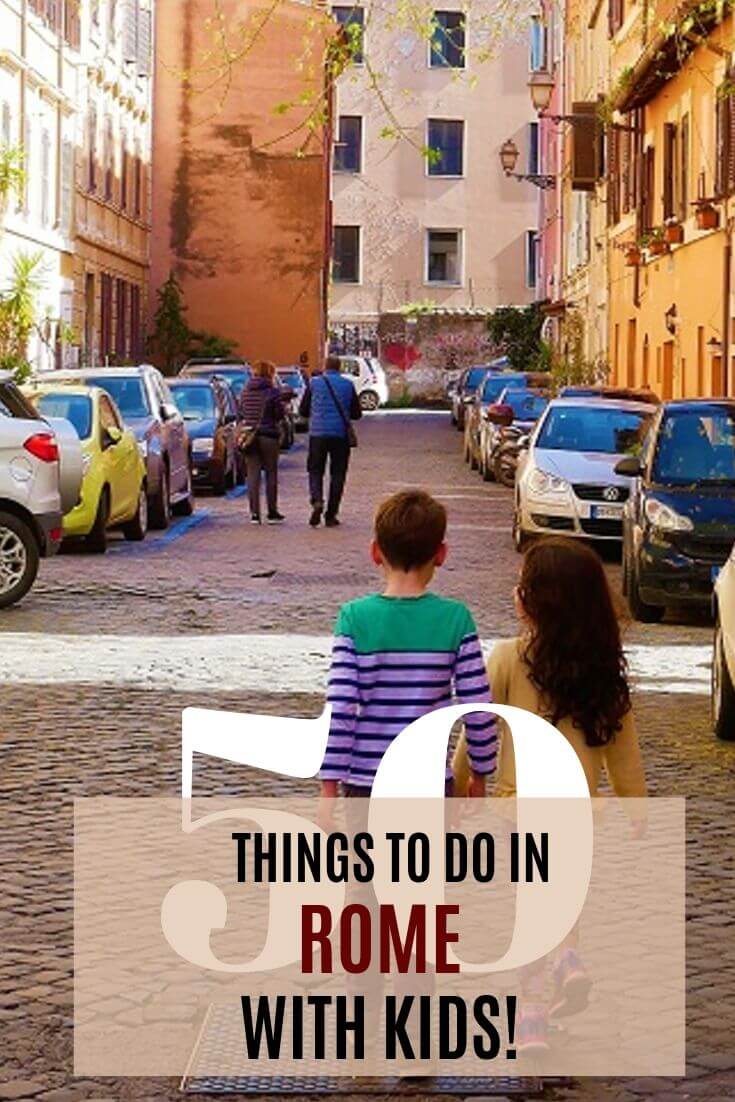 I am a Rome mama and love getting out and about Rome with kids!
Together, we like to pay tourists in our home town and have tried and so many activities for kids in Rome, we can truly say we know the city inside and out!
On this page, you find my selection of the best things to do in Rome with kids, based on my experience with my children.
I have included visits to landmarks and attractions, kid-friendly attractions in Rome, family friendly classes and fun and cool places for kids in Rome we enjoy.
Top tip! If you are in Rome with older kids and young adults, I recommend you also read my guide with things to do in Rome with teens.
Please note: this post contains affiliate links and, should you make a purchase through them, we might make a small commission at no extra cost to you.
Visit the impressive Colosseum with a kid-friendly guide
The Colosseum always makes an impression on children and it is a wonderful place to visit as a family.
The best Colosseum tickets to get include the underground (with the lift used to bring up the animals – usually a highlight for kids!) and the top tier, from where you get stunning views.
Worth seeing is also the exhibition on the second floor, which has a nice reconstruction of the Colosseum that always gets a wow as it shows it how it was before all the damage happened.
You can find all my tips for visiting the Colosseum with kids here. Good tickets to get are:
Standard entry tickets – value option, best for older kids
Family guided tour – best for primary school age kids
Visit the Colosseum with kids at night
If you have kids who don't mind staying out a little late, I recommend to visit the Colosseum at night!
In summer / fall, the Colosseum has special openings after hours and the tours are engaging and super atmospheric: my two children loved it!
You can find here >>> our full review and tips for visiting the Colosseum at night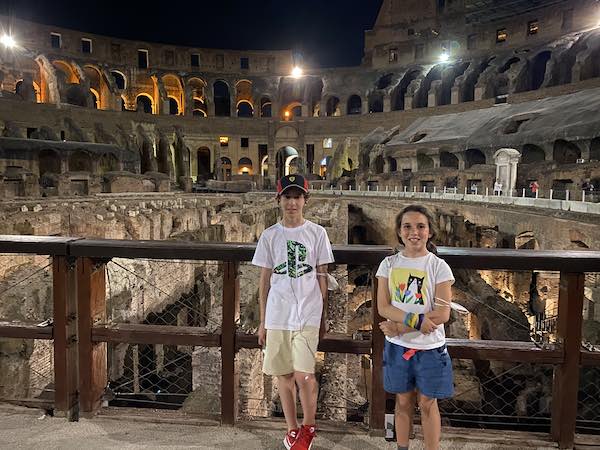 Explore the Roman Forum and the Palatine Hill
The Roman Forum and the Palatine hill lie beside the Colosseum and are a wonderful place to explore with kids.
Go in spring for the best experience and make sure you get all the way up to the Palatine Hill.
Kids tend to love it here as if feels a little bit like a park, with lots of open spaces, and the massive ruins of the Emperor's Palace and the view over Rome never fail to impress!
My kids adore the area called Horti Farnesiani, which has cool fountains, and also the corner of the forum where you can see where the Romans used to play 'marbles'!
You can find all my tips for visiting the Roman Forum here.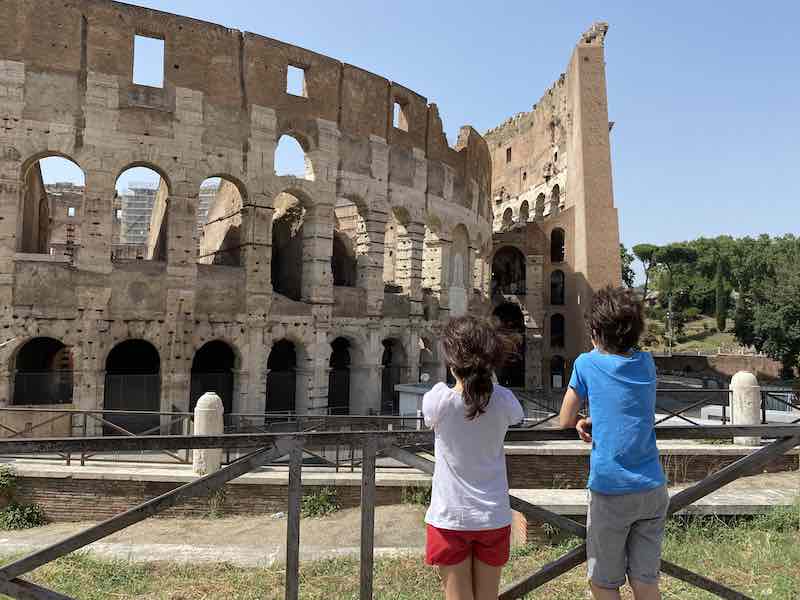 Take a kid friendly walking tour of Rome with scavenger hunt
A fantastic way to discover Rome with kids is by taking a guided tour just for them.
This way, the children will stay engaged, learn about the city and they won't notice how much walking is involved (Rome will get you to walk a lot!)
You can find here >>> my favorite scavenger hunt in Rome for kids
Let your eyes be tricked in Rome's Museum of Illusions
The Museum of Illusions is one of the best museums in Rome for kids, perfect for those moments when they need some pure, non-sightseeing related fun!
The Museum is on Via Merulana, in the city center, takes about 1 hours to visit and has several rooms and installations that will trick you eye and perception to make you reconsider reality as we know it!
The museums is especially suited to kids age 6 and up and is fantastic for a teens too.
One of the very best things to do in Rome with children and a new one too, opened in 2023!
You can read our full review and see photos here >>> Rome's Museum of Illusions review and tickets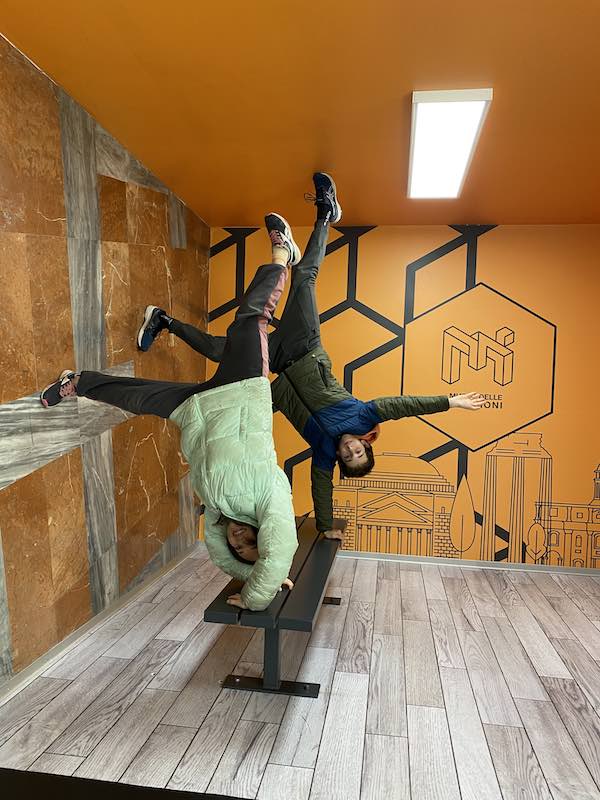 Look at the sky from inside the Pantheon
The Pantheon is an ancient temple now turned church with something special: a massive hole in the roof (by design, it is called oculus)!
Kids and adults are left to wonder what happens when it rains but even on a dry day you can engage your children in trying to figure it out!
Spoiler: it does rain in the Pantheon and you can spot the Roman rain drainage system on the Pantheon floors, just under the oculus!
The Pantheon is also where Queen Margherita of Savoys is buried: she is the one who gave the name to the famous Margherita pizza! One of the many fun facts you find about the Pantheon.
You can find the answer to this question, fun facts and tips for visiting the Pantheon here.
Catch a view from the top of the Vittoriano
The Vittoriano is a strange looking building overlooking Piazza Venezia and locals refer to it with a nickname that highlights its peculiarity: we call it 'the typewriter' (English speakers often say 'wedding cake')
The building is unmissable and has something special: a wonderful terrace with glorious views over Rome.
Kids love climbing up here (you cannot use a stroller but the steps are large and easy) and there is a cafe on the second terrace where they can get a juice or a snack.
From the same terrace, you have a great view over the Forum and the Colosseum!
See the she-wolf on the Campidoglio hill – Rome's kid friendly symbol
The symbol of Rome is a she-wolf feeding two children: Rome's founder Romolo and his brother Remo.
You can see her depicted in many parts of Rome but the best place to get acquainted with her is on the Campidoglio hill: challenge your kids to spot her (she is outside, free for all to see)!
You can find here the story of the Rome she-wolf and how to see her: the original statue is inside the Capitoline Museums, also on this hill, however, the museums are so big they may prove too hard for little ones: if that is the case, the replica on the piazza is perfect!
Fun fact! On top of the Campidoglio Hill you also have the equestrian statue of Marcus Aurelius, one of the most famous statues in Rome: if you have euro coins, have a look as Italian ones have its image on them!
You can find all my tips for visiting the Campidoglio Hill here.
Visit the Capitoline Museum with a Percy Jackson Tour
Have a Percy Jackson lover? Then you can treat them to a very special tour of the Capitoline Museum, Percy Jackson themed!
The tour is at a rather high price point; however, it is leads you to one of the best and biggest museums in Rome, a worth space to visit yet a hard one to epclore with kids on your own.
You can find info and prices of this tour here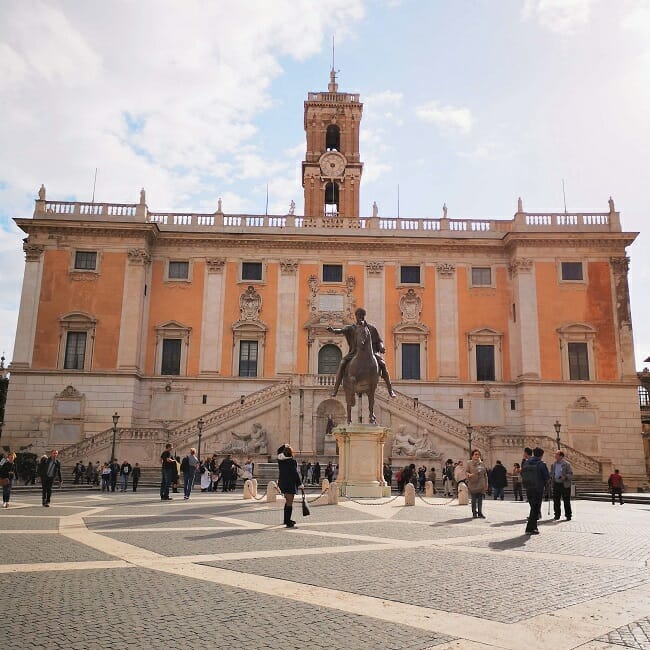 Cross and international border entering Vatican City
The Vatican is a state within a State and entering St Peter's square effectively means crossing an international border!
There is no border control as such between Rome and the Vatican but the Vatican City is an independent State and they have their own stamps, euro and security, the Swiss Guards.
They have uniforms not to be missed and guaranteed to be a hit with kids and not just!
Make sure you show your kids the markings on the floor of the basilica showing the size of other wired churches vs St Peters', the foot of St Peter's, kissed so many times it is now consumed (!), the Swiss Guards minding the Smallest State in the world, the magic of the columns disappearing from the square and the stunning Vatican gardens, a beautiful oasis in the middle of the city.
There is plenty to see in the Vatican with kids: you can find out complete guide to child friendly attractions in Vatican City here.
Take an open-bus tour of the Vatican Gardens
At the back of St Pete's Basilica lie the stunning Vatican Gardens, vast and immaculately kept.
The gardens are only open to visitors via guided tours and they are not a place for kids to run around.
However, they offer the opportunity to visit via open bus and the experience is cook for kids, as you get to go up and down the garden on a small electric bus with large windows – you get excellent views and you don't have to move a step!
Perfect especially for school the kids who can enjoy the audioguide (amiable in several languages, via headphones)
You can read here >>> our guide to the Vatican Gardens
Climb St Peter's dome – the most exciting place in Rome for kids who love high places
Older kids and fit parents may love the climb up to St Peter's dome.
Not for the faint of heart or if you are at all prone to claustrophobia, the climb rewards your effort with probably the most beautiful view over Rome you can get.
>>> Read about prices and details for a guided tour of the basilica including dome climb here <<<
Spy St Peter's dome from a keyhole
If you prefer to see the dome for afar, take the easier climb to the top of the Aventine hill.
Here lies a small square with a large black door protecting the institute of the Maltese Knights. Get the kids to spy through the keyhole and enjoy their delighted surprise. The keyhole frames the dome perfectly!
You can read how to find the Aventine Keyhole here
Have an immersive experience in Ikono Roma
Ikono Roma is a fun, interactive space for kids and adults, an immersive experience to have some fun while taking a break from sightseeing.
Organized over several rooms, Ikono Roma is an immersive exhibitions where kids can enter a pool full of balls, a room where it snows paper, a maze of light and much more!
The space is suitable for all ages and for tweens and teens especially and one of the very best places in Rome for kids.
Throw a coin into the Trevi Fountain
Do you want to come back to Rome? Then you simply must throw a coin in the Trevi Fountain: tradition says if you do so, you are sure to return to the Eternal city, something sure worth a penny!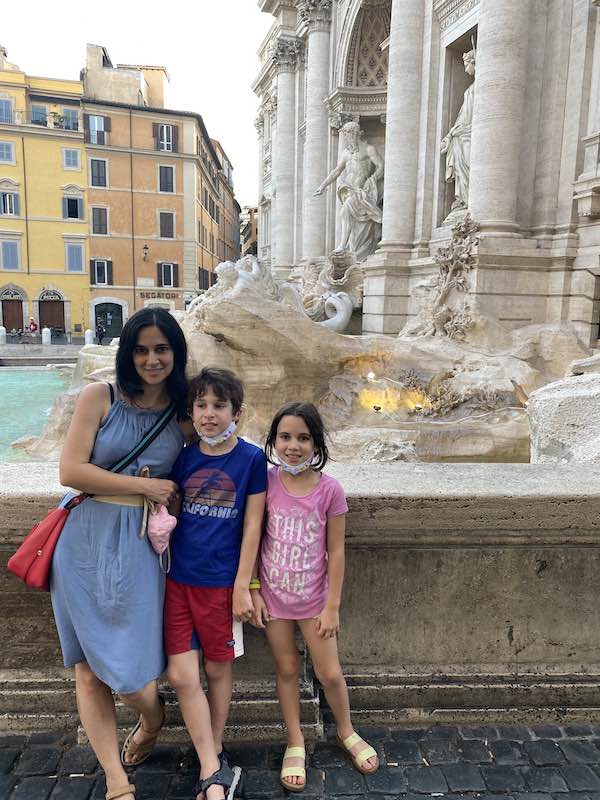 Climb up the Spanish steps
Not much to do at the Spanish steps but climb up (or down) and take family photos!
Small kids are likely to enjoy seeing the Barcaccia fountain by Bernini, one of the most famous fountains in Rome, and its story, while older kids may enjoy the shopping opportunities nearby – all will love to stretch their legs to Villa Borghese nearby (see below).
Explore Castel Sant'Angelo – one of the most child friendly attractions in Rome
Castel Sant'Angelo is one of the best Rome attractions for kids and one you can visit without a tour thanks to its excellent info panels.
During your visit, you walk along the castle bastions, peek into the castle secret passage leading to St Peter's and you can see the cannons and cannon balls that used to protect this fortress
>>>> Check tickets and tours for Castel Sant'Angelo here <<<<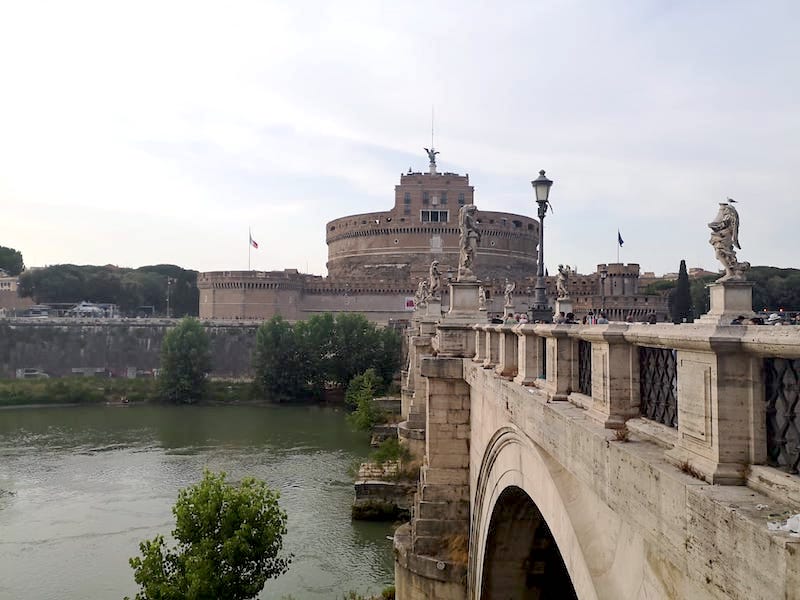 Go to Explora, Rome's children's museum
Scientists in the making, lovers of trains and tiny tots will love a visit to Explora, the children museum of Rome.
Here you can play in a soft area (for under 3s), learn about hydraulic machines and even drive the Italian high-speed train 'freccia rossa'.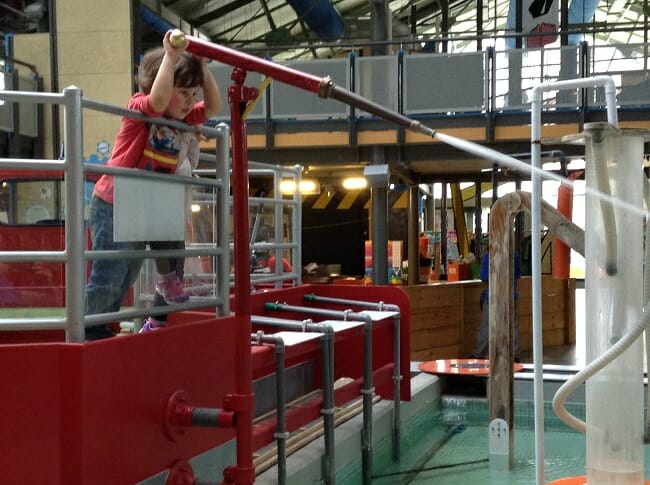 Run around Piazza Navona – and admire its stunning toy store
Piazza Navona is one of the most famous and beautiful squares in Rome and a great place for kids.
Younger ones can run lose in what used to be Domitian's stadium and older kids are likely to love the legends surrounding the famous 'fountains of the 4 rivers' in its center.
Everyone, including parents, will adore the toy shop 'Al Sogno', a classic toy shop in Rome with animals that are bigger than you!
After you have worked up and appetite, have a snack in Campo de' fiori or stop for a full meal in one of our favorite family restaurants in Rome just around the corner!
Marvel at Leonardo's machines – interactive Rome museum for kids and adults
Palazzo della Cancelleria in Rome city center hosts a permanent, wonderful exhibition of Leonardo's machines.
The exhibition has a hands-on approach; kids can experiment with several of the machines (not all) and have a dedicated corner to build Leonardo's self-supporting bridge.
You ca find here >>> our review of Leonardo's Exhibition and why we love it.
Take a self guided family treasure hunt with Museo Mostra di Leonardo
The same Mostra di Leonardo Museum above offers a wonderful self-guided city center scavenger hunt tour of Rome perfect for kids.
The hunt starts at the museum, where you get equipped with an iPad with a map and prompts, and you have 3 hours to explore the city in your own time, learn about it with the iPad prompts and solve challenged.
At the end, you make your way back to the museum for the final challenge and your price.
One of the best activities if you are in Rome with kids or a large family group!
You can find info and tickets here
Check out 'Welcome to Rome' – one of Rome's most family friendly exhibitions
Virtual reality and 3-D reconstructions of ancient Rome are at the centre of a new museum called Welcome to Rome, in Corso Vittorio.
The visit is short but impressive: adults and kids get an audio-guide explaining the different installations and a small cinema shows regularly a short movie on the history of the city.
This is one of my favorite museums in Rome for kids
Good to know: Leonardo's machines exhibition and Welcome to Rome are very close to each other and easy to visit on the same day
Visit a cat colony – for kids who love a furry cuddle!
Rome has special legislation in place that protects strays and there are several spots in the city where you can see cat 'colonies', groups of cats fed and looked after by volunteers.
You can read why cats are protected in the city in our article about Rome street cats.
Visit the palatial home of Emperor Nero, now fully underground
Children of school age may have heard of Emperor Nero, a man knows for his excesses.
If they do, they may enjoy a visit to the Domus Aurea, Nero's lavish home now entirely underground!
The house of the Emperor is said to have been the biggest and most decorated ever seen in Rome but had a peculiar history that means now it is entirely under street level.
The visit is interesting for kids and starts with a beautiful video that shows what it would have looked like.
You can read here >>> how to visit the Domus Aurea and our tips for visiting with kids
See the Imperial Forum coming back to life with the Forum light show
On summer nights, the Imperial Forum of Augustus come back to life with a light show that uses modern technology to show the public how the Forum would have looked like at the time of its construction.
The show is wonderful and fun for kids of school age and up. With the aid of headphones, listen to the history of the Forum and admire its spaces virtually reconstructed with lights and projections.

Wonderful and exciting! read our review here >>> Review of Journey Through the Forum light show.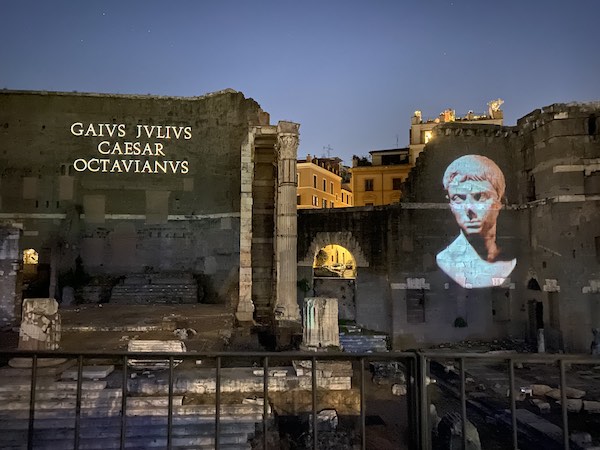 Watch a Rome match at Stadio Olimpico
Stadio Olimpico is the big soccer stadium in Rome and a great place to go with kids who love sports!
During soccer season, you can get tickets for the family area of the stadium and watch La Roma play from reasonably comfortable and safe seats.
You can book your ticket from the stadium directly here
Or read here: how to see a soccer match in Italy with kids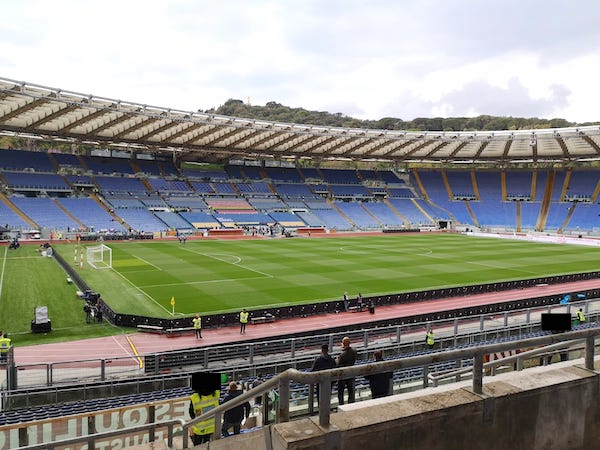 Visit Caracalla's Baths with kids
The Baths of Caracalla are colossal ruins of ancient Roman baths and one of my favourite archaeological sites to visit in Rome with kids.
Imposing and beautiful, the Baths are outdoors: older kids will be impressed by their size while small ones will love the opportunity to safely run around in what used to be a large gym and is now a stunning, open air area.
You read our guide and info here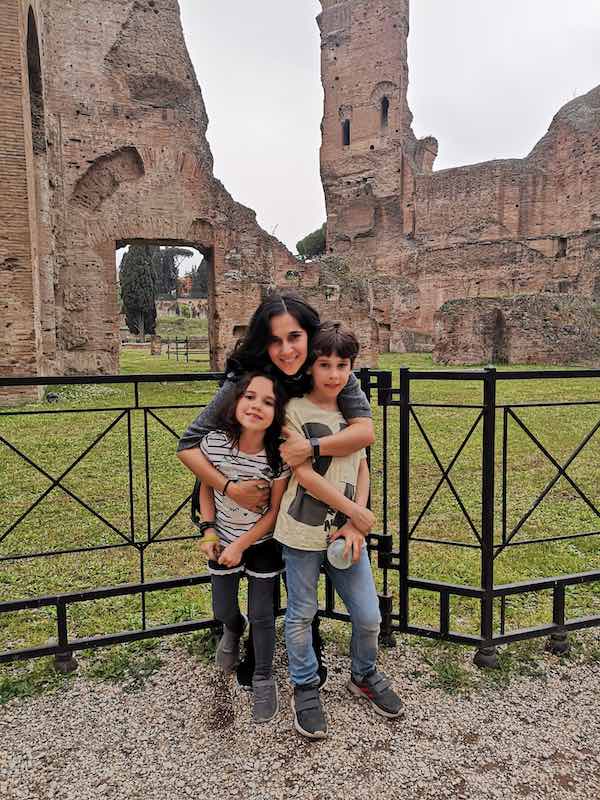 Be a gladiator for a day
If your child loves gladiators, then they may love the opportunity to be one, for an afternoon!
Gruppo Storico Romano organizes gladiator classes for kids and adults and they are great fun: outside of the city center, you will need a taxi to get there but it can be worth it for an experience that is truly unique to Rome!
Read here >>> our full review of Gladiator School for kids or Find info and prices here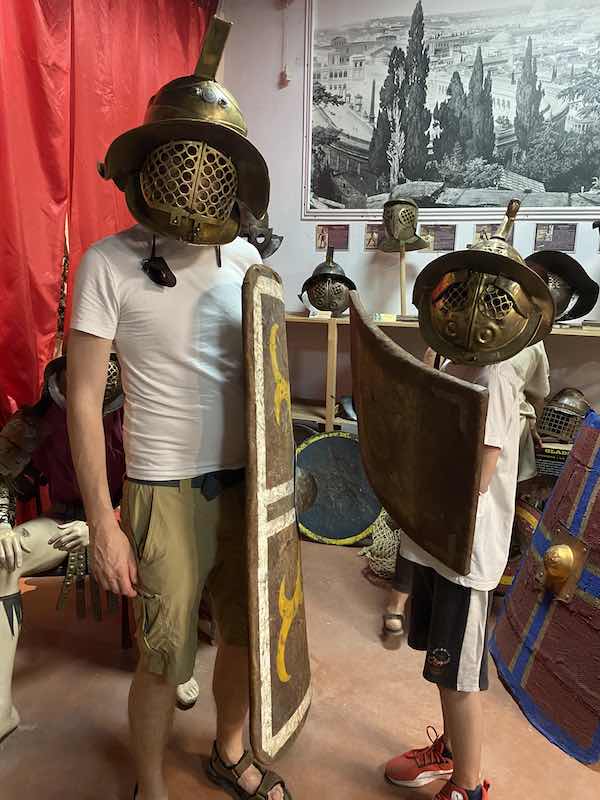 Explore Rome on a golf cart with a golf cart tour
Touring Rome on a golf cart is a fun way to explore Rome with kids.
The cart will allow you to see lots of city highlights without much walking and it is a fun vehicles with open sides to make the most of the views and the beautiful Rome weather.
You can find info and prices here
Learn to make pasta with a kid-friendly pasta making class with Lucilla
If your kids love hands on activities, than a cooking class in Rome is one of the best things to do in Rome with kids you can ask for!
Hosted in a private home, you learn how to cook pasta from scratch with a lovely local mom: Lucilla!
Find info and our full review here
Explore a pyramid
Did you know Rome had a pyramid? It dates back to Roman times and it is fun to see inside and out! You can learn all about Rome Pyramid and see its photos here.
If you love cats, you will love to learn that a cat colony leaves here too: they roam free in the pyramid area and they are super friendly (but they will leave you alone should you want to, so don't worry!).
Please note: in 2023, visits indie the Pyramid are not running. You can still enjoy it from outside, should you find yourself in the area, for instance if heading to Ostia Antica (see below).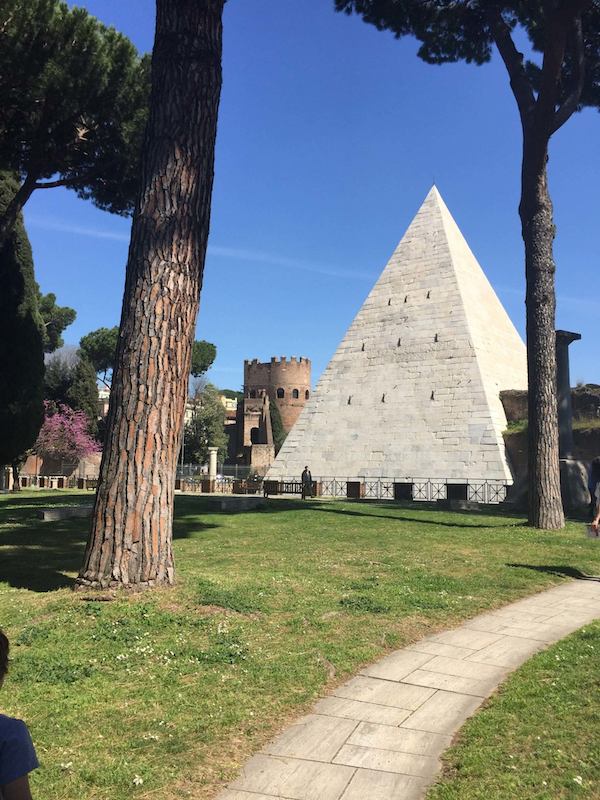 Visit Rome's Planetarium
Since April 2022 Rome's Planetarium is open again, after a closure that lasted almost a decade!
The new Planetarium is in the EUR district and is perfect for space enthusiasts.
You can find here >>> Rome Planetarium info and prices <<<
See street art in Ostiense
If your family loves street art, make sure you have a stroll in the area of Ostiense, a great place for local atmosphere too.
A wonderful and child-friendly way to discover it is by joining a tour by Art and Seek for Kids: they have regular street art tours here for children in Italian and English.
Families with older kids may also enjoy an Ostiense street art walking tour like this one, that is not specifically for kids but can give a great overview of the area.
Go on a self guided hunt of animal statues in Rome city center
Rome is full of statues of animals, a fun sight but also a great walking prompt to get the kids to walk a little longer!
To find the statues and teach the kids (and yourself) about them, you can use our free printable statue scavenger hunt in in Rome that you find here >>> free scavenger hunt printable for kids.
Spend an afternoon at an outdoor pool
I know you are not going to Rome to lounge pool-side but in summer, a day at the local swimming pool is one of the very best things you can do in Rome with kids!
You can choose between many, some attached to hotels and some favoured by locals.
Find info and addresses of swimming pools in Rome here.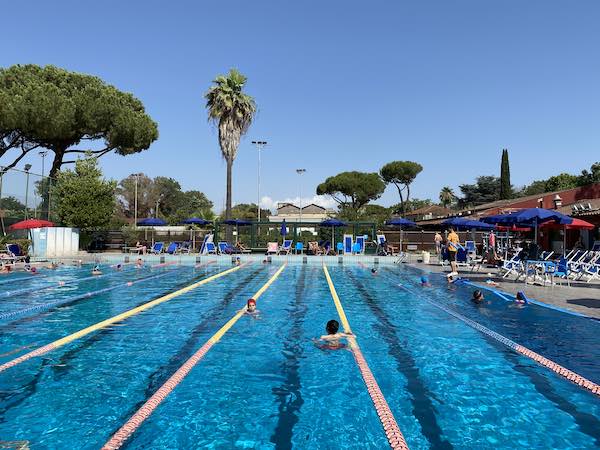 Go splashing in Hydromania
Another great place to escape the summer heat in Rome is Hydromanya, Rome's water park.
Hydromania is outside of the city but it is worth the journey for a day of water fun on water slides, pools and sheer water park fun.
Get acquainted with Rome's talking statues
This is an attraction likely to interest older kids and teens: a series of statues around Rome city center that locals used in Papal time to express discontent towards the city government, when freedom of speech was not a right.
The statues are known as the 'talking statues of Rome' and you encounter them in several locations around the city.
The most famous of all is Pasquino but there are several others worth seeking out!
They are usually fun to see: one my kids find very funny is the 'statue del facchino' in Via Lata, near the Pantheon.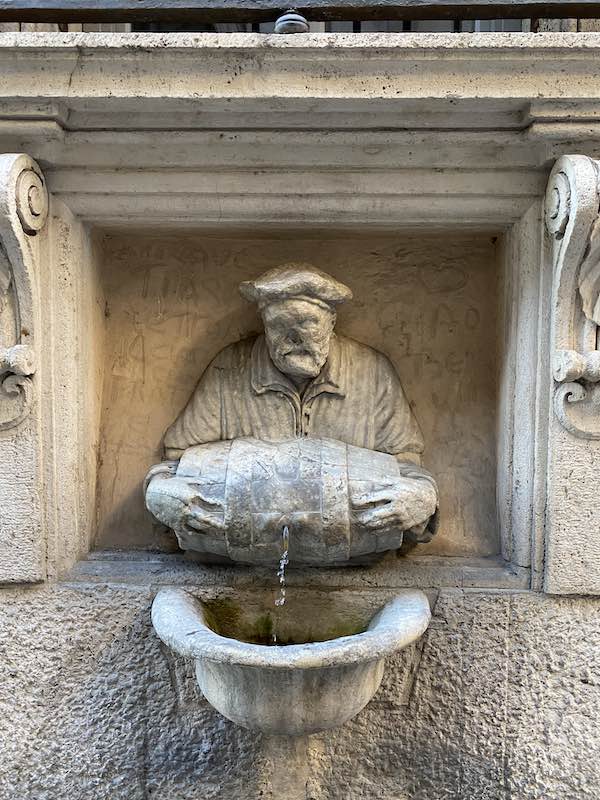 Visit the spooky crips of the capuchins – a great place for kids who love ghosts and skulls!
Older children and teenagers tend to love the odd and somewhat disturbing Capuchin crypt, decorated with skulls and bones. You can check for suitability for your family here
Explore layers of history in San Clemente
Rome has a long history and a place where you can see how different events and times followed one another is the incredible church of San Clemente.
The church exists over several levels: the lower one is the most ancient and dates back to Roman times while the most recent one, at street level, dates back to the VI century.
This is a very peculiar and very interesting archaeological site in Rome that is great especially for school age kids and teenagers who can appreciate the peculiarity of its significance (it is not great for toddlers as the rules about not touching anything are very strict)
This is one of the best underground attractions in Rome.
Get adventurous in Rome catacombs – the best place in Rome for kids who want to feel like real explorers
Older, adventurous kids may enjoy a trip to Rome's catacombs.
Rome's catacombs are early Christian underground cemeteries expansive over many kilometers under the modern city, forming an impressive network of tunnels.
They are very interesting and while not very scary, sufficiently adventurous for picking the interest of children of (almost) any age.
I recommend a visit to the catacombs for kids age 9 and up.
While safe to visit, they are not suitable for toddlers and the nature of the site, with graves and histories of martyrdom, may not be suitable for younger kids.
You can find here >>> my guide to visiting the Rome Catacombs with info to help you make an informed decision.
You can book your catacombs tour here
Visit Centrale Montemartini – one of Rome's most kid-friendly museums
What happens if you use an old electric plant and use it to host ancient statues?
This was the question behind the creation of the Centrale Montemartini museum, an old industrial space now converted into a museum with ancient Roman statues, mosaics and more.
This is a very peculiar space, beautiful for adults and kids, one of the most kid friendly museums in Rome and one of the best things to do in Rome with kids on a rainy day.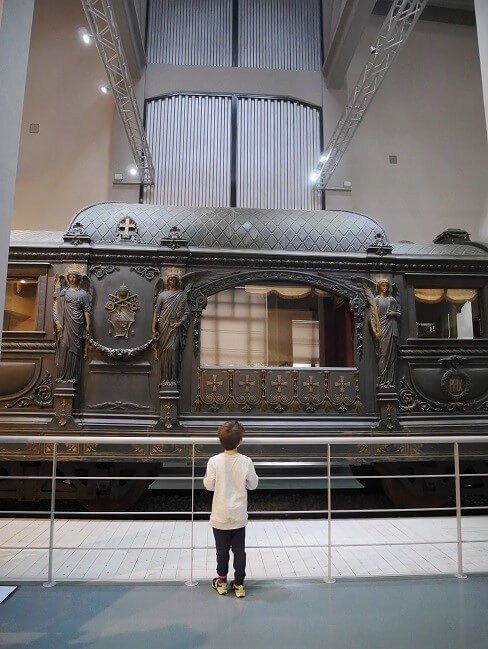 Explore Valle Giulia Etruscan Museum
The Etruscan Museum at Valle Giulia is a fantastic museum for school-age kids and teens.
Hosted in a beautiful palazzo, the museum has priceless Etruscan artifacts that shine a light on this civilisation, still largely mysteurious to us.
Run around Circo Massimo or see it via Augmented Reality
At the bottom of the Palatine hill sits the Circo Massimo, the ancient Roman chariot racing stadium.
Nowadays the 'circus' is just a large, poorly kept space, but offers stunning views over the Palatine and is perfect for running safely around.
Older kids may also enjoy the virtual reality tour on offer (Circo Massimo Experience), which uses Augmented Reality goggles to bring the place back to life. You can read my review of the Circo Massimo Experience here.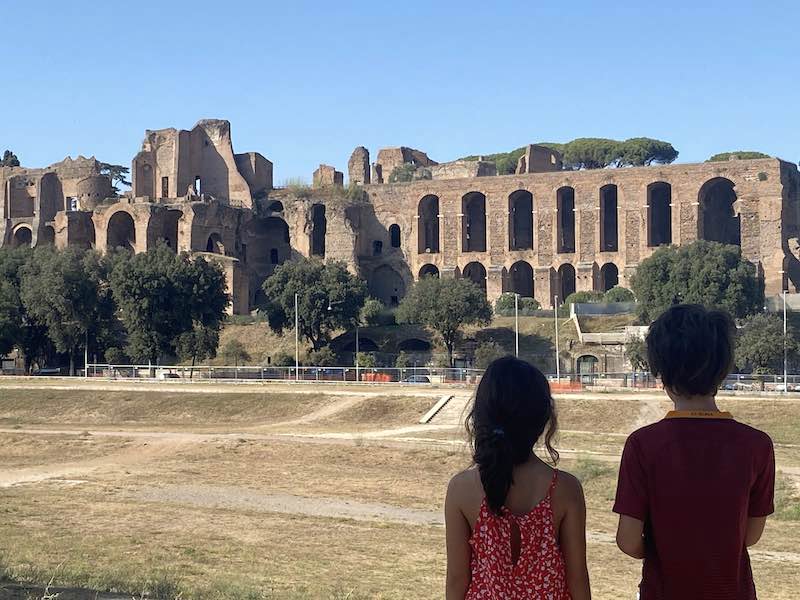 Drink up from Rome's small fountains
One of Rome's most distinctive traits is its small fountains.
They are everywhere in the city and offer free, fresh drinking water.
Tell your child to put their hand under the water to block the flow and wait for the giggles! Learn all about drinking water from fountains in Rome here.
Go to LunEur amusement park
LunEur amusement park is the historical Luna Park of Rome.
Very popular with local children, it is a fun place for a kid-center afternoon and a great address to have especially during school holidays, when the park organizes themed events such as Halloween dress up days or easter themed afternoons.
If you catch a taxi from Fiumicino airport, you may see its iconic Ferris wheel while driving into Rome!
Check out a column that tells a story
Trajan's column is usually referred to as 'the first film in history' and with good reason.
Through elaborate carvings, the column tells the story of Trajan's conquests and reads like a film, developing along with the height of the column!
You can read all about Trajan's Column, what makes it special and how to visit here.
Explore fairy houses in the Coppede' District
Want to see a house that looks out of a fairy-tale book? Then head to the Coppede district to discover a whole area of fairy looking buildings.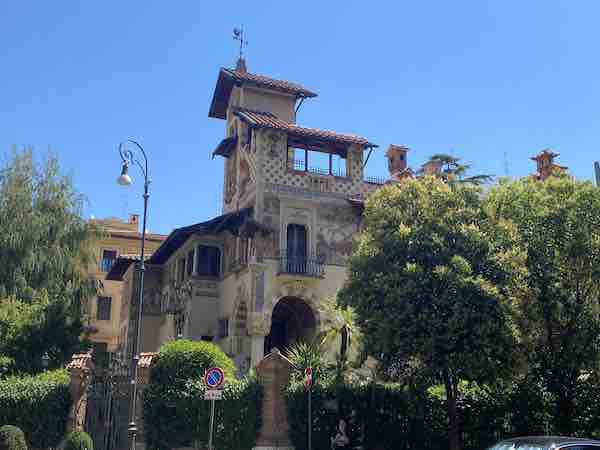 Test the lie-detecting power of the Mouth of Truth
Are you brave enough to test the mouth of truth? Legend says if you put a hand in its mouth and tell a lie, it will bite your hand off! Wanna try?
Take a stroll in Trastevere
Gorgeous Trastevere is a treat at all ages.
Younger kids will love spotting the cats while older kids are likely to enjoy the many food joints and the several street performers that take hold of the streets, especially in the late afternoon/evening.
This is one of the liveliest areas to enjoy Rome at night and thanks to the many restaurants, the atmosphere stays family-friendly until pretty late.
You can find my family friendly Trastevere itinerary here.
Go to the pond at Eur
Missing a quiet day at the local pond? Head to Laghetto dell'Eur for a local family experience in one of the most family friendly parks in Rome. The pond is outside the city center but it is easy to reach by metro and, in spring, it is one of the best places to admire cherry blossoms in Italy!
Check out Rome zoo
Rome zoo sits inside Villa Borghese and it a fun place for small kids and toddlers especially.
The zoo doesn't really compare with large zoos too may have visited in London or San Diego however, it is cute for little kids and often offers organised events with an educational focus.
Visit Rome's Zoological Museum
Right beside the zoo, you find the zoological museum of Rome, which you can visit with or without a zoo visit.
The museum is fun for kids and organizes workshops, camps and even sleepovers!
Have delicious Tiramisu at Mr 100 Tiramisu
If you love tiramisu, or you always wanted to taste it but never quite got the real thing, then you will love a place called Mr 100 Tiramisu which does just what its name suggests: it has on the menu 100 different types of tiramisu, with any topping you can think of!
Visit the Museum of Police cars of Rome
If you have a son like mine, who adores cars, then a visit to the museum of police cars of Rome may be one of the things to do in Rome with children!
You can find info and prices here.
Walk inside an ancient Roman house in Palazzo Valentini
You can walk into an ancient Rome house and see what it would have looked like thanks to the power of lights and 3D reconstructions in Palazzo Valentini, beside Piazza Venezia!
The tour of the houses is not specifically for kids but it is exciting for them as you go below street level and walk on see though plexiglass panels that allow you to see the foundations of the house below you, as if you were suspended mid air!
The exhibitions is in rather dark rooms that get lit up by projections on the walls so this is suitable especially for school age kids who won't get scared.
Marvel at the art in the Borghese Gallery
Famous Galleria Borghese is worth a visiting at all ages thanks to its compact size and fun animal sculptures.
While the museum is not interactive, it can be easily enjoyed by kids – challenge them to find animals in each room and tell them the stories the statue depict: it is like a treasure trove of myths!
The museum has a nice playground just beside its back door door (free).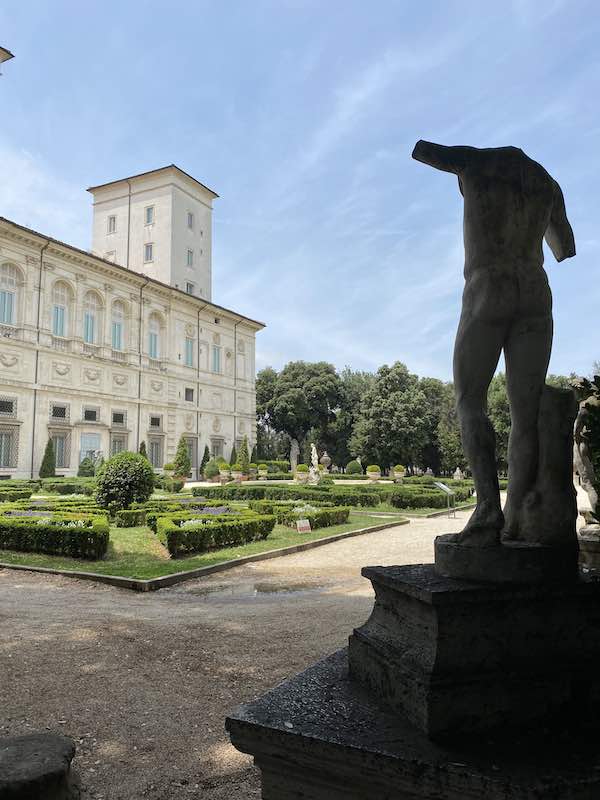 Go to a children bookstore
Whether you need a child friendly break while sightseeing or you want an afternoon in a child friendly space where to meet other kids away from the rain, a kids bookstore can be just the ticket!
Rome has many that operate as shops but also kids venues offering workshops and organizing events: you can find a list of children bookshops in Rome here.
This is my selection of the best family activities in Rome for kids and adults alike.
Learn to make pizza with a pizza-making class for kids
A really fun activity for kids in Rome is to learn to make pizza in a real pizzeria. You can check prices and availability of the one we tried here
Take a family-friendly mosaic class for kids
Kids age 6 and up might love taking a mosaic class with a real artist.
This is a wonderful art-based activity for kids in Rome and perfect for primary school age kids and teenagers and my personal favorite of all the kids' activities in Rome.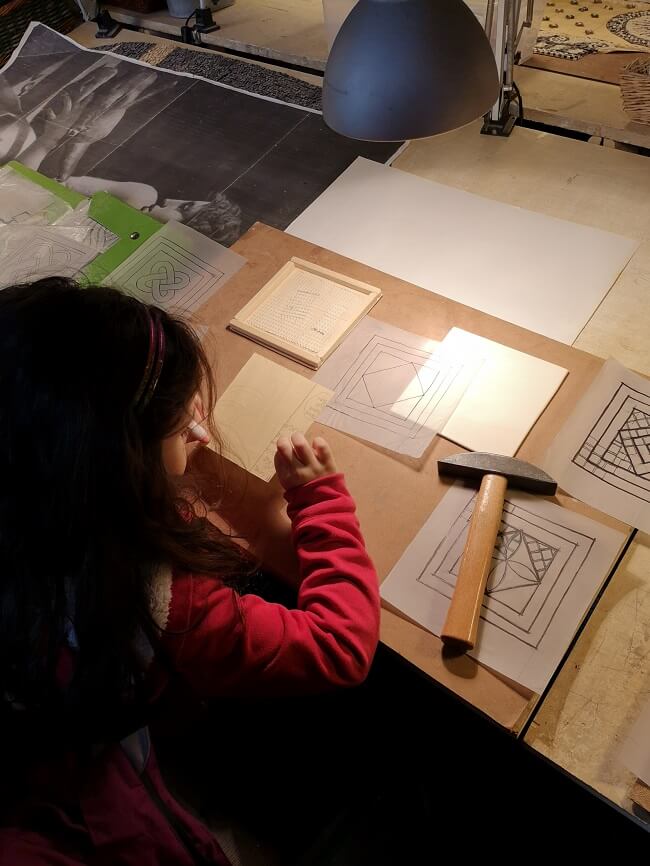 Get a private tour of the Vatican Museums for kids
The Vatican museums are not particularly kid-friendly but so beautiful art lovers may want to add them to their Rome itinerary anyway.
The best way to make this visit fun for kids is to get a private tour that is specific for families and follow our tips for visiting the Vatican for families.
Join a kids drawing class in a museum with Art and Seek for kids
A children activity in Rome arty kids will love is a drawing and art tour with the lovely people at Art and Seek.
On specific Sundays, they organize museums and street art tours for kids that mix education and hands-on learning through drawing. This is an activity suited to visitors and locals alike (in English) and it is a wonderful way to meet local expat children too.
Rome has a surprising amount of green areas. While not often well kept, they offer good refuge from the city's busy streets and are a life saver especially when visiting Rome with a toddler.
Play in Villa Borghese – one of the best parks in Rome for kids
Villa Borghese, in Rome city centre, in one of the capital's most beautiful parks.
Here you have the zoo, playgrounds and a small pond with rowing boats for hire, plus the chance to rent bikes and pedal go karts.
This is also where the famous Borghese gallery is: while not for kids as such, this is a wonderful museum and a small enough one for kids to enjoy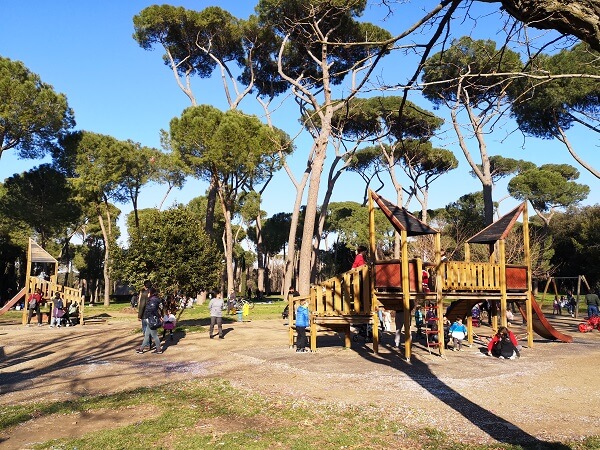 Visit Rome's botanical gardens
These are a great space to explore with kids and a real Rome hidden gem: for the most fun, give your child a camera to capture images of the most curious and impressive species.
Have a picnic in Villa Doria Pamphili
Villa Doria Pamphili is one of the largest parks in Rome and a first favorite green space for locals and tourists alike. One of the best parks in Rome!
Visit Villa Torlonia
Villa Torlonia is immediately outside of the city center and is lovely with kids and adults.
The park has a small yet nice playground, the super cute Casina delle Civette and a nice family-friendly cafe/restaurant
In 2022, the Moorish Greenhouse in Villa Torlonia opened to the public as well: this is a wonderful place with colorful glass, easy to visit between a stop at the playground and a meal in the park restaurant.
Good to know! Villa Torlonia hosts a small kids museum called Technotown. They run regular kids workshops about space and science, some of them in English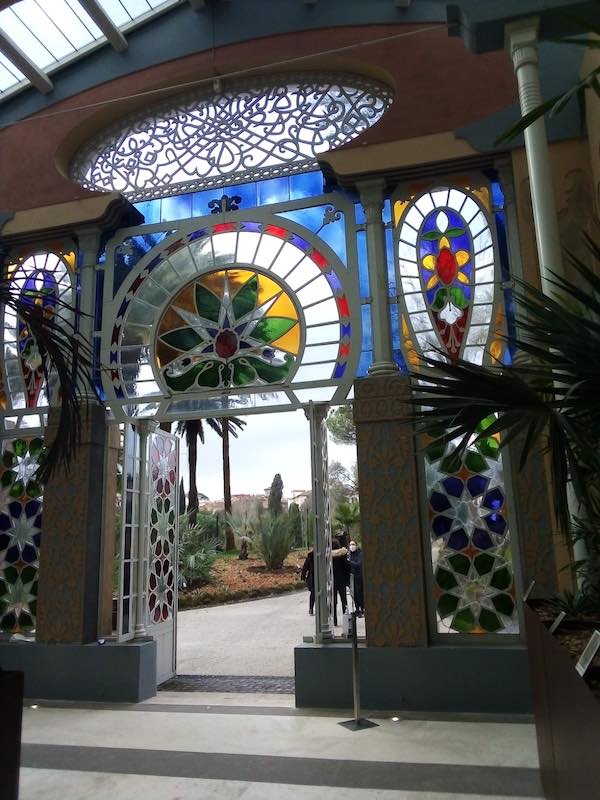 Cycle along an ancient aqueduct
Older kids will love cycling along the ancient Roman aqueducts along via Appia. The road is bumpy but the view spectacular and unique. You can book your tour and bikes here
Smell the flowers in Rome's rose garden
Rome has a small rose garden perched on the slope of the Aventine hill.
The garden is lovely in spring and has a gorgeous view over the palace of the emperors just in front. This garden is close to another lovely one, the Orange Garden of Rome, which is just up the road and has wonderful views over Rome.
Try a playground with a view over the Colosseum
Just in front of the Colosseum lies a small hill, the Oppian Hill, with a small playground, in the shadow of the ruins of Trajan's Baths!
The playground is small but the park is a delight and has lovely views over the Colosseum and the entrance to the Domus Aurea: perfect for kids and adults thanks also to the presence of a small cafe with outdoor tables.
Visit Ostia Antica
If you want to get away from the crowds, learn history and get some fresh air, make sure you plan a day trip to Ostia Antica a wonderful open air museum perfect for adults and children of all ages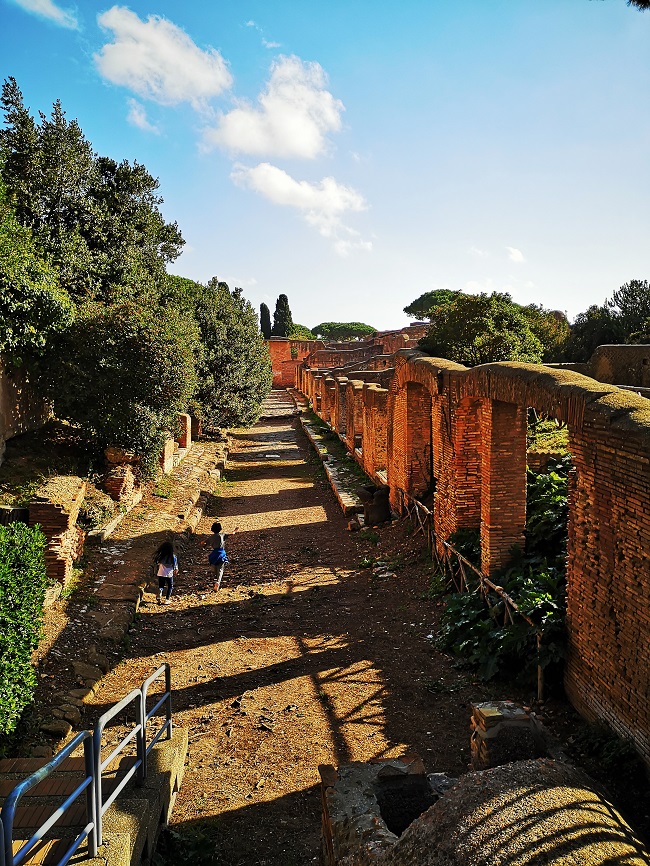 Have gelato – the one thing all kids simply adore in Rome
No trip to Rome can be complete without a generous dose of gelato. Find here our recommended gelato addresses in Rome city center
I hope you enjoyed this selection of things to do in Rome with kids and it gave you ideas and inspiration for your family trip to Rome!
I hope you enjoyed this long list of the best things to do in Rome with kids and it helped you plan a wonderful trip to Rome with family!
Have pizza!
We couldn't possibly have a list of the best things to do in Rome with kids without a mention of pizza, right? Find here >>> the best places for real pizza in Rome.
Go to the beach
Rome is not famous for its beaches but if you are in the city, a day on water is a great way to cool down and let the kids have fun!
Find here >> the best beaches near Rome for families
This post was first published in 2019 and is constantly updates. Last update: January 2023.