The best Rome museums to visit with kids: handpicked selection of traditional and unusual museums in Rome your kids will love.
Rome is packed with wonderful art museums and if you are visiting with kids, you may worry their presence may hinder your chances of an art-filled holiday.
Indeed, kids and museums are not always a match made in heaven.
The Vatican museums, for instance, are really hard to visit with kids, to such an extent we devote an entire article just to that experience.
However, Rome has some great museums that are great for kids too and that will please visitors of all ages.
This is my selection of the best museums in Rome for children.
It includes museums for kids and traditional art museums you can visit with kids with ease.
I hope you enjoy it!
Explora Children Museum – the only children museum in Rome
A list of child friendly museums in Rome can only start with a mention of Explora, the children museum of Rome.
Like all children museums, Explora is an interactive space with exhibits but also hand-on learning activities for kids: this makes it stand out from all other museum in this list that are, instead, traditional museums with child friendly layout and exhibits.
Explora is perfect for kids age 0 to 12 and it is particularly suites to kids of primary school age.
In its large halls you can find a soft play area for under 3s (great to give them some floor time), role play area, interactive machineries kids can operate and Manu colroful areas with shapes and textures for kids to plan and learn.
Explora is my kid's favorite place in Rome.
You can find my Explora review and some photos here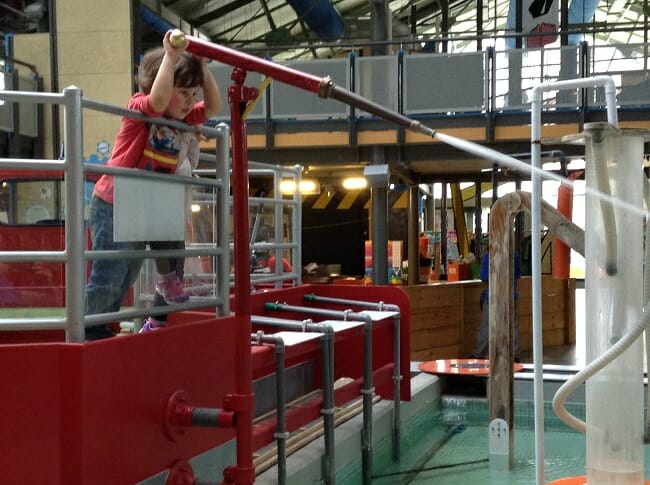 Museo Mostra di Leonardo
Museo Mostra di Leonardo is a fantastic child friendly museum in Rome city center entirely devoted to Leonardo da Vinci and his wonderful machines.
The museum is interactive and absolutely perfect for kids who love making and mechanics: Leonardo's machines (replicas) are imaginative and clever and you can operate most of them.
A visit here is all about pulling levers, spinning spheres and exploring the marvels of mechanics!
As well as the machines, the museum offers the option of taking scavenger hunt in the area around the museum, which is where you find Piazza Navona and some of the most beautiful and important attractions in Rome.
The scavenger hunt is self guides but easy to follow and great fun for kids. Advance booking of the hunt is mandatory.
Address: P.za della Cancelleria, 1, 00186 Rome
Suitable for: all ages, but the scavenger hunt is best done with kids 7 and up.
You can find here >>> my review about Museo Mostra di Leonardo in Rome
Zoological Museum of Rome
The Zoological Museum of Rome is beside Rome's Bioparco, aka Rome Zoo.
It is an interesting museum for kids who love animals and it is informative and kid-friendly: as well as standard visit, they offer kids' camps and even sleepovers at the museum, a testament to the fact that the museum has a strong focus on children!
The museum is beside the zoo and the Borghese Gardens and you can easily visit all on the same day.
Suitable for: all ages.
Address: Via Ulisse Aldrovandi, 18 – 00197 Rome
Centrale Montemartini
Suitable for: all ages
A wonderful Rome museum to visit with children and one I recommend everyone to visit, at absolutely any age, is the unique and wonderful Centrale Montemartini.
This museum is located in the Ostiense area of Rome, immediately outside Rome city center and off the beaten path, detached from the city's main tourist sites.
It is worth seeing for its exhibits but also for its unusual structure: Centrale Montemartini is an old electric plant turned art space!
The museum is one of a kind. The old electric plant has been in use until a few decades ago and it is still very much intact.
As you enter the museum's large spaces, you see its incredible machines, the large tubes criss-crossing the ceilings and you find yourself face to face with these large monsters from the industrial past, dark and mighty in their utilitarian design.
Around the machines the most unexpected artifacts are on show: Centrale Montemartini is part of the Rome city museums network and has wonderful ancient Roman statues, bas-relieves and even gorgeous Roman mosaics, some of the most interesting mosaics in Rome actually!.
It is hard not to fall for the spell of this place.
Adults will love the contrast between old and new, the unexpected harmony between the exquisite art of the ancient sculptors and the industrial soul of the place.
Kids are likely to enjoy not just this but also the Papal carriage from the old Pope Train that the museum hosts!
Location: Via Ostiense, 106, 00154 Roma RM, Italy
The museum is a space for adults but is interesting and easy to enjoy for kids too (in case you are worried about the machines, everything here is very clean and well kept)
Welcome to Rome
Welcome to Rome is a small permanent exhibition great to visit with kids thanks to the use of virtual reality, which makes the museum installations come to life.
The museum wants to show visitors the development of some of Rome's main buildings over the centuries and does that with a mix of light, computer and movie aids.
On arrival, each visitor gets a small audio guide and (simple) instructions on how to activate it in front of each exhibit.
When you are ready, you stand in front of what looks like a black screen and then you slowly see the building come to life: in front of your eyes, light forms 3D renditions of the Vatican, Castel St Angelo, Roman Forum and the audio guide explains how the centuries shaped and changed the look and use of the buildings.
At the end, a movie in the small museum theater explains with wonderful images the history of Rome and gives visual clues on the city layout and growth over the centuries.
This is one of my favorite museums to visit in Rome with kids and one that only requires a short time to enjoy (an hour or so).
Address: Corso Vittorio Emanuele II, 203, 00186 Roma
Suitable for: all ages but especially upper primary school, tweens and teens
Galleria Borghese
Suitable for: most suitable for upper primary school kids, tweens and teens
Galleria Borghese is one of the most famous art galleries in Rome if not the world and it is as such a place aimed at art lovers rather than kids.
However, it is a wonderful museum to visit with children and not just because it is inside one of Rome's most beautiful park and beside the city zoo: it is inside stunning Villa Borghese!
Galleria Borghese has many important and interesting sculptures, many inspired by ancient myths and stories of the Gods and depicting metamorphosis and well known mythological characters.
if you have Percy Jackson lovers, they are likely to recall at least the myth of the taking of Proserpina, one of most famous statues in the Borghese collection.
Younger kids may also find them interesting thanks to the several animal references.
Without a guide, it is hard to tap into the kids' friendly side of this gallery but there are family tours catering for kids as young as 6 years of age and the gallery lends itself to them perfectly.
The person to contact for them is Mariaclaudia from Mariaclaudia Tours – tell her Marta from Mama Loves Rome sent you, she is wonderful with kids!
Address: Piazzale Scipione Borghese, 5, 00197 Roma (inside the park)
The Capitoline Museums
One of my favorite museums to visit on Rome with kids are the stunning Capitoline Museums, among the best in the world for ancient art especially.
The Museums have an incredible collections of art works from the Roman and Hellenistic world especially and they are fantastic for kids who love Green and Roman mythology especially as they have spectral pieces with characters they'll be able to recognise.
To help with the visit you can use the museum kids' scavenger hunt + audio guide, you can use the Trova Trail app, avaiable for a small fee from the App Store on your phone, or even book a Percy Jackson Tour with Mariaclaudia Tours – if you contact her, tell her Marta from Mama Loves Rome sent you!
Find here >> my review and tips for visiting the Capitoline Museums with kids
I hope you found this overview useful and it helped to answer the question: what are the best art museums in Rome for kids?
Most kid-friendly museums in Rome: pin this!