All you need to know to visit the Borghese Gardens (Villa Borghese), the stunning Rome city center park offering its visitors romantic city views, world-class museums and a plethora of entertainment options for adults and kids.
Villa Borghese is a large park in the center of Rome and one so special, it often enters the list of must-see places in Rome.
If you have never been to the Borghese gardens, this may come as a surprise: with all the things to see in Rome, is a park really among the best of them?
We believe it is because Villa Borghese is not just any park.
It is a historical Villa, the home of the wonderful Borghese Gallery, one of the most beautiful art collections in the world, a place to play, run and eat and one of the best places to catch a view over Rome.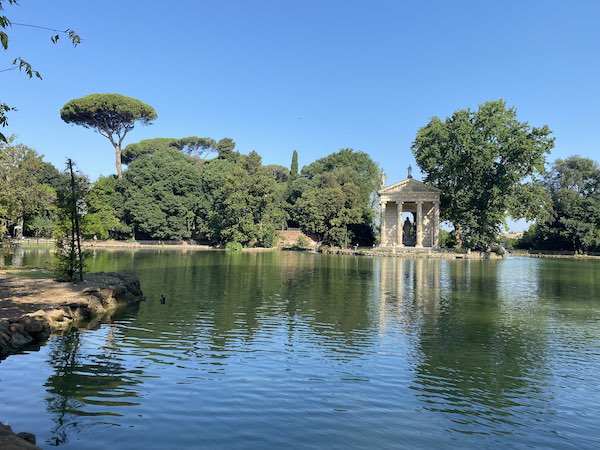 It is also a perfect place for a proposal, if you want to really switch the romance up a notch!
No matter your age or travel style, I believe a morning in the Borghese Gardens are going to be a Rome highlight.
This is our guide to the best things to do in the Borghese Gardens and our guide for visiting. By the end of this article, we are sure you will agree it is one of Rome's best park and an unmissable attraction.
Please note: this post contains affiliate links and, should you make a purchase through them, we might make a small commission.
Villa Borghese: where it is and how to get there
Villa Borghese is a large park right in the heart of Rome.
It develops over almost 200 acres (197.7!) and stretches between the areas of Piazza del Popolo, Piazza di Spagna, Via Veneto and the residential neighborhood of i Parioli.
Buses going to Villa Borghese:
Several buses and the metro serve the park, including 38, 52, 53, 61, 63, 89, 92, 160, 223, 360, 490, 495, 910, tram 19 and 3.
Metro A at stops Barberini and Spagna are withing walking distance from the park (about 10 minutes on foot). There is not metro stop serving the park as such.
The villa is very large and has pleanty of things to see. If you want to just go to the park, you can enter from any of its entrances and you will find plenty of places to sit on the grass, on a bench or relax under the pine trees.
If you want to visit the museums or you want to see some of the areas recommended in this post, you will need a little longer and some planning.
I recommend you plan to stay in the park half a day: see below for my tips on the best time to visit this villa.
What is the best entrance to Villa Borghese?
Villa Borghese has several entrances, all leading to beautiful parts of the park.
The only reason to choose one over the other is convenience if you have a specific attraction in mind. My favorite Villa Borghese entrances are:
Parco dei Daini – a good entrance to reach the Borghese Gallery and the zoo.
This entrance leads you to a nice area with benches and, often, outdoor exhibitions.
There is however no playground nor a cafe'. Quad bike rental is avaiable close to the zoo, a short walk from this entrance.
Piazzale Belle Arti – this is the entrance served by trams 3 and 19. This is a good entrance to reach the Borghese Pond and temple, a small playground and it is where you find a couple of pretty cafes.
This is also a good entrance of for the dog park and you can use it to reach the zoo.
Pincio entrance – Salita del Pincio is a street climbing up from Piazza del Popolo to the beautiful Pincio Terrace.
This is a great entrance if you don't mind a bit of a climb and if you want to catch a view from the Pincio Terrace.
Top tip! Between Pincio and the Spanish Steps there is a lovely walk with beautiful and free views over Rome.
Porta Pinciana entrance – this entrance is perfect if you want to reach Casa del Cinema and if you have kids and want to enjoy the best playground in Villa Borghese.
Villa Borghese Gardens Map
Since the park is rather large, I highly recommend you make a bit of a plan with what to see and pick the entrance that is closest to your attraction of interest.
You can use this map to help you get a sense of what is where.
There are maps scattered around the park that look like this:
Visiting the Borghese gardens: need to know
Admissions: the Borghese Gardens (Villa Borghese) are now a public park and admission is free
The Borghese Gallery, the Zoo and other individual attractions in the park have ticketed entrance. Please see below for details about each.
The park is open during daylight hours only and must be vacated after sunset
The park has several playgrounds for kids
Private cars are not allowed in the park but buses do serve the main road crossing the park
The best things to do in Rome Villa Borghese Gardens
Enjoying the Borghese Gardens is easy as taking a stroll along its shaded paths however, these are our suggestions of things to do to make the most of your day.
Visit the Borghese Gallery
The Borghese Gallery (Galleria Borghese) is a famous art gallery in Rome with an incredible collection of paintings and sculptures by some of the most influential artists of all times, such as Bernini, Raffaello and Caravaggio.
Find my guide to the Borghese Gallery here.
The gallery is inside the park and was originally the private property of Scipione Borghese, to whom the park and villa belonged.
The Gallery is compact in size but packed with incredible masterpieces: these two elements combined make it one of the most beloved museums in Rome by many visitors.
On the top floor, you find beautiful paintings of classical era masters, while the ground floor is devoted to sculpture.
Unlike the Vatican Museums, which are stunning but huge, the gallery is compact but don't underestimate it!
Each room is incredibly elaborate in its decor and there are so many beautiful masterpieces, you will not have the feeling to have visited a small museum!
The gallery operates a timed ticketing system that allows visitors to skip lines and enjoy the gallery without overcrowding. Each shift lasts 2 hours, which is a good amount of time to visit the museum.
You can book tickets from the official Gallery site or you can opt for my favorite ticket provider, GetYourGuide here which has the advantage of offering excellent cancellations policies, should your plans change.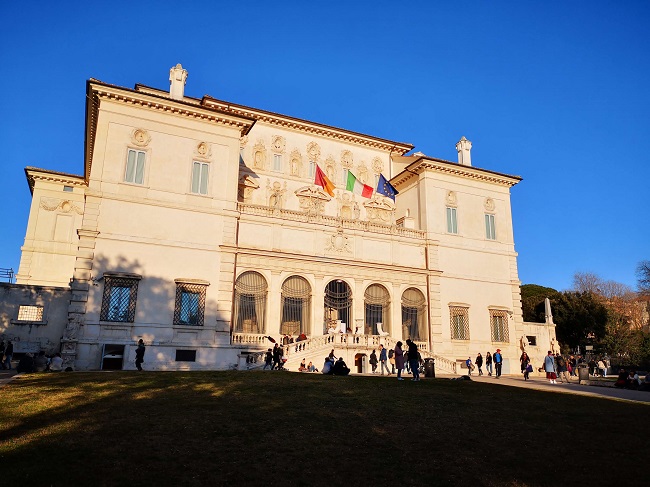 Row, row, row your boat on the Villa's Pond
Inside Villa Borghese, there is a lovely pond overlooked by no less than an ancient temple!
Ok no, this is not true, the temple is not ancient, it only pretends to be for decorative purposes, however, it is quite a sight!
The best way to enjoy it is by catching one of the rowing boats for rent at the pond.
They cost 3 Euro per person for a 20-minute slot and they are fun for adults (you see many couples channeling their inner Bridget Jones here) and kids.
Top tip! The pond has small tortoises, geese and ducks and it is a favorite stop for kids!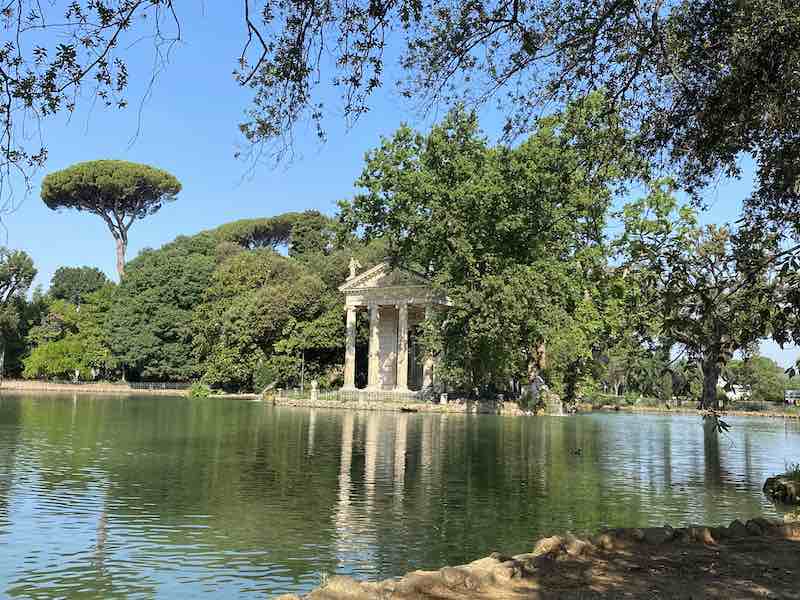 Visit Museum Carlo Bilotti
Close to the pond in Villa Borghese there is Museum Carlo Bilotti, often overlooked in favour of the more famous Borghese Gallery but worth a visit.
This museum is hosted in the orangeries of the Borghese Family and hosts beautiful contemporary pieces and exhibitions.
Catch a view over Rome from the Pincio Terrace
Villa Borghese has several beautiful parts but the most scenic of all is, without a doubt, is the Pincio Terrace.
This is a large piazza with a balcony overlooking the city and is a sight to behold.
As well as offering an expansive view over the city, the terrace is immediately above Piazza del Popolo, which you see laying grandly at your feet!
This is one of the most romantic places in Rome: head here at sunset, right before the villa closes, for maximum impact.
Tip tip: this is a great place if you want a cool Rome location for a proposal!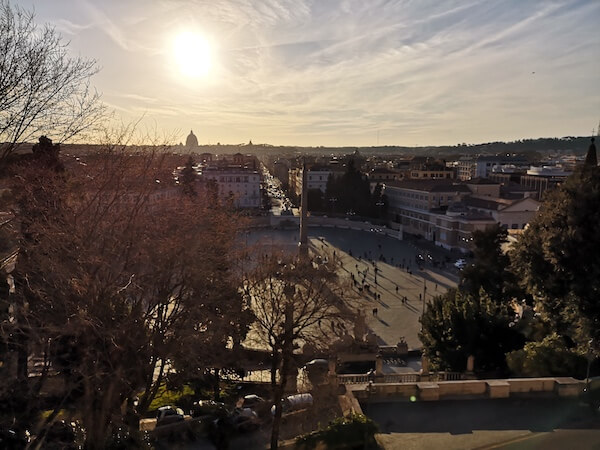 Have a romantic meal at elegant Casina Valadier
If you are looking for a romantic, elegant restaurant to really impress your date, then Casina Valadier can be just the ticket!
Located just beside the Pincio terrace, this is a wonderful liberty villa now hosting a refined cafe and restaurant. This is a special occasion type of place with food (and prices) to match, with an unparalleled view over Rome.
Go to the movies at Casa del Cinema
Casa del Cinema at Villa Borghese is an arthouse cinema theater inside the Borghese Gardens.
This is a wonderful place for cinema lovers and a great place to know if you are in Rome in summer especially when the shows are outdoor and free!
You can find info and program on their official site here (In Italian, but summer here is so pleasant it is worth it nonetheless!)
Have coffee in the park
There are several nice cafes in Villa Borghese, ranging from small kiosks serving cold drinks to terraces and restaurants.
Two places I recommend for a relaxing break in the park are Casina del Lago, which is a pretty cafe close to the Pond, and Satyrus, a sunny terrace on the monumental staircase facing the Galley of Modern Art, in front of the park.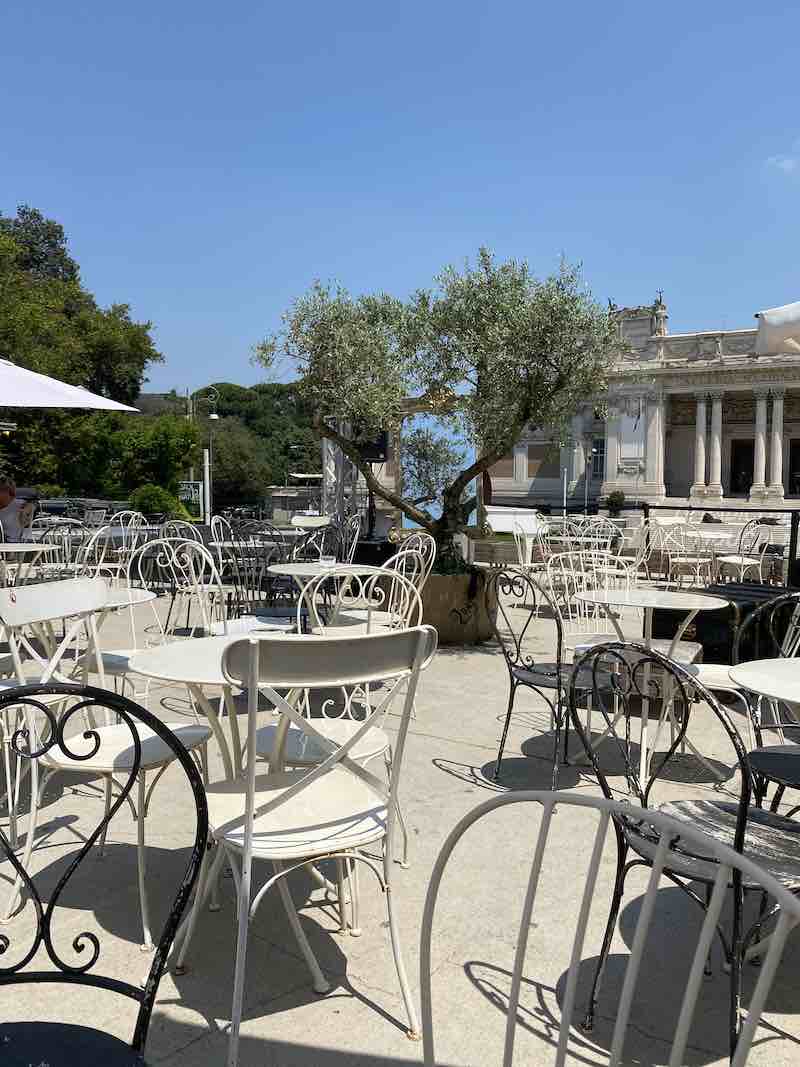 Go for a run or a walk
The Borghese Gardens are a popular hangout for runners of all levels of ability.
The park has long and well kept, car free roads that are perfect for a jog or a run.
It is not unusual to see groups of people exercising together, making the most of the large grassy areas in the park, the shade offered by the many trees and the abundant amount of water delivered for free from Rome's small fountains.
Things to do in Villa Borghese Gardens with kids
My recommendations so far are for all types of travelers but there is no doubt that Villa Borghese Gardens are a great place for kids too.
Among the many things to do in the Borghese gardens with kids, our favorite area:
Visiting the Bio Parco, Rome Zoo
Rome Zoo is not the most amazing zoo you will ever visit (seriously, this is not London or Sydney) however, it is a nice place to visit especially for younger kids.
Located inside Villa Borghese, it has the animals of course, some nice play areas and lots of places to run around safely. On occasion, such as during the week of carnival or on public holidays, they have special events and workshops of rids that make the place busy and fun.
Good to know: the Zoo is beside the Borghese Gallery, so if your kids are not the museum type, parents can take turns and visit both attractions on the same day!
Get on wheels renting a bike, kart or segway
Villa Borghese has large 'viali', paved paths that are perfect for cycling and karting.
You can rent bikes, small karts, quad bikes and Segways in several locations and let your kids loose or join them in a cycling adventure.
We found good options on Viale dei Bambini (close to the Pincio terrace) and near the entrance of Porta Pinciana, which is a great location for kids also thanks to the playground and merry go round nearby.
Marvel at the Pincio Water Clock
Close to the Pincio terrace sits a peculiar object: a water-powered clock!
It lies inside a small fenced area/fountain and while I never thought it would be of great interest to a child, I stood corrected when my 9-year-old saw it and went: 'WOOOOOOOOW".
The clock is close to the kart/bike rental place, a merry go round and the puppet theater, so it is easy to add to a day in the park.
You can read here >>> all about the Pincio water clock
See a show at San Carlino Puppet theater
Young children may love a show at the San Carlino theater, the puppet theater inside Villa Borghese.
Located near the Pincio just beside the water clock, the bikes and the merry-go-round, this is a charming place perfect if you are looking for something a little different to do in Rome with kids and want to mingle with local families.
You can find their official site and program here
Catch the little train
Tires of walking? Then catch the Villa Borghese Garden street train, the easiest way to see large parts os the garden without getting little legs tired!
Go to the playground
A large park such as Villa Borghese could not have playgrounds and indeed, there are a few you can choose from.
Our favorite is near the Porta Pinciana entrance (it is the one with the best climbing frames) but there is also a small one near the pond.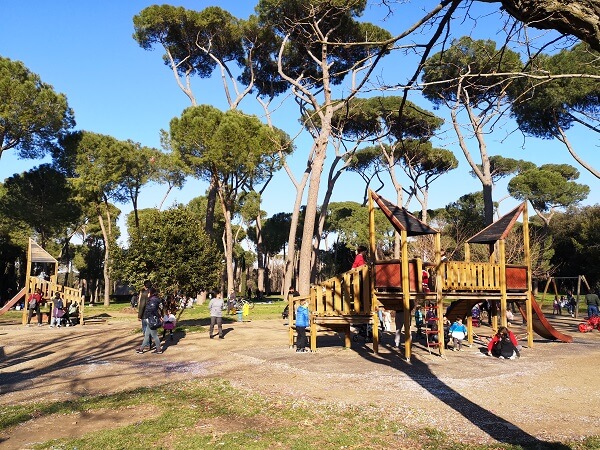 Casina di Raffaello playroom
Another cute space for kids inside Ville Borghese is the Casina di Raffaello: this is an indoor space equipped with toys for toddlers and very young kids as well as a small gift shop.
Outside there is a small but ok playground: while not spectacular, this is a good place to play indoors should you get caught in the rain while visiting the park or if you want to give your toddler some floor time.
You can find more tips on how to visit Rome with a toddler here.
This is my overview of the best things to do in the Borghese Gardens and tips for visiting. I hope it helped you plan your day at Villa Borghese: safe travels!
Updated June 2021