All you need to know for visiting Rome with toddlers. In this guide, we look at strollers vs carrier, best things to do in Rome with toddlers, toddler friendly tours, where to get toddler essentials and travel tips – all from me, a local mom!
Visiting Rome with toddlers is a fun yet tiring experience.
Busy traffic, stroller unfriendly pavements and cultural attractions make it a city more attractive to older families than very young ones.
However, you can enjoy Rome with toddlers in tow: all you need it the right advice and a bit of preparation!
This is where my guide comes in: based on my experience of the city with two young children (there is less than 2 years between them so yes, at one stage I had two under two…), this is all you ever wanted to know about visiting Rome with a toddler!
Good to know: going with an even younger child? Then have a look at out travel guide to Rome with a baby as well!
Please note: this post contains affiliate links and, should you make a purchase through them, we might make a small commission.
Rome with toddlers: best time to go
Rome is a pleasure to visit any time of the year however, if you are not yet tied to school holidays and can travel any time, there is no doubt that some seasons are better than others.
With a toddler, the best times to visit Rome are the spring and the fall.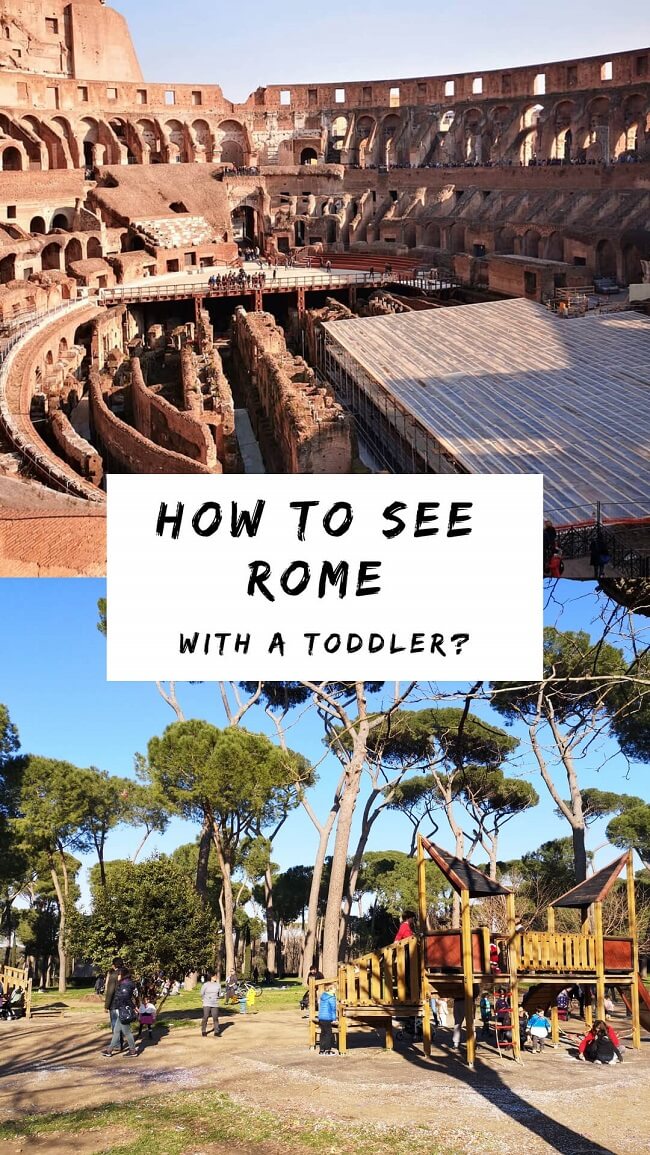 Rome in spring and fall: the most toddler friendly time to visit Rome
Spring and fall in Rome have similar weather patterns, the main difference being that spring is a little more rainy (April in particular)
These are wonderful times to visit the city and offer great weather for toddler friendly activities such as going to the park. At this time, the temperature is mild and during the day you will find yourself taking off coats and possibly even strip your active toddler down to their lighter layer for playing.
In the evening and when on the stroller, however, spring and fall will still call for warmer layers and a light cover.
April and November are rainy in Rome so you may expect some indoor time however, overall this time will see sunny days and the option of long days out.
If you can, avoid Easter weeks as these are very high season for tourism in Rome and prices (and queues) are at their peak.
Summer: the worst time to visit Rome with toddlers
By far the worst time to visit Rome with a toddler is the summer. From mid June to the end of August included the city gets hot and sticky, the air polluted because of lack of rain and wind and mosquitoes reign supreme.
This is a bad time for any type of tourism but is a real pain if you are visiting the city with a young child. The sun in summer in Rome is too hot for them to play safely outside and many of the city non-touristy business shut down for the summer holidays, making Rome even less efficient than usual.
If you are stuck with holiday time in summer, make sure you pick a hotel with child friendly pool and plan your days around long hours near water.
An excellent hotel with pool in Rome is the elegant Gran Melia (check prices and info here) which, if you can afford it, is a lovely treat.
Rome with a toddler in winter
Winters in Rome are mild but they are also very humid which means you are likely to want to find refuge indoor often. This is a good time to visit Rome if you want to avoid the crowds and keep costs down but it is a hard one for toddler friendly entertainment.
The only real indoor fun for toddlers in Rome is offered by Explora children museum, which is great but can get pricey if visited more than once.
If visiting Rome in winter, I highly recommend getting an apartment and bring toys so you can find refuge back home when the weather turns on you.
Christmas in Rome can be fun for toddlers thanks to the many nativity scenes popping up around the city. If coming at this time, make sure you book well in advance as Christmas is high season and accommodation is scarce and pricey.
How to get around Rome with toddlers and strollers
Getting around is probably the hardest thing to do when visiting Rome with a stroller age child but with the right accommodation and equipment, it doesn't have to be too hard either.
Rome airport to Rome city center with toddlers in tow
The easiest way to get from Rome airports to your accommodation with a toddler is by booking a private transfer.
While this is also the most expensive transfer option, I recommend it because it has a major advantage over a standard taxi: it comes with a car seat!
Taxis in Rome do not carry car seats.
Car seats in Rome are compulsory in private cars but not in taxis and you will be expected to hold your child on your lap.
While this is legal, I feel you need to know that the drive between the airport and Rome city center is on a motorway and traffic moves fast.
This makes a taxi ride with a toddler and no car seat a nerve wrecking experience so I feel it is important to know there are other options!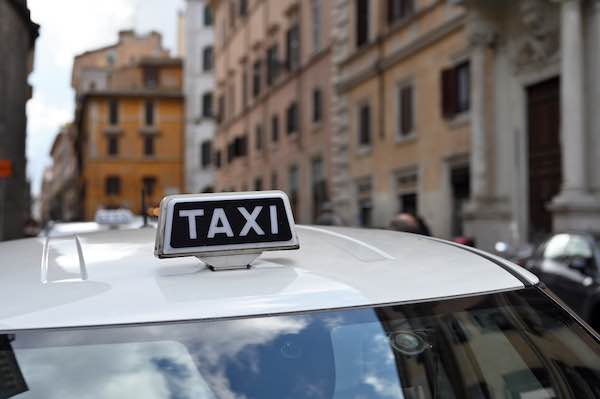 My go-to private transfer service company in Rome 'Welcome Pickups' – you can get a free quote on their website here
If you have your own car seat, then you can also opt for a standard taxi.
They station outside the airport arrival hall and you recognize the official ones by the 'taxi' sign on top and the Roma Taxi sticker on the side of the car.
You can read here >>>> our guide to using taxis in Rome
Good to know: if you are planning on using your own car seat, you may find helpful out guide to car seats in Italy and our guide to guide about renting a car in Italy.
A cheaper way to get to Rome city center with a toddler in tow is to get the train (from Fiumicino)
The train between Fiumicino and Rome city center is fast and well kept and kids go free.
Strollers can be brought on board and there is a reasonable amount of space to store them: no intermediate stops between the airport and the station mean keeping an eye on it easy too.
You can find here:
>>> Our guide to getting from Fiumicino airport to Rome city center
>>> Our guide to getting from Ciampino Airport to Rome City Center
Used metro and buses in Rome with a toddler: managing Rome public transport with a stroller
Unfortunately, Rome public transportation is not child friendly.
Rome buses are not stroller friendly.
Strollers need to be closed to enter the bus and the steps to get onto the but itself are often very high (it depends on the specific bus).
Some buses have an accessibility ramp but they do now lover it for families, unless you happen to find an exceptionally helpful driver. It happens but it is not something you can count on, sadly.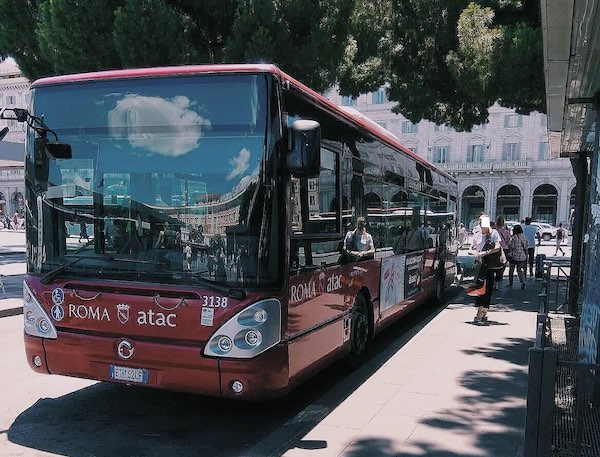 A similar situation awaits people trying to use the metro.
In many cases, escalators do not work and you will find yourself lugging your stroller and baby down poorly kept ramps of stairs.
If you can, avoid using public transport in Rome and opt for walking: by far, the best way to get around Rome at any age!
The best area to stay in Rome for families with toddlers
The need to avoid public transport has a corollary: if at all possible, you want to have accommodation in the city center.
The best areas to stay in Rome with toddlers are:
The Pantheon / Piazza Navona area: the very center of Rome, this location is not particularly green but it places you right in the center of everything and will allow you to have most Rome attractions on your doorstep.
Colosseum area/ Monti: the area immediately beside the Colosseum is great for families with toddlers as mixes proximity to the Colosseum and the Roman Forum with access to two cute playgrounds, one on the Oppian Hill (also a lovely park) and one in Piazza Vittorio.
Villa Borghese Area: The Borghese Gardens are a delight for toddlers so having accommodation near them is a great way to be able to add time in the park to your day without having to stray too far from Rome's main attractions.
Trieste Salario area: Outside of the city center, this is a fantastic area if you are in Rome for a little longer and want a local feel, rather than proximity to attractions.
This is family friendly, green neighbourhood which requires the use of the bus to get into the center but works well for a local experience (think parks with local kids playing after school, lots of local shops, etc).
You can find here >>> our guide to where to stay in Rome with kids
Toddler friendly hotels in Rome
In general, Rome doesn't do family hotels very well.
In most cases, kids are welcome; however the 'family welcome' offer usually only means the hotel can add a cot yo your room, but not much more!
Some hotels, however, have additional services just for little ones! In some cases, you may need to compromise on either location or budget but for the extra convenience they offer, it may be worth it.
Toddler friendly hotels in Rome we recommend are:
Best Western Rome President – a toddler friendly hotel in Rome city center with extra attentions for families such as cot, changing station, bottle warmer, baby bath tub, high chair, stroller rental laundry service discount for families. Option to get discounted tickets to Explora Children Museum (and amazing attraction for little ones!). 
Starhotel Metropole – I love the Starhotel chain for families and the star hotel Metropole in Rome has all the services I have come to expect form the Starhotel name. In particular, this one hotel is great for toddlers as it offers (on request) cribs/ cots, playpens, changing table, bathtub tray, bottle warmer, highchairs, as well as stroller for easy walks
Best Western Spring House – located in the Vatican area, this hotels has good services for families with toddlers such as cradle/ cot, bottle warmer, baby bathtub, changing using, strollers available. Baby sitting service is also available.
Hotel de Russie – hotel de Russia one of the best five star hotels in Rome and a city institution, having been the hotel of house of illustrious guests for well over a century. 
Their exceptional facilities and services extend to the toddler in the family with rooms with toddler cribs, baby lamps, mobiles and play mats (on request), baby bath products, and baby and toddler hooded towels. Anti-slip mats as well as changing station essentials available upon request.
For easy toddler meals, they can provide baby crockery, bottle warmers, high chairs etc (on request).
Good to know! These hotels are tried and tested by myself or by the lovely members of the Facebook group I admin 'travel Italy with kids – tips and advice: if you are not a member yet, join here, it is free and packed with tips and lovely parents happy to chat all things family travel!
Carrier or stroller to visit Rome with a toddler?
One of the biggest decisions when it comes to packing for a trip to Rome with a toddler is about the stroller: should you bring a stroller to Rome or will you be better off with a carrier?
And if you opt for wheels, what is the best stroller for Rome?
To the first question I say: bring both a stroller and a carrier.
The carrier will be invaluable in museums and is all those locations where a stroller can be a pain more than a help – the Colosseum, the Roman Forum and all museums come to mind as places that are accessible with a stroller but much easier without.
I highly recommend you also bring a stroller to Rome, no matter what you may have heard about cobbled streets!
While Rome is not particularly stroller friendly and you will have moments of frustrations pushing a toddler especially, it will nonetheless be invaluable as in Rome you will walk, a LOT!
What you need to know about using a toddler stroller in Rome:
Part of the city has cobbles streets so big wheels or at least sturdy wheels are a must
People park everywhere in Rome and this includes pavements, so be prepared for having to get on and off often
There are some potholes in Rome so you won't always have a smooth ride
Rome has many roads and pavements that are perfectly flat and easy with strollers, it is not all cobbles!
In Rome, you will walk very many kilometers each day so your toddler will get tired walking and you will too, if you have a bigger toddler in the carrier all the time
Many outdoor restaurants have enough space for you to keep your toddler in the stroller as you have a meal (not all, but it is not as rare as you may think)
The Vatican Museums are stroller friendly and they even let you in first if they see you with a stroller
The best toddler carriers for Rome
In terms of carrier models, I highly recommend you opt for a soft structured one, ideally one with several carrying positions, to limit the load on just one part of your body.
The one I personally used was the Ergo Baby carrier: it was comfortable for my daughter, it easy to pack and it has several carrying positions which allowed me to have her on my back, hip and in front.
Top tip: I recommend against using hiking carriers with Rome. Those with metal bars are often not allowed in museums as they are a security hazard and you may have to leave them at the wardrobe, making them totally useless for museum visits.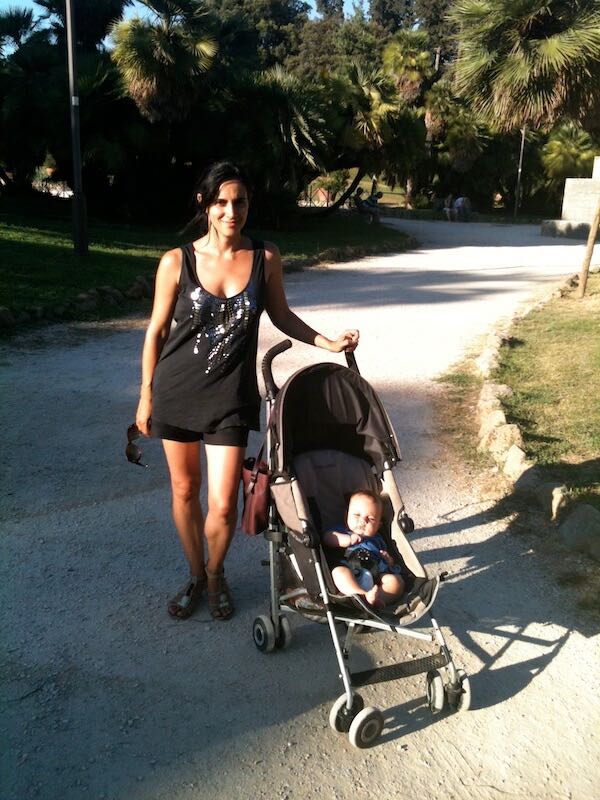 The best stroller for Rome
In terms of the best stroller for Rome, my advice is: bring one with strong wheels and as narrow a width as possible!
The perfect stroller for Rome doesn't exist and you will always have to compromise on something: a big stroller will be a pain to carry and fold but will offer better cushioning to your child and your back on cobbles.
A smaller stroller will be best for easy transport but it may not survive the potholes and cobbles of Rome.
The one thing you cannot compromise on is the sturdiness of the wheels and overall frame as Rome will put it to quite a test!
Strollers that worked for us in Rome were Quinny Quest, Phil&Teds Sport and MacLaren quest.
Friends also has good experiences with Baby Jogger City Mini and the Uppababy Minu.
The famous GBpock-it got mixed reviews as some found it perfect, other way too flimsy.
Rome playgrounds
Rome has many playgrounds, dotting many of the city's beautiful parks, however, they are in various states of repair.
One of the big problems the city faces is that of maintenance and this means that even very nice, newer playgrounds, get sometimes closed for problems with trash or overgrown vegetations and similar.
Sadly, Rome is also this!
That said, there are some nice addresses worth trying when looking for a quick play.
Three we particularly like in the center are:
Borghese Gardens playground, in front of Casa del Cinema (Porta Pinciana)
Playground in Piazza Vittorio (new!)
Playground in front of Castel Sant'Angelo
Playground in Piazza San Cosimato (Trastevere)
You can find here >>> our list of Rome playgrounds close to Rome's main attractions.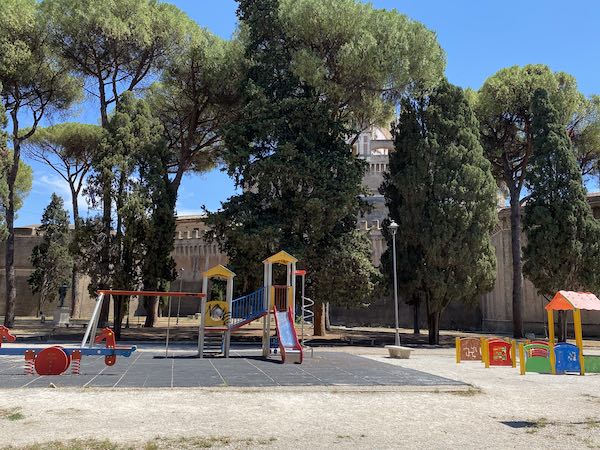 Best things to do in Rome with a toddler
After this long premise, let's get down to business: what is there to do in Rome for a toddler?
Not too much, but here are a few ideas. Further down, I share a list of attractions that are not for kids but are easy to visit when in Rome with toddlers.
Go to Explora children museum
THE place in Rome for toddler, Explora is a children museum with interactive installations and play areas for children aged 0 to about 11.
For toddlers they have a soft play area reserved for kids up to 3 years of age and this is a wonderful place for them as they can play, climb and have floor time in complete freedom. The museum has nice facilities and a restaurant on site. You can find full info on our review here (this is my kids favorite place in the whole of Rome!)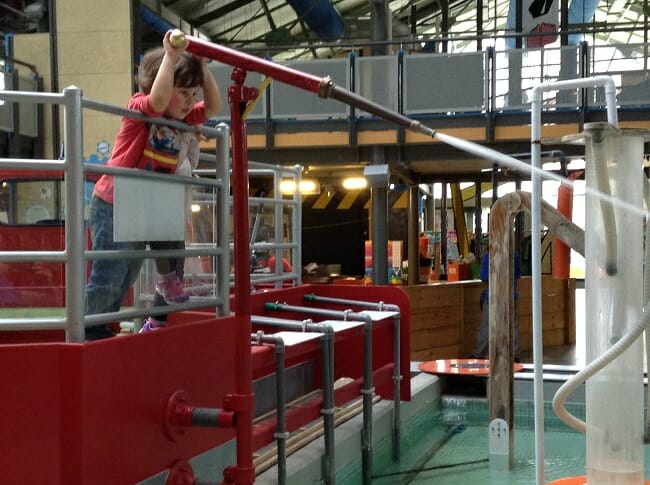 Spend an afternoon in the Borghese Gardens
The Borghese Gardens are the biggest park in central Rome and they are wonderful for small kids.
In the park, you find lots of playgrounds, merry go rounds, lots of space to run around and a pond with turtles and rowing boats you can rent!
You can read Here >>> our guide to Villa Borghese (Borghese Gardens)
Meet the animals in Rome Zoo
Rome has a small but nice zoo located in the heart of Villa Borghese, in the city center.
This is not the most amazing zoo you will ever see, it doesn't compare with the big world zoos such as San Diego or Sydney however, it is a nice one to visit with kids as it offers them a safe space to run and some fun animal encounters.
You can buy tickets at the entrance (it is on the same side of the park as the Borghese Gallery) and inside you have a small concession with snacks.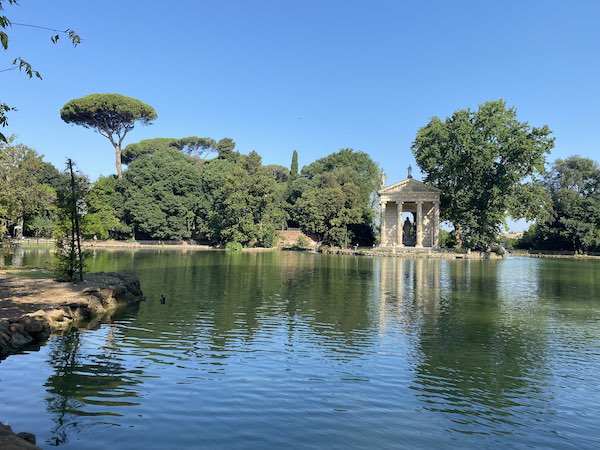 Play in one of Rome's wonderful parks
Rome is a very green city and many of its nicer parks are in the city center, making them an easy stop to add to any Rome itinerary.
The most famous of all is the already mentioned Villa Borghese, which has lovely playgrounds and an indoor play area called 'Casina di Raffaello' and one that is very popular with families is Villa Doria Pamphili, which is wonderful for picnics and offers unrivaled views over St Peter's dome.
Find here >>> our selection of cool parks and gardens in Rome
Visit Rome's Botanical Gardens
Rome's Botanical Gardens are a lovely green space in Trastevere and a bit of a corner of paradise for toddlers.
While very much in the city center, the gardens are car free, green, quiet, safe and they even host a butterfly house which is usually a hit with small kids!
You can find here >>> our guide to Rome's botanical gardens
Get splashing in Rome's fountains
Rome has many fountains, some monumental and some small, offering drinkable, free flowing water.
Bathing in monumental fountains is strictly prohibited (even to small kids and fines are very high and frequent) but the small fountains are perfect for a bit of splashing.
I will not go as far as saying this is an activity to seek out (unless it is the height of the summer) but experience tells me this is the main thing most toddlers end up enjoying when in the city!
My best advice is to embrace it: just make sure you carry a change of clothes with you and water shoes.
Visit Rome's Rose Garden (Roseto Comunale)
Rome's Rose Garden is a season, public garden perched on top of the slopes of the Aventine Hill, in Rome city center.
The gardens boasts a large variety of roses and while it is not a place for kids as such, it is car free, pretty and safe. Being just in front of the famous Palatine Hill and Circus Maxims, it is also a lovely easy place for a break from sightseeing without having to leave Rome city center.
Best toddler friendly tours in Rome
Not all tour companies are able to cater to the needs of toddlers, so it is always a pleasure for me to share the name one one company that does: LivTours!
LivTours is a family company run by the lovely parents of little kids. As parents, locals and Rome lovers, they really know what families need in the Eternal City and have tours to match them!
The best toddler friendly tours we recommend are:
The best Rome attractions to visit with toddlers + tips for visiting Rome's top sites with a toddler
As you can see, none of my toddler-friendly things to do in Rome is one of Rome's' main attractions and the reason is simple: there is very little in Rome's main sites that can attract a toddler.
However, you can still see Rome's top historical attractions with a very young child and this is my best advice on how to do so.
Visiting the Colosseum with a toddler
The Colosseum is a child-friendly attraction: kids go free and strollers are allowed (inside there is even an elevator which reaches most areas).
However, there are a few things to keep in mind when visiting the Colosseum inside with a toddler: first, tickets are only bookable online, not on the spot (learn how here).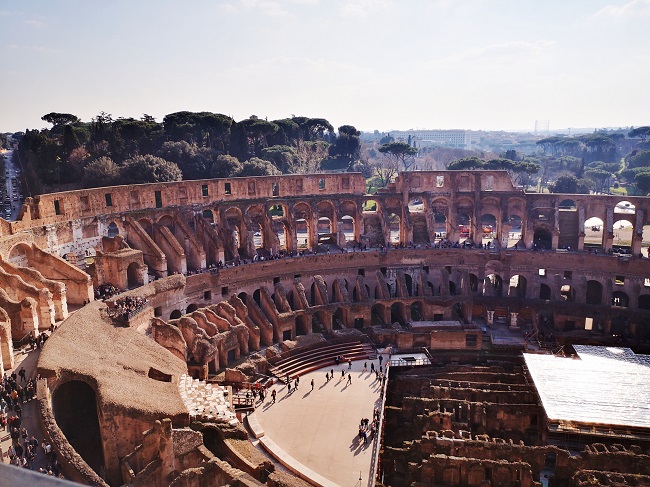 Second, while strollers are allowed into most parts of the Colosseum (not all), it is a real pain to maneuver them inside such a busy attraction so I highly recommend you opt for a carrier on the day of your visit, if at all possible.
Last, there is nothing in the Colosseum to attract a toddler's attention.
Unless you are set to see the inside, the best way to see the Colosseum is to go to the park just in front: kids can run and the views are spectacular.
Find here >>> our guide to visiting the Colosseum with kids
Visiting the Roman Forum and Palatine hill with young kids
The Roman Forum lies just beside the Colosseum and I love visiting it with my kids.
There is a good bit of hands on parenting to do here (they will want to climb on the ruins but of course they cannot) but the place is lovely, interesting and outdoors – basically a great outside space to mix sightseeing and play time!
The Palatine Hill is right above the Forum and one of the most spectacular places in Rome.
Little ones have plenty of space to run around but do keep an eye on them and stay close are there are some high areas that can pose hazard to adventurous little children.
read here >>> how to visit the Palatine Hill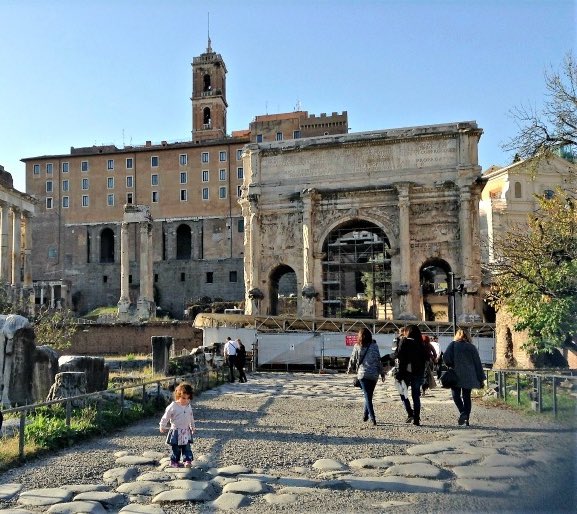 Visiting the Vatican with toddlers
Visiting the Vatican with a toddler can be fun or a nightmare depending on what you decide to see and what budget you are working with.
The main St Peter square is free (so is the main floor of the basilica) and fun for toddlers to see: despite the crowds, this is a large space and they can run and chase pigeons to their heart content.
The Vatican museums on the other hand are crowded and very hard to enjoy at any age, just due to the immense volume of visitors.
The best way to visit them is to invest into an early morning private tour, the only way in which you will be able to actually see the art and not just a see of people in between you and the masterpiece!
The Vatican museums are stroller friendly so once you are in with the right tour, the visit is easy.
You can read our experience in the Vatican with small kids here. If the museums are not for you, I highly recommend you also read our ideas on what else to do at the Vatican: while amazing, the museums are hard to tackle but there are a lot other ways to enjoy the Vatican, more family friendly!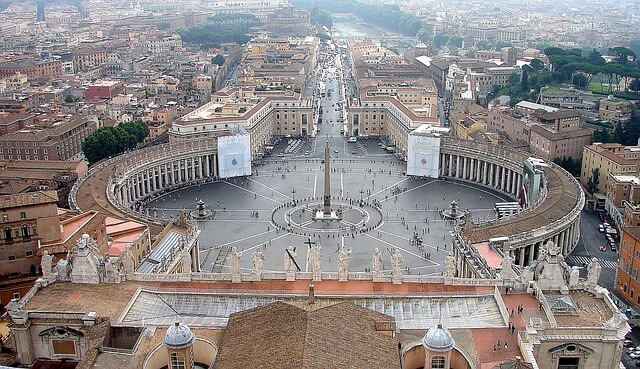 Visiting the Pantheon with a toddler
The Pantheon is one of Rome's main attractions and a a very easy one to visit with a toddler.
Entrance is free and usually small kids get fascinated by the holes in the ground that drain the water away on rainy days. It is usually a fun thing to spot: all the adults look up to see the oculus but all the little ones crouch down to peek into the holes!
Visiting Rome's piazzas with little kids
Many of Rome's most famous attractions are piazzas that are free to visit and this is great for families as it means you don't have to plan or abide to any other timeframe than your own.
Piazza Navona, the Spanish Steps and Piazza Fontana di Trevi (the Trevi Fountain) are all in the city center and stunning – just be careful of crowds and cars. While many of the big squares are car-free, this doesn't mean the occasional vehicle doesn't sneak in so, staying cautious is paramount.
Find here >>> our guide to Rome's best piazzas
Caracalla's Baths with a toddler – one of the easiest Rome attractions to visit with a little one!
The Baths of Caracalla are one of Rome's most impressive archaeological sites.
They are a monumental bathhouse built in the III century AD and they are stunning to see but also very child friendly.
Entirely outdoor now, they are a safe and beautiful space for parents to admire and learn about Caracalla's times and for toddlers to run around safely.
Find here >>> our guide to visiting Caracalla's Baths in Rome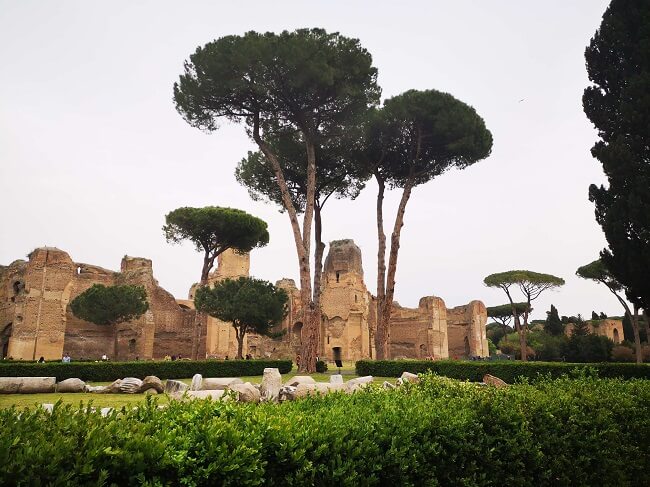 Ostia Antica (Ancient Ostia)
Ancient Ostia (Ostia Antica) is probably the most toddler friendly archaeological site in the whole of Rome!
Immediately outside of the city, Ostia Antica is the ancient port of Rome and it is now a little like Pompeii: an ancient city turned archaeological park.
The places is stunning, interesting and see for little kids who experience it like a fantastic and large park.
You can read here >>> our guide to Ostia Antica.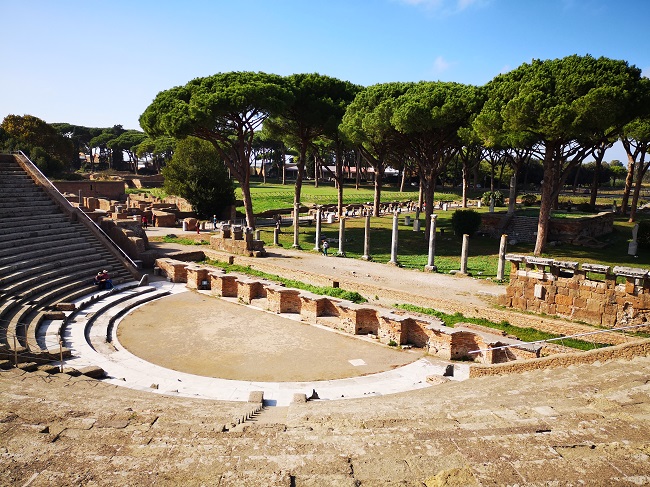 Where to eat in Rome with a toddler
Rome restaurants are very family-friendly. Children are welcome pretty much everywhere and most restaurants will accommodate special requests such a plate of plain pasta or pasta with a basic tomato sauce.
Rome restaurants however do not usually have children menus (those that do are often geared towards tourists) so don't be put off if you don't see one: children are usually welcome unless it is specified otherwise.
Restaurants in Rome often have high chair or harnesses but this is not a rule so having your own portable one is usually a good idea.
I have several family friendly restaurants in Rome I feel like recommending.You can find a selection of my favorites here.
Public toilets and baby changing facilities in Rome
Public toilets are few and far between in Rome.
You find some of them at the main sites (There is one at the Colosseum, one at the Vittoriano for instance) and they usually charge a 1 euro entry fee.
This is annoying but it does mean they are usually decently kept and, often but not always, stocked with toilet paper (this is not the case in free ones)
Your best bet when it comes to a toilet break is to ask in any bar / restaurants: the law in Italy made bar toilets open to the public so even if you don't see a toilet sign, ask and they will have to let you in.
The state of these toilets is hit and miss and very small cafes may not have toilet paper: it is always wise, in Rome with a toddler, to carry some.
Baby changing facilities are not common in Rome but you do find them in some of the bigger restaurants, usually in the form of a folding changing table.
Where to by toddler essentials in Rome
In Rome, you can buy toddler essentials in the supermarket, in the pharmacy and in baby shops.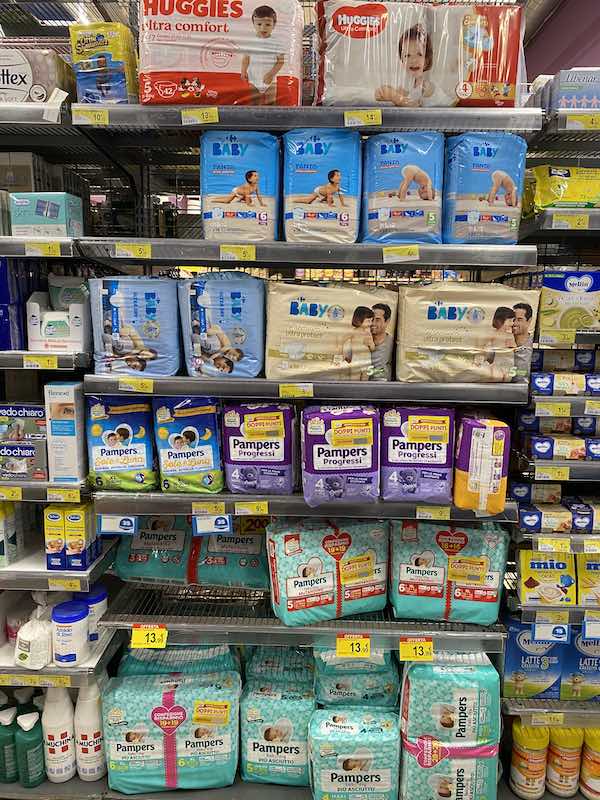 Supermarkets and pharmacies (farmacie) sell:
Nappies/diapers (supermarkets; pharmacies)
Baby formula (supermarkets; pharmacies)
Soothers (bigger supermarkets; pharmacies)
Baby powder (supermarkets; pharmacies)
Baby toiletries such as shampoo etc (supermarkets; pharmacies)
Soothers and Teethers (pharmacies)
Weaning products and pushes (supermarkets; pharmacies)
Baby and toddler medications (pharmacies only)
If you need bugger baby items such as car seats or strollers, most shops are outside of the center and may require a taxi ride or a hop on public transport.
Some you may find useful are:
Chicco Store (several locations): Via Gregorio VII, 226, 00165 Rome; Via Pier Vettori, 4 00151 Rome; Maximo Shopping Center, Via Laurentina, 865 00143 Rome; Centro Commerciale Porte Di Roma – Via Delle Vigne Nuove Snc 00139 Rome;
Piu' Bimbi – Via Luca della Robbia, 28/34 00153 Rome
Bimbostore Romanina – via Bernardino Alimena 38, 00173 Rome
Bimbin store – Via Tacito 66,68 00193 – 00193 Rome
Finding toddler snacks in Rome
I often hear parents worrying about not being able to find toddler snacks in Rome and I have even read blog posts suggesting Italians do not snack.
If you came across these posts and they got you worried, let me just say this: do you really think Italian toddlers don't snack?! Of course they do!
They may just have different snacks than what you have back home.
Classic toddler snacks in Rome are:
Pizza Bianca (from the bakery / grocery store) – similar to plain focaccia
Gallette di riso – rice cakes
Biscuits (Plasmon and Gentilini are the most popular for little ones)
Fruit pouches (omogeneizzati, in Italian)
Fruit
Mini cheese shapes
Yogurt
Of course, you will also find all your staples in main supermarkets, so you can make your own sandwiches, veggie snacks etc.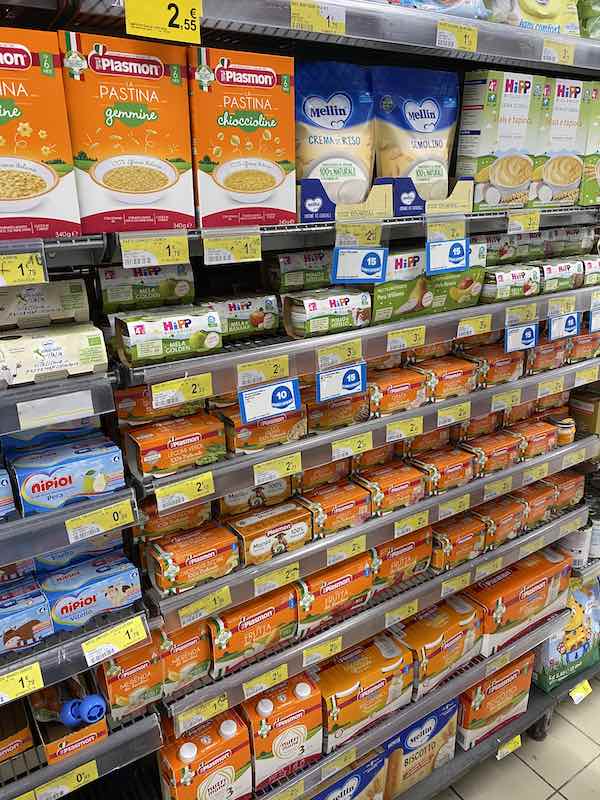 Where to buy toddler clothes in Rome
In Rome there are many baby and toddler stores, ranging from high street favourites to designer clothes.
Shops you may like are:
Chicco stores – several locations
Prenatal stores – several locations
Oviesse OVS – Italian, budget chain stores perfect for everyday toddler clothing, several locations
Zara Kids – several locations 
H&M – several locations
Du Pareil Au Meme – French baby and children store, several locations
Original Marines – several locations 
Baby boutiques: independent shops, usually in residential areas
Where to find medical help in Rome
Should you find yourself in need of medical help for your toddler while in Rome, you can consider the following:
118 – Medical emergencies only, this is the number to get an ambulance and get urgent help fast
Pharmacies – the first port of call for minor ailments or if you are unsure about the need for a doctor. They will be able to give basic medications or recommend medical help
Doctors in Italy and First Med – English speaking doctors in Rome: for standard, non urgent, medical consultation
Your embassy – some embassies are able to help with names of specialists you may want to consult.
A note about Pharmacies / Farmacie in Rome
Farmacie in Rome are very useful shops! 
As the name suggests, farmacie is the Italian for pharmacy but they are not what you may be used to abroad.
Farmacie in Italy are run by a pharmacist who can sell you medication (some with, some without prescription) but is also trained so that they can give adnice on how to treat minor ailments.
Farmacie are also a great first port of call if you are not sure about how to tackle your baby being unwell as they will able to quickly direct you to a doctor should it be needed.
In farmacie, you can find diapers, soothers, teethers, hypoallergenic formula, baby suncream and baby medications, just to name a few of the products available.
They tend to be more expensive than supermarkets fo the same category of products. However the quality is usually higher.
Please note that pharmacies have opening turns: should you local one be closed on a Sunday or after hours, they usually have a sing outside with name and address of after hour pharmacies in the area.
Good to know! In Rome city center there are two large pharmacies with English speaking doctors (there are more, but these two are usually the easiest to find and reach while sightseeing in the center):
One is in Piazza Barberini, in front to the Triton's fountain, on the corner with Via delle Quattro Fontane
One is near Piazza Navona, just beside the Senate, on Corso Risorgimento / Piazza Madama.
What to pack for visiting Rome with a toddler
My must have list for visiting Rome with a toddler is as follow
A good stroller with cobbles friendly tires and sun canopy
A baby carrier
A portable high chair
Sun hat / baby friendly sun screen
Insect repellent / post bite cream if visiting in summer
Water bottle
Water shoes
I hope you enjoyed this guide to visiting Rome as a young family and it helped answering the question: how can we visit Rome with a toddler?