Visiting Rome with toddlers is a fun yet tiring experience. Busy traffic, stroller unfriendly pavements and cultural attractions make it a city more attractive to older families than very young ones.
However, you can enjoy Rome with toddlers in tow: all you need it the right advice and a bit of preparation.
This is where my guide comes in: based on my experience of the city with two young children (there is less than 2 years between them so yes, at one stage I had two under two…), this is all you ever wanted to know about visiting Rome with a toddler.
Please note: this post contains affiliate links and, should you make a purchase through them, we might make a small commission at no extra cost to you.
Rome with toddlers: best time to go
Rome is a pleasure to visit any time of the year however, if you are not yet tied to school holidays and can travel any time, there is no doubt that some seasons are better than others.
With a toddler, the best times to visit Rome are the spring and the fall.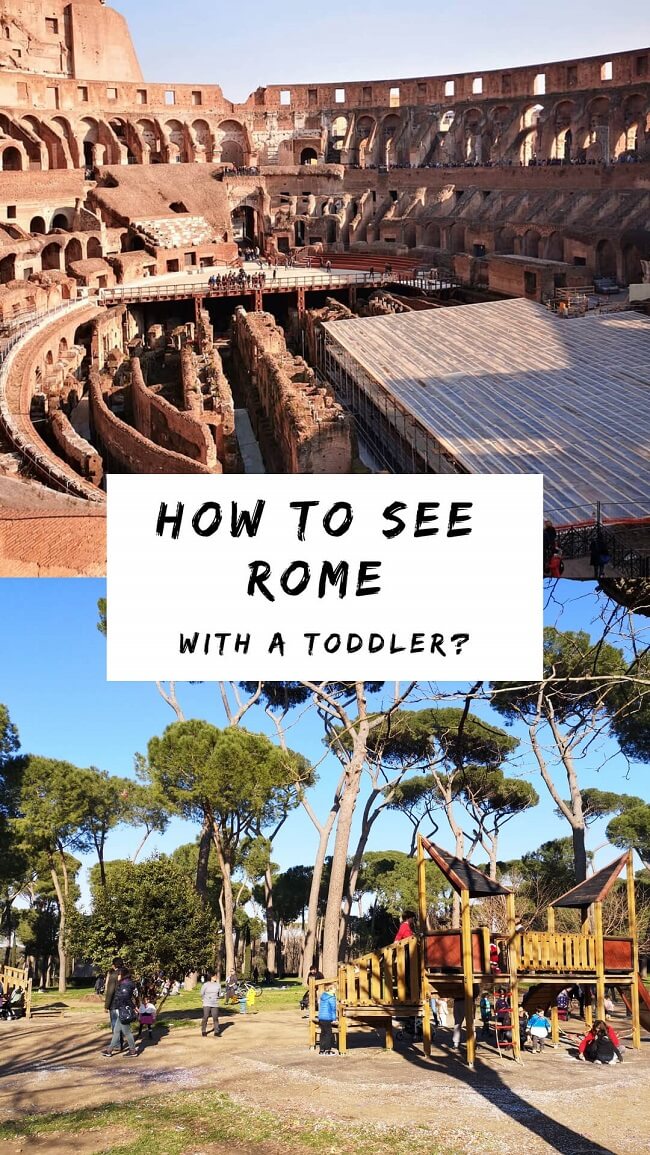 Rome in spring and fall: the most toddler friendly time to visit Rome
Spring and fall in Rome have similar weather patterns, the main difference being that spring is a little more rainy (April in particular)
These are wonderful times to visit the city and offer great weather for toddler friendly activities such as going to the park. At this time, the temperature is mild and during the day you will find yourself taking off coats and possibly even strip your active toddler down to their lighter layer for playing.
In the evening and when on the stroller, however, spring and fall will still call for warmer layers and a light cover.
April and November are rainy in Rome so you may expect some indoor time however, overall this time will see sunny days and the option of long days out.
If you can, avoid Easter weeks as these are very high season for tourism in Rome and prices (and queues) are at their peak.
Summer: the worst time to visit Rome with toddlers
By far the worst time to visit Rome with a toddler is the summer. From mid June to the end of August included the city gets hot and sticky, the air polluted because of lack of rain and wind and mosquitoes reign supreme.
This is a bad time for any type of tourism but is a real pain if you are visiting the city with a young child. The sun in summer in Rome is too hot for them to play safely outside and many of the city non-touristy business shut down for the summer holidays, making Rome even less efficient than usual.
If you are stuck with holiday time in summer, make sure you pick a hotel with child friendly pool and plan your days around long hours near water.
An excellent hotel with pool in Rome is the elegant Gran Melia (check prices and info here) which, if you can afford it, is a lovely treat.
Rome with a toddler in winter
Winters in Rome are mild but they are also very humid which means you are likely to want to find refuge indoor often. This is a good time to visit Rome if you want to avoid the crowds and keep costs down but it is a hard one for toddler friendly entertainment.
The only real indoor fun for toddlers in Rome is offered by Explora children museum, which is great but can get pricey if visited more than once.
If visiting Rome in winter, I highly recommend getting an apartment and bring toys so you can find refuge back home when the weather turns on you.
Christmas in Rome can be fun for toddlers thanks to the many nativity scenes popping up around the city. If coming at this time, make sure you book well in advance as Christmas is high season and accommodation is scarce and pricey.
How to get around Rome with toddlers and strollers
Getting around is probably the hardest thing to do when visiting Rome with a stroller age child but with the right accommodation and equipment, it doesn't have to be too hard either.
Rome airport to Rome city center with toddlers in tow
The easiest way to get to Rome city center with a toddler in tow is to get the train (from Fiumicino) or a taxi (From Fiumicino or Ciampino).
The train between Fiumicino and Rome city center is fast and well kept and kids go free. Strollers can be brought on board and there is a reasonable amount of space to store them: no intermediate stops between the airport and the station mean keeping an eye on it easy too.
If you opt for a taxi, be advised that they do not carry car seats. Car seats in Rome are compulsory in private cars but not in taxis and you will be expected to hold your child on your lap. If you can, bring your own: the drive between the airport and the city center is on the motorway and Rome taxi drivers are always in a hurry. A good travel car seat is, I believe, a good investment.
Using Rome public transport with a stroller
Rome buses are not stroller friendly. Strollers need to be closed to enter the bus and the steps to get onto the but itself are often very high (it depends on the specific bus).
Some buses have an accessibility ramp but they do now lover it for families, unless you happen to find an exceptionally helpful driver. It happens but it is not something you can count on, sadly.
If you can, avoid using public transport in Rome and opt for walking: by far, the best way to get around Rome at any age!
The best area to stay in Rome for families
The need to avoid public transport has a corollary: if at all possible, you want to have accommodation in the city center.
While not very green, this is the best area in terms of accessibility and has some good family friendly options in terms of hotels / apartments such as Palazzo Scandeberg and Hotel Kolbe.
Another good are is that of Trastevere and in particular the Hotel Ripa, which markets itself explicitly for families and has some lovely facilities for kids.
You can find our full list of family friendly hotels in Rome center here
Best things to do in Rome with a toddler
After this long premise, let's get down to business: what is there to do in Rome for a toddler? Not too much, but here are a few ideas.
Go to Explora children museum
THE place in Rome for toddler, Explora is a children museum with interactive installations and play areas for children aged 0 to about 11.
For toddlers they have a soft play area reserved for kids up to 3 years of age and this is a wonderful place for them as they can play, climb and have floor time in complete freedom. The museum has nice facilities and a restaurant on site. You can find full info on our review here (this is my kids favorite place in the whole of Rome!)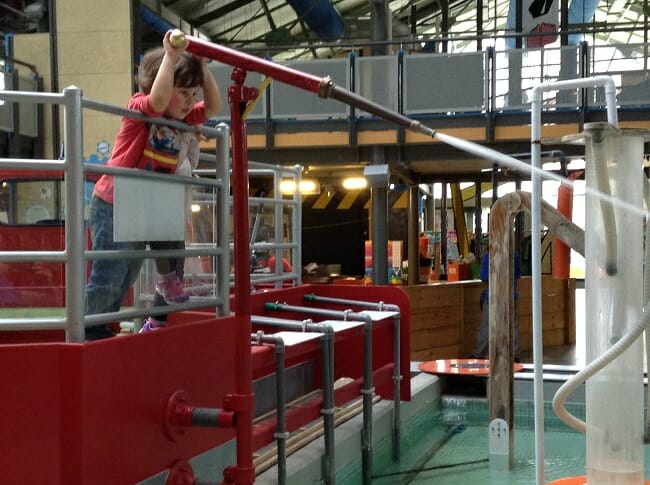 Meet the animals in Rome Zoo
Rome has a small but nice zoo located in the heart of Villa Borghese, in the city center.
This is not the most amazing zoo you will ever see, it doesn't compare with the big world zoos such as San Diego or Sydney however, it is a nice one to visit with kids as it offers them a safe space to run and some fun animal encounters.
You can buy tickets at the entrance (it is on the same side of the park as the Borghese Gallery) and inside you have a small concession with snacks.
Play in one of Rome's wonderful parks
Rome is a very green city and many of its nicer parks are in the city center, making them an easy stop to add to any Rome itinerary.
The most famous of all is the already mentioned Villa Borghese, which has lovely playgrounds and an indoor play area called 'Casina di Raffaello' and one that is very popular with families is Villa Doria Pamphili, which is wonderful for picnics and offers unrivaled views over St Peter's dome.
Get splashing in Rome's fountains
Rome has many fountains, some monumental and some small, offering drinkable, free flowing water.
I will not go as far as saying this is an activity to seek out (unless it is the height of the summer) but experience tells me this is the main thing most toddlers end up enjoying when in the city!
My best advice is to embrace it: just make sure you carry a change of clothes with you and water shoes.
Rome's main attractions with toddlers
As you can see, none of my toddler-friendly things to do in Rome is one of Rome's' main attractions and the reason is simple: there is very little in Rome's main sites that can attract a toddler.
However, you can still see Rome's top historical attractions with a very young child and this is my best advice on how to do so.
Visiting the Colosseum with a toddler
The Colosseum is a child-friendly attraction: kids go free and strollers are allowed (inside there is even an elevator which reaches most areas).
However, there are a few things to keep in mind when visiting the Colosseum inside with a toddler: first, lines are immense, so make sure you get skip the line tickets (learn how here).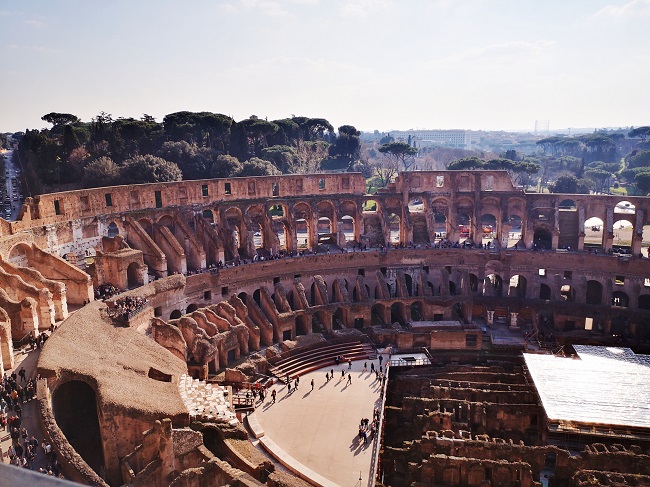 Second, while strollers are allowed, it is a real pain to maneuver them inside such a busy attraction so I highly recommend you opt for a carrier on the day of your visit, if at all possible.
Last, there is nothing in the Colosseum to attract a toddler's attention. Unless you are set to see the inside, the best way to see the Colosseum is to go to the park just in front: kids can run and the views are spectacular.
Visiting the Roman Forum with young kids
The Roman Forum lies just beside the Colosseum and I love visiting it with my kids.
There is a good bit of hands on parenting to do here (they will want to climb on the ruins but of course they cannot) but the place is lovely, interesting and outdoors – basically a great outside space to mix sightseeing and play time!
Please just be advised that there is not food inside the forum: make sure all the snacking is done before!
Visiting the Vatican with toddlers
Visiting the Vatican with a toddler can be fun or a nightmare depending on what you decide to see and what budget you are working with.
The main St Peter square is free (so is the main floor of the basilica) and fun for toddlers to see: despite the crowds, this is a large space and they can run and chase pigeons to their heart content.
The Vatican museums on the other hand are crowded and very hard to enjoy at any age, just due to the immense volume of visitors.
The best way to visit them is to invest into an early morning private tour, the only way in which you will be able to actually see the art and not just a see of people in between you and the masterpiece!
The Vatican museums are stroller friendly so once you are in with the right tour, the visit is easy.
You can read our experience in the Vatican with small kids here. If the museums are not for you, I highly recommend you also read our ideas on what else to do at the Vatican: while amazing, the museums are hard to tackle but there are a lot other ways to enjoy the Vatican, more family friendly!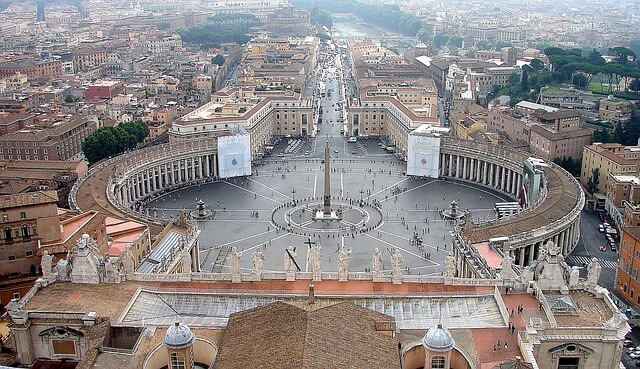 Visiting the Pantheon with a toddler
The Pantheon is one of Rome's main attractions and a a very easy one to visit with a toddler.
Entrance is free and usually small kids get fascinated by the holes in the ground that drain the water away on rainy days. It is usually a fun thing to spot: all the adults look up to see the oculus but all the little ones crouch down to peek into the holes!
Visiting Rome's piazzas with little kids
Many of Rome's most famous attractions are piazzas that are free to visit and this is great for families as it means you don't have to plan or abide to any other timeframe than your own.
Piazza Navona, the Spanish Steps and Piazza Fontana di Trevi (the Trevi Fountain) are all in the city center and stunning – just be careful of crowds and cars. While many of the big squares are car-free, this doesn't mean the occasional vehicle doesn't sneak in so, staying cautious is paramount.
Lesser known sites excellent to visit toddler
Two more sites I love recommending to young families are Caracalla's Baths and Ostia Antica.
they are both big, know sites but for some reason, they tend to get fewer crowds than the Colosseum and the Forum and often make for a wonderful day of family sightseeing.
Both are car free, outdoors and with plenty of space to run around – I highly recommend both of them, especially on a sunny day.
Where to eat in Rome with a toddler
Rome restaurants are very family-friendly. Children are welcome pretty much everywhere and most restaurants will accommodate special requests such a plate of plain pasta or pasta with a basic tomato sauce.
Rome restaurants however do not usually have children menus (those that do are often geared towards tourists) so don't be put off if you don't see one: children are usually welcome unless it is specified otherwise.
Restaurants in Rome often have high chair or harnesses but this is not a rule so having your own portable one is usually a good idea.
I have several family friendly restaurants in Rome I feel like recommending.You can find a selection of my favorites here.
Public toilets and baby changing facilities in Rome
Public toilets are few and far between in Rome. You find some of them at the main sites (There is one at the Colosseum, one at the Vittoriano for instance) and they usually charge a 1 euro entry fee.
This is annoying but it does mean they are usually decently kept and, often but not always, stocked with toilet paper (this is not the case in free ones)
Your best bet when it comes to a toilet break is to ask in any bar / restaurants: the law in Italy made bar toilets open to the public so even if you don't see a toilet sign, ask and they will have to let you in.
The state of these toilets is hit and miss and very small cafes may not have toilet paper: it is always wise, in Rome with a toddler, to carry some.
Baby changing facilities are not common in Rome but you do find them in some of the bigger restaurants, usually in the form of a folding changing table.
What to pack for visiting Rome with a toddler
My must have list for visiting Rome with a toddler is as follow
A good stroller with cobbles friendly tires and sun canopy
A baby carrier
A portable high chair
Sun hat / baby friendly sun screen
Insect repellent / post bite cream if visiting in summer
Water bottle
Water shoes
I hope you enjoyed this guide to visiting Rome as a young family and it helped answering the question: how can we visit Rome with a toddler?