Using taxis in Rome: all you need to know about catching a taxi in Rome, including fares, car seat rules for kids and safety tips.
One of the most common questions I receive, from families especially, is about Rome taxis.
Taxis are a great resource in Rome.
While not cheap, they are excellent to get from the airport to your hotel easily, fantastic to get home safely at night and a great way to get around if you have small kids or mobility issues.
They are also an excellent alternative to using public transport in Rome at night.
However, catching a taxi in Rome is not always as easy as flagging one down on the street.
Also, the info currently available online does not seem to cover many of the most common questions visitors have.
So today, I put together this guide, answering the most pressing doubts about taxis in Rome.
The most frequently asked questions about Rome taxis are:
What do official taxis in Rome look like / How do I know a Rome taxi is legit?
Can I pay Rome taxis by card?
How avoid scams on Rome taxis?
Do I need a car seat for catching a taxi with a baby or child?
How do I call a taxi in Rome?
Is there Uber in Rome?
Can I book a taxi in advance?
Today, I try answer all these questions.
If you are planning a visit to Rome with kids and have additional doubts not covered by this article, I recommend you join our free Facebook Group Italy with kids – travel tips and advice so you can get in touch with me and other parents and share first hand experiences!
Request access to the group here
Please note: this post contains affiliate links: should you make a purchase through them, we might make a small commission at no extra cost to you.
What do official Rome taxi look like? How do I know a Rome taxi is legit?
Official Rome taxis are easy to recognize and you won't have difficulties spotting them in the city.
Rome taxis are white and they all have a 'taxi' sign on the top of the car.
They also have the symbol of Rome City Council on the front doors, in the form of a large sticker with the taxi rates against a dark red background and the official license plate and number at the back.
Taxis adhering to the Radio Taxi service (aka, phone service) also have an additional sticker on the passenger door with the number 3570 (their phone number)
Inside, they are equipped with a meter that clearly indicates the fare.
On the back of the front seats, they also usually have panels detailing the rules of the ride: these are in Italian and English and detail minimum and maximum fares, fixed fares for certain journeys, evening/ night fares, rules for luggage etc.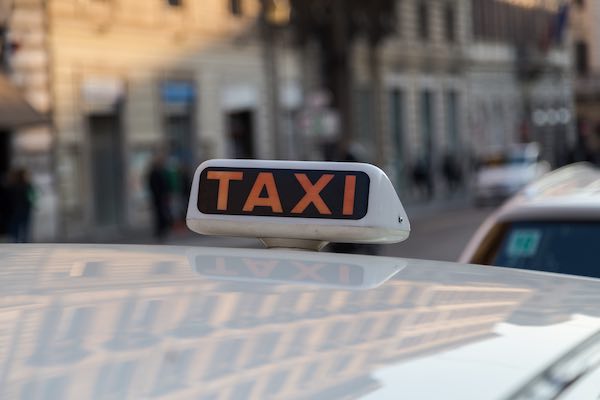 How avoid scams on Rome taxis?
The first thing I want to say about scams on Rome taxis is: they are not that common!
So, while bad experiences can happen on Rome taxis like anywhere else, I really do not want you to stress excessively about scams. That said, some basic rules will help.
Only use official taxis – see above
Know your fares – see below
Check that the meter is on. Taxis apply a minimum charge: don't be surprised if the meter doesn't show zero on departure as this is probably correct. See the table below for current charges (spring 2022)
Ask before getting into the car what payment methods are accepted. Most taxis do not accept cards; those that do usually prefer Visa to Amex. Make sure you agree this clearly before committing to the ride
Have change and small banknotes on you to make it easy for the taxi driver to give you change at the end of the service
If needed for work reasons / for your records, ask for the receipt: it is your right to have it and it must include the route, the license number, the amount paid and the driver's signature
Taxi drivers' obligations:
Taxi drivers in Rome may not refuse to provide service; they may carry only the number of passengers indicated on the registration card; they must apply the fare provided by the taximeter except for fixed-price routes; they must ask users to fasten their seat belts if they do not do so voluntarily.
Roma taxi fares, minimum charges, extra charges and transport rules
The best way to stay safe on Rome taxi and to keep costs in check is to know the Rome taxi fare system.
As I mentioned above, you do not need to worry excessively about scams: I always simply flag a cab and pay the metered amount.
However, it can be useful to have some understanding of how the system works to know what to expect.
Please note: these prices are accurate at the time of writing (March 2022).
Rome Taxis operate with a meter. Metered fares start from a minimum charge, which depends on day of the week / time.
This fixed rate shows on the meter as you enter the taxi.
Fixed fee from point of departure on weekdays from 6:00 am to 10 pm: € 3,00
Fixed fee from point of departure Sundays and public holidays from 6:00 am to 10 pm: € 5,00
Fixed fee from point of departure at night from 10 pm to 6 am: € 7,00
When traveling on the taximeter, extra charges may apply to extra passengers and extra luggage. Currently the charges are as follows:
The first piece of baggage is free of charge. Each additional piece of baggage measuring more than 35x25x50cm incurs in a a charge of: € 1,00
For vehicles for more than 4 passengers, there is a charge from the fifth passenger onwards of € 1,00;
The fixed to call a radiotaxi is €4,00
The fare to be paid is that indicated on the taximeter at the end of the journey. Extra charges, if applicable, get added to this amount at the end of the journey.
Some journeys qualify for a reduces fare. Make sure you confirm this when boarding: most locals don't even know about these fares and taxi drivers won't be used to volunteer them. However, they exist: ask for them!.
A 10% reduction of the amount displayed on the taximeter in the following cases:
Direct journeys to public hospitals in Rome.
Women travelling alone at night (from 10 pm to 6 am).
Young people leaving dance clubs on Friday and Saturday nights, subject to a suitable agreement with the owners of public establishments (confirm this fare with both the club and the taxi driver before the ride).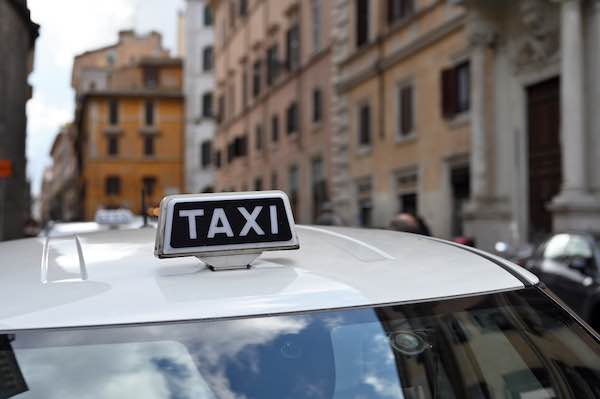 Some journeys operate on a fixed rate. Fixed rates are inclusive of extra charges
From Fiumicino Airport to/ from within the Aurelian Walls: € 50,00
From Fiumicino Airport to/from Castello della Magliana – Parco dei Medici: € 31,00
From Fiumicino Airport to/from Nuova Fiera di Roma Exhibition Centre: € 26,00
From Fiumicino Airport to/from Ciampino Airport: € 52,00
From Fiumicino Airport to/from Tiburtina Station: € 57,00
From Fiumicino Airport to/from Ostiense Station: € 47,00
From Fiumicino Airport to/from Port of Civitavecchia: € 125,00
From Ciampino Airport to/from within the Aurelian Walls: € 31,00
From Ciampino Airport to/from Fiumicino Airport: € 52,00
From Ciampino Airport to/from the Tiburtina train station: € 36,00
From Ciampino Airport to/from the Ostiense train station: € 31,00
From Ostia Lido Centro to/from Fiumicino Isola Sacra: € 21,00
From Ostia Lido Centro to/from the town of Fiumicino: € 26,00
From Ostia Lido Centro to/from Fiumicino Airport: € 24,00
If traveling on fixed fare, for instance from the airport, reconfirm it when boarding.
Rome has a fixed fare for locations 'inside the Aurelian Walls' – if your hotel is outside the Autrelian Walls, on the other side of town, this will lead the price up.
Give the exact location of your hotel when boarding and reconfirm the fare to avoid bad surprised.
Many people get confused about this and believe the taxi driver is trying to scam them with an additional cost. This may not be the case: before getting into a row with the driver, check if your location qualifies for the fixed rated.
Rules cap the cost of a taxi ride from inside the Ring Road to the Airpot and vice versa to 73 Euro.
Riding Rome taxis with kids: do I need a car seat for riding in a Rome taxi with a baby or child?
Baby and child car seats are not required on Rome taxis and they are not provided either.
Taxis are exempt from the rule that wants all children up to 12 years of age in an appropriate seat and will let you ride with your baby / toddler on your lap.
Baby seats cannot be required – if you don't have your own, especially for the drive form the airport, you will need to book a transfer with a private car service instead.
Good to know: the drive between Rome airports and the city center involves fast roads / motorways.
This can be unsettling, if you are used to having your child in a car seat.
Bus and train transport options are available, should a private transfer be out of your budget.
You can read here >>> how to go from Rome Fiumicino airport to the city center
And here >>> how to get from Rome Ciampino Airport to the city center
Good to know! If you do not want to risk riding in a cab with your child on your lap, there are private transfer companies that provide car seats on request. One such company is Welcome Pickups: you can get a quote online, specify that you need a car seat, and they'll send a car and driver to pick you up from the airport or station – they even keep an eye on your flight status so you don't have to worry about possible delays. You can get a free quote on their website here
Tip for families! If you are visiting Rome with a little one, you may also want to read our guides Visiting Rome with a Baby and Visiting Rome with a toddler, both based on our own experience and with first hand tips!
Rome taxis for large families or groups
Rome taxis are all different sizes but most of them are city cars, only able to accommodate 5 people, including the driver.
This can be a problem for families traveling with 3 or more kids and this became even worse during pandemic times, when the front seat of the taxi had to stay empty.
If you need to get a bigger taxi in Rome, you can:
At the airport or at taxi stands, ask one of the taxi line attendants: they are usually able to source a bit enough taxi for you. This, however, may require a bit of waiting
You can use the app FreeNow to request a bigger taxi: it appears as one of the options when you input your booking request
You can ring the radio taxi company, select the option of speaking with an operator and ask for a larger vehicle
How do I call a taxi in Rome?
You can catch a taxi in Rome in several ways:
Flag it on the street – I am not sure why the web often says you cannot flag a taxi in Italy. You absolutely can!
In Rome, taxis are few and far between, so finding an empty one free to pull over and get you is not easy, but it is absolutely possible and commonly done.
Catch a taxi from a taxi rank – the easiest way to catch a taxi in Rome is by gong to a tank rank.
There are many around and you have a pretty constant stream of taxis coming and goin, which usually means you can catch one with relative ease.
Some useful locations are:
Largo Torre Argentina (between Pantheon and Trastevere),
Piazza Fiume (Villa Borghese)
Piazza Venezia
Piazza G. Belli (Trastevere),
Piazzale Ostiense
Piazza S.Silvestro (Trevi Fountain),
Piazza dei Cinquecento (Termini station),
Piazzale della Stazione Tiburtina (Tiburtina train station)
Metro A Anagnina
Piazzale della Stazione del Lido (Ostia),
Piazza Risorgimento (Vatican).
Call a 'radiotaxi': caling a taxi on the phone is the mosy populat way to get a taxi in Rome.
The taxi company operating the service is called Radio taxi and the official phone number is (06) 3570 .
When you ring, the service is automated and the taxi company will send you the first taxi avaiable.
They will give you two pieces of information: the name of the car (usually the name of a city and a number, something like Bari 3 or similar) and the waiting time.
Please be aware that taxi drivers in Rome have no patience and won't wait for you.
They also usually come rather quickly!
Only call a cab in Rome when you are ready: often they come in 2-3 minutes and will leave if you are not there.
Need to know: you cannot book a Radio taxi in Rome unless you are gong to the hospital or the airport
Use the App ChiamaTaxi or FreeNow: ChiamaTaxi FreeNow are apps that allows you to get a taxi without having to negotiate a conversation with an Italian phone operator.
ChiamaTaxi is the app by Roma Mobilita' (Rome Municipality) while FreeNow is private.
The apps work ok and have an interface very similar to that of Uber, including map functions.
I find them, however, often glitchy: if you are near a taxi stand or if you have a hotel conscience able to place a call doe you, I usually prefer to call a taxi that way.
The app itTaxi is also in theory operational but very glitchy.
Using a taxi in Rome TOP TIP
After you have secured a taxi, you will be given an estimated time of arrival and, usually, the name of the car, so you can recognize it.
Usually, the waiting time is very short; very short is also the patient of the taxi driver once at the agreed location!
When calling a taxi in Rome it is therefore paramount to:
Only ring when you are ready to go: taxis rang via the operator often show up in a matter of 2-3 minutes
Make sure you are at the agreed location when the taxi arrived: taxis usually pull over and expect you to be already there and ready to jump in. If they have tp wait, the meter will run and you will be charged for the extra time.
They may also leave if they do not see you so when dealing with Rome taxis, speed is important!
Using Uber in Rome
Uber exists in Rome but not in the way you may know it elsewhere.
The only uber service available in Rome is Uber Black, which comes with more upscale cars and a higher cost.
The service is not very popular for this reason however, the uber app work and can be an alternative if you are stuck
Can I pay Rome taxis with credit card?
Not all taxis are equipped with card machines and this applies to both credit and debit cards.
Always doublel check with the taxi drivers about payment method before getting in the car: do not presume taxi drivers accept cards, not even if you see a machine in the car.
Always ask for confirmation and assume they will not, unless clearly stated.
Do you tip taxi drivers in Rome?
Tipping taxi drivers in Rome is not customary but always appreciated.
I always do if the person is pleasant and they help with luggage, usually rounding up the amount shown on the meter.
I feel no obligation to do so and very much do not tip if the driver was in any way unfriendly or unpleasant.
Tips in Rome are always only a sign of appreciate for the service received: they are, as such, not expected and not customary, just a way to say 'thank you', if you feel so inclined.
You can find here >>> Tipping in Rome: when and how to leave gratuities in Rome <<<
Traveling by taxi in Rome at the time of Covid
Special rules apply to traveling by taxi in Rome during the pandemic. These are subject to change but, at present, include:
The use of a face mask is mandatory.
The passenger may not occupy the seat next to the driver.
Car approved for the transport of up to five people can only have two people on the back seats
Cars approved for the transportation of six or more persons can only accommodate up to two passengers in each row of seats.
The limitations do not apply if the passengers live in the same housing unit, if they are relatives or if they are persons who have stable interpersonal relationships (for example: spouse, relatives and relatives-in-law in the straight and collateral line not living together, but with stable attendance; persons, not bound by ties of kinship, affinity or marriage, who habitually share the same places).
Please note: it is up to the passenger to disclose if they do not qualify as a 'housing unit'
Fiumicino Airport to Rome taxi service
Catching a taxi is the easiest way to get from Rome Fiumicino airport to your hotel.
In Fiumicino, taxis are outside the main arrival terminal: there is a large number of them and the high number of people make the first impact with the city chaotic.
Just stand in line on the platform with all the official taxis and make yourself visible to one of the operators (they have badges): they will direct you to the first official taxi available suitable for your party.
As you walk out of the terminal, ignore anyone offering 'official taxi' rides – taxis are outside and official operators do not go inside the terminal to lure you into their car. Any such offer is, most likely, a private company looking for some business. Ignore and move on!
Good to know! If you prefer to have someone waiting for you and not have to deal with the stress of arriving to a new airport an have to find an official taxi, you can look into a company such as Welcome Pickups. They can send a private car topic you up and they provide, on request, English speaking drivers and car seats for kids – they even keep an eye on your flight status so you don't have to worry about possible delays. You can get a free quote on their website here
Ciampino Airport to Rome Taxi service
Taxis station immediately outside Ciampino Airport, you will find the taxi rank immediately to your left as you walk out of the terminal.
Ciampino is much quieter than Fiumicino and usually you do not have to battle with private companies trying to get your fare.
Just join the line, make yourself visible to the operator (they wear badge) and let them point you to the first suitable official taxi.
Good to know! Ciampino is less busy than Fiumicino and finding a taxi large enough for a family there may not be easy or fast. In this case, you can look into a company such as Welcome Pickups. They can send a private car topic you up and they provide, on request, English speaking drivers and car seats for kids – they even keep an eye on your flight status so you don't have to worry about possible delays. You can get a free quote on their website here
I hope you found this quick overview and tips on how to use a taxi in Rome useful. Safe travels!