Planning a trip to Rome with a baby: all you need to know. Guide by a local mama covering baby friendly hotels and tours, where to get baby essentials, breast feeding in public, best baby shops and more.
Planning a trip to Rome with a baby is an exciting but often daunting task.
Whether you have been to the city before you were a parent or a first time visitor to Rome, having a baby with you changes how you experience the city in many ways.
Chances are you have many questions that are specific to Rome and to the practicalities of visiting it with your bundle of joy: I am here to answer all of them!
I am a Rome mama. I have two children and I have been out and about in Rome with them since the very beginning so I have been through it all!
In this guide, I am going to share all my best tips for families visiting Rome with a baby and I will be as practical as I can, so you know exactly what to expect.
This baby friendly guide to Rome includes:
The truth about carriers and strollers in Rome
Practical travel tips such as baby friendly hotels and tours
Tips to get around with a little one
Where to get baby essentials (diapers, formula, weaning products etc)
Breastfeeding etiquette in Rome
Grocery shopping in Rome, useful if you are staying in a rental and making your own meals
Visiting Rome main attractions with a baby
How to get help in case of illness
Please note: this post contains affiliate links. Should you make a purchase through them, we might make a small commission at no extra cost to you.
Visiting Rome with a baby: carrier, stroller or both?
The first thing I will to tackle in this guide to Rome with a baby is how to handle moving around.
I am starting from here because I think it will be the best way to make you picture your family stay in Rome but also because I read a lot of nonsense online about strollers and carriers in Rome and I want to set the record straight.
Getting around Rome with a baby is so much easier than the web might make you believe!
The best way to get around Rome with a baby is by having both a baby carrier and a stroller.
Using a baby carrier in Rome
A baby carrier is a great option in Rome as it allows easy access to many attractions that are stroller unfriendly or fully inaccessible with wheels.
While most attractions have ramps and provisions to help with mobility, several of them are just easier without a stroller. In particular, I recommend you use a baby carrier:
At the Colosseum, especially if visiting the underground as some tours do not allow strollers
In Rome underground attractions, usually entirely stroller unfriendly
In the Borghese Gallery (strollers admitted only for children up to age 2)
To climb St Peter's Dome (not at all accessible with strollers)
The best baby carriers for Rome are slings or soft structured ones.
I recommend against using hiking carriers with metal frames as they may pose security risks in museums and may not be admitted.
Using a stroller in Rome
I highly recommend you bring a stroller to Rome, no matter what you may have heard about cobbled streets!
While Rome is not particularly stroller friendly and you will have moments of frustrations pushing a buggy, a baby pram will nonetheless be invaluable as in Rome you will walk, a LOT!
What you need to know about using a baby stroller in Rome:
Part of the city has cobbles streets so big wheels or at least sturdy wheels are a must
People park everywhere in Rome and this includes pavements, so be prepared for having to get on and off often
There are some potholes in Rome so you won't always have a smooth ride
Rome has many roads and pavements that are perfectly flat and easy with strollers, it is not all cobbles!
In Rome, you will walk very many kilometers each day so not having your baby on you all the time will make the whole experience more comfortable
Many outdoor restaurants have enough space for you to keep your baby in the pram while you have a meal (not all, but it is not as rare as you may think)
The Vatican Museums are stroller friendly and they even let you in first if they see you with a pram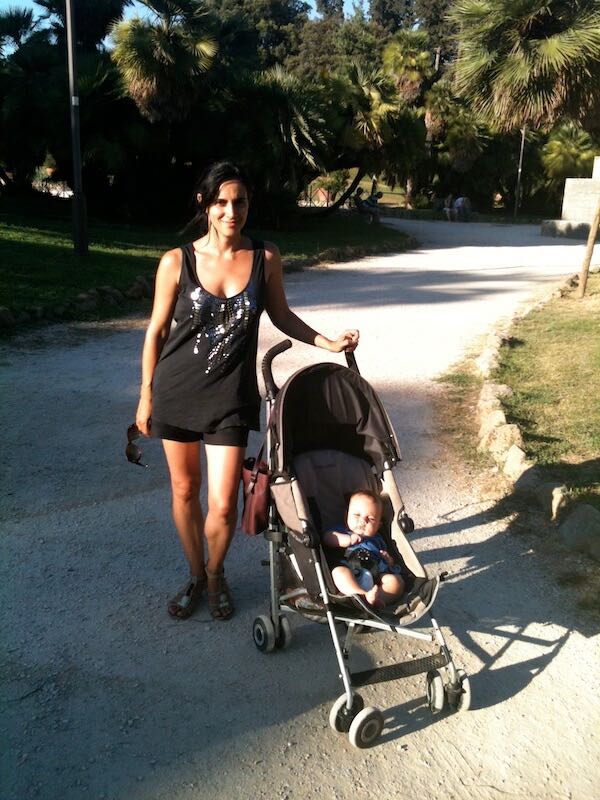 The best strollers for Rome are:
With sturdy wheel
Easy to fold and unfold
Not too wide
With a good sun canopy
With a detachable rain cover
Choosing an umbrella stroller or a jogging stroller is very much up to you as both have advantages.
In an ideal world, a lightweight jogging stroller that can fold quickly and is super packable would be ideal but we know there is no such thing!
The City Mini, Minu and Maclaren Quest are good strollers that work well in Rome. The Baby Zen Yoyo is also popular with travelers, despite the small wheels.
We have found the Phi&Teds double stroller to work very well in Rome too.
The best baby friendly tours in Rome
Visiting Rome with a baby doesn't need renouncing the big attractions, it only means going with a baby friendly provider who understands the needs of families.
After a long research, I have found a fantastic tour provider for families which is now my go to for all things Rome and children: LivTour!
LivTour is a family company run by parents of young children, specialising in private and semi private tours of Rome, Italy and beyong.
They are great people, I have personally met them and I can vouch for them being lovely as well as competent and helpful and their choice of tours is fantastic.
With them, you can choose between small group tours, private ones from their catalogue or you can ask them for a tailor made tour if you have a special interest in mind.
The most baby friendly tours I recommend are:
Family Friendly Golf cart tour – this is a super fun way to visit Rome and it is nice with a baby as you can sit down and be driven around while your baby rests on you, enjoying the fresh air!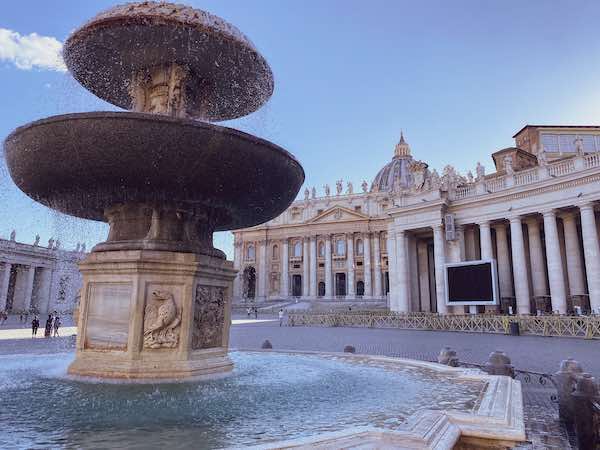 Visiting Rome main attractions with a baby
Rome main attractions are easy enough to visit with a baby especially if you have them in a carrier.
| | |
| --- | --- |
| Rome attraction | Baby accessibility |
| Colosseum | Partially stroller accessible. Carrier recommended. Babies free. |
| Roman Forum and Palatine Hill | Partially stroller accessible. Carrier recommended. Babies free. |
| St Peter's Basilica, Vatican Museums, Sistine Chapel | Stroller friendly (accessible route) |
| St Peter's Dome Climb | Carrier only but not baby friendly, consider carefully if the stairs are ma manaeable as it is narrow and oppressive on the way up |
| Piazza Navona | Stroller and carrier friendly |
| Piazza di Spagna / Spanish steps | The piazza is stroller friendly, the steps are not |
| Pantheon | Stroller and carrier friendly |
| Trevi Fountain | Carrier recommended. The square is stroller accessible but it is very busy. The fountain is not stroller friendly. |
| Borghese Gallery | Stroller only for kids under age 2. Carrier recommended. The Borghese gardens around it are fantastic for a stroll with baby. |
Big Rome attractions you can visit with baby are:
Colosseum, Roman Forum and palatine Hill – best with a carrier, but partially accessible also with a stroller. In the colosseum, a light wait, foldable one is ideal while int he Forum a jogging stroller is handier due to the uneven terrain
Vatican Museum, Sistine Chapel, St Peter's Basilica are stroller friendly
Where to buy diapers and baby essentials in Rome
Rome is a big city with a huge array of shops and supermarkets where to buy baby essentials.
Depending on what you need, you can go to:
Supermarkets in Rome: Rome has many supermarkets, all over the city.
In the center, you tend to find slightly smaller establishment (especially if used to US supermarkets, they may seem very small!) while in residential areas and further out o the center you find very big ones, often called ipermercati.
In supermarkets, you can find baby diapers, swimming diapers, all baby changing essentials (baby wipes, bath essentials, baby oil, etc) formula and weaning products.
Please note: Italian supermarkets do not sell medications, not even over the counter ones. For those, you need to get to a farmacia, see below).
Popular supermarkets in Rome inlcude Carrefour, Conad, Coop, Todis, GS, Lidl.
They tend to be equivalent one to the other for the occasional purchase, so you can pick whatever is closest to your accommodation and find what you need.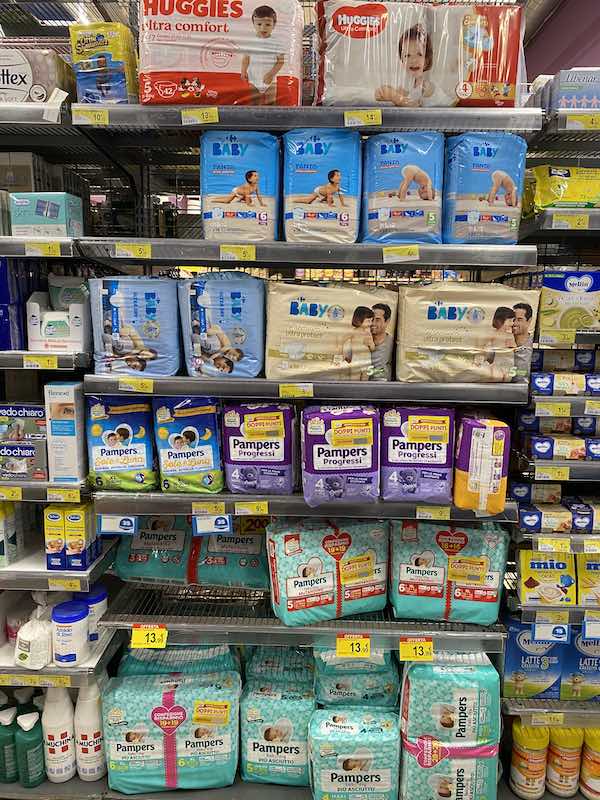 Farmacie in Rome: farmacie in Rome are very useful shops!
As the name suggests, farmacie is the Italian for pharmacy but they are not what you may be used to abroad.
Farmacie in Italy are run by a pharmacist who can sell you medication (some with, some without prescription) but is also trained so that they can give adnice on how to treat minor ailments.
Farmacie are also a great first port of call if you are not sure about how to tackle your baby being unwell as they will able to quickly direct you to a doctor should it be needed.
In farmacie, you can find diapers, soothers, teethers, hypoallergenic formula, baby suncream and baby medications, just to name a few of the products available.
They tend to be more expensive than supermarkets fo the same category of products. However the quality is usually higher.
Please note that pharmacies have opening turns: should you local one be closed on a Sunday or after hours, they usually have a sing outside with name and address of after hour pharmacies in the area.
Good to know! In Rome city center there are two large pharmacies with English speaking doctors (there are more, but these two are usually the easiest to find and reach while sightseeing in the center):
One is in Piazza Barberini, in front to the Triton's fountain, on the corner with Via delle Quattro Fontane
One is near Piazza Navona, just beside the Senate, on Corso Risorgimento / Piazza Madama.
You can find here >>> my practical guide to buying baby products in Rome
Where to find bigger baby items in Rome: Rome baby stores for car seats, strollers, etc
If you need to get a stroller, a ne carrier or a car seat in Rome, you will have to go to specialized baby stores.
The biggest ones tend to be in the outskirts of the city but the bigger chains have several stores in various locations so you should be able to find one near you /only a short taxi ride away.
The best baby stores in Rome are:

Prenatal – this is a large, popular chain with stores in various locations. On their home page, click on 'trova il negozio piu' vicino a te' to get a list of stores with exact address.
Chicco – another large, popular chain. They have several stores including one not too far from the Vatican, on Via Gregorio VII
Binbin store – smaller shop in the Prati Neighborhood, not far from the Vatican. It can be handy to contact them on whatssapp before going to amen sure they stock what you need
Where to by baby clothes in Rome
In Rome there are many baby stores, ranging from high street favourites to designer clothes.
Shops you may like are:
Chicco stores – several locations
Prenatal stores – several locations
Oviesse OVS – Italian, budget chain stores perfect for everyday baby clothing, several locations
Zara Kids – several locations
H&M – several locations
Du Pareil Au Meme – French baby and children store, several locations
Original Marines – several locations
Baby boutiques: independent shops, usually in residential areas
Feeding your baby in Rome
Rome is very relaxed when it comes to babies and children. however it is not always the best organized in terms of facilities so this is what you can expect.
Breast-feeding in public in Rome is well accepted.
Breast-feeding in Italy in general is common and you can wear whatever you are used to back home and makes you feel comfortable.
Unfortunately, there are not many family rooms in Rome so while you can breastfeed pretty much anywhere, you are unlikely to find dedicates spaces for it. The Vatican has a family room but in general, you don't have them and have to make do with whatever space you find.
Formula is easy to find in Italy, in supermarkets and pharmacies. Common enough brands are Humana, Hipp, Aptamil, Mellin, Plasmon and Nidina.
Weaning products are common in Italy and you usually find them in the baby isle of the supermarket.
Good to know: usually cafes and restaurants are happy to heat up a baby meal. However, this may not be possible in very busy cafes in the center, especially at peak time which includes 11 am, when most office workers would take their coffee break!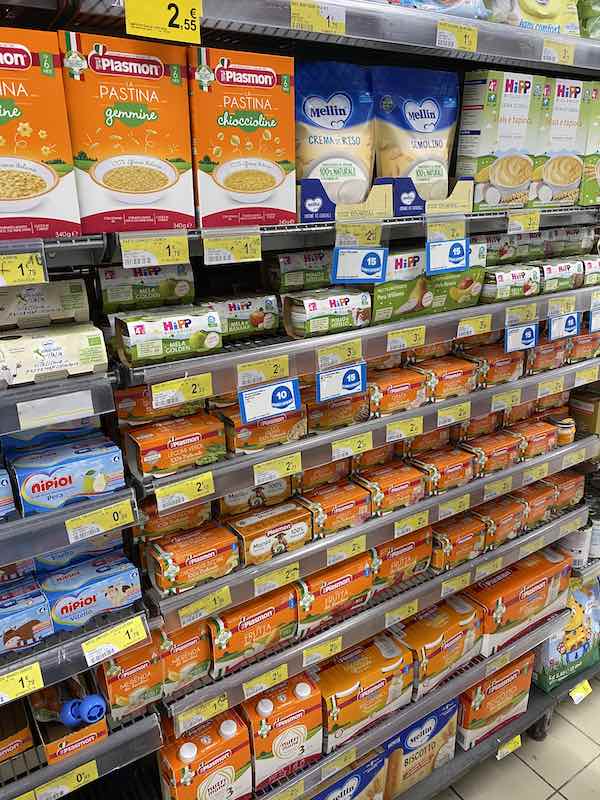 Changing your baby in Rome: baby changing families and what to expect
Rome is not well equipped when it comes to baby changing facilities.
Public restrooms are few and far between and they often do not have baby changing stations and not even toilet seats for you use as a table.
Often, the best way to change your baby in Rome is to use the stroller and then go to the closest cafe, make a small purchase, and ask to use the facilities (bathroom access is a patrons' right) to wash your hands.
Good to know: Rome drinking fountains are great to rinse your hands but please be advises that you cannot use soap. Also, as tempting as it may be to use them to rinse your baby on a hot day especially, this is not allowed and any sort of bathing incurs in a hefty fine.
Diapers and baby changing essentials are easy to find in supermarkets and pharmacies.
Where to stay in Rome with a baby
The picking the best place to stay in Rome with a baby you have many options, ranging from hotels to airbnb.
In general, Rome hotels are able to offer a baby cot (free of charge, but book in advance) but only in few cases they have baby facilities on site, so they are ok with babies, more than fully baby friendly.
You can find here >>> my handpicked list of the 7 best baby friendly hotels in Rome.
A short list of best ones we have found in terms of extra facilities that are just for babies are:
Best Western Rome President – a baby friendly hotel in Rome city center with extra attentions for families such as cot, changing station, baby bottle warmer, baby bath tub, high chair, stroller rental (Please ask for age suitability), laundry service discount for families. Option to get discounted tickets to Explora Children Museum.
Starhotel Metropole – I love teh Starhotel chain for families and the star hotel Metropole in Rome has all the services I have come to expect form the Starhotel name. In particular, this one hotel is great for babies as it offers (on request) cribs/ cots, playpens, changing table, bathtub tray, bottle warmer, highchairs, as well as stroller for easy walk (please double check age suitability of the model avaialbe)
Best Western Spring House – located in the Vatican area, this hotels has good services for families with babies such as cradle/ cot, bottle warmer, baby bathtub, changing using, strollers available (please check age suitablity as now all may recline flat). Baby sitting service is also available.
Hotel de Russie – hotel de Russia one of the best five star hotels in Rome and a city institution, having been the hotel of house of illustrious guests for well over a century.
Their exceptional facilieis and services extend to the baby in the family with rooms with baby cots and baby bedding, baby lamps, mobiles and play mats (on request), baby bath products, baby hooded towels and any slip mats as well as changing station essentials available upon request.
Baby meals are free and they can provide baby crockery, bottle warmers, high chairs etc are available on request.
Depending on the set up you prefer, you can find recommendations in the following guides:
>>> Best family hotels in Rome city center – suitable also for families with older kids
>>> Best Rome rental for families (self catering apartments)
How to get around Rome with a baby
When exploring Rome with a baby, I recommend to use a mix of walking, taxis and the occasional bus ride.
There are a few things you need to know about taxi and public transporting Rome:
Taxis do not carry and do not require the use of car seats. This means that they will give you a ride even if you don't have a seat with you but you will have to carry your baby on your lap.
For planned trips, such as the one from the airport to your hotel, I recommend you use a provate transfer instead: the drive is on the motorway and private transfers can offer a safe car seat.
Find here >>> our guide to using taxis in Rome
Buses and the metro in Rome are not baby friendly. The are almost impossible to take with a stroller and they can get get overly busy. I highly commend you only use them with a baby carriers and only off peak times / quiet routes
Find here >>> our guide to using public transport in Rome
Getting from Rome airport to Rome city center with a baby
There are several ways to get from Rome airports to the city center and you can find them on the following pages:
How to get from Fiumicino Airport to Rome city center
How to get from Ciampino Airport to Rome city center.
However, with baby, the best way is to get a private transfer.
A private transfer is the only way to guarantee your ride will have a suitable car seat for tour baby door to door.
My go to company for baby friendly transfers in Rome is Welcome Pickups.
If you are staying close to Termini station, you may also consider using the Leonardo Express Train, which is an environmentally friendly and budget friendly way to get into the city center in less than 40 minutes.
The best places for babies in Rome
You can bring your baby with your pretty much everywhere in Rome but there is one place that is special and just for them: Explora Children Museum.
Explora Children Museum is a lovely, comfortable space for kids with a large ara for older children and a small but handy soft play area for under 3s.
This si a great place for a rainy day in Rome and fantastic solution for when you want to give your baby some floor time, in complete safety.
You can find here >>> our review of Explora Children Museum in Rome.
Rome also has many parks that are great for a stroll in the buggy and some fresh air. Some have playgrounds with baby friendly swing sets.
You can find here >>> great parks and gardens in Rome
What to pack for visiting Rome with a baby
Rome is very seasonal so what to pack for your baby will depend on the time of your visit.
Find below:
>>> Our complete packing list for Rome in winter
>>> Our complete packing list for Rome in summer
>>>Our complete packing list for Rome in the spring
>>> Our complete packing list for Rome in the fall
In terms of baby essentials, I recommend you pack light but consider bringing:
Baby carrier (essential)
Baby pram / stroller (essential, unless you can rent it)
Diapers and food supply for the trip and first day or so (in case of delays getting to Rome / late arrival)
A good day bag that can double up as diaper bag, with changing mat
Muslin cloths
Soother / teether / comforter
Baby sleeping bag
Slumber pod / while noise machine / portable blackout blinds
Steriliser
Where to find medical help in Rome
Should you find yourself in need of medical help for your baby while in Rome, you can consider the following:
118 – Medical emergencies only, this is the number to get an ambulance and get urgent help fast
Pharmacies – the first port of call for minor ailments or if you are unsure about the need for a doctor. They will be able to give basic medications or recommend medical help
Doctors in Italy and First Med – English speaking doctors in Rome: for standard, non urgent, medical consultation
Your embassy – some embassies are able to help with names of specialists you may want to consult.
Visiting Rome with a baby – complete guide: pin this!