Rome printable scavenger hunt for kids by a local mom! Print this FREE scavenger hunt for kids and discover Rome with children at your own pace. Learn the story of each location on your hunt on Mama Loves Rome and discover Rome with kids for free!
I am a Rome Mama, born and bred in the Eternal City, and I adore visiting my city with my kids.
I love walking around Rome with them, having them spotting known and lesser known attractions and tell them the stories they hide.
My kids love our sightseeing days however, visiting Rome with kids is also challenging as it requires a lot of walking; also, the city is not always the most open when it comes to spilling its secrets!
Often, you find yourself in front of a beautiful fountain or statue or monument and there is no sign telling you what it is!
If you are not from Rome, how can you keep your kids entertained and motivated while sightseeing and how can you get to quickly learn about what you see?
A tour is a great idea and I recommend here >>> great tours of Rome for families we love. However, tours are often expensive and not to everyone's taste and learning style.
So what to do?
My way to make sightseeing with kids in Rome fun and affordable for first time visitors and families is a visual Rome printable scavenger hunt for kids!
I find that my children can walk miles if challenged with a scavenger hunt game and making it visual, with the use of photos, means they can quickly give a name to what they see, no matter how poor street signs may be.
You find my free printable Rome scavenger hint for kids on this page – it is FREE to download and all you need is an email address to signup to the website.
I hope you have fun with it!
By singing up to this page you will get:
Our 2 page printable scavenger hunt for kids in Rome
Links to our guides to discover what each site is and what stories it hides
Rome printable scavenger hunt for kids – how I chose the items
Rome is a treasure trove of attractions so the biggest issue I had making this list was picking what to include.
In the end, I opted to start with a simple version of a kids' scavenger hunt with a variety of Rome must see sites and Rome things you can spot pretty much no matter where you are in Rome.
All the attractions on this kids' scavenger hunt for Rome are free to spot. This way, you can use this map even on days when you don't want to spend money or enter sights and museums.
Some of them such as the Colosseum inside are ticketed – I am in the process of creating scavenger hunts for each of them inside too so if you are interested, make sure you sign up for our mailing list and we will email you once they are ready!
Rome printable scavenger hunt for kids: tops sights guides
I have guides to (almost) all the items of this scavenger hunt on this website.
After your child finds the item, if you want to learn about it, come back to this page and click on each link to open the guide: they contain essential info about what you are seeing and tips about what to see nearby (even restaurants an playgrounds, if there are some we recommend)!
Click here or on the image to download our 2-page scavenger hunt for kids
The Colosseum – no need for introduction for this one! The most famous Rome building and a sure success with kids, the Colosseum is easy to spot and recognize.
Find here >>> fun facts about the Colosseum for kids
The Pantheon – the Pantheon is one of the most recognisable buildings in Rome, an ancient temple turned Christian Church and one of the best preserved ancient buildings in the world
Find here >> fun and interesting facts about Rome Pantheon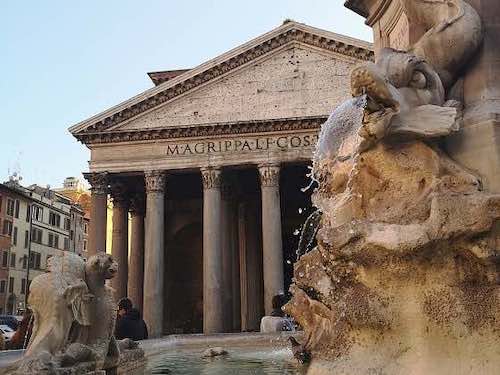 Trevi Fountain – the most famous fountain in Rome and one that will ensure you come back to the city if you throw a coin into it! But there is a technique for the magic to work!
Learn this and more here >>> all you need to know about the Trevi Fountain
The Fountain of the Four Rivers – The Fountain of hte Four Rivers (Fontana dei Quattro Fiumi) is in the center of Piazza Navona and one of the most famous sculptures and fountains in Rome, in one of Rome's most famous and beautiful piazzas.
The fountain hides great symbolism and stories, including a funny one about the rivalry between Bernini, its sculpture, and its artist rival Borromini.
Learn here >>> all you need to know about the Fountain of the Four Rivers
The equestrian statue of Marcus Aurelius – Marcus Aurelius was one of the most important and significant Roman Emperors and you can see his statues in the center of Piazza del Campidoglio, on the Capitoline Hill.
He is so significant and central to the history of Rome, you can see him in the piazza but also on the 50c Euro coins from Italy!
Learn here >>> all you can see in PIazza del Campidoglio
Trinita' dei Monti – one of the most iconic and recognisable places in Rome is Piazza di Spagna, dominated by the famous Spanish steps and the twin bell towers of Trinita' dei Monti.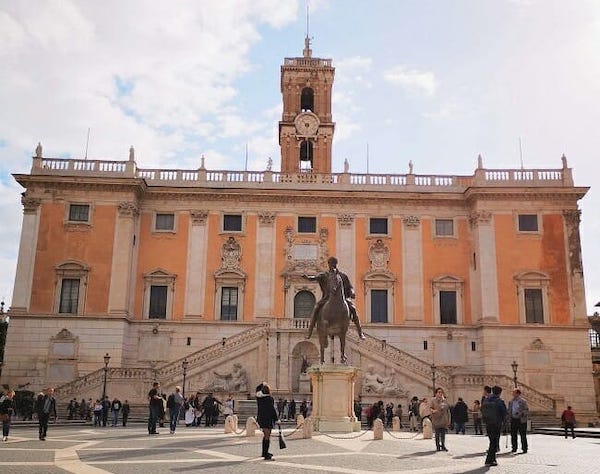 Discover why they are called 'Spanish' and much more here >>> our guide to the Spanish Steps in Rome
The Barcaccia Fountain – Barcaccia is a famous fountain in Rome built by one of Rome's most important artists, Gian Lorenzo Bernini.
The fountains has a peculiar shape and story as well as a fun carving of bees: do you know why?
Discover here >>> all you need to know about Barcaccia fountain in Rome
Vittoriano – Vittoriano or Altar to the Fatherland is the official name of the tall white building in Rome with winged statues on top many call the Wedding Cake or, in Italian, la Macchina da Scrivere (the typewriter).
You will pass Vittoriano many times as you stroll around Rome and it is worth learning what it is and what stories it hides, including one of an unusual dinner in the horse's belly!
Learn here >>> all you need to know about Il Vittoriano
SPQR Sign – this one of the most fun things to spot for kids in Rome! The SPQR sign is everywhere in the city, often hidden on fountains, drainage systems and lamp posts.
It is one of the most ancient and most important symbols of Rome and it is an acronym stating for Senatus Populous Que Romanus aka The Senate And The People of Rome, a way to say that something belongs to the city and its inhabitants.
You can learn here >>> all about the symbols of Rome
Rome's She-Wolf – Do you know the story of Rome's she-wolf and the twins she reared?
If you do, you'll love to find her in several locations in Rome (both for free and in the Capitoline Museums, ticketed, when you find the original). If you don't, you can learn here
>>> all you need to know about Rome's she-wolf
Triumphal Arches – Romand Emperors used to celebrate their war triumph building arches and Rome has several of them!
Some are inside the Forum (ticketed) but some are free to visit.
Learn here >> all you need to know about Rome's arches and where to see them
Nasoni – One of the most iconic things you can see in Rome are the city's drinking water fountains!
They are everywhere in the city and you can recognise them by their distinctive spout: it looks like a big nose and it's the reason for their name nasoni = big noses
You can learn here >>> all about Rome's drinking fountains
Castel Sant'Angelo / St Angelo Castle – Rome has one, very peculiar castle called Castel Sant'Angelo. It is one of the best attractions to visit in Rome with kids but even just from the outside, it is quite a sight!
It has an incredible history made of Emperors, the plague, an angel a secret passage and the Pope…
Learn here>>> all you need to know about St Angelo's Castle
A carved column – Rome has many columns but there are two that are very special as they tell a story through their beautiful carvings!
one of them, Trajan's column, is the first of its kind to have ever been built and it is known as the first film in history.
Discover why and how to see it here >>> our guide to Trajan's Column in Rome
Statues of Emperors – in Rome City Center, you can spot the statues of all the Roman emperors who built the Imperial Fora you can still see today!
The statues are not ancient and neither is the street but they are copies of ancient artworks and a a fun way to see what emperors looked like!
St Peter's Square – St Peter's Square is not technically Rome (Vatican City is a different state, but that's another story you can find here >>> is the Vatican a country?).
However, it is in the city so it belongs to this Rome printable scavenger hunt for kids!
Here you can spot the square itself but, more interestingly, a few specific items on it: can you see the 'centro del colonnato' marking on the ground? And the fact that the columns disappear if you look at them from it? And how about St peter's dome?
Learn this and more on >>> our guide to to St Peter's Square
Giordano Bruno – the somber statue of Giordano Bruno looks at you from his perch on Piazza Campo de' Fiori where he lost his life at the stake.
Not the best things to tell small children (a great one for older kids though, so much to unravel there!) but a great statue to spot nonetheless!
You can learn here >>> all about Piazza Campo de' Fiori
A funny face spitting water – Rome has some very funny fountains with funny faces with puffy cheeks and big eyes spitting out water.
There are several in the city and they are great to spot for kids and a fun thing to see for grown ups too.
Find here >>> our guide to the best and funniest fountains in Rome
A coat of Arms with bees – observe carefully many of the sights in Rome and you may spot a coat of arm with bees carved on top!
These bees are the symbol of the Barberini family which ruled Rome for many years. They patroned the work of artist Bernini who included their bees in all the work he did for them.
Learn here >>> where to see the work of Bernini in Rome
Umbrella pines – umbrella pines are very common in Rome and very much a symbol of the city. You can see them in the city centre and in parks where you can also go foraging for pine nuts!
Fountain of the turtles – Rome has many fountains with carvings of animals and, for this scavenger hunt, any of them will give you point! You can however give your kids extra points if they spot this one in Rome's Ghetto, decorated with turtles.
Learn here >>> all you need to know about Rome's Fountain of the Turtles
An elephant – there are two ways to spot an elephant in Rome! One if the zoo and one is a walk to Piazza della Minerva, where you can see the statue of an elephant by Bernini.
Learn why it is there and a funny story connected with it here >>> our guide to Rome's Piazza della Minerva
A winged statue – you will find several winged statues in Rome. Some that come to mind are at the top of Vittoriano, on Ponte Sant'Angelo, on top of Sant'Angelo Castle, in the Borghese Gallery. Ask your kids to spot as many as they can!
A lion spitting water – there is a lot to get excited about in Piazza del Popolo but usually kids love its lions most of all! As they admire them, make sure you take the time to learn about the Piazza and its marvels in
>>> our guide to Piazza del Popolo
A pyramid – did you know that Rome has a pyramid? It doesn't come from Egypt but it is ancient!
Learn here >>> all about Rome's pyramid
The Mouth of Truth – have you seen the movie A Roman Holiday? Then challenge your kids to spot the mouth of truth and, once they have seen it, to put their hand in the mouth of the monster!
Guide to the mouth of truth coming soon
An obelisk – In Rome you find many columns and kids will notice some are very peculiar as the are pointy and, often carved with hieroglyphics . Thet are called obelisks and they have an interesting story. How many can your kids find (spoiler: there are 13 in Rome)
Find here >>> our guide to the obelisks of Rome
Secret Passetto del Biscione – this is very much a Rome hidden gem but a fun one to spot while in the Campo de' Fiori area. It it a hidden passage and hides the story behind the Rome's expression 'cercare Maria pe' Roma' the equivalent of the English 'finding a needle in a haystack'!
Learn here >> all you need to know about Passetto del Biscione
Pietre d'Inciampo (careful talking about this one if you have small kids, it may want to modulate what/ how you tell them about the story they tell) – Pietre d'inciampo (lit. stumbling stones) are a meaningful, dramatic sight in Rome, yet one many people do not even realise exist.
They are a modern installation and they are carved with the names of people who lost their lives during the dark times of racial laws during the fascist era.
You will find them in several location in Rome and especially (but not only) in the Rome Ghetto.
Guide coming soon
A cobbled street – if you are staying in Rome City Center these will be easy to find although possibly not as easy as you may think!
Get your kids to spot one and if it is too easy, ask them to try and call the cobbles by their Italian name: sanpietrini.
A street cat – do you know that Rome cats are protected? The city has several cat colonies where stray cats can live and are taken care of!
Discover why and how to see them here >>> our guide to the street cats of Rome
A Rione street sign – did you know that Rome's city center neighbourhoods are called Rioni? There are several of them and each is marked by a street sign with their name. Challenge the kids to find as many as possible!
Learn here >>> all about Rome's Rioni
I hope you enjoyed this free Rome printable scavenger hunt for kids and it helps you make sightseeing in Rome with kids fun and engaging!
Going to other cities too?
Find also:
>>> our Venice printables for kids
Rome scavenger hunt for kids printable (free) – PIN THIS!