Handpicked selection of the best Rome tours for families, English speaking activities and tours for kids in the Eternal City
I am passionate about my kids learning about my beloved Rome.
The city is generous of interesting stories, legends and funny characters and I love seeing my children's eyes sparkle when they learn a funny anecdote, a new piece of history or spot an unexpected view.
Every time we go, I make a point of showing them something of the city but I don't do this alone.
Often, I enlist the help of professionals and join kids tours of Rome that help my kids get to know the city and me play tourist in my own town.
It is my favorite type of research (that and gelato tasting to bring you the best addresses!!)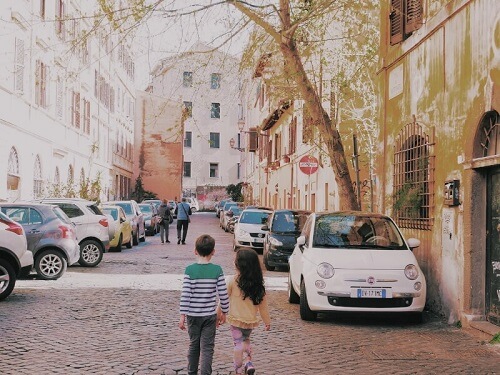 Rome has a good number of options when it comes to family tours.
Some are for kids, some are not specifically kid centered but do welcome children and others are not really tours, but full experiences that make children engage with the city via an activity on location, in real slow travel style.
Over the last few years, my children and I have taken several family tours in Rome. This list is a result of that experience.
Please note: this post contains affiliate links and, should you make a purchase through them, we might make a small commission.
Best Rome tours for kids: how we chose them
This list is a work in progress and showcases tours that have been tried and tested as paying costumers by us or by the members of my Facebook Group Italy with kids, travel tips and advice.
If you are not part of it and you are planning a trip to Italy with kids, you are welcome to join! It is free and full of practical tips and ideas from real families!
These tours are a mix of tours for families (aka: group or private tours of Rome that are designed specifically for families with kids) and tours that are family friendly and welcome kids but are not for kids as such.
For each, I have written a short description that I hope helps you decide which tour is best for you and your kids.
What age are family tours of Rome suitable for?
Tours for kids cater to children of different ages and usually state the most suitable age in the tour description.
In my experience, children in primary school and tweens get the most out of these tours.
Toddlers, on the other hand, are often too young to be able to enjoy the tour activities.
If you are looking for tours for toddlers, I recommend you opt for those that include some clever form of transport (like a gold cart, see below), likely to stay as the highlight of the visit for your little ones!
Best Rome tours for families
FREE walking tour of Rome city center (best for tweens – teens)
If you are looking for a guided tour of Rome city center to get introduced to the city, then I recommend this free one by Civitatis.
The tours is not specifically for kids and this is why I recommend it for a slightly older age.
However, it is interesting and free, you only tip you what you think appropriate at the end of it, so I feel it is good for families as you can just leave should your kids suddenly have a different need.
You can find info and how to book here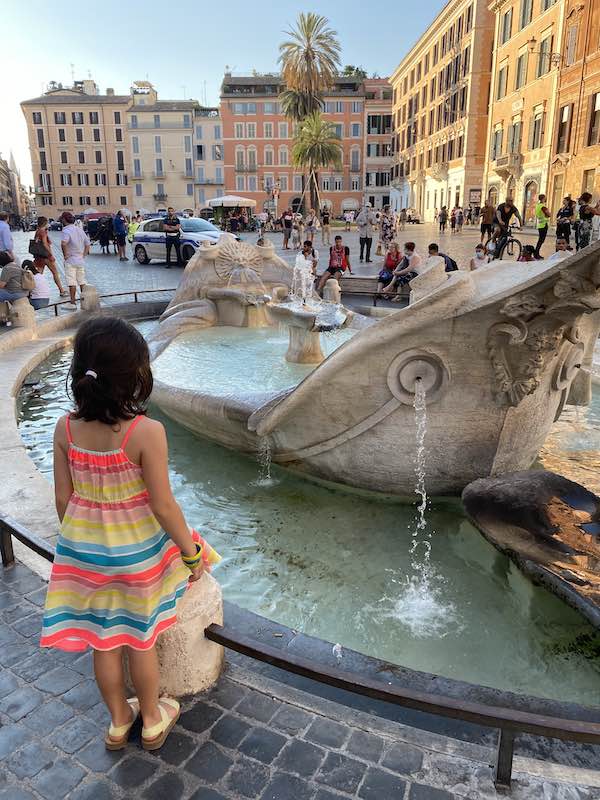 Private family tour of the Colosseum by LivTours (all ages)
If you are looking for a fun and engaging tour of the Colosseum for kids, and budget allows, I recommend you pick this Colosseum Family tour by LivTour (formerly: Livitaly).
The tour lasts 3 hours, it is a private experience so you know the needs of your kids will be at the center of it, and follows a treasure hunt format.
With the help of your guide and child-friendly maps and clues, this Colosseum tour for families will show your kids' the gladiators' arena and you will then be able to also visit the Roman Forum, which is also exciting for kids as it feels very much like a park!
Livitaly also offers the option of getting Augmented Reality glasses to see the Colosseum in its former splendor (this is optional, we recommend it for older kids only).
LivTour is a family company and the owner have kids themselves: they always have special attention for children and they share my love for cultural tourism with little ones, which is why I always recommend them to all families coming to Rome.
Find info and prices of their Colosseum Family tour here.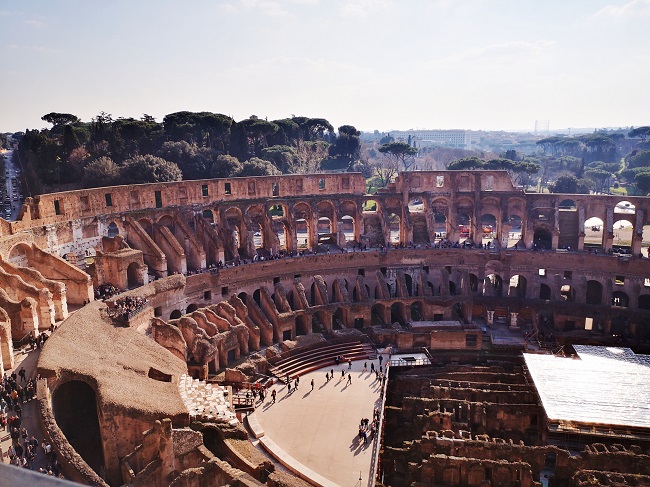 Colosseum underground tour by Coopculture
This tour is not for kids as such.
However, its is family friendly in many ways: kids go free, strollers are allowed (you are always given the option to use the ramp of lift when moving from one area to the next) and the guide makes a special effort to talk to children and involve them during the course of the visit.
There are two main things that make this tour stand out for me:
It is cheap! Coopculture is the official concession for Colosseum tickets and the lack of intermediaries means they can keep the price very low (less than 30 Euro per person, kids go free)
This tour is one of the very few that includes the underground part of the Colosseum. This is, I believe, the best part of the whole amphitheater for kids and I believe visiting is likely to be the highlight of the tour.
You can read here >>> why I recommend visiting the Colosseum underground with kids
The tour is very informative and the guide positively competent (I am a fussy Roman history graduate and I was impressed, it doesn't happen often!)
The one thing I feel like warning families about is that the Colosseum saw many killings and this does get mentioned in the tour.
This is not at the center of the experience but if you have small kids or sensitive ones, maybe ask the guide to give you a nod just before that bit so you can manage the situation at best.
Find my tips for visiting the Colosseum with kids here
I found this tour excellent for kids of all ages although toddlers may find the lack of props a problem.
On the other hand, this is a cheap tour (the cheapest and best I have experienced) so even if they don't get much from it, at least you know you haven't gone bankrupt in the process!
Coopculture Colosseum tour with kids at a glance:
Rome4kids Vatican tour for families with Scavenger Hunt (Private Tour)
To visit the Vatican museums with kids you need a guide and our experience with Katja, owner and tour guide from Rome4kids was outstanding.
Rome4kids offer private tours of Rome for families and while pricey, you get a lot for your money.
This tour is specifically for children and leads you to the most family friendly areas of the Vatican as well as making sure you see the most famous sights there such as the Sistine chapel and the Laocoon statue (my favourite)!
The tour includes a treasure hunt and is well paced so that children do not get excessively tired despite the large size of the museum and the crowds.
We particularly appreciated a break with took from walking when the guide sat us down for coffee.
She used that time to tell us stories about the Sistine chapel and showed us close up on the ipad of the ceiling frescoes, which are just too far up in the chapel to appreciate fully if you don't know what to look for.
This was an outstanding tour for kids and one we highly recommend if you decide to embark in the big task of visiting the Vatican with children ( if you are wondering what the big deal is and why we highly recommend to only go if you have a private guide, have a look at our tips for visiting, they will come in really handy!)
The tour as such did not include a visit to St Peter basilica but you do leave the museums just beside the main entrance so you can easily visit in your own time.
Private Vatican tour for families at a glance:
Vatican and Sistine Chapel tours for kids by The Tour Guy
Another fantastic kids' tour of the Vatican and Sistine chapel is offered by a company called The Tour Guy (formerly: the Roman Guy).
This tour makes the large Vatican Museums manageable with a treasure hunt approach for kids and includes the Sistine Chapel, usually what parents want to see the most!
The tour includes a useful introduction to St Peter's Basilica that you will be able to visit on your own after the tour of the museums.
You can find info and prices for this tour here
Private Golf cart tour of Rome – super fun getting to know Rome tour TOP PICK!
A golf cart tour of Rome is the most recommended tour for kids in Rome in our group!
A golf cart is a fun and clever way to get to know Rome: small enough to be able to handle many small street in Rome city center, a gold cart is able to lead you much closer to attractions than a bus or hop-on hop-off tour.
The vehicle is fun for kids, allows for a lot of fresh air and views on the way and comes with a guide and driver that will take away the stress to find your way through the city and will share stories and info.
This is a great activity for your first day in Rome as it will allow you to find your feet and get a sense of what you may want to visit again.
The family friendly company I recommend for this tour is LivTours. Find info and prices here.
Alternatively, we also received good reviews for the golf car tour by My Best Tour.
Classic Rome tour for kids by Taspy Tours – currently unavailable
Tapsy tours offer family walking tours of Rome that are kid centered and designed for families who want to see the most famous sights in Rome in a short time.
In the space of 3 hours, you get to experience the Colosseum (from outside), peek into the Forum, see one of the most beautiful views over Rome and see landmarks such as the Pantheon and Piazza Navona.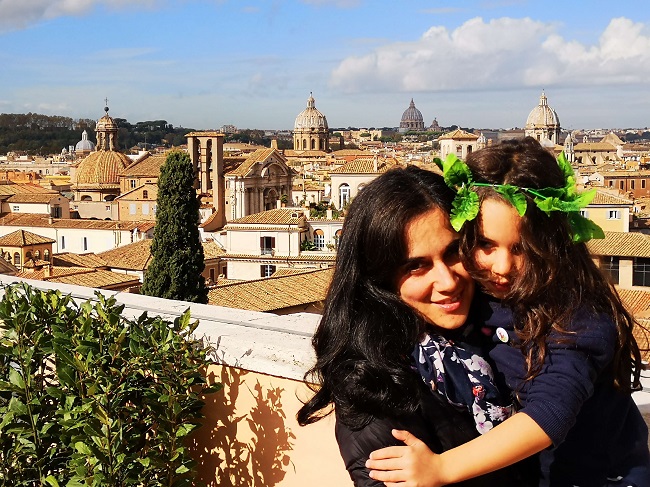 This Rome family tour is made for kids (parents tag along and can ask questions) and comes with kid friendly perks such as a Polaroid taken with ancient Roman props, stickers and a booklet.
If you are lucky, you may even meet Tapsy itself, the mole mascot of the tour!
This is an excellent Rome tour for kids if you are in Rome on a day trip and need to cover a lot of terrain fast
Tapsy classic Rome tour for kids at a glance:
Espresso and Gelato tour of Rome
Coffee and gelato lovers will be delighted to hear that there is a food tour for them that is also family friendly.
The espresso and gelato tour by Gourmetaly is not a tour for kids as such but it is family friendly (we went when we had a toddler and stroller) and designed in such a way kids can easily tag along.
The gelato stops come with nice tastings (not too much gelato, just the right amount!) and while the coffee stops are less interesting for kids, they are never so long to be boring.
In many cases, the gelato and coffee places selected are close to each other and one of the coffee shops has an old roasting machine which is fascinating for kids to see.
If you have a toddler, I highly recommend a stroller as a good bit of walking is involved
Coffee and gelato food tour for families at a glance:
Best children classes in Rome (in English)
Rather than tours, in this section I share some classes that we have taken with our kids and that have allowed them to experience Rome in a deeper, meaningful way
These classes are in English, made for families and open to families with children visiting Rome and, sometimes, local expats.
Mosaic class in Rome for kids
If you have children who love art and making, then I highly recommend you look into the mosaics class organised by Arte al sole.
This class is held in a real mosaic workshop in Trastevere and your teacher is a real mosaic artist: she guides your child through all the steps needed to create a mosaic and helps them along the way with their creation while leaving them full room to express their creativity and vision.
This is an excellent class and one I highly recommend to all kids: all our friends who experienced Arte al Sole fell in love with what they do!a
You can read our full review here. You can book directly with Arte al Sole here
Please note – this is the only mosaic class in Rome I found that gets you to learn about REAL mosaic making and has a real mosaic artist to lead you.
Other classes we have seen do not use real stones or and are a fun game for kids but add very little to what you may get anywhere else in the world.
If you are looking for a real local experience, this is the class to choose!
Art and seek drawing tours for kids – best for also meeting local kids!
Art and Seek is different from the providers above in the sense that it caters for local expat children as well as visitors.
This means is doesn't have tours on demand but rather set dates a for regular art based activities taking place in several parts of Rome.
We took their excellent drawing session at Palazzo Braschi, a live drawing lesson/workshop for kids with a knowledgeable and fun guide, but they also have other locations such as Villa Giulia (Etruscan museum of Rome) and something I cannot wait to try, a street art tour for kids in Ostiense.
This is a really fun class expecially for slightly older kids (7 and up) and parents are welcome to tag along or take their own time around Rome.
One of the things I loved about this class is that they select really interesting museum, often off the beaten track and also that it is very reasonably priced.
You need to sign up for their membership but it is a fraction of the cost of any other tour of Rome and a fun way for kids to meet other children their own age. You can book directly with them here
Pizza Making class for kids in Rome city center
If your children would like to learn to make pizza in Rome in a fun way, we recommend the class by Rome4kids, the same people we loved for the Vatican tour.
The class is specifically for children and takes places in a real Rome pizzeria which adds to the fun.
The children make pizza from scratch, cook it in a real oven (all is safe, don't worry) and you end the morning eating the results of your effort in the pizzeria itself. You can read our review here or book this activity online here
Kids cooking class in Rome (private)
if your children are like my daughter, they may fall in love with this kid-friendly cooking class, perfect to learn and make real Italian food.
The class is organized by LivTour and is led by Marilee who is originally from California but has been living in Italy for over 30 years. A perfect combination of local experience and ease of communication!
The experience comprises of a market visit and then a cooking session: it of course finishes with a delightful meal savouring the fruit of your labor!
You can find info and tickets here
I hope you found this overview of tried and tested kids tours in Rome useful and it helped up plan you family vacation in Rome. Safe travels!