How to buy Colosseum tickets from the official website: how to navigate the Coopculture website and pick the best tickets for you and/or family.
The cheapest way to get Colosseum tickets is buying tickets from the official Colosseum concession itself.
Cheapest doesn't necessarily mean best, and if you are in two minds about going direct vs going via a tour operator, I recommend you read first >> our guide to the best tickets to the Colosseum.
However, if you have already done your research and are happy going direct is the best way to go for you, this guide can help!
The direct ticketing system for the Colosseum is notoriously confusing so I hope this quick guide can help to make sense of the options.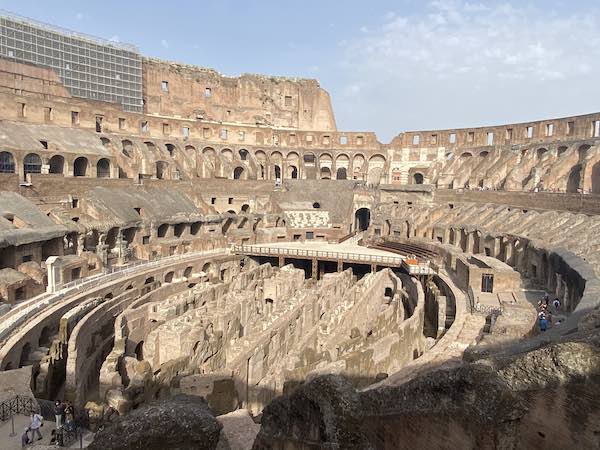 See also >>> How to get tickets to the Colosseum
Buying Colosseum tickets from the official Colosseum website – What you need to know
Colosseum tickets are sold by a company called Coopculture: Their website is Coopculture.it and covers many cultural sites all over Italy.
They are the only ticket provider and those that make all the entrance rules.
Everyone else is a reseller and is bound by the same rules set by Coopculture.
So, if you are in touch with a tour provider and they tell you they cannot do something because the Colosseum people don't allow it, this is why!
Some essential tips to help you make an informed decision:
Coopculture tickets are cheap as there are no middle men, no affiliates, nothing.
This allows them to see them at the lowest possible rate as all the income goes straight to the company, making them a very good option if you want to visit the Colosseum on a budget.
Low cost, however, also means no frills and no flexibility.
Once you book your ticket, you cannot change date, time, name on the ticket and, in most cases, you also cannot ask for a refund should you plans change.
Essential tip: before purchasing, read carefully the conditions of sale of the individual ticket you are buying and what they demand to allow entry (for instance, some tickets require ID, to match your name with the one on the ticket). There is not flexibility on these rules and not abiding by them will result being denied entrance with no refund.
Coopculture ticket are released 30 days ahead of your desired date.
Coopculture tickets go on sale 30 days ahead of the day the ticket is for.
They usually come out at the time of entrance, so 9.30am tickets come out at 9.30am Rome time 30 days before and so on.
Unfortunately, bots tend to snatch this tickets as soon as they come out; therefore, I do not recommend setting your alarm or losing sleep to try get them at release time. Bots will most likely beat you.
However, there is hope!
After the first release, tickets tend come out in smaller batched during the 30 days window and a big batch usually comes out 7 days ahead.
This mean that, often, if you check the site regularly over those 30 days, you are usually able to get standard entrance tickets.
Good to know: tour operators are bound to the same 30 day rule. However, they have skilled booking department so even if you book much earlier than 30 days, they are usually able to secure tickets for you. This is part of why they cost more: their skill and the work of keeping an eye on the website for you.
Buying Colosseum tickets from the official website makes you skip the line
Coopculture tickets are timed, which means you enter the Colosseum avoiding the potentially very long line at the ticket booth.
Outside of he Colosseum you may find people selling you Coopculture tickets on the day which will promise the same.
However, They are not authorised sellers and while in practice the police tends to turn a blind eye, that doesn't make it legitimate. For legitimate tickets, use the Coopculture site or an authorised reseller like GetYourGuide, Tiqets or a tour operator.
For ticketing purposes, they have divided the Colosseum in 3 parts, each with a different cost.
The Colosseum is one attraction but, for ticketing purposes, they have divided it into 3 parts, each with different access rules and tickets.
If this is your first visit to the Colosseum, picking the best part can be hard; hopefully, this quick overview helps!
This is an overview, read the small print on Coopculture for each ticket before purchasing as things change often!
>>> General areas only: the cheapest option >> https://www.coopculture.it/en/products/ticket-colosseum-forum-and-palatine-_24h/
Need to know: how high up you can get may vary deepening on work happening in the Colosseum at the time of your visit. You always get to areas that allow you to see the theater and take photos of the inside.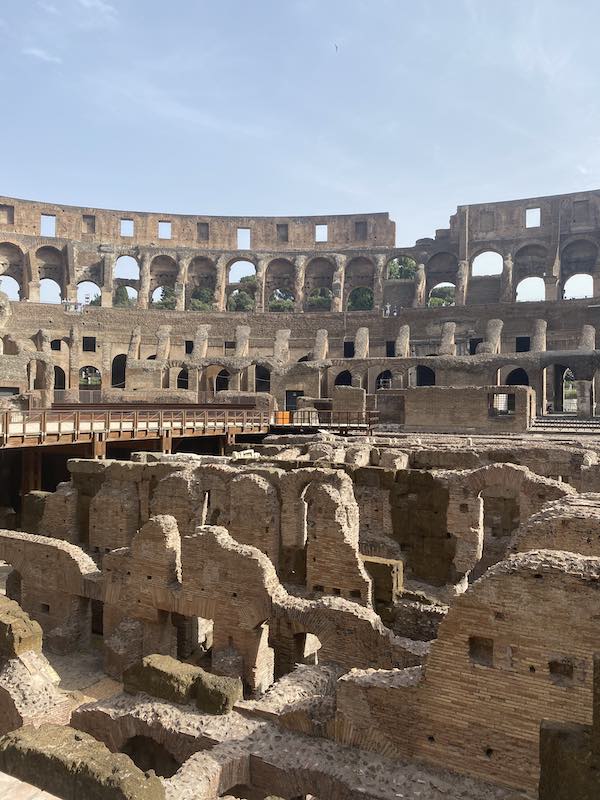 >>> General areas + arena: same as above but also with access to the arena floor, the stage where the gladiators etc stood.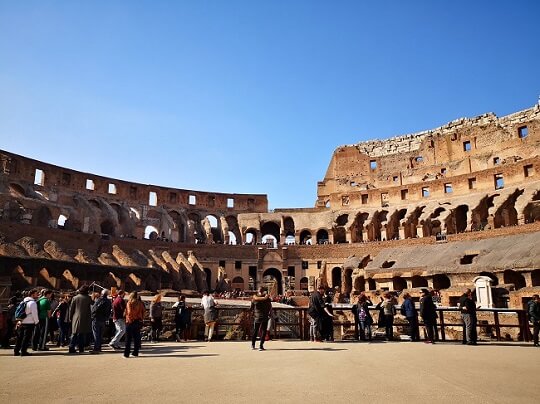 I believe access to the arena is a worthy addition, especially for kids as they get to see the Colosseum from the point of view of a gladiator, stand where the animals would have fought etc.
The views from the arena to the rest of the theatres are also very impressive.
The Colosseum calls these tickets with additional arena access 'Full Experience'.
Arena tickets are, at present, easy enough to get >> Colosseum general entrance + arena access (Full experience ticket)
>>> General areas + arena + underground (my personal favorite): the most comprehensive ticket which includes all of the above but also access to the backstage area (under the arena) where animals, props etc were kept.
I believe it is worth adding the underground; however, getting tickets is hard and may require patience.
If you cannot get them, I don't think it is a dealbreaker, other types are still better than no ticket at all!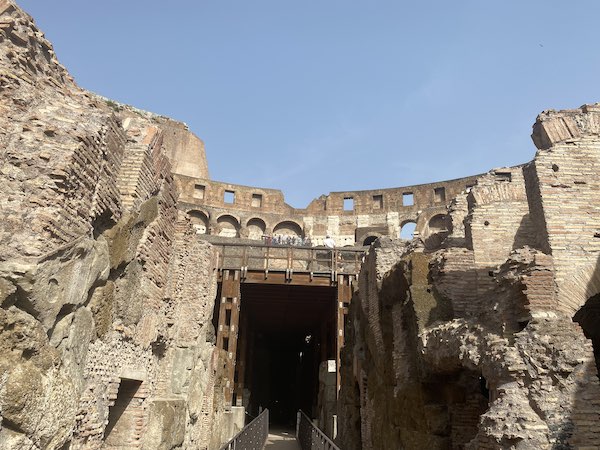 Options are:
General area + arena + underground with guided tour >>> Full Experience ticket with arena and underground access didactic tour ('didactic' in this case means 'guided')
Good to know! This tour also exists in Italian and Spanish and they are usually less full than the English language ones so if you are an Italian or a Spanish speaker, there are a fantastic option!
OR
General area + arena + underground (no tour guide) >> Full experience ticket with arena and underground with host (with host means you have someone showing you the way and helping you operate the app, it does not include a guide)
On selected dates, they also have a night tour of underground and arena called Luna sul Colosseo.
This includes underground and arena and is a guided tour
The main difference with other underground tickets is that you do not get to then explore in your own time, for safety reasons.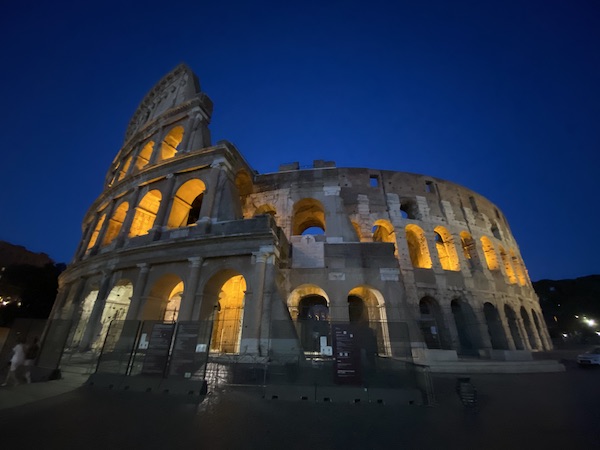 Coopculture entry tickets for kids are free up to age 18.
However, tickets that include a tour charge for the tour guide.
Read the small print before buying as the option differe depending on the exact ticket chosen.
Buying from Coopculture direct vs Tour provider – what's best?
Whether it is best to buy from the Colosseum direct or via a tour provided depends on circumstances
Coopculture is best for price.
Reliable tour operators are best if you want:
A private tour or a small group tour that can offer a personal service
A service provider that can source tickets for you, eliminating the need to chase tickets on the Coopculture site 30 days out
A tour that is for kids, as opposed to tour that allows them but is not geared towards them
I have visited the Colosseum with simple Cooculture entrance tickets, with their underground guided tour and I have also visited with private providers.
In all cases, I have enjoyed the Colosseum immensely – I believe there is a reason to go with a reliable private operator, for overall ticketing experience, the extra bits they share with you and overall feel.
However, if your budget doesn't stretch to them, you can definitely have a wonderful time at the Colosseum!
How to buy Colosseum tickets form the official website – step by step!
To buy Colosseum tickets from the Colosseum website:
Go onto the Coopculture website and search 'Colosseum' in their search box. Alternatively, click on one of the links above to get to the relevant page
Click onto 'check availability'
Look at the Calendar that appears: red days are sold out / green days are avaiable / grey days are not released yet or days when tickets are not purchseasable (this may be a special event etc)
Choose a time slot with a sufficient number of avaiable tickets for your group
Choose full price unless you know you qualify for one of the reduced fees; scroll that page and read carefully the conditions of sale for each ticket type to make sure you get the cheapest one for you
Add to cart and follow checkout procedures. Make sure you tick the option to receive the tickets on your phone so you just show the electronic bar code when at the gate
Need to know: general entrance free tickets for kids are no longer available online. Instead, you collect them at the ticket booth on Largo della Salara Vecchia, by showing your adult tickets.
I hope you fond this essential guide about how to book tickets for the Colosseum directly from the official concession useful: have a great visit!
See also:
>>> How to visit the Colosseum with kids + best family tours of the Colosseum
>>> Why you should visit the underground area of the Colosseum
>>> Tips for visiting the Colosseum + bet tickets and tours overview