Tried and tested, beautiful itinerary to see the best of Rome in one day. Perfect Rome itinerary for first time visitors to Rome to make the most of your trip to Rome even if you only have a day in the Eternal City.
Visiting Rome in a day requires a good bit of prioritizing, there is just so much to see there!
However, you may be surprised by how many of Rome's most famous sites can be seen in the space of the same afternoon.
While not little, Rome's city center is pretty compact and if you have a good itinerary such as the one on this page, you can quickly tick off your list very many locations, sometimes having to walk a little bit, some other times so near each other you will hardly believe your eyes!
I often go to Rome city center to binge on its attractions and it is on the basis of my walks that I designed this Rome city center itinerary.
I have written this itinerary to see Rome in one day following an order of attractions that limits the number of times you need to retrace your steps and go around in circles.
Nevertheless, depending on when you are staying you will find it is easy to shuffle things around and visit all these places in a different sequence.
If you are unsure about the location of certain attractions compared with one another, have a look at our sightseeing planning tool here
How to use this 1 day in Rome itinerary
However you decide to do it, take into account the following:
If planning on visiting a large attractions such as the Colosseum of the Vatican, plan your day around it.
Book as early as possible to get a convenient slot and plan the rest of the day around the time of visit you can secure, not the other way round.
The Colosseum can take as little as 1,5 hours to see, The Vatican realistically will take at least 3 hours.
If you want to see Rome (as opposed to just one to two of its attractions) , I recommend you only pick one of the two. If you want to see two, you can start with the Vatican early morning and the Colosseum in the evening.
The Colosseum is a little detached from the rest of the attractions so it makes sense to either start or finish your visit day there.
I suggest you keep it as a last stop if you are taking the evening visit.
Otherwise, start your day here and instead spend your evening around piazza Navona, which has more restaurants and wine bars for a pleasant meal out.
If you want to see the Vatican museums you need to arrange your whole day around it.
You can visit the Vatican and stretch to Rome city centre in a day but this will only really leave time for a glimpse of one location, for instance Piazza Navona or Campo de' fiori.
This is why a visit to the Vatican is not included in this itinerary if, on the other hand, you want to see St peter's from outside, you can fit it in with the rest: the colosseum is the furthest from it so wither stay local or plan on taking the bus from one to the other.
If you need help with understanding public transport in Rome, find our guide here.
Good to know: if you only have one day in Rome, you may feel you need to pay a premium to get skip th like tickets and make the most of your time. I have good news! Big attractions in Rome now have timed entrance tickets so if you buy them online, there is no line! No need to pay a premium, just buy timed entrance tickets from the occigual websites and you're ok!
Please note: this post contains affiliate links and, should you make a purchase through them, we might make a small commission, at no extra cost to you.
One day in Rome recommended itinerary: with recommended food stops!
Stop 1 of our one day in Rome itinerary: Colosseum (and Forum)
The Colosseum, Roman Forum and Palatine Hill are ancient Rome and a wonderful first stop for a Rome itinerary for location and visual impact.
Come here for the first Colosseum visit of the day and visit either in your own time or with an express tour to make the most of your short time in the city.
You can find here >> standard entry tickets
Or here >> my recommended, fast tour of the Colosseum (suitable for all visitors, including families with babies and toddlers!)
TOP TIP: The Colosseum, Roman Forum and Palatine Hill are one beside the other and you access them with the same ticket. I recommend you visit the Colosseum, then go for coffee nearby and finally take a stroll across the Forum. This way, you get a taste for the Forum / Palatine without the visit taking up all your day.
Cute coffee places nearby:
Cafe Cafe, via dei Santi Quattro 44
In the park on the hill in front of the Colosseum you also have a cute kiosk with coffee, juices and tables in the shade with colosseum views (a great spot if you have kids too)
Stop 2: Piazza Venezia and Campidoglio
A short walk away from The Colosseum lies piazza Venezia.
The square is beautiful and famous for several reasons including the presence of one of Rome's most peculiar monuments, the Vittoriano.
You are sure to have seen pictures of it and you will immediately spot it for size but also for its well-deserved nickname: the typewriter or, as English speakers often call it, the wedding cake!
The Vittoriano is built over several terraces and the one on the first and second level have free access (the one of the top floor, on the other hand, has ticketed entrance: cost is 10 Euro at the time of writing).
A climb up the Vittoriano is worth is: I particularly love the terrace to the left of the monument, which overlooks the Forum and Trajan's market, one of the best views over Rome!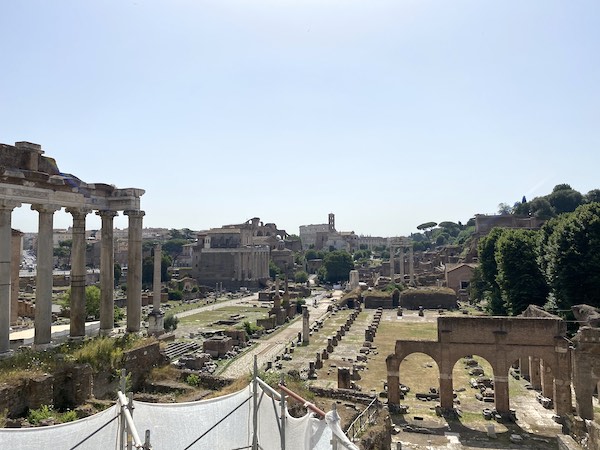 Behind it, sits on one of the most beautiful spots in the whole of Rome: the Campidoglio hill.
Do take the time to climb up and enjoy both the square with the large Marcus Aurelius statue in the center and the view over the forum from behind the main building.
For an extra treat, head to your left when leaving the piazza and take in the view from Terrazza Caffarelli.
This is a lovely place any time of the day however, if you come in the morning you get the clearest view. If, instead, you prefer a romantic atmosphere, I recommend sunset: at that time, this is one of the most romantic spots in Rome!
In Piazza Venezia, you will also find Palazzo Venezia and the balcony from which Mussolini spoke the II world war declaration and the beautiful Trajan's Column, the 'first film in history', both worth noticing.
Good to know: the Campidoglio is open day and night. In the evening, the forum is lit and the view fantastic!
Stop 3 – lunch
Depending on your pace this may be a good time to stop for lunch. Recommending a place to eat in Rome city center is honestly too hard for me to do: too much choice and too many options – sit down, sandwich, pizza?
With one day in Rome, my preference would be to have a stand up lunch (pizza al taglio is a good option) and reserve time for a proper meal in the evening.
If you want a sit down meal, I recommend Enoteca Corsi which is a very local and nice lunch spot. Via del Gesù, 87/88, 00186 Roma RM, Italy
You can find here >>> my complete guide to Rome for foodies, with many recommendations and Rome restaurants I love.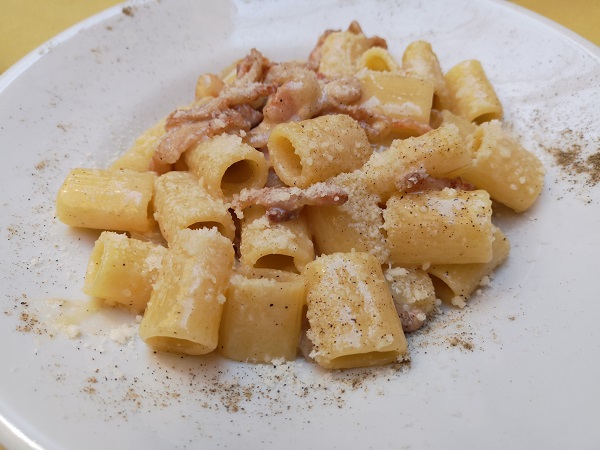 Stop 4 – The Pantheon
A short stroll along via del corso brings you close to the Pantheon, one of the most atmospheric corners of Rome.
The old temple is now a church and packs a punch in terms of beauty and charm thanks not just to its incredible facade and architecture but position. 
The Pantheon is in the middle of Rome's famous cobbled streets and a delight to visit.
Since summer 2023 the Pantheon is ticketed: you can book tickets in advance or queue on the day, should you happen to be here at a quiet time.
Read here: how to book Pantheon tickets
Stop for coffee at:
Make our visit even better with a coffee in nearby Caffe' Tazza d'oro, one of the best in the city (find all our favorite here). Prefer gelato? You can get a delicious one near the Pantheon too: find out where here.
Stop 5 – Piazza Navona and Campo de' Fiori
Piazza Navona and Campo de' fiori are two of Rome main square and I put them under the same heading as they are very close to each other, on the two sides of Corso Vittorio.
However, they are very different from each other. Piazza Navona is grand and monumental while Campo de' fiori is dusty and 'real', traditionally the location of a morning market.
Visit Piazza Navona first and then head to Campo de' fiori for aperitivo for the best experience.
Stop 6 – Spanish steps and Trevi fountain
No Rome itinerary would be complete without a stop in Piazza di Spagna and Fontana di Trevi, among the best known sights in the whole city.
You can visit both much earlier in the day but I think it is worth keeping them last since they tend to get very crowded.
The evening is your best bet to see them without clouds of tourists literally obscuring your sight and they are super romantic thanks to the lights that get them to sparkle as Rome evening settles in.
Stop 7 – dinner
If you have followed this one day itinerary at this point you are happy yet tired and ready for dinner.
The options in Rome are endless and you can choose between staying local to Trevi, head again towards Piazza Navona (in which case I love enoteca Cul de sac and Mimi and Coco) or even get a cab to Trastevere for seeing one extra bit of Rome and traditional Rome food. I love Tonnarello there.
However, you end your day, I hope you will have enjoyed your visit and this post helped you answer the question: what is the best itinerary to see Rome in one day?
Safe travels!
This Rome in a day itinerary was published in 2019 and has been fully updated with recent food and tour recommendations in September 2023