All you need to Rome about using public transport in Rome. Where to buy tickets, how to find information on public transport lines and what to expect when planning on using Rome's bus, tram, metro and train system.
Rome is a very walkable city.
If you have accommodation in the city center and plan on seeing Rome must-see sites, chances are you will be able to do so on foot, and discover wonderful sights as you do it!
However, Rome is also very big and it is sometimes necessary to use its public transport system.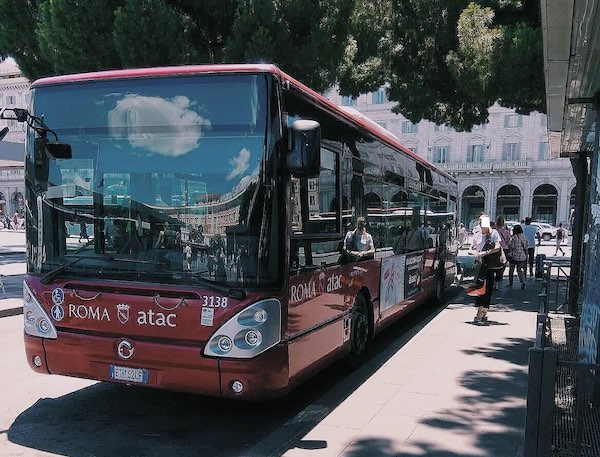 Mastering the art of getting around Rome by public transport takes a little effort.
The city has an extensive network of transportation options made of trams, buses and metro.
However, information on their routes and schedules are hard to come by and many Romans will tell you that the system fa schifo (= it sucks) and that you are better off walking.
Most foreigners are also less than impress with the service, which is often erratic and busy.
I confess I am myself one of these Romans and have a discerning approach to using Rome's public transport system.
Unless I need to go really far, I would rather walk.
However, if I take off my cynical hat (us Romans are a moany bunch) I can say in all honestly that the system is not always and inevitably that bad and in many cases knowing how to navigate it will come really handy.
These are my tops tips on how to use public transport in Rome and info on how the public transport system in Rome works.
Have the budget for more comfort? Read our guide to using taxis in Rome instead or consider options such as tours and bikes from our Rome transportations guide 'how to get around Rome'
Public transport options in Rome
Rome's local transport system is made of buses, trams, metro and train.
The bus network in Rome – how to uses buses in Rome
The bus routes are the most extensively developed across the city and they bring you pretty much anywhere in the city, from city centre locations to more peripheral neighborhoods.
Buses are either dark red or dark green and grey. Most of them are long vehicles but, in the city center, you also find small buses that look like a miniature version of the real thing.
All buses use the same ticketing system, regardless of size.
Bus stops are all over the city: you wait at one and, as the bus approaches, you hail and it lets you in.
Board by the designated doors if you can, but don't be surprised is people get on a off from whichever is closest to them!
Depending on how you got your ticket, you may need to validate it.
If you have a paper ticket, seek out the validating machine. This is normally wither at the top of the bus or towards the back.
If you have an e-ticket from TicketAppy, you need to activate it before you board or as soon as on the bus and you are good to go.
If you don't have a ticket but you have a bank card, you can also use the card to tap the ticket machine and say that way. No tickets is issued but you'll be riding the bus legally. Read here >> the official website of Rome's Transport network <<< what cards are accepted.
On the bus, there is limited seating; reserved seats for the elderly, people with disability and pregnant women are well marked and must be made available if necessary.
If you qualify for the use of one of the seats, make your voice heard: most people will do the right thing and volunteer it to you but many will not out of distraction mostly.
Asking nicely usually does the trick.
When you need to get off, you need to call the stop by pressing one of the 'stop' buttons on the handrails and make your way to the front door.
The use of doors is all over the place as people do not respect the 'get on from the back door, get out from the middle one' – don't worry too much if you get out from the back door if closer, nobody will bat an eyelid!
Rome trams – how to use trams in Rome
The trams are an older mode of transport in Rome and some of them still operate along specific lines.
Some of the older carriages are still in use and those are the most atmospheric and pretty to catch, but some lines have new carriages that give the tram a much more modern, dare I say European, look.
Trams are environmentally friendly and great if you need to go anywhere along their routes.
However, they are quite slow and it does sometimes happen that people park on the tracks, in which case you need to wait it out among crazy beeps to elicit the offender's attention until the tram can starts again.
Take it as part of the charm of the city and find your zen if you don't want to lose your sanity.
Trams work just like buses and use the same tickets.
Wait for your tram at the designated stop, then validate validate your ticket in the yellow machine inside the tram once on board or activate your ticket on TicketAppy.
Trams tend to be longer than buses and offer more seats. Reserved seats for the elderly, people with disability and pregnant women are available and must be vacated when needed.
Like for buses, do not be afraid to demand your seat if you qualify for one: people, often out of distraction, may not volunteer it to you but comply when asked.
Rome metro – how to use the metro in Rome (subway)
The metro in Rome is the typical example of a good idea with terrible implementation.
Rome metro is excellent if you need to cover long distances fast but has some significant shortcomings.
First of all, it serves very few areas: unless you live or work beside one of the stops, you are unlikely to ever use it (I think in 30 years of living in Rome I took it about 3 times!).
Second, it stops more often than it goes.
The management of the Rome metro system is one of the ongoing issued faces by the city: trains are few and far between, hours of service are erratic and lifts and escalators in station are often in poor conditions or not working at all.
Metro stops like Colosseo and Termini are among the best kept but I recommend you do not rely on the metro in case of issues dong steps or if traveling with a stroller.
Last point: Rome metro is kind of awful, in terms of looks.
You know Paris, London, Madrid, Barcelona and their amazing metro stops with light, art installation and character?
Well, you do not get that in Rome, with rare exceptions.
You may say that looks don't count when it comes to ease of transport and I agree: if you need to go to a place served by the metro, absolutely take it. But do manage your expectations.
The metro has the same ticketing system as the buses and trams. However, you can only take one metro ride per ticket – see below.
Rome local trains
Some localities in Rome are also served by local trains: these are an excellent transport system and they are much ore pleasant than the metro since they run above grounds.
The one visitors are most likely to use is the commuter train to Ostia Antica.
All of the public transport options above are part of the Rome local transport system and you can avail of them with a standard public transport ticket. There are several types of transport tickets in Rome: see below.
How do I find bus routes?
Until recently, the unfortunate person looking for information on how to get from A to B in Rome had to rely on the kindness of strangers.
Some of the bigger bus stops have local transport maps but many smaller ones don't and if you are not in proximity of a stop well, then all you could do was asking a local and hoping they would pint you in the right direction.
That said, things have recently improved and now the public transportation Rome system has an app.
And it works!
It is the ATAC app, it is available for iphone and android and it is pretty useful: it allows you to find bus lines, destinations and even approximate waiting times.
It is not perfect but it is a huge help: make sure you download it and check with while connected to your hotel wifi for best results
Bus stops and bus terminus in Rome
Bus stops are all over Rome: you see them on the side of the street and they have the bus number and a list of stops.
You will see different types of buses:
X lines: Express These lines have fewer stops than others and are therefore faster.
N (or drawing of an owl): night bus
The tickets for these services are the same.
You can also catch a bus form a bus terminus: the most useful to visitors are usually that in Piazza dei Cinquecento (Termini station, Piazza Venenzia and Vatican City.
A tram terminus useful to visitors is in Piazza Risorgimento (near the Vatican).
Where to buy Rome public transport tickets
You can but public transport tickets:
In Tabaccaio shops
At the machines at the bus terminus
At the machines in metro stations
On your phone
Machines are often out of service and operate with cash only most of the time.
If you can, I highly recommend you get tickets from a tabaccaio instead or rely on your phone.
There are a few ways to get hold of ticket electronically:
TicketAppy – this is the official app of the Rome transport authority ATAC and a great one to have multiple tickets on your phone and not have to worry about getting hold of paper ones.
On TicketAppy, you purchase tickets like you would from a shop or machine and they appear as tickets on the app, no need to print anything.
When boarding a bus, you go into the app and ACTIVATE your ticket. Be careful as if you don't do this step, it's like not having one! Activating your ticket is the equivalent of validating a paper one, an essential step.
You can find TicketAppy here >>> https://www.atac.roma.it/en/tickets-and-passes/request-and-charge-online/ticketappy
Good to know! TicketAppy is great if you are buying tickets for multiple people, for instance yourself and your kids. You can buy serval tickets and also activate them together on your phone, so you only need one device.
If you have an Italian mobile number, you can get tickets on your phone via the service SMS&Go.
To avail of this service, write an SMS with the keyword BIT and send it to the number 48018.
In a few seconds, you'll receive an SMS on your phone with a link to the digital ticket with QRcode. Activate the ticket by selecting a button of your choice between bus, metro or train.
For bus rides, the ticket will default to the Bit 100 ticket and you will be good to go.
For metro and train you will get a QR code that you then scan at the station like you would a paper ticket.
The cost will be deducted from your phone credit: please not that phone operators charge for this service, so it will result more expensive than the paper ticket.
Rome public transport tickets and cards
Public transport in Rome operates an integrated ticketing system, meaning that the same type of tickets is valid on all means of transport operated by Atac, Rome's municipal transport authority.
There are several types of tickets and you can buy them at most newsagents and tabaccai and ticket machines located at bus terminals and metro stops.
Single ticket, 24/48/72h tickets, weekly ticket
For the occasional bus ride the best ticket to use is the so called BIT.
As mentioned, this is valid on all forms of transport and gives you unlimited rides on the tram and bus (transfers allowed) or one ride on the metro for 100 minutes from first use.
This means that you buy your ticket, stamp it on your first ride (there are machines on buses/trams and when accessing the metro station) and you can keep traveling for 100 minutes from then.
For more extensive use, you can choose between different types of tickets
24 hour ticket:valid for unlimited metro, bus, and train travel within Rome for 24 hours from validation
48 hour ticket: valid for unlimited metro, bus, and train travel within Rome for 48 hours from validation
72 hour ticket: valid for unlimited metro, bus, and train travel within Rome for 72 hours from validation
C.I.S. Weekly ticket – valid for 7 calendar days
Note for families visiting Rome with kids: Public transportation is free for children under 10 years old.
How to validate your tickets on Rome's buses trams and metro/train
For your ticket to be valid, you need to validate it and this is usually straight forward. Metro and train stations are equipped with turnstiles to access the tracks and they automatically stamp the ticket for you.
If you are traveling with kids under 10 (who therefore travel for free, see above) make sure you carry them to avoid the gate closing between you and them after the first person has passed or elicit the attention and help of the station attendant. If there, they are usually happy to help parents.
Validating machines are on board of buses.
Older ones are yellow, newer ones are dark red and you have one at the front and one at the back of each bus.
You insert your ticket, they make an awful noise and then spit it out validated. In the common event of the machine not working, you are supposed to manually write on the ticket the time of first use.
I always do and this usually makes the bystanders look at me as if I had grown two heads. Many even comment that if they cannot make the machine work then they deserve we don't pay.
To each their own, but if you see people looking at you funny while you diligently write down the time on the ticket, it is not because you are doing anything wrong – you are just being more law-abiding than average!
If you have tickets on TicketAppy, you need to activate them before you get on board. Go onto your ticket app and follow the easy instructions, it takes a second!
Are tickets checked on Rome public transport?
Nothing is black or white in Rome and so the answer to this questions is: it depends.
Metro stations are accessible by passing through turnstiles so there is not way to escape paying the fare unless you jump above them in a very attentions grabbing (and illegal) fashion.
Checks on buses and trams are rare but they do happen and if they catch you without a ticket it is genuinely unpleasant and costly. My advice? Don't risk it. For 1.5o euro a ticket, it is really not worth it.
Why am I even suggesting you are entertaining the idea of not paying, you may ask.
Well, you are right, but having grown up in a city with huge resentment towards the municipal and national authority and erratic controls, I know many may suggest you do cheat the system and I feel it is right to warn you about the fact that, well, you shouldn't.
Using Rome public transport with a baby stroller
If you are visiting Rome with kids, buses and trams can be a good way to reduce the amount of walking needed to see the city.
Trams in particular may come in handy as they pass by Rome Zoo, Explore Children Museum and the Colosseum (different lines), all child favourites!
Rome public transport is free for kids up to age 10. It is not, however, stroller friendly.
You must fold the stroller to board the bus / tram / metro and the steps to enter the bus are often very high.
I use Rome public transport with my kids extensively but if you come from a city with a very good service, make sure you find your zen: patience is very much needed in Rome!
Other Rome transport cards
As well as standard tickets, you can opt for one of the many tourism transport and museum cards on offer in Rome. Check out our overview of discount passes available in Rome here