A fun Trastevere Scavenger Hunt for kids you can download for free – challenge your kids to find these items while exploring Trastevere (and find our suggested prize for their efforts!)
Trastevere is a beautiful area of Rome and a place most grown ups wish to explore while in the Eternal City – with good reason!
Famous for its cobbled streets and for being one of the best areas in Rome for food, a walk around Trastevere is a highlight for many, but not an obvious place to explore with small children.
Unless, of course, you have the right tips on how to go about it, which is just what I am here for!
I am from Rome and often go to Trastevere for the same reasons as you: its charming streets, amazing food and fabulous atmosphere. And of course, I often go with my kids.
Trastevere is pleasant with children: however, since it is about evocative atmospheres and charming streets, rather than exciting attractions, it often requires a bit of creativity to keep the kids engaged in the walk.
For these time, I have come up with a scavenger hunt!
If you follow this site, you may know that I am fond of scavenger hunts around Rome. I have:
An animal statue scavenger hunt in the city center >> find it here
A 'Rome bingo' scavenger hunt you can use around the city >> find it here
I also have area by area 'walking prompts' scavenger hunts in my guide to Rome with kids on Amazon – if you don't have it, you can get it here, it's an ebook and you can download it on your phone.
Today, I share with you one more: a Trastevere scavenger hunt for kids.
I want to thank the lovely reader who asked for it and made me realize I hadn't done one for this area! I hope you enjoy it!
Good to know: you can use this Trastevere scavenger hunt for kids in conjunction with our favourite Trastevere walking itinerary
Trastevere scavenger hunt for kids – how to use
A good scavenger hunt needs three things: things to spot; an explanation of what they are; a treat for completing the task!
In this section we have the first two must have. At the end of this page you will also find three suggested spots for a kid-friendly treat!
I have thought this scavenger hunt as something you can do in your own time and while exploring at leisure. You do not need a map for this – while some of the items are in specific locations, many can be seen more than once in several parts of Trastevere.
If you need help, the links to google maps included in this page will help find your orientation whenever needed!
If you want, you can gear up your children with:
To make them even more ready for this!
Trastevere scavenger hunt for kids – keys
A pedestrian bridge form where you can see St Peter's Dome
Trastevere means 'Trans Tevere' meaning 'The other side of the Tevere' the river of Rome so to get there, you're most likely crossing a bridge!
A great one to use to get to this area is Ponte Sisto, which has a couple of very special things.
First, Ponte Sisto is closed to cars and, because of this, it is often chosen by street performers to play their music!
Second, if you look at the scenery from it, you will notice a huge dome. Can you see it? That's St Peter's Dome at the Vatican!
Address: Ponte Sisto, Piazza Trilussa, 00153 Roma RM, Italy https://goo.gl/maps/Rsmmzzz6XB4wRj7m7
SPQR Sign
Look carefully at bins, drainage systems, fountains. Does any have a SPQR written on?
Many do as SPQR is one of the symbols of Rome.
The acronym stands for Senatus PopulusQue Romanus which means: of the Senate and the People of Rome, in Latin.
This acronym dates all the way back to ancient Roman times and it is still now a way to say 'this belongs to the city'.
How many can you find?
Address: these are scattered around, the easiest to find are usually on rain drainage systems, bins and fountains!
A tram (or bus)
Rome used to be criss-crossed by trams. Now there are not as many but you can still see them in Trastevere! What colour are they and can you spot the number at the front?
Address: trams go along Viale Trastevere, you are likely to see them in Piazza Belli (sometimes they are replaced by a bus – for this scavenger hunt, both count!)
A nasone fountain
Nasone in Italian means 'big nose' – can you guess why Rome drinking fountains are called this way? It is because of the shape of their spout that looks like a big nose! 
To drink from there, stand beside the fountain (not in front!) put your hand under the spout and block the flow of water and see what happens!
Address: there are several, scattered around. Some in cute locations are Via in Piscinula, Via dei Genovesi, Piazza dei Ponziani
An arch
Trastevere doesn't have a the big ancient arches you may have seen near the Colosseum and the Roman Forum but it has little ones!
Can you spot one? I'll give you a clue: ask your parents to tell you when you are in Piazza San Calisto, then peek in the small streets just beside the piazza… can you spot anything?
Address: Via Arco di san Calisto 00153 Rome, Italy https://goo.gl/maps/PiXitGefmEUaQbUAA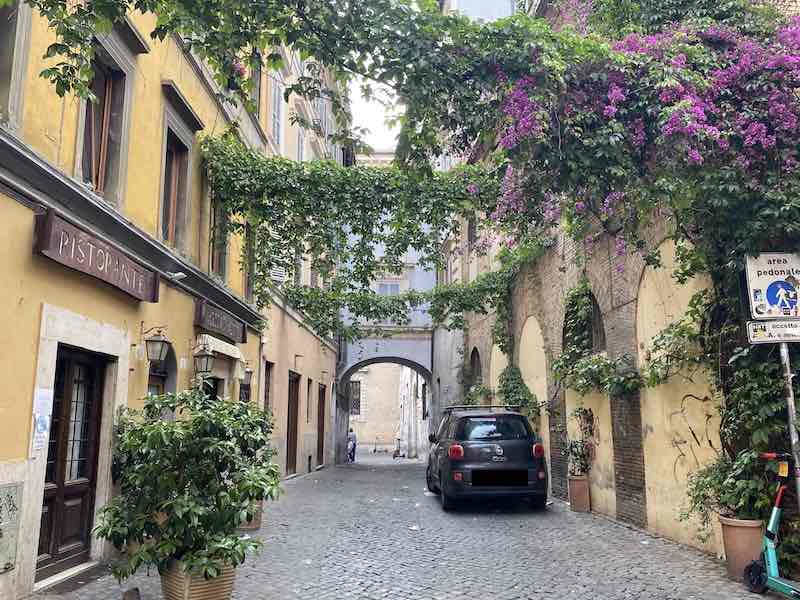 A cat
Trastevere is a cats paradise: can you spot any furry feline here?
Cats are VIP in Rome: the law protects them and says that cats are entitled to make their home in the city and you cannot forcefully remove them or relocate them.
In Trastevere you can find many: check under parked cars, where they often rest in the shade!
Good to know: if you don't love cats or are allergic, don't worry! You can also easily avoid them here, they won't have to engage with them unless you want to.
If you want to know a little more about felines in Rome, read here >>> our article about the cats of Rome.
A Madonnella
Look at house facades and also at forks in the road: can you spot an image of the Virgin Mary?
There are several in Trastevere (and around Rome) and we call them Madonnelle – little madonnas. These are images are places on buildings as a sign of protection for the passers by. they are most commonly at crossroads as if to protect the traveler as they make the decision about which way to go.
A golden mosaic
You need to be a church explorer for this one and enter the church of Santa Maria in Trastevere!
Head in, walk to the main altar and look up: can you see the golden tiles that make the ceiling? What animals can you spot? Name one!
A statue of a man asleep on a bench
Can you spot a bench with a statue of a man asleep on it?
This statue is in front of a place called Community of Sant'Egidio, a charity group that helps the homeless and represent Jesus as a homeless man.
From the Gospel – 'Then the righteous will answer him: 'Lord, when did we see you hungry and feed you, or thirsty and give you something to drink? When did we see you a stranger and invite you in, or needing clothes and clothe you? When did we see you sick or in prison and go to visit you?'
"The King will reply, 'I tell you the truth, whatever you did for one of the least of these brothers of mine, you did for me." 
Address: Piazza Sant'Egidio, 00153 Rome https://goo.gl/maps/LiYeXd1q5x229SCi6
A statue of a man coming out of a wall
Can you spot a statue of a man who seems to lean out of a window (but is really coming out of a wall?). Well spotted! He is Trilussa, a very famous Roman poet who used to write in Rome's dialect.
Beside him, you can read one of his compositions. It goes:
Mentre me leggo er solito giornale – While I read my usual newspaper
spaparacchiato all'ombra d'un pajaro – lying under the shade of a haystack
vedo un porco e je dico: – Addio, majale! – I see a pig and say – goodbye pig!
vedo un ciuccio e je dico: – Addio, somaro! –I see a donkey and say – goodbye donkey!
Forse 'ste bestie nun me capiranno, – maybe these animals won't understand me
ma provo armeno la soddisfazzione – but at least I feel the satisfaction
de poté dì le cose come stanno – to be able to speak the truth
senza paura de finì in priggione – without fear of being put in prison
An artisan shop
Trastevere has several artisan shops! Can you spot:
A mosaic artist workshop – On Via Corsini – the lady who works here is fabulous and gives classes for children and adults too!
A stained Gass workshop -Via di Santa Cecilia
A leather workshop – Via di Santa Cecilia
A climber (Plant)
In Italian, we call climbing plants Rampicanti.
In Rome we have two common ones: Ivy (edera) and one we call 'American Vine' (site Americana) – one is dark green and evergreen, the other is light green but turns red in the autumn. Can you spot one or the other?
Hint: sometimes they climb up; sometimes they seem to fall down from the roofs!
A vespa (scooter)
In Rome, we love vespas!
But they are expensive so, sometimes, we get other types of mopeds instead!
Can you spot one? Parked or zooming around, both count!
A line of laundry drying in the sun
Did you know? In Italy, we use the sun to dry clothes instead of an electric dryer. Can you spot clothing drying outside a window on a clothesline?
A grattachecca stand
Ok, I hear you: a what? But bear with me as this is one of the most Roman things you may ever come across!
Grattachecca (Gra -ttah -ke -kkah) is a summer treat from Rome made with shaved ice and sweet syrup.
It used to be very common in Rome and then sort of went out of fashion as not 'fancy' enough. It is delicious though and so refreshing! Trastevre is one of the few places in Rome where you can still find it.
If in Trastevere on a hot day, try it, it will cool you right down!
Prize ideas at the end of this Trastevere scavenger hunt
If you want to reward the hunting efforts with a small treat, here are some ideas:
Food – A suppli (aka a ball of fried rice with a heart of mozzarella!) from Trapizzino in Piazza Trilussa or Suppli Roma on Via San Francisco a Ripa (or any pizza place really, Trastever has great suppli'!)
Food – gelato from Fata Morgana, Via Roma Libera, 11, 00153 Roma RM, Italy
Play time – playground stop in Piazza San Cosimato, usually full of local kids!
Garden break – if you don't mind a paid activity, time at the Botanical Gardens in Trastevere is a great treat for kids (and for you!); there is even a butterfly house most children love!
A souvenir – around piazza Santa Maria in Trastevere you usually have tons of small stalls selling bracelets or trinkets that make for a lovely and cheap memory of the day. if you want to make sure you have something beforehand, a set of Rome cards or a keyring from a souvenir shops worked wonders with my two!
Trastevere scavenger hunt for kids printable
>>> Click here to download the free printable <<< (opens in Dropbox, no need to sign up to it or anything!)