What is the best way to tackle Rome sightseeing?  What Rome attractions are near each other and can be combined in one visit? Find out with this sightseeing planning tool and see the best of Rome in the most efficient way.
If you are planning your first trip to Rome, you are probably dealing with two big questions: what are Rome's unmissable sights and how can I see them in the time I have?
On this site, we have several itineraries you can follow however, today I want to give you the tools to build your own itinerary so you have maximum freedom and control over your time.
Today, we will look at Rome main attractions, how far they are from each other and what tickets to get to visit each.
If you prefer to follow an itinerary, you will find all those available on this site at the end of this article!
Please note: this post contains affiliate links and, should you make a purchase through them, we might make a small commission.
What are Rome main attractions?
For the purpose of this guide, we consider the following top 10 Rome attractions:
How far are Rome main attractions from each other? Rome attractions on a Map
One of the sentences I find myself writing over and over again on this site is that Rome is vast.
The second sentence I tend to repeat often is the Roman adagio 'a lifetime is not enough to know Rome'.
If you put the two together, you may think that there is no hope for a foreigner to see pretty much anything without covering crazy distances or spending an inordinate amount of time in the city.
To the surprise of many, this is actually not the case!
While Rome is a sprawling city, part of its historical centre is pretty compact and you can easily walk to one attraction to the other.
When I mean walk, I don't necessarily mean a two minute stroll.
If you wanted to cover all of the sites below in a day, you will clock in several thousands of steps (easily over 25K!).
However, if you are able and happy to walk, all of the below can be covered in one day and you don't even need to get the bus, unless want to (in which case, have a look at our public transport guide here)!
How to use this Rome sightseeing planning tool
In this article, I share information about the locations of what are usually considered the main attractions in Rome.
For each, you will find: how much time to plan for each, tips for skipping the line (if relevant), best time of day to visit and what other attractions can be seen on the same day.
Rome sightseeing top spots: top 10 Rome attractions
The Spanish Steps, Piazza di Spagna
I open this list with one of Rome's most iconic, famous and beautiful sites: the Spanish steps (Piazza di Spagna).
Find here >>> info and tips to plan a visit to the Spanish Steps
You have seen the Spanish steps depicted in countless photos and all I can say about them is that they are every but as beautiful as they think they will be.
They are crowded, the metro station serving them is known for pickpockets but the view itself is amazing and you should seek it out.
They are wonderful any time of day but my favorite time to visit is early in the morning and the evening, when lights get the city to sparkle in front of you.
When planning your sightseeing in Rome, coming to the Spanish Steps before 9 am or after 8pm is, I believe, the best way to truly enjoy them.
Time needed: as long as you wish to linger on these beautiful steps. If you just want a glimpse and photo opp, you can spend here as little as a few minutes.
Closest attractions nearby: Via del Corso (shopping), Pantheon, Piazza Venezia, Piazza del Popolo, Trevi Fountain, Pincio Terrace (Villa Borghese)
The Colosseum, the Roman Forum and the Palatine Hill
The Colosseum, Roman Forum and Palatine Hill are among the most scenic parts of Rome and are usually visited together since they are beside each other.
I like starting from them as if you get here early enough in the morning, you can beat the crowds and enjoy the magic that the amphitheater and even more the arch beside it evoke.
You can visit the Colosseum and the forum with a tour in about 3 hours by joining a tour or you can spend a whole day here, dividing your time between the amphitheater, the Forum and the Palatine Hill.
The tickets for the two areas are combined. You book an exact entry time for the Colosseum and you can then enter the Forum/Palatine anytime in the next 24hours (one entry only).
The best tickets to visit the Colosseum / Forum /Palatine area are:
Colosseum guided tour including underground area + Roman Forum Access
Colosseum Small Group Tour with Forum Entrance (TOP PICK, this is my favorite tour, suitable for all visitors including families with kids)
Colosseum tour for families with kids
You can find more tickets and tour options I recommend in this guide to the best Ancient Rome tickets
Top Tip! Colosseum tickets are available one month before your desired date and they sell out fast. I recommend to leave flexibility in your plans should the exact time slot you are hoping to get is not available.
Closest attractions nearby: St Peter in Chain and Michelangelo's Moses; Domus Aurea; Vittoriano and Piazza Venezia; Monti District.
Piazza Venezia
Down the road from the Colosseum there is Piazza Venezia.
This is a vast historical square, overlooked by one of the weirdest monuments in Rome, il Vittoriano.
English speakers call it the wedding cake while roman call it the typewriter: either way, you cannot miss it and it is an interesting site as well a the location of many interesting exhibitions!
Time needed: only a few minutes if just passing by and taking in the view from outisde.
About half an hour to climb to the second terrace (free), from where you can catch fantastic views over Rome.
A little longer if visiting the top terrace (ticketed, you may have to stand in line)
Easily combined with: Colosseum and Forum, Trevi and Spanish steps, Pantheon, Campidoglio
Find here >>> our guide to Piazza Venezia
Campidoglio, Capitoline Hill
Campidoglio Hill is one of the most atmospheric and beautiful corners of all Rome.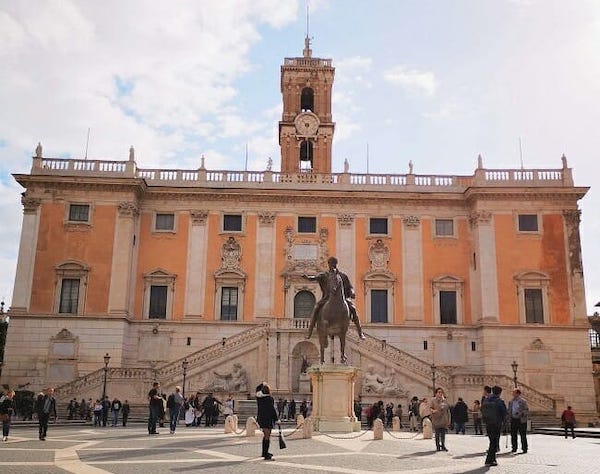 One of the historical seven hills of Rome, Campidoglio now hosts fantastic a Renaissance piazza by Michelangelo, the Capitoline Museums, among the most beautiful art museums in Rome, and a stunning terrace over the Forum, offering one of the most beautiful views over Rome you can ever get.
Time needed: 15 minutes to climb and enjoy the view.
A full morning or afternoon if you want to visit the museums hosted here (Musei Capitolini) which are wonderful and vast.
You can find here>>> my full guide to the Capitoline Hill
The Trevi Fountain
The Trevi Fountain is the most famous fountain in Rome and one of the most sought-after Rome attractions.
It is the quintessential Rome site and one everyone seeks out, with the result you imagine: a wonderful site made almost invisible by the crowds.
As a local, I hardly ever venture here during the day as I find the masses excessive but I do recommend you go if you can fit it into your morning or evening. When empty, it is breathtaking!
Time needed: a few minutes unless you need to fight crowds to get a glimpse of it.
Easily combined with Spanish steps, Pantheon, Via del corso and Colosseum / forum.
Find here >>> our full guide to the Trevi district
The Pantheon
The Pantheon is another must see in Rome and for many a favorite spot (I know it is for me!).
It sits right in the center of the city and, it is unique in appearance and history.
Initially a temple to all Roman Gods and Goddesses, the Pantheon then became a Christian church and it is now one of the most interesting catholic churches in Rome.
You find here >>> my free guide to Rome's Pantheon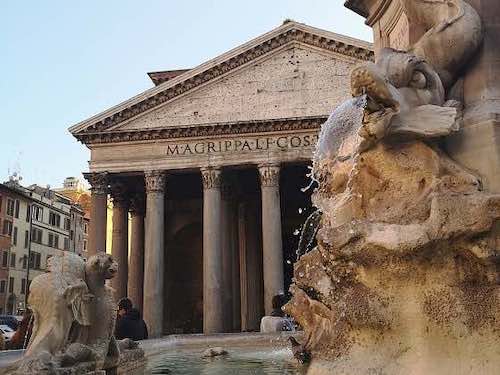 The time you need to visit is around 30 minutes but I suggest to stay longer in this area and make a half morning out of this visit.
Allow yourself to get lost here or indulge in a cup of coffee or gorgeous gelato: some of the best ones are just beside this square. (Find our favorite gelato here and favorite coffee here).
Easily combined with Piazza Navona, Campo de' Fiori, San Luigi de Francesi, Spanish steps and Trevi fountain.
Piazza Navona and Bernini's Fountain of the Four Rivers
Piazza Navona is one of the most famous squares in Rome and it is easy to see why.
The square is ancient stadium of Emperor Domitian and, over the course of the centuries, has been embellished by sculptures and architectural endeavors that have turned it into a gem of the Renaissance.
The most noticeable parts of it are the church of Santa Agnese in Agonem by Bernini, and the Fountain of the 4 rivers just in front of it, built by Bernini.
You can visit the square in a matter of minutes but do take your time to learn about the churches and the fountains as they are some of the most famous in the city.
I recommend to devote about 20 minutes to the square: find here >>> My guide to Piazza Navona.
When planning sightseeing in Rome, you can easily combine Piazza Navona with Campo de' Fiori, Castel Sant'Angelo, the Pantheon and a stroll around the area of Via del Governo Vecchio, were you find Rome's famous cobbled streets.
Vatican City: St Peter's Basilica, Vatican Museums, Sistine Chapel
Vatican City comprises several attractions: St Peter's Square, St Peter's Basilica, Michelangelo's Pieta', Sistine Chapel, Vatican Museums and Vatican Gardens.
All these attractions are beside each other; however, you can explore them separately and you can also just choose one of the other.
In particular, you need to know the following:
The Sistine Chapel is inside the Vatican Museums and while it is beside St Peter's Basilica, you need to queue separately for the two attractions (some guided tour have special direct access but not all)
St Peter's Dome is ticketed separately from the Basilica despite towering above it
Time needed:
St Peter Basilica can be visited in half a morning: the time needed for it depends on the security line to access it and whether you want to climb up the dome or not (avoid if afraid of heights or suffering from claustrophobia)
The Vatican Museums and Sistine Chapel take a minimum of 3 hours.
I recommend to plan a full morning or afternoon or even more: we stayed there from opening to after 2 and didn't see everything! Skip the line or reserved entrance tickets are a must.
You can read all our tips for visiting the Vatican.
Good tickets for Rome sightseeing at the Vatican are:
You can see it with: When planning Rome sightseeing, you can easily combine a Vatican visit with Easily combined with Castel St'Angelo, Piazza Navona, Campo de' Fiori.
Campo de' Fiori
Campo de' fiori is another historical Roman piazza known for a several reasons.
One is historical and sad: the square is where Giordano Bruno lost his life at the stake in 1600 for challenging the beliefs of the Catholic Church in .
His statue, one of the most iconic sculptures in Rome, now dominates the square.
The less daunting reason is the market that has been taking place in this square for centuries and that still comes to life every morning.
Last but not least, this square is a popular evening hangout for locals and tourists alike: the best time to visit is the evening so you can sit in one of the local eateries and enjoy people watching!
This is a beautiful square with a lively atmosphere: it is also one of the few squares in Rome with a distinct medieval aspect: a must see!
Easily combined with a visit to Piazza Navona, Trastevere or the Vatican.
The Borghese Gallery and gardens
The Borghese Gallery is one of the best art museums in Rome and the world and a must-see Rome attraction for art lovers.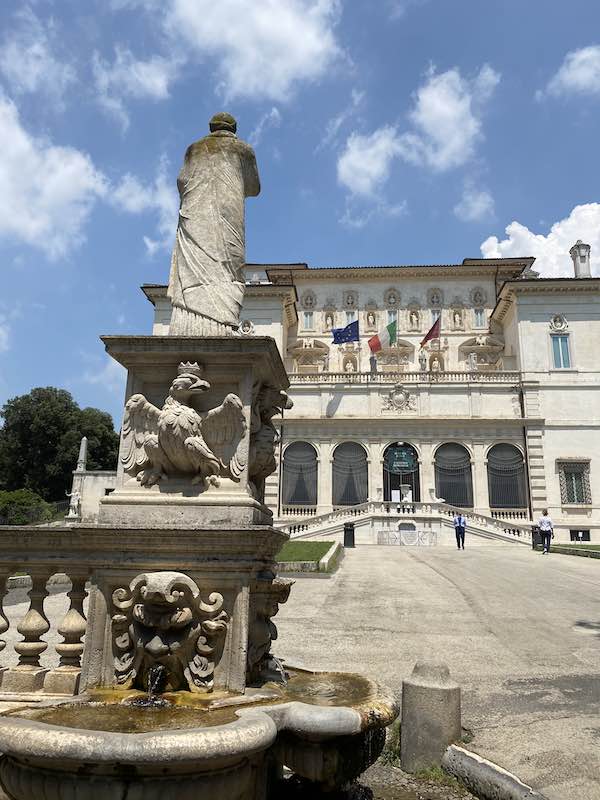 The Gallery is inside the lathe and beautiful Borghese Garden: it operates following a timed entrance system and each visit lasts 45 minutes.
I recommend you plan a morning or afternoon here and combine it with a stroll in the park and a stroll down elegant Via Veneto nearby. You can book entry ticket with accompanied entrance here.
Top tip! The Borghese Gardens are a beautiful park in Rome City center and a Rome attraction in their own right. I highly recommend taking a stroll here: in particular, I recommend you head to the Pincio Terrace from where you can catch stunning views over Rome! Find here >>> my guide to the Borghese Gardens.
Sample Rome itineraries
>>> Two days in Rome itinerary
>>> Two days in Rome with kids
>>> Three days in Rome with kids
>>> Four days in Rome with kids
>>> Six days in Rome with kids
I hope you found this guide to the top attractions in Rome and their location helpful in planning your Rome sightseeing. Safe travel planning!
This article was originally written in 2019 and has been updated in 2022 with relevant new recommendations for ticket providers we currently recommend.