A fun and kid-friendly itinerary to spend three days in Rome with kids, by a local mom.
Rome has many child-friendly attractions.
So many, that planning a three day in Rome with kids can quickly feel overwhelming.
If you look at this list of 50 things to do in Rome with kids, you can see what I mean: there are so many combinations for filling your three days in Rome, it will easily become a full-time job!
This is why I created this itinerary.
I love travel planning and am a Rome mama: I have shown Rome to friends and visitors with children so many times, I have my Rome family itinerary down to fine art and I want to share it with you!
In this family guide, you will find my recommended itinerary for three days in Rome with kids for first-time visitors and alternative suggestions for those of you who are lucky enough to be returning to the Eternal City.
At the end of this article, you will also find my favorite family hotels in Rome for a short stay.
Good to know! I recommend you use this family itinerary in combination with our complete guide to Rome with kids, with tons of additional info and tips!
Please note: this post contains affiliate links and, should you make a purchase through them, we might make a small commission.
Three days in Rome with kids itinerary at a glance
| | | |
| --- | --- | --- |
| Day | Activity/attraction | Why I recommend it |
| Day 1 | Colosseum and Roman Forum | Wow factor for the kids, educational, stunning views over Rome |
| Day 2 | Pantheon and Child Friendly Museum | Wow factor for the kids, Rome must-see, downtime in the afternoon |
| Day 3 | Castel Sant'Angelo and Villa Borghese | Wow factor for the kids, stunning views over Rome, outdoor fun |
Day 1 Rome itinerary with Kids: Colosseum, Palatine Hill, Roman Forum
Morning: The Colosseum
The Colosseum is likely to be the one thing your kids know about and what to see in Rome so, we open your three days in Rome with kids with a visit to it.
Visiting the Colosseum takes about 1,5 hours and it is by pre-booked tour only.
There are several tours you can choose from:
Full experience Colosseum Tour with underground tier >> our top pick for kids! This is a cheap ticket, sold by the official Colosseum concession.
Pro: cheap and high quality
Con: No flexibility: once you have booked and paid, you cannot change date or time (reimbursement is possible but check the small print before committing)
Colosseum Tour with Virtual reality: a cool way to add a layer of fun to your visit!
Colosseum family tour: a more expensive option with the advantage of free cancellation and a kid-centered approach.
Good to know! Official tickets to the Colosseum include access to the Forum, of which you can avail for the following 24 hours. Make sure whatever ticket you buy does too, so you don't find yourself out of pocket!
You can find here >>> all my tips for visiting the Colosseum with kids
Alternative: if you have already seen the Colosseum, the Domus Aura, Nero's palace is a fantastic alternative, perfect for kids of school age and up!
Family-friendly lunch
I recommend going for lunch in Via dei Santi Quattro, a pretty street just beside the Colosseum.
This street has several establishments that cater to locals and tourists: Cafe Cafe, a colorful Bistrot offering family-friendly lunch, and La Pace del Cervello pizzeria are two good family-friendly addresses you may enjoy.
You can find here >>> my favorite family restaurants in Rome city center <<<
Afternoon: playground stop and a visit to the Roman Forum and Palatine Hill
After lunch, you will have gathered the energy to visit the Roman Forum and the Palatine Hill, which are just beside the Colosseum.
The Forum and Palatine are large outdoor archaeological sites and they are easy to enjoy in your own time.
In 2021, a free app was launched that operates as an excellent audio guide for adults and kids.
The app is called Y & Co, and you can download it for free on your iPhone or Android device.
It has several itineraries you can choose from including one for kids: I find it excellent in terms of information given and a great way to keep them entertained and engaged.
The Forum and the Palatine are large sites and a visit will easily take a couple of hours.
You can read my tips for visiting the Roman Forum with kids here.
Younger children are likely to experience them as a large park; however, older kids (school age and up) will be able to appreciate the uniqueness of the site.
The Palatine, in particular, one of the seven hills of Rome and the place where Romulus founded the city, always makes an impression!
Fin here >>> my complete guide to the Palatine Hill.
Top tip! If you have young kids, you may want to mix time here with playtime in the playground on Oppian Hill.
The Oppian Hill is the hill in front of the Colosseum and has a pretty playground and a coffee kiosk selling drinks and snacks.
This is a great place to let the kids blow off some steam and also one of the best photo spots in Rome: the views of the Colosseum from here are stunning!
Evening: Trevi Fountain area
I recommend you spend your evening in Rome at another iconic location: the Trevi Fountain!
The Trevi Fountain is one of the most beautiful fountains in Rome and a fun place to see with kids, who are likely to want to throw a coin in it, as they have learned to do from the movies!
My kids adore throwing the coin in and the fountain is so beautiful, it is a Rome must-see for parents; however, it can get very busy, so I recommend you only come here in the evening when crowds tend to subside.
Alternative itinerary: if you prefer to only devote half a day to Ancient Rome, you can opt for a guided tour that includes both the Forum and the Colosseum (they usually last about 3 hours).
Find a good family tour here for the exact itinerary.
In that case, you will have one extra afternoon free.
Since the tours tend to be tiring, I recommend you plan some downtime, such as shopping or a family museum such as Explora or the Leonardo Exhibition, to avoid overwhelm.
Evening
The area of the Trevi Fountain is very touristy however, there are some nice and kid-friendly addresses here.
Piccolo Arancio restaurant is a fantastic family place or you can also go to the top floor of La Rinascente department store on Via del Tritone.
Here, you find several restaurants, including a decent pizzeria and a lovely Brazilian-Japanese fusion restaurant, which older kids may love (my 9 year old adores it!)
Day 2: Pantheon area and Child friendly Museum
Morning
I recommend starting your second day in Rome with kids checking out another Rome icon: the Pantheon.
The Pantheon is the best-preserved Roman building in the world.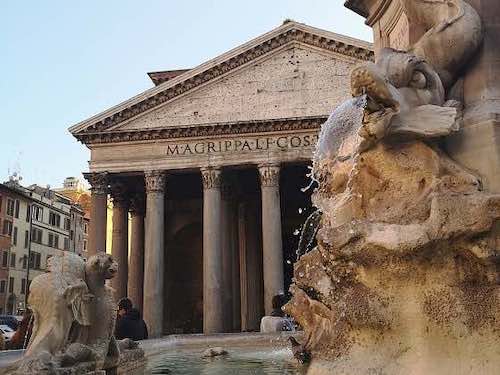 It was built as a temple to all Roman Gods and Goddesses but it became a Christian church in 609 AD and it is nowadays consecrated.
Its official name is Santa Maria ad Martyres (albeit everyone refers to it as 'The Pantheon' or, in Italian, 'Il Pantheon'!
Children tend to love the Pantheon and always marvel at the big round hole on its roof!
The hole is there by design and it has been at the center of myths and legends still popular nowadays.
The main question everyone seems to ask is: what happens when it rains?
The best way to find out is to come here on a rainy day and check it out.
If you can't, you can read here our guide to the Rome Pantheon, which has fun facts for kids and tips for visiting.
Good to know! On Piazza del Pantheon, you find Tazza d'Oro, one of the best coffee places in Rome, perfect for tired parents.
There are also plenty of fab gelato shops – one of the best is in Piazza Sant'Eustachio, a shoer walk from the Pantheon.
Lunch: Piazza del Pantheon area
The area of Piazza del Pantheon has many cafés and restaurants.
One to try is Enoteca Cul de Sac, which is a wine bar welcoming to children and serving nice homemade meals and Mr 100 Tiramisu which, as the name suggests, has an extensive Tiramisu menu!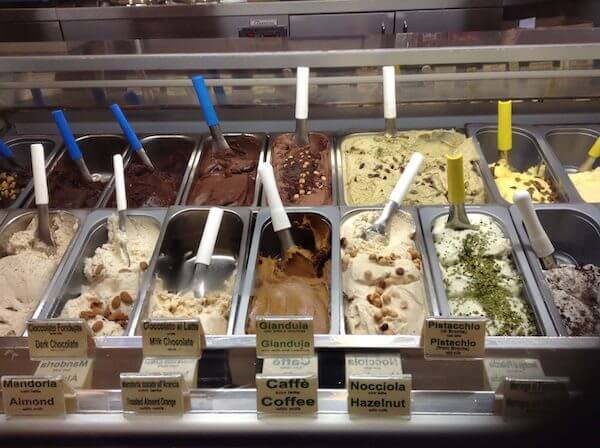 Afternoon: Go to a child-friendly museum
After all the walking, I recommend you spend the afternoon at a child-friendly museum or at a child-centered attraction.
I feel this would give a nice pace to tour three days in Rome with kids and will prevent sightseeing overwhelm.
My kids' favorite is Explora children's Museum, a great place to play and learn.
While there is nothing 'Roman' about it, it has plenty of kid-friendly activities and extensive hands-on programs that run throughout the week, some in English.
The Museum also has soft play area for toddlers, which is rare in Rome.
Explora is one of the best places if you are visiting Rome with toddlers and also makes an ideal indoor escape for hot and rainy days (good to know if you are heading to Rome in October – November or February – April, when rain does happen!).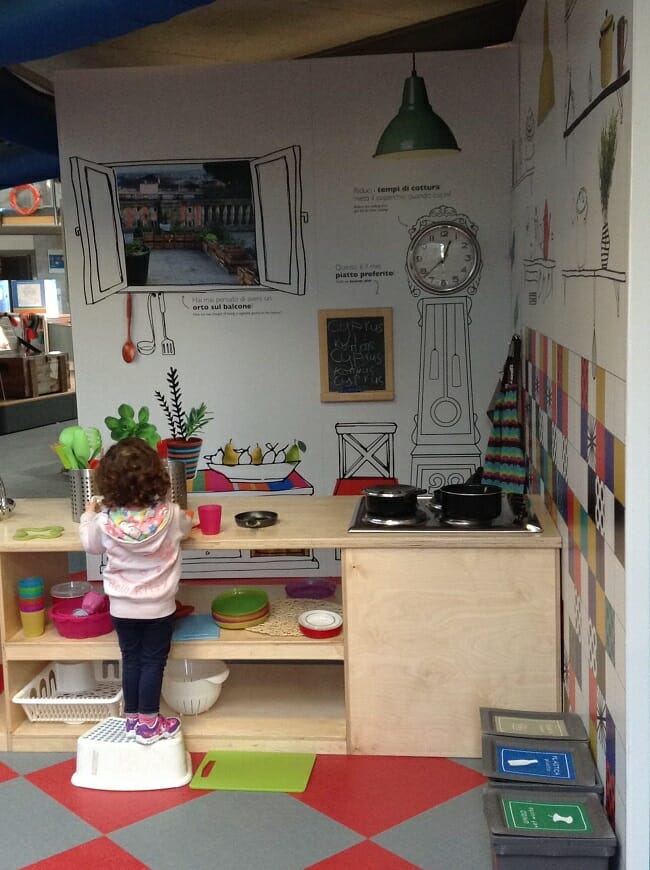 Evening
Explora also has a nice pizzeria where you can have a kid-friendly dinner. It is also close to one of my favorite outdoor family restaurants in Rome, Lola on Via Flaminia, perfect for adults and kids alike!
Alternative: You can find my list of the best child-friendly museums in Rome here.
Day 3: Castel Sant'Angelo, Vatican Square, Villa Borghese
Morning
If this is your first time in Rome, chances are you want to visit Vatican City.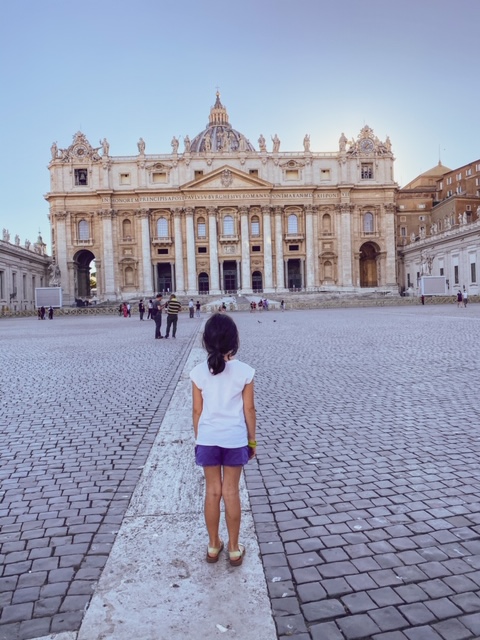 A visit to the Vatican is possible with kids however, you need to plan this day carefully.
Piazza San Pietro Square and St Peter's Basilica are easy to enjoy with children and they can be great fun for them.
The basilica is impressive, the dome climb is breathtaking and the piazza by Bernini is so beautiful and vast, you will also easily fall in love with it.
The Vatican Museums are stunning however, they are very big and can prove too tiring and too boring with kids.
I recommend you read my tips for visiting the Vatican with kids before deciding whether to commit to a visit.
For three days with kids in Rome, my recommendation is to skip the museums, stick with the piazza and basilica only and spend the rest of the morning visiting Castel Sant'Angelo.
Castel Sant'Angelo is Rome's only castle and it is fantastic for kids and adults: turrets, cannons, secret passageways and stunning views make all ages happy!
Get tickets for a Castel S. Angelo guided tour here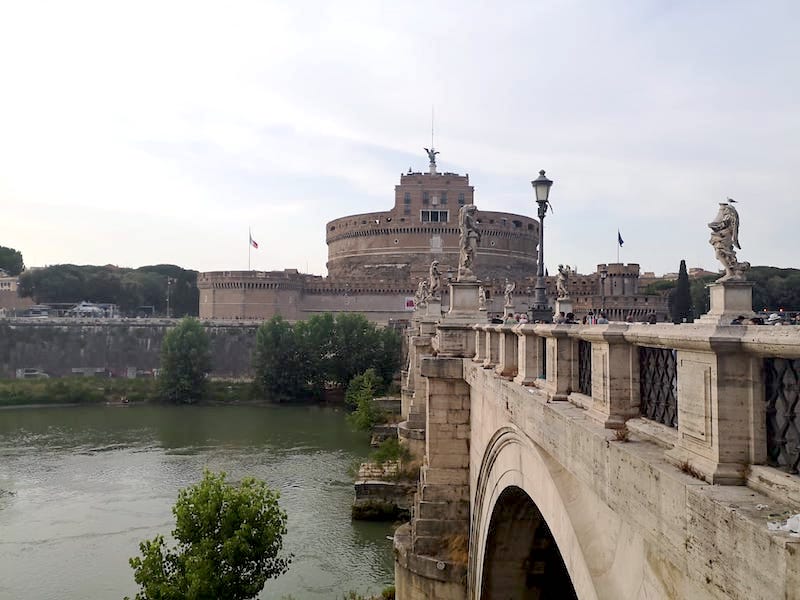 Lunch
Between Castel Sant'Angelo and St peter's square stretches the lovely area of Borgo.
This is a nice street with some pretty cafes and restaurants: my favorite is Borghiciana Pastificio Artigianale (lovely pasta for all ages).
In the area, I also like the Travel Book Bar, nearby: they have drinks and snacks and a lovely selection of kids' books about Rome in Italian and English.
Afternoon
In the afternoon, I recommend you take a short walk from Castel Sant'Angelo so Piazza Navona: this is one of the most beautiful piazzas in Rome and a place I believe you should not miss!
Kids usually like the large space and you should not miss window shopping: Al Sogno is a fantastic toy shop on the square, generations of kids have loved!
After Piazza Navona, I suggest you make your way by bus or taxi to the Borghese Gardens.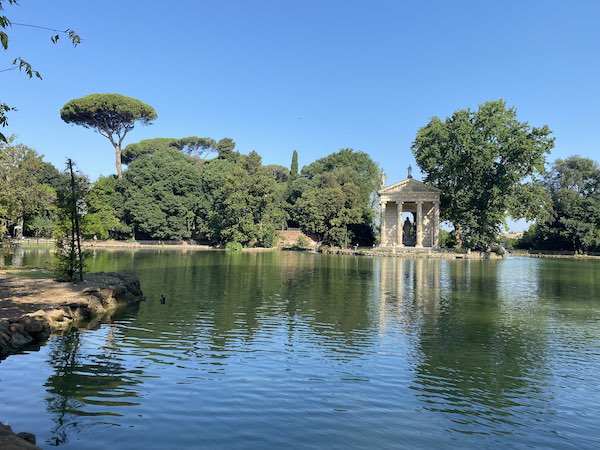 These are a large Villa overlooking Rome with a lot on offer for kids. Here you can:
Play in the playgrounds
Rent quad bikes and pedal go karts
Rent a rowing boat
Go to the zoo (Rome 'Bioparco' is inside the Gardens)
Have a snack in one of the many cafes (careful as sit down meals here are pricey!)
Villa Borghese is also fantastic for parents: do not miss the view from the Pincio Terrace and, if you are an art lover, consider planning a visit to the Borghese Gallery.
The Borghese Museum is inside the park and easy to visit by one parent while the other supervises playing: advance booking a must.
Evening
As sunset approaches, I recommend you walk from Villa Borghese to the Spanish Steps and then grab dinner on Via Margutta.
Perfect iconic locations to end your three days in Rome with kids in style!
Best family hotels to visit Rome in three days with kids
if you only have three days in Rome with kids, I recommend you find accommodation in the city center.
Great family hotels in Rome I recommend are:
Kolbe – 4 star family friendly hotel close to the Colosseum, the Forum and all city center attractions
Hotel Capo d'Africa – friendly and welcoming family hotel close to the Colosseum
Villa Agrippina – 5 star hotel with stunning pool and garden, perfect if visiting Rome with kids in summer
Find here >>> more of my recommended family hotels in Rome.
I hope you enjoyed this itinerary for 3 days in Rome with kids and it gave you good ideas on how to spend your time.
I am confident these attractions, plus plenty of pizza and gelato, will make a wonderful stay. Safe travels!