Discover Explora Rome: Rome's children museum for kids aged zero to tweens!
I am a huge advocate for bringing kids to grown up museums and attractions.
However, sometimes kids just need a good play and a safe indoor space where they can explore, crawl, touch and experience things that are just for them.
In this case, the place for you is Explora!
My kids adore Explora. We have spent in this place so many days, I cannot even count them anymore and we have enjoyed each visit immensely.
We have visited when they were babies, then when they were toddlers and all they way up to now, when they are 10 and 12 and still enjoy this space!
I highly recommend you visit Explora if you are:
You can find here >>> all our favourite things to do in Rome with children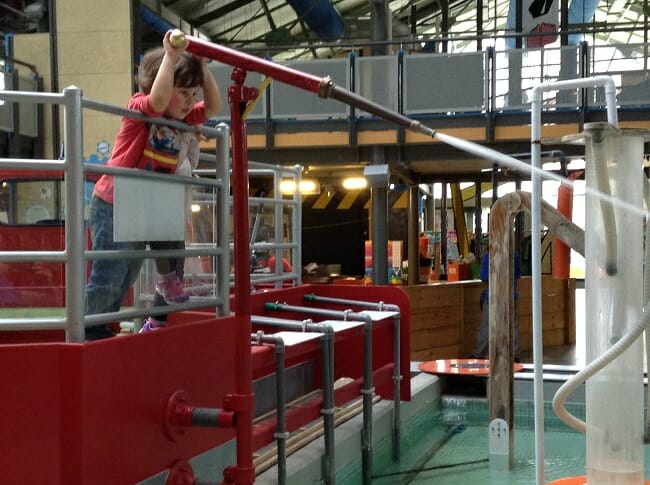 What is Explora Rome?
xplora is the name of the children museum of Rome. You find it on on Via Flaminia, a stone throw from central Piazza del Popolo and s a great pace for kids from zero to early teenage years.
The museum has several areas.
Below, our overview of those out kids enjoy most and some practical information for visiting.
Explora Rome for babies and toddlers: the 0 – 3 area The first area you encounter in Explora is reserved to kids 0 to 3 and is devoted to soft play.
It is cordoned off from the rest of the museum and offers a safe area for babies and young toddlers, so they don't get trampled on by the older kids, busy in their own explorations!
The soft play are is simple but a fantastic place to give your children floor time, something hotel rooms and sightseeing days often make hard to carve out. 
Explora Rome water and mechanics area
The main downstairs hall of Explora lies just behind the baby area and is occupied by impressive machines, teaching engineering principles: you have an Archimedes screw (which reminded me of a very interesting documentary I once say about the suspended gardens of Babylon), hydraulic pumps you can create a vortex with, a shishi odoshi fountain, Leonardo's wheel etc.

The machines are for kids to play and operate and they are a huge hit especially with small kids who can experiment with water and pebbles. In this area you also have a firetruck, which commands the attention of all the toddlers in the museum and is, indeed, really cool!
Role play games are (kitchen, supermarket etc)
Walking further into the museum, you find several installations teaching about animals and nature. Kids can look at different types of animal house and play with a make believe a vegetable patch, where kids can learn about planting and harvesting.
The patch is great fun and makes great educational sense if you have children, like mines, who are growing up in a city.
The patch was a particular hit with my daughter: the round edged, colorful vegetables made for great toys and the planting is very reminiscent of some of her sorting games back home but in a grand scale.
After the patch you find the supermarket area, which is a good opportunity for kids not just to play shopkeeper but also that food goes from patch to shops and doesn't magically materialize on the shelves.
In this area, older kids are prompted to learn about food conservation and recycling too with information panels and fun facts. 
In this area you also have a house kitchen when kids can play cooking and tidying and it is such a lovely house it will make you want to move in!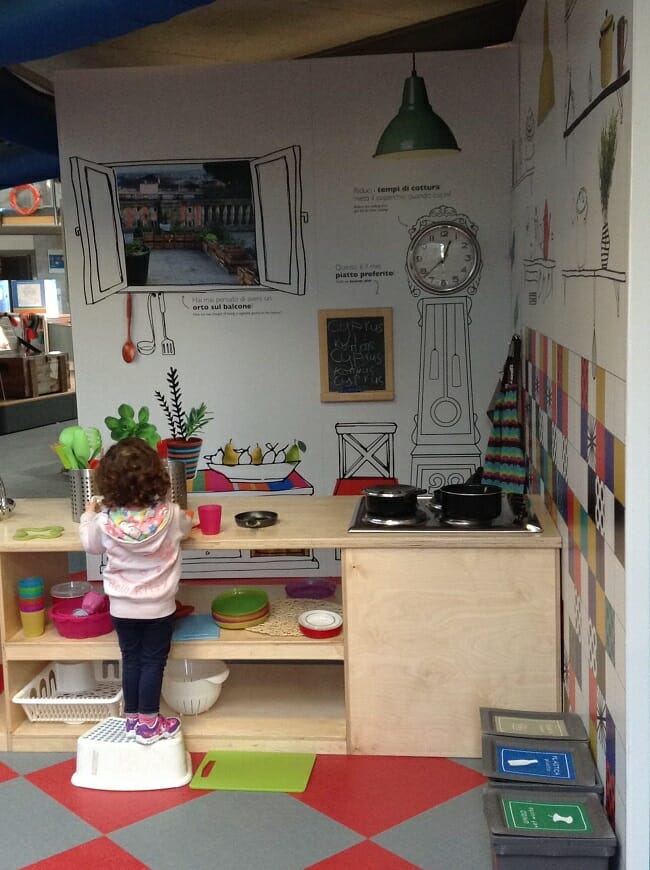 Explora Rome highlight: driving the high speed train
The highlight of my son time in Explora is the area where you can be train driver for the day. In Italy we have the high speed train called Freccia Rossa and in Explora, you can drive it!
This is a popular attraction with kids and sometimes you need to queue to get your turn but it is worth the wait especially if your kids are at that age when Thomas the tank Engine is the real superhero
Stem area
A large area with fun challenges for kids to learn and experience engineering and building bridges, towers and more.
Magnetic shapes
A large magnetic board for kids to play with colorful magnets any way they please
Feed my emotions installation
Feed my emotions is one of Explora's newsiest installations and mixes artificial intelligence with feelings, as expressed by facial expressions!
The installation offers an interactive game between participant/ participants and machine, where the machine created colorful shapes in reaction to the emotion expressed by the child. A fun, unusual thing to do and rather fun!
Explora outside space and restaurants
Explora is equipped with a good child friendly restaurant with pizza and kid friendly menu, a bookshop and an outside space with a zipline.
In this area, you can rest and wait as you wait for / finish your turn (see below) and it a great way to gt the children to get some fresh air, after all the indoor fun.
The restaurant has child friendly meals such as pizza and chicken nuggets but it is nice to see they also have simple vegetable dishes and fruit for a healthy, balanced meal.
The pizza is actually ok for parents too so if you want an easy dinner option after play time, this is a good one!
Top tip: While the restaurant inside Explora is nice, down the road there is Lola which is one of my favorite family friendly restaurants in Rome! Worth the walk!
Explora Rome restrooms and changing facilities
As you can imagine, Explora is well equipped with kid-friendly restrooms and changing facilities.
The bathrooms are close to the main entrance, close to the Under 3s area and it has standard size facilities as well as kids one, perfect also if you are potty training.
How to visit Explora
Explora Rome is very popular and access is organized in shifts. I highly recommend you book (same day is usually ok) – you can do so from their own website.
Where is Explora Rome and How to get there
Explora Children Museum is on Via Flaminia 82, 00196 Rome, close to Piazza del Pololo.
You can get there on foot from the city center or by catching the Metro to PIazzale Flaminio. The Museum is a couple of minutes walk from it, juts around the corner.
The tram n19 also serves this area and connects it with San Lorenzo, Trieste Salario area, Parioli are and Prati.