How to spend six days in Rome with kids: day by day itinerary for families. What to see, how to see it, where to stay, travel tips.
I love that you decided to spend six days in Rome with kids!
Rome is a treasure trove of wonders for children and adults and only a slightly longer stay like 6 days can do the city justice.
With six days in Rome, you can see Rome's main landmarks with ease, you can let the kids play, you can relax in the centre and you can also get off the beaten track and get a taste of what Rome feels like for locals.
You will not 'finish' Rome, with this amount of time, you can get a great experience of it and see several facets of this peculiar, complicated, awe inspiring and interesting city.
On this page, you find my recommended itinerary for 6 days in Rome with kids, based on my own experience of the city and activities I like to for my own kids.
For each day, I tried to give alternatives to suit different budgets and travel styles.
If you want to make your own itinerary, find here >>> 70 things to do in Rome with kids <<<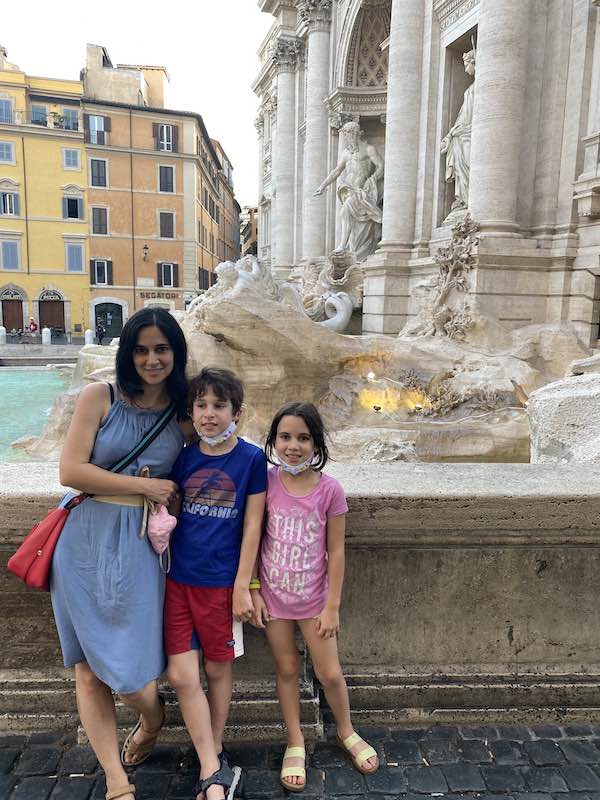 Please note: this post contains affiliate links. Should you make a purchase through them, we might make a small commission an no extra cost to you.
Six days in Rome with kids itinerary: at a glance
Day 1: Introductory tour of Rome and Piazza Navona area with or without museum, dinner in PIazza Navona area
Day 2: Colosseum visit and Gladiator school, dinner in Testaccio
Day 3: Vatican City and Borghese Gardens, dinner near Piazza del Popolo
Day 4: Pasta Class, Castel Sant'Angelo, dinner in Monti
Day 5: Mosaic class in Trastevere, botanical gardens, dinner in Trastevere
Day 6: Ostia Antica, Aventine Hill, dinner at your favorite place in Rome
How to use this itinerary
This itinerary is packed with activities and structured time: I wrote it this way for families with kids who do better with focus activities for their day.
However, you don't need to do all of this to enjoy Rome with kids!
Rome city center is full of interesting things to see and you can easily fill your day just strolling, eating gelato and soaking the city in.
This will be particularly easy if you find accommodation in the Pantheon / Piazza Navona area or in the Monti Neighborhood. You can find our recommended accommodation for families at the end of this page as well as our tips to getting around Rome with kids in tow.
6 Days in Rome with kids itinerary: day 1
Morning
I love to start a stay in Rome with a introductory tour to the city, so that you can get understand the lay of the land, see highlights you may want to better explore during your stay and pick up tips from your guide.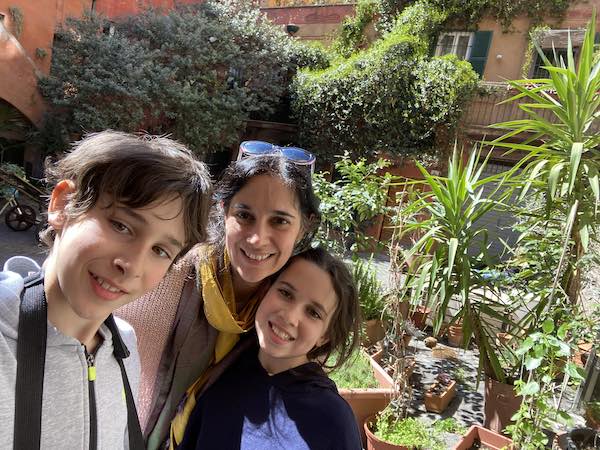 A fantastic family tours of Rome around Rome highlights is this Golf Cart Tour by LivTours.
A Golf Cart Tour is a fun way to see the city and a perfect solutions for families with kids who may not be able to walk long distances or are dealing with jet leg.
By taking it, you will be driven around, you will be in the fresh air, you will have a guide and see the best of the city with no stress: a great start to your family stay!
The tour will show you Rome's highlights including the Trevi Fountain, Pantheon, Spanish Steps and more.
Budget friendly alternative: if a gold cart tour is out of budget, you can also opt for a pay-what-you-like walking tour such as this one or opt for a hop on – hop off bus tour.
The bus tours won't be able to bring you to smaller streets and right to Rome's most beautiful squares but it will drop you nearby and can be a compromise between a walking tour and a golf cart tour.
Lunch
Lunch in Piazza Navona area
Afternoon: Piazza Navona
Piazza Navona is one of the most famous and beautiful piazzas in Rome and it is in the very center of the city.
This area is the area that gave Rome the name of 'open air museum' and indeed, there is something to see at every corner, from vintage toy shops to 'talking statues', funny fountains, street performers and more.
This is also the area where you find the permanent exhibition 'Welcome to Rome'.
This is a fun exhibition with 3D light installations and a short movies showing the history of Rome and it's main landmark: a fantastic thing to do on a first day in Rome with kids and get them informed and excited about the city.
There are several way to visit this area. You can:
Get lost and let the city unveil in front of you
Participate in a self guided treasure hunt.
This last option, the kid friendly treasure hunt, is the priciest but also the most fun for kids.
You pick up an iPad iwht instructions at the local Museo Mostra di Leonardo and follow the on-sceen prompt to discover the city at your own pace.
The hunt finishes in the Lonardo Museum which is a fun and interactive museum with Leonardo Da Vinci machines kids can touch and experiment with.
Find info and prices >>> here (it's expensive but we took it recently and LOVED IT) <<<
Dinner
Dinner in Campo de' Fiori / Pantheon area
6 Days in Rome with kids itinerary: day 2
I like to spend day 2 of these two days in Rome with kids taking a deep dive into Ancient Rome.
Morning
Spend the morning with a visit to the Colosseum, always a highlight for kids!
The Colosseum is the most visited attraction in Rome and there are infinite ticket providers offering tickets to see it.
I have tried many and these are my favourite Colosseum tours for kids:
Colosseum Full Experience with underground tour in English – offered by the Colosseum itself, these tickets are hard to get but a great budget friendly way to see the Colosseum in its entirety
LivTours Express Tour of the Colosseum with underground access – a small group tour provided by one of my favorite tour agencies in Rome, very switched on to the needs of families with kids
Standard entry tickets – if you are happy to visit the Colosseum at your own pace and are on a budget, these are the tickets to get.
You can make your visit more interesting by downloading the fee audioguide Co&You and Parco Colosseo or by purchasing an audioguide on the spot. The same tickets with better cancellation options (and slightly higher price) are also on GetYourGuide.
Ticket usually include entry to the Roman Forum and Palatine Hill: make sure you visit those too as they are outstanding!
Good to know: Colosseum tickets with timed entrance are all skip the line! The only lines for ticket holders are for security checks, which are fast and cannot be skipped, and for those who want to to purchase a ticket on the day, which is not recommended (they are not always available and the lines are insane).
Lunch
Have lunch near the Colosseum. You have many nice and non touristy options on Via dei Santi Quattro or on the Oppian Hill just in front of the amphitheater
Afternoon
Head to the Oppian Hill and let the kids run wild / play at the playground for a little while as you sip coffee with a view at the local kiosk.
The Oppian Hill has lovely views of the Colosseum, a playground and the entrance to the Domus Aurea which is Nero's Old Palace, now underground.
If the place piques your interest, this is one of the options for days later in your stay.
After this pause, catch a taxi and head to Gladiator School on Via Appia.
This is a super fun, engaging and memorable activity for kids and adult and a fun educational moment. Gladiator School is by Gruppo Storico Romano who also does historical reenactments and it is historically accurate.
You can find here >>> our full write up and review about going to Rome's Gladiator school with kids
Dinner
Have dinner in Testaccio, one of the most famous foodie districts in Rome
6 Days in Rome with kids itinerary: day 3
On day 3, I have included a visit to the Vatican.
Please read carefully the Vatican Dress Code before getting ready for the day
Morning: Vatican City
Vatican City is a must when visiting Rome but it can be intense with children, so I have it in the middle of this 6 days in Rome with kids itinerary, well diluted by other things!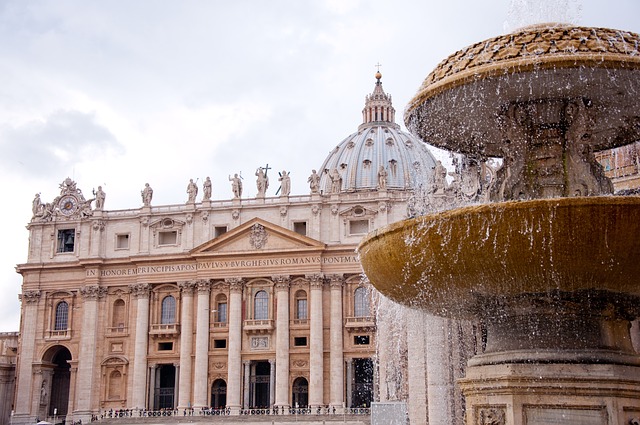 The main reason why the Vatican is so hard with kids is that if its famous Vatican Museums are huge, busy and traditional, all things that may mean kids find them boring, overwhelming or both.
You can read here >>> my tips for visiting Vatican City with kids.
These are my tips at a glance:
If you do not want to see the museums, you can easily fill a morning in Vatican City visiting St Peter's Square, St Peter's Basilica and climbing the dome.
The basilica is free to enter but you need tickets on the dome, which you can get on the day.
If you go to the museums, I highly recommend you get a guided tour or a buy the family guide at entrance.
Good, family friendly tours of the Vatican Museums are:
Good to know: tickets to the Museums with a specific entrance time are skip the line tickets. All tickets include the Sistine Chapel which is part of the museum.
Alterbative: if the Vatican is not in your plans and you are happy to just see the square, you can spend this morning in nearby Castle Sant'Angelo which is fantastic with kids.
Lunch
Have lunch in Borgo, the lovely neighbourhood beside the Vatican
Afternoon
After a long day at the Vatican, my kids always need to let steam out in the park so I recommend you spend the day in Villa Borghese (Borghese Gardens)
The Borghese Gardens are a large park in Rome city center with lots of space, playgrounds, a pond with rowing boats, ducks and turtles, Rome zoo and the option to rent family bikes and pedal go-karts.
My kids' favorite place in the whole of Rome!
You can find here >>> my guide to the Borghese Gardens
Rainy day alternative: should the weather be against you, you can go instead to Explore Children Museum nearby. Find here >> additional child friendly rainy days activity ideas in Rome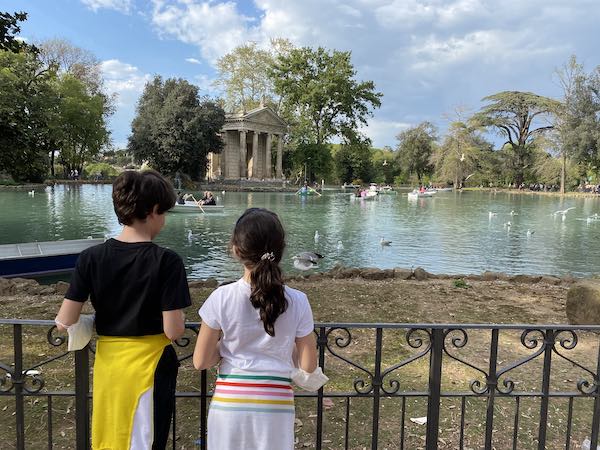 Dinner
Take the short stroll down from Pincio Terrace and have dinner near Piazza del Popolo.
You can also get a short tram ride or taxi ride to Lola Roma, few minutes down the road: our favorite family restaurant in Rome.
6 Days in Rome with kids itinerary: day 4
Morning
Pasta is fun to make for kids: as well as seeing one of your favorite dishes come to life, you make it by mixing and working with your hands, which make the whole experience fun and interactive.
A class we like is this one, which also leads you close to the attraction I recommend for the afternoon: Castel Sant'Angelo
Lunch
Lunch is included in your pasta class as you enjoy the fruit of your work!
Afternoon
Castel Sant'Angelo is Rome's castled, completes with cannons and battlements and one of the most child friendly attractions in Rome.
The building has an interesting story and it is fantastic to visit with kids, especially school age ones who will love the cannonballs, large terraces, battlements and peeking into the secret passage that connects the castle to the Vatican, il Passetto!
If you can, stay until sunset: the views are stunning at sundown (there is also a lovely cafe' at the top!)
You can visit with or without a tour. Find here >>> our guide to Castel Sant'Angelo Rome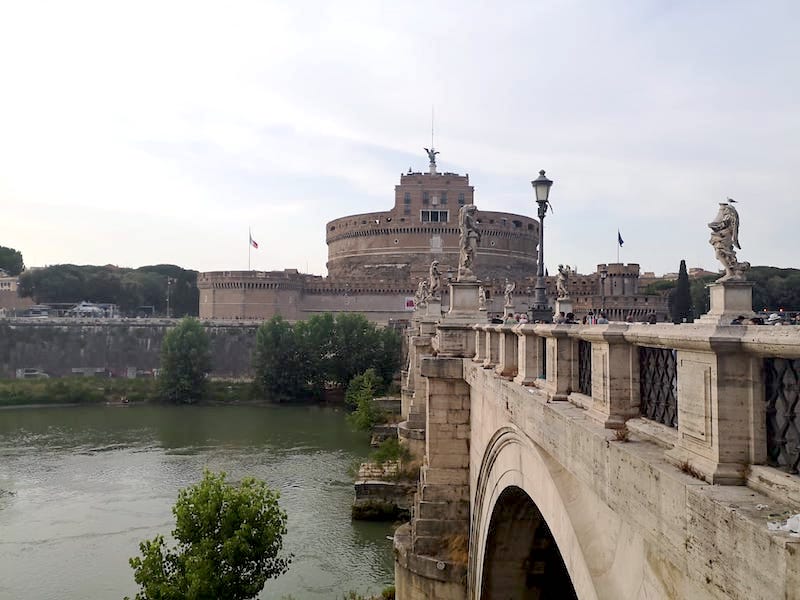 Dinner
Have dinner in Monti Area, characterised by lovely cobbled streets, many restaurants and perfect to get a glimpse of the Colosseum at night all lit up!
6 Days in Rome with kids itinerary: day 5
Morning
One of the best activities my daughter and I ever took in Rome was a mosaic class.
Mosaic is a traditional and very ancient form to art in Rome and there is no better way to discover how much work there is behind Rome's best mosaics than any learning to make one yourself!
The very best mosaic class in Rome is this one organized by Arte al Sole in Trastevere: unlike others, this class leads you to a real mosaic workshop and it is led by a real artisan who teaches you all about the stone, where they come from and how to used them.
This is a fantastic activity for children but it is not a mock one patched up to have them busy for a while: it is a real super engaging and really inspiring activity. we loved it!
You can read here >>> our mosaic class in Rome experience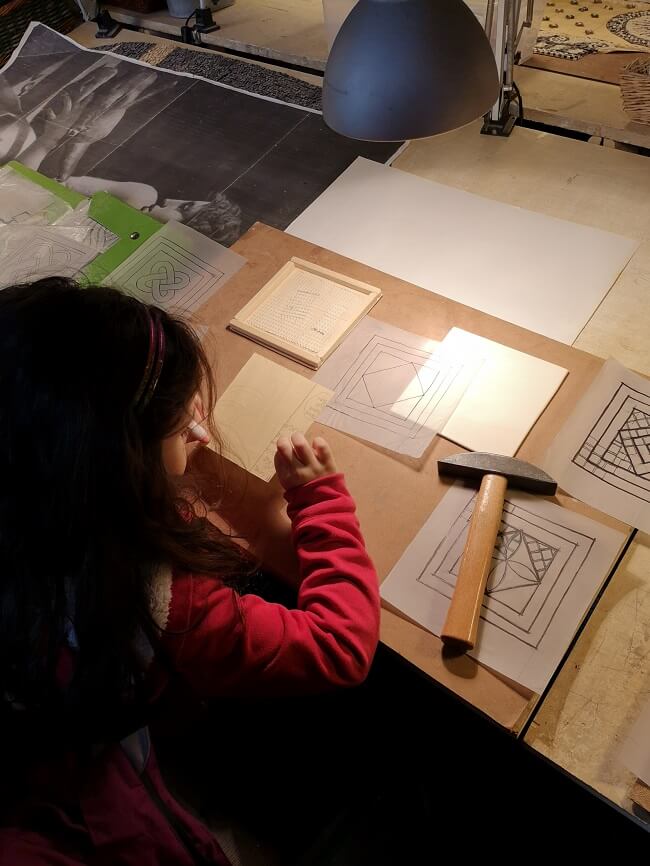 Lunch
Trastevere is full of lovely places to eat. I recommend a light lunch so you have space for dinner, which I also recommend in this area!
Afternoon
The mosaic class is right beside Rome's Botanical Gardens, which is cool and child friendly.
The gardens are large, safe and beautiful and have a butterfly house kids usually love! The best time to visit is the sorting however, there are plants to suit all weathers so there is always something to see.
Find here >>> our guide to Rome's Botanical Gardens
Dinner
Only a few minutes on foot from the Botanical Gardens you have several excellent restaurants .One we love with kids is Tonnarello, which is busy and attracts many tourists but has outstanding pasta dishes (and kids's colouring gear)
6 Days in Rome with kids itinerary: day 6
Morning
On day 6 I recommend you get out of the city center and explore Ostia Antica.
Ostia Antica is Rome's ancient port and it is now an archaeological park so impressive, it is often compared with Pompeii!
Ostia Antica is fantastic with kids and it feels very much like a park, but with the extra twist of being an ancient city!

You can read here >> our guide to Ostia Antica with kids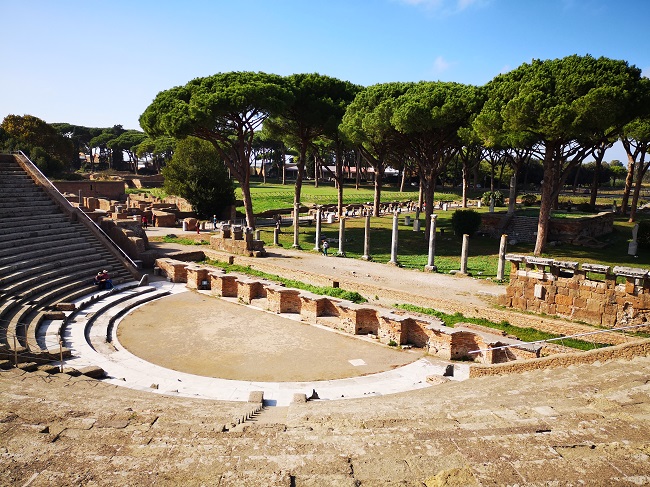 Lunch
Ostia Antica archaeological park has a cafe/ bistrot and you can also find restaurants in the stunning Borgo, only a few minutes walk outside the park, under the castle.
Afternoon
The train from Ostia Antica will lead you back to Ostiense, which is an area that can be fun for kids to explore.
I recommend you leisurely take a stroll around here and then climb all the way up to the top of the Aventine Hill.
On your way, you can see Rome's Pyramid (yes! An actual pyramid!) and, at the top, you will find the famous Aventine Keyhole, from where you can catch stunning views of St Peter's Dome.
Find here >>> our guide to the Aventine Hill in Rome
If you have energy, you an also climb down to Circo Massimo and treat the children to the Circo Massimo experience, where they will see the Ancient Rome chariot stadium come to life with augmented reality goggles!
Dinner
head back to your favorite restaurant in Rome for an unforgettable last evening.
Resources to plan your 6 days in Rome with kids
Where to stay in Rome with kids: recommended family hotels and apartments
Best parks and playgrounds in Rome for kids