Four days in Rome with kids: a day-by-day Rome itinerary for families with kids of all ages, suitable for all travel styles and budgets.
Four days are a lovely length of time to spend in Rome with children.
While they will not be enough to see everything, four days in Rome with kids will allow you to see Rome's highlights, have some kid-friendly stops in parks, eat plenty of gelato and fit in some child-centered attractions.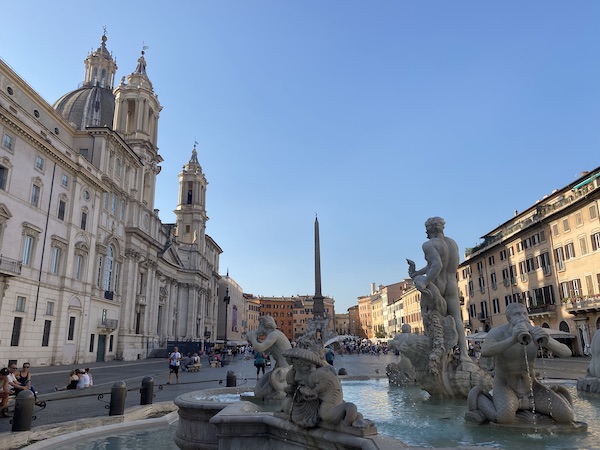 There are very many ways to plan this time in the city, partly depending on what you are most interested in seeing but mostly depending on your budget and the age of the kids.
Because of this, I've written this four day in Rome family itinerary giving several options: for each day, you will have a cheaper / free option and a more structures and therefore pricier one.
In all cases, I make recommendation so that your Rome trip is a vacation for everyone, kids and parents alike!
When needed, I have also included alternatives for different ages.
Please note: this post contains affiliate links. Should you you make a purchase through them, we might make a small commission at no extra cost to you.
Four days in Rome with kids: where to stay
The best place to stay in Rome with kids for a 4 day trip is the city center.
A hotel or apartment in the center of town means you will be within walking distance from almost all main attractions and it will allow you to see some of the busiest parts of Rome after the day trippers have gone.
The Trevi Fountain, the Spanish Steps, even Piazza del Pantheon and Piazza Navona are stunning at night and easy to enjoy if you live nearby.
You can find here >>> our guide to the best places to stay in Rome with kids (favorite hotels and family friendly vacation rentals)
Four days in Rome with kids: how to get around
The best way to get around Rome is on foot.
Many of Rome's main attractions are walking distance from one another (you can see our guide to planning Rome sightseeing here) and you will find there is plenty more to see along the way.
Rome literally has something to see every few meters!
If you happen to need to cover longer distances, the best way is probably to hop on a taxi or use Rome buses.
You can find guides to both at the following links: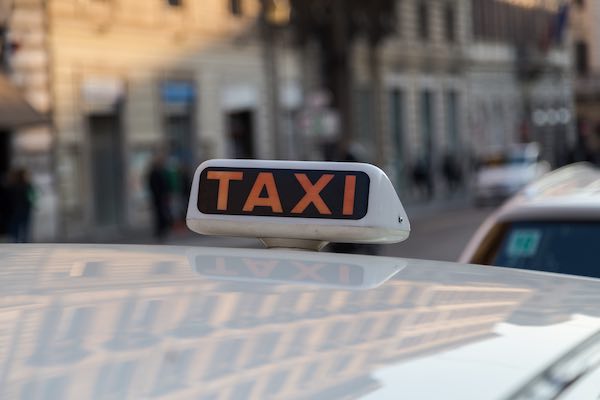 How to use this 4 day in Rome itinerary for families with kids
There are infinite ways to plan four days in Rome with kids, depending on budget, age of kids and personal preferences.
However, after many years helping families planning their trips to Rome, I know what families want and while this itinerary may not be suitable for everyone, I believe is a great one to tick boxes for all or at least most of you!
I wrote this itinerary with in mind:
Rome main attractions – I assumed this to be a first visit to Rome and therefore included the most requested Rome attraction such as the Colosseum and the Vatican
Our favorite tours – while it is not necessary to take tour to discover Rome, I see many families wishing to have a guide to maximise their time and the learning about Rome.
Lots of structured time – this itinerary is for families who prefer to have planned activities.
Children interests – more than an itinerary to visit Rome with kids, this is an itinerary FOR kids, but structured in such a way parents will also have a great time.
If you want to tweak this itinerary or have any questions, please join our free Facebook Group 'Italy with kids – Travel tips and advice' and I'll be happy to help you make the itinerary your own!
Join our Italy travel planning group for families here!
4 days in Rome itinerary: day by day guide
Day 1 in Rome with kids – main landmarks and Rome highlights
Morning Golf Cart tour with LivTours.
A guided golf cart tour is a fantastic way to get acquainted with the city of Rome with kids.
Unlike cars and buses, golf carts can bring you to hidden piazzas and cute corners inaccessible to bigger vehicles.
Since it has open sides, it also allows you to take wonderful photos and enjoy the (frequent) sunny days in Rome.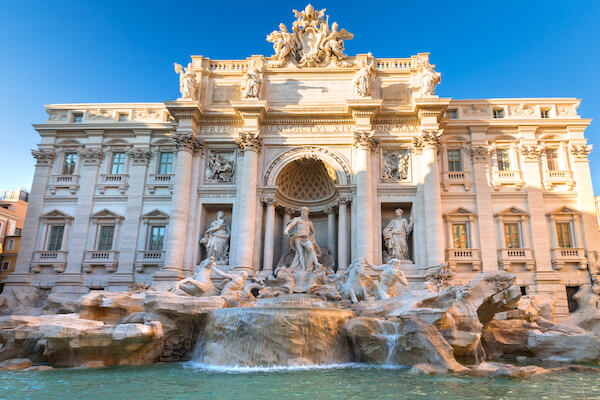 It is also a fabulous way to discover Rome with kids who cannot walk long distances and a relaxing way to see the city when still battling jet lag!
The golf cart tour will being you to Rome's main landmarks and highlights and your guide will give you a first introduction to them.
You will then be able to see them properly in the coming days.
Budget friendly alternative: Civitatis offers a great 'pay what you like' walking tour of Rome city center, perfect to get acquainted with the city. Find complete info here.
Afternoon – Self guided treasure hunt in the Piazza Navona area
The Museum called 'Museo Mostra di Leonardo' offers a self-guided treasure hunt for families which I highly recommend.
The activity starts at the Museum, where your group receive an I-pad and instructions on how to do the hunt and then you are free to explore the area in your own time.
After 3 hours (or sooner, should you be tired) you go back to the museum, where you do the last part of the hunt and get your prize.
The hunt is a brilliant way to sightsee in Rome city center and see some of the city's most beautiful piazzas while having fun.
Since the museum is in a very central location, the hunt will allow you to discover Piazza Navona, Piazza del Pantheon, Campo de' Fiori and many more Rome's famous monuments without having to walk excessively.
The last part of the tour is inside the Leonardo Museum which is also fantastic for kids as it showcases interactive and imaginative machines by Leonardo da Vinci that the children can touch and operate.
You can find info and prices here
Budget friendly itinerary alternative: the area of Piazza Navona is so full of attractions, it is also exceptionally pleasant for a walk and exploration in your own time. You can learn here >>> what to see in the Piazza Navona Area. Kids may also enjoy a stop at the permanent exhibition Welcome to Rome, also in the area and perfect to learn about the city.
Dinner in the city center
Dinner in Piazza Navona area will allow you to have a nice meal right after the hunt without having to walk far.
Recommended restaurants for this first night are: Mimi e Coco, Cul de Sac, Grapple d'Oro, Emma Pizzeria,
Day 2 in Rome with kids – Colosseum and Gladiator Day
Morning – Colosseum Visit
The Colosseum is the most visited landmark in Rome and a place kids love because of how big it is and all the gladiator stories that are likely to have heard in school or seen on TV.
My favorite way to visit the Colosseum is with a tour that includes the underground area, which is where the animals and stage props were kept.
A great one for families is this Express Colosseum Tour by LivItaly: while not for families as such. Their guides are excellent and great with kids, plus the relatively short tour is perfect for kids.
A budget friendly alternative is the tour offered by the Colosseum ticket concession, Coopculture also not for kids but suitable for families. The best one is the 'Full Experience' ticket including arena and underground access.
Afternoon – Gladiator school
The perfect complement to a morning at the Colosseum is an afternoon at Gladiator School!
Gladiator school is on Via Appia, a beautiful historical road leading outside the center of Rome, and it is great fun.
Here, kids and adults can dress up with costumes from the time, get geared up as gladiators, learn about gladiator arts and train as fighters (all safe and done like a game).
The activity is lead by Gruppo Storico Romano, which is also does historical re-enactments so you know the activity is fun but also educational.
Lower Budget alternative: there is nothing quite comparable to Gladiator School; however, it is still possible to get the kids excited about Ancient Rome by participating in the the Circus Maximus Experience. This is a self guided tour of the ancient Roman chariot's stadium, the Circus Maximus, with the aid of augmented reality goggles – great fun for all ages!
Gladiator school is suitable for kids of primary school age and up. If you have a younger child, I recommend an afternoon at 'Explora Children Museum' instead.
Dinner – back in the city center
Recommended restaurants in this area are: Mimi e Coco, Cul de Sac, Grapple d'Oro, Emma Pizzeria,
Day 3 – Vatican City and Borghese Gardens
Morning – Vatican City or Vatican Museum tour
Vatican City is a must see in Rome and has several areas worth seeing: St Peter's Square, St Peter's Basilica and the Vatican Museums with Sistine Chapel are the main one.
If you have small kids, I recommend you focus your attention on the square and basilica only.
The museum are very large, buys and there are traditionally laid out, meaning there is nothing for small kids to touch or engage with.
If you have older kids (late primary school age and up) then you can also see the museums, which are out of this world beautiful for hte art they contain.
The very best way to see them is by joining and early morning tour: with it, you gain access to the Museums and the Sistine Chapel before the crowds and can see them with ease.
A company I trust for this tour is LivTours .
If you prefer a scavenger hunt approach, then one company we loved is Rome4kids
Budget friendly alternative: should the budget not stretch to a tour, you can also get tickets directly from the Vatican Museum Website and book their audioguide for kids. The tickets come with reserved time entrance so you don't have to stand inline – book early as they sell out fast! If you'r our of luck on the Vatican site, you can also get them for marginally more on GetYourGuide.
Afternoon – Borghese Gardens
No matter how you see the Vatican, chances are at the end of it children will be tired of being indoors and will want some play time.
This is why I highly recommend you go to the Borghese Gardens.
The Borghese Gardens are a large park with plenty of green areas, playgrounds and the option of renting family bikes, pedal go karts and rowing boats. My children love it!
You can read here >>> our guide to visiting the Borghese Gardens with kids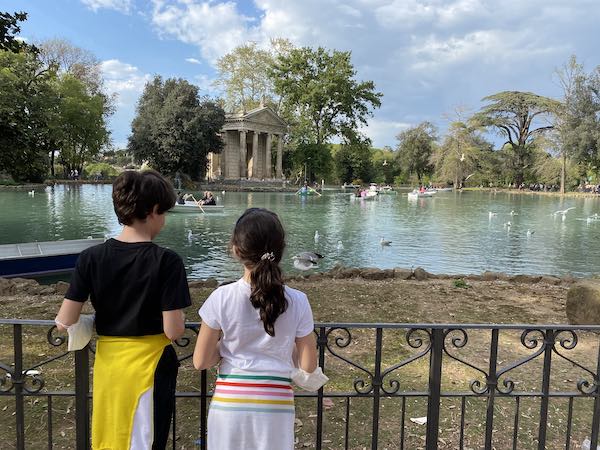 Alternative for a rainy day: Explora Children Museum
One of my children's favorite places is Rome is Explora Children Museum,an interactive space for them to play and learn.
Explora is close to Piazza del Popolo and a fantastic resource especially for kids up to age 12. Near it, you find the beautiful church of Santa Maria del Popolo with paintings by Caravaggio so if the parents wanted an art fix, that would be a easy to get!
Dinner in Testaccio
Have dinner in the city center of, for a foodie treat, take a taxi to Testaccio and try the famous cacio e pepe pasta Da Felice, the best place in Rome for this specialty!
Day 4 – Spanish Steps and Pizza class
Morning – Pasta Making Class
One of the most enjoyable activities in Rome for kids is a cooking class.
You have a vast choice of cooking classes in Rome covering pizza, gelato, tiramisu and more and the one we found the most fun with kids is a class to learn to make pasta!
As well as immensely satisfying and versatile, pasta is fun to make as very hands on. A great class is this one near Castel SAnt'Angelo which is also well located for your next visit!
Afternoon – Castel Sant'Angelo
One of my kids' favorite attractions in Rome is Castle Sant'Angelo, Rome's castle.
Originally built as a mausoleum for Emperor Hadrian, Castel Sant'Angelo changed used over the centuries and served as a tomb, a Papal residence and even a fortress!
Visiting with kids is a real treat: here, they can learn about hidden passages, see cannons, walks along the bastions and everyone can catch outstanding views of the city from its high terraces.
You can learn here>> how to visit Castel Sant'Angelo with kids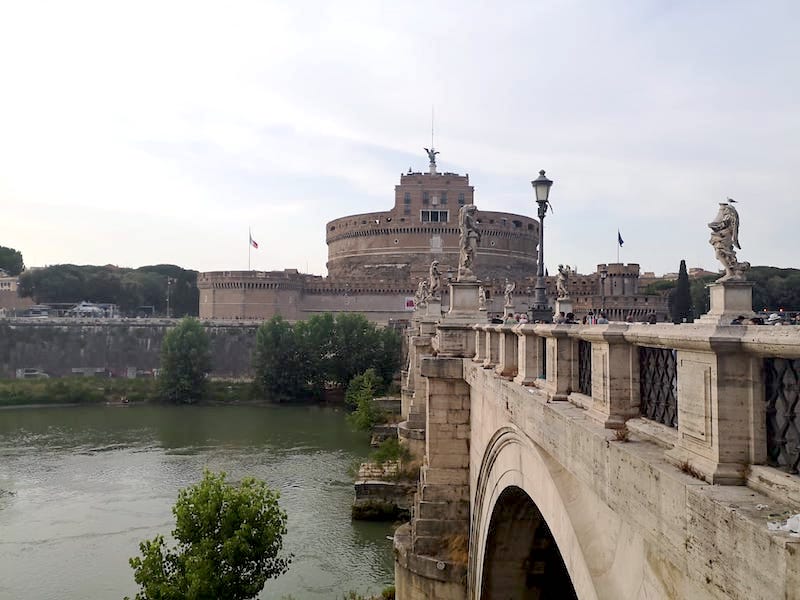 Budget friendly alternative/ toddler friendly alternative: if you have very young kids or prefer an activity at a lower price point, I highly recommend you visit Rome's Botanical Gardens instead. They are in Trastevere and a great place to get the kids to run free in fresh air + they are in Trastevere which is where I recommend you have dinner on this last night!
Dinner in Trastevere
For this last night, I highly recommend you make your way to Trastevere, a charming and 'foodie' part of Rome.
Trastevere is on the opposite side of the River Tiber from the historical center and it is a wonderful area with lots of pretty streets, beautiful churches and an impressive number of delicious restaurant!
A family favorite of ours is Tonnarello (busy but delicious) which is great for pasta especially and Dar Pieta, lovely for pizza.
If you have time and energy, you can also arrive early and explore Trastevere on foot, Find here >>> our recommended Trastevere itinerary.
A perfect last night in Rome!
Additional resources to plan 4 days in Rome with kids