Visitors guide to Piazza Navona district (Rione X, Parione): best things to see, where to eat, where to stay.
Piazza Navona neighborhood of Rome is the area of Rome's historical center around famous Piazza Navona.
This spot is one of the most popolar with tourists in Rome and one of the most fascinating in the city.
As well as piazza Navona itself, possibly the most famous squares in Rome, in this neighborhood you find Rome's famous cobbled streets, many stunning churches and a plethora of restaurants and wine bars for dinner and aperitivo.
The area around Piazzas Navona is one I always recommend as one of the best places to stay in Rome.
Today, I share areas highlights, the best things I recommend you seek out while in the neighbourhood and tips on where to stay and where to eat.
Safe travel planning!
Please note: this post contains affiliate links. Should you make a purchase through them, we might make a small commission at no extra cost to you.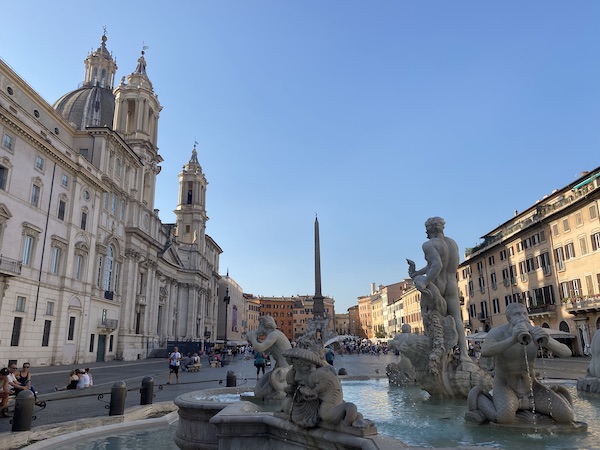 Piazza Navona district: look and feel
The district with Piazza Navona is where you can experience Rome as you have seen it in photos and movies.
The area mixes stunning, grand piazzas and meandering cobbled streets and is a treasure trove of everything Roman, including ancient buildings, medieval looking streets and the triumph of Rome's baroque era.
Here is also where you find many restaurants and hotels so the feel of the place is also that of a touristy area.
Overall, This is probably the area of Rome you'll spend the most time in, as a visitor, and the area most likely to stay in your memory most.
Piazza Navona district: where it is and how to get there
Piazza Navona is in Rione Parione, one of the historical Rioni (Neighborhoods) of Rome.
Rione Parione is borders with other interesting areas of Rome such as the Pantheon are and the Tiber and it is reasonably close to St Angelo's Castle and the Vatican.
Map lovers will love to learn that its boundaries are Pazza delle Cinque Lune, Corso del Rinascimento, Piazza Madama, Piazza sant'Andrea della Valle, Largo dei Chiavari, Largo del Pallaro, Piazza dei Satiri, Via dei Chiavari, Via dei Giubbonari, Campo de 'Fiori, Via dei Cappellari, Via del Pellegrino, Via dei Banchi Vecchi, Vicolo Cellini, Via dei Filippini, Piazza dell'Orologio, Via del Governo Vecchio, Via del Corallo, Piazza del Fico, Vicolo delle Vacche, Via di Tor Millina, Via di Santa Maria dell'Anima, Largo Febo, Via di Tor Sanguigna, Piazza delle Cinque Lune.
The coat of arms of the district is a Grifo on a white background.
Good to know: this When visiting this area, you will find yourself in close proximity also to the Pantheon district, which you will easily visit in the same session as Rione Parione. I recommend you use the two guides as a complement to one another.
This area is served by buses 30, 60, 62, 81, 87.
The best way to explore the Navona district is on foot.
What to see in the Piazza Navona district: highlights
Piazza Navona
Piazza Navona needs little introduction.
Originally a chariot stadium built by order of Emperor Domitian, the square is now a masterpiece of Baroque architecture, shaped by the masterful hands of Bernini and Borromini.
The square is wonderful as a whole and it is also home to several interesting attractions, worth visiting individually.
You can find our complete guide to Piazza Navona here.
Highlights we recommend you seek out include:
The Stadium of Domitian
Piazza Navona is the ancient stadium of Domitian (I century AD) and still maintains the original size and oval shape the stadium had in ancient Roman times.
The best way to identify the old stadium is to place yourself at one of the short ends of the piazza and focus on its shape.
The houses and churches are where the audience seats would have been and the fountains at the two extremes are were the metae would have been, for the chariots to turn. It is quite a sight!
Immediately outside of the piazza, you can also see archaeological remains the stadium foundations, visible from street level at the northern end of the piazza.
The Fountain of the Four Rivers
The Fountains of the Four rivers is the most famous fountain in piazza Navona and one of the most photographed fountains in Rome.
It represents four of the worlds' biggest four works rivers in the guise of masculine figures and it is surmounted by a tall obelisk.
The fountain has a peculiar story that involved Bernini and Donna Olimpia Maidalchini and it is considered on of Bernini's masterpieces in Rome.
Find here >>> story of the making, facts and symbols of the Fountain of the Four Rivers.
The Fountain of the Moor and the Fountain of Neptune
Two additional monumental fountain adorn Piazza Navona: the Fountain of the Moor and the Foutain of the Neptune.
They occupy the space where the original stadium would have has its metae and while often over-shawdowed by the notoriety of their more imposing neighbor, they are beautiful and worth a stop.
The Fountain of the Moor (Fontana del Moro) was originally designed by Giacomo dalla Porta and then revamped by Gian Lorenzo Bernini
Santa Agnese in Agone
The church of Santa Agnese in Agone towers above piazza Navona and the Fountain of the four rivers and is a wonderful example or Roman baroque architecture by Borromini.
The church has an impressive facade and an elaborate baroque interior with seeing.
In religious terms, the church is significant as it houses the shrine of St Agnes, Martyr in Rome
Palazzo Doria Pamphili
Palazzo Doria Pamhili is an elegant ancien tPalazzo overlooking piazza Navona.
The Palazzo owes its name to the Doria pmhili family who owned it.
The name of the Palazzo is associated with that of Donna Olympia Maidalchini (aka La Pimpaccia), the unpopular sister-in-law of Pope Innocent X know for being the real power behind his papacy.
The palazzo is, since 1920, the seat of the Brazilian embassy.
Palazzo Braschi
Palazzo Braschi is an elegant palace overlooking the southern end of piazza Navona and it is now the seat of Museo Nazionale Romano (Rome's National Museum)
The Palace Is stunning and worth a visit under many respects: a permanent collection with fascinating photos of Rome in the past; regular art exhibitions and stunning views over the piazza!
Piazza Pasquino
Piazza Pasquino is a small square immediately beside piazza Navona, famous for housing Pasquino, one of Rome's talking statues!
The square is now filled with restaurants and cafes and Pasquino is easy to miss, unless you know to look for him.
While his statue may not be the most impressive in Rome, he is an important part of the city's character, spirit and history so I highly recommend you stop and get to know him!
You can find here >>> our guide to the talking statues of Rome.
Via del Governo Vecchio
Via del Governo vecchio is a lovely, busy, charming street close to Piazza Navona.
Dotted with shops and restaurants, it is a tourist location but a charming one and a great address to have for a good meal in Rome: some of my favorite restaurants are here (see below, in the food section).
Chiesta di Santa Maria della Pace and Chiostro del Bramante
The church of Santa Maria della Pace and the annexed Bramante's cloister are wonderful examples of Renaissance art in Rome and a must see in the Navona district.
Located in a fascinating corners of the city, the church is famous for the Sibille by Raphael as well as the stunning cloister, now also a unique exhibition space. Address: Via Arco della Pace, 5 – 00186 Roma
Mostra di Leonardo at Palazzo della Cancelleria
Palazzo delle Cancelleria is historic palace colse to Piazza Navona, now housing an interesting permanent exhibition about Leonardo da Vinci.
The small museum has many machines by Leonardo, drawings and it also hides an unexpected water cistern!
You can read here >> why we recommend a visit to Mostra di Leonardo
St Ivo alla Sapienza
The church of St Ivo alla Sapienza is between Piazza Navona and the Pantheon and is a masterpiece by Borromini, with a distinctive dome and welcoming coaster.
The church is often closed but you can peek in from the main gate and admire the front colonnade and spiralling dome from the main gate.
La Fontana dei Libri
Fontana dei Libri (Fountain of the books) is a small fountain on a secondary road leading from the Pantheon to Piazza Navona and a charming sight.
Unlike the Trevi fountain of the fountain of the for rivers, this little water source is not grand or spectacular; however, it is unique and also has a history worth knowing.
This fountains is part of a series of neighborhood fountains (fontane rionali), dotting historical areas of Rome.
Each fountain hs a design that recalls something about the district they are in: this one is close to St Ivo alla Sapienza (Sapienza = wisdom, knowledge) and recalls it with carvings of books!
San Luigi dei Francesi (St Louis of the French)
San Luigi dei Francesi is a beautiful baroque church between the Pantheon and Piazza Navona.
The church is most famous for being one of the best places in Rome to admire Caravaggio as it has the famous and breathtaking Contarelli Chapel, housing the Cycle of St Matthew.
Museo Barracco
Museo Barracco houses a beautiful collection of ancient Egyptian, Assyrian and Cypriot sculpture.
The collection owes its name to Giovanni Barracco who put to together thinking that to learn more about Greek art one should get acquainted with the oldest art styles (Egypt and Asia) who gave the first impulse to Greek art.
Piazza Campo de' Fiori
Campo de' Fiori is technically outside of the Navona district as on the other side of Corso Vittorio. However, it makes this list it is across the road from piazza Navona, only a couple of minutes from the square and it therefore easy to visit on the sae day.
Campo de' Fiori is one of the most famous squares in Rome and has a medieval aspect that makes it different from many others, including its most famous neighbor.
The piazza is famous for a statue of Giordano Bruno, who lost his life on the stake in this very spot, a market (now very touristy, yet still somewhat charming) and many cafes and wine bars attracting locals and visitors alike.
You can find here >>> our guide to Piazza Campo de' Fiori
Via dei Coronari and other streets worth of notice
Via dei Coronari is a pretty street in the Navona district with several pretty shops, a delicious gelato parlour and tons of charm.
Characterized buy Rome's famous sanpietrini (cobbles) the street takes it name from 'coronari' (aka crown makers), the traders who used to have shops on this street making religious crown for the pilgrims heading to see the Pope in nearby St Pietro.
Fun fact: in this area, there are many streets still names after the traded that characterised them.
Some you may enjoy are Via dei Balestrari, Via dei Chiavari, Largo del Pallaro, Via dei Giubbonari, and Via dei Cappellari.
Other streets worth seeking out in this area are Piazza del Fico and Via del Pellegrino and Piazza del Biscione, which hide two of Rome's hidden gems: arco degli Acetari and Passaggio del Biscione.
Where to eat near Piazza Navona
The area of piazza Navona has more restaurants and cafes you would be able to test in a lifetime! Those I like the most are:
Mimi e Coco – despite the touristy location, this restaurant has the best carbonara in the city for me!
Cul de Sac – lovely, traditional wine bar perfect for a warming meal or a platter
Terrazza Borromini – spectacular, panoramic terrace bar and restaurant overlooking the square
Mr 100 tiramisu – as the name suggests, a lovely place for a (large) portion of tiramisu
Vivi Bistrot – nice bistrot opening onto the piazza, perfect for coffee or a small bite
Where to stay in the Navona district: best hotels and rentals
You cn find here >>> our guide to the best hotels near Piazza Navona. At a glance, this is a quick selection:
Hotel Raphael – 5 star hotel
Palazzo Navona Hotel – 4 star hotel
Navona 49 – suites / rental
Not sure how to include this attraction in your Rome itinerary? Check our Rome itinerary suggestions below:
Piazza Navona District Travel Guide – pin this!