Travel guide to the Pantheon neighborhood in Rome: best things to see, where to stay, where to eat. Travel guide by a local.
The Pantheon neighbourhood is a beautiful district in Rome city center with some of the most famous attractions in the city.
Named after the Pantheon, the best preserved Roman temple in the world, Rome's Pantheon neighbourhood has all visitors expect from the city of Rome: cobbled streets, open air museum feel, piazzas, churches and exceptional food.
The Pantheon area is one you are likely to spend a lot of time exploring, while in Rome.
It is also one of the best areas to stay in Rome, for charm and location.
I personally love it. I find it one of the most beautiful, charming and interesting neighborhoods in Rome and I always recommend it to stay and to explore.
In this travel guide, I share the best things to see in the Pantheon area, tips for visiting and recommendations for places to stay and eat.
Since this area borders with the district of Piazza Navona, I recommend your read this guide with this guide about the Navona district, for completeness.
I hope it helps you plan your stay in Rome!
Please note: this post contains affiliate links. Should you make a purchase through them, we might make a small commission at no extra cost to you.
Pantheon Neighborhood Rome at a glance: look and feel
The Pantheon neighborhood is a city center area with a wonderful inner city feel.
In this part of Rome, you find Rome's famous cobbled streets, some of the city's most beautiful piazzas and a large number of churches, all elements contributing to that open air museum feel people often mention about Rome.
The area is stunning yet not particularly green. There are no trees or parks and most of the greenery here is the pretty climbers on the facades of the area's most charming buildings!
This is a fantastic area for tourists.
As well as many things to see, there are many fantastic restaurants, beautiful rooftop terraces and that mix of charm, grandeur and romance that makes Rome unique.
As a Roman, I love coming to the Pantheon area for a walk and it is one of may favorite places in the city anytime I want to feel like I am in a Rome movie.
The Pantheon are in Rome is that beautiful!
Pantheon district: location and how to get there
The Pantheon neighborhood takes its name from its most famous attraction, the Pantheon and develops around its piazza: Piazza della Rotonda (aka Piazza del Pantheon).
The Pantheon itself is in Rione IX, Pigna, which extends from the Pantheon to Piazza Venezia and neighbours the Trevi District and Rione Parione.
The boundaries of such a rione are Via del Seminario, Piazza Sant'Ignazio, Via del Caravita, Via del Corso and Piazza San Marcello, Piazza Venezia, Via San Marco, Via delle Botteghe Oscure, Via Florida, Via della Torre Argentina, Piazza Santa Chiara, Via della Rotonda, Piazza della Rotonda.
The rione coat of arms is a gold pinecone on a red background
While the boundaries of the neighborhood place it in a different district than Piazza Navona, the two arre very close to each other and the distinction, form a visit's point of view, bears little importance.
This is why in many travel guides to Rome, including those on this site, the two areas are often together and some of the recommended attractions overlap.
In this guide to the Pantheon area, we go beyond the limits of the district and include the most beautiful sites near the Pantheon you can easily visit once in this neighborhood.
The Pantheon area is best reached by bus and the discovered on foot.
Since large parts of this area are closed to car traffic, even if coming here by bus / taxi/ hop-on hop-off bus will require some walking.
I highly recommend you come equipped with good soles as you will find yourself walking extensively and the cobbles of these area can be demanding of your feet!
You can find here >>> my recommendations for the best shoe styles for Rome travel.
The best things to see in the Pantheon area Rome
The Pantheon and Piazza della Rotonda
The Pantheon is the best preserved ancient Roman temple still in existence and it is one of the most famous attractions in Rome.
The Pantheon overlooks a stunning piazza called Piazza della Rotonda or also Piazza del Pantheon and is a unique building.
Originally a ancient Roman temple built by Agrippa, son in law of Emperor Augustus, the Pantheon is now a church and houses the tombs of important personalities in the history of Rome and Italy, including Raphael and the first King and Queen of Italy: Umberto I and Margherita.
The Pantheon is worth visiting for many reasons: its stunning facade with colossal portico, the unique 'oculos' on its roof, that has piqued the curiosities of generations of visitors, the tombs it contains attract large crowds and make it one of the most sought after Rome must see.
You can learn how to visit here >>> our visitors' guide to Rome's Pantheon
In front of the Pantheon, lies a beautiful fountains also worth noticing.
Built by Leonardo Sormani on a design by Giacomo della Porta and then remodeled in 1711, the fountains is one of the most famous fountains in Rome and holds one of Romes' real Egyptian obelisks.
Piazza della Minerva
Piazza della Minerva is a small square in the Pantheon neighborhood with two stunning Rome attractions: a sculpture by Bernini and the wonderful church of Santa Maria Sopra Minerva containing, among other things, a beautiful sculpture by Michelangelo.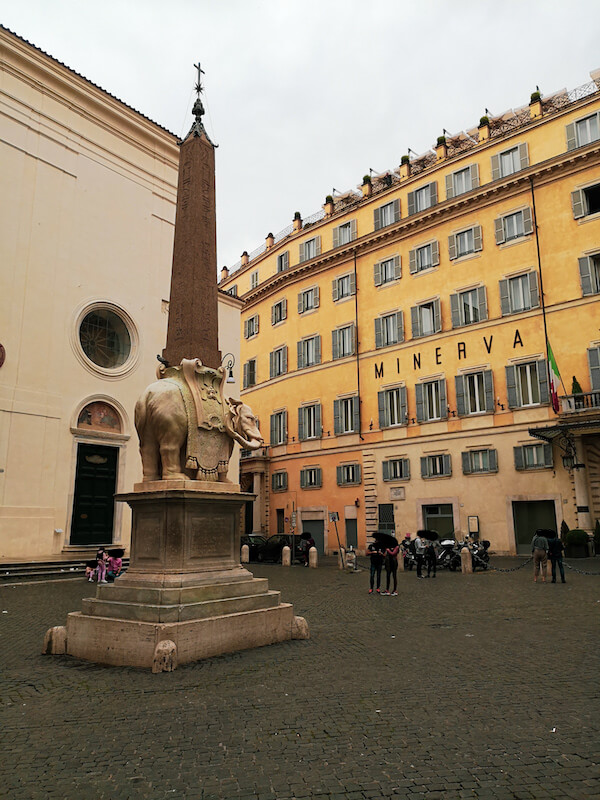 Il Pulcino di Minerva (Minerva's chick) by Bernini is in the center of this delightful piazza.
The sculpture represents and adorable little elephant with an obelisk on its back and it is one of the most unique artworks by Bernini in Rome.
It also has a rather funny story worth reading (read our guide to the piazza below)!
The Church of Santa Maria Sopra Minerva overlooks the square and it is a treasure trove of wonders.
It is worth venturing in to admire, among other things, the beautiful Christ by Michelangelo, displayed in the church and the stunning blue ceiling that looks like the night sky.
You can read here >>> our visitors' guide to Piazza della Minerva and its stories
Piazza Sant'Eustachio
Piazza Sant'Eustachio is a wonderful small piazza between the Pantheon and Piazza Navona famous for a couple of reasons.
The first is the beautiful church of Sant'Eustachio, which overlooks the square.
The church is worth visiting is its inside but make sure you look up before going in: on the roof, you will see a statue of a stag, the animal St Eustace saw right before converting to Christianity!
The other reason people know Piazza Sant'Eustachio is the present of a cafe: Sant'Eustachio il caffe', know for serving the best coffee in Rome!
Piazza di Pietra and Hadrian's Temple
Close to Piazza del Pantheon lies one of the most beautiful and unique, yet overlooked, squares in the city: Piazza di Pietra.
Piazza di Pietra is a small, pedestrianises piazza, overlooked by the breathtaking remains of Hadrian's temple.
Dating from the II century AD, the temple has imposing columns and it is an unexpected, powerful feature of this square.
You can admire it while sitting in one of the pretty cafes and restaurants of this square, popular with locals and tourists alike (please bea ware that prices reflect the unique location)
Largo di Torre Argentina
Largo di Torre Argentina is a large city center square you will often pass while in this area.
In its center, there is a beautiful yet currently non accessible archaeological area, famous for being the place where Julius Caesar lost his life and for now housing a shelter for cats!
Around this central area, you find lots of shops, taxis, buses and trams, serving the city center, the Jewish Ghetto and connecting this area with Trastevere and Vatican City.
Chiesa del Gesu'
Chiesa del Gesù (Jesus' Church) is an important baroque church in Rome in the Pantheon neighbourhood, close to Largo di Torre Argentina and Piazza Venezia.
The church is the main church of the Jesuits order and houses the tomb of the company's founder St Ignazio di Loyola.
The church is also famous as one of the most significant examples of baroque art in Rome and houses several artworks by masters such as Piero da Cortona, Andrea Pozzo and Giacomo Della Porta among others.
Palazzo Doria Pamphili
Palazzo Doria Pamphili is an elegant, historic palace on Via del Corso, owing its name to the Doria Pamphili family who owned it.
The palazzo is famous for its elaborate interior and for housing an important art collection. You can find info and tickets here.
Piazza Venezia
Piazza Venezia is one of the most distinctive and famous squares in Rome.
Located in Rome ciry center, beside the Roman Forum and at the start of historic Via del Corso, the square is both an attraction and a transport hub.
In terms of things to see, the square houses the incredible Vittoriano, Trajan Columns and Palazzo Venezia, with the balcony from where Mussolini announced the start of the Second World War still well visible.
St Ivo alla Sapienza
The church of St Ivo alla Sapienza is between Piazza Navona and the pantheon and is a masterpiece by Borromini, with a distractive dome.
The church is often closed but you can peek in from the main gate and admire the front colonnade and spiralling dome from the main gate.
San Luigi dei Francesi (St Louis of the French)
San Luigi dei Francesi is a beautiful baroque church between the Pantheon and Piazza Navona.
The church is most famous for being one of the best places in Rome to admire Caravaggio as it has the famous and breathtaking Contarelli Chapel, housing the Cycle of St Matthew.
Piazza Navona
Piazza Navona needs no introduction.
Possibly the most famous square in Rome, Piazza Navona was born as an ancient Roman stadium and then proceeded to become a significant and monumental Roman piazza.
Housing masterpieces by masters such as Bernini and Borromini, it is one of the most iconic photo spots in Rome and a must see when visiting the city.
You can find here >>> our visitors' guide to Piazza Navona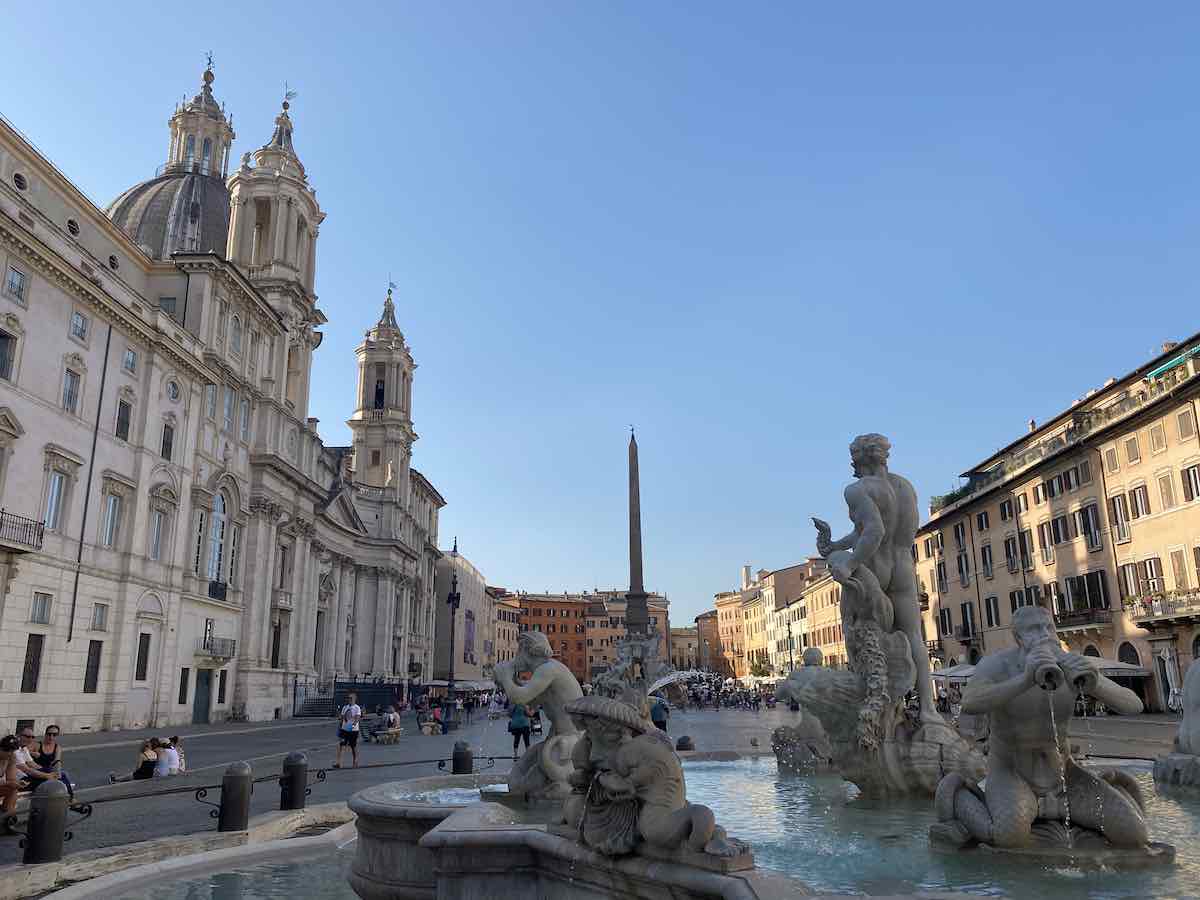 Where to eat near the Rome Pantheon
Caffe' Tazza D'Oro – historical cafe known for making the best coffee granita in the city
Sant'Eustachio il Caffe' – traditioznalluy, the best cafe in Rome
Armando al Pantheon – iconic Rome restaurant famous for traditional pasta dishes especially (Amatriciana especially)
La Ciambella – delightful wine bar and restaurant with upscale feel
Divinity Terrace at Iconic Pantheon Hotel – fantastic rooftop terrace for apertitivo
Giolitti – historic gelato place
Where to stay in the Pantheon neighborhood
The Pantheon neighbourhood is one of the best areas to stay in Rome and offers a large variety of accommodation options.
Hotels we recommend include:
Marriott Pantheon Iconic Pantheon Hotel – luxury
Palazzo Navona Hotel – 4 star hotel
Hotel Abruzzi – 3 star hotel
You can find here >>> our selection of the best hotels near the Pantheon (several price points and styles)
Tours of the Rome Pantheon District
May tours bring you to this area as part of a walking tour of Rome.
While you do not need a tour to enjoy this area, guided walks can be invaluable to gain insight on the area. Some you may like include:
FREE Walking tour of Rome city center including Piazza del Pantheon (by Civitatis)
Rome city center private walking tour with local guide, including Pantheon area
Guided tour of the Pantheon (attraction, does not include neighborhood walk)
Not sure how to include this attraction in your Rome itinerary? Check our Rome itinerary suggestions below: