The best shoes for Rome to walk in comfort and style. How to choose the best walking shoes for Rome to stay comfortable walking all day without compromising on style.
If you are reading this article, chances are you know already two important things about visiting Rome: one, that it will take a lot of walking and two that its cobbled streets and ancient sites can pose challenges to your feet.
Both these things are true and you can add to the mix an extra element: Rome churches are famous for dress code and many are left to wonder what thig means in terms of shoewear.
Can you wear sandals in Rome churches? Or flip flops at the Vatican?
Indeed, packing the best shoes for Rome requires some thinking however, with the right tips, you can pack with confidence.
In this article, we talk about the best shoes for cobbled streets, the best walking shoes for Rome sightseeing and recommend the best footwear to pack for your trip to the Eternal City.
As an Amazon Associate I earn from qualifying purchases.
No time to read it now? Pin this for later!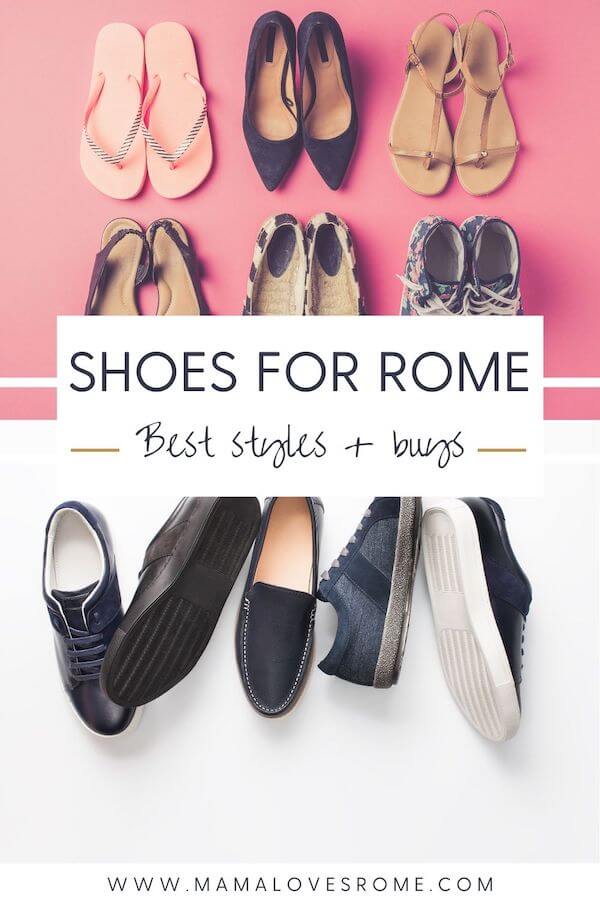 As an Amazon Associate, I earn from qualifying purchases
Please note: this post contains affiliate links and, should you make a purchase through them, we might make a small commission at no extra cost to you
How to pick the best shoes for Rome
In the second part of this article, I will list the best shoes for Rome that you can buy on Amazon however, it may well be that you have the right type of shoe already in the house.
When deciding what shoes to pack for Rome, have a look at your shoes and:
Choose rubber soles
Rome streets, both those with cobbles and those without, make for a very hard step that can cause strain on the foot and the knee.
The best way to prevent this from happening is by choosing shoes with a rubber sole that hels mitigate the impact of the foot on the asphalt.
The best one are thick enough to offer good cushioning but also flexible enough to somewhat adapt to your foot: a good walking shoe bends at the ball of the foot rather than along the arch, so this is something worth checking when buying a new pair or when packing tour bag with shoes not tried and tested yet.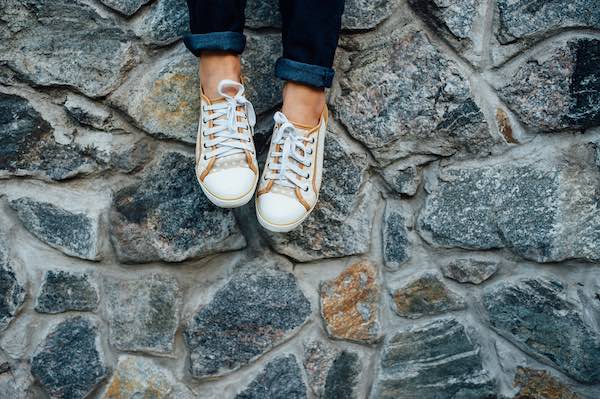 Rubber sole shoes are also the best for rainy days.
Cobbles especially get very slippery when wet and this can pose a risk. While you need to pay attention no matter what shoes you wear, a good grip rubber sole will go a long way to help you stay grounded. Literally!
Pick supportive shoes for foot arch and ankle
When walking on pavements, it is important for the arch f your foot to get support or you run the risk of getting into a wrong position that can hurt your arch and, farther up, even your knees.
Opt for shoes that have a sole with some arch support or consider putting a supportive insole into flat sneakers you already own.
This is the easiest and cheapest way to make your shoes Rome-proof!
Choose shoes with no heel, low heel or wedges
Rome, like Italy, evokes images of fashionable ladies and indeed, people do dress well here (if I say so myself!). However, this doesn't mean women in Rome wear high heels or at least, very high ones are rare.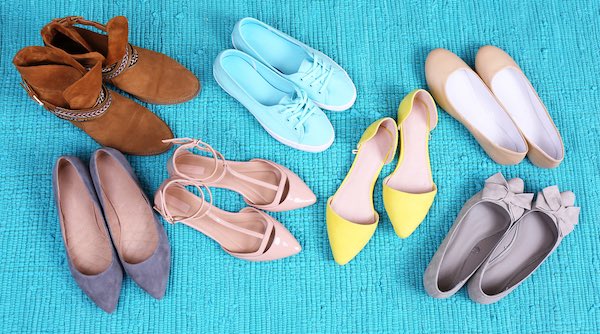 Rome pavements are very uneven and full of holes and steps and narrow heels do not last long. They are dangerous and miserable to wear when sightseeing and unnecessary if going out at night, even to a stylish restaurant.
However, this doesn't mean that you cannot wear any type of heel.
If you want to feel and look stylish when going out at night, for instance, you can opt for wedges or slightly chunkier, boxier heels, which are the type of heels Rome women wear the most.
To know if your heel is suitable for Rome is easy: anything so narrow to possibly get stuck and snapped on an uneven payment should stay home.
Save the flip flops for the hotel pool or the beach
One of the questions I receive more often when it comes to picking the best shoes to pack for Rome travel is about flip flops.
Are flip flops good for walking in Rome? And can you wear flip flops at the Vatican?
I always respond the same way: you can wear flip flops in Rome but I highly advise against making them your sightseeing footwear.
Flip flops do not offer sufficient support to the foot and do not protect your feet from the, often, very dirty Rome streets.
Also, Romans and Italians consider flip flops beachwear, not city wear, and more stylish establishments may take exception to them.
If you are visiting the Vatican, there is technically no rule against them however, I would urge you to opt for different footwear.
The Vatican museums require a lot of walking, which again requires shoes with support, and they are so crowded, they expose your almost naked feel to almost certain injury.
If you are fond of flip flop style shoes, I recommend you go for a compromise and go for minimal yet supportive sandals so you are comfortable but safe.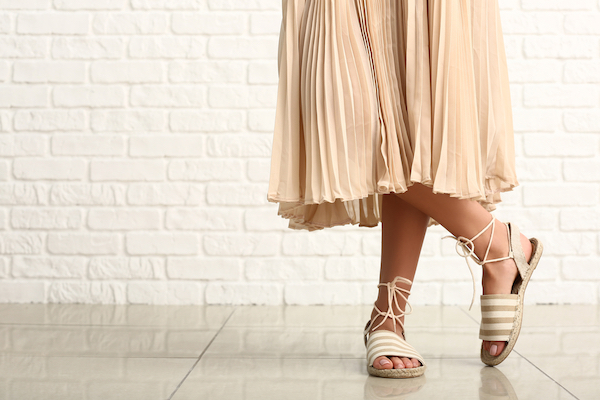 The best shoes for Rome in winter
Rome winters are a mixed bag when it comes to weather, the last one being so mild it felt like spring the one before so cold it brought snow!
So when choosing the best shoes for Rome in winter, versatility is key.
In general, winter in Rome is not the time for sandals or light ballerina shoes but rather for ankle boots, full boots and rainproofs runners.
These are some of my favorites
Ankle boots
Ankle boots are very versatile and popular with Rome women.
You can wear them with trousers and skirts and they will protect you from the rain and ankle strains.
Depending on how used you are to walking with a small heel, you may like a model like this one or this one: very versatile and stylish.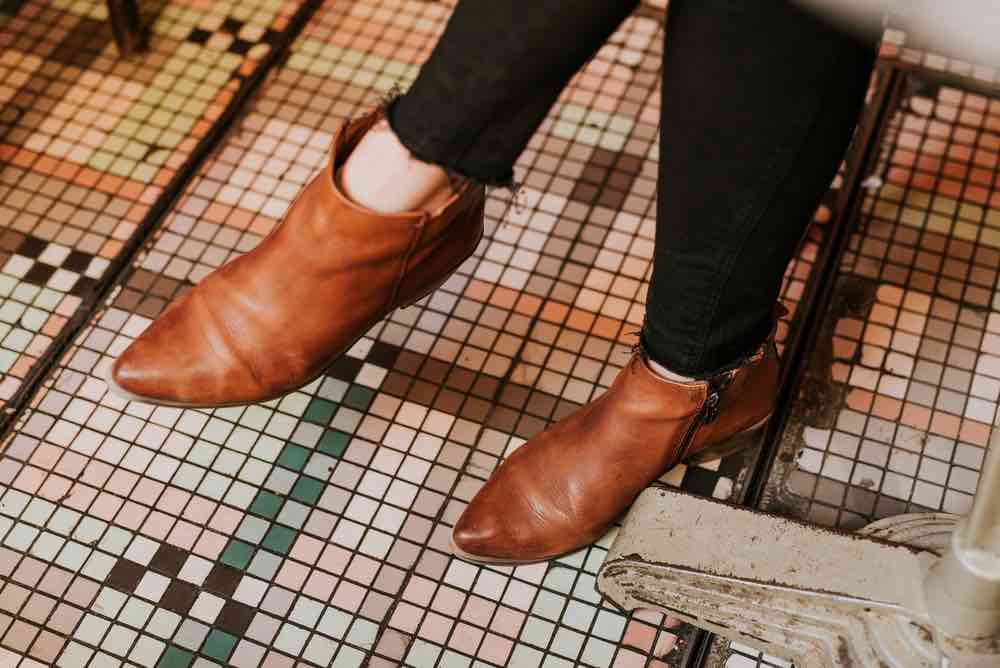 They are also perfectly acceptable footwear to go out in the evening, especially if you choose sober colors such as black or dark brown (but don't be shy of you have fashionable red ones or similar: Rome is great for fashion statements: fashion here can be fun!)
They come in a huge variety of colours and heights and they may well be the only shoe you will need in Rome in winter.
Teva Chelsea boots, Blondo Waterproof ankle boot and Camper ankle boots all make stylish walking shoes I love.
They are great for walking as they manage to offer support and protection without being too hard on your talon and ankle, something cheap ankle boots often fail to achieve.
These are also styles that manage to keep you comfortable and allow you blend in with the local style.
If you don't like shoes that go up the ankle, loafers are also a great alternative as they can easily work for walking and combined with a casual dinner dress.
Tall boots
Tall boots came back into fashion in Rome many years ago are still going strong.
They offer great protection from the weather and they work with day and night outfits, which means they can easily be the only winter shoe you bring to Rome, saving you a lot of packing space.
My favorite are soft ones that will not rub at the ankles if worn for long hours and that have a sole with a bit of grip, so you don't slip. I find Clarks, Teva and Blondo all good brands for city walking boots.
Make sure you bring boots that can take the rain, so avoid suede or anything that can get ruined with water: in Rome, in winter it rains and when it rains, it pours!
Tip: When I travel with winter boots only, I always make sure I also throw in a pair of foldable flats. While you are unlikely to wear them outside, they are perfect when you feel like wearing something lighter for instance in your hotel bar or restaurant. Boots, even good ones, can feel heavy if worn exclusively
If you want to get good leather Italian boots in Rome, have a look at my recommendations about where to go shopping in Rome here.
Stylish sneakers
Stylish sneakers are exceptionally popular in Italy and a wonderful type of shoe for walking and sightseeing in Rome.
They are the go-to shoe for the young and, inappropriate colors and shapes, are now widely accepted as footwear for pretty much all generations.
The ones to go for are the fashion ones rather than running ones. In winter, favor those that will keep you warm and avoid those made of a material that can get ruined in the rain.
You can find those in the photo above here
You can find the sneakers in the photo above here.
Runners are brilliant on Italy's hard cobbles but they do not usually stand the rain so in winter it is wise to bring a second pair should you find yourself soaked or facing a full day of rain showers.
New Balance are great, especially for narrow feet. I am also fond of Adidas memory foam shoes, my go-to shoes for walking long hours.
The sneakers in the photo above can be found here
The best shoes for Rome in summer
High temperatures in Rome in summer will make you want to reach for sandals and the best ones to pack are those that come with a rubber sole and cushioning for walking.
Finding comfortable sandals can be a challenge: the prettiest ones often have many straps and laces and while they do look very 'Italian', they can also cut into your skin and become literally a pain to wear.
Sneakers, ballerina flats or sandals: what shoes to pack for Italy in spring and summer?
Best sandals for walking in Rome
Good walking sandals will be your best friend in Rome in summer.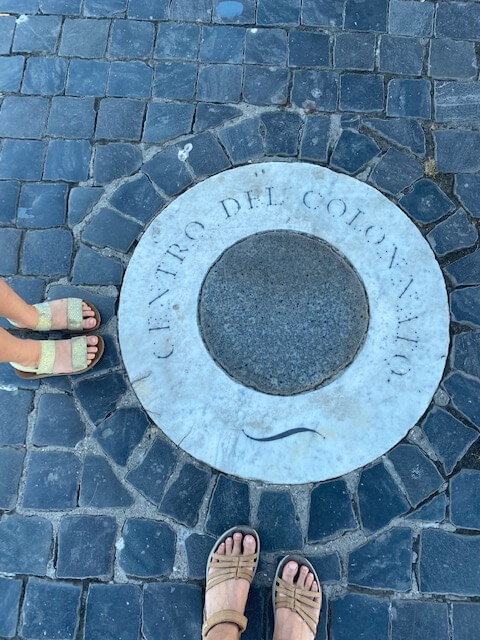 The best ones have cushioned soles and low heels or a wedge, at most, for a more dressed up look.
Some of my favorite walking sandals brands are Ecco Damara, versatile and comfortable, closed toe sandals, which I love for the cute look and the extra protection, Teva, my go-to walking sandals (I love the swede one, more stylish), and Sketchers.
I have Sketchers Cali Wedges and find then really comfortable (I don't usually love high heels)
I got them two years ago and they have been one of my best purchases to date. Great for walking and versatile, they bring you from day to night and are super comfy.
The best shoes for a trip to Rome in spring and fall
Sping and autumn in Rome are the seasons when you find yourself walking the most, the weather is the best for prolonged sightseeing.
Just make sure you bring more than one pair should you get caught in the rain and in need to dry shoes overnight.
These are my go-to shoes for Italy in spring and autumn.
Breathable sneakers and slip on sneakers
Breathable, lightweight sneakers are perfect for walking all they.
They tend to have a sporty, casual look so they are not as versatile as ballerina flats, however, they are so comfortable and good for walking, you may be able to have them as your only pair of shoes in midseason.
If you prefer a casual but not overly sporty look, slip-on sneaker shoes are also a good option as they mix the comfort of a comfortable walking shoe with a more urban and sleek look thanks to the lack of laces.
If you go for sneakers, make sure you opt for fashion ones rather than full on running models and make sure you pick models that offer good support.
Superga and Converse, for instance, are popular brands in Italy but do be careful if planning on wearing them for all-day walking: they are very flat and offer poor support: consider a supportive insert and test it at home if you are planning on packing this type of sneaker.
Spring and autumn usually are not seasons for sandals however, early September and late May may well bring the occasional very hot day when open shoes are a plus. In that case, it can be handy to bring with you flip flops for the occasional stop in the park.
I hope you enjoyed our selection of favorite travel shoes for Rome to add to your packing list! Safe travel planning!