Heading to Rome at Easter and wondering what to pack? Take the guesswork out of your packing efforts with this guide: find out what to wear in Rome in spring to be appropriate, comfortable and stylish at all times.
Spring is one of the best times of the year to visit Rome.
After a humid winter, spring in Rome announces itself with a triumph of plum and cherry tree blossoms, restaurants start opening their terraces and locals shed their heavier layers, ready to soak up the bright yer gentle sun.
However, this is not to say that spring in Rome is always idyllic and you are guaranteed good weather.
Like in so many other parts of Europe, spring in Rome is also a season of sudden weather changes and to make sure you are not caught unprepared during a long day out sightseeing, some preparation is needed.
In this post, I answer the most common questions about packing for Rome in spring and will give my best practical advice on what to wear in Rome in spring to be comfortable, appropriate when visiting churches and not look like a tourist (at least, not too much to attract the wrong type of attention!)
When is spring in Rome?
According to the astronomical calendar, spring in Rome starts on the 20th of March (Spring Equinox) and finishes 3 months later, on the 21st of June (Summer solstice), when summer starts.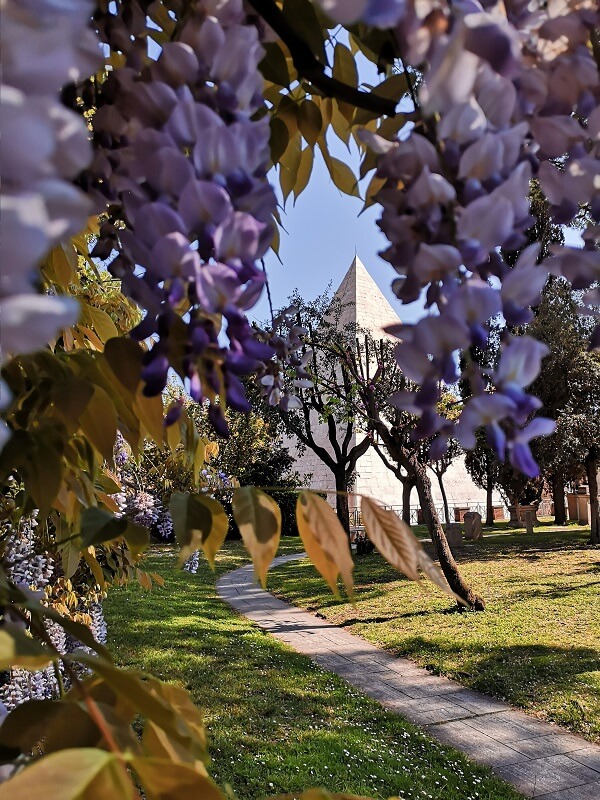 However, if we look at spring in practical and packing terms, this definition only comes in handy to a point. In reality, Rome sees the beginning of what many would consider spring temperatures as early as mid February and starts getting hot and summery in early June.
Because of this, for the purpose of this post I am going to cover not just 3 months but 4 and will consider spring in Rome to be from early March to the end of June.
How hot is Rome in spring?
Rome in spring usually sees warm but not scorching hot temperatures. The thermometer raises steadily between March and the summer and in general you can expect sunny days, with week peppered by the odd rain shower.
When packing for Rome in spring, your are unlikely to need heavy coats or sweaters but don't rush packing your shorts quite yet.
While during the day you will be most likely find yourself wishing you had more skin exposed, in the evening the temperatures can fall dramatically and you will want to have a light jacket and closed shoes.
These are the official temperatures in Rome in spring:
| | | |
| --- | --- | --- |
| Spring in Rome / months | Temperature High /Low | Average rainy days |
| March | 16C / 6C | 7 |
| April | 19C / 8C | 8 |
| May | 24C / 13C | 5 |
| June | 28C / 17C | 3 |
What to wear in Rome in spring: style tips
If you want to blend in with the locals while visiting Rome in spring, here are some tips.
What colors to wear in Rome in spring
Spring in Rome is a time for neutral and pastel colors. At this time, opt for beige and light brown for tops, jackets and shoes and embrace colors such as light pink and taupe.
Dresses and skirts in Rome: rules for churches
At this time you may want to reach for a dress or skirt but if you want to blend in, bring tights. Bare legs in any season but the height of summer are a clear giveaway that you are a tourist!
While not frowned upon as such, if you want to blend in consider lightweight, skin colored tights – they are very common in Rome and good quality ones look actually OK.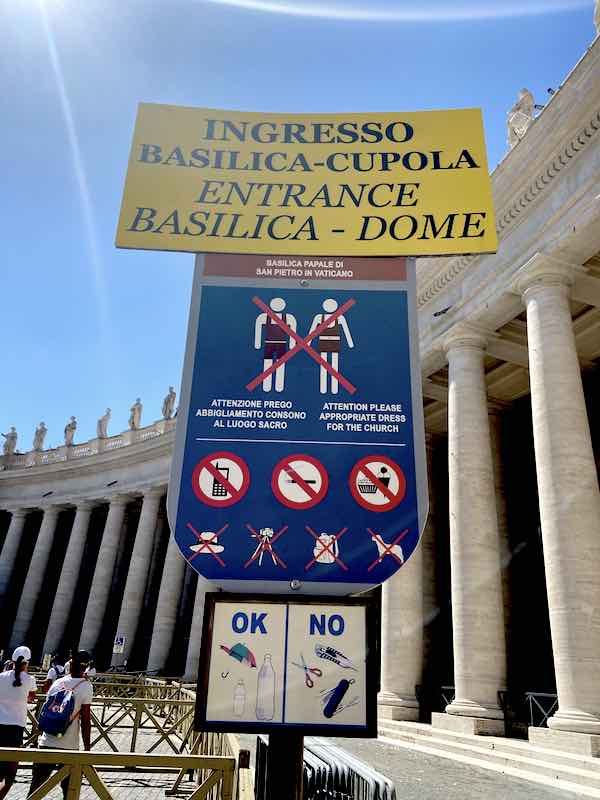 The biggest thing to consider when opting for a skirt in Rome is its length.
Around the city, you can wear pretty much whatever type of skirt you want (although Italy is more conservative than other European countries so very short skirts are not common) but if you want to visit churches, then you need to follow some rules.
For religious sites and St Peter basilica in particular, make sure your skirt is below the knee. While not enforced in all churches, this dress code is in place especially in the big ones and Rome's main basilicas (St Peter, St Giovanni etc)
Can I wear sneakers in Rome?
One of the craziest pieces of advice I see on the web about what to wear in Rome is that you cannot wear sneakers. This is absolutely mad and not true! At least, not for all ages.
Romans are sensible more than anything else and sneakers are very common and very acceptable in a city where feet are the transport of choice and cobblestones ubiquitous.
What you want to actually avoid in Rome however are sport runners or those types of sneakers that are made for the gym rather than for walking (you know the type: high sole, fluorescent colors etc).
The sneakers you want to wear in Rome are fashion ones, new balance or vans style.
Travelers over 50 however, may want to avoid sneakers as indeed this is not the type of shoes Rome women or men wear.
For this age bracket, the best choice are good walking shoes in the style of Ecco or Camper, which give a smart casual touch to your look.
You can find an excellent list of great walking shoes for Italy here
What to pack for Rome in spring: essentials
One medium / light jacket
One medium / light jacket. For this season, I love puffa style jackets which occupy little space in your bag and still keep you warm. Unless you are used to very warm temperatures back home, you are unlikely to need a full winter coat at this time.
A stylish scarf
A scarf is my must have in Rome in all seasons and one you will need in spring especially in the evening. As well as being useful to protect you from sudden drops in temperatures, it is an item Rome women love and a great fashion statement. Bring a few in different colors for maximum style impact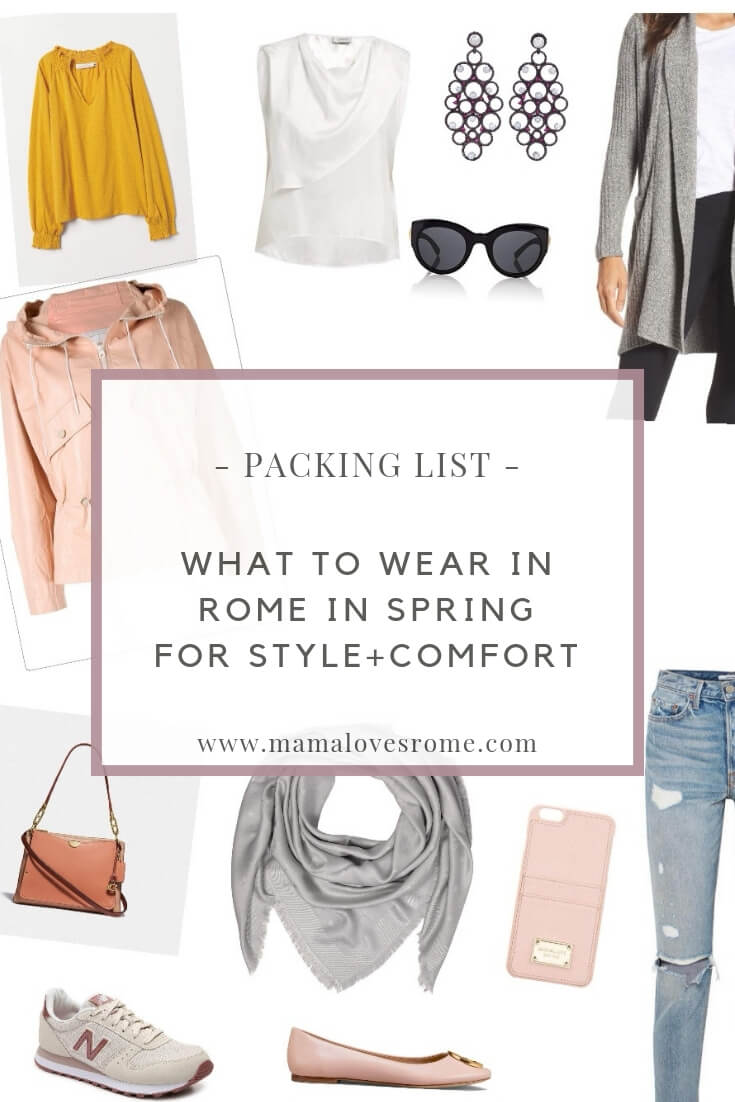 A cross body bag
The best type of purse to have in Rome is a cross body one that you can keep close to your body and with space for all your essentials
A paper map
Despite claims of wifi being everywhere in Rome, this is not at all the case. if you don't want to drain your phone battery with constant checks on google maps, equip yourself with a good paper map to navigate the city at best
A pocket Italian dictionary and phrasebook
Pocket Italian dictionary or phrase book.
Italians usually understand English (not always) but a little effort goes a long way. Aside from basic politeness, a phrase book can come in handy if you need to communicate with owners of smaller establishments or with any official authority
Good walking shoes
These are the one item you need to get right in Rome.
You are going to do a lot of walking in the city and you must keep yer feet protected from the charming yet exhausting cobblestones of the city.
Go for rubber sole, closed shoes for spring and only bring sandals if very late in the season or if you don't mind changing mid walk when the temperature drops.
You can find my recommendations on the best walking shoes for Rome here.
Tech essentials
In all seasons, don't forget your phone, charger, camera and adapter for Italy. Bring a spare battery with you if using your phone for photos or maps as Rome will give your charge quite a workout!
Cash
Without going overboard, always make sure you have some cash on you while in Rome. Larger hotels and restaurants accept credit cards but many smaller establishments do not and using cards for small purchases is usually a no- go (you cannot buy a few euro of gelato by credit card for instance).
Opt for small to medium notes and try avoid 50 Euro note or bigger: shops are not happy to break them up for you and you will find yourself stuck when trying to make a smaller purchase
Documents
A little bit like for cash, you want to strike a balance here between what is necessary to have and what is safe.
While you do not want all your documents on you, in case you lose them or they get stolen (not as common as the web suggests but it does happen in Rome), having ID on you at all times is compulsory in Italy, so make sure you are not caught unprepared if asked by the authorities.
Fashion accessories
Rome women love accessories. Opt for colorful necklace, earrings and sunglasses to immediately give a touch of class and color to your everyday outfit
A refillable water bottle
Rome has many drinkable water fountains providing delicious fresh water.
Bringing your own water bottle means you can save money avoiding having to buy bottles and you will help the environment immensely as well as helping reduce one of the biggest problems in Rome: rubbish disposal.
What to pack for Rome in March
Aside from general items above, this is what I recommend you pack for Rome March.
The saying goes 'Crazy March, the sun comes out? you take the umbrella' (In Italian: Marzo pazzerello, esce il sole prendi l'ombrello') and indeed, March in Rome is a changeable, unpredictable month.
The beginning of the month still sees residues of winter and especially in the evening you will want to wrap up well, while during the day you are likely to want to take your jacket off and, if very lucky with the weather, possibly even your sweater, for a short time.
When packing for Rome in March, make sure you have:
Light jacket
Scarf
Short sleeve tops
One long sleeve top for layering
Cardigan
Jeans / long trousers
Skirt and tights
Closed toe, walking shoes
Sunglasses
Sunscreen
Your basics (underwear, socks, toiletries etc)
A travel umbrella
Find here >>> my full packing list for Rome in March
What to wear in Rome in April
April is mild in Rome but it is also a month with frequent rain showers. Is packing for Rome in April, make sure you have:
A lightweight jacket
A light scarf
Short sleeve tops
Cardigan
Jeans /trousers
Skirt and tights
Travel umbrella
Closed toe shoes
Sunscreen
Sunglasses
Everyday essentials (underwear, socks etc)
Find here >>> my full packing list for Rome in April.
What to wear in Rome in May
May can be properly warm in Rome and you want to be ready with light clothes.
At this time, neutrals tend to leave space to more colorful fashion choices so if you love colors, this is your time to express yourself fully!
This is my lisy of what to pack for Rome in May:
Sleeveless and short sleeve tops
A light cardigan
Light large scarf (also to wrap around your shoulders if visiting churches)
Jeans / Trousers
Mid season dresses /skirt
Sunscreen
Sunglasses
Everyday essentials (underwear, socks, pajama etc)
Sun hat
Closed toe shoes and sandals
Find here >>> my complete packing list for Rome in May.
What to wear in Rome in June
June is usually a warm and dry month. The beginning of the month especially sees a rise in temperatures, then mid month tends to see a small drop again to then see a steady ride towards scorching hot July.
When packing for Rome in June, make sure you include:
Short sleeve tops and spaghetti straps tops
A light scarf to cover your shoulders when visiting churches
Light trousers (linen etc) / skirt / shorts
Good walking sandals
Sun screen, sun glasses, sun hat
I hope you found these tips on what to wear in Rome in spring useful. Safe travels!