All you need to know for a trip to Rome in December. What to expect from the weather, what to pack and all you need to know about Rome at Christmas
December is a wonderful month to visit Rome.
At this time, the weather is cold but it is also often bright and crisp, city life is in full swing, offering exhibitions, theater and concert galore and the city has a wonderful local feel.
Also, the lead up to the Christmas festivities means great shopping opportunities and seasonal activities!
However, Rome in December can also be frustrating for visitors.
While the beginning of the month is usually quiet and mostly low season, once you hit Christmas weeks things change.
Rome at Christmas is wonderful but really jam packed with people.
The experience of Rome you will have if you came in early December or over the Christmas weeks is very different: in this guide, I give an overview of what to expect during December in Rome.
You can find more specific information about Christmas festivities in Rome in my article about Rome at Christmas
This article is part of our series 'the best time to visit Rome' – 12 monthly guides to the Eternal City.
Rules for traveling to Rome in December 2022
Entry rules to Italy and access rules to Rome attractions, restaurants and cultural venue are subject to constant updates by Italian Health Authority.
The best way to keep up-to-date with the rules that can affect your trip is to keep official websites handy and check regularly for news.
Important: For official information and travel advisory that may affect your ability to enter Italy, please refer to your Government travel advisory. Check here for official info if traveling from US, Canada, UK, Ireland, Australia, New Zealand.
Please note: this post contains affiliate links and, should you make a purchase through them, we might make a small commission.
Weather in Rome in December
December is a winter month in Rome.
The average temperature in Rome in December is 9C/49F with a range from 15C/59F to 4C/39F degrees.
Usually, you have about 9 days of rain in Rome in December although recent weather patterns are making this a lot harder to predict. Overall, however, being ready for rainy days is important.
In December, you can expect short daylight hours and long evenings, so this month is ideal for visitors who want to enjoy museums and restaurants more than the outdoors.
Despite the short hours of daylight however, December can be an exceptionally bright month.
Some of my favorite photos of Rome were taken in crystal clear December blue sky days!
What to wear in Rome in December
December is chilly in Rome, rather than cold, but it can be humid so the best clothing for Rome at this time is full winter attire.
Find here >>> my complete packing list for Rome in December.
If you are traveling to Rome in December, it is important to pack:
Face mask (currently compulsory both indoors and outdoors)
Good walking shoes (find here >>> my list of recommended shoes for Rome), closed-toe and waterproof. I recommend two pairs should one get soaked and not dry overnight: sneakers and ankle boots or full boots work well in this season. You do not need lined boots.
Socks and/or tights
Long trousers/pants
Short sleeve tops (for layering)
Long sleeve tops
Cardigan / woolen sweater
Winter coat
Scarf, gloves, hat (Rome is humid and feels much colder than the temperature suggests)
Small umbrella
You do not usually need a thermal layer
A nice outfit if visiting over the Christmas season and planning on a nice dinner or night out. Rome is not overly dressy but a sparkly top for women and a blazer and shirt for men will make you feel comfortable if dining out during the festive season.
Festivities in December in Rome: need to know
December is an important month in Rome and even more in the Vatican City so it is important to be aware of closures and reduced opening hours that may affect museums, attractions, shops and restaurants.
Important dates to know for visiting Rome in December:
8th December (Immaculate Conception Day): this is a Catholic festivity and a date that marks the beginning of the festivities.
This is a day off for locals and it is usually the day when Christmas trees get decorated.
The most impressive one is in Piazza St Pietro (St Peter's Square) while the one in Piazza Venezia has seen mixed fortunes (see below!)
Shops are not usually closed on this day in the city center but you may find smaller businesses shut as this is traditionally a family day
24th December (Christmas eve): Christmas eve is a big deal in Rome.
This is when families gather for a pre-Christmas dinner and when many go to midnight mass.
On the 24th of December shops do close early and reservations for dinner are necessary.
In many case, restaurants will have set menus for Christmas dinner and prices may be higher than normal: make sure you plan for this meal in advance.
25th December (Christmas day): Christmas in Rome is traditionally a family and church day and this affects opening of attractions and shops significantly.
This is one of the very few days of the year when the Colosseum is closed (good to know: it is open on the 24th and 31st), the Vatican is closed (the museums, not the piazza nor the basilica) and also the Borghese Gallery
26th December (St Stephen's day). The 26th of December is still a holiday for Italians however, many attractions open again this day so you won't notice as much as Christmas day.
The big exception are the Vatican museums, closed on this day.
31st December (New Year's eve): New years eve is a normal working day for most of Rome and this means it doesn't impact much on your sightseeing.
However, it may impact on your dinner plans as many restaurants do not offer a normal service and may require advance booking and provide a special menu.
Make sure you book one you are happy with well in advance.
Traditional celebrations and gathering happen in Piazza del Popolo (careful, it gets very crowded)
The best things to do in Rome in December
December in Rome is an ok time for sightseeing but changeable weather will call for a mix of outdoor and indoor attractions.
Places I recommend you visit in December are:
Visit the Colosseum in December
If you get a slot in the middle of the day, a visit to the Colosseum in December can be a lovely idea.
Advance booking is mandatory and you can choose the date and time of your visit: in winter, I recommend you try secure a slot in the late morning (after 11 am) or early afternoon, to avoid the chilliest hours of the day.
The Colosseum area can get very humid!
The best value tickets for visiting the Colosseum are these ones, issued by the Colosseum management company itself, called Coopculture).
They offer several types of visit and the quality is high however, there is no flexibility with their bookings so I recommend you book only once you are sure the time and date is suitable.
If you need more flexibility, I recommend you check out our guide to the best Colosseum tickets here.
If visiting the Colosseum in December, especially towards the end of the month, wrap up as it can get chilly, especially if you go early in the morning or late in the afternoon/night.
The Colosseum ticket included access also to the Roman Forum and the Palatine hill.
I adore both the Forum and the Palatine however, especially the Palatine gets very cold this time of the year.
I only recommend visiting on a warmer day, in the hottest hours of the day or, at least, if well wrapped up!
You can find my guide to visiting the Roman Forum here.
Visit the Vatican in December
I cannot think of a better time to visit the Vatican than Christmas, especially the weeks leading up to Christmas day.
St Peters' square in December hosts a massive tree and Nativity scene, different every year, and it is always a magical, wonderful and touching sight (even if you don't have a religious background).
If you are going to Rome in early December this is also a good time to visit the museums.
The same cannot be said for the last week of the month: the crowds at this time are insane! Stick with the piazza and basilica only for sanity.
Make sure you get tickets in advance as there is no such thing as a truly quiet day there!
If planning a visit to the Vatican, I recommend you check out our free guides to the area:
All you need to know to plan a visit to the Vatican at Christmas
Tips for visiting St Peter basilica + highlights
How to visit the Vatican Gardens
What to see in Vatican City beside the museums
Explore Rome main piazzas and hidden gems
All Rome main piazzas can be visited this time if the year.
Head to Piazza del Pantheon, Campo de' Fiori, the Trevi fountain and the Spanish steps for a taste of Rome's most famous site but also but also check out smaller squares such as Piazza Mattei and Piazza Mincio for a taste of local life.
In December, Rome's local life is in full swing so as soon as you leave the most popular areas you will see the city's living and breathing heart.
Visit Rome churches
Visiting Rome churches is always a good idea but never as good as over Christmas, an exceptionally joyful and important time for Catholicism.
During the weeks leading up to Christmas, you will find churches regularly celebrating mass and services.
These may impact your ability to visit however, there are so many churches in Rome, if you cannot get into one, you will get into the next!
Some of the many churches worth seeking out are San Luigi dei Francesi (with a famous Caravaggio), San Pietro in Vincoli (with Michelangelo's Moses), Santa Prassede (incredible mosaics), Santa Maria della Vittoria and Santa Maria in Trastevere, but the list could go on!
You can find my list of the most beautiful churches in Rome here.
See the Borghese Gallery
The Borghese Gallery is indoors and perfect for a deep dive into art on a cold day.
The Gallery houses masterpieces by Bernini, Canova, Raffaello and many other art masters and it is one of the most beautiful museums in the world.
You can find info on how to visit the Borghese Gallery and best tickets here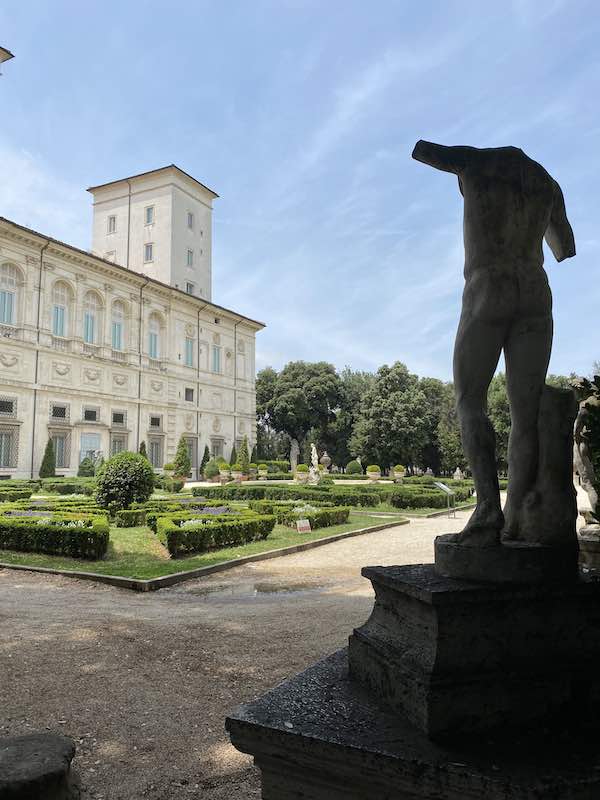 Visit Piazza Navona and its Christmas market (maybe)
Piazza Navona looks very different depending when in December you go visit.
At the beginning of the month, the square is a stunning vision of sculptor perfections, with masterpieces by Bernini and Borromini taking center stage in this old imperial stadium
In the second part of the month however, Piazza Navona hosts a Christmas market and fills up with stalls selling knick- knacks.
In the past, the market was wonderful however, in the last few years, it has been very hit and miss: it is worth knowing about it, but I feel like warning you it may not be quite like the holiday markets of your imagination.
Good to know! You can find lovely markets in Rome if you venture outside of the center and join more local events. You can find my selection of nice Christmas markets in Rome here
Visit Nero's Domus Aurea
The Domus Aurea is the lavish palace of Emperor Nero.
Build it in the I century AD as an over-the-top mansion, the Domus is now an archaeological underground dig but it is wonderful and incredibly interesting to visit.
In December 2021, the Domus hosts a special exhibition about Raphael: one extra reason to visit this stunning Roman archaeological site!
You can read my guide to the Domus Aurea and tips for visiting here.
Visit Rome's catacombs
The catacombs of Rome are an extensive network of underground tunnels dating back to early Christian times.
The tunnels are ancient cemeteries and they are very interesting to visit in terms of experience (you find yourself many meters under Rome!) and educational value.
You can only access the catacombs with a guide and the information and stories they share are unique!
In December, the catacombs are also a good place to escape the rain: just make sure you wrap up as they are rather cold!
Among the many, I love the catacombs of St Callistus the most. Get tickets here.
Visit Diocletian's Baths
Rome has two important ancient bathhouses from Roman times: Caracalla's Baths and Diocletian's Baths.
They are both wonderful however, in December, I prefer those of Diocletian's as they also have an indoor museum.
You can read my guide to Diocletian's baths here.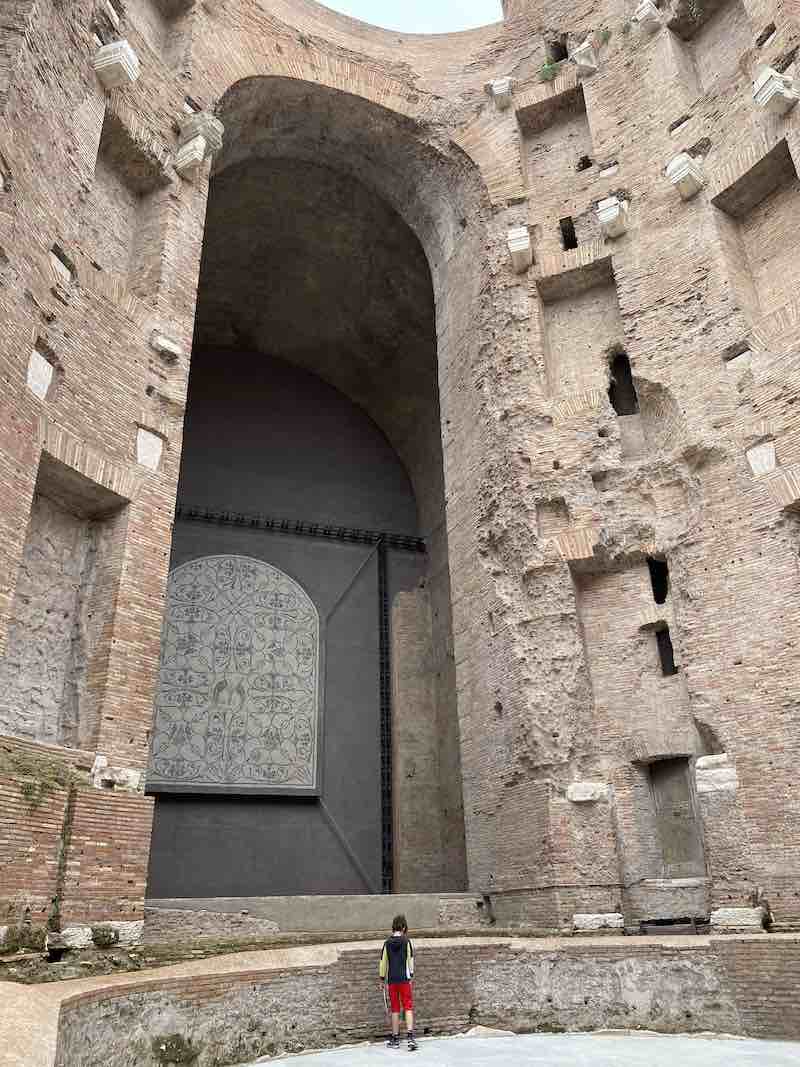 Admire the Torlonia Marble collection at the Capitoline Museums
December 2021 is the last month when you can admire the Torlonia Marble Collection, a wonderful collection of statues belong to the Torlonia family and only temporarily open to the public.
The collection is hosted in a wing of the Capitoline Museums: you can visit the collection on its own or, better, with a combined ticket that includes the whole of the museums.
I recommend this last option: the Capitoline Museums are among the best in Rome and they have some of the most important statues in Rome, including Marcus Aurelius, the Roman she-wolf and the dying Gaul.
Warm-up in a Rome enoteca (wine bar)
Rome may conjure up ideas of apertitivo in the piazza but in December, this is hardly ever a reality.
In Rome in December what you really want to do is warm in up in a cozy interior and this happens nowhere better than in a local enoteca, Rome's wine bars.
Enoteche in Rome come in all shapes and sized and usually are small establishments with small tables, dark wood decor and warming food.
Go shopping
Hoping for a spot of shopping pre-Christmas?
Rome will not disappoint: whether you are looking for Rome souvenirs, gifts for Rome lovers, fashion items or anything really, Rome has something for you.
You can find my guide to the best shopping in Rome here.
Have a hot chocolate at Rome's Chocolate factory
A wonderful way to warm up in Rome in December is with a cup of hot chocolate.
The best place for it is the wonderful SAID, Rome's Chocolate Factory which is delicious and very pretty too!
Go to the opera or a concert
Rome has a good opera and ballet program you can check here for December 2021.
Music lovers should also check out the program at Auditorium Parco della Musica, the wonderful Rome's concert hall
Go on a food tour
Rome's tasty and earthy food goes exceptionally well with the change of season. This is a wonderful time of year to take a food tour and taste it all!
These are food tours worth considering:
When you are in Rome in December, you must eat all that glorious Roman food and of course the more traditional Italian Christmas food! In this season I recommend:
Carbonara: warming and tasting and perfect for the slightly cooler weather of this season
Trippa, warming dish for the adventurous
Suppli, fried balls of rice with a melting mozzarella heart, a traditional Rome appetizer
Pizza, perfect all year round: find here >>> where to eat the best pizza in Rome
Panettone: originally from Milan, this is Italy's most distinctive Christmas sweet
Pandoro: the big 'rival' of Panettone, the country is divided between those who love one over the other and those of a different opinion! Taste both and the pick a side for a real Italian food experience
Panforte: another Christmas favorite, this is an Italian Christmas cake of fruit and nuts
Ricciarelli: chewy Italian almond cookies especially popular at Christmas
And what if you want gelato? You still can! While you want to tuck in a little less than in summer, gelato is available all year round and you won't stand out if you order one!
Go to an exhibition
Rome always have many exhibitions going on at any given time and December is a great time for museum going.
You can find here an up to date calendar of Rome events in December (In Italian, but the names and location are reasonably universal)
Go shopping
Rome is a wonderful shopping destination at all times but it is really special for shopping at Christmas! These are my favorite shopping streets for all budgets
December in Rome with kids
December in Rome with kids can be fun but only if you come over Christmas (or immediately before), when the festive spirit compensates for the limited choice of indoor options.
However, there are some child friendly things to do in Rome in December.
You can find here >>> a complete list of things to do in Rome with kids.
Take a pizza class
A fun, hands on activity for this that keeps you inside, entertained and well fed is a family pizza class. We took one with our kids one cold say in the winter and it was lots of fun.
You can book the same experience here
Go to Explora
Explora is Rome's children museum and it is a wonderful place to explore with kids or if you are in Rome with a toddler. In December, this is an exceptionally handy place to know for a rainy day or any time the weather doesn't seem suitable for extended hours in the park.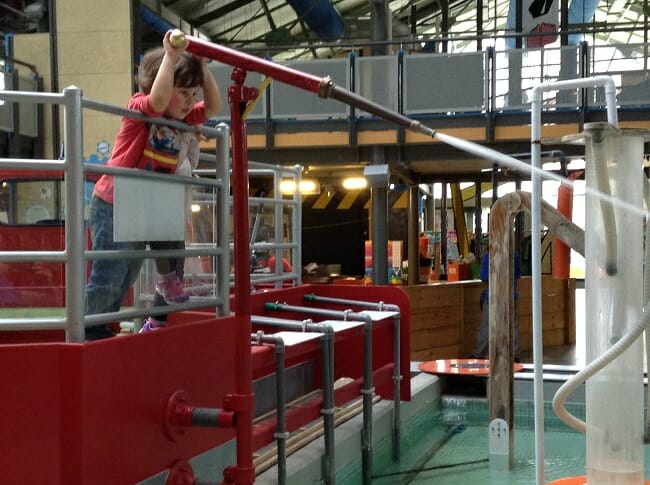 Take a mosaic class
A fabulous class I took with my daughter taught us to make mosaics in a stimulating, beautiful, immensely creative environment. You can read all about our experience here.
Go to a child friendly museum
While Rome only has one museum that is just for children, it also has several art museums that are children friendly. You can find a selection of those we enjoy the most as a family here
Seek out nativity scenes
Italy has a strong tradition of nativity scenes and Rome embraces them with several indoor and outdoor installations around the city.
The most impressive is the one in front of the Vatican but many appear in different parts of the city
Check out the Christmas Trees
Christmas trees make their appearance in Rome in early December and the process can be fun for kids to see (I know my toddler was enchanted by the big machinery involved!)
The best one to see is the tree in St Peter's Square but you will also find decorated trees in Piazza Venezia, near the Colosseum (this year this may be disrupted by current work going on in the area) and in other Rome piazzas.
Not all Christmas trees are as good as one another.
Notoriously, a couple of years ago Piazza Venezia had one that was so unhappy and skinny, Romans called it 'spelacchio' (= scraggy)!
If you are used to stunning Christmas trees back home, you may find Rome ones disappointing but they still work to make the city feel festive: just don't oversell the to kids and they are more a nice to see than a must-stop…
Go ice skating
A lovely ice rink pops up at the auditorium over Christmas: it is contained and beautiful, especially later in the afternoon with the lights shining over its peculiar structure.
A wonderful Christmas activity in Rome for kids!
I hope you enjoyed this overview of Rome in December. Safe travels!
Updated 2021