Essential visitors' guide to Prati, one of Rome's most beautiful neighborhoods. What to see, where to stay, where to eat.
The neighborhood of Prati is one of the original twenty-two rioni of Rome, a list it joined is 1929 as Prati, Rione XXII.
The Prati district is elegant and beautiful: located on the other side of the river Tiber from the historical center, it mixes residential streets and commercial ones and borders with Vatican City, which you can easily reach from here.
Prati is an area without major attractions and only sees tourists if they chose it as their base to visit Rome.
It is, however, a lovely neighbrhood and a great one if you want to go shopping in Rome.
It is also a great area if you love architecture as there are beautiful buildings here with early XX century architecture almost unique in Rome!
Please note: this post contains affiliate links. Should you make a purchase, we might make a small commission at no extra cost to you.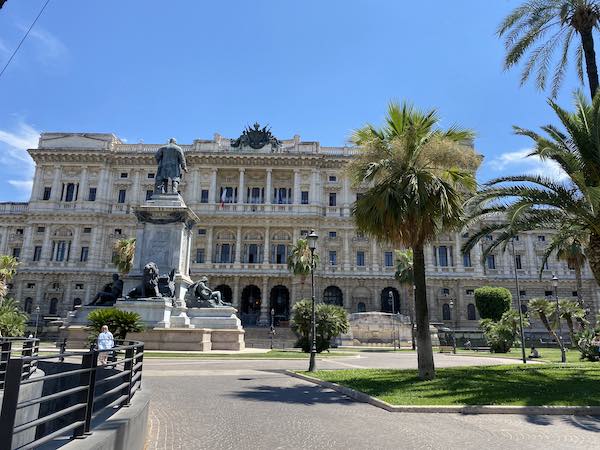 Rome' Prati neighborhood: look and feel
Prati is an elegant Rome district with residential buildings dating form the first decades of the twentieth century.
The area has some boulevards, with shops, restaurants and buses, and smaller, pretty streets with front gardens and a pleasant residential atmosphere.
The area is family friendly and it is also popular with professionals such as lawyers and doctors.
Overall, the area sits towards the wealthiest end of the spectrum when it comes to accommodation prices (rent, house prices).
However, it doesn't have that overly exclusive feel of let's say Aventino or Camilluccia.
This is a lovely area for anyone looking for an authentic, well served place in Rome to call home for a while.
Prati is also one of the best areas to stay in Rome for tourists who want to stay near the Vatican, albeit not all areas are as close to the Vatican to walk there.
Prati is rather large so if you are hoping for proximity to a particular landmark, when looking for accommodation, working with a map is of paramount importance.
Need to know! On the map, you will notice tow adjacent areas: Prati and Della Vittoria. In common parlance, these are effectively one area, bundles up under the name 'Prati'. In this guide, we consider Prati Della Vittoria as one district, stretching between the Tiber and Monte Mario.
The best things to see in Prati, Rome
Prati is not an area of famous historical landmarks. Instead, it is a residential / office areas with interesting buildings.
The best way to explore it is on foot.
Il Palazzaccio and Piazza Cavour
Il Palazzaccio (lit. the bad palace) is the local name given to Italy's highest court: Corte di Cassazione.
Located on the quay of the Tiber on one side and overlooking large Piazza Cavour on the other, Il Palazzaccio dates from 1888 -1910 and is an elegant, imposing building.
Its architect, Mr Calderini, wanted it to be a 'temple to Justice' and designed it to evoke a sense of power and order.
The palace is covered in travertine and is decorated with many statues and sculptures, not entirely dissimilar from the symbols present on Vittoriano, also from the same era and also built to celebrate newly unified Italy.
Il Palazzaccio overlooks the Tiber on one side and Piazza Cavour on the other, a large, monumental square with services and cafes.
Chiesa del Sacro Cuore del Suffragio
Chiesa del Sacro Cuore del Suffragio is one of the most peculiar churches in Rome.
Located on the bank of the Tiber, this small church has a striking gothic-style facade, unique in the city, and houses one of the most unusual museum you can find in Rome: the Museum of the Souls of Purgatory (Museo delle Anime del Purgatorio).
This small museum is a collection of objects and memorabilia said to retain 'proof of the existence of Purgatory'.
Here, you find bibles with finger prints, said to be of souls in purgatory trying to communicate with the living and other such signs, forming a truly peculiar collection!
This is one of the most unique places in Rome and attracts curious visitors especially around Halloween.
Address: Lungotevere Prati, 00193 Rome
Via Cola di Rienzo
Via Cola di Rienzo is one of the main roads crossing the Prati neighborhood and it is famous for being a great shopping destination.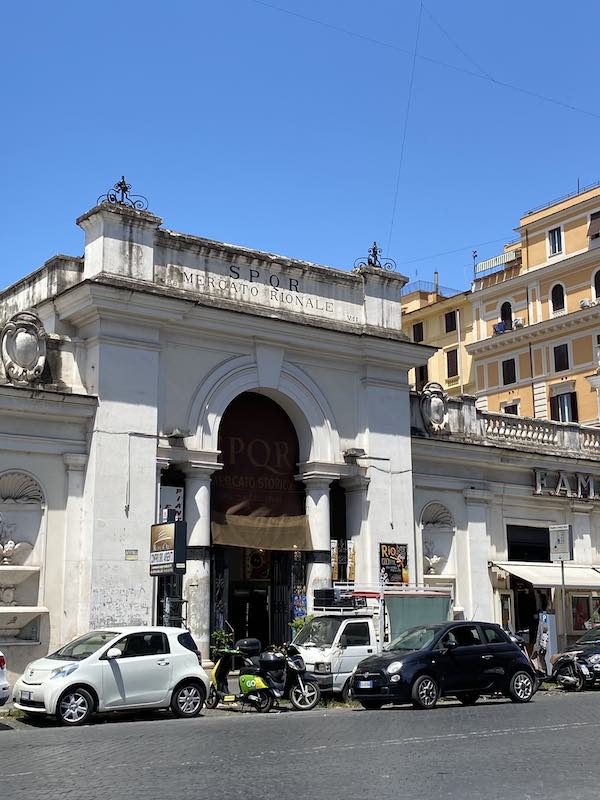 A large road, Via Cola di Rienzo is flanked by rows of shops ranging from big brands to independent boutiques and it is popular for fashion and food shopping.
As well as Italian and international brands, you find gourmet shops such as Castroni, famous for its delicacies, and several pretty cafes with outdoor tables
Fun fact! This is one of the first areas to have embraces outdoor cafes in Rome!
While outdoor terraces are now ubiquitous in Rome, for the longest time they were rather rare in the city.. except in Prati!
Prati neighborhood markets
Prati has some good produce markets, popular with many locals for grocery shopping.
Popular ones are:
Mercato dell'Unita' – Piazza dell' Unità, Via Cola di Rienzo, 53, 00192 Rome. and
Mercato della Vittoria – Via Sabotino, 4, 00195 Rome.
Pretty architecture
The Prati neighborhood dates, in large part, to he beginning of the XX century and has some lovely architecture, typical of that time.
Era-specific details are visible in many of its houses, characterized by turrets, balconies and charming decorations and tie this area an unmistakable upscale yet charming feel.
Casa Museo Balla – Museum
Newly opened Casa Museo Balla is the residence of artist Giacomo Balla, now turned museum.
The house is managed by the MAXXI Museum (Rome's Museums of the Arts of the XX century) and it is a work of art in itself, interesting for anyone with a curiosity about Futurism. Find info and tickets here.
Balloon Museum – temporary exhibition
The Baloon Museum is a temporary exhibition in Prati entirely devoted to balloon art.
This is a lovely place for kids who find here cool and interactive balloon installations, balloon art and an outdoor area for an afternoon mixing visual stimulation and fun.
Close to it, there is a local playground perfect for meeting local kids and a small break.
Address: Viale Angelico, 52, 00195 Rome Info and Tickets here.
Most important piazzas and streets in Prati
Prati is a large neighborhood. For orientation, the main streets and piazzas you should know are:
Piazza Cavour – close to the Tiber and Castel Sant'Angelo
Piazza Risorgimento – beside the Vatican, also serves as tram terminal
Piazza Mazzini – large piazza to the northern side of the district
Via Cola di Rienzo, Viale Giulio Cesare, Viale delle Milizie: three large parallel roads crossing the area from the Tiber towards Vatican City.
Where to stay in Prati
If you are thinking of staying in Prati during your Rome vacation, I recommend you opt for locations either close to the Tiber or close to the Vatican.
Some addresses you may like are:
Orazio Palace hotel (4 stars) – modern hotel with beautiful rooftop terrace in a good position for sightseeing. Family rooms available.
Le Meridien Visconti Rome (4 stars) – modern hotel with terrace close to Castel Sant'Angelo and a short walk from the Vatican
Where to eat in Prati
Prati is a large neighborhood with too many good restaurants to list!
I do, however, have a couple of places that I consider my go-to:
Il Sorpasso – Lovely, delicious restaurant with indoor and outdoor tables close to Piazza Risrogimento and the Vatican. Good quality ingredients and good service.
Address: Via Properzio, 31/33, 00193 Rome
I Gracchi – my favorite gelato shop in Rome!
Address: Via Dei Gracchi 272, 00192 Rome
Pizza Dai Cinque (pizza by the slice, take out) – lovely crispy crust, many topping and just that right balance between taste and lightness. One of the best pizza places in Rome!
Address: Via Cicerone 76-78, 00192 Rome
What to see nearby
Close to the Prati district, you find:
Castel Sant'Angelo – the ancient Mausoleum of Emperor Hadrian, then turned Papal Fortress and now museum
The Vatican – no need for introdution to Vatican City, St Peter's and its marvels
Borgo – pretty neighborhood with charming streets, connecting the Vatican with the river
Piazza del Popolo – on the other side of the river, this is one of Rome's biggest and most famous piazzas, getaway to the city center.
I hope you fond this very quick overview of the Prati neighborhood useful. Safe travel planning!