All you need to know about Borgo, charming Rome neighborhood between the river Tiber and the Vatican.
Borgo is a small, beautiful Rome neighborhood stretching between the banks of the River Tiber to Vatican City.
One of Rome's historical rioni, Borgo is often described as a sort of anti-chamber to Piazza San Pietro and indeed, it is hard to ignore the presence of Vatican City, towering above this area.
However, Borgo is more than a walk-through area.
This lovely district has pretty streets, fascinating stories and some stunning attractions, including one of the most impressive sights in Rome: Castel Sant'Angelo.
In this essential travel guide, we look at the best things to see in Rome's Borgo and tips for visiting.
Please note: this post contains affiliate links. Should you make a purchase though them, we might make a small commission, at no extra cost to you.
The nighborhood of Borgo: where it is + how to get there
Rione Borgo stretches between the Tiber River and the outer perimeter of Piazza San Pietro.
On foot, you can reach this area from Rome city center by crossing beautiful Ponte Sant'Angelo, one of the most beautiful bridges in Rome.
You can also reach this area by bus or tram.
Buses stopping in Borgo include 32, 40, 62, 492, 913, 982 and tram 19
A very quick history of Borgo
The area we know now as Borgo was already used in ancient Roman times, when it was called Ager Vaticanus (Vatican's field), part of the Regio XIV Transtiberim.
At the time, the area was mostly used as burial ground, which explains why both St Peter and Emperor Hadrian have their resting place here.
During imperial times the whole district started growing as a residential area and acquired bridges to the other side of the river.
However, its location outside the Aurelian Walls meant the area stayed unprotected and, in Medieval times, often suffered raids and attacks.
In 852, Pope Leo IV built new walls and moved to this area several families, effectively creating a new town called Citta' Leonina.
In 1586, Pope Sixtus V made it again part of Rome and made it one of Rome's Rioni: Borgo Pio, Rione IVX.
The next important event in the history of Borgo happened in 1936.
That year, Mussolini's government started an urban reorganisation project aimed at creating Via della Conciliazione, the large road we see today, leading from the Tiber to St Peter's Basilica.
The project was part of a large urban restructuring idea that wanted to create large traffic arteries across the city.
Closer to the Colosseum, this meant the destruction of many ancient areas and, in Borgo, meant the demolition of many streets and houses and the relocation of its inhabitants to the district of Garbatella.
Today, Borgo is a nice area with pretty streets, nice restaurants and a small village feel, especially along the street of Borgo Pio, one of the most characteristic of the area.
The best things to see in Borgo
Castel Sant'Angelo
Castel Sant'Angelo is Rome's only castle and a unique attraction in Rome.

The castle originated as the tomb of Emperor Hadrian, who wanted it built t as a mausoleum for him and his successors in the II century AD.
However, the castle went through many uses, over time: as well as a tomb, it served as a fortress and as a residence for Popes, who d to it bastions, turrets and beautiful art.
Because of this constant change in use, Castel Sant'Angelo offers a unique opportunity to tap into the y layers of Romes' history.
During a visit, you can still see the ancient structure, admire the typically medieval bastions and marvel at the stunning renaissance art and architecture of this fantastic place.
Not to be missed are also the top terraces of the castle, among the most striking viewpoints in Rome.
Read here >>> our visitors' guide to Castel Sant'Angelo
Passetto di Borgo

Passetto di Borgo is the secret passage that connects Castel Sant'Angelo with the Vatican.
The passage serves as a safe escape route for the Popes in case of attack to the Vatican and allowed them to swiftly reach Castel Santangelo, better equipped to withstand an armed attack.
Passetto as we see it now dates from the XIII century and historical sources attach it to the name of Pope Niccolo' III, who wanted it covered.
However, the origins of the passage seem to be much older and possibly connected to an event as ancient at the attack on by Totila in the IX century AD.
Passetto is currently closed to visitors; however, you can still get a glimpse of it.
The entrance from Castel Sant'Anglelo is visible during a castle visit and you can also see the covered passage from outside as you walk towards Piazzas San Pietro, along the mighty Vatican walls.
Pope Clemens VII used the passage during the Sack of Rome in 1527. Passetto lost its role as protected escape route in 1565, when building works for the neighborhood of borgo started.
Borgo Pio
Borgo Pio is one of the main roads crossing borgo.
Pretty and closed to traffic, it is a delighful place for a walk and a meal and an excellent place to soak up the atmosphere of this area.
Several small streets and fascinating piazzas stem off bogo pio, offering some of the prettiest views in the area. Worth seeking out are Piazza del Catalone and Via delle Palline.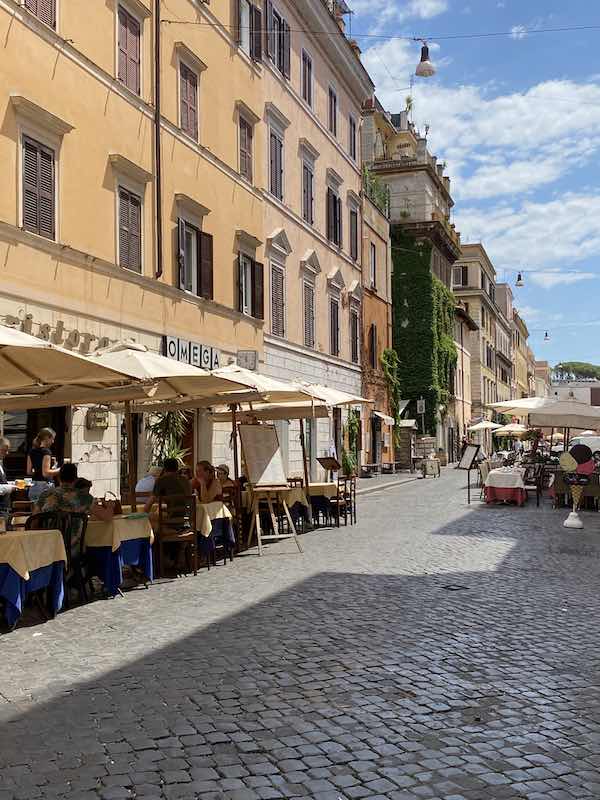 Borgo's fountains
In Borgos, there are several pretty fountains worth seeing.
Fountain of the Tiaras (Fontana delle Tiare)
As you reach the border between Borgo and St Peter's square, you find a peculiar fountain called fontana delle tiare.
This fountain is one of the so-called 'fontane rionali' of Rome (Rome's neighborhood fountains and is decorated with carved papal tiaras, a symbol of the area.
The fountains are part of a project that wanted to bring beautifully sculpted fountains in Rome's historical districts, decorating each with something that remembered the history or vocation of the neighborhood.
Fontana dell'Acqua Marcia
As you walk along Borgo Pio, you come across a pretty drinking fountain called Fontana dell'Acqua Marcia.
The fountain is one of the many drinking fountains of Rome and is peculiar as it has a carving of the Papal stem with a Papal Tiara and two keys, symbols of the Pope and St Peter.
Fontana delle Palle di cannone
Another fountain evoking the history of this area is Fontana delle Palle di Cannone, with carvings of a large face and cannon balls, reminiscent of the real ones in nearby Castel Sant'Angelo.
The fountain is close to the arches of Passetto and worth seeing while in the area.
Fontana dell'Acqua Angelica
In Piazza delle Vaschette stands one more pretty fountain, Fontana dell'Acqua Angelica.
This is another drinking fountain and has a pretty craving of a shell, and inscription with its name and the sign 'SPQR' one of the symbols of Rome.
Via della Conciliazione
Via della Conciliazione is the large and busy road connecting the Tiber with Vatican City.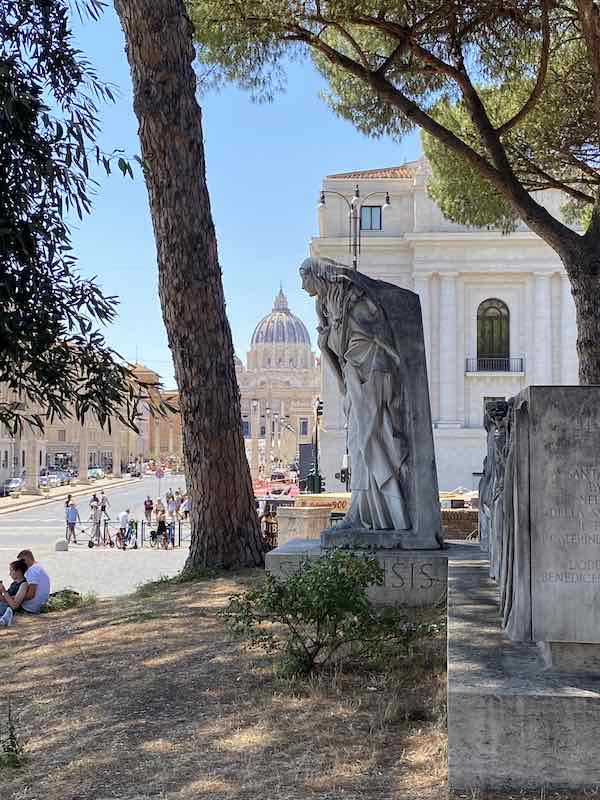 The street dates from fascist times and it is typical of the architecture of that time.
As mentioned above, Mussolini wanted Rome to have grand, imposing boulevards and initiated many projects that tore down pre-existing neighborhoods to make space for these large arteries for traffic and parades.
His vision brought to the creation of Via Dei Fori Imperiali, the large artery now crossing the Imperial Fora, the destruction of the archaeological area of Torre Argentina and, in Borgo, the destruction of the medieval neighborhood.
The upside of this road, if any, is the incredible view of St Peter that you gain from the river.
However, it is hard not to wonder what it must have been like, to arrive to Berninis' colonnade through a maze of alleys and small roads.
The impression must have been striking!
Where to eat in Borgo
Borgo has several nice restaurants and cafes. Places I enjoy are:
Il Sorpasso – on the edge between Borgo and Prati neighborhood, this is a lovely, family friendly place with delicious food and lovely staff.
Pastificio Barghigiana – a small yet delicious place serving pasta but also light dishes, perfect for lunch
Arlu' – a great restaurant for authentic cuisine, a bit of a find in an area known for many touristy outlets
For gelato, for us the best gelato in Borgo is Cremilla, between Borgo Pio and Castel Sant'Angelo.
Something special: close to Borgo Pio, l'Etoile Terrace is one ofd the best rooftop terraces in Rome for Aperitivo with a view of the Vatican!
Where to sleep in Borgo Pio: hotels
If your trip to Rome is centered around a visit to the Vatican, then staying in Borgo Pio is a great option.
A could of addresses you may enjoy are:
Trianon Borgo Pio Aparthotel – nice Aparthotel with self catering apartments between Castel Sant'Angelo and St Peter's square: ask for an apartment with terrace for great views over the city!
Hotel della Conciliazione – lovely 4 star hotel right on Borgo Pio, in a perfect location to visit the Vatican. Family rooms available.
I hope you enjoyed this quick travel guide to Borgo Pio and it helped plan your visit. Safe travels to Rome!
Borgo with kids
The area of Borgo is a lovely one to explore with kids.
I highly recommend you come here for a walk and a rest after a visit to the Vatican and treat the kid to some great and the the pretty playground just outside Castel Sant'Angelo.
Not sure how to include this attraction in your Rome itinerary? Check our Rome itinerary suggestions below:
Travel guide to the neighborhood of Borgo Pio Rome – Pin this!