15 fantastic rooftop bars in Rome: where to have a drink with a view in Rome, Italy.
In the last few years, Rome has seen the blossoming of the rooftop bar scene. Elegant, cozy, upscale or casual, rooftop bars in Rome are wonderful for watching the sun go down on the domes of the Eternal city while sipping a spritz or a craft cocktail.
I love Rome rooftop bar: Rome is special when seeing from above, with its unique domes and warm colors, and very few things beat the pleasure of admiring it with a good quality drink in your hand.
This is a selection of our favorite rooftop bars and rooftop terraces in Rome, chosen for views, quality of drinks and atmosphere.
I included places at different price points so hopefully, whatever your style of travel, you will get a Rome rooftop bar for you!
Please note: we have no commercial relationship with the places listed in this article and received no compensation or incentive for their inclusion. The list is based on our opinions only.
The best rooftop bars in Rome: our top picks
Divinity Terrace @ Iconic Hotel Pantheon
The Divinity Terrace is a beautiful rooftop bar in Rome located in Via di Santa Chiara, just behind the Pantheon. The terrace is part of the Iconic Pantheon Hotel but it is open to non-guests and it is spectacular at sunset.
From here, can see the Pantheon's dome and you find yourself just in front of the famous dome of St Ivo alla Sapienza church (Borromini's masterpiece) and the church of St Eustachio. A wonderful view and good classic cocktails at standard prices. One of the most romantic spots in Rome!
Address: Via di Santa Chiara, 4/A, 00186 Rome | Website: https://www.thepantheonhotel.com/en/divinity/
American Bar rooftop bar @ Hotel Otivm – rooftop bar in Rome with a view of Capitoline Hill
The rooftop bar of the Otivum hotel is a scenic, cozy terrace with fantastic views over Capitoline Hill and the Rome Synagogue.
The terrace is part of the hotel but it is open to nonguests and served good classic cocktails and average prices. Come before sunset to see Rome tinted in red hues and then stay to see the Capitoline illuminated at night. This is one of the best rooftops bars in Rome with a view.
If you are looking for a special place to stay, Otivum hotel is one of the most romantic hotels in Rome!
Address: Via d'Aracoeli, 11, 00186 Rome | Instagram: @otivm_roof_bar
Hummus Terrace – pretty rooftop bar in Monti with surprising views
The Terrace of Hummus is my latest 'discovery' and a one of my current favourite hangouts.
The terrace has a relaxed atmosphere and a laid back, hipster feel to it. Under a shaded area, you have small tables, colorful chairs, comfy sofas where you can enjoy drinks and small platters.
Not to be missed is there selection of hummus which, as the name of the place suggests, is a specialty here!
The view from Hummus are lovely. As well as many charming tiled roof, you can see the bell tower of Santa Maria Maggiore and, on the other side, the upper part of the Vittoriano.
This is a lovely rooftop bar in Rome if you are looking for a no pretentious and very pretty place for an aperitivo with friends.
Address: Via della Madonna dei Monti, 108, 00184 Rome : Website: Hummus Bistrot
47 Circus Roof garden Terrace– rooftop bar with views on ancient Rome
47 Circus Roof Garden Terrace overlooks the ancient roman temple of Hercules and the mouth of truth, offering one of the most iconic views of Rome you can dream of.
The menu includes drink and food and the atmosphere is upscale yet relaxed. This is the perfect rooftop bar in Rome for a drink and dinner with friends
Address: Via Petroselli 47, 00186 Rome | Website: https://www.47circusroofgarden.com
Terrazza Borromini – best rooftop bar in Rome with view over Piazza Navona
Terrazza Borromini is the best rooftop bar in Rome if you want unforgettable views over Pizza Navona, possibly the most beautiful piazza in Rome, and an iconic site.
The terrace is cozy, the drinks good and the view unbeatable. If you are looking for romance, this is a great place, especially if you stay for dinner. I would go as far as saying that if you want a place to propose in Rome, this is pretty much guaranteed to fit the bill!
Address: Via di Santa Maria dell'Anima, 30, 00186 Rome | Website: https://www.eitchborromini.com/en/
Terrazza Paradiso and Les Etoile Roof Garden terrace at Hotel Atlante Star
Hotel Atlante has 2 incredible terraces with vires over the Vatica: the Terrazza Paradiso cafe and cocktails bar and le Etoile Rooftop restaurant.
The atmosphere here is romantic and elegant and it is perfect for aperitivo hour or a special dinner. This is the best rooftop bar in Rome with a view over the Vatican – unforgettable!
Address: Via Giovanni Vitelleschi, 34 00193 Rome | Website: https://www.atlantehotels.com/en/roof-garden-bar/bar.html
Up Sunset bar – a rooftop bar and cafe @ La Rinascente
Up Sunset Bar is the rooftop terrace of La Rinascente Shopping Mall and it is a lovely place for coffee, drinks or a Mediterranean-inspired dinner.
Nice sofas and white sun umbrellas give it an elegant look yet the style is casual and relaxed. Perfect after an afternoon of shopping.
Address: Via del Tritone, 61, 00187 Rome | Website: www.Upsunsetbar.com
Zuma @ Palazzo Fendi
Zuma Rome is a fantastic terrace in Rome on top of stylish Palazzo Fendi. Known as a cocktail bar and a modern, stylish Japanese restaurant, Zuma has a good cocktail list and sake list and stunning views over the warm colors of the houses and churches of Rome city center.
Address: Via Della Fontanella di Borghese, 48, 00186 | Website: www.zumarestaurant.com
Mun Rooftop Cocktail Bar @ DoubleTree Hilton Monti
Moon Rooftop Cocktail bar is the terrace bar of the DubleTree Hilton Rome Monti, one of the most charming neighborhoods in the whole of Rome.
The terrace has fantastic views over Santa Maria Maggiore, Mun has comfy sofas and a welcoming atmosphere, made unique but the incredible view over Santa Maria Maggiore Basilica and Piazza Esquilino. Perfect for a predinner aperitivo or coffee.
Address: P.za Esquilino 1, 00184 Rome | Website: https://www.hilton.com/en/hotels/fcomodi-doubletree-rome-monti/dining/
Sky Bar @ Mecenate Palace Hotel
The Sky Bar is a stunning rooftop bar at the top of hotel Mecenate hotel, a beautiful 4 star hotel in front of Santa Maria Maggiore.
The terrace has a cozy and welcoming atmosphere and a view right over the church that is out of this world. The bar has a good drink menu and you can also book for dinner at the hotel rooftop terrace La Terrazza dei Papi, which offers an equally stunning view.
Address: Via Carlo Alberto, 3, 00185 Rome | Website: https://en.mecenatepalace.com/restaurants/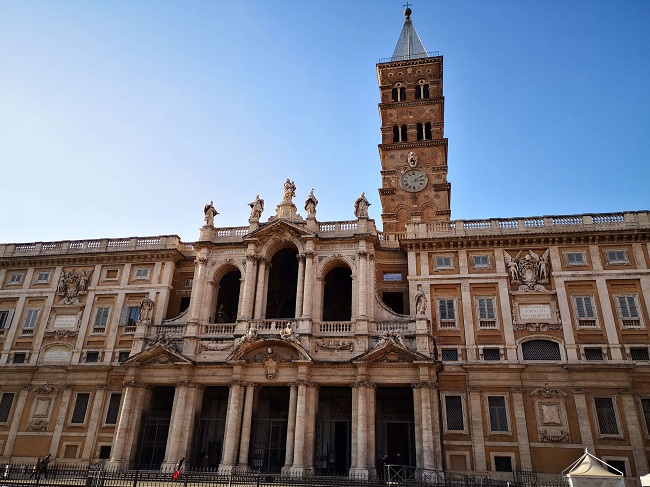 Cielo Terrace @ Hotel de Ville Rome
Cielo Terrace is the fantastic rooftop bar of Hotel de Ville, an elegant hotel on central Via Sistina, beside the Spanish Steps.
This is a glamorous rooftop bar and restaurant open from breakfast to late night, with good menus and an out of this world view over Rome city and the Vatican.
The terrace has distinctive red and white striped umbrellas that give the terrace an upscale and summery look, Riviera style.
Address: Via Sistina 69, Rome 00187 | Web: https://www.roccofortehotels.com/hotels-and-resorts/hotel-de-la-ville/restaurants-bars/cielo-terrace/
Hotel Forum Terrace American Bar
The Hotel forum owns its name to its incredible position right in front of the roman forum, which you can admire from its terrace. The hotel has both a restaurant and an American Bar which is a delight: despite the stunning location, the atmosphere of the bar is casual, the drinks good and the view over the forum and the Vittoriano awe-inspiring.
The American Bar is open until 6pm, perfect for a drink after sightseeing.
Address: Via Tor de' Conti, 25-30, 00184 Rome | Website: https://www.ristoranteroofgardenforum.it/en/bar/
Rooftop Jim's Bar @ Singer Palace
Rooftop Jim is the beautiful rooftop bar of Rome's Singer Palace, an elegant hotel in the heart of the city. Jim's rooftop terrace shares the same elegance of the hotel and has a good drink lists, paired with chef's suggestions.
The view is stunning, thanks to the central position between the Pantheon and the Trevi Fountains.
Address: Via Alessandro Specchi, 10 00186 Rome | Website: https://singerpalacehotel.com/rooftop-jims-bar/
Tiziano Terrace rooftop bar by Monti View
Tiziano terrace is a beautiful bar with rooftop terrace n Via Cavour, in the heart of Rome city center and the charming Monti neighborhood. The bar hs both an indoor and outdoor area with large windows and offers a good drink menu with small plates, perfect for aperitivo hour.
The 180 degrees view over Rome city center is stunning and very romantic.
Address: Via Cavour, n.185 – 00184 Rome | Website: https://www.montipalacehotel.com/en/tiziano-terrace-monti/
The Court terrace bar with Colosseum views
The Court is not a rooftop bar exactly but it makes this list as it ticks all the boxes as a perfect place in Rome for a drink with the view.
Located inside the elegant Hotel Palazzo Manfredi, the Court is an outdoor cocktail terrace offering unrivaled views over the Colosseum.
A good drink menu and stellar location make this place special: if you prefer dinner, you can also book a table upstairs at the excellent Aroma Restaurants, a rooftop restaurant overlooking the Colosseum perfect for a special occasion.
Address: Via Labicana 125, 00186 Rome | Website: https://www.aromarestaurant.it/en/the-court.html
I hope you enjoyed this selection of Rome's rooftop bars we love. Enjoy Rome!
Best rooftop bars in Rome: Pin this!
Looking for more ideas? Find them on this list of the best things to do in Rome!