3 days in Rome: suggested itinerary and tips from a local to make the most of your stay.
3 days is a lovely amount of time to spend in Rome.
While not enough to see 'everything', three days in Rome are sufficient to visit Rome's most famous sites, taste Rome's best food and even relax in one of the city's beautiful piazzas.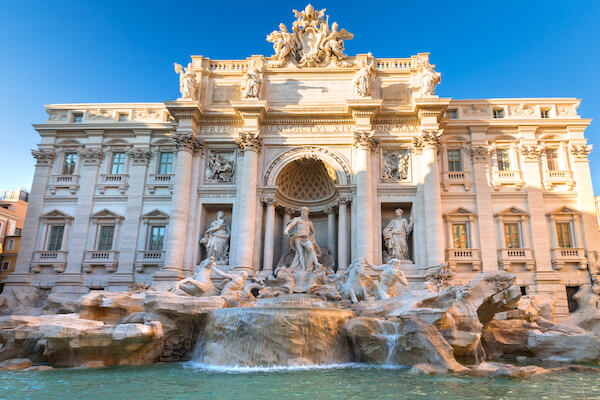 To achieve all this with three days, however, you need a plan! These are my tips and recommended itinerary to see Rome in three days. At the end of this post, you will find Rome travel tips to make the most of your time.
Please note: this post contains affiliate links and, should you make a purchase through them, we might make a small commission.
3 days in Rome suggested itinerary- day by day schedule
Rome in 3 days – Day 1
Morning
I recommend starting your 3 days in Rome with a visit to the Colosseum and the Roman Forum.
These two sites make up 'ancient Rome' and are a must-see for anyone visiting the city for the first time, regardless of how much or how little you love history.
They are so beautiful, the visit will be worth it!
The Colosseum and Forum are beside each other and have a combined ticket.
A good way to visit is to start with the Colosseum with a guided tour and then walk around the forum and the Palatine hill in your own time.
The Forum and Palatine are outdoors and it is like walking in a park, except you are in the footsteps of ancient Romans!
A visit to the Colosseum and the forum will take a whole morning. Bring good shoes, a hat for sunny days and make sure you book tickets in advance.
The best tour of the Colosseum is the one you book directly with Parco Colosseo (no middleman, so it is also the cheapest) and I recommend you opt for the one that includes a guided tour of top tier and underground area.
Should the official site be booked out, you can get a tour with a licensed third party: find my tips for picking the best tour of the Colosseum here.
Coffee break
After a visit to the Forum and the Colosseum, I recommend you head to Piazza Venezia.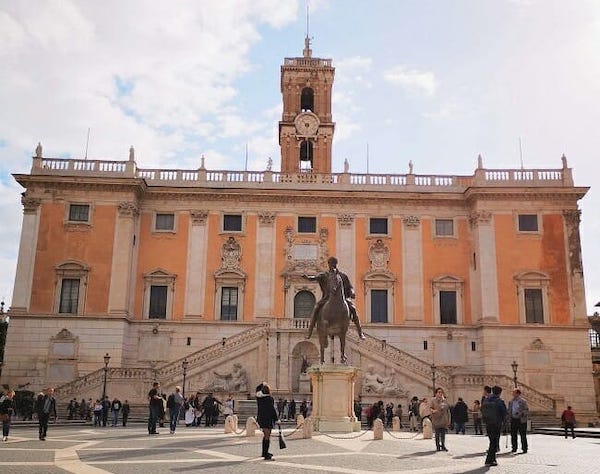 Piazza Venezia is a large piazza just beside the Roman forum and the access point to two stunning buildings: Vittoriano (altar to the fatherland, a large white building with statues horses on top) and the Capitoline hill.
Climb to the top of the Vittoriano (free) and have coffee on Terrazza Italia for great views all the way to the Colosseum!
The Capitoline Hill is one of the ancient 7 hills of Rome and one of the most significant and scenic. Michelangelo redesigned the ancient top of the hill, and it is one of the most beautiful piazzas in Rome.
From here, you also have lovely views over the forum – the belvedere is free and offers one of the best views over Rome!
There are several good lunch places in the area: for a sit-down meal, I recommend heading to the ghetto, the Jewish quarter of Rome, or you can get pizza by the slice from one of the many pizza places nearby.
Afternoon
After lunch, I recommend you take it easy by taking a stroll in Rome's cobbled streets.
I recommend you let your curiosity guide you and you stop and the many shops in this area and head towards the Pantheon.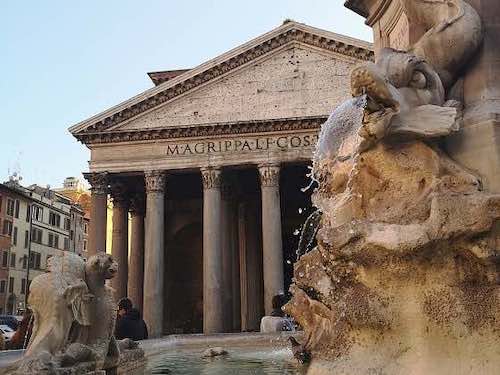 This area of Rome is stunning and when Piazza del Pantheon opens up in front of you, the impression is magical!
Not to be missed in this area are the Pantheon itself, beautiful Piazza di Pietra and pretty Piazza Della Minerva, which has a fun and unexpected statue of an elephant by Bernini that is truly peculiar and worth seeing.
I recommend you then rest with a drink at the Divinity terrace, one of the best rooftop bars in Rome city center, and then head for dinner to delicious la Ciambella, a nice restaurant in a scenic cobbled road.
3 days in Rome – itinerary Day 2
On your second day in Rome, you may want to visit the Vatican.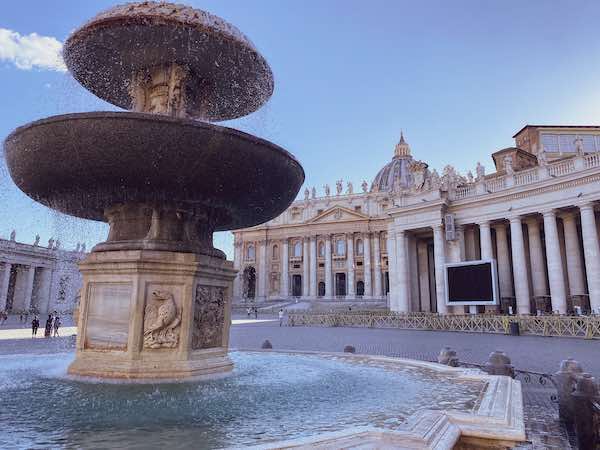 Need to know: the Vatican has a strict dress code. Dress for the day before leaving your accommodation – find how to dress for the Vatican here.
There are many ways to see the Vatican, depending on your interests.
If you love art, you must not miss the Vatican Museums, one of the world's best art museums.
They are a large museum with lots of galleries and a visit takes at least 3 hours, which includes a visit to the Sistine Chapel.
If you opt for visiting, make sure you book tickets well in advance and consider investing in a private guide – it is well worth the cost.
Museums aside, things to see in the Vatican include beautiful Piazza san Pietro (free access) St Peter's Basilica (free admission, except access to the dome) and the Vatican Gardens, which are lovely and must be booked in advance.
If you visit the museums, I recommend planning a whole day in the area while if you want to skip them, a long morning is enough.
If you find yourself with a free afternoon, you can head to the nearby area of Prati, perfect for shopping, or you can head to nearby Castel Sant'Angelo – go to the top at sunset: the views are incredible!
I recommend you spend the later part of your second day in the area of Piazza Navona, Bernini and Borromini's masterpieces.
The piazza is one of the most beautiful squares in Rome.
Top tip: if you can, get a table on the stunning Terrazza Borromini for a drink with unforgettable views!
As the evening falls, I recommend you head to Piazza Campo de Fiori, then walk across Ponte Sisto and spend an evening in Trastevere.
This is a scenic area of Rome famous for its traditional pizza places – one of the best areas to find the best pizza in Rome!
3 days in Rome – Day 3 itinerary
On day three, I recommend you see the Borghese Gallery, the Spanish Steps, the Trevi Fountain and Trastevere, the last three must-see sites for a first trip to Rome!
Start your morning in Villa Borghese: this is a large, monumental park in Rome that is perfect for relaxing after all the sightseeing the day before.
This is also where you find Galleria Borghese, one of the most beautiful art museums in Rome. advance booking is mandatory as the museum operates on timed slots: find tickets here (official site).
Head towards the Pincio Terrace, inside the park, and admire Piazza del Popolo from above, then walk along the promenade to the Spanish Steps: you will get to their top, which makes for a beautiful view!
Walk down and indulge in the many shops of this elegant area and then head to the Trevi Fountain. From here, walk up to the beautiful Piazza del Quirinale and walk down the other side to the pretty area of Monti.
This is a delightful area with lots of small cobbled streets, pretty cafes and restaurants and it is perfect for a last night in Rome, immersed in the city charm!
Other things you can do with 3 days in Rome

3 days in Rome require some prioritizing. Should the attractions above not be all you hoped to see, I recommend a few more:
Caracalla's Baths are a beautiful and scenic archaeological complex, perfect if you have already seen the Colosseum and the forum or are looking for a less known and frequented location. Combine it with a walk up the nearby Aventine Hill for perfect views over the city.
If you have already been to Rome and all this is already seen, look at our recommended hidden gems instead!
Garbatella area makes for a fantastic day exploring Rome and nearby Centrale Montemartini Museum, perfect if you love mosaics
Where to stay to see Rome in 3 days
If you only have three days in Rome, I recommend you find accommodation in the city center and precisely in the Pantheon/ Piazza Navona area.
Hotels I love are:
Hotel Otivm – nice 4 star hotel with a wonderful rooftop terrace, walking distance from most locations on this itinerary
Fifteen Keys hotel – lovely boutique hotel in Monti area
You can also find my recommended hotels in the following guides:
Best Rome hotels near the Pantheon
Best Rome hotels neat Piazza Navona
Best Rome hotels near the Colosseum
What to eat during your 3 days in Rome
I believe the standard of food in Rome is high enough that you don't need a specific guide to restaurants however, some tips can come in handy!
Places I like to recommend and are within easy distance from the locations in this itinerary are:
Cafe Cafe – casual, mediterranean cuisine in Via dei Santi Quattro, close to the Colosseum.
La Ciambella – lovely for an evening meal near the Pantheon, in Via Arco della Ciambella
Il piccolo Buco – gourmet pizza near the Trevi Fountain
Caffe' tazza d'Oro – best coffee granita near the Pantheon
Caffe Sant'Eustachio – the best coffee in Rome
Il gelato di San Crispino – one of thebest gelato places in Rome city center!
How to get around Rome
if you are in Rome for 3 days and you follow this itinerary, you will have little need for public transport and you will be able to visit most things on foot.
If you want, you can however, buy single hop tickets (machines at Termini and Piazza Venezia, 1.50 Euro for 100 minutes journey, bus change allowed) or you can get a 3 day ticket. You can find our guide to public transport in Rome here.
I hope you found this guide to thee days in Rome useful – safe travel planning!
Pin this!